Having a courtyard wasn't on our house list, but Someone knew I would love it. Maybe it's because The Secret Garden was one of my favorites (every child's heart skips a beat at descriptions of digging in dirt, right?), or maybe it's because my beloved grandma had a courtyard we'd work in together year after year. I'm inclined to think it's the latter.
Now, technically this isn't a courtyard because a courtyard is supposed to have least three walls. HOWEVER, this entry area of ours has two walls, and I'm determined to make it into a courtyard by creating other "walls" with landscaping.

I HAVE A VISION! You may not be able to see it yet, but hang with me. You'll start to see it too, and time will turn this into a magical courtyard entry.
First, some changes need to be made. I'll show you what we've done so far to Walls 1, 2, & 3-ish. (My hands are almost shaking with excitement as I type. I AM SO LOOKING FORWARD TO SHOWING YOU THIS SPACE! We're going to make this into an amazing courtyard, people! And you'll have been a witness to watching it unfold.)
COURTYARD LANDSCAPING:
Wall #1 Cleanup
Our outdoor tour showed you this wall, including a couple overgrown bushes that looked like they might try to eat you alive as you came up the entry path from the driveway.
Courtyard Wall #1 Before: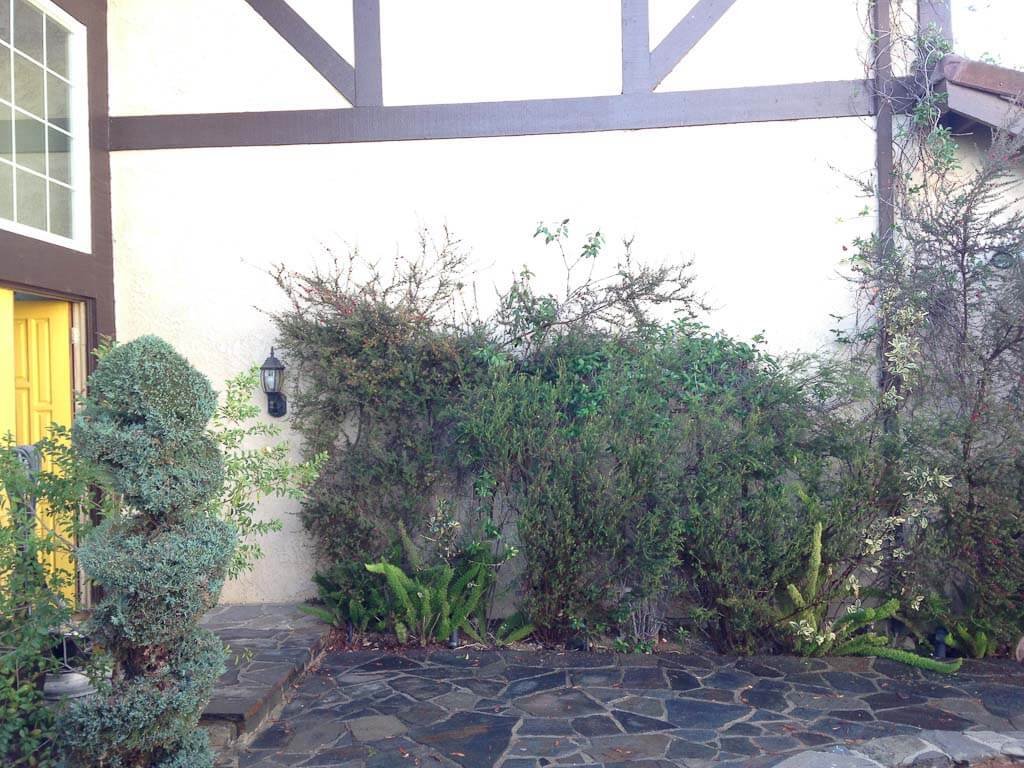 Courtyard Wall #1 After:
Almost wore out my landscaping clippers, but I finished tidying that wall.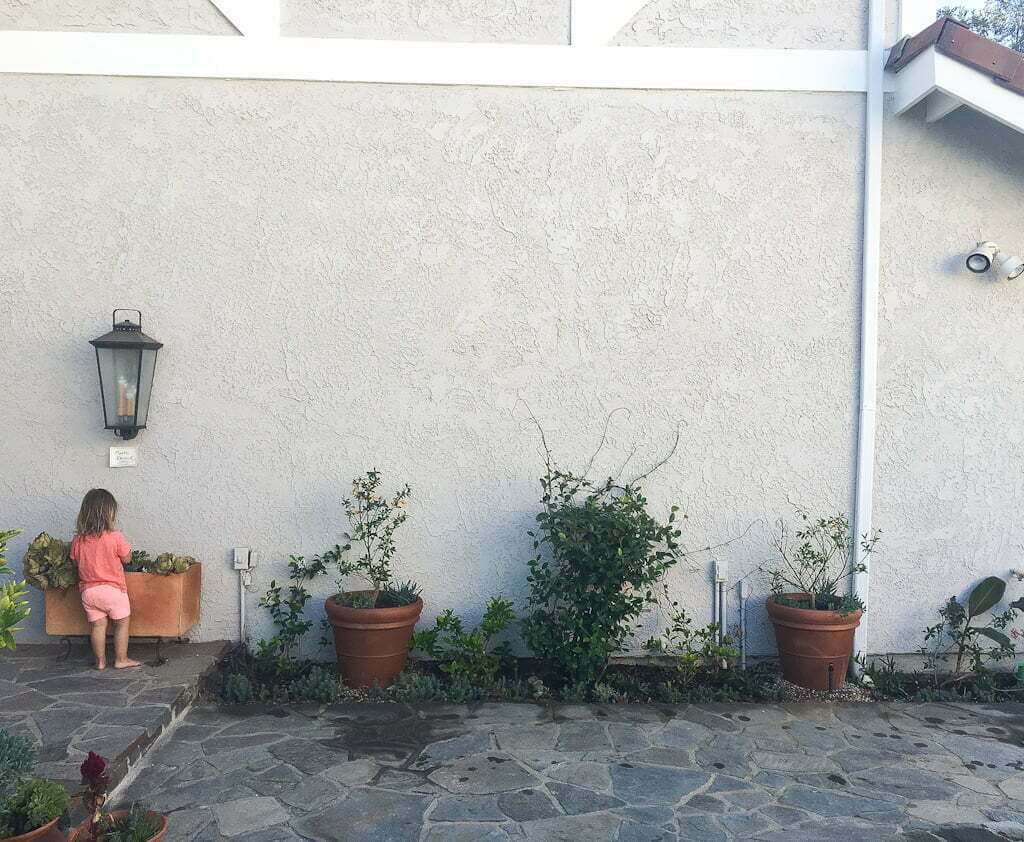 So much cleaner, right? And no giant plant's gonna eat ya when you walk by.
The jasmine is SO much happier! It'll grow back nicely.
Added gardenias and some other misc plants to see how they do here.
Planted kumquats in the terra cotta pots. Yes, we have fresh kumquats to snack on! (A friend called them "Nature's Sour Patch Kids." Spot-on.)
Bright orange citrus jewels glistening from the branches of our lovely kumquat trees in soon-to-be-aged-looking terra cotta pots. Can you see it with me?
(And yes, you can spot one of my apprentice landscape designers at work above in the rectangular terra cotta. Her training is going well.)
Front Door Lighting Update:
Raise your hand if you spotted the light near the front door.
We almost missed it too. Once the overgrown plants were trimmed down, we could spot it—and spot that it was ridiculously small. Not only too small, but it didn't provide function or beauty. The light was too small and dim, and it was out of proportion with the house.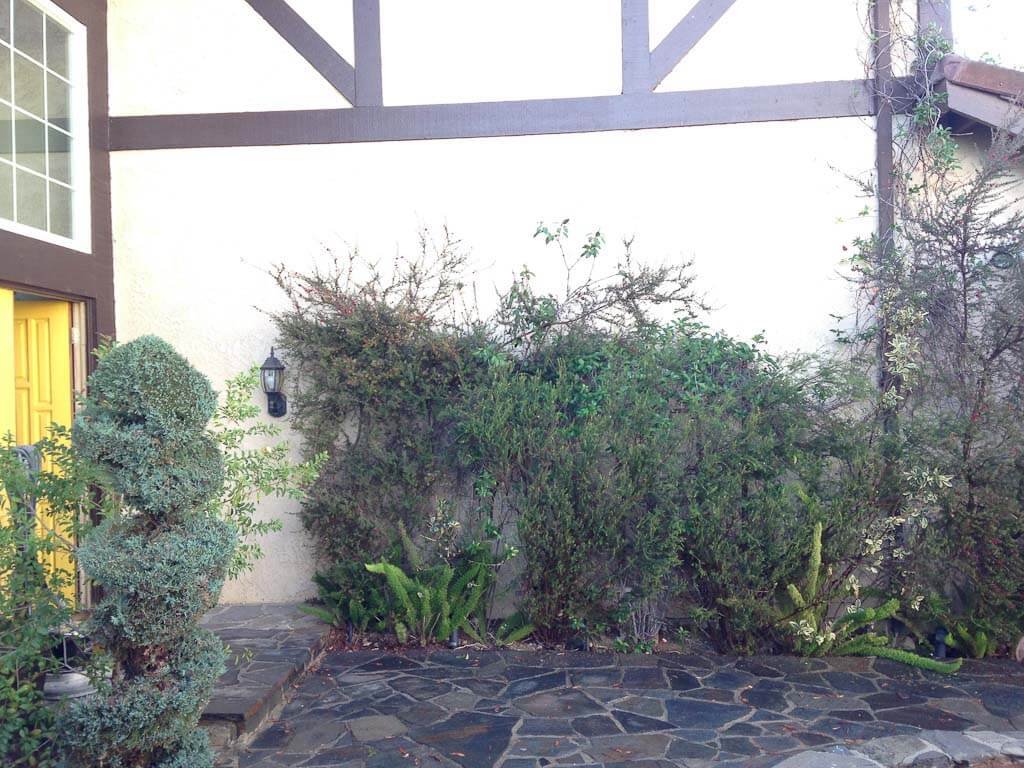 To replace it, I found the biggest wall lantern I could, and it looks so much better! (It's still lower than we'd ideally like, but we just used the old spot for now.)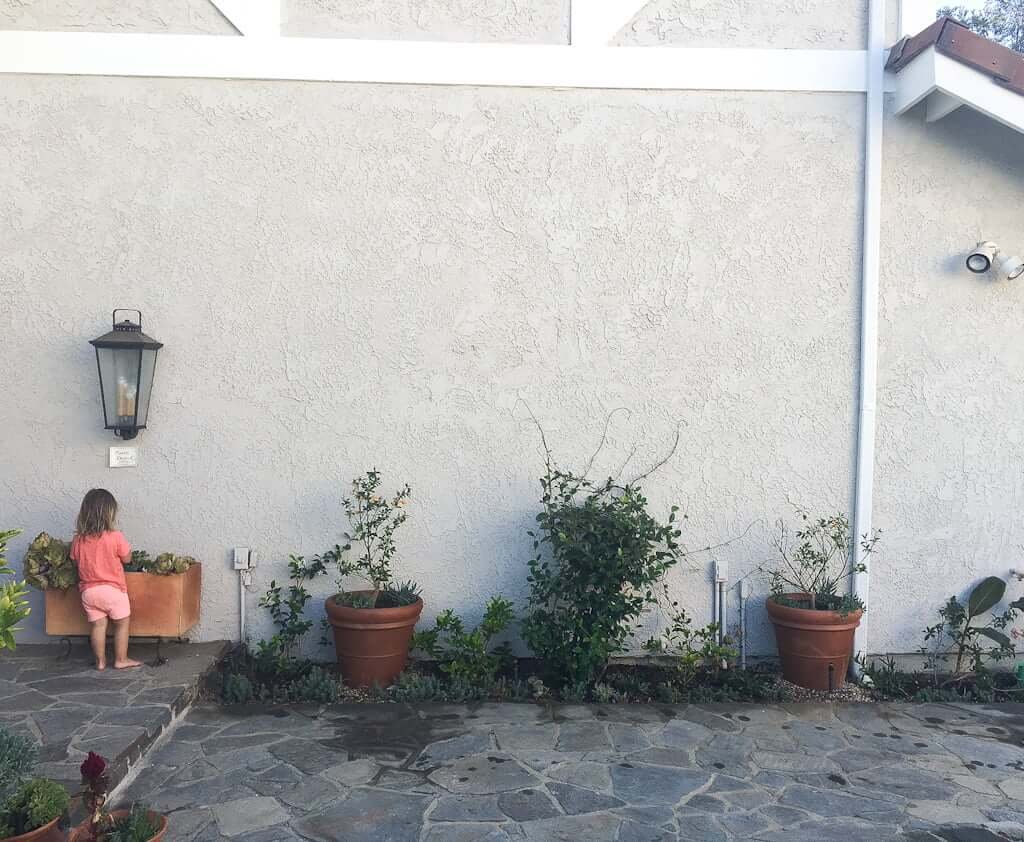 ---
COURTYARD LANDSCAPING:
Wall #2 Cleanup
Before, the approach to the front door was overgrown and dark with all the plants crowding out the sun.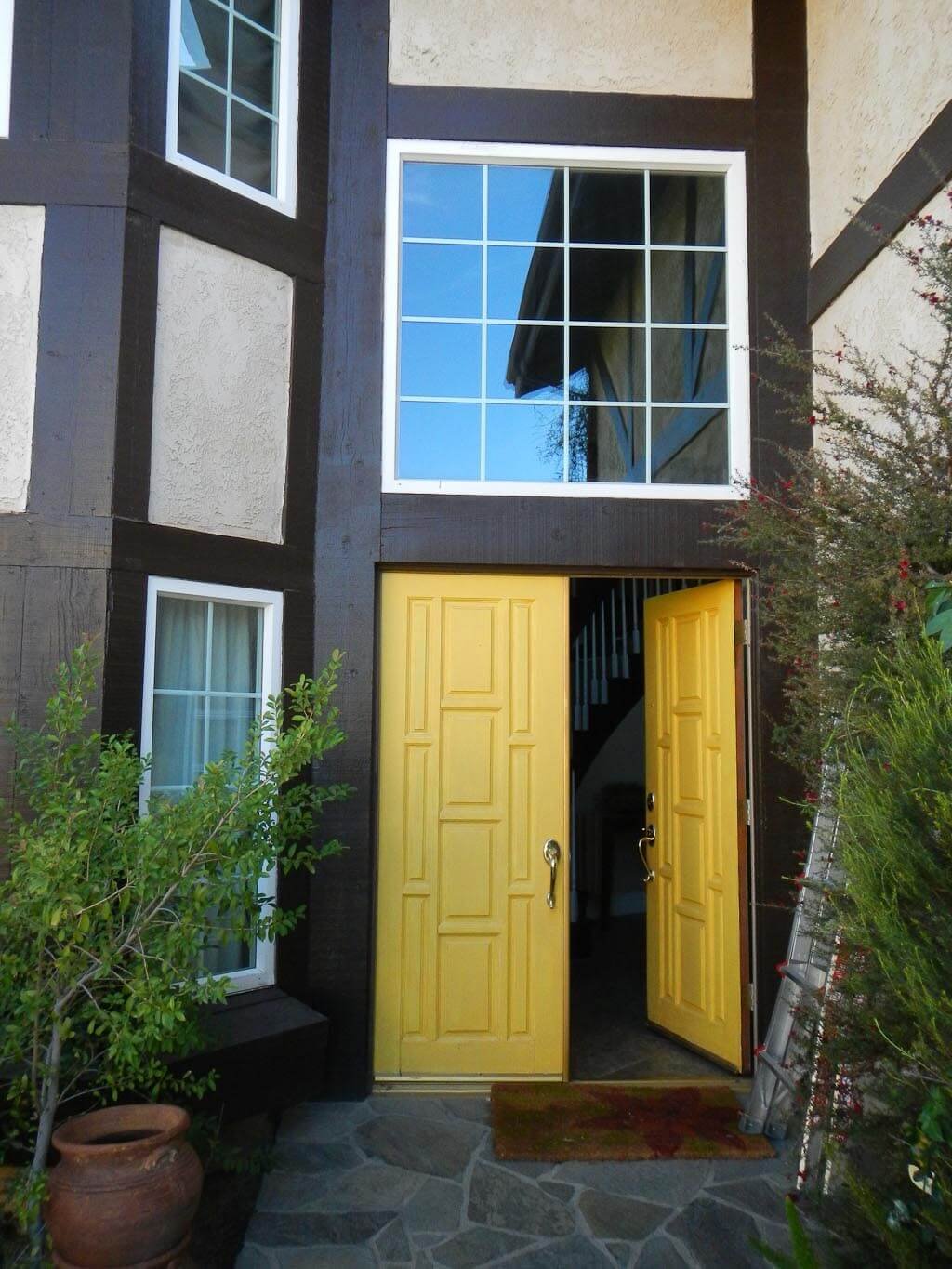 Front Door Entry After: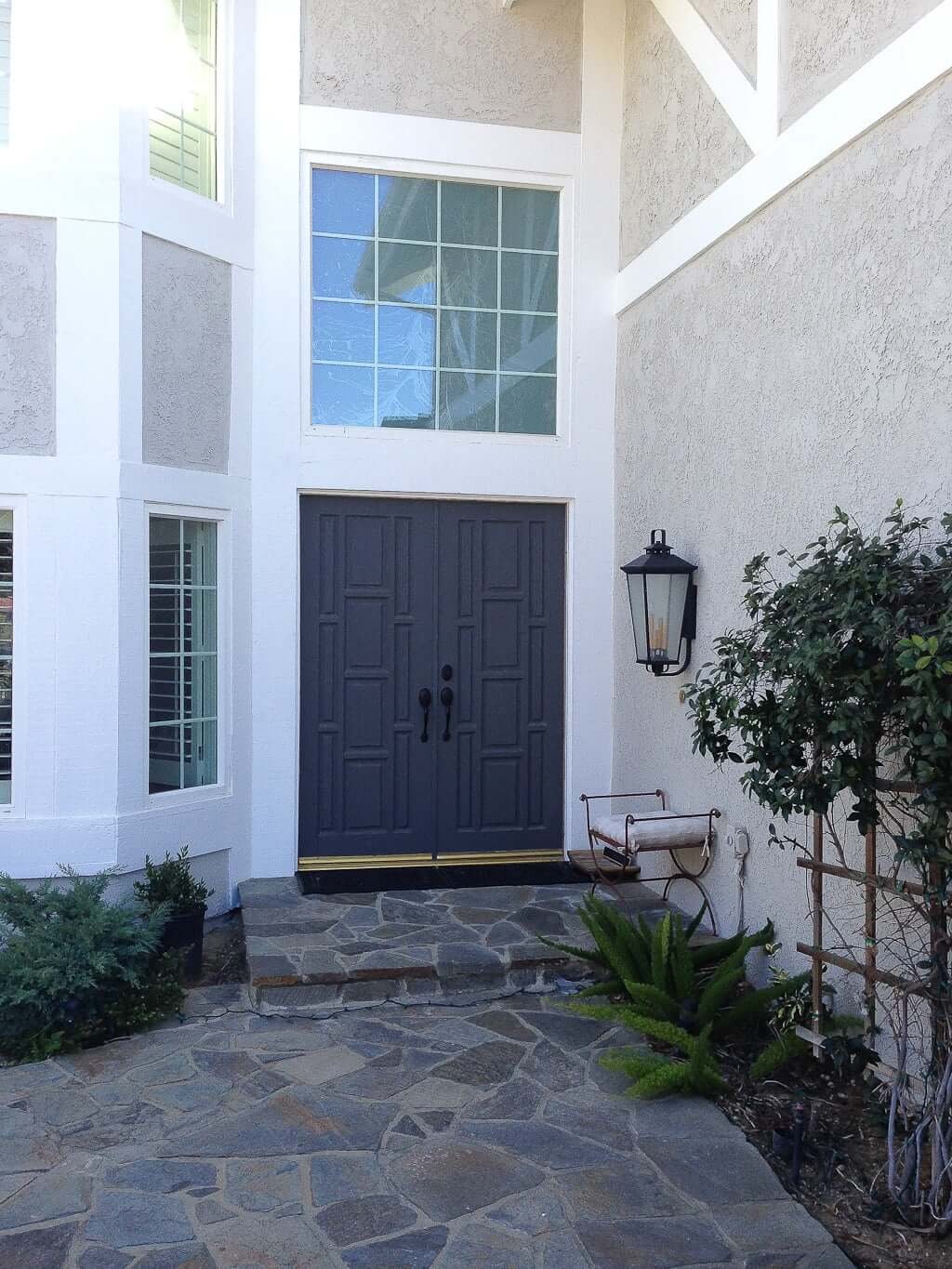 After painting our house exterior and cleaning up the overgrown plants, this space was already looking tidier. (This pic shows how it looked before I trimmed the jasmine down even more, as it was still looking too leggy for my liking.)
After adding in the new lantern and a wrought iron bench seat, it's looking more welcoming all around!
We added a temporary privacy film to the window above until we figure out a permanent solution.
We need to replace the front door because it's so warped after 30 years of intense afternoon sun and doesn't close properly. For now, it got a fresh coat of paint (I'm still thinking about a new paint color for the new front door when it comes), and we painted the hardware black.
Next, I'm looking for a cute outdoor rug and bench to go in that entryway!
---
Courtyard Wall #2 Before: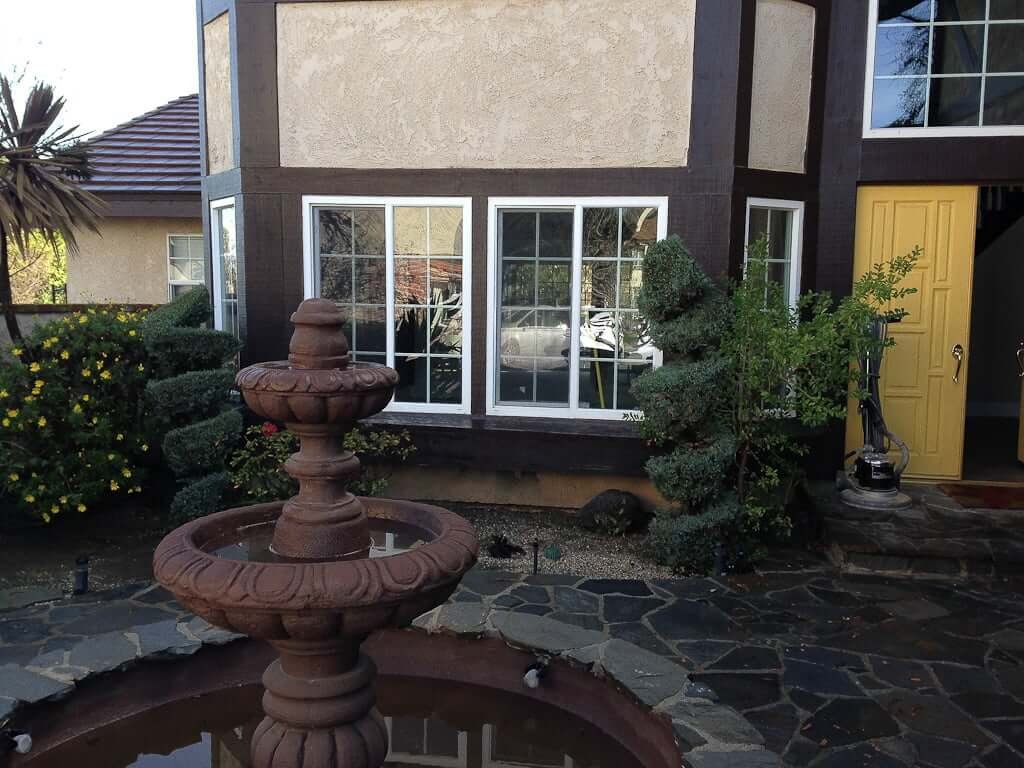 Courtyard Wall #2 After:
Here we
Added two massive terra cotta pots to be homes for our new dwarf citrus trees!

We're adopting 1 Blood Orange tree and 1 Tangelo tree! (Tangelo = citrus hybrid of a tangerine and a pomelo.)

Between the pots will be dwarf olives (tying in with our olive trees in the front yard).
Matt also removed the old wood ledge in front of the old windows as it was rotted.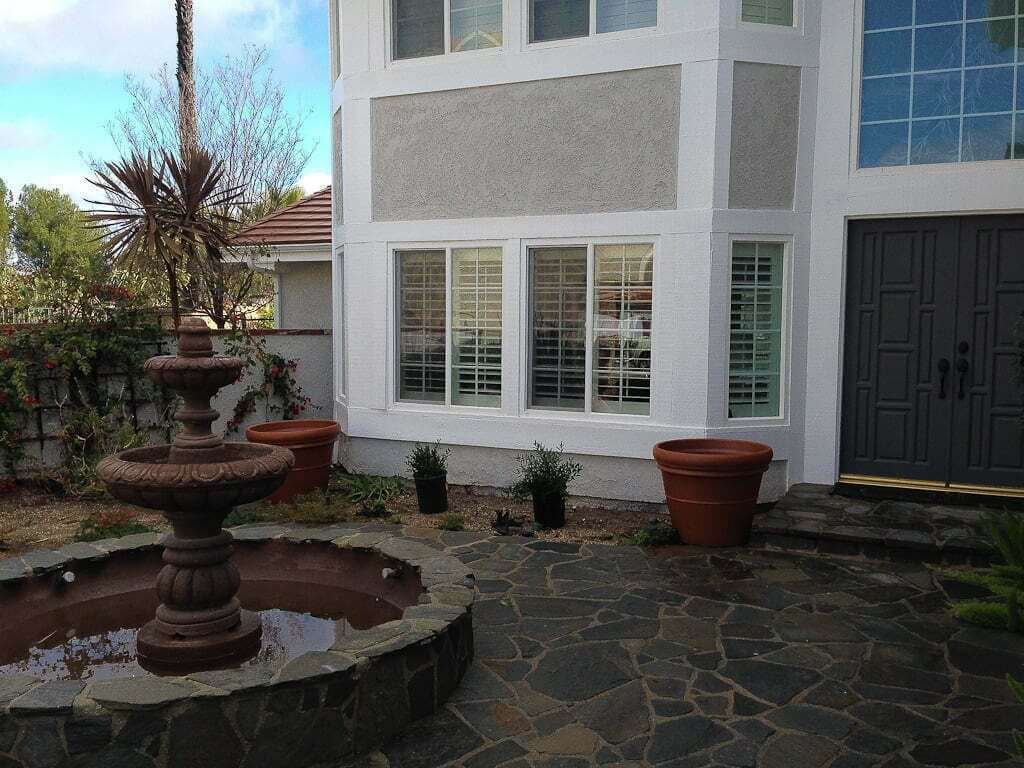 Getting closer, you'll see
an X on the ground to show where we want to put our Bearss Lime tree (hurrah!),
the boungainvillea growing on our half-wall, and
that we still have more tidying up to do with plants here, but we're getting there!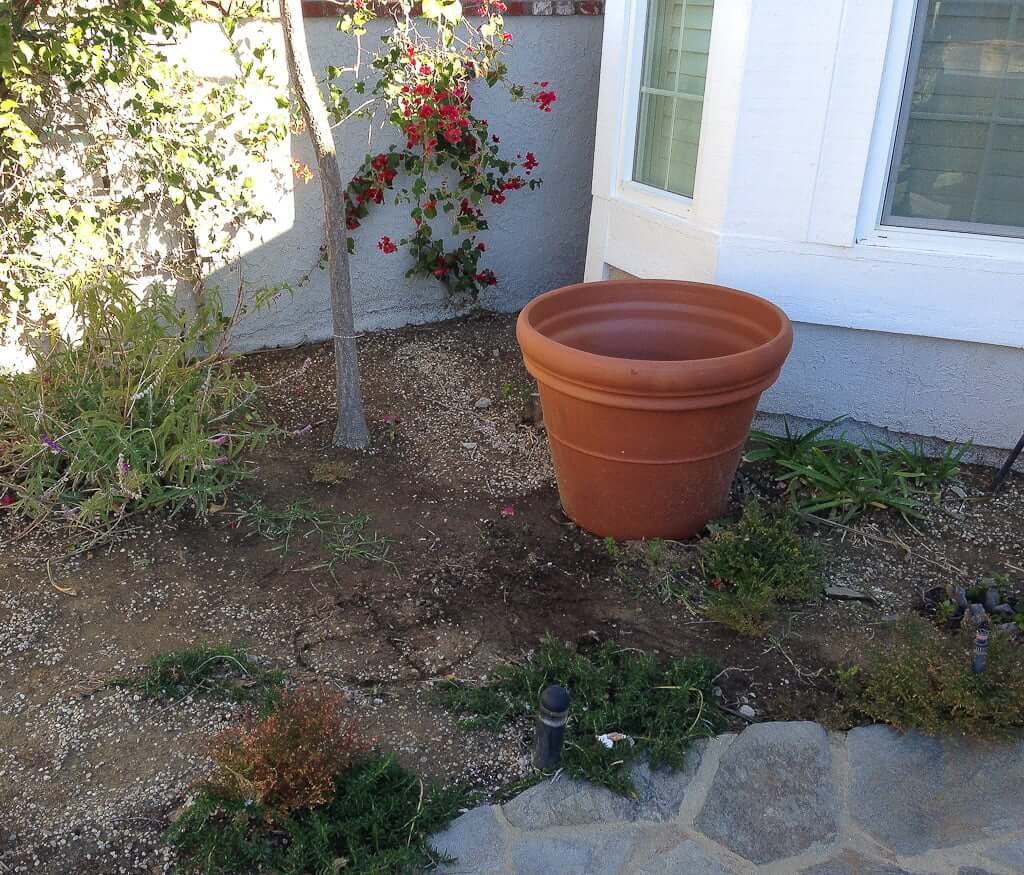 "You're sure adding a lotta citrus trees! Kumquats, blood oranges, tangelos, lime…"
Oh yes we are, my friend…and there are more! We're in big time citrus country, so why not use the climate to our advantage? Plus, citrus is one of my favorite scents. When we open those front windows, the wind + those citrus blossoms will blow deliciousness into the house!
COURTYARD LANDSCAPING:
Area #3 Before: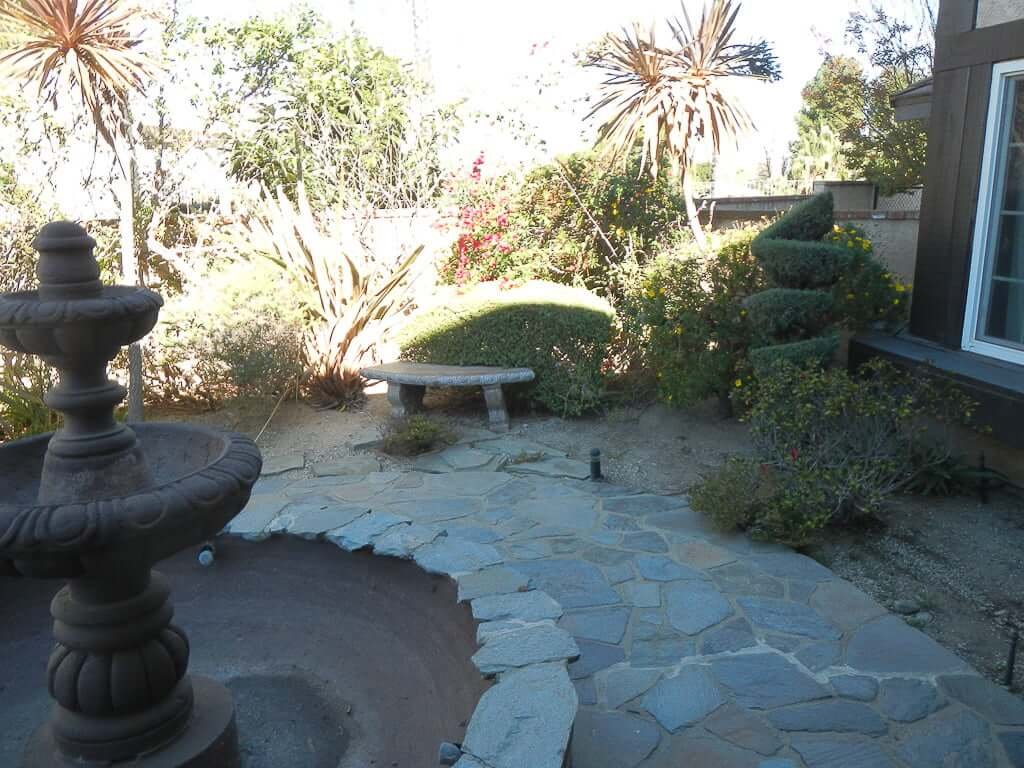 Area #3 in Progress: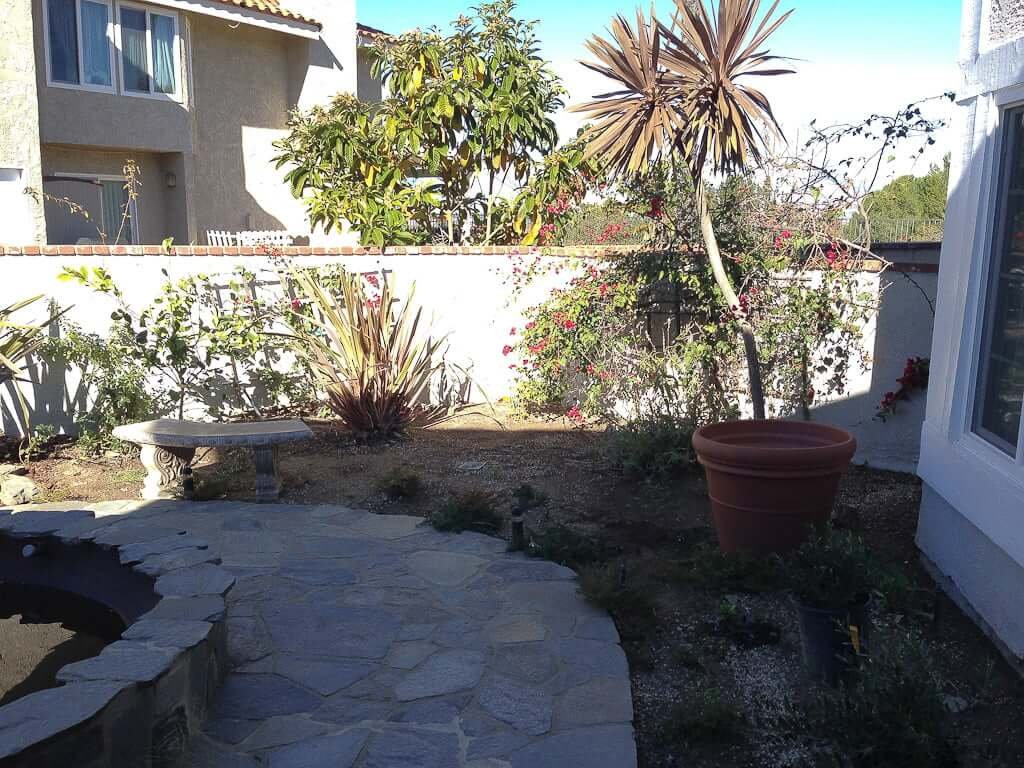 This is still not THE VISION, but it's on the way! Picture this with me:
We planted a lemon tree in that spot behind the bench, which will eventually give us full privacy from our neighbor's window and help create more of a tall courtyard "wall" of lemon tree loveliness.
I'm slowly clearing out a spot in the middle of that back corner for a large seating area. The stone bench is nice and all, but I'd like to seat more people here around the fountain.
Can you see a little private European-style outdoor cafe forming for our family? I can! IT'S GOING TO BE ADORABLE! Grow well, my plant children.
Courtyard Corner View Before: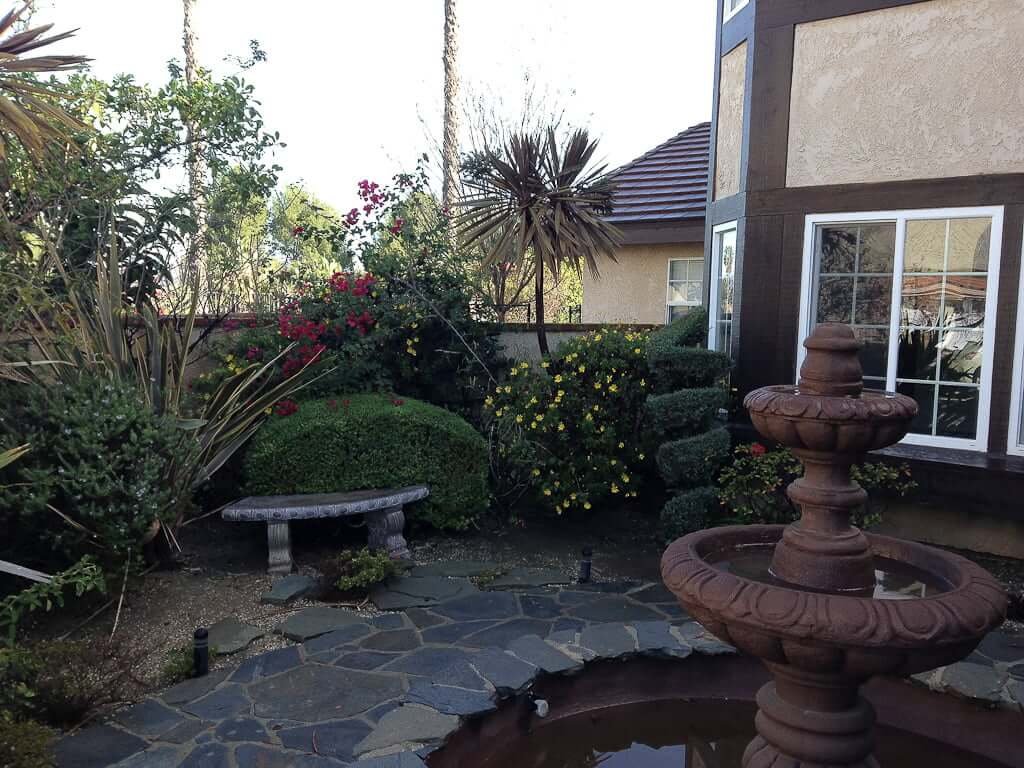 Courtyard Corner View in Progress: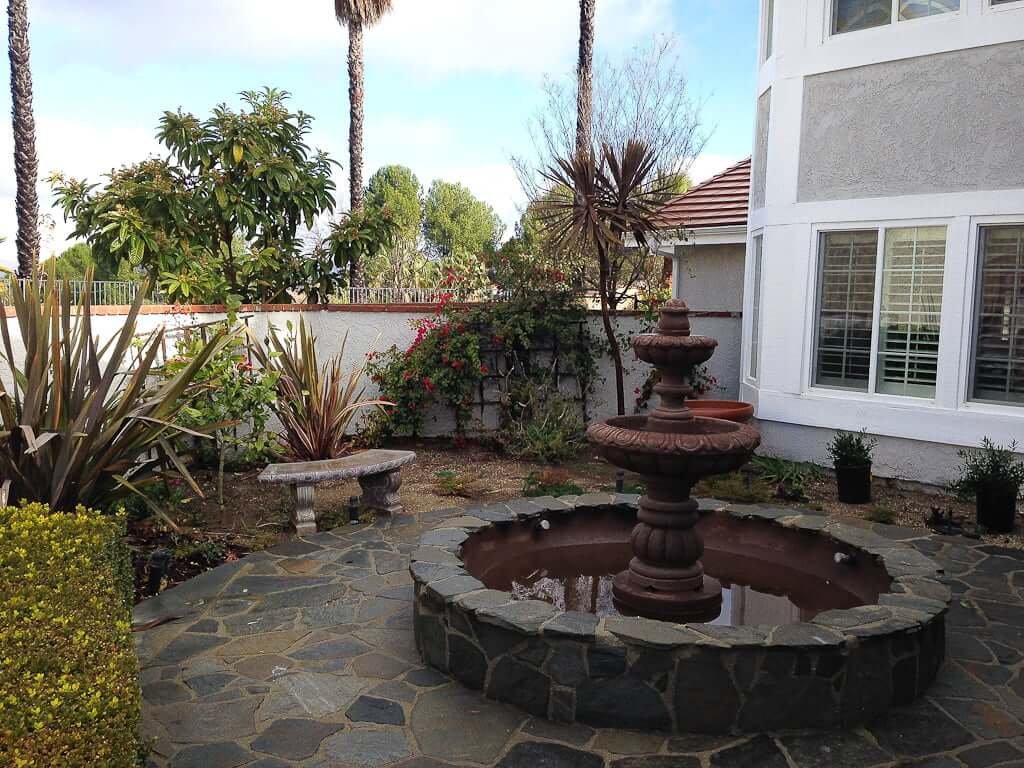 I know some can have a hard time seeing what I envision, but trust me! This is going to be an AMAZING spot when we get through with it!
NEXT STEPS FOR THE COURTYARD:
Creating our private little "outdoor cafe" seating area in the corner. (Breakfast by the fountain, anyone?)
A HUGE change for the fountain!
See how we converted to a low-maintenance, no-grass front yard, or check out how we chose our new exterior paint colors.
⛲ Get a note when we post the next fountain and/or courtyard update!