It's becoming more and more difficult not to share new client projects here on the blog with you guys, especially as we know so many of you are starting to smell summer coming! 🙂
Here's one I'm working on today…a modern Montecito-style backyard here in southern California.
OUTDOOR SEATING
I especially love these outdoor sofas! (I'm super picky about outdoor furniture and try to avoid the standard-looking ones at all costs!😅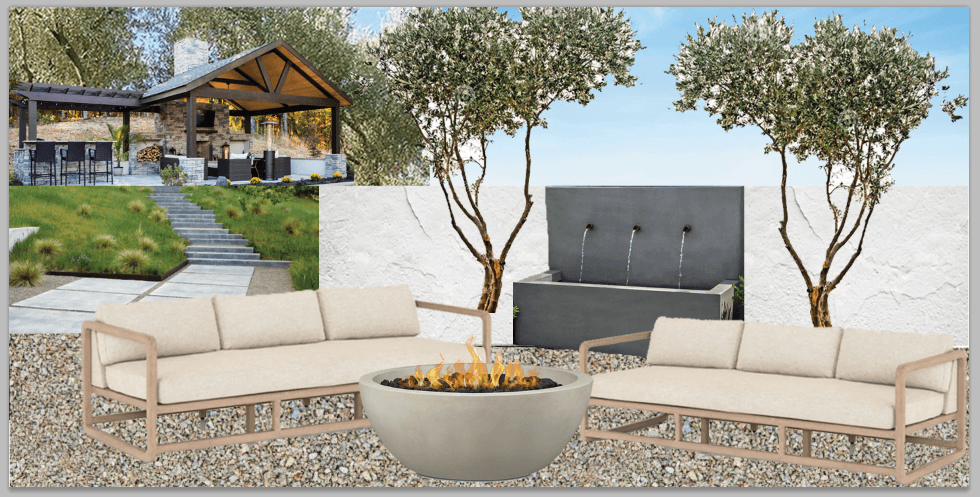 sofas / firepit / olive tree / fountain
FOUNTAIN
If you've read my post about our front courtyard, you may remember my love for fountains (and what I did to convert our old one!). The one I've put here is pretty inexpensive as far as large fountains can go, and I love the clean lines!
olive trees
If you love this look but don't live in an environment where you can grow olive trees outside, why not buy a faux one that you can bring outdoors in summertime (in a protected spot like a porch or under a pergola near the house is best if your sun gets intense!) to give you that Mediterranean vibe? This faux olive tree is the best-looking one I've found and comes as small as 6 feet or as tall as 9 feet!
FIREPIT
While this isn't the one shown in my example design board above, THIS is the firepit I'm loving the texture of most right now! (And it's actually less expensive, so I'm definitely including it in my #1 recommendation concept board to the clients, which isn't done yet. The above was my first pass at giving them a visual, as some clients struggle with envisioning what's described to them verbally. It's hard for them to envision, thus one of the reasons why they've hired us!)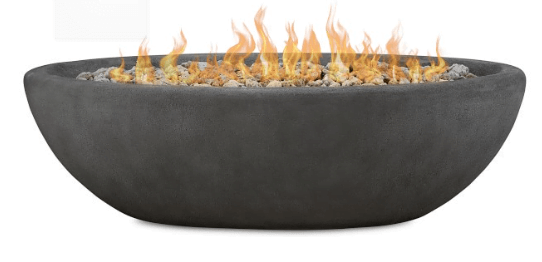 The Pavilion
This is being completely custom-made as the layout is being uniquely designed by us down to the inch–from the outdoor kitchen to dining area to fireplace living area placement, and there is no picture on the internet that will capture the design. 🙂 Sometimes, you just gotta find a placeholder to give a general idea!
Your outdoor space!
I recently told another client, "I don't know which I enjoy more: designing interiors or exteriors!" Anyone who has been in our backyard and has heard our design story about it knows how much outdoor spaces mean to us–and how much we enjoy designing them for people.
While this particular client design is beautiful, you haven't seen the layout of this amazing backyard yet–and why we've chosen the items we have. Each space is unique, and copying what someone else has done will leave your space lacking.
We're here to help find the one-of-a-kind vibe for you and your outdoor space. If you need help figuring out your layout, flow, finishes, furnishings, or any other ideas for your outdoor living areas this spring and summer, check out our Design Service Packages and see how we can help you!
Cheers!
– Jess & Matt
PS: See all our Backyard posts HERE!