Mantels can be the #1 magnet for attracting a plethora of decorative items! I knew I needed to go to a minimal fireplace mantel—while still keeping the look warm and cozy.
For years, I felt an underlying stress in certain rooms and could never figure out why. Fast-forward several years (or decades!) to now, and I'm now aware of why. One of those reasons was visual clutter! (I talk a little more about my story on that here.)
Mantels can be the #1 place for attracting a LOT of items! Thus, I knew I needed to go to a minimal fireplace mantel, but it still took me some playing around with the layout to get what I wanted.
I love that minimal doesn't have to mean cold, austere, or something-sans-personality. Minimalism can be warm, cozy, and welcoming. It may not be for everyone, but for us, going more minimal has changed our lives!
HOW I STYLED MY MINIMAL FIREPLACE MANTEL:
3 Steps to Simplicity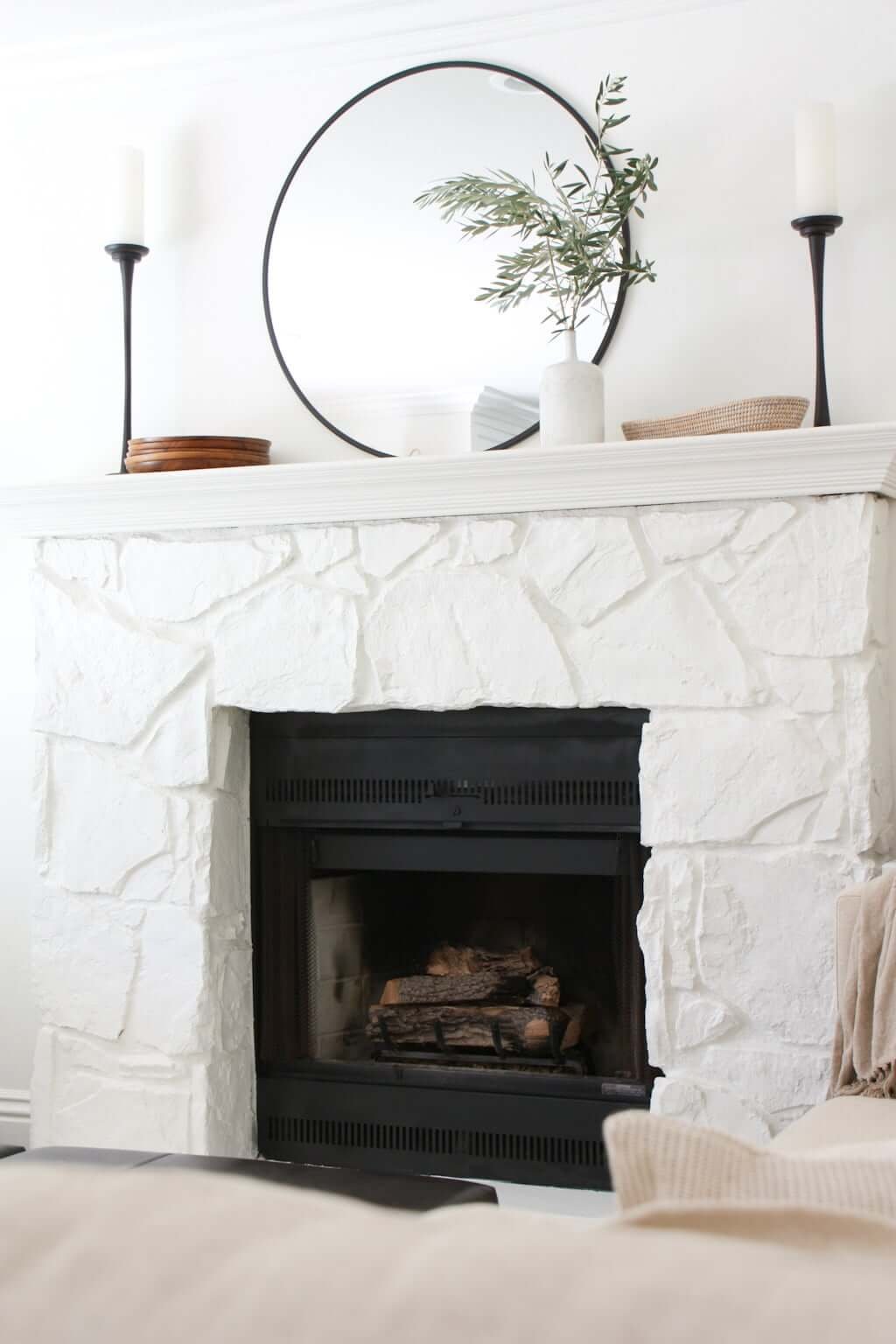 mirror | plates | vase | basket
To style my simple, minimal mantel, here's what I did step-by-step:
Step 1: Purpose.
First, I determined my purpose, which was the following:
to not have our mantel set off my Clutter Alarm every time I looked at it.
Step 2: Strategy.
Second, I determined how I would accomplish #1 would be to keep things as minimal as possible.
TRANSLATION: every item has a specific purpose!
Anything without a purpose has to go!
Step 3: Styling
Here are the 5 "objects" I currently have in our mantel area. I'll share WHY I chose each of them and why they work so well.
#1) Mirror
I knew a mirror would bounce extra light around this room (which needs all the natural light help it can get since there's only one window). Then, I chose a round mirror above the mantel because a round shape would help soften this room full of squares and rectangles. I kept the framing simple and minimal, opting for a black metal frame instead of a thicker or more ornate one.
#2) Candlesticks
I specifically used tall, thin candlesticks (with tall candles) on the mantel. This draws your eyes up and does two things: 1) helps make this fireplace area look taller and 2) helps make our ceilings look higher than they actually are!
We don't have tall, soaring two-story ceilings in this room. We have lower ceilings and believe me, my tall candlestick trick makes a huge visual difference. (I took them down off the mantel once after getting used to them there and was aghast…couldn't rush fast enough to quickly put them back up again!)
#3) Vase
Adding a vase was a must! This way, I can easily add a bit of greenery, because I firmly believe every view needs a green plant in it if possible! Plus I love this vase's thin-neck shape and that brings joy, so win win! The unique shape also adds a little more interest to the mantel setup.
#4) Wood plates
The vintage wood plates were passed down to me from my great-grandfather. We use these as a flat place to set drinks while on the couch. (We have a soft ottoman instead of a coffee table, and we want to ensure any beverages in this room are on a more stable surface.) Plus, the wood tones brings some visual warmth to the white fireplace mantel, so another win win. ("Win" is such a fun word to type, by the way! I'm just getting warmed up!)
#5) Basket
The low basket gives extra texture to the mantel, is short enough to be a good contrast with the taller items, AND it holds our lighter and gas key for the fireplace! Win-win-win!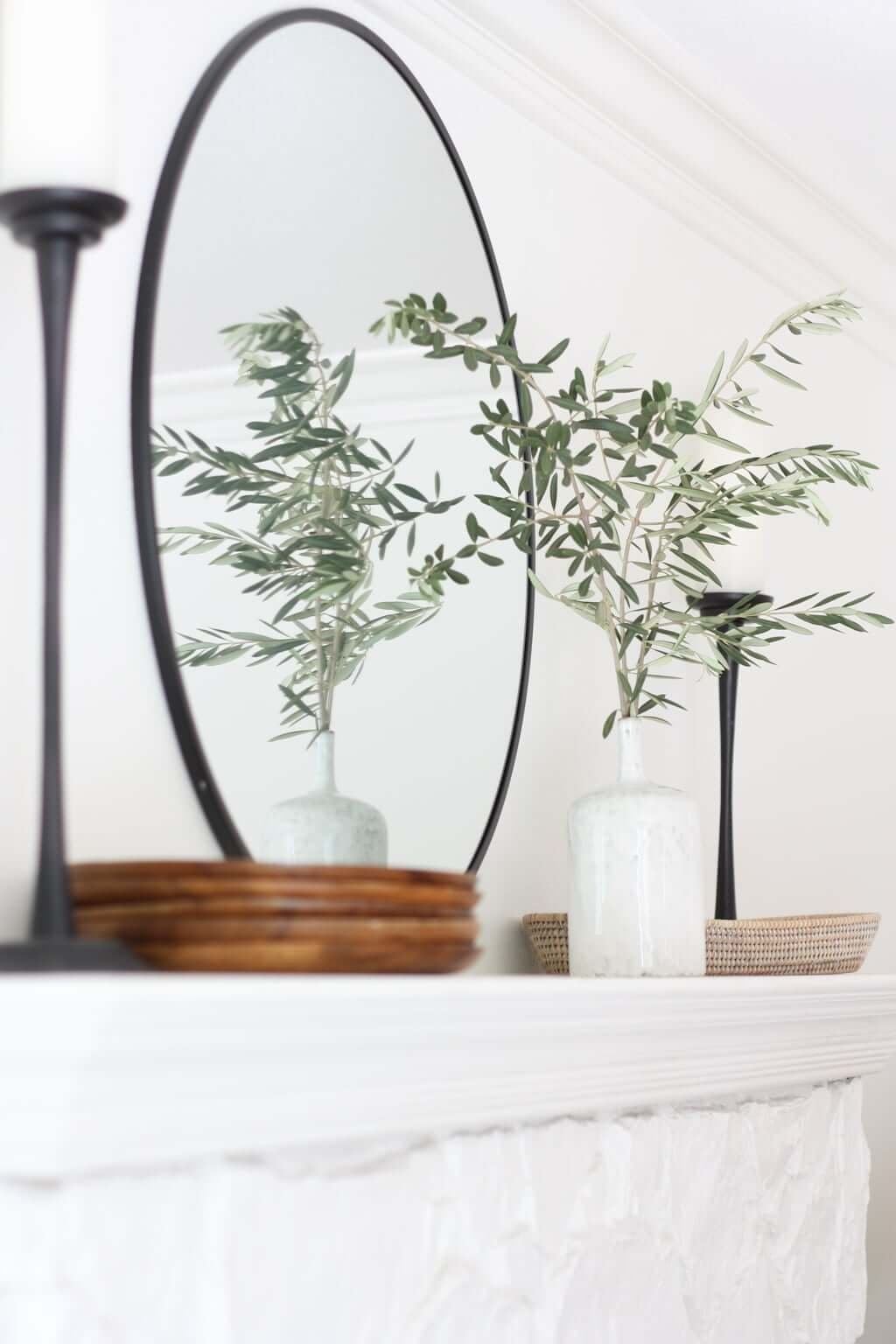 mirror | plates | vase | basket
FINAL ANALYSIS:
Every item has a specific function, so there are no items setting off my "Unnecessary Clutter Alarm." Mission accomplished!
I may make exceptions for upcoming holidays and add some extra items just for fun if wanted…but even then, to me it has a short-term purpose. Then I take the extras down after that holiday or season is done and/or my Clutter Alarm goes off! (It's always a surprise exactly when that will happen…keeps things spicy!)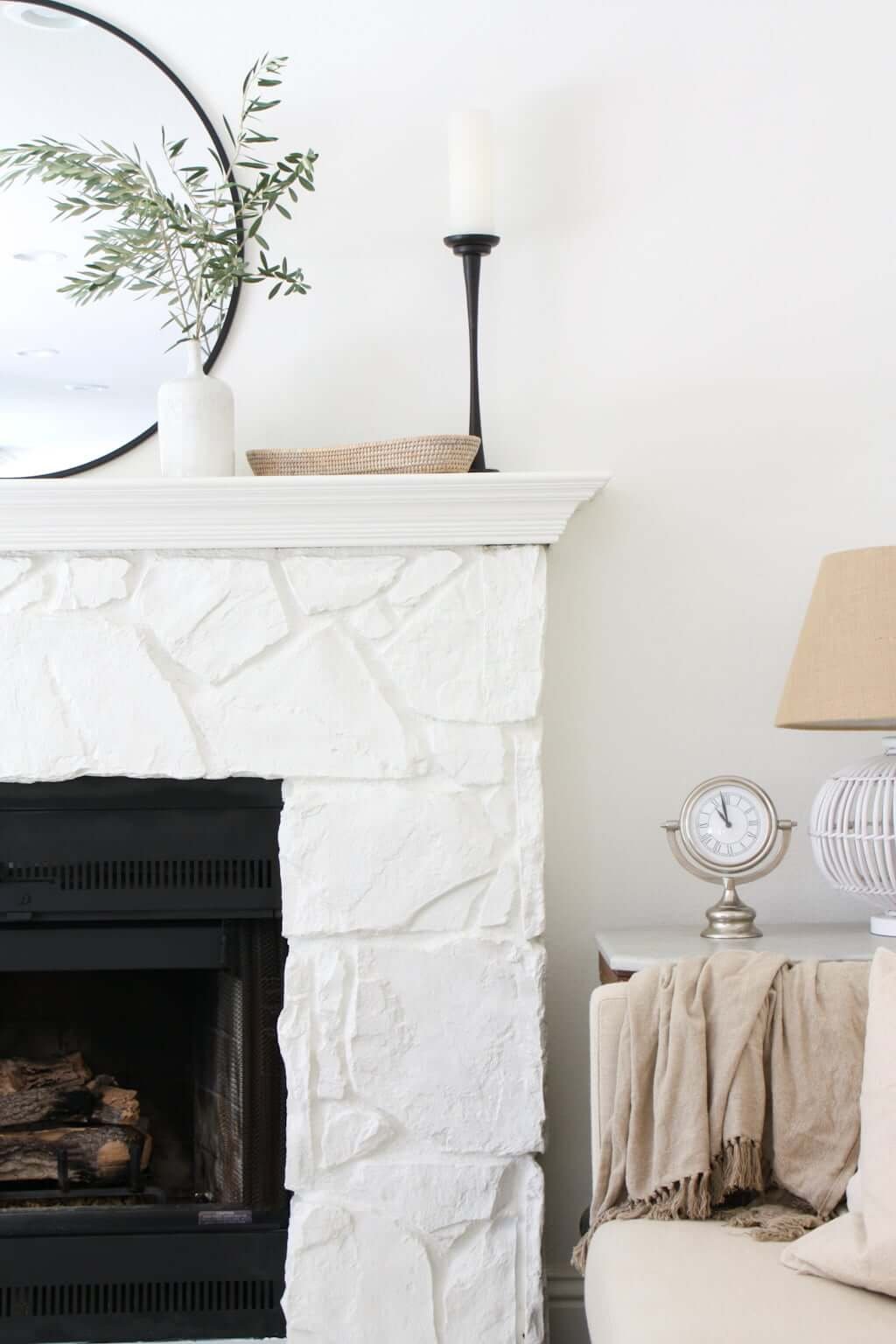 For more tips, see how we totally changed the look of this fireplace stone by simply painting it, as well as the reasons we converted from a wood burning fireplace!
Click to see our brick fireplace makeover in our master bedroom.
➜ Our complete list of every single home project is viewable HERE!
*This post contains affiliate links, which are no extra cost to you but help us keep this site alive.