The other (and even better) half of our gas fireplace design makeover was converting the interior to gas. Ours was a wood-burning fireplace, and we used it as such for several years before we both woke up and decided life would be so much easier if we converted it into a gas fireplace!
(And trust us, we LOVE a real wood-burning fireplace. So why make the change?)
Why We Converted to a Gas Fireplace:
The 5 Pros of (the Right) Gas Fireplace!
Pro #5: Speed:
We could have a roaring fire immediately. Whenever we wanted.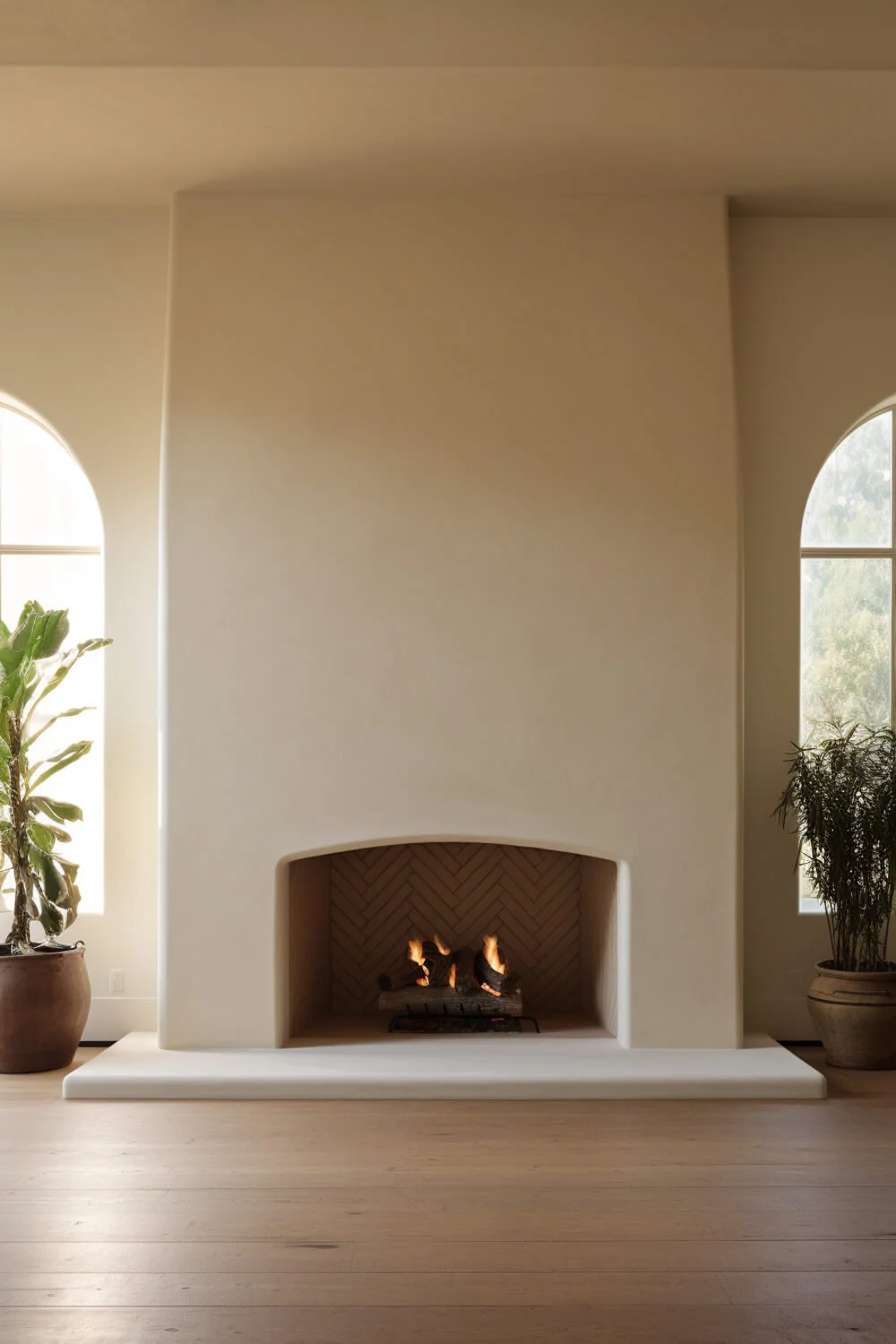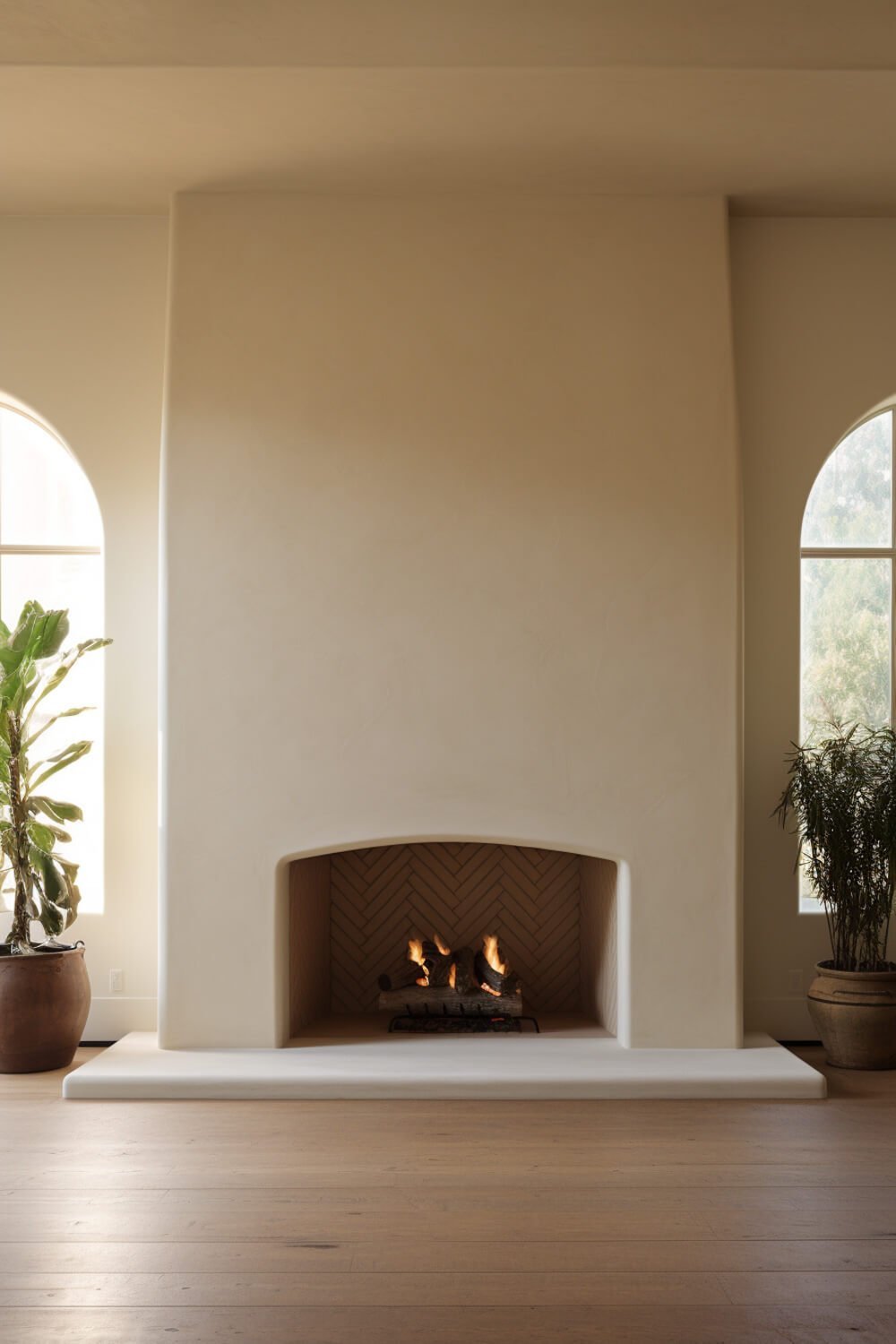 #4: Timing:
We could turn off said roaring fire immediately whenever we wanted (and not have to worry about the timing of our fire, such as "Oh, let's cozy up with a fire…wait, we got the kids to bed so late tonight that now it's so late it's not worth all the hassle…").
#3: Flexibility:
We could have a fire going for 10 hours; we could have a fire going for 10 minutes. Whatever worked for our schedule that night or day.
#2: Low maintenance:
Less hassle with the following: Wood inside. Wood outside. Wood too wet. Spiders in wood. Did we kill all the spiders. Will this wood burn well. Kids playing in wood. Storage. Splinters. Etc.
#1: Cleanliness:
Again, wood. Wood chips. Spiders in wood. Ashes. Smoke. Etc.
WHY WE CONVERTED TO A GAS FIREPLACE:
The Cons
The major drawback? Let's call it "Faux Alert!" I pretty much think ALL fake wood fireplaces look…well, fake. I can get reeeeeeally picky about things being natural and looking real.
But the practicality and function of this gas-burning fireplace idea was so tempting that you know I had to begin the hunt to find the most realistic log set possible for our two fireplaces (one in our living room and one in our master bedroom). I was convinced it had to be out there…somewhere…
CONVERTING TO A GAS FIREPLACE:
Finding the Best, Most Realistic Gas Fire Logs!
If you've been thinking about converting your fireplace and have no idea where to start, Matt has written a post on exactly how to do that, step-by-step. And if you (like me) love REAL wood-burning fireplaces and are nervous about the log set looking fake, let me save you some time.
Because, my friend, I vetted SO many log sets. I went to showrooms. I ordered (and returned) online sets. I set up testers in my house, in real light, with no internet-fancy-photography-lighting, and saw which ones worked and which ones didn't. Call me a Crazy Person, or call me a Brilliant Determined-to-Have-the-Real-Wood-Look-Without-Wood Woman…but the great news is that I did all the leg work for you and found one that passed The Jess Test!
No one has paid me for this; I've never even communicated with anyone at this company. I just really and truly found the best looking gas fireplace logs (and at a totally reasonable price, because you know we like that).

CONVERTING TO A GAS FIREPLACE:
Bonus Gas Fireplace Design Notes!
I'll just mention two more things before passing you on to Matt's post about how to do it easily yourself. (Really, he makes things so easy! Whereas his wife—ahem—has been occasionally known to complicate them…)
DESIGN TIP #1: Don't paint the fire box!
We purposefully left our fireplace interior (the firebox) unpainted before putting in the gas log set. I liked the look that all the real wood fires over the years had created inside the firebox. Now THAT was natural! While some people like the look of a perfectly clean, painted firebox in the background, I liked the real fire look our firebox had acquired. Thus we left them the way you see here.
DESIGN TIP #2: Create your own log layout!
As per usual, I wasn't satisfied with the configurations the manufacturer instructed us to use for arrangements. (Theirs looked too fakey to me when I did my test arrangements.) So, again as usual, I made up my own layout. I also arranged them so that the fire would come up through the logs in a much more realistic way. This does leave some dark marks on the logs but again, I like that because real wood gets char marks too.
And I was allllllll about finding every way possible to make this look like a real wood fireplace. Doesn't this look like a fire just waiting to be lit? I think so! My Faux-o-Meter does not go off!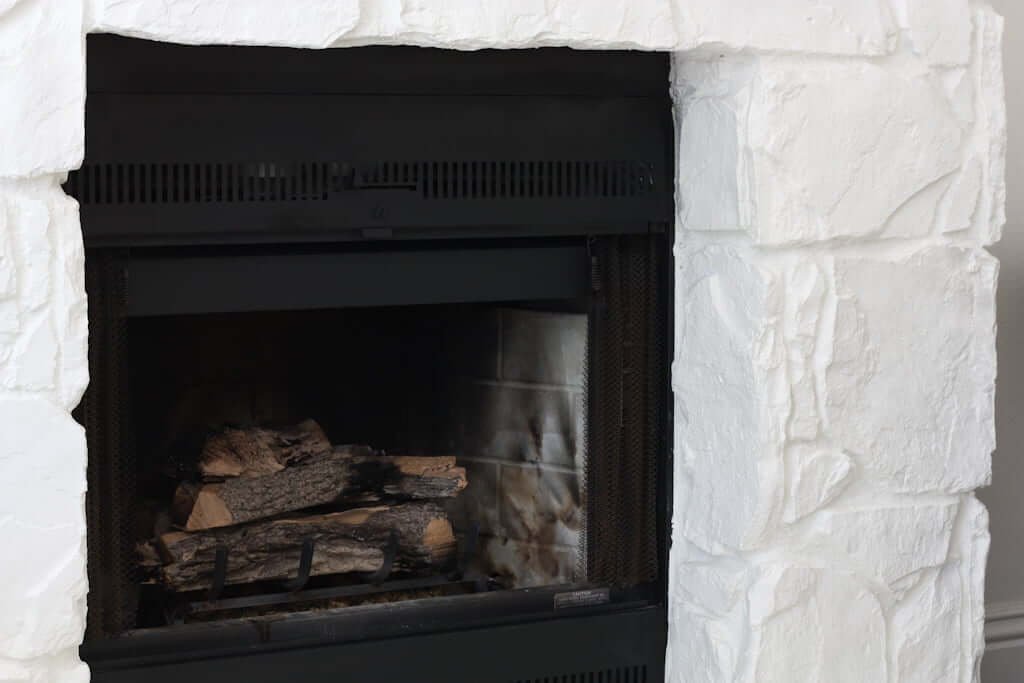 And here it is lit. (In an instant. It's SO much better. It kills me that it took us so long to convert our fireplaces, we're enjoying them so much!)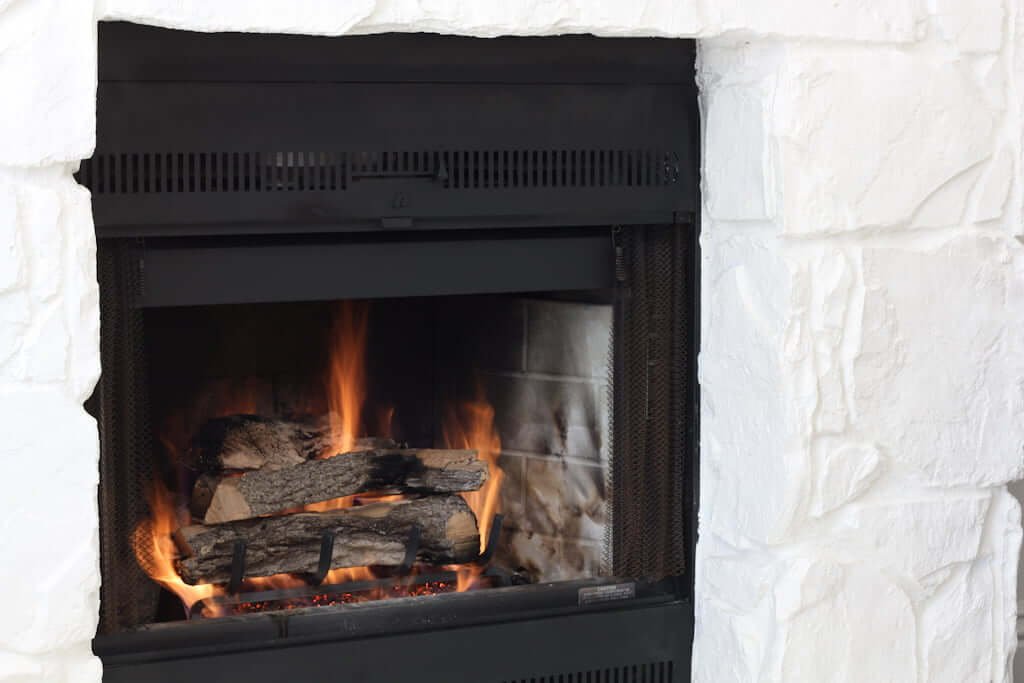 Even when it's unlit, I am SOOOOOOOOOOOO happy with how real it looks. I can't put enough O's in that. I see it all the livelong day out of the corner of my eye (our kitchen looks right into this room).
mirror | plates | vase | basket
Zero mess. Instant fires on and off. No hassle. There are lovely-looking logs always in my fireplace, inviting us to come cozy up and enjoy a slower pace.
No exaggerations here: it's been lifestyle-changing for us.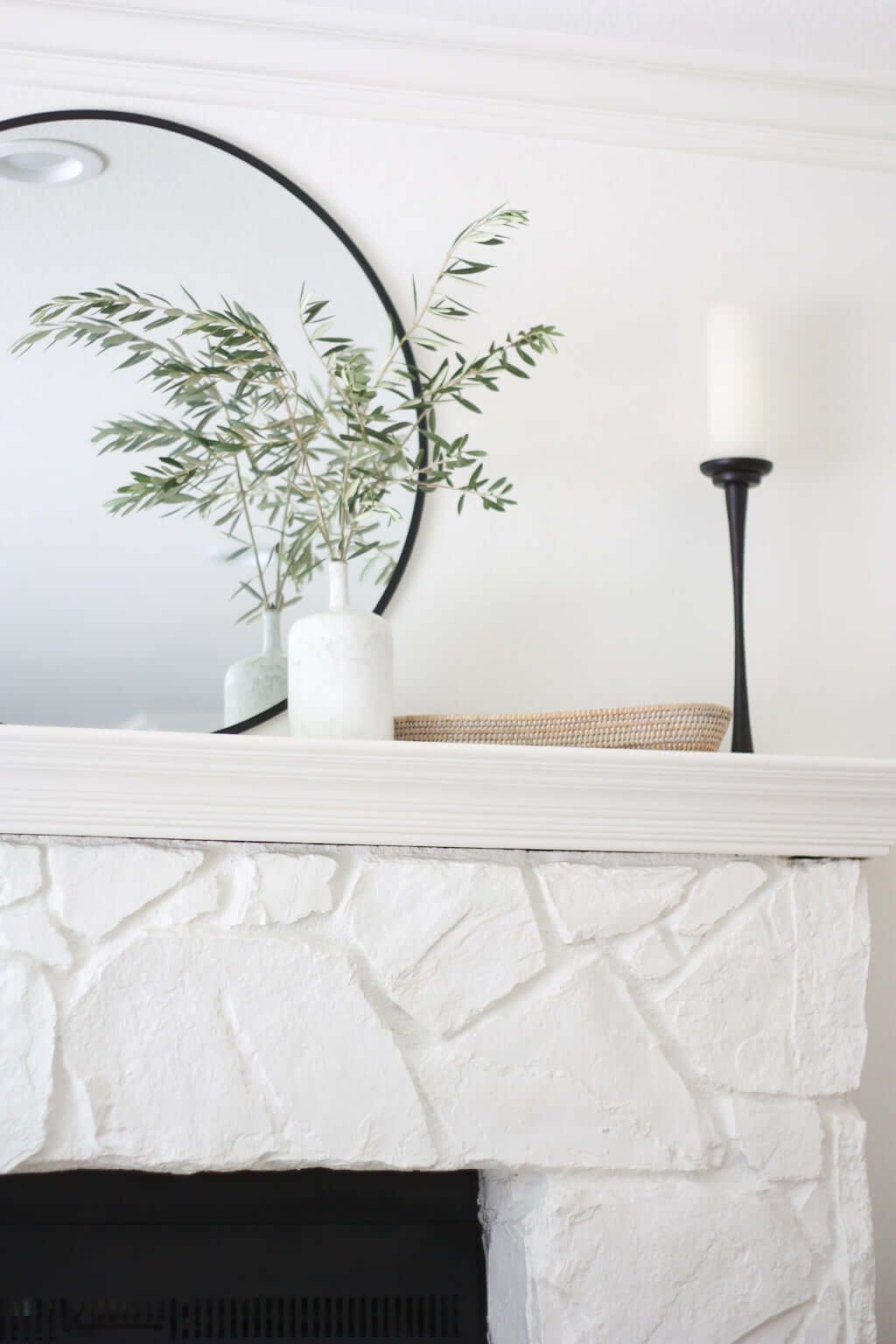 DESIGN TIP #3: Should You Avoid a TV Over Your Fireplace?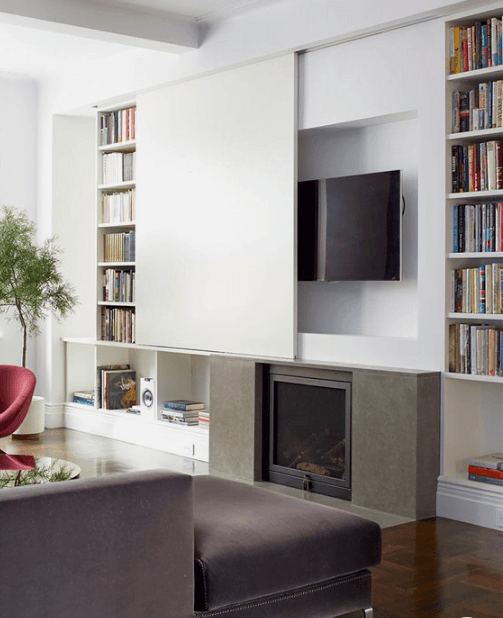 TV above fireplace: should you do it…or avoid it?
We're sharing our insights in this post!
Next…
See the makeover of how we painted our stone fireplace white here, or read Matt's clear step-by-step post showing you exactly how to convert your fireplace to a gas one. (It's so doable that even his wife could do it!)
*This post contains affiliate links, which are no extra cost to you but help us keep this site alive!