While there's so much to say about why and how we completed our outdoor bar project in just a couple days and with minimal cost, I'll have to break it into several posts—so this will be the first overview on why and how we made our backyard bar!
If you're new and haven't taken the tour of our backyard yet, you might want to do that to get a little backstory! It's okay, I'll wait! You can come back and finish this post afterwards. 😊
If you've already read that, let's charge on!
OUTDOOR BAR
Step #1: Design Testing Phase
While it may have only taken 3 days to execute, it took us at least 3 months to design this outdoor bar!
As I've mentioned in this post, including a testing phase is often part of successful design. Unless your money grows on trees (please contact me with where you got yours!), you're not going to want to spend money, time, and energy on a project just to want to rip it out and redo it later.
So while it's tempting to jump into a project as soon as you've gotten the idea, it's wiser to take baby steps!
STEP #1: MOVE OLD LANDSCAPING!
Our first baby step was to move the wall landscaping we'd put in to other areas of our backyard. We did leave a couple of the larger plants (the Giant Bird of Paradise you can see is wrapped up with twine for the high winds we were getting at the time!), but cleared away a spot in front of the wall to see how space would work for an outdoor bar area.
PS: You may be wondering about that stucco wall, which I started writing about and it was getting so long I realized it was beyond the scope of this post and warranted its own post…coming next. 😉
STEP #2: CHOOSE pAINT COLOR!
At the same time, I wanted to start thinking about paint color for the patio bar wall. We had a leftover color from another project, so it was free and not being used for this test phase.
Matt used his spray gun to give the new outdoor bar stucco a new color, and I quickly determined it was far too grey against the new concrete colors and stone veneer we'd use in our recent backyard remodel.
The good thing it did was help us to start seeing the wall in a new light, so to speak, since we'd been staring at the old one for over 3 years!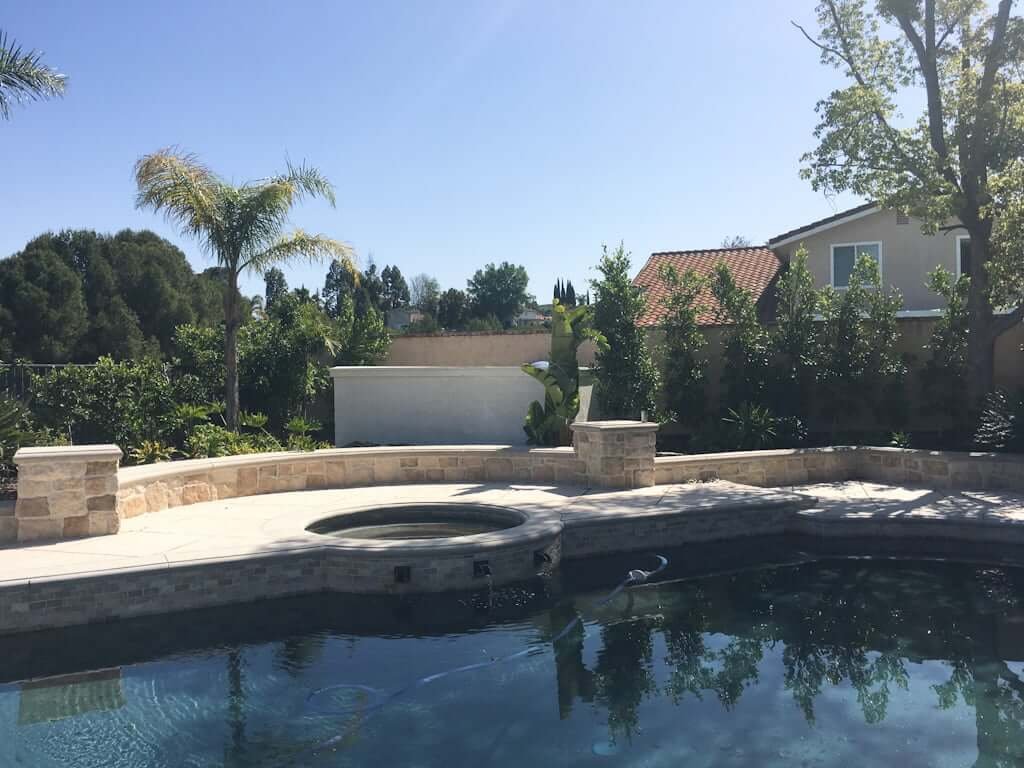 STEP #3: TEST BARTOP SIZING!
We also had some extra wood leftover from an old project, and I asked Matt to fashion a temporary wood bar countertop from it.
He painted it white so we could see how that looked, since I was toying with the idea of different color combinations with the stucco and the bar top color.
(I was toying with the idea of white concrete, which can be gorgeous—but more expensive.)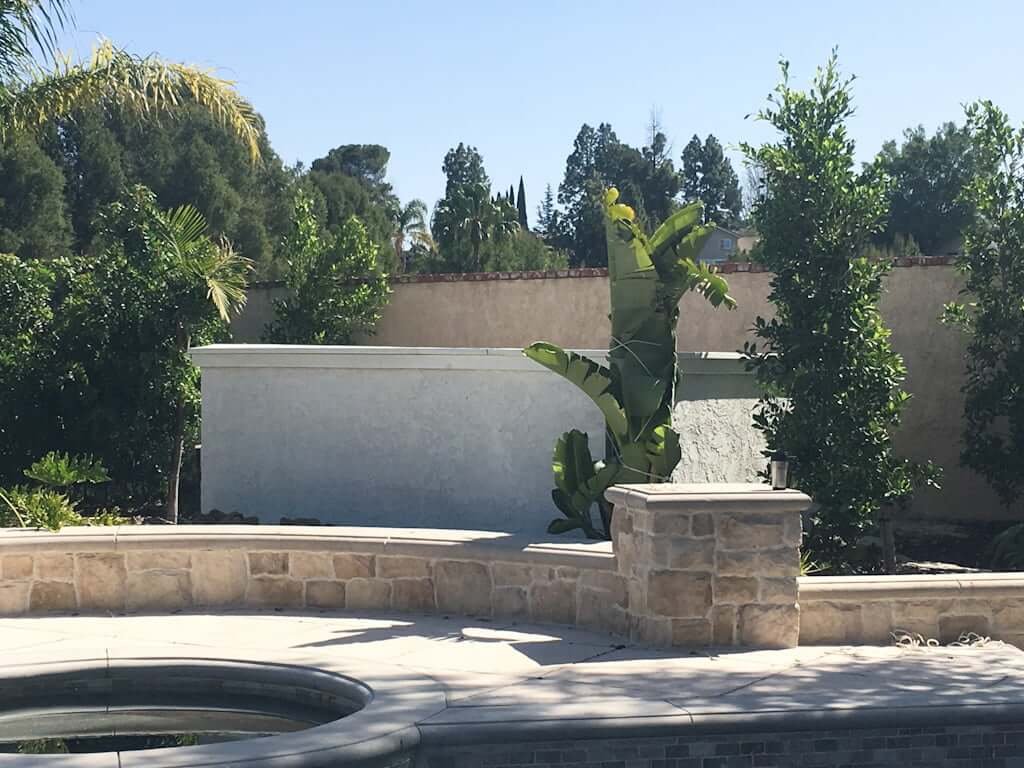 Knowing when to take certain things slower (and others fast!) is all part of saving serious money on your backyard project! (We walk you through what to do–and not to do–that on HERE!)
PATIO BAR
Step #2: Real-life testing phase.
Next, we moved in one of our patio bar stools and two umbrellas to get an idea of how it might look and work in real life. And mama was lovin' the direction we were headed!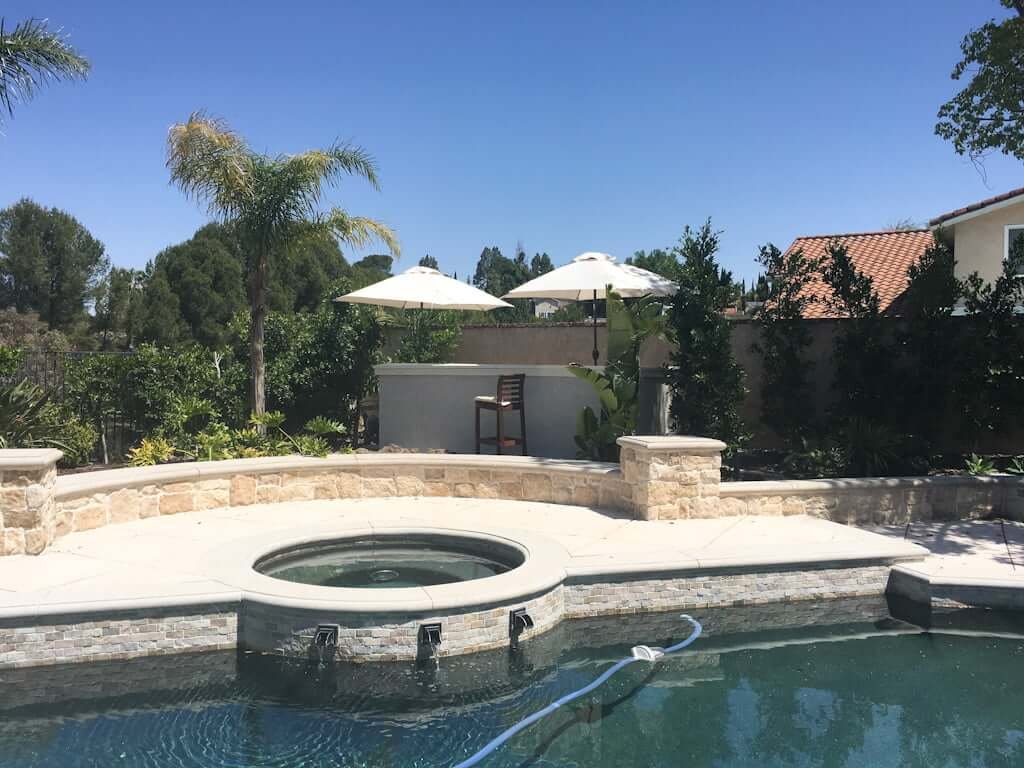 One of the bonuses of this outdoor bar is a stunning view of the mountains in the distance! I'm of the die-hard opinion that seeing mountains is just good for our souls!
(Here's a small peek from my phone before we painted the Temporary Tester Bartop and cleared out plants.)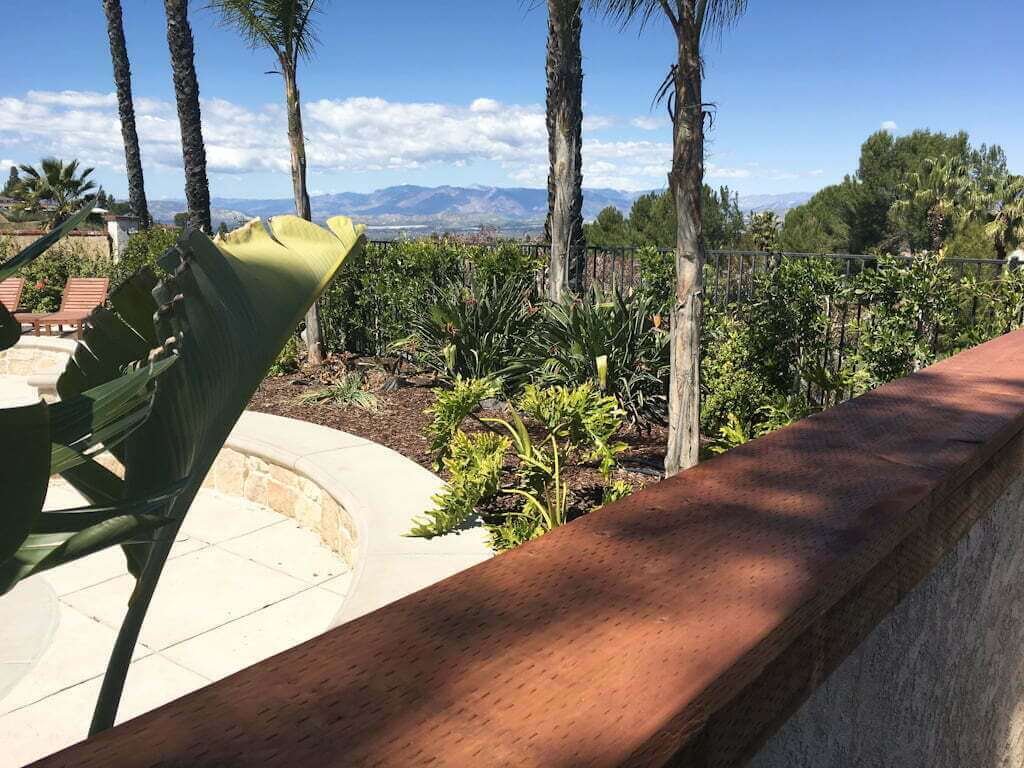 Matt and I brought out our glasses of wine, turned a couple of the patio bar stools towards the sunset, and determined that this was our new "Sunset Bar"! 🥰 (The girls helped us name it.)
During the summer, the sun sets over the mountains on the right. It's stunning! I'll have to includes some pics of that in another post.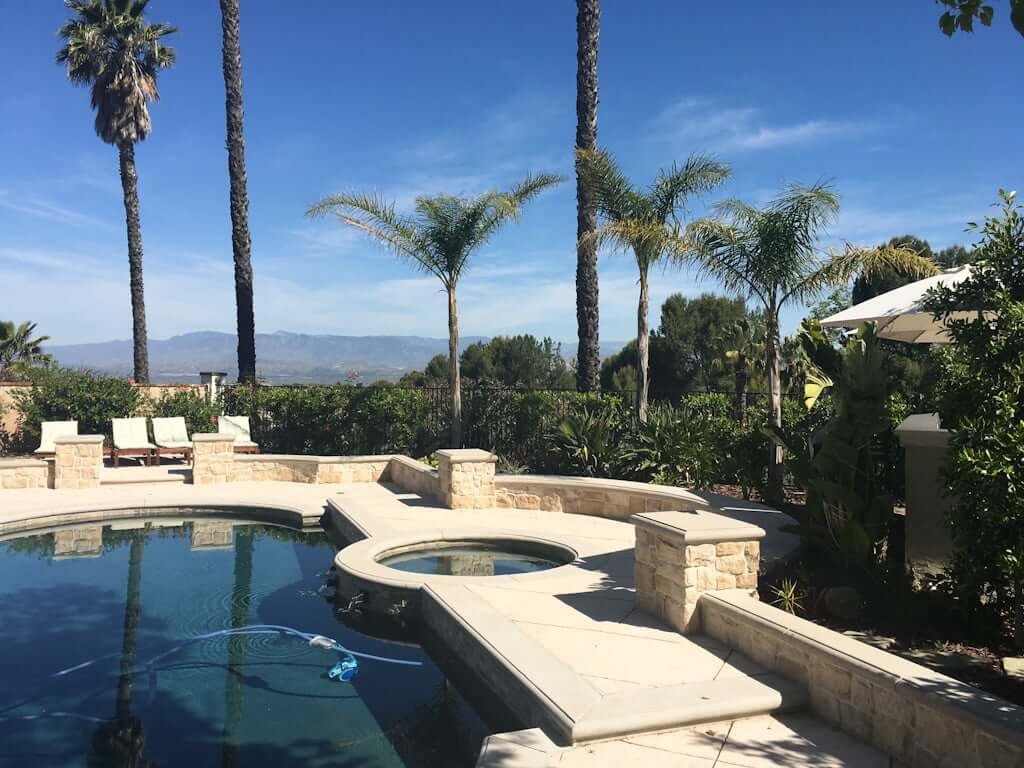 OUTDOOR PATIO BAR
Flooring Options.
Matt and I toyed with several ideas for the flooring in this outdoor bar area. Because the mountain view was even more spectacular the higher you were, we wanted to figure out a way to raise the ground level for this area.
We thought about
A concrete patio bar.
Laying out flagstone for the bar area floor.
Bricking in the bar patio level.
Building a deck for our "outdoor pool bar" area.
If you're working on an outdoor project where you'll need to buy materials, you need THIS!
outdoor bar with roof
Covered Bar Designs.
Next up was coming up with outdoor bar with roof designs! We absolutely wanted a covered bar because of that hot afternoon sun mentioned in our other posts, which hits this spot for most of the day in the hottest parts of summer!
I could break off this process into another article, comparing all the different roof designs I came up with, but for purposes of this post I'll just say we decided on a pergola-style covering for the roof, reminiscent of Mediterranean island outdoor bars & sitting areas like these!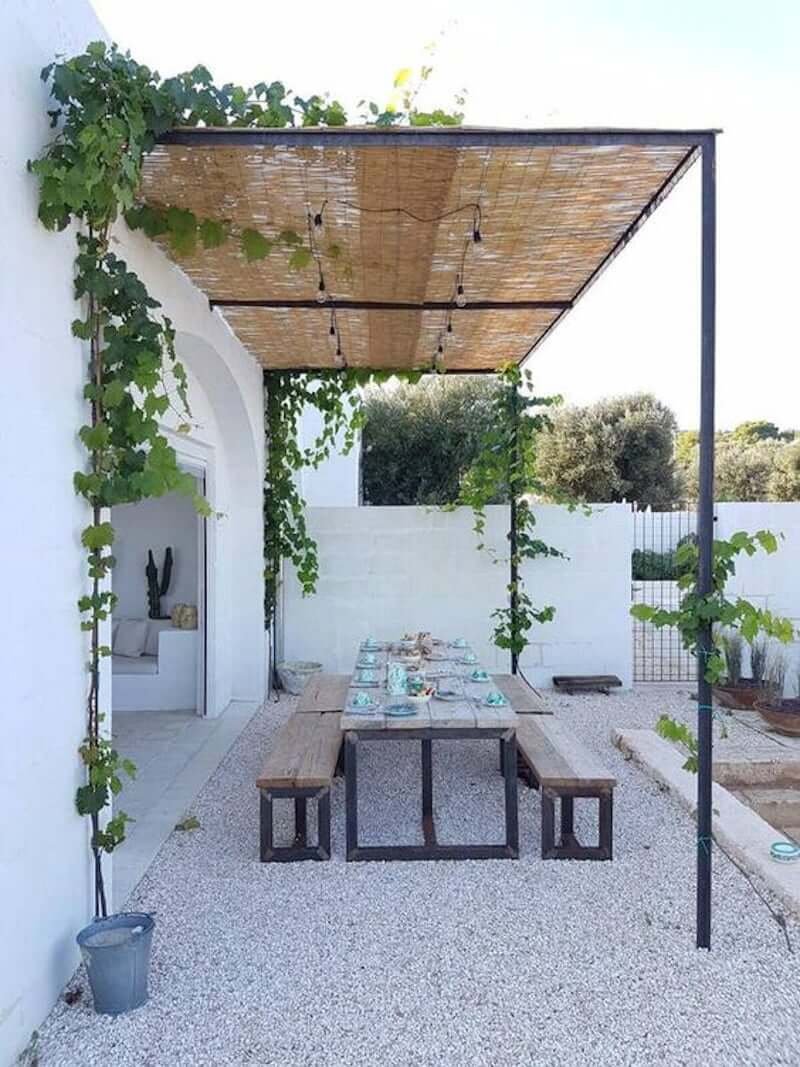 One day I'd love to write about how I arrived at this design instead of others, but it will definitely warrant its own post, because MAMA GIVES DETAILS! 🤣
BACKYARD BAR SHED
What designs did I reject?
I rejected a number of potential designs, one of which was doing a backyard bar shed, kinda like these: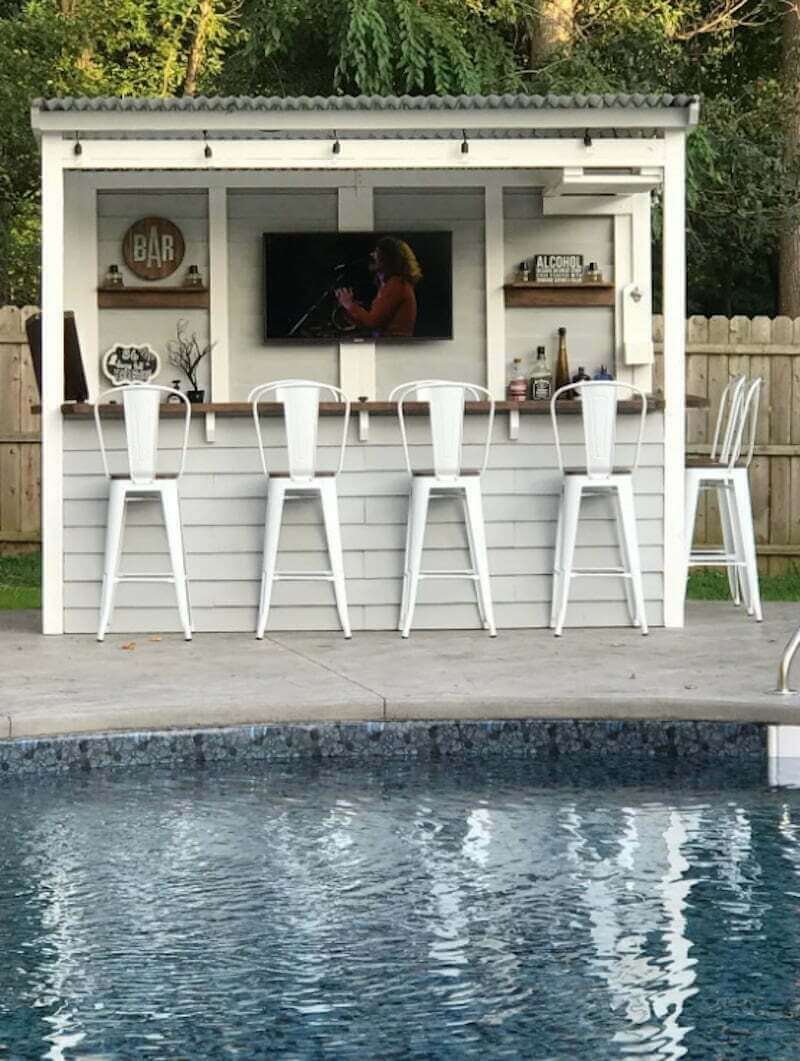 They just never looked quite as high quality as I wanted, and in addition to that, our space was just so small that leaving it open and airy made the most sense. Goodbye, backyard bar shed passing fancy.
I would have LOVED to have the space to do my Big Kahuna design, which was a separate guest house (with pool equipment hidden in the back via a separate door) as well as a full bathroom, with the outdoor bar to the side, but I would have needed quite a bit more width and depth in this backyard corner for that! 🤣 😂 🤣
backyard bar with outdoor barstools
Before & After!
After three days and $800 in materials, we were able to build the below!
Before:
OUR OUTDOOR BAR WITH ROOF "AFTER":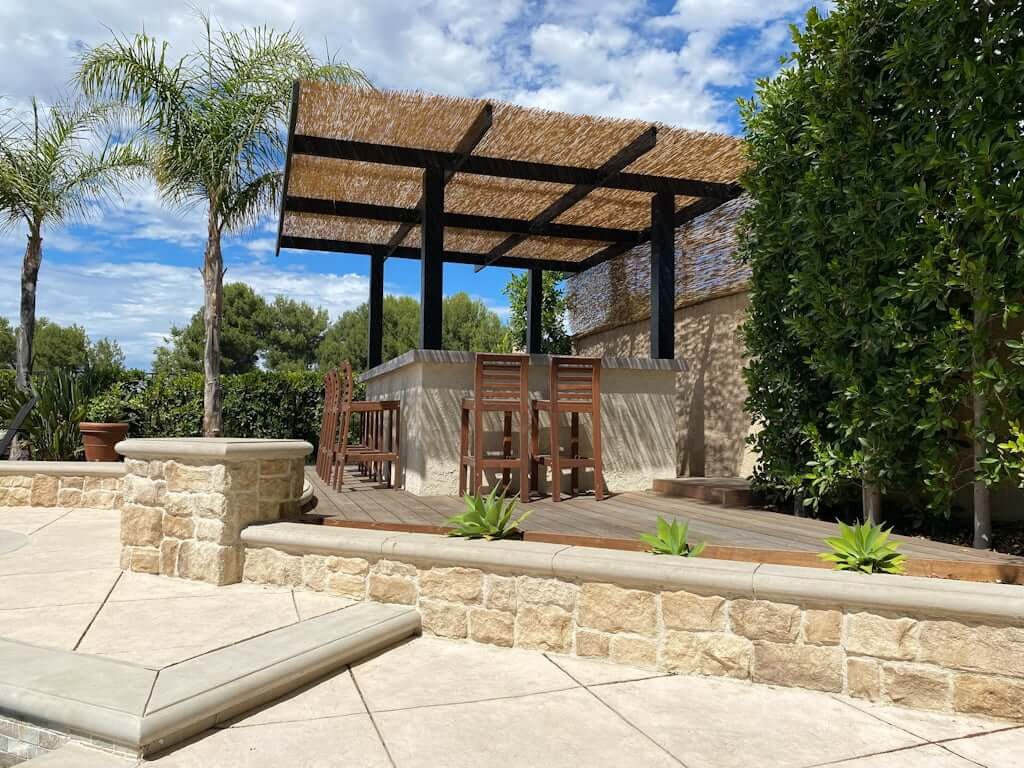 And while Matt "The Brawn," as usual, did most of the physical labor (by far!), I still include myself and say "we" because I did help him lift some of those massive 16′ solid wood beams which are incredibly heavy! I also did several hours of painting, so that counts as "we," right?😄 Matt also helped design this outdoor bar and think through it, so there is definite overlap in our "brain" and "brawn" tasks.
Feels pretty vacation vibey, yeah?!?
And—possibly best of all in my mind—it solved that "focal point" issue the backyard had had for years.
Now, looking back at the backyard (especially from our house and our kitchen!), there was a clear focal point. The outdoor bar also gave another layer of some much-needed height to the space! (The palm trees are another layer of that, as a taller element.)
Not having a focal point is an easy mistake people make in their backyards. (I share more easy mistakes to avoid here!)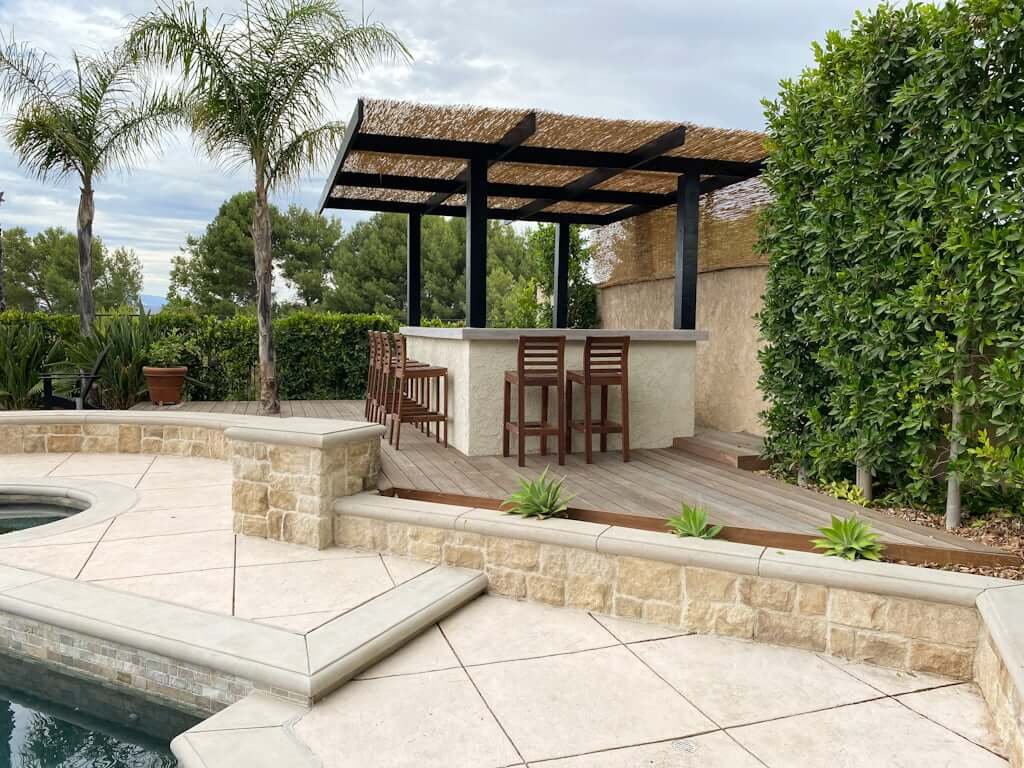 OUTDOOR BAR IDEAS
Why'd we go with the color choices we did?
After we remodeled our backyard and pool, Matt installed a black metal pool fence. You might remember from this tour what kind of pool barrier was there before, and we were not keeping that.
I chose black paint for the posts and beams for a number of reasons:
I like the look of the black against the light beige and sand colors.
The black brings more of a modern feel to the space.
I loved the look of the thin metal supports in some of my inspiration photos, so painting the wood black gave it more of that same look.
With the black pool fence and black dining set we have in two of our raised patio areas, I knew it would tie them all together.
I didn't want any extra moldings or corbels on this pergola, to keep a cleaner and more modern feel to it. This house may be traditional in a great deal of ways, and we chose not to work against that with all our renovations, but I find myself moving closer and closer to clean lines. (Which is fun to look back at my childhood Architectural Digest magazine tear-outs and see that my favorites were these uber-contemporary, minimalistic structures. Just interesting…!)
If we wanted it to win any AD awards😂, we would have needed to spend tens of thousands of dollars on this outdoor bar! However, we're perfectly content with $800 compared to how much it looks like we spent, and how it achieves everything we need!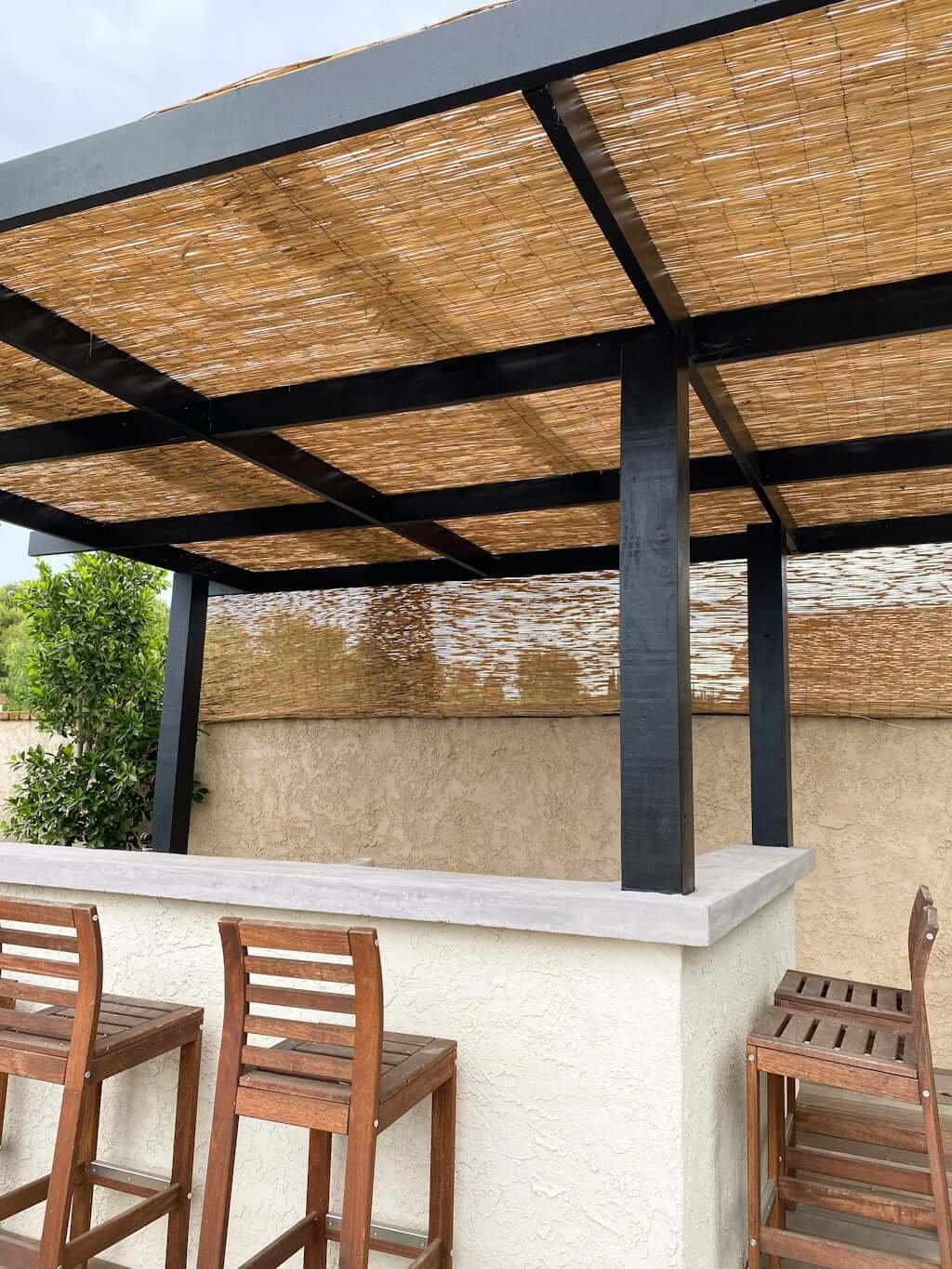 These outdoor barstools we found at Ikea, and they tie in perfectly to the thatch material above and warm the grey/black tones up a bit.
OUTDOOR BAR WITH ROOF
"Why did you choose thatch & why is it hanging down behind your outdoor bar?"
No one has actually asked me this question, but I'm just pre-emptively going to answer it for any of you who might have asked! 😊
I've mentioned needing to write a whole other post on why I came up with the design and roof I did, in order to keep this post short, so I'll have to address that there.
The short answer of why it's hanging down is privacy! When you're lying in the chaise lounges on the far end of our pool, there's a couple bedroom windows in the house behind us that could look directly onto the chaises. Long story short, I realized that if I had the outdoor bar roof thatch hang down here, it created the perfect "privacy wall" without being too dramatic.
We even painstakingly designed the rooftop dimensions to give the perfect amounts of shade at the ideal times of day we were using it, and placed the beams at strategic inches, but that's a level of detail I won't get into with y'all right now.
But those of you who know us know we're going through an incredible amount of thoughtfulness behind the scenes of all our projects! 😄
OUTDOOR BAR PLANS WITH ROOF
Design Plans for Our Pergola with Bar
We plan to add our outdoor bar plans to our new Design Plan Shop soon! We've already got a post created for you all about our concrete countertops, both in this outdoor bar and our outdoor kitchen!
Next…
If you're working on an outdoor project, you'll hate to miss our "How to Save Serious Money on Your Backyard!"
➜ View The Complete List of our backyard remodel posts, full of money-saving tips, DIYs & design ideas!
➜ See our Apocalypse Preview (why we ripped out our backyard & pool in the first place), 3 ways to build a raised patio, or how we put a zipline in our backyard without two trees!
➜ Our complete list of every single home project is viewable HERE.