After finalizing our solid shower walls, we then had to address the shower floor tile. We wanted a tile small enough that we could have a non-slip shower floor, but big enough to have as few grout lines as possible.
I don't know how to explain what I'm about to tell you—maybe I had a terrible fall as a young child—but I somehow have a fear of hydroplaning while standing on tile. Even just writing about it makes me want to grab hold of the edge of this desk to stabilize myself. I don't know why, but there it is!
THE SURPRISE COLOR CONUNDRUM.
We wanted the floor tile to match our walls, but that was easier said than done. We soon discovered that since we'd gone for the beautiful porcelain slabs for our shower walls (a fraction of the cost of real marble), it was impossible to find a marble floor tile that matched it. And we tried. Oh we tried.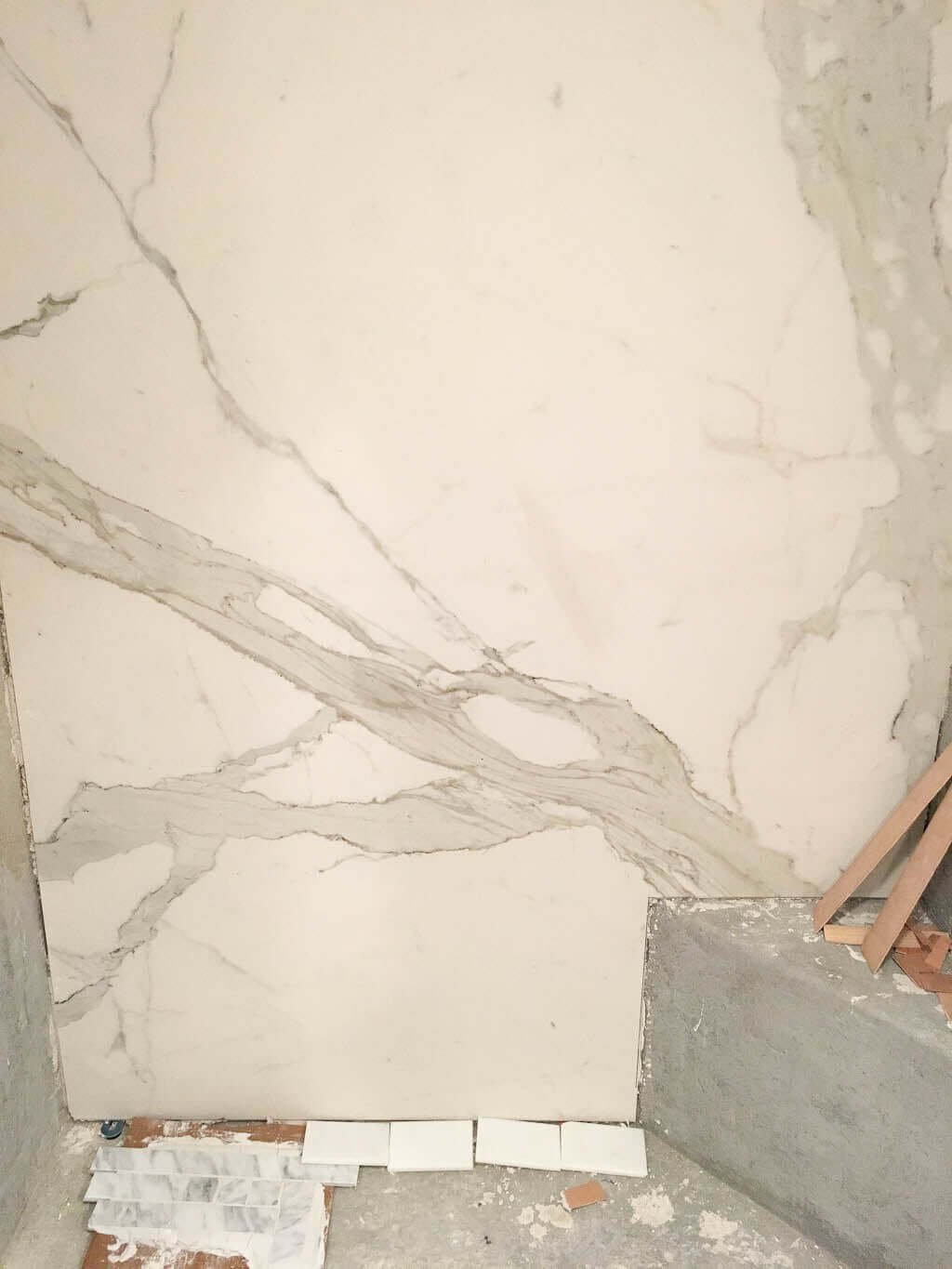 You see, the new shower wall material isn't a bright white. Instead, it's more of a creamy white. Which you wouldn't think would be hard to match.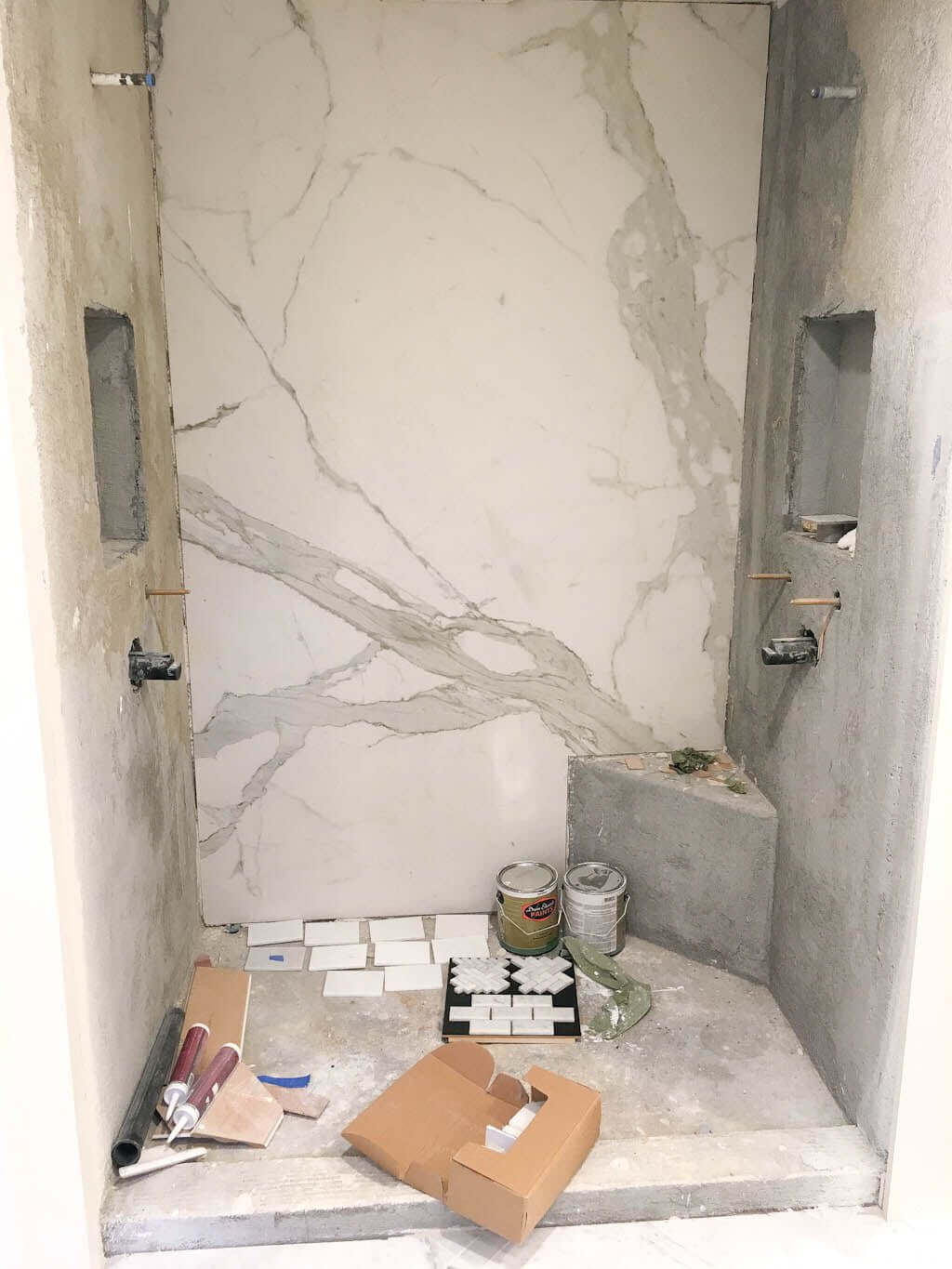 We'd already tiled another marble bathroom in the past, and I didn't forsee this as a problem. What a surprise it was! We tried all kinds of marble tiles with more gold veining in them, but no. It was all about the "background" white being completely different.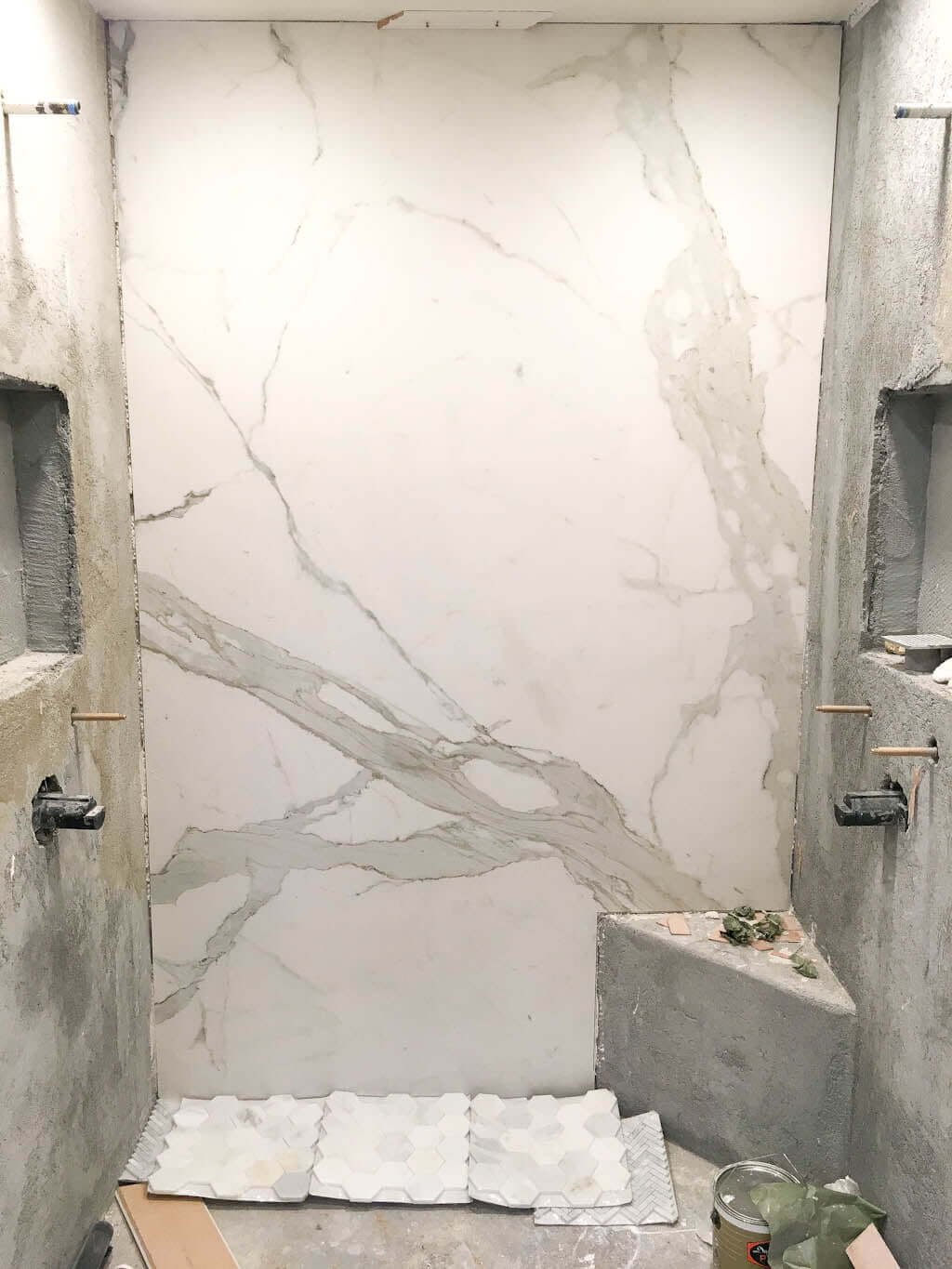 The below tile pattern was gorgeous, absolutely gorgeous, but I also wasn't too excited about all those tiny grout lines, either. Thinking ahead to practicality usually wins!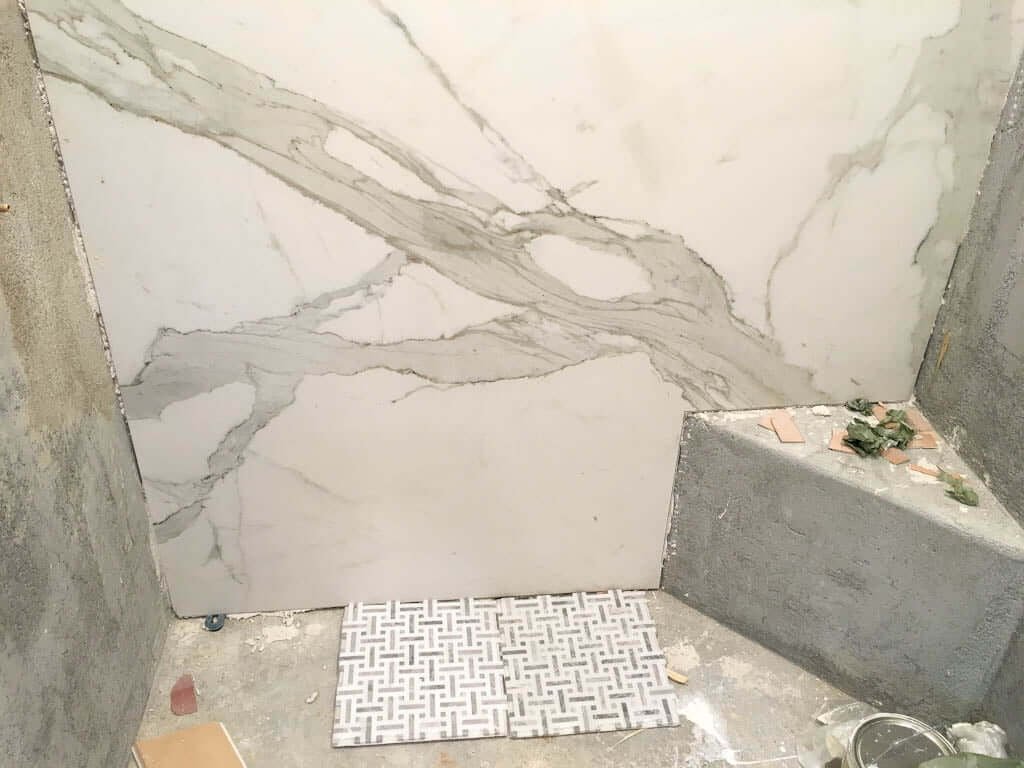 I'd been leaning towards a herringbone pattern, but again…all those tiny, manymany grout lines like this one. (Not to mention the wrong coloring with the shower walls.)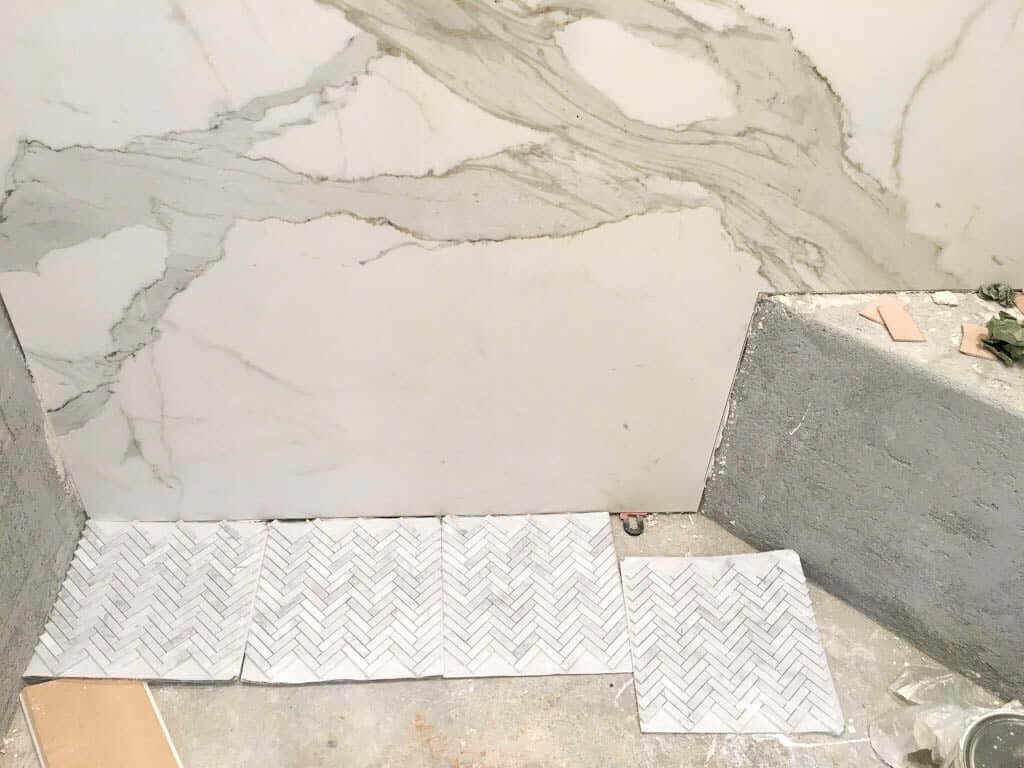 NON-SLIP SHOWER FLOOR BRILLIANCE.
After weeks of searching, we were hit with a stroke of brilliance. We had leftover porcelain from the three slabs; why not ask the fabricator if he could cut us some custom-size tiles from that porcelain? It would
match perfectly!
be exactly the right size! (Not too small and not too large = hard to find!)
The fabricator said yes, he could do that, and we promptly requested 2″x6″ pieces that we could lay in a herringbone pattern on the shower floor.
It would have been IMPOSSIBLE for us to get this exact size we wanted in the exact color we wanted for floor tile, had we not thought of doing this. Let's test it out to see how it looks: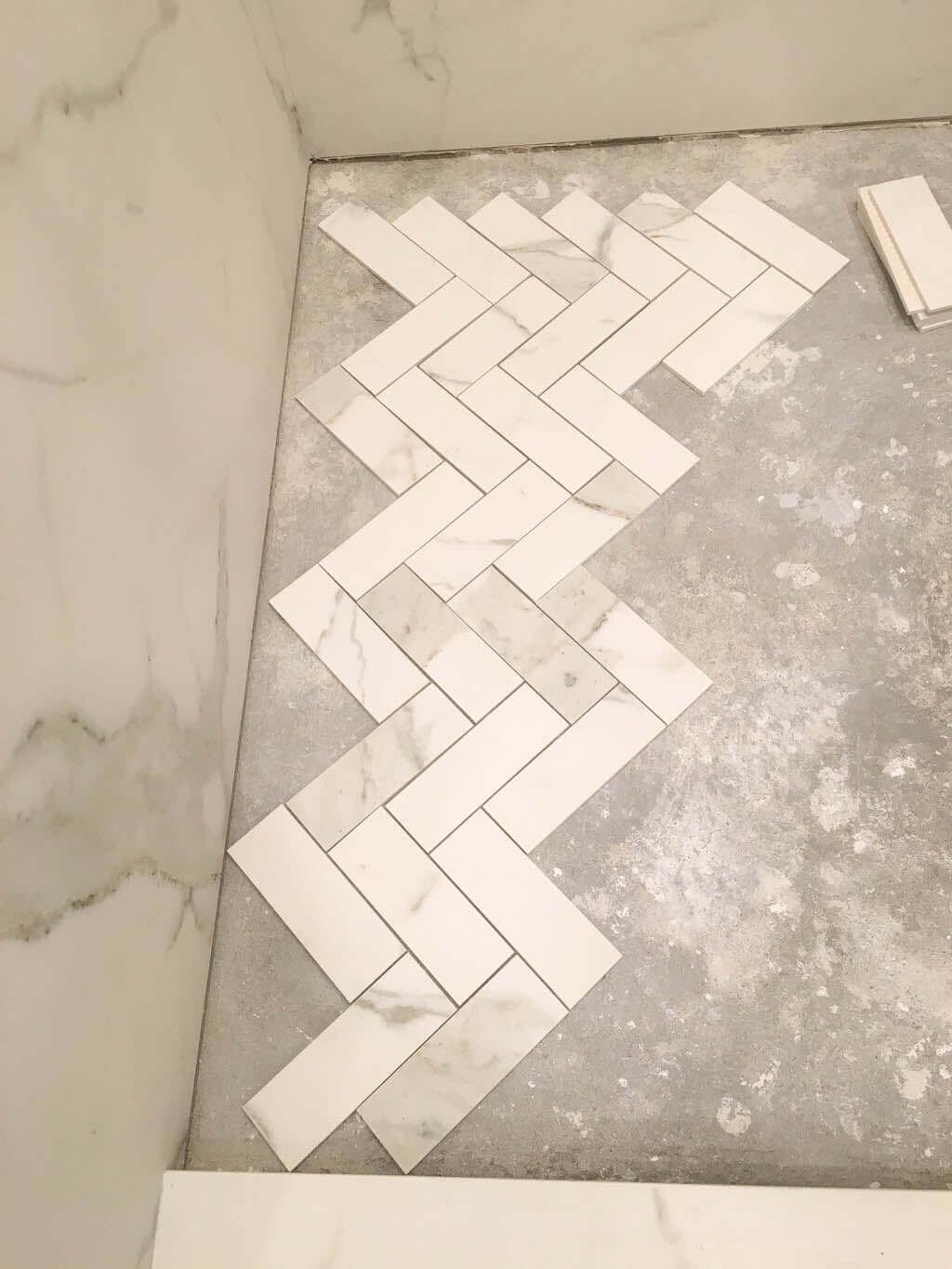 Approved? Approved! With all my heart!
Next step: finish tiling the floor then install our gorgeous hardware so that Matt and I can both dance around in this double shower—together!—and knock nary an elbow.
---
Click below to see a step on our bathroom remodel:
Or, you can see every single one of our house renovation projects HERE!