Looking for the best outdoor sink ideas? Whether it's just a simple garden sink, outdoor sink station, or a full outdoor kitchen sink you need, we're sharing our 3 smart sink-choosing tips & how you can avoid mistakes we made!
Years before we had one, I thought having an outdoor sink was an unnecessary waste. Something fancy people who didn't know any better added to their outdoor spaces just because they'd seen it on some home makeover show.😆
We wrote in detail about our outdoor kitchen in this post, but after starting to get into the sink details, we realized it needed its own post!
Plus, we'll answer common questions like
"What kind of sink is best for outside?"
"Can I put a sink outside?"
"Why would I need a sink outside?"
"Can you have an outdoor sink without plumbing?"
"How do you build an outdoor sink?"
"Can a stainless sink go outside?"
"How do you connect a garden hose to an outdoor sink?"
"How do I protect my outdoor sink?"
Let's do it!
OUTDOOR SINK IDEAS
"Do I even need an outdoor sink?"
If you've never wished for an outdoor sink station, it's possible you may not need one—but here are some cases in which you might want to consider adding an outdoor kitchen sink station or garden sink!
You're adding an outdoor kitchen area. (Whether it's large-ish or small-ish!)
You have an outdoor BBQ but still find yourself wanting a sink to wash your hands after handling raw meat.
You find yourself wanting an easy place to get a drink of water while outdoors (without having to traipse inside).
You like to garden and need a place to wash your hands more comfortably than bending over to use a hose.
You entertain often and find your guests needing/looking for a sink to use.
You need a good water source somewhere far from your home interior.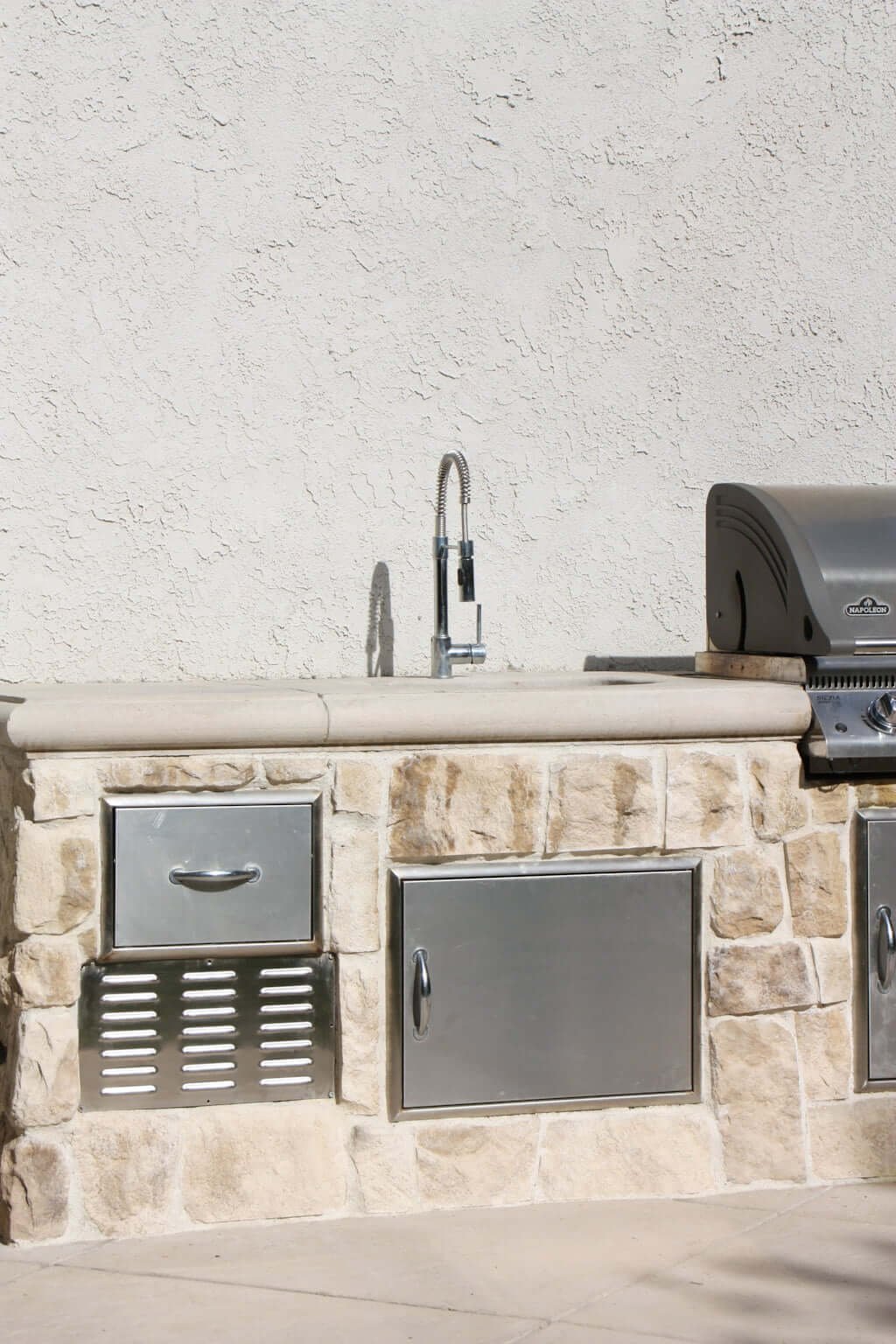 OUTDOOR KITCHEN SINK
3 Reasons We Added an Outdoor Sink!
When our backyard was ripped up and looking like Armageddon, we realized we had an opportunity to add a small outdoor kitchen in this spot. And in our list of 5 outdoor kitchen must-haves, a sink is one of them!
However, even if we hadn't added the outdoor kitchen, I would have seriously considered adding a garden sink for several additional reasons!
OUTDOOR WORK: Gardening is one of my favorite hobbies, and I liked the idea of having a tall counter and place to pot plants and wash my hands (like a potting table, with a sink, or an outdoor garden sink station). This washing-of-hands also comes in handy with other outdoor work and activities the kids might be doing!
HYDRATION: We try to drink a lot of water, and it sounded brilliant to have a place outside where we could easily get filtered water when it didn't make sense to go inside (like during a pool swim break when you're dripping wet, or a gardening break when your hands and clothes are covered with dirt and leaves).
RINSING: When the girls and I were out gardening or picking fresh produce, we started wishing we had a place to rinse off things before eating them!
See our all our outdoor kitchen details in this post.
We also added an outdoor sink cover, but we'll share about that further below as well as with our 3 smart tips for choosing the right one for YOU!😄
SINK MATERIALS
"Do I have to choose any specific material for an outdoor kitchen or garden sink?"
Not only can you put a sink outside, but you can put almost any sink outside! Standard sinks are already built for water and moisture. So honestly, most of them will still work outdoors.
The most popular material by far is a stainless steel outdoor sink, but you can also use ones made of granite, marble, soapstone, or even thermoplastic if that's your jam. (I've even seen one made of teak, but we'd have to spend some time looking into how that would really hold up before recommending it to you guys!)
outdoor sink station
Outdoor Garden Sink + Outdoor Kitchen Sink Ideas!
You don't have to install an entire outdoor kitchen in order to get a sink—you can do a standalone outdoor garden sink or outdoor sink station as an alternative!
Types of "solo" garden sink & outdoor sink ideas: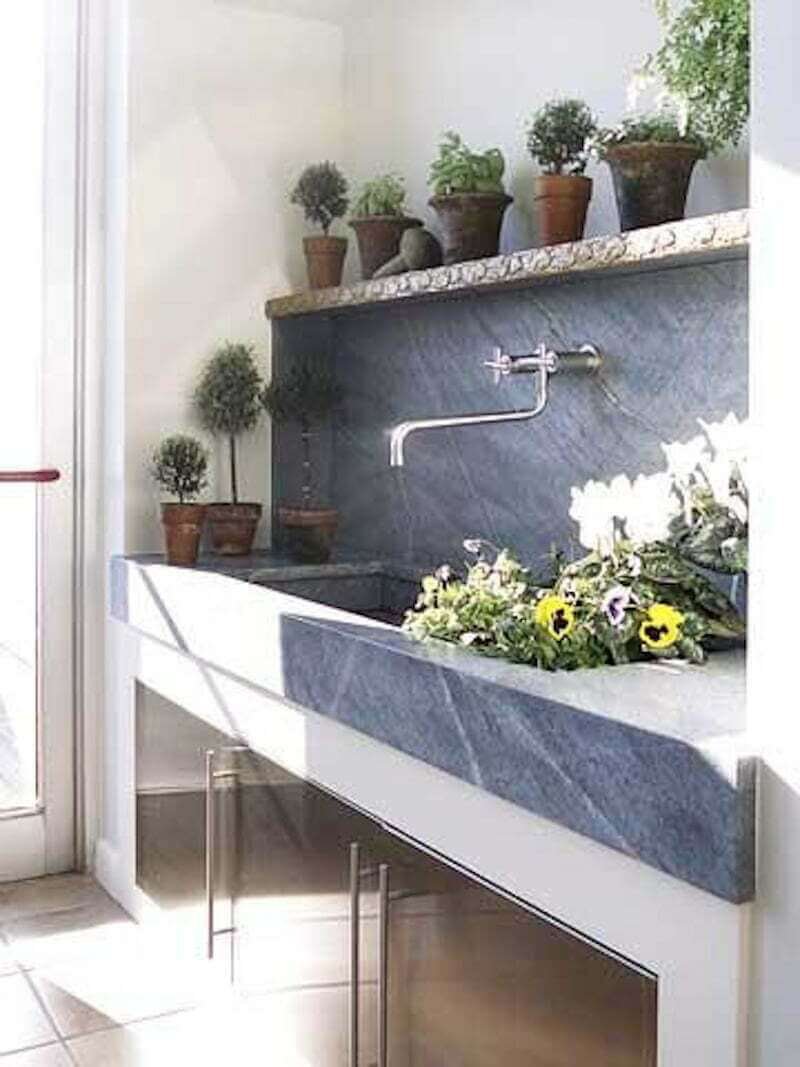 If you don't need a full kitchen, consider an outdoor garden sink station. These can be used for washing hands, gardening, and more!
Outdoor kitchen sink:
These can be made of a variety of materials in a variety of sizes and widths! (See more on finding your right size below.)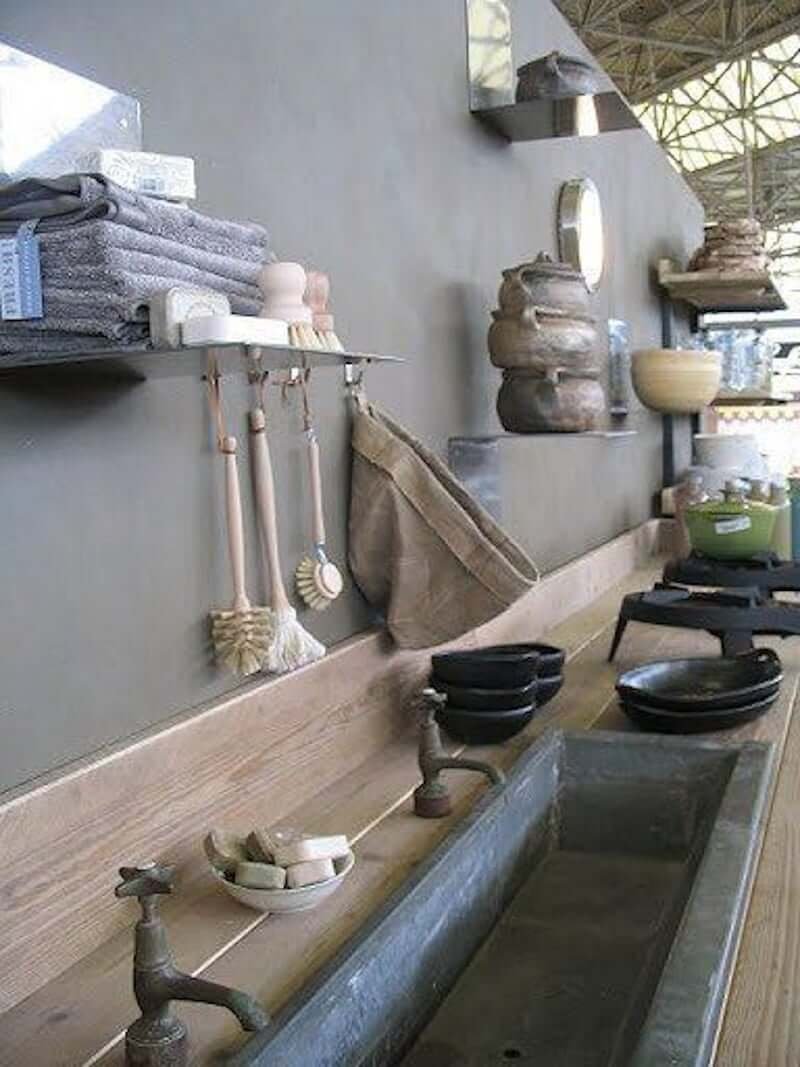 Outdoor kitchen or garden sinks can also be made out of marble, which you can find in places like this.
See more tips for outdoor kitchens in our post, "5 Must-haves for Your Backard Kitchen!"
OUTDOOR SINK
3 Must-Do's for Choosing Your Perfect Outdoor Sink!
There are so many options out there that shopping for and choosing a sink can be overwhelming!
#1. Determine cubic space available!
How much room do you have for your sink? And don't just focus on the width but keep your countertop depth in mind too! Also ask yourself, "How deep do I want my sink to be?" and keep in mind whatever depth you use will eat into your storage space below your sink. Depth of your sink should be determined in large part by the tasks you need it for.
Another important factor to remember is to preserve your countertop space, if you need it.
#2. Decide on your material!
Once you know the size and material you're looking for, you can start narrowing down your search. Stainless steel may be the standard, but a beautiful natural stone sink is stunning if it goes with your design and you can swing any extra cost! Or maybe you just need a simple garden sink station in an unseen spot and can be totally utilitarian—then a basic plastic sink may work just fine, easy, and low-maintenance!
#3. Keep your faucet in mind!
Depending on the style of sink you choose, you may need to keep your desired faucet in mind when choosing the sink. Some sinks come with an attached faucet, but if it doesn't, you'll want to make sure your finishes of both look good together.
See our full backyard kitchen HERE!
OUTDOOR SINK FAUCET
What to look for in an outdoor sink faucet!
Speaking of faucets, let's talk about some things to look for in an outdoor sink faucet if you choose a sink that doesn't already come with one!
Keep in mind the types of tasks you'll be utilizing this sink for.
If any of those tasks involve extra tall items (watering cans, extra tall water bottles, etc.), make sure your faucet goes high enough to allow for those things.
If any of your tasks won't be as straightforward and you want the ability to maneuver the faucet, make sure to get an outdoor sink faucet with a pull-out feature!
OUTDOOR SINK COVER
Why We Created the Sink Cover We Did.
We share about our outdoor sink cover in this post!
DIY OUTDOOR SINK
Can You Make a DIY Outdoor Sink?
The quick answer is yes, absolutely! Were I to be able to go back in time and redesign ours, I'd love to come up with a seamless concrete version that blends right into our countertop. Something similar to this:
This is where I wink at Matt and say, "In the next house!" Or I can also get it out of my system (and have an example to show you all) when one of our backyard design clients finishes their project after being convinced by me to do aforementioned concrete sink + countertops. 😉
Another idea is if you have an old interior sink or find a good reclaimed one, you can turn that into an outdoor kitchen or garden sink easily! (See our notes above under "Do I have to choose any specific material for an outdoor sink?")
And if you're not into DIYing one, I love THIS premade option. (And this gorgeous, simple one. And this if you wanna go more inexpensive-n-easy!)
OUTDOOR GARDEN SINK
A Bonus Note for All Gardeners!
While there are certainly more inexpensive ways to build yourself an outdoor garden sink and potting table, if you're needing an outdoor kitchen BBQ + sink area anyways, it can double as both!
When we're not using this as a BBQ area or outdoor kitchen, I've been known to use it like a potting table and garden sink. 😊 All that counter space is perfect for my height, and with the outdoor kitchen sink right there, it's perfect for any water needs that come up!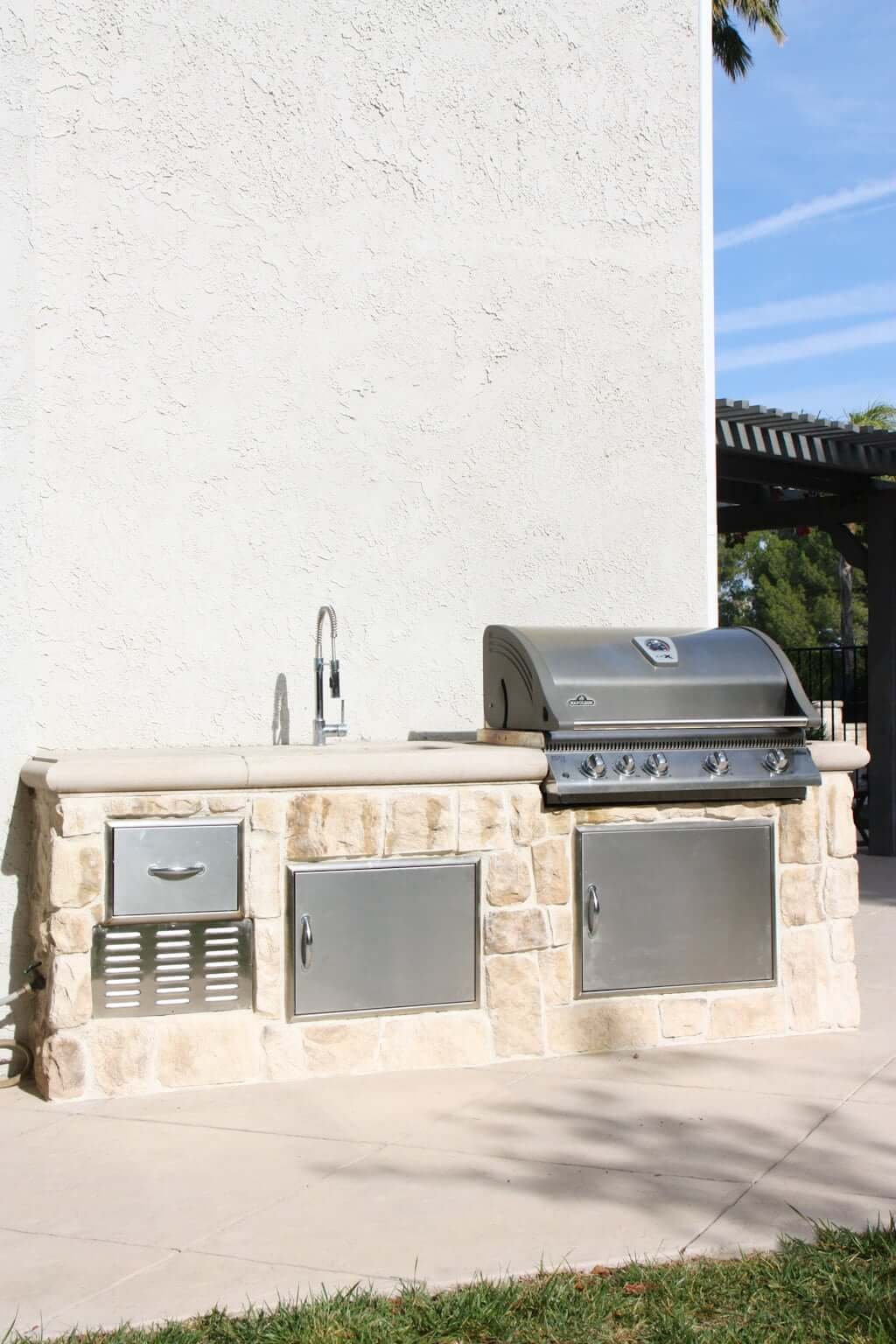 See our post with all our backyard kitchen details HERE!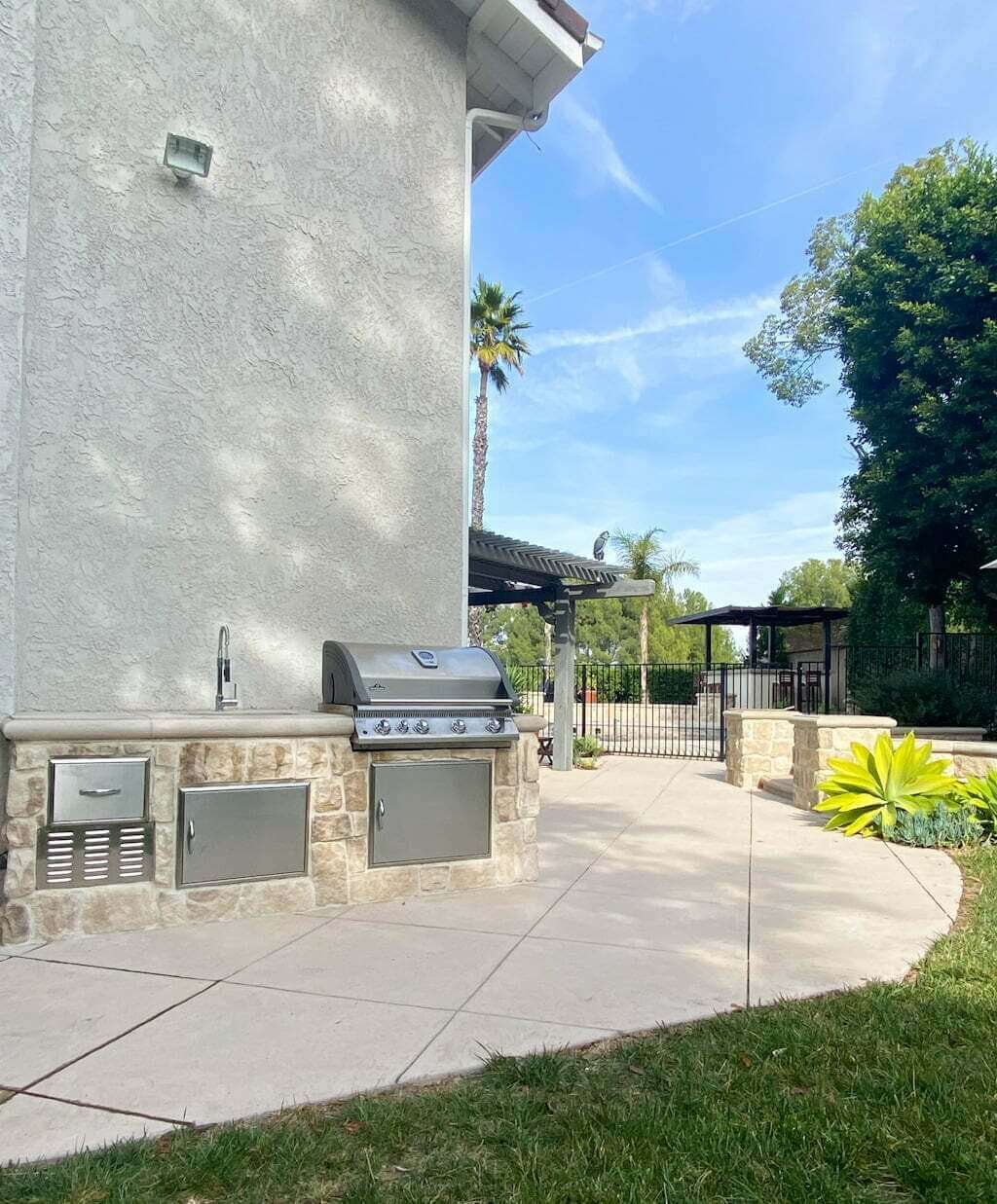 OUTDOOR SINK STATION
How to Get Filtered Water In Your Outdoor Sink Station!
There are 3 ways you can do this:
Install an undermount filter below your sink.
Install a filter in your outdoor kitchen sink or garden sink faucet.
If you have a whole-house filter, you can connect your outdoor sink faucet to your water line from the house and voila! Filtered outdoor water too!
Next, take the tour of our backyard or see why we created our outdoor sink cover! (Or if you missed the post all about our outdoor kitchen, just click here.) Or, click to see The Complete List of our backyard remodel with tips & tricks learned!
➜ Our complete list of every single home project is viewable HERE.