Looking how to do your own in-ground trampoline DIY but not sure about a few things? We're sharing exactly what we did and how it's held up after years of use!
We'll also answer your common questions, like
"What's the best in-ground trampoline to buy?"
"Can you put a normal trampoline in the ground?"
"What about in-ground trampoline drainage?"
"What are sunken trampoline problems?"
"Can you share your real-life in-ground trampoline cost?"
* This post contains affiliate links which are at no extra cost to you.
IN-GROUND TRAMPOLINE
First, Why Get an In-ground Trampoline In the First Place?
When we first got our trampoline, it was because I had given birth to who I believed to be
THE MOST ENERGETIC CHILD IN THE WORLD!
Plus, whenever I took her to the open gym mornings at a gymnastics place near our home, she LOVED the trampolines.
Walmart had one on sale one day in a far-away city that Matt just happened to be out managing a client in that day, so I called him and nicely asked/begged him to stop by on the way home. "I'll have it paid for and waiting in customer service for you…just please bring it home!"
(Matt has a truck, and has had one for years, and we looooooooooooooove it. Big pickups like a Box o' Trampoline? No problem, mon!)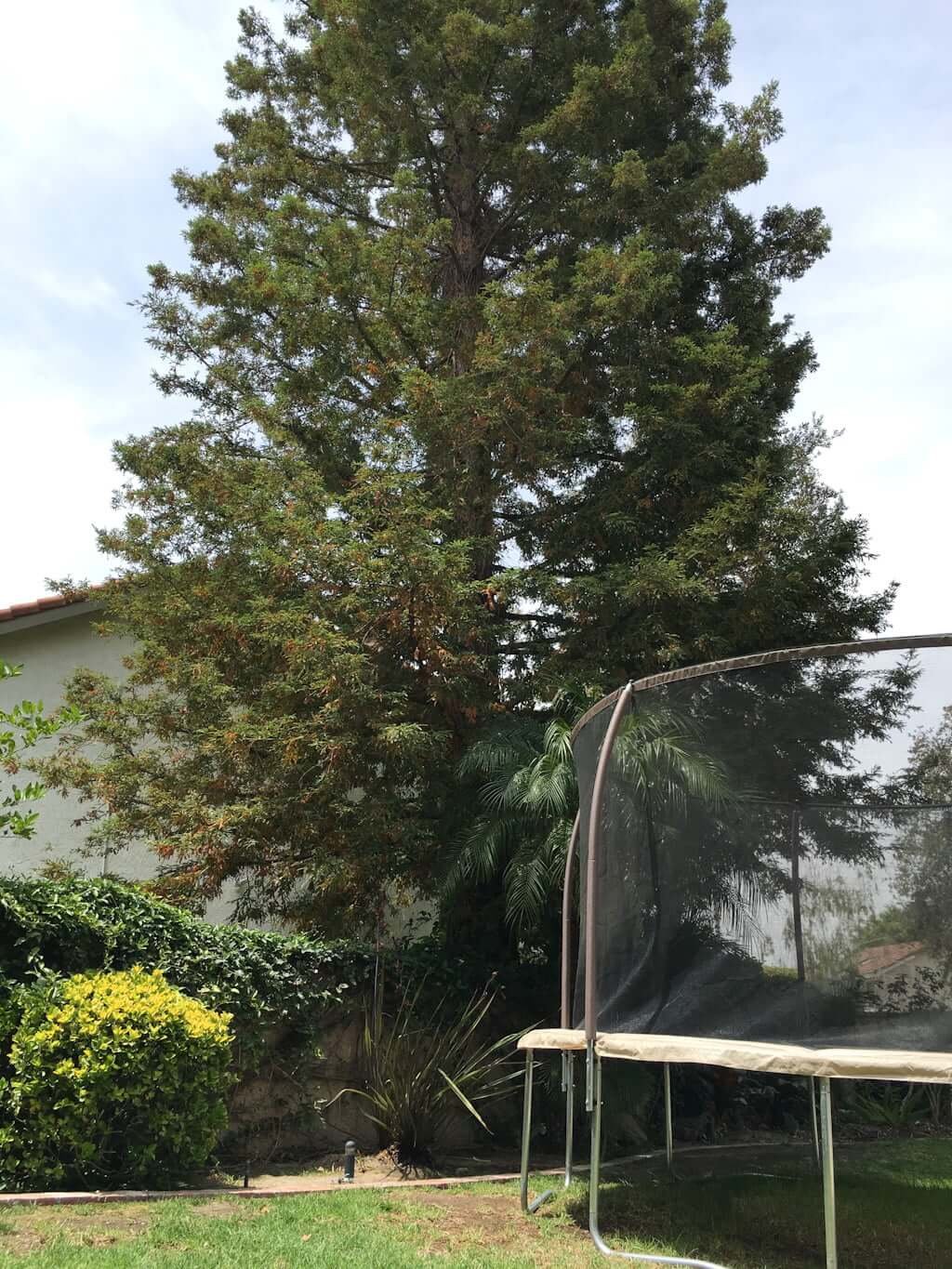 trampoline | sail shade | hardware
Well, the trampoline was stupendous. My daughter jumped on it like a kangaroo and still didn't get all her energy out, but at least it was fun. (Yes, Matt and I jumped on it too.)
IN-GROUND TRAMPOLINE
El Problemo.
However, the only non-stupendous thing was that the trampoline was 3-4 feet off the ground, and when aforementioned energetic toddler wanted to get out, she didn't always pause patiently and call out,
"Good sirs, will you please help me down?"
Nope, she'd just make a beeline for the opening (even though I made sure to get one with a zipper, which her sleep-deprived parents may or may not have made jokes about finding a padlock for), and then she'd start trying to exit.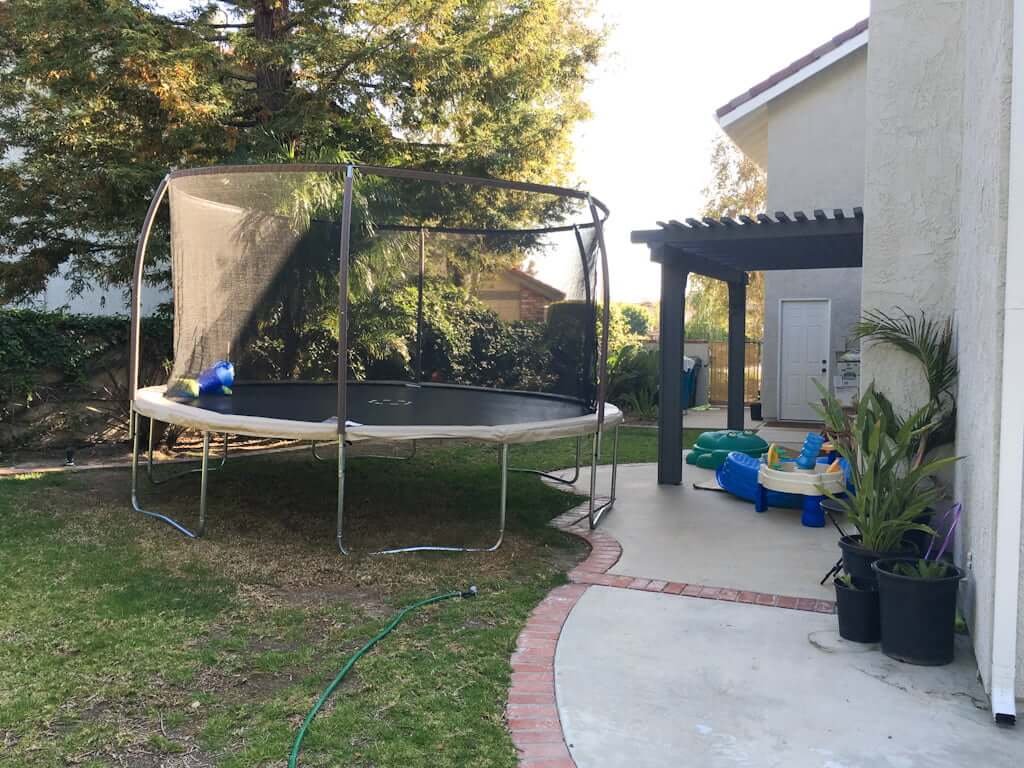 trampoline | sail shade | hardware
While I was always out there with her, I might be pulling a weed in the lawn or watering a plant and would have to try to sprint to the opening to make sure she didn't catapult herself out. (This child had NO FEAR. Love that about her, but also…danger, Will Robinson.)
A sunken trampoline was starting to look REAL good.
So when we embarked upon our Armageddon backyard project, I put "Sink Dat Tramp!" on my list!
How'd we do it?
IN-GROUND TRAMPOLINE WITH NET
"What's the Best In-Ground Trampoline + Final Cost of Install?"
OK, so here's the trampoline one we used.
If you find one you like more, or you don't want the net, or you need a different size, any trampoline should do!
But we CAN tell you that after 6+ years of this champion trampoline being sunk in the ground, it's still going 100% strong! No rusting, no ripped netting or spring covers…nada!
(Our second child did manage to peel off one of the foam protectors on one of the outer poles, plus a label on the outside of the net, but that was all her. "Destructo!" is her nickname around here and yes, we pronounce it affectionately with the exclamation point.)
So for those reasons, we can confidently recommended this one!
Our final cost was the cost of the trampoline only. No other materials were needed!
IN-GROUND TRAMPOLINE DIY
"Can you put a normal trampoline in the ground?"
The short answer is yes, yes you can. And we'll show you how next…
IN-GROUND TRAMPOLINE INSTALLATION
In-ground Trampoline DIY!
We're sharing how we did this in three steps. And listen closely, because this is gonna go fast. 😉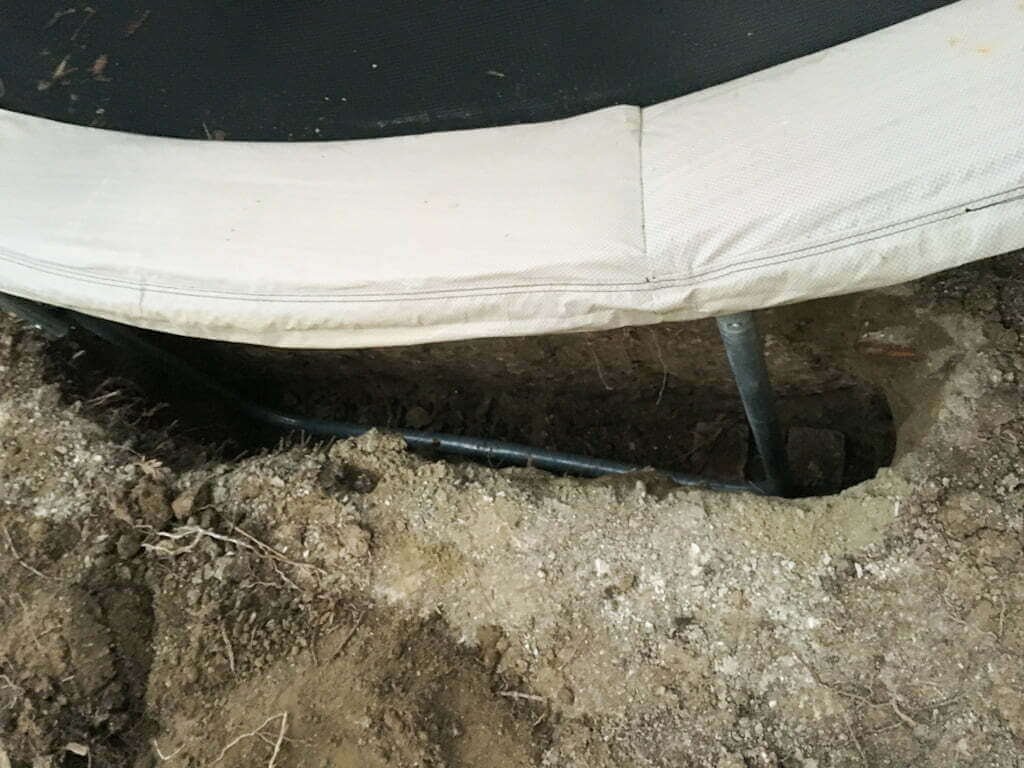 trampoline | sail shade | hardware
STEP #1
Place your trampoline where you're thinking you'll want it, to confirm.
Once it's in place, mark where the supports/legs are.
STEP #2
Dig holes and space underneath for bouncing (and air flow).
trampoline | sail shade | hardware
STEP #3
Put trampoline into the holes. Level the trampoline, then fill holes.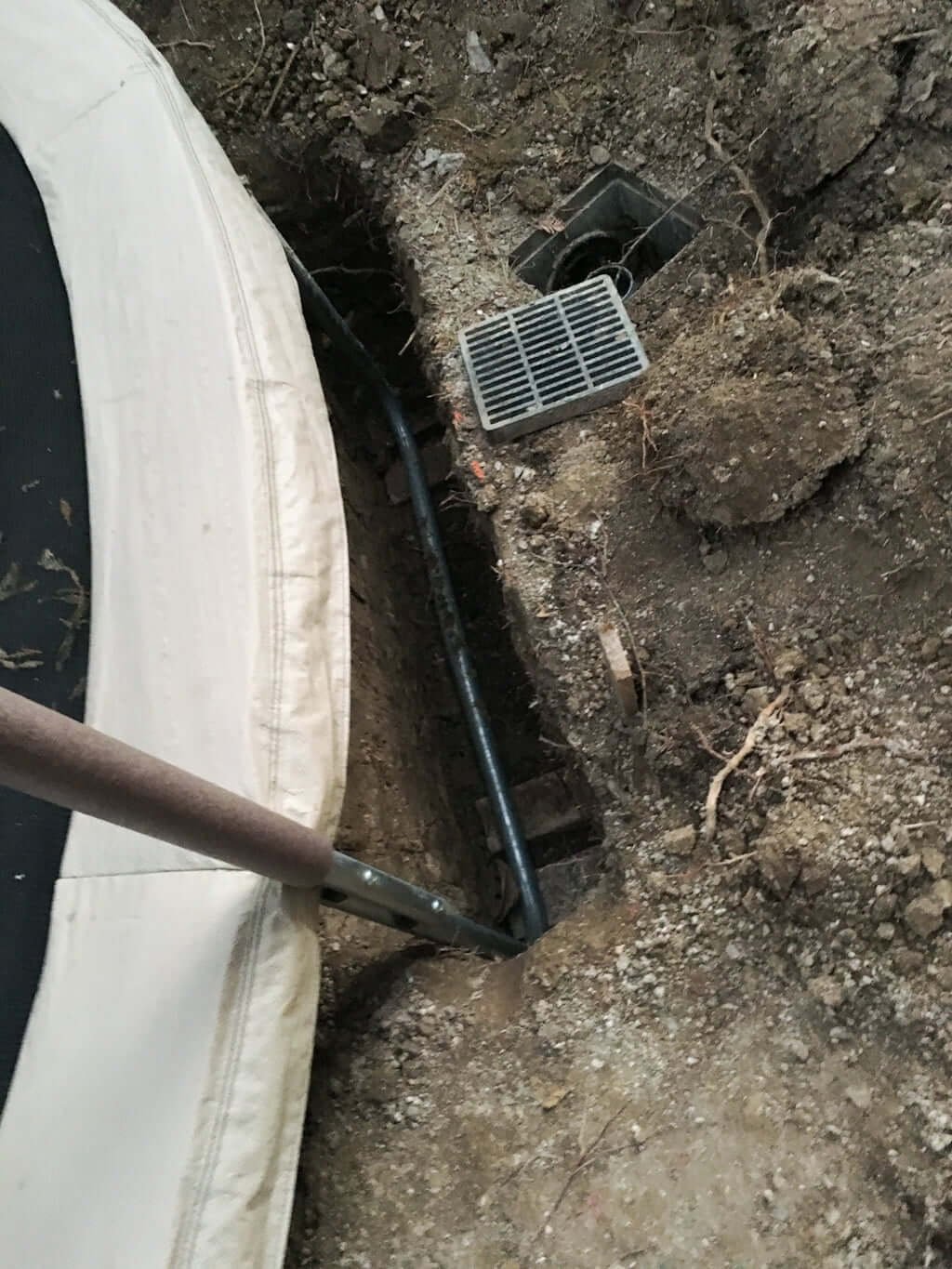 trampoline | sail shade | hardware
When we did our landscaping, we added in some mulch and voila!
Here's how it looked shortly after installation! You'll see the plants in front grow in the following photos, and I'll explain more about what they do for us.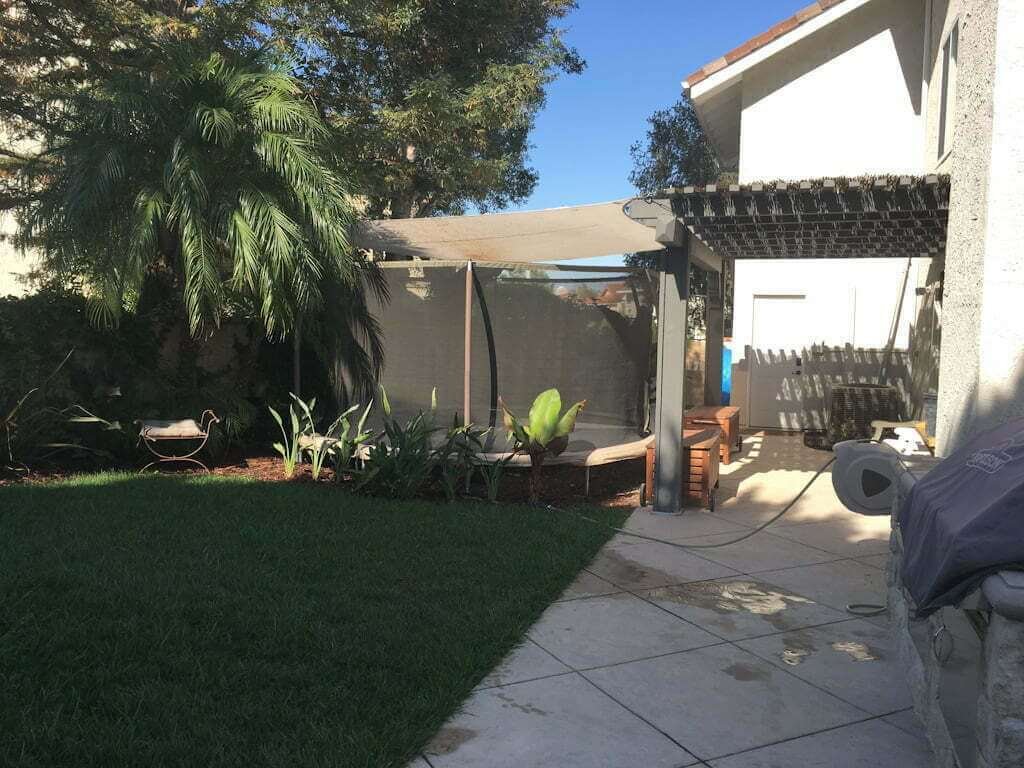 trampoline | sail shade | hardware
SUNKEN TRAMPOLINE
"Where should I put my in-ground trampoline?"
The best place to put an in-ground trampoline will first and foremost is
Somewhere level. (No hillsides, for obvious reasons.)
Somewhere safe. (As tempting as it would have been to put this right next to our pool, I resisted the urge.)
Somewhere strategic. (See below.)
So what I mean by strategic is that you should be thoughtful about it. Don't just dig a hole in the middle of a big open space and call it good. Give it some thought! Play with location! (Like we help you do in our Design + Layout Guide download.)
We put ours in a sideyard that had such a narrow strip of lawn that we weren't using it for much. The yard was larger under the trees but then sloped down to this area.
I also liked that it was right off our office/guest room/laundry room, so would be easily accessible for the kids. There was also an arbor right there so I could sit in the shade and watch their many performances and trampoline shows they'd put on for me. (I didn't know about these from Day 1, but they developed over time. 🥰 )
IN-GROUND TRAMPOLINE
What's with the sail shade above the trampoline? Glad you asked! 😁
trampoline | sail shade | hardware
So, the sail shade wasn't originally intended for sun (although that was an extra bonus).
You can see the trampoline is under a HUGE, amazingly beautiful redwood tree! We LOVE that tree and always prayed our neighbor would never take it down, because not only is it gorgeous but it gives the best shade to that whole side of our backyard!
The only problem was all the droppings from the redwood tree onto the trampoline = not fun to clean off every time the kids wanted to jump.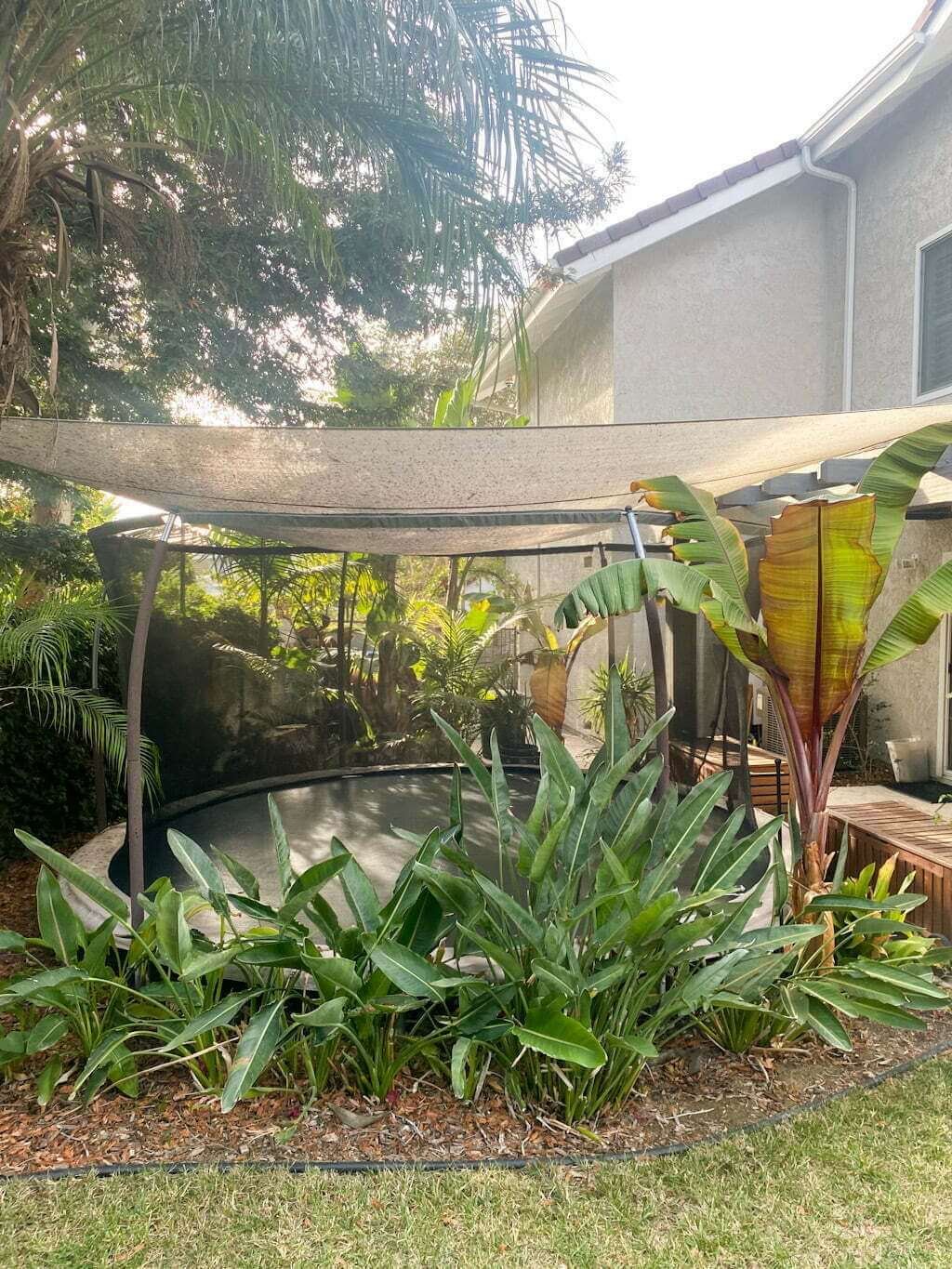 trampoline | sail shade | hardware
Hence, the addition of the sail shade. We used this one and love it. Saved us who knows how many hundreds or thousands of hours of time cleaning off the trampoline every day! 😅
IN-GROUND TRAMPOLINE DIY
"Tell me about in-ground trampoline drainage."
We've had this for over five years and have had zero problems with drainage!
trampoline | sail shade | hardware
IN-GROUND TRAMPOLINE DIY
"Are there any sunken trampoline problems you can tell me about?"
Overall, we absolutely love our in-ground trampoline! (Both parents and kids.)
If I'm going to nit-pick and try to tell you any negatives, here you go:
Because of how we kept it slightly raised for airflow, stuff can get underneath there. (Such as soccer balls, baseballs, you name it. They can roll under it.)
trampoline | sail shade | hardware
HOWEVER, this is one of the reasons I planted a row of gorgeous, tropical Birds of Paradise along the line bordering our lawn! So usually, when we're playing soccer or other games here, the plants stop them from rolling under the trampoline.
If something does roll under there, a rake or long stick pops it out. Or our children volunteer happily to crawl under there and get it because they think it's fun.
So you've got options! 🙂
trampoline | sail shade | hardware
SUNKEN TRAMPOLINE
Before & After!
Here's what our side yard looked like when we first bought the house…
Before: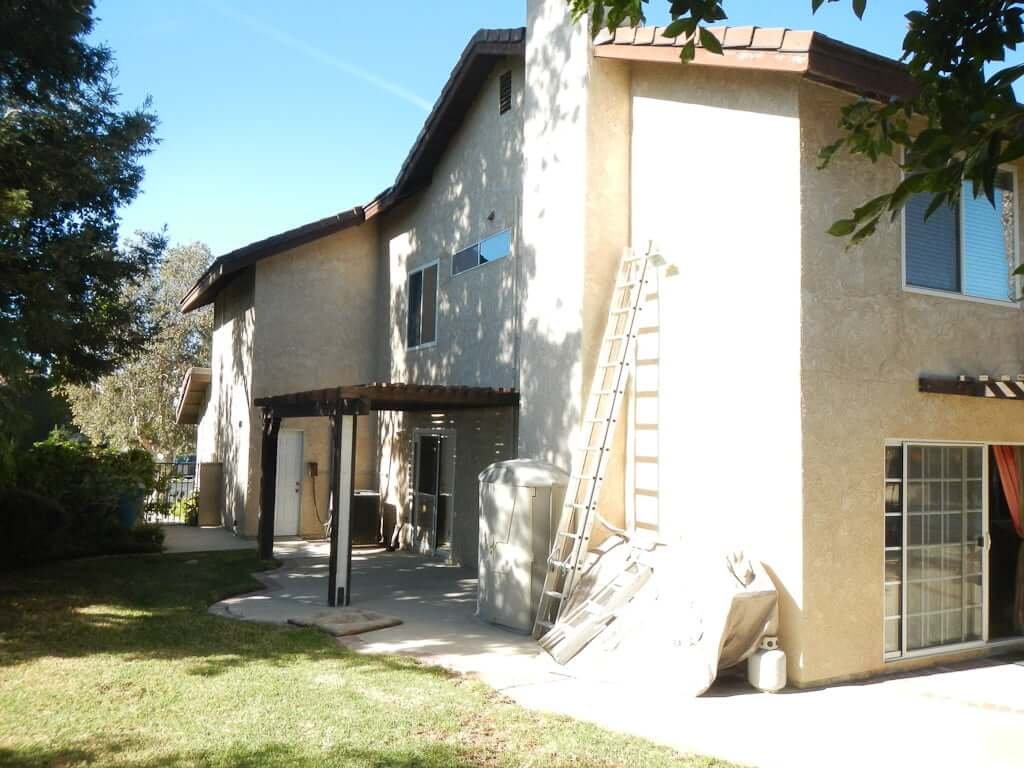 After: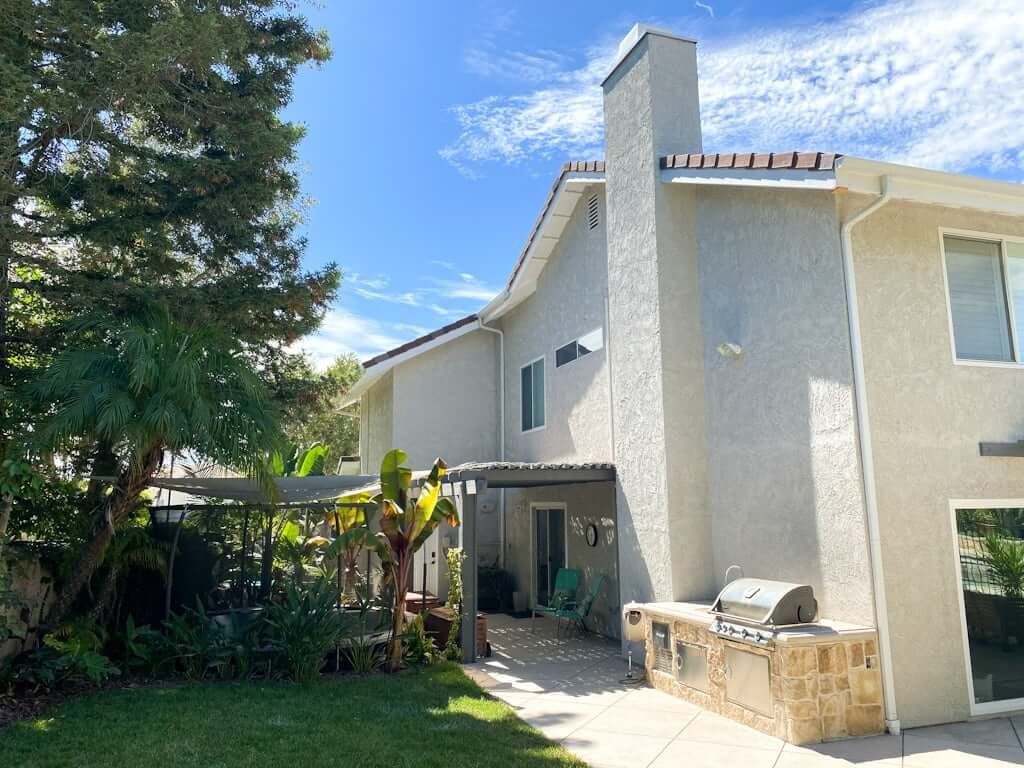 trampoline | sail shade | hardware
And yes, you can spot our DIY outdoor sink, BBQ & outdoor kitchen area to the side.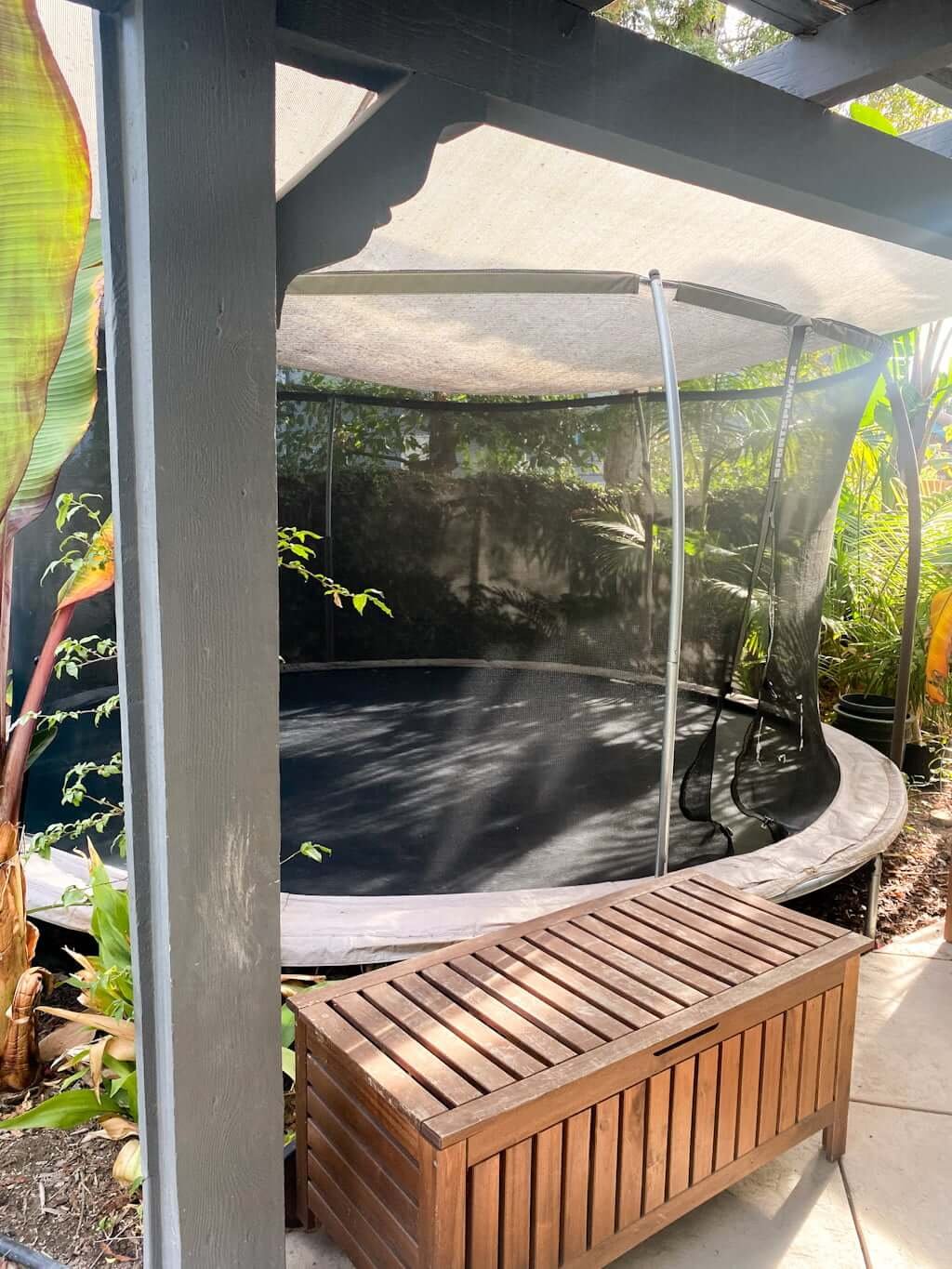 trampoline | sail shade | hardware
Our kids have spent hundreds of hours playing out on this trampoline
from actually jumping on it and playing jump games (sometimes with their parents, let's be honest, because that's just good clean family fun for all! also a good workout 😅)
to playing "house" or "fort" or "castle" (etcetera) on it
to putting on gymnastics/dance/dramatic performances for us as we sit in the chairs under the arbor (while reminding ourselves how amazing it is we have these children when we were told we couldn't! haha! Look at these creative, darling, lively little girls we have now! 🙂 )
➜ If you missed the rest of our massive backyard remodel (which we did for 1/3 of the cost quoted to us without lifting more than a few fingers), you can see everything from the patios, pool, outdoor bar, art studio, and more in our Complete List with money-saving tips and design ideas!
➜ You can browse our home by room HERE!