If you're looking for kitchen island height dimensions, adding an island or wondering what the standard average height is, I encourage you to first STOP and THINK!😊
Step #1: Don't assume the standard kitchen island height is for you!
Why?
We'll answer this below, plus popular questions like
"How tall should a kitchen island be?"
"Should a kitchen island be the same height as counter?"
"What is the best kitchen island height dimensions?"
'"What height should a counter height island be?"
"What is the height of a 2 tier island?"
"What is the standard height of an island top?"
"How tall should kitchen island and stool be?"
KITCHEN ISLAND HEIGHT
"Jess, Why Even Bother Thinking About My Kitchen Island Height?"
Why is this important? Why not stick with the standard?
HERE'S WHY, DEAR READER:
You may be above-average height.
You may be below-average height.
And even if you consider yourself "average height," the unique measurements of your lower body versus your torso will be unique to you; therefore…
…this will hugely affect your comfort while standing at your kitchen island!
The good news is that you can totally customize this to not only be 100% comfortable for you, but it'll be better for your body and health as well! (We've written more about this in "Why You Should AVOID Standard Countertop Height In Your Kitchen!")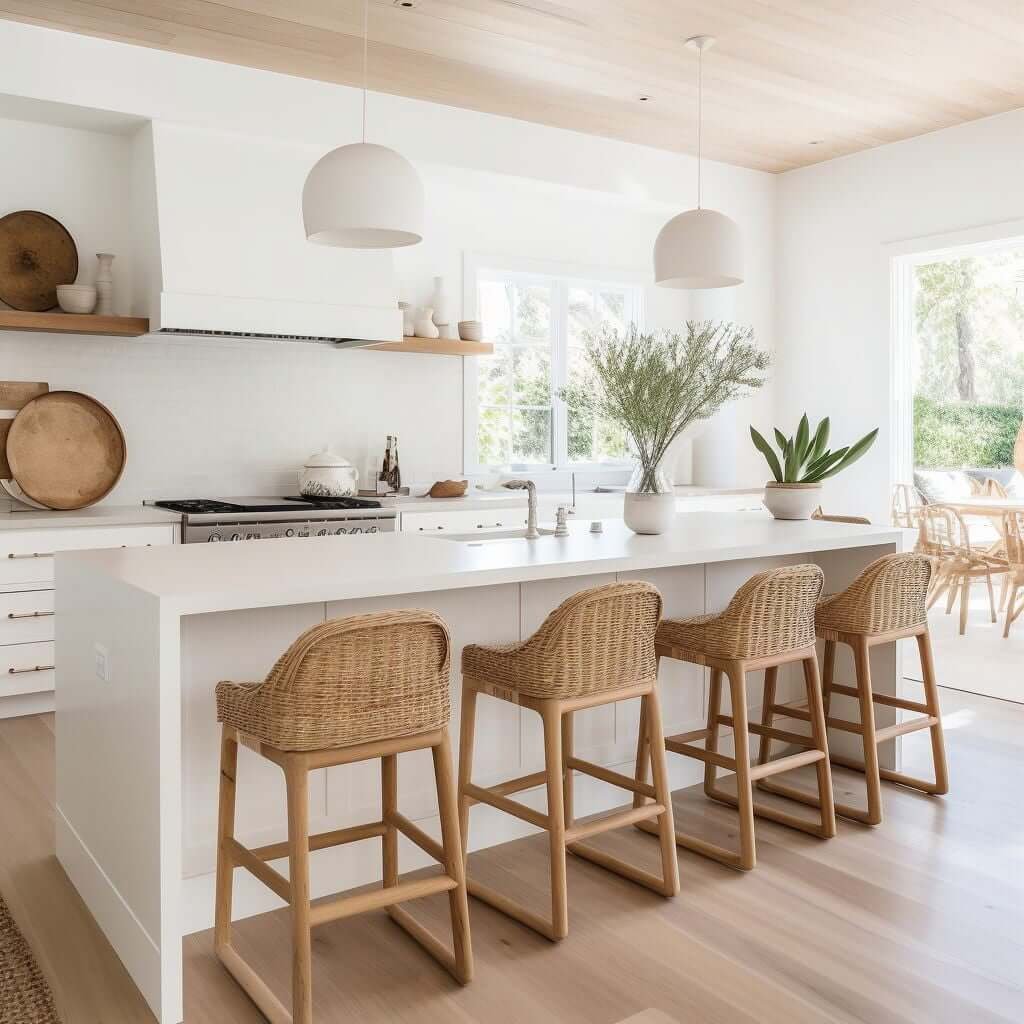 STANDARD KITCHEN ISLAND HEIGHT
"How Tall Should a Kitchen Island Be?"
The standard kitchen island height is 36″, but even then it ranges depending on several things!
Your ideal island height depends on
Your height/bend at elbows
Whether you've decided to incorporate seating at your island
What tasks you'll be doing there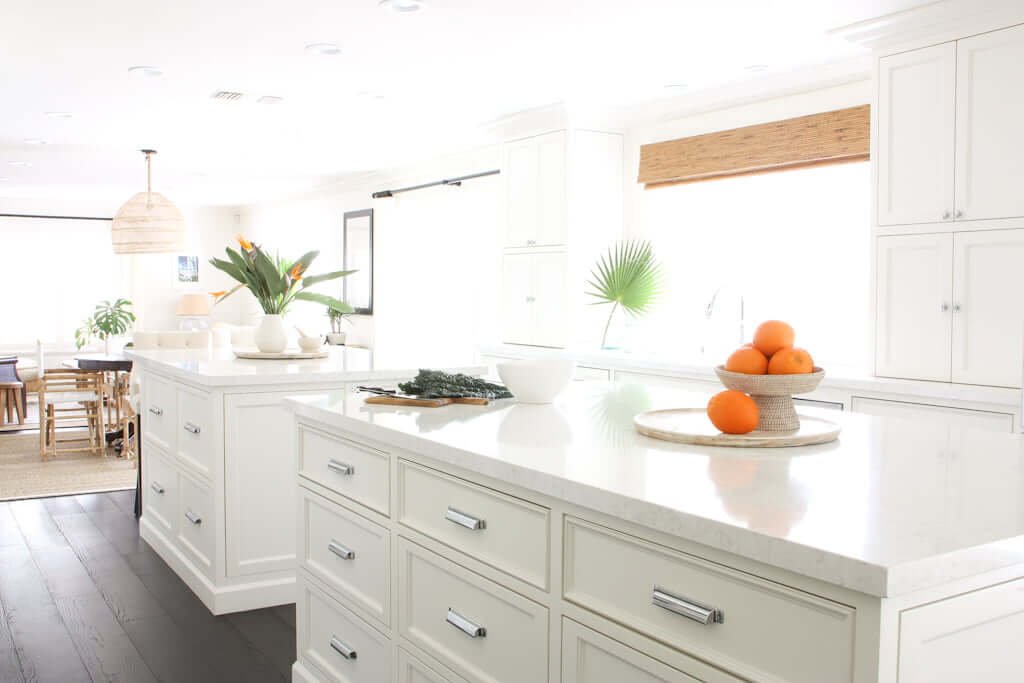 Some people have their normal kitchen island height set at 42″, but it can range anywhere between that 36-42″ range (and beyond! higher or lower!).
(Keep in mind that 36″ is from floor to your countertop–it is NOT just the height of your actual kitchen island cabinet or drawer base!)
So how the heyo do you figure it out? That's what we're here to help you figure out once and for all! 🤗
KITCHEN ISLAND HEIGHT STANDARD
"Can Kitchen Counters Be Taller Than a Kitchen Island?"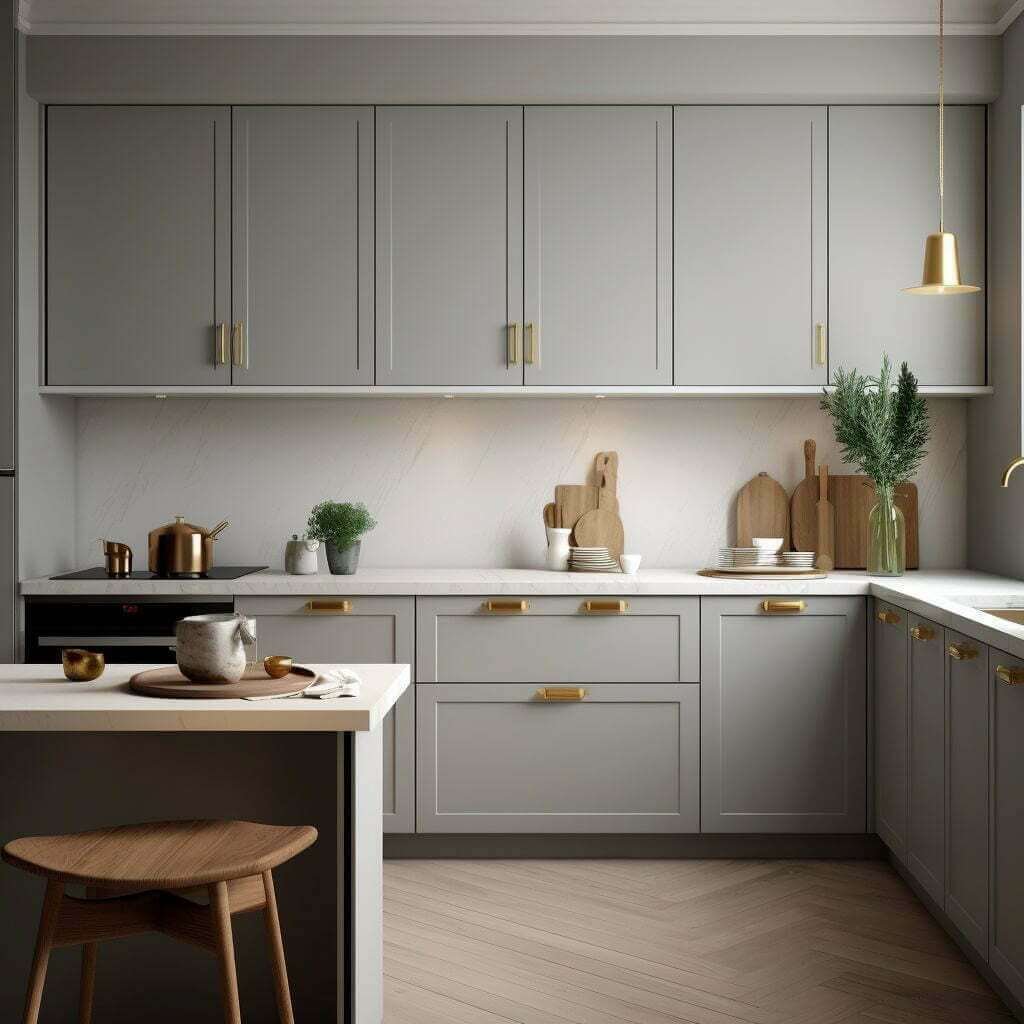 Yes, absolutely your kitchen counters can be taller than your island!
"Should a kitchen island be the same height as counter?"
No, not necessarily.
Why?
As mentioned in our post on kitchen countertop height, your specific tasks and movements in each area can shift and change.
So while you can have a different height for
Your sink area,
Your stove area,
and other counter heights…
…you 100% can have a different height for your kitchen island!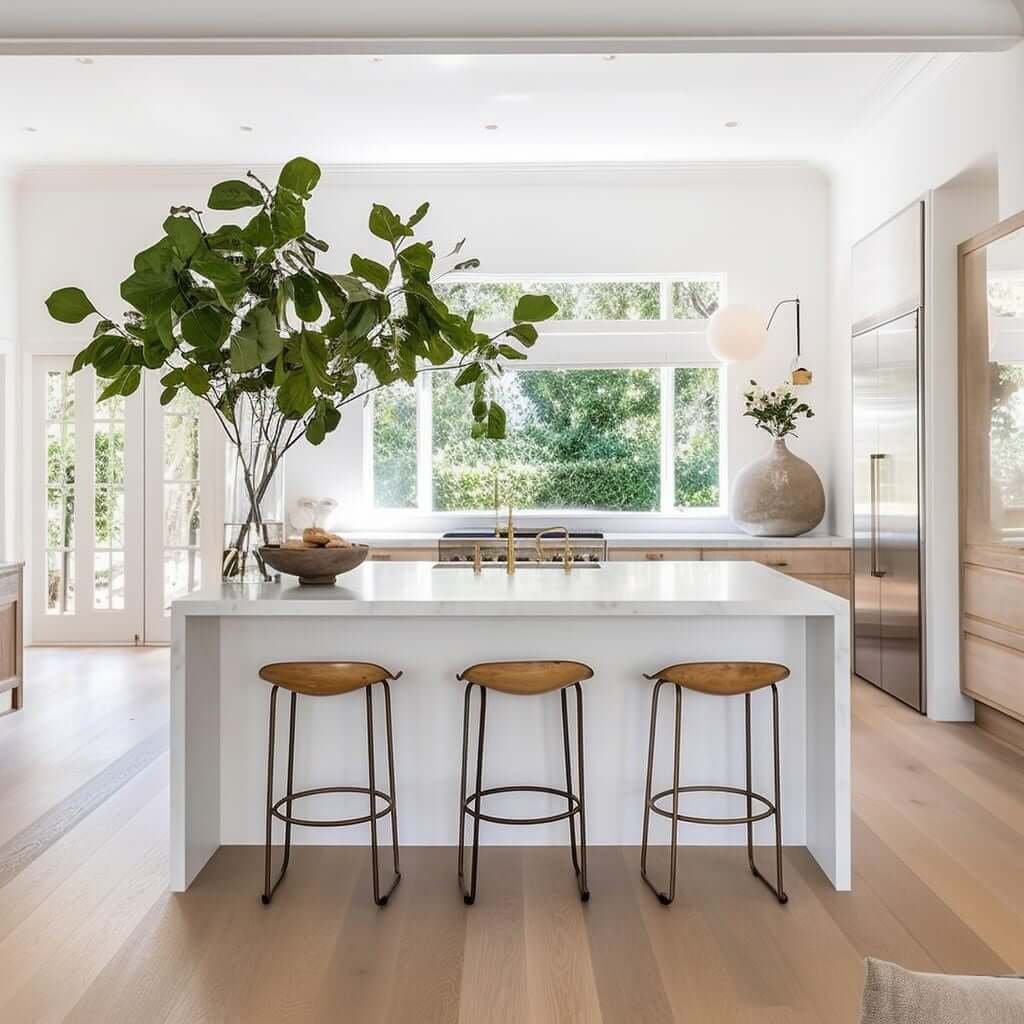 average KITCHEN ISLAND HEIGHT
"When Should I Do 36 inches…versus 42?"
With a 36″ standard island height, people will generally do counter stools.
In order to have bar stools, people will typically do a 42″ kitchen island…
…HOWEVER, I have caveats for this!😄 Design isn't cookie cutter! And I will tell you from years of experience as a professional designer…
…you need to take your chairs into consideration when doing kitchen island seating!
Why? Let me drop a wisdom bomb to help save hours of your life! 🤗
KITCHEN ISLAND SEATING
To Get the Perfect Height, Keep Your EXACT Seating In Mind!
If you're doing seating at your kitchen island, the ideal situation is to know what bar or counter stools you're choosing/working with ahead of time!
Why?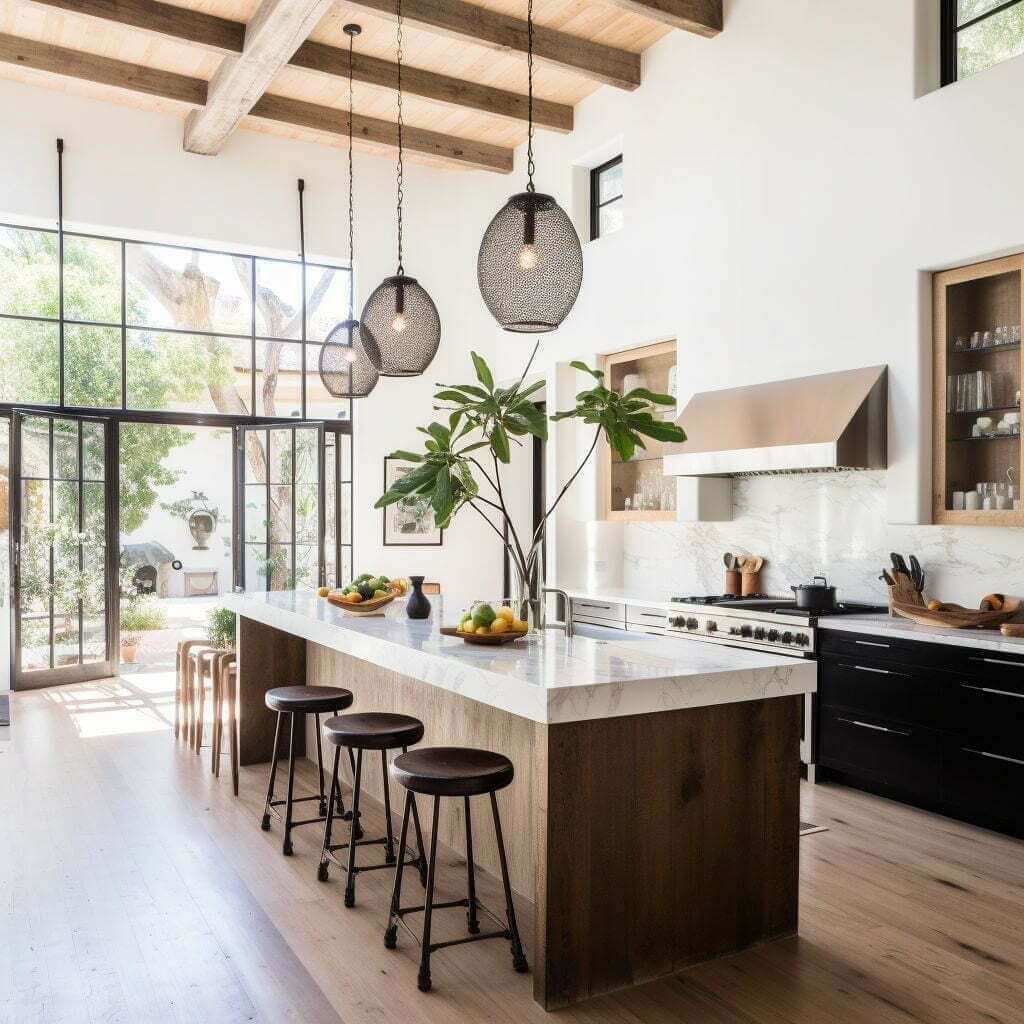 Sure, in general the bar stool height and counter stool height are similar, but not always!
For example, whether you have (or choose to buy) a hard wooden stool versus a cushy upholstered one can adjust your actual seat height by 1-2″!
You're also going to have that different
Torso height
Elbow bend
Leg size
etc…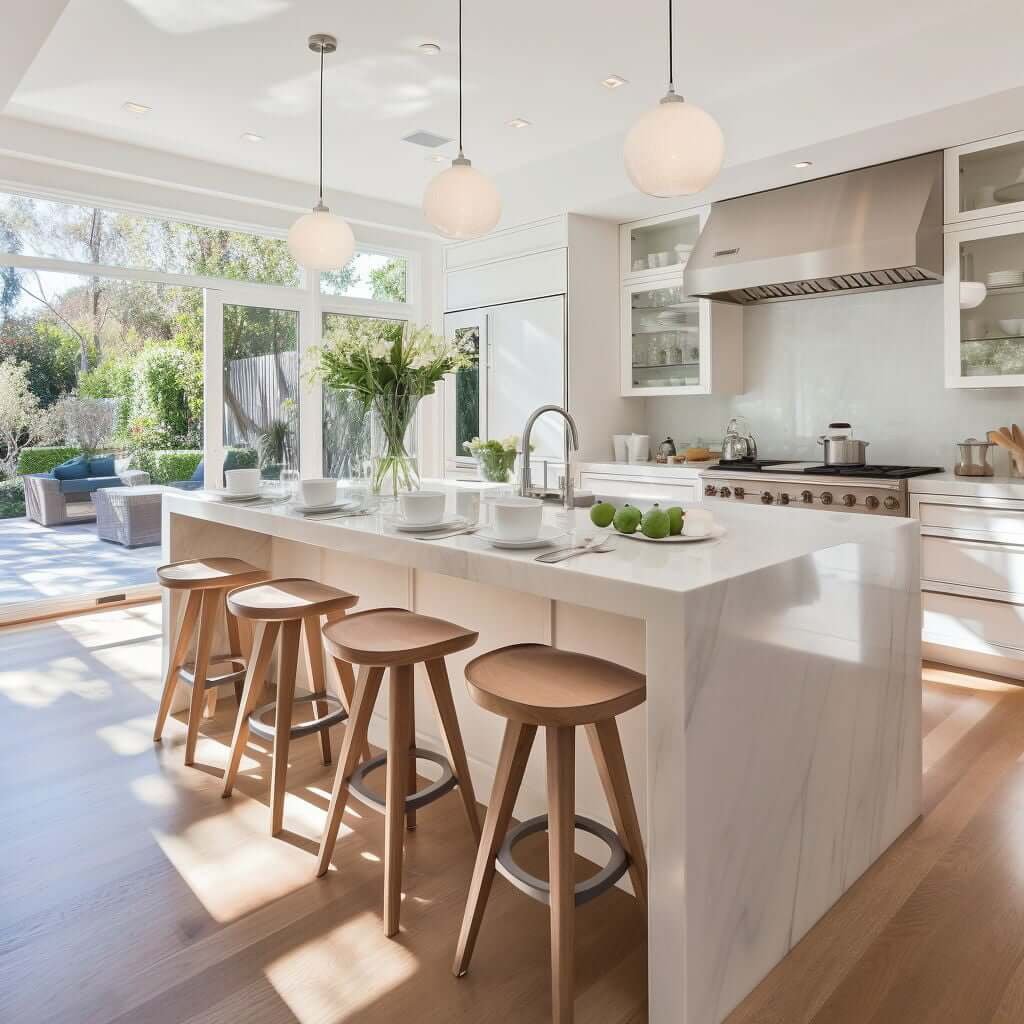 …than other people! (i.e. Years ago in our old house, where I learned this lesson, the original bar stools that were super comfy for our kids and shorter adults were mildly uncomfortable on my lower back at 5′ 8″, and super uncomfortable for my 6′ 3″ husband to sit at!)
So measure. Test it out first. Make sure you know your real-time height if seating is what you're using to determine your perfect kitchen island height!
KITCHEN ISLAND with two heights
"What About 2-Tier or Multi-Level Islands?"
Some people (including builders and developers of track homes) love the idea of having one side of the island at "counter height"…
…and the second half of the kitchen island at "bar height."
So the average builder does it at 36″ for the lower section and 42″ for the upper…HOWEVER…
…this is such a dated look, to my eye! (Can you hear me wincing?)
Sure, while I don't love this look aesthetically, I understand there can be situations where this is necessary…
However, if you've correctly planned out your kitchen, you'll know whether a 2-tier kitchen island is absolutely a need for your lifestyle and kitchen layout.
KITCHEN ISLAND DIMENSIONS
"How Can I Raise or Lower My Island Height?"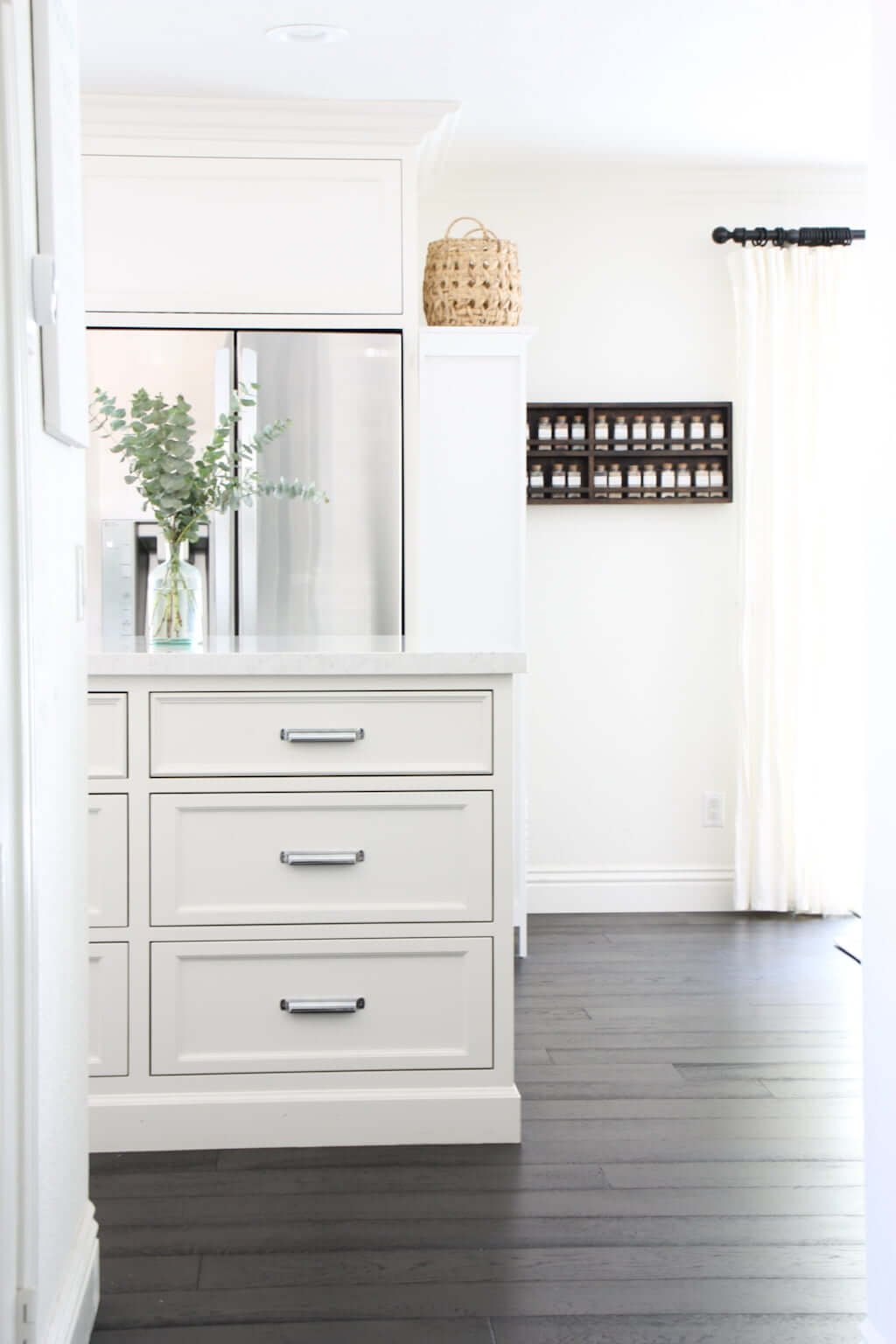 Changing the height of your kitchen island, even by a few centimeters or inches, can greatly improve its everyday usability!
You can adjust the height by choosing taller or shorter plinths, cabinets, or countertop thickness.
These may seem like small adjustments or measurements, but even these small little things can add up to make a big difference "up or down"! 😉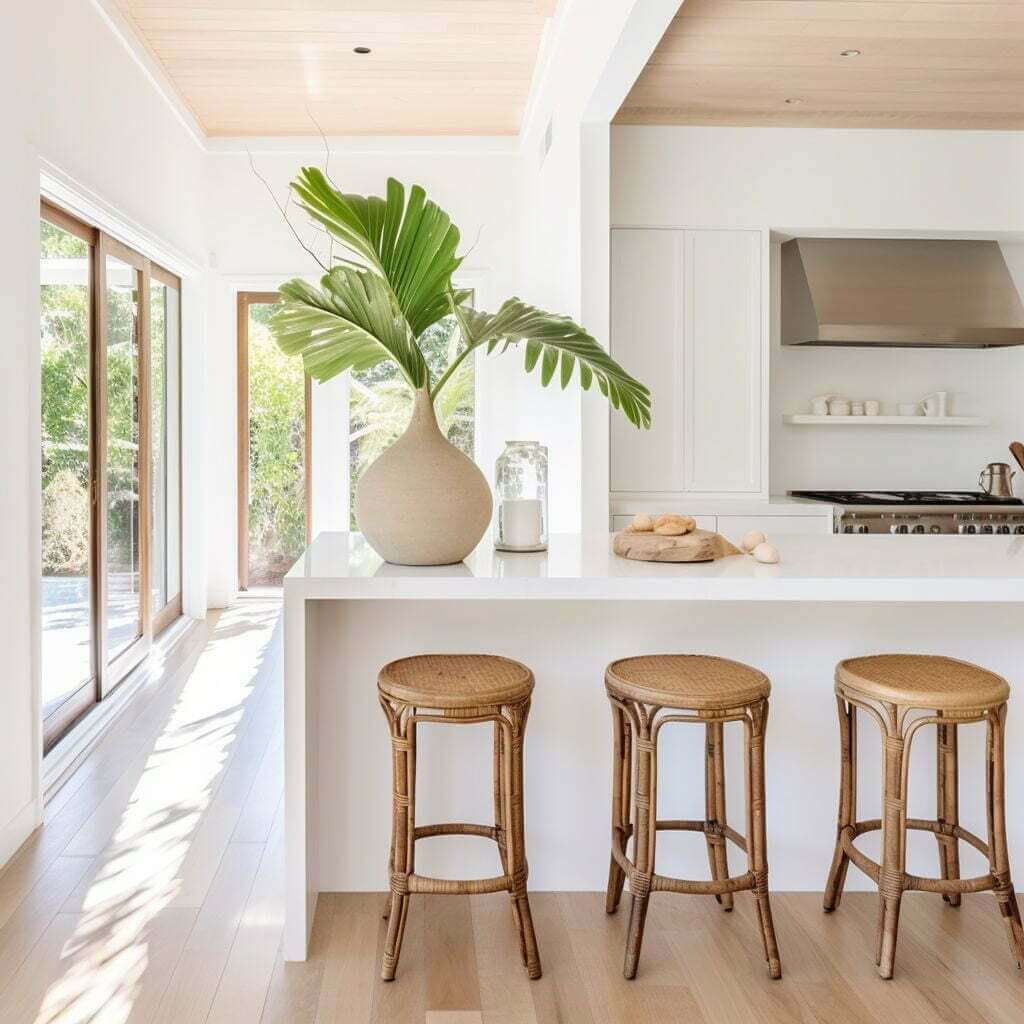 We've got more info for you on this subject in our full original post alllllllll about kitchen countertop heights!
Next…
PS: You can see all our home projects HERE.