Wondering if kitchen cabinets without handles or kitchen drawers without knobs is right for you? I'm giving you my professional "no hardware" perspective (plus some designs we've done for clients showing them–and you!–how many different design options you really have in a handleless kitchen)!
A woman stared at me, speechless (and clearly confused) when I playfully suggested hardware was not required in her kitchen…and could even make her life easier!
(She wasn't a client. This is what happens when you–even half jokingly and with a wink–offer advice without being asked. Many people don't want free tips, even from a designer! But that's another subject beyond the scope of this post. 🙂 )
I know that you, dear reader, already know that just because this original kitchen design you've seen from us has one element (such as kitchen drawer pulls and cabinet knobs)…
…doesn't mean my brain hasn't been thinking of going "no hardware" in my kitchen the past few years since we sold that house. 😉
There are pros and cons to having your kitchen drawers and cabinets with and without handles (believe me, I've thought of them all!), so today I'm giving you my brain's mental list!
(As well as letting you in on this secret…another element you may or may not see from us in our next personal kitchen remodel. 😉 I have thousands of new ideas like this that we haven't done in our past houses!)
We'll also answer popular questions such as
"Do all kitchen cabinets need hardware?"
"Is there such a thing as a 'handleless kitchen'?"
"Can you have kitchen drawers without handles?"
"Is there a kitchen cabinet without handle design?"
Kitchen cabinets without handles
"Handleless Kitchen": The Pros & Cons!
Now, I really want to get into the variety of design options I want to show you, but first, let's discuss the pros and cons. Function first!
Pro #3: Functionality!
We all know that having a clear knob or handle to pull on something in your kitchen is the standard, and why. This provides a convenient grip for easy opening and closing of drawers and cabinets.
Handles and knobs on your kitchen cabinets and drawers can also enhance accessibility, especially for individuals with mobility issues. (Going "no hardware" can require different movements, but we'll get to that later!)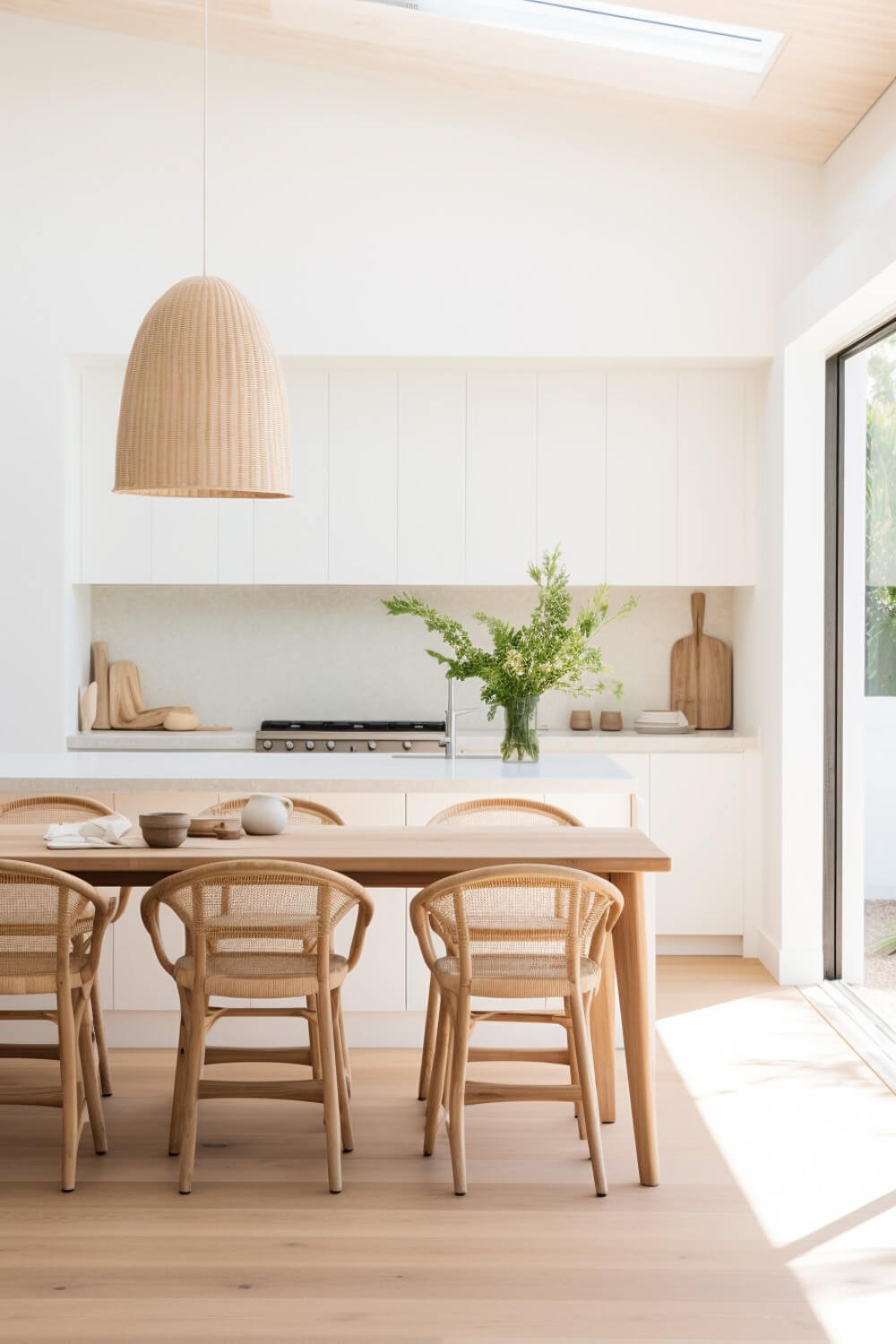 Kitchen drawers without handles
Pro #2: Keeps cabinet and drawer fronts clean!
You know I love this "pro" of handles in your kitchen. When they prevent smudges and fingerprints, maintaining a cleaner appearance more easily, handles on your kitchen cabinets can definitely deliver the goods!
No hardware in kitchen
Pro #1: Design Look!
Handles and knobs can add a decorative element to the kitchen if you're in need of that. Like the lady in my story at the start of this post, some people can't imagine a life without hardware in their kitchen! Some people call it "the jewelry of the kitchen!" (I'm not so sure I agree with that, but we'll get to that too. 🙂 )
Hardware can act as a focal point, adding some definite character to the kitchen space! (I talk about the opposite further below, so read on! Can you tell I'm excited to share both viewpoints? 🙂 )
Having hardware is also an easy way to change the overall look of your kitchen if you're not switching out cabinet and drawer fronts. There are countless options, a wide variety of styles, materials, and finishes for customization to your preferences.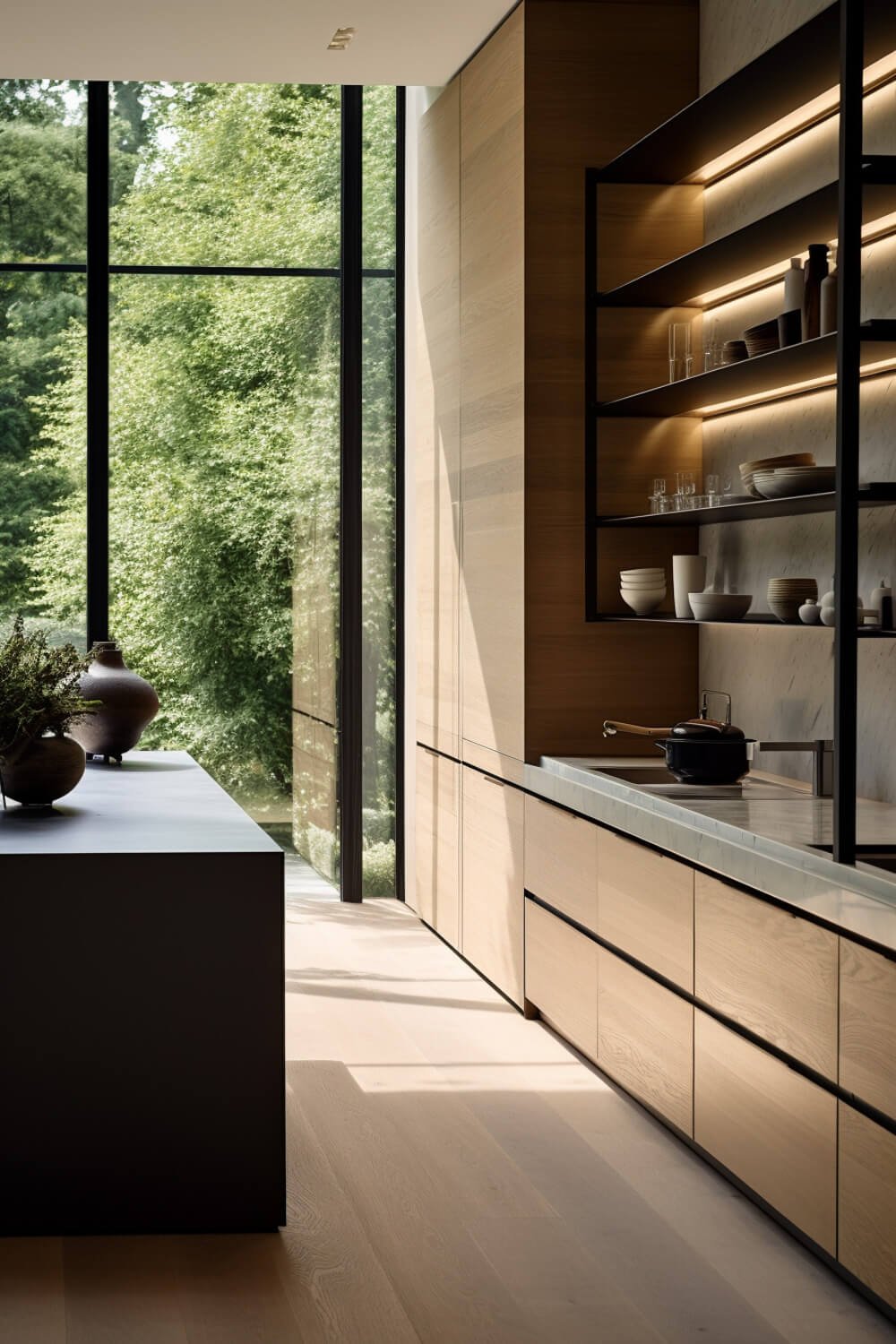 PS: Speaking of extra large appliance drawers, avoid having appliances out on your counters (shown below) by putting them in drawers we did like this!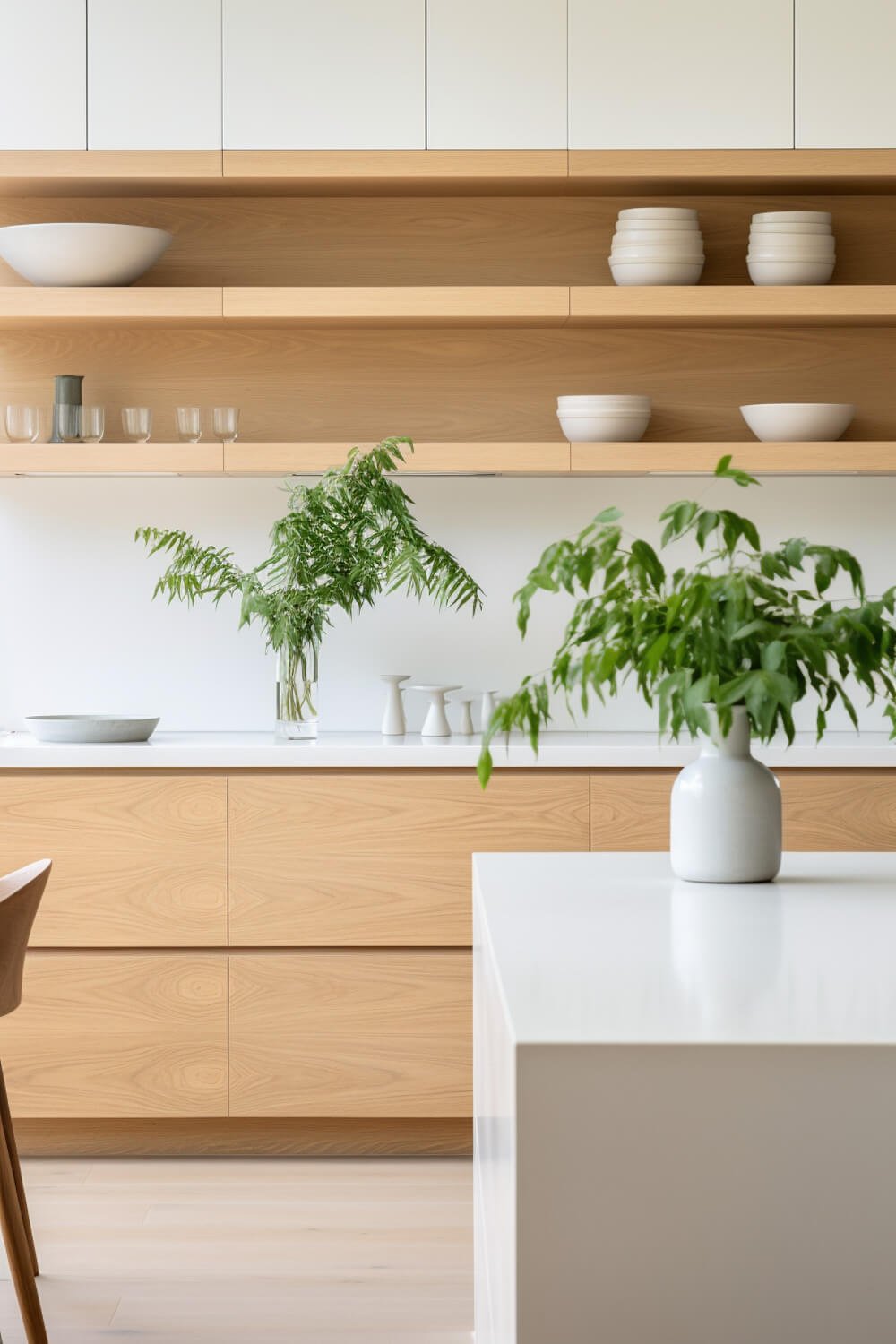 KITCHEN CABINETS With or WIthout Handles
Con #1: Knobs and Handle Maintenance
Handles and knobs may wear out or break over time, requiring replacements.
But honestly, even before that usually happens, I think the handles and knobs people install in their kitchens "wear out" aesthetically first! So many dated looks come from hardware…that's why people suggest switching it out so often. (But depending on how many you have and the cost–high quality, gorgeous handles and pulls are pah-rye-see! Pricey!)
And while they "save" your cabinet and drawer fronts, handles also can accumulate dirt and grime, necessitating regular cleaning efforts. (I used to make this one of my children's chores in our big house…it's easy to do but hard on the back! I'd put on music, sit on the floor with them, and away we'd go! It was also partially my fault for 1) having so many glorious, glorious drawers and 2) having children who leave fingerprints on everything.)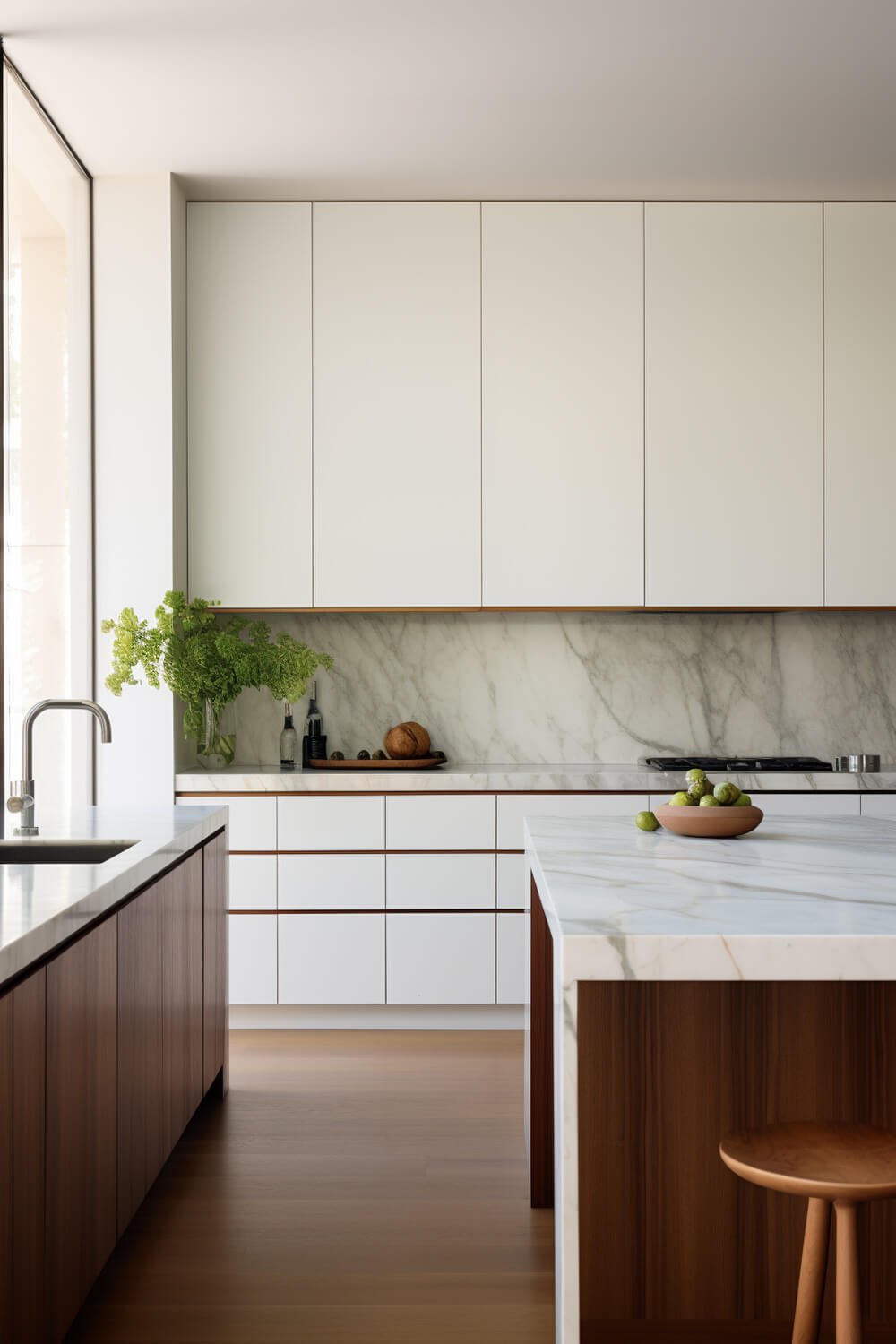 KITCHEN CABINETS with handles vs without
Con #2: Aesthetics
This is a biggie for me. Often (and it does depend on your kitchen cabinets, drawers, the design, your layout, and placement, etc), knobs and handles on your kitchen cabinets disrupt the clean lines and cohesive appearance of your cabinetry! (Especially in updated, modern or minimalist designs.)
It can be done well, and you can see in our kitchen how the drawer pulls in our kitchen don't scream at you (as many often do, especially when they're high contrast such as black pulls on white cabinets.)
And especially in small kitchens, I love the handle-free look! (Such as in this design we did maximizing every inch of space needed in this U-shaped kitchen!)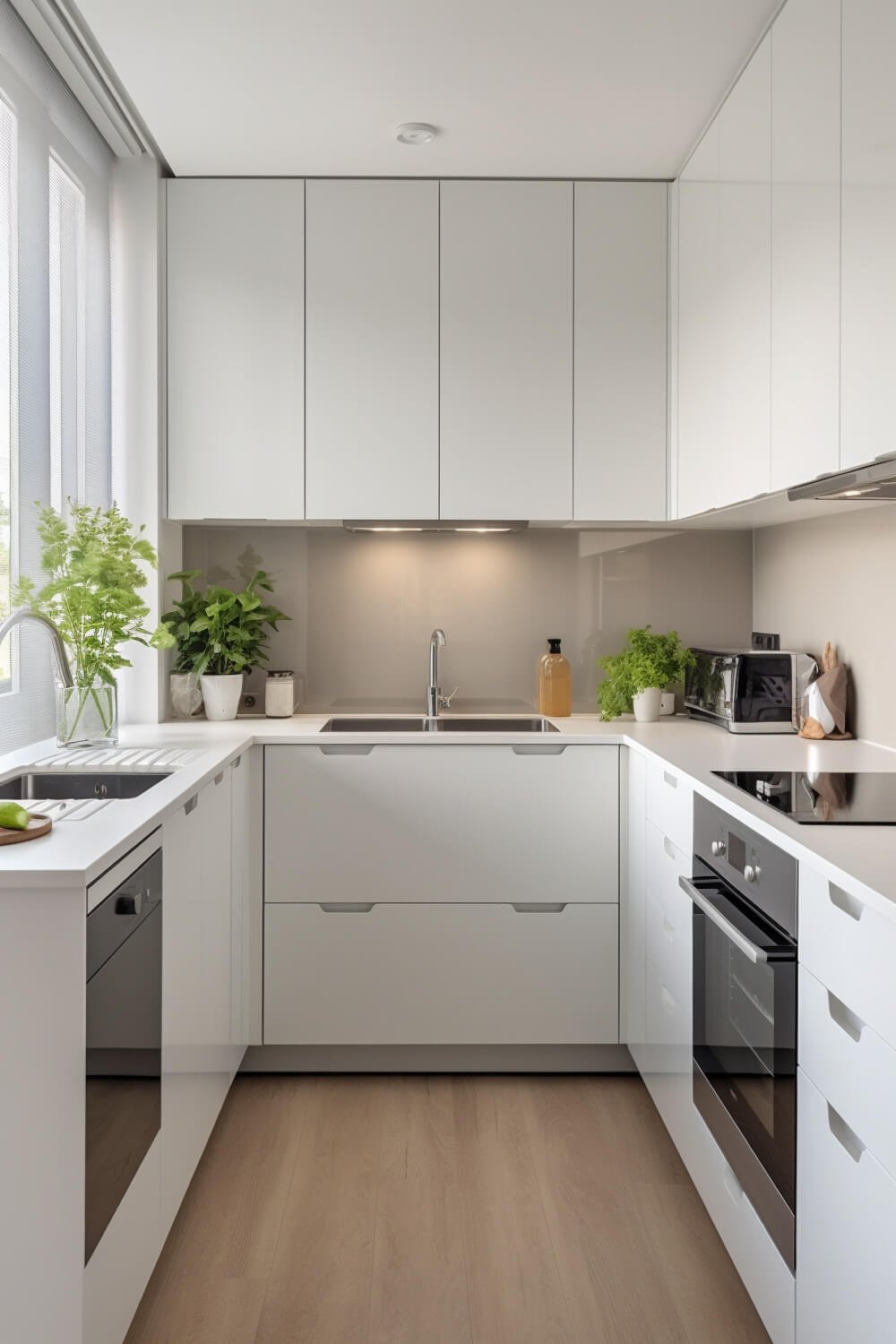 handle-full vs HANDLELESS KITCHEN
Con #3: Kitchens are already busy-looking!
Do NOT make decisions on whether to go with handles on your kitchen cabinets while you imagine your kitchen completely bare and unused.
Because the simple fact is that your kitchen is a workspace! It's going to have food, containers, and a plethora of other items on its counters most of the time. So does it really need more "jewelry" in the workspace? Something to think about… 😉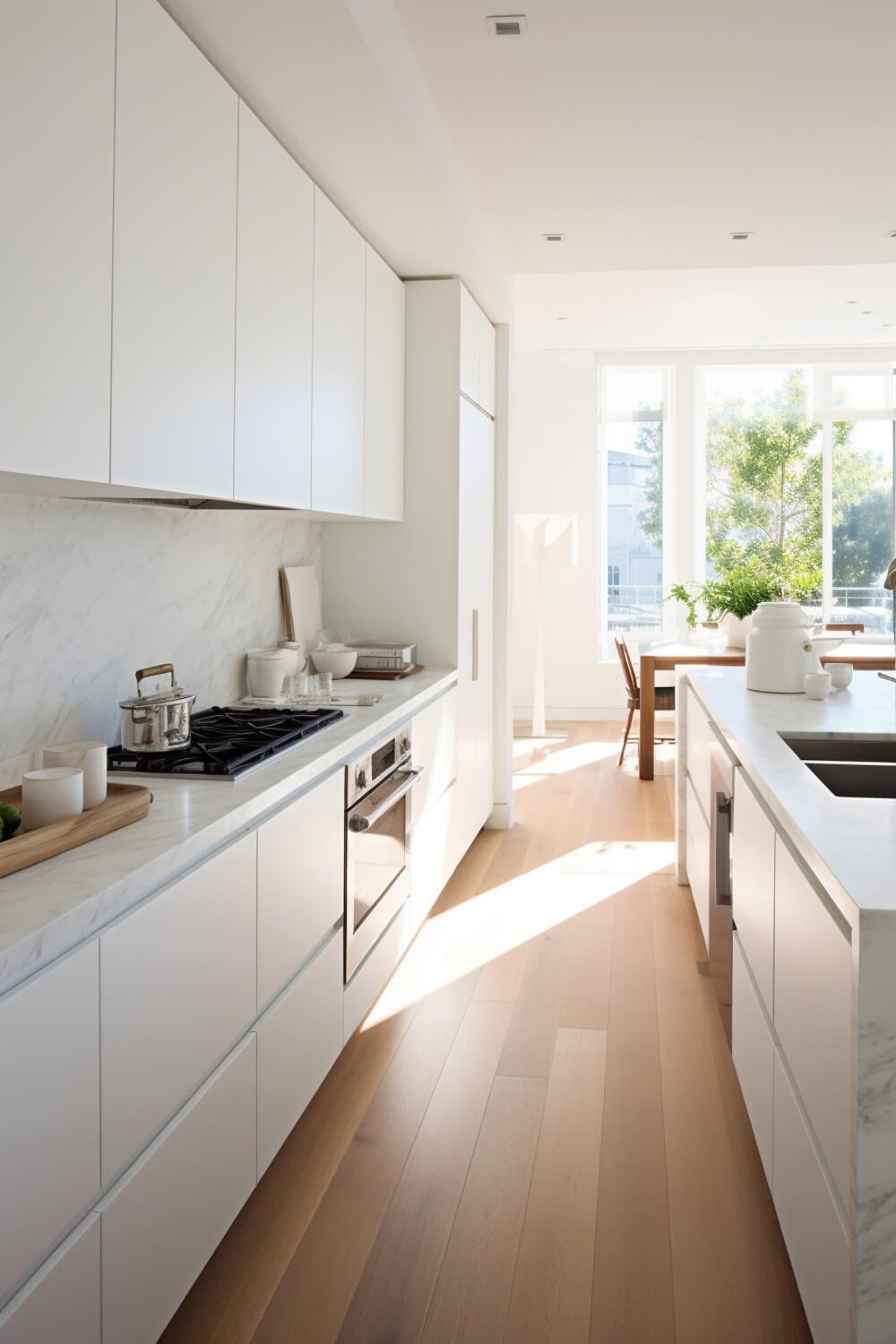 KITCHEN CABINETS WITHOUT HANDLES
Pro #4: No Handles Means Easy Cleaning!
I love that a smooth, uninterrupted drawer or cabinet face is easier to clean and maintain than the ones with decorative elements or hardware.
I mean, seriously, can't you just imagine
how bloomin' fast
you could dance down this kitchen and wipe it down after a major cooking session?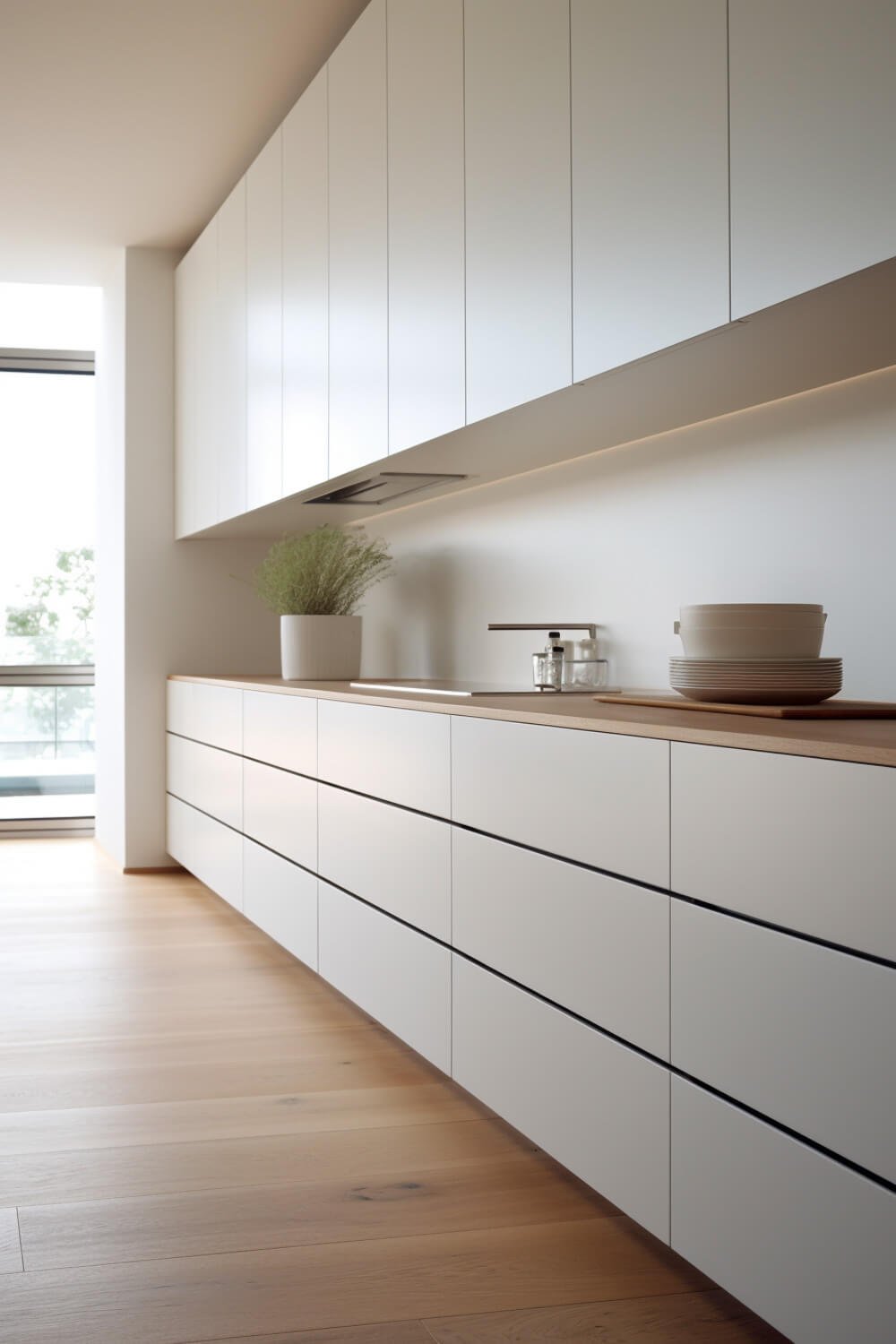 KITCHEN DRAWERS WITHOUT HANDLES
Pro #3: Up-to-Date Look & Feel!
Choosing kitchen cabinets with no handles offers a sleek and modern look and feel, enhancing the kitchen's overall aesthetic…
…and by "modern" I don't mean uber-futuristic! I mean "updated" and even "classic"-ly modern, depending on what you choose and how you implement it! (This is why you hire a designer, or at least have one look over and confirm your choices/thought process to help you!)
To illustrate just a hair of this point, I'll share with you one of my favorite recent design renderings for a client project. You can't get more classic and timeless than this solid backsplash with marble veining! (Marble has been used for thousands of years…there are also amazing quartz options that have the same elegant look!)
Then paired with that timeless material are the up-to-date all drawers with no hardware…
I'm proud of this most recent design, both in the functionality, layout and timeless look.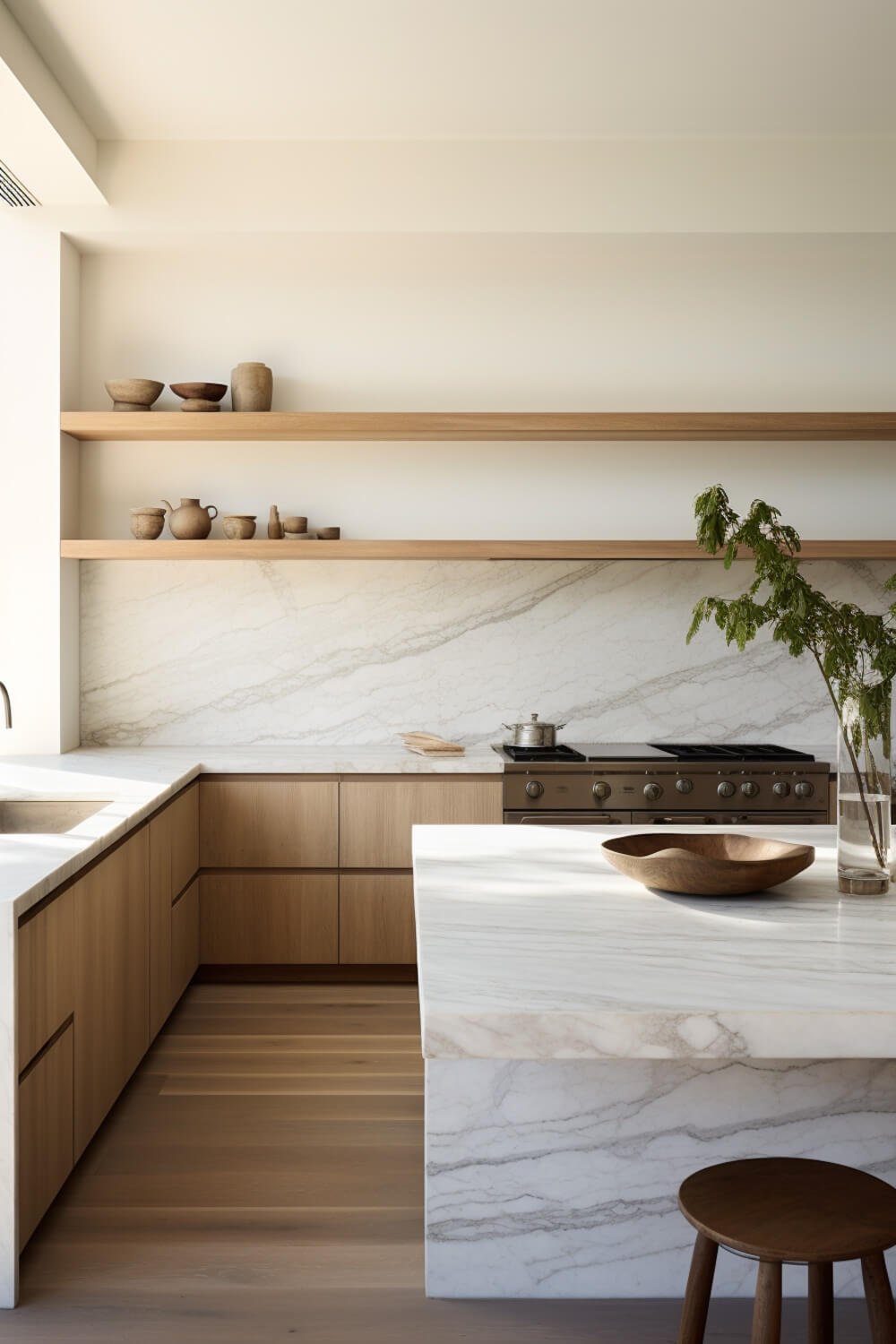 handleless kitchen cabinets
Pro #2: Space Perception!
If you have a small kitchen, having your kitchen cabinets without handles can create a sense of spaciousness. So not only does your small kitchen appear larger, it just feels airy and light.
If you have a large kitchen, having your kitchen cabinets and drawers without handles and knobs helps make everything look less cluttered! With large or extra-large kitchens, there tends to be a lot going on…a lot for the eye to look at; therefore I love going handle-free for this reason!
Kitchen drawers without knobs
Pro #1: Smooth! (And Less Likely to Attack You)
Raise your hand if you've ever caught an article of clothing, an accessory, or the edge of your apron on a protruding cabinet or drawer handle in your kitchen!
(Mine is raised. Maybe I stand too close to them, or maybe it's just the way I move, but this is annoying with certain hardware designs. Actually, it usually makes me laugh when it pulls me back unexpectedly, but still…annoying to know the probability is always there.)
This does depend on the design choice of your long pulls, so those can be avoidable, but still…any knob is a potential assassin! 😉 ha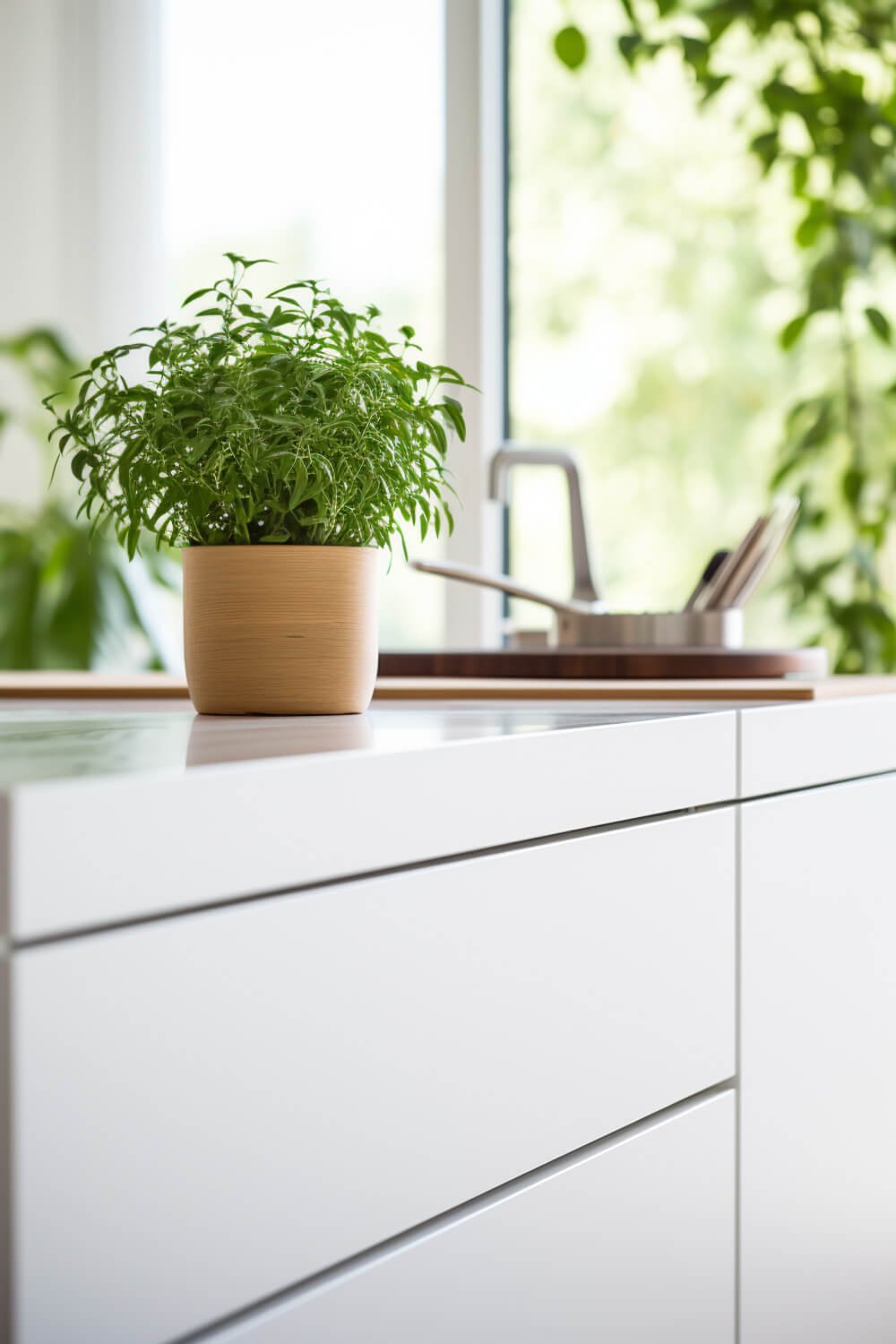 No hardware in your kitchen eliminates this fear of being "Surprise!" pulled back by your own kitchen cabinet handle or drawer knob.
(New nightmare fear? I feel like I'm creating a cutting-edge thriller movie script: "The Evil Kitchen Hardware That Pulled Jess Back In/Sucked Her Into Their Cabinet Lair Forever." The title needs some work but…Scriptwriting agents, you may contact me to discuss the rights.)
no hardware kitchen
Con #1: Functionality (for Some)
The lack of tactile feedback might make it challenging for some individuals to open drawers and cabinets.
If you have a lot of guests over, it requires those users to be accustomed to touch or push-to-open mechanisms, which can be less intuitive. (Personally, I don't think this is a problem. When I go to others' homes and something strikes me as unfamiliar, I ask. I'm not just going around trying to open their kitchen cabinets and drawers without them there. 😂)
KITCHEN WITH NO HARDWARE
Con #2: Limited Customization
You could say that handleless kitchen designs offer fewer customization options in terms of millions of options for decorative elements. It also doesn't suit every design theme, which you could say limits flexibility in kitchen aesthetics.
However, below I'll show you some examples of the hundreds of different options you have when it comes to customizing your handleless kitchen, both with cabinets and drawers!
Ultimately, the choice you have between going with full-on kitchen hardware versus no-hardware depends on your individual priorities and goals, preferences, lifestyle, and your desired kitchen aesthetics.
And, of course, it may now also depend on whether my "Kitchen Hardware Attacks Homeowner!" thriller idea has given you a new phobia or not. 😆
handleless kitchen ideas
7 Design Options for Kitchen Cabinets Without Handles!
To get you started…
#1: Basic
OK, so here's what most people probably think their drawers have to look like if they don't have pulls or handles or any kind of hardware showing.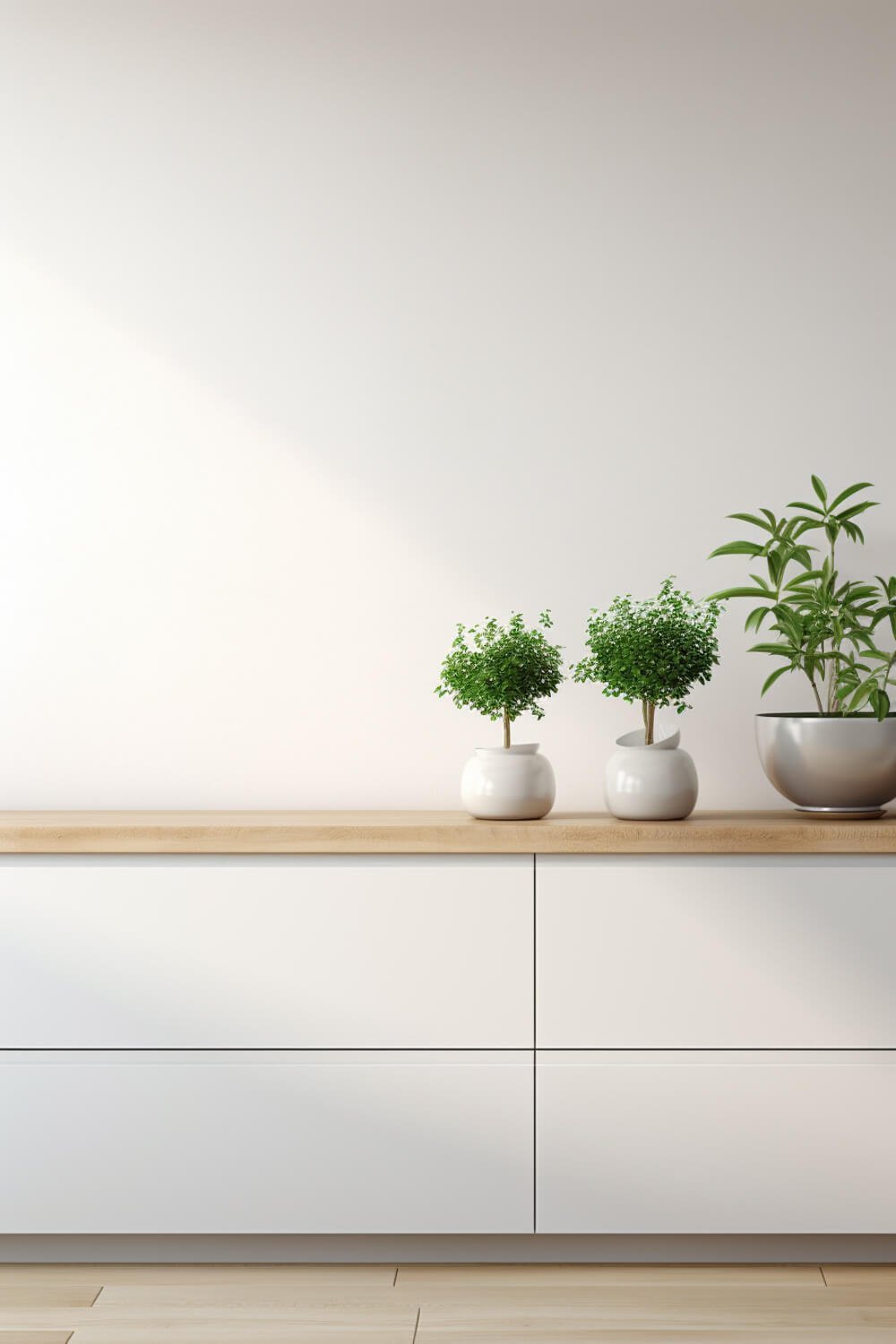 And while I still love this look for certain clients and situations, you're not limited to it.
PS: If you're asking "How on earth would you open the above?" these are magnetized drawers. So you give a small push "in", and the drawer pops out. But not all magnet mechanisms are created equally (I'm sorry to be looking at you, IKEA), so make sure you get a quality one! (Like the one we used for the ever-beautiful, classic cabinet above our fridge!)
#2: Magnets, but customized!
You don't have to go with white cabinets with magnets. You can paint them any color you want (talk about customization!) or go with another thousand different choices of woods! (In various finishes, from glossy to matte!)
#3: Speaking of glossy…
Your cabinets without handles can be customized in the final gloss (or matte) finish of your choice!
Higher gloss (such as the below) are generally easier to clean and great for high-traffic households.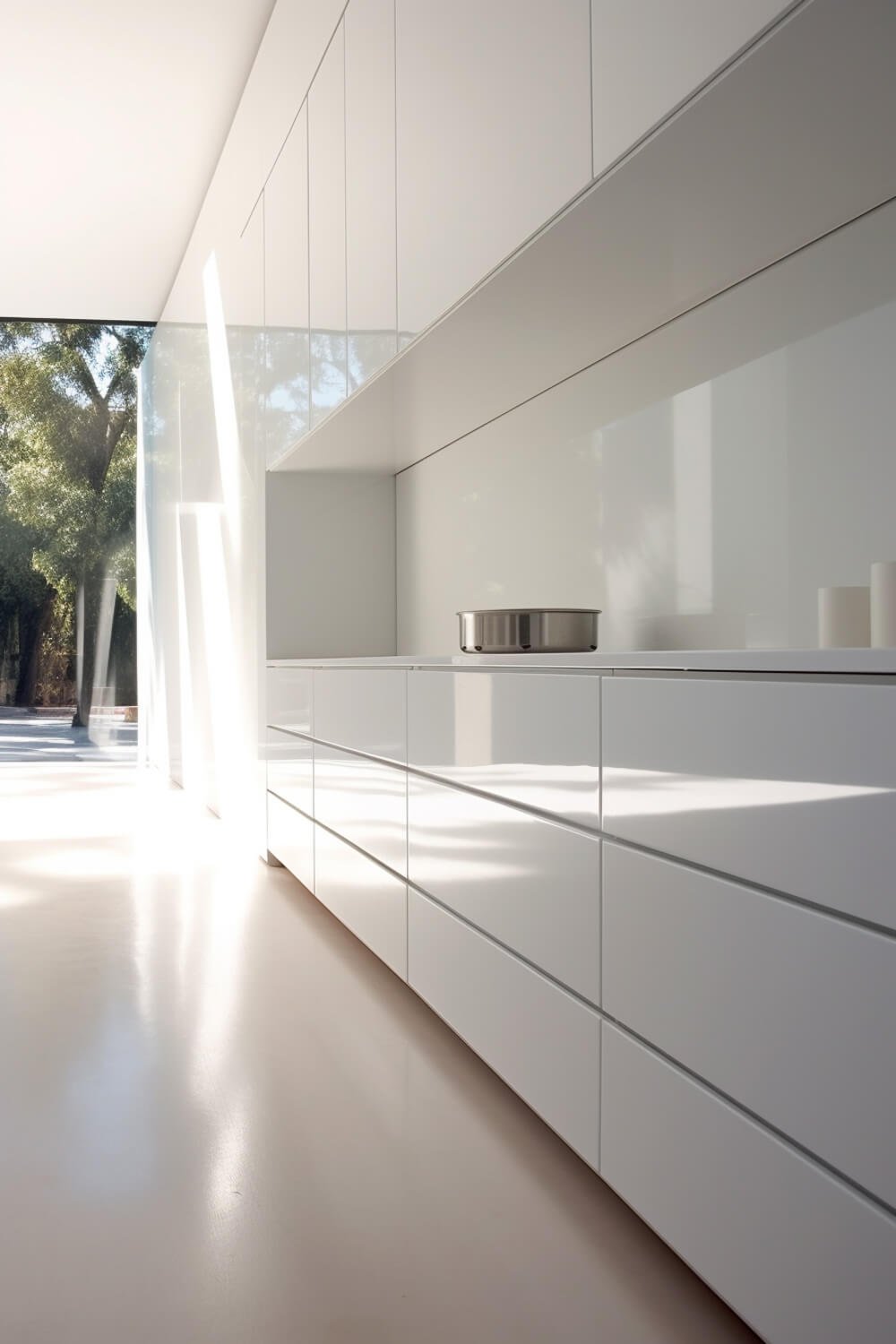 #4: Slight lip
If you don't want magnets on your kitchen drawers and cabinets, these drawers have a slight, almost imperceptible lip. The upper cabinets just pull out and close, without handles! Easy breezy!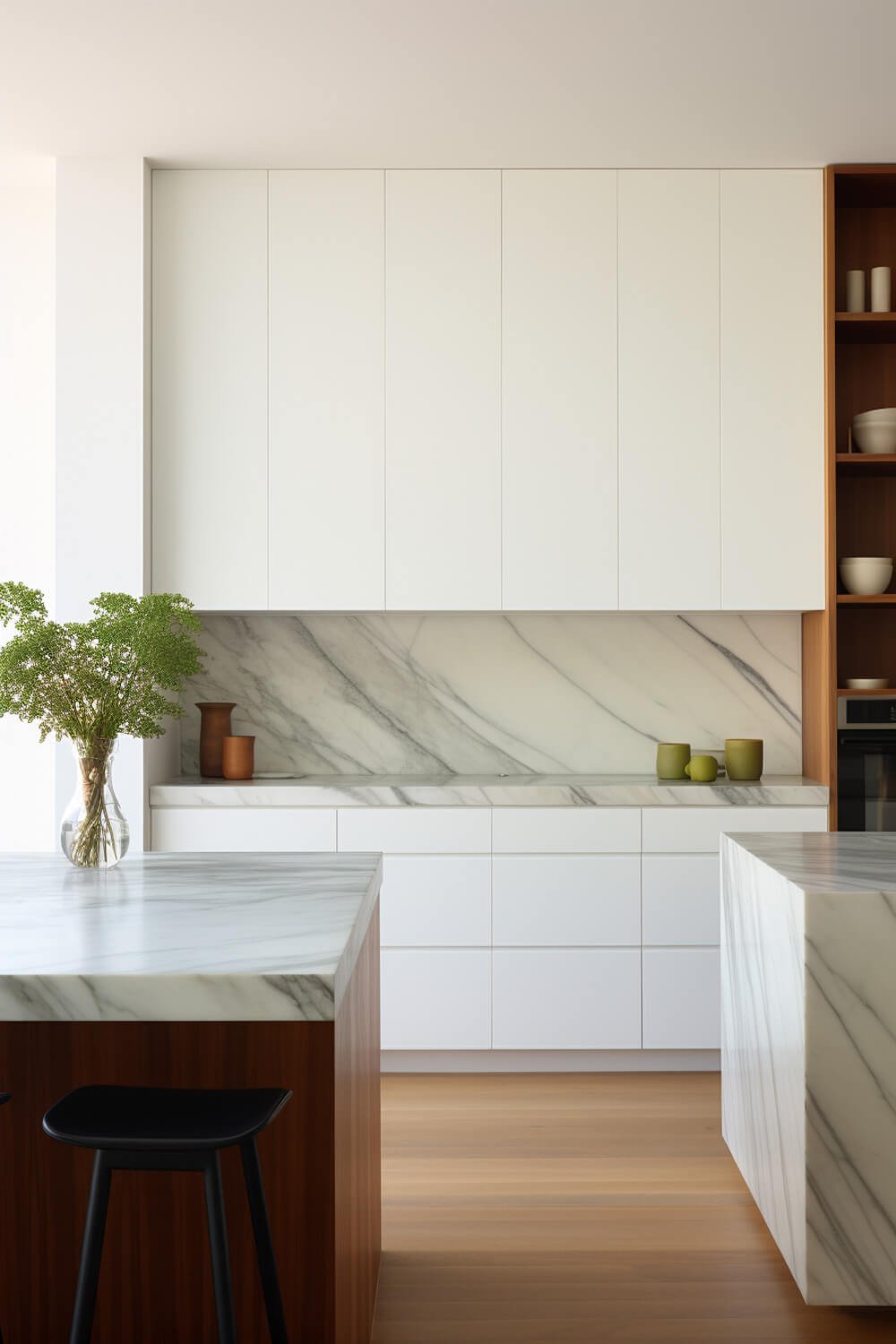 #5: More "lip"
You can go as "dramatic" as you want in your "lip" of drawers, and here are some examples in various whites and woods: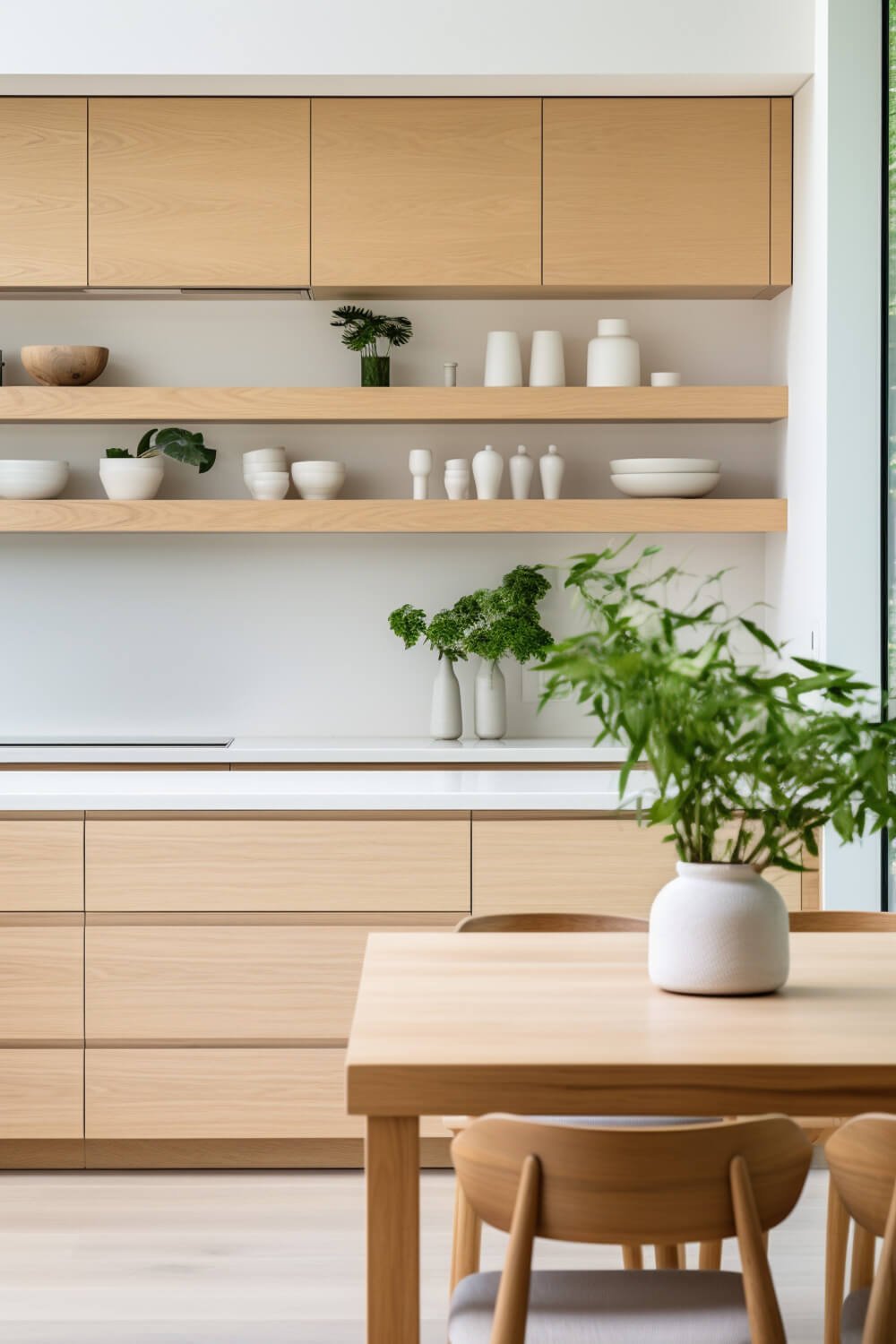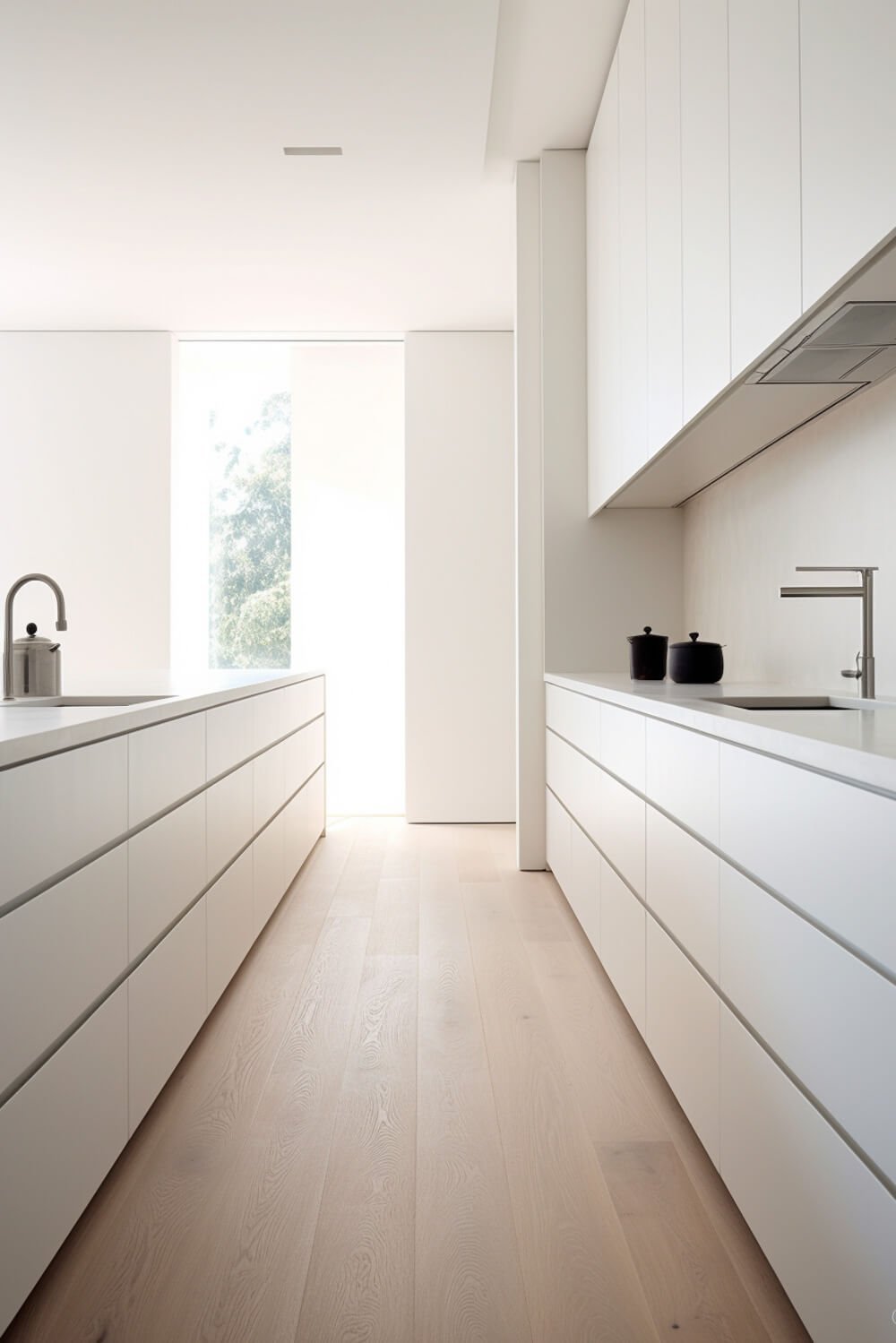 Even when you have large pull-out drawers or cabinets (such as in this island on the right in the below photo), the "lip" can continue visually.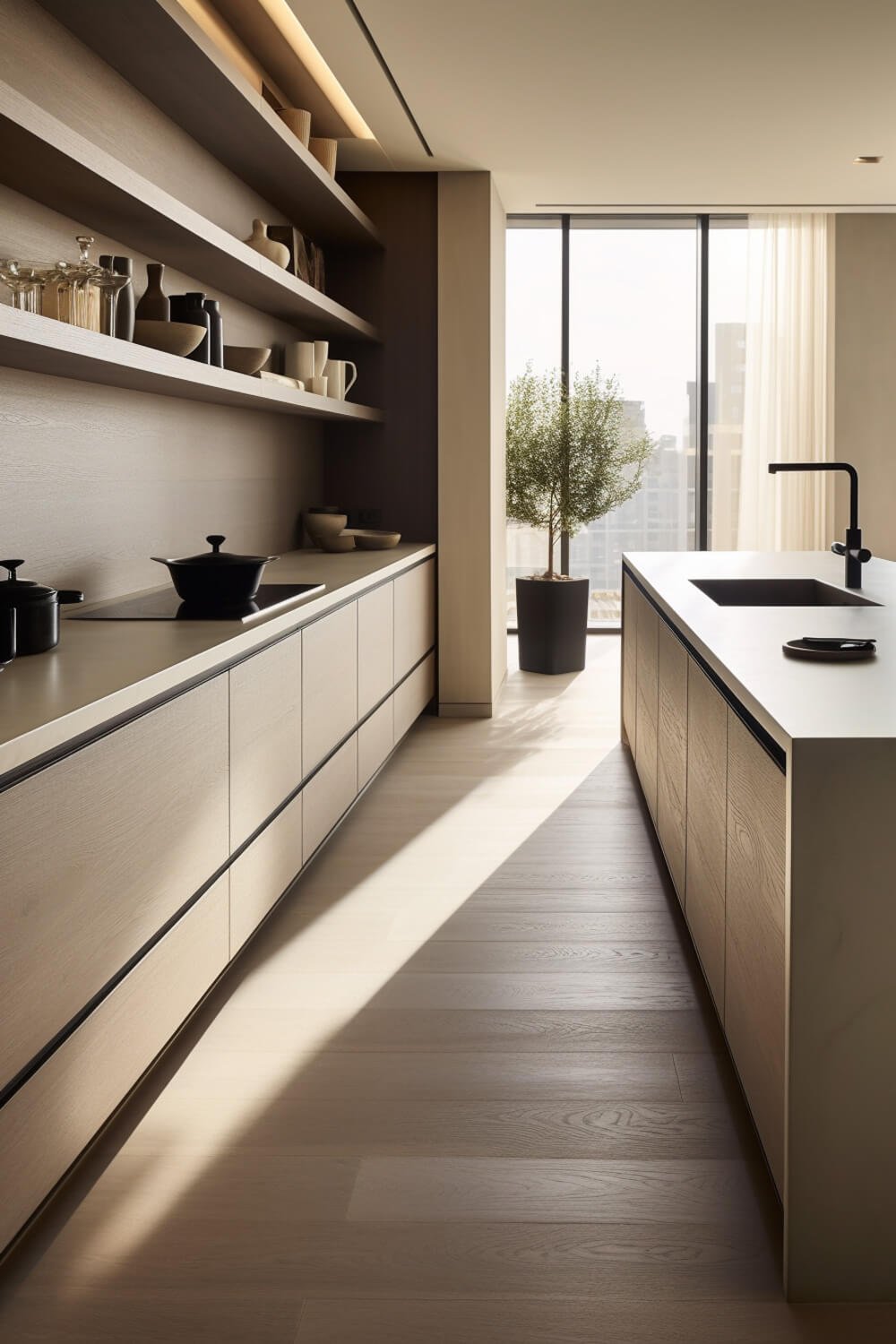 #6: Square or rectangular cutouts…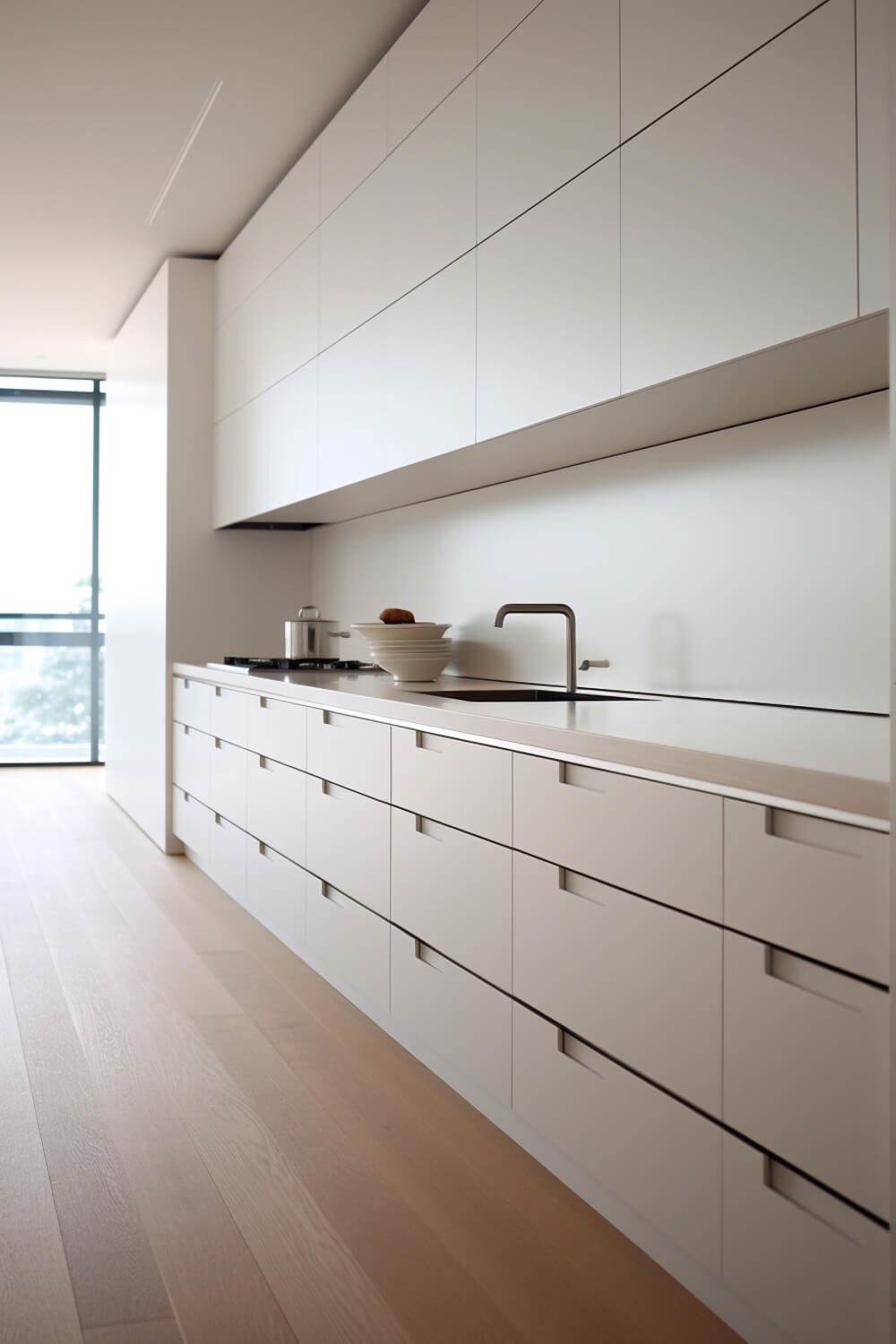 #7: …And beyond!
I'll have to continue this list another day as there are circular cutouts, different "lip" styles, and other treatments as options…
…and you can also mix and match, as we've done in this kitchen below! (Upper cabinets: seamless. Lower drawers: rectangular cutouts.)
Even with too many options to list here today, as long as I've got you thinking about the option of no handles on your kitchen cabinets and drawers…
…my work here is done! 🙂
[Or–if you're new here–has it just begun? 😉 ]
Next…
PS: You can see all our home projects here!