Looking for the perfect patio furniture or other outdoor furniture for your backyard, front yard, side yard…you name it? You're in the right place!
Not gonna lie: I'm a Master when it comes to designing outdoor spaces.🧠💪
(It took me years of friends' observations, client feedback and professional experience to build that confidence! To where I finally realized that Outdoor & Landscape Design is a sweet spot for me when really given free reign! 🙂 )
Is it because I love being outside? Because I enjoy both interior and landscape design? Is it because I spent so much of my childhood outdoors? Is it because I love gardens and finding ways to sit and relax and enjoy them more?
Or is it all of the above? 😉
I haven't just done it for clients; I've done it for ourselves. (See our last big remodel in this house.)
OUTDOOR FURNITURE
When You Can't Hire Me as Your Designer: The Next Best Thing
Now, while I can't whip up an entire landscape design plan for you this summer because we're booked…
…I can share with you some available pieces of patio and outdoor furniture that you can buy today yourselves! (And I do recommend buying today because this is all seasonal and could be gone tomorrow! It happens with outdoor furniture sets and pieces more often than the average person thinks!)
I'll even give a variety of types and price points, so whether your budget is low or high, or whether you're looking to have these for 1 year or 10, you'll find something that's exactly what you need right now!
OUTDOOR LOUNGE FURNITURE
#25: One of My Favorite Armless Outdoor Chairs
I'm starting with outdoor lounge furniture because I believe that's the primary need most people have. (Outdoor dining furniture comes in a close second.)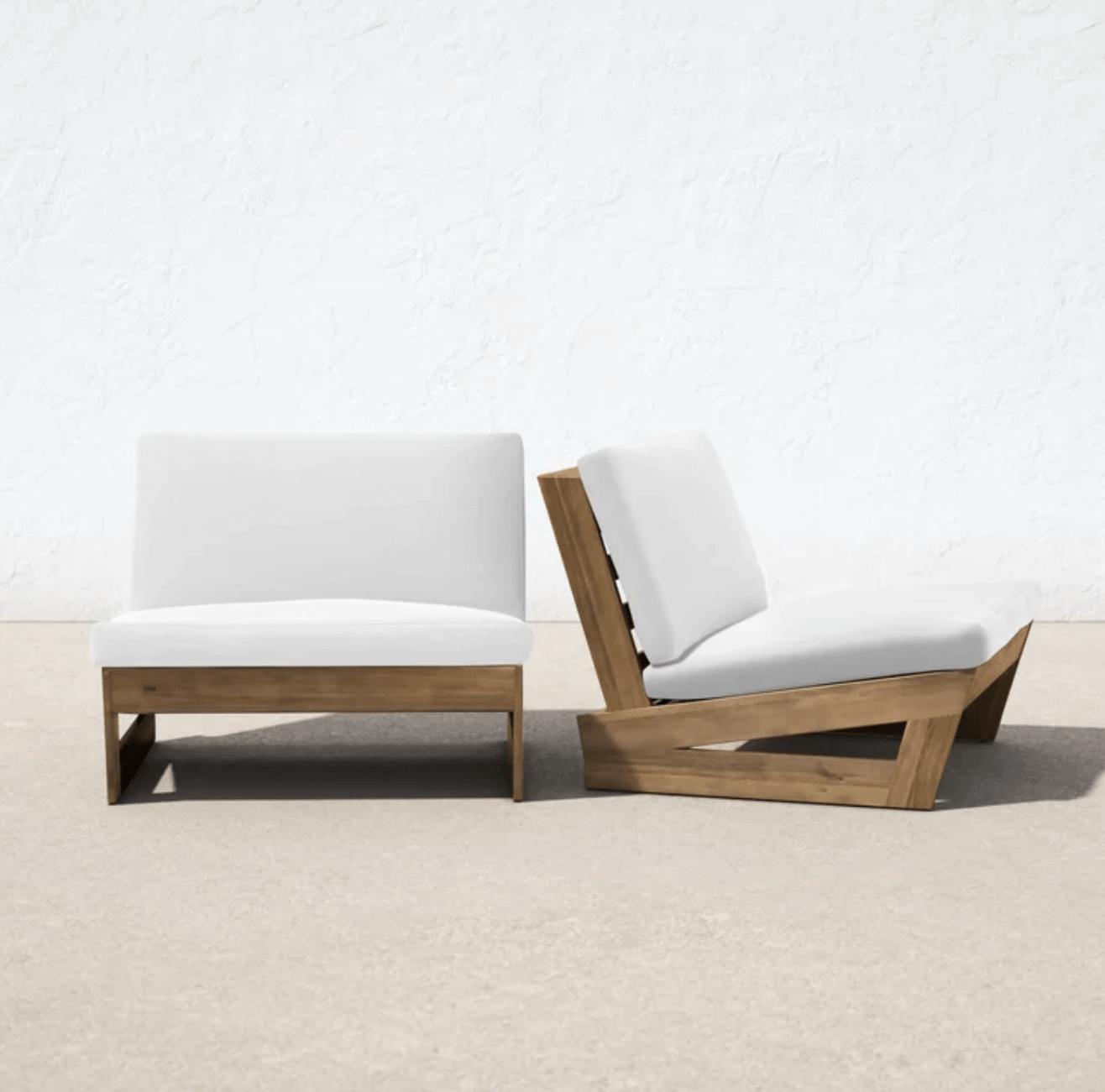 I'm a big fan of armless chairs like these, and the simple, sleek look plus comfort tilt back makes me say OH YES MAMA! They're like an upgraded Adirondack chair. (And come in two different finishes.)
What I also love about these is that they could serve DOUBLE purposes for you (great if you don't want to spend twice, or you have a small outdoor area you're using).
For example, if you wanted to have these
in a circle or half circle around a firepit
extra seating in addition to your regular lounge furniture
looking towards your grass for football, ladder golf, croquet or other lawn games
turned towards the kids performing a show for you
etc etc!
So you could have this as extra seating in your outdoor lounge area, or then move it over to the firepit when needed…without having to buy extra furniture.
Or if you've got the budget, buy them for everywhere you need!
(Speaking of Adirondacks, if you must buy them, buy these rather than "the usual" traditional designs.)
Whether you're doing a total backyard remodel or just working with what you have, you need THIS!
OUTDOOR FURNITURE
#24: You May Need 1-2 Outdoor Swivel Chairs!
Speaking of chairs that are multi-use, I love these high-quality swivel chairs for outdoors.
Isn't it genius to have a chair in which you can rotate yourself with the sun (towards it or away from it?) without having to stand up?
Isn't it incredible multi-function to be able to turn one way towards conversation, then another way towards the pool or lawn where other people are?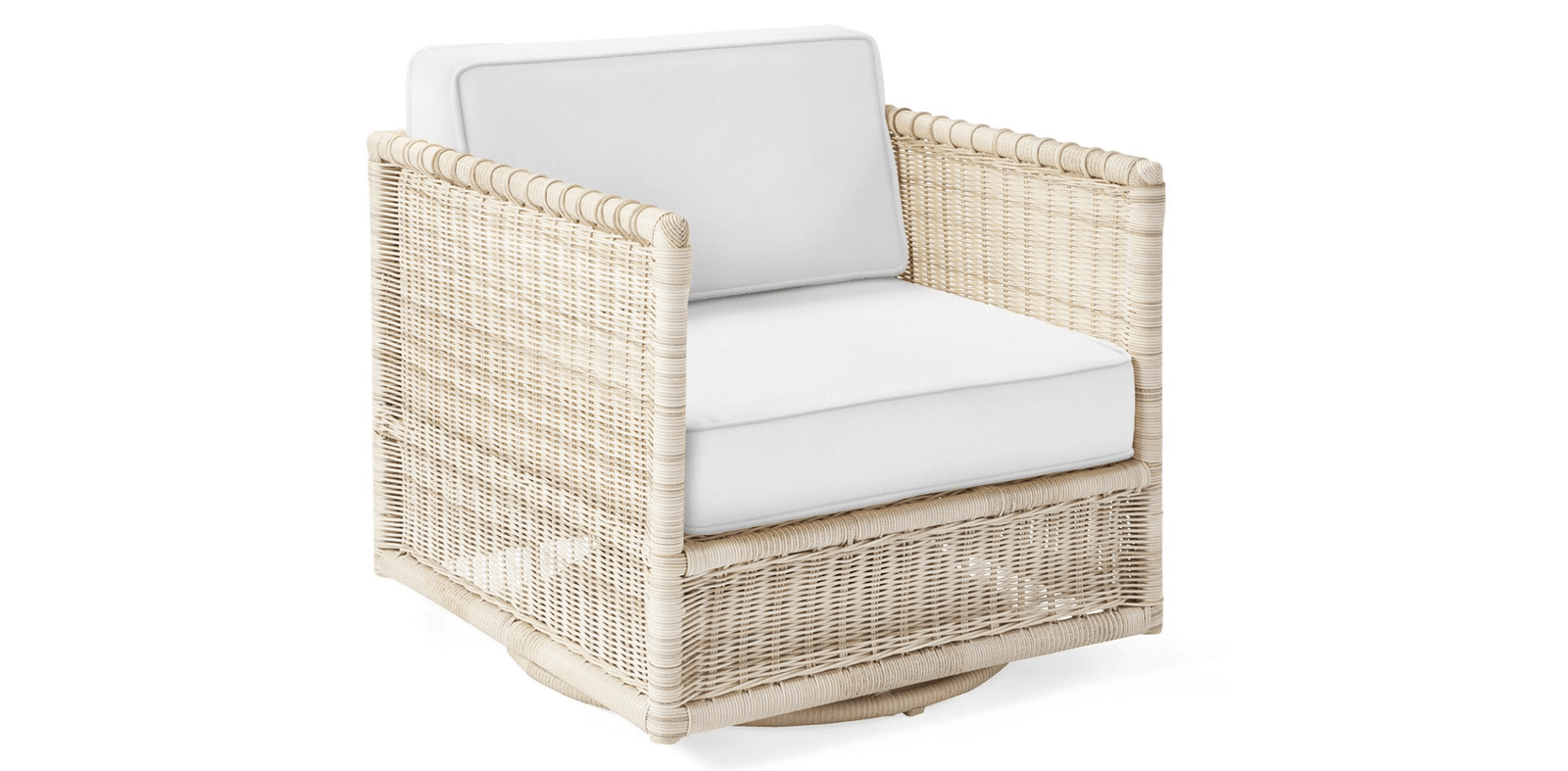 I love swivel chairs outdoors for so many reasons!
best OUTDOOR FURNITURE
#21-23: The 100% Fabric Swivel Options!
Don't like the woven look? No problem!
How gorgeous is this one? I can see you using it during the warm months outdoors and then maybe as things turn cooler and you don't want to be fully out there, if you have a porch or sunroom (or even a living room these could double up in!). I remind clients they can use outdoor fabric indoors if they have children or pets, because the fabric is so durable and still soft for everyday.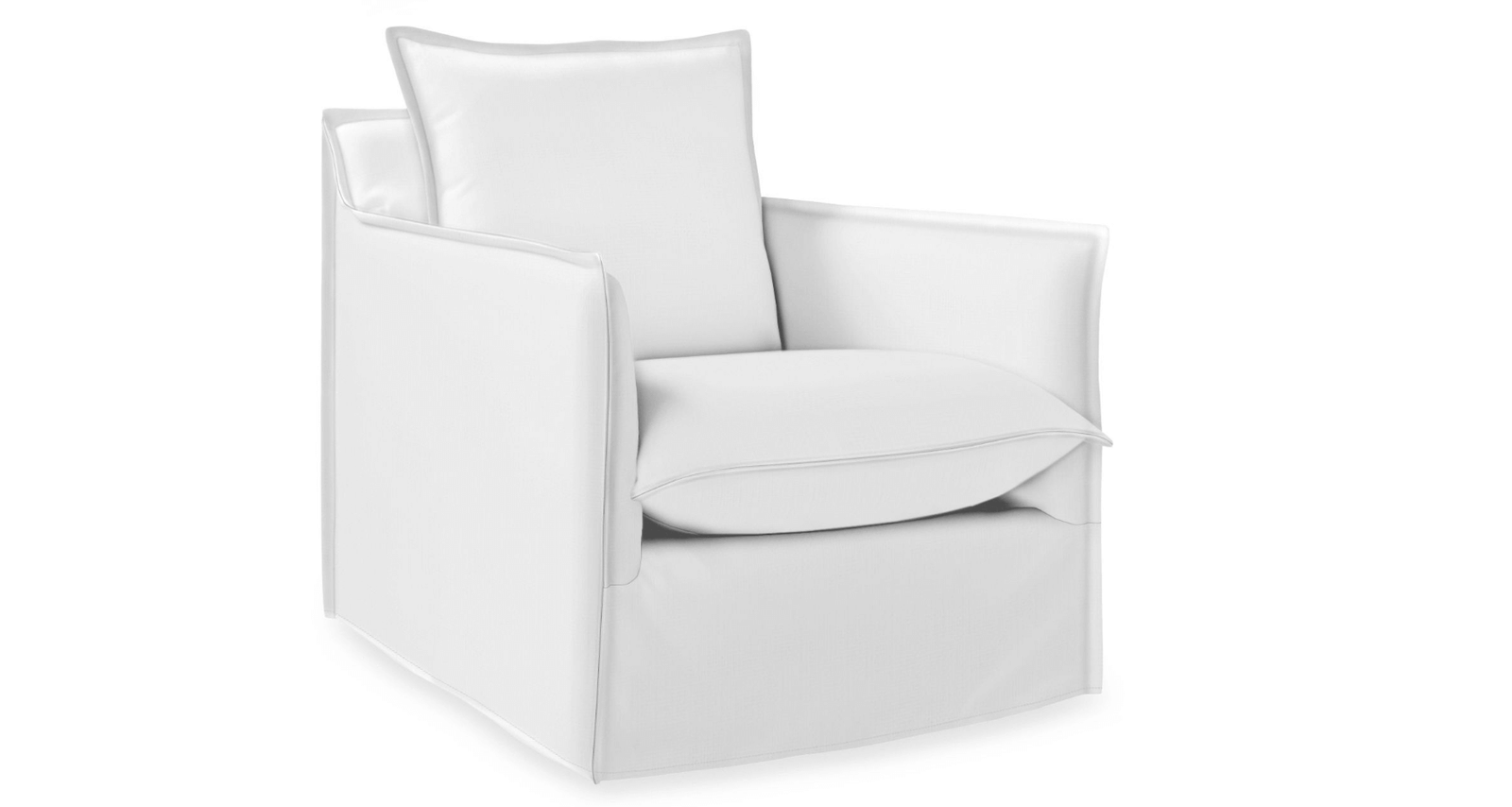 outdoor slipcovered swivel chair
These come in different colors and patterns too, not just white. 😉
I can't resist just one more, because the shape is rounded and unique…I love it!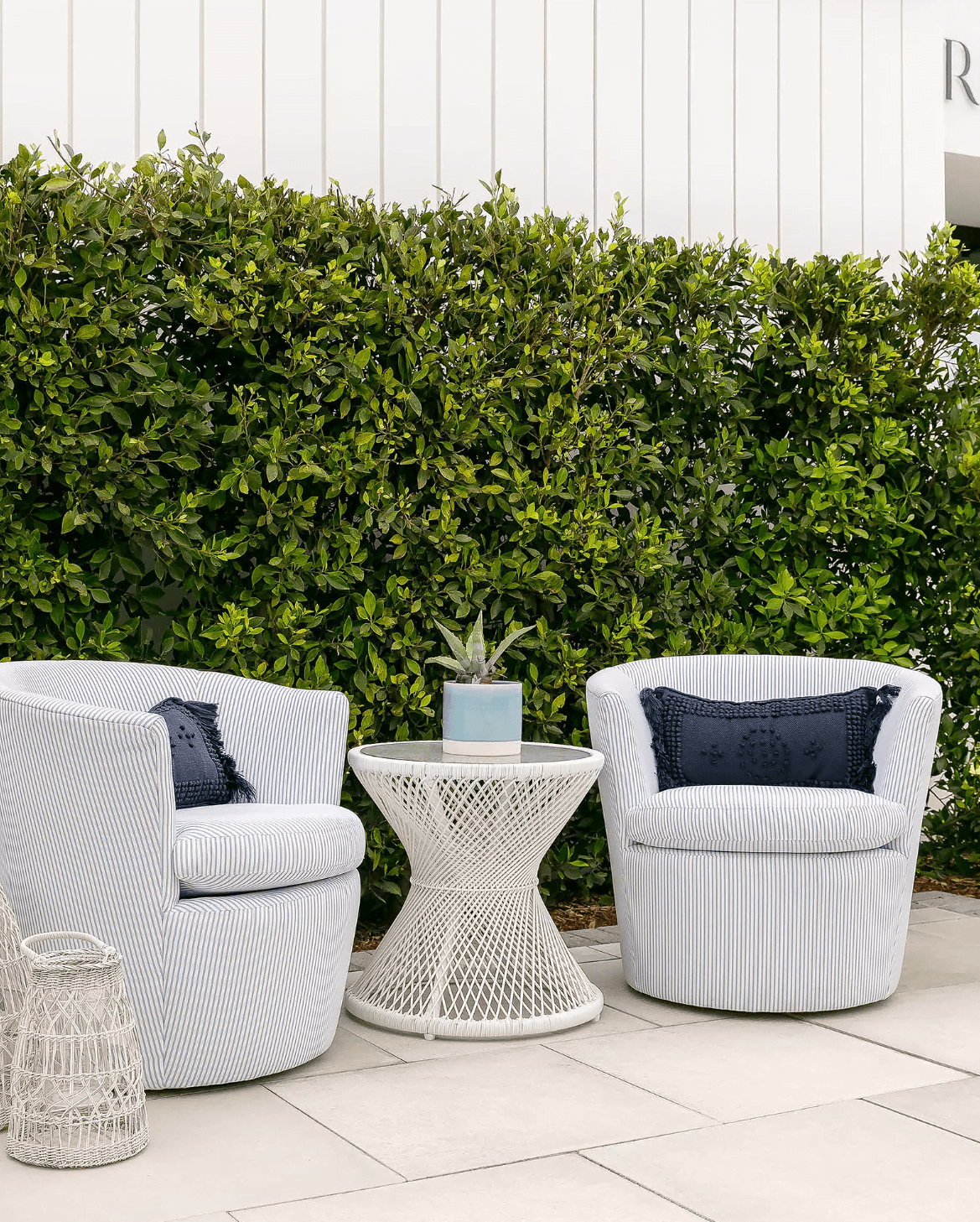 Are 71 different fabrics enough choice? Yes, that's plenty. You'll be sure to find the one that suits you best in there. 😉
OUTDOOR LOUNGE FURNITURE
#20: Quality + Less Expensive Option
If you love Serena and Lily but don't love the price tag, this option from them is so reasonable and is a less structured-type lounge chair.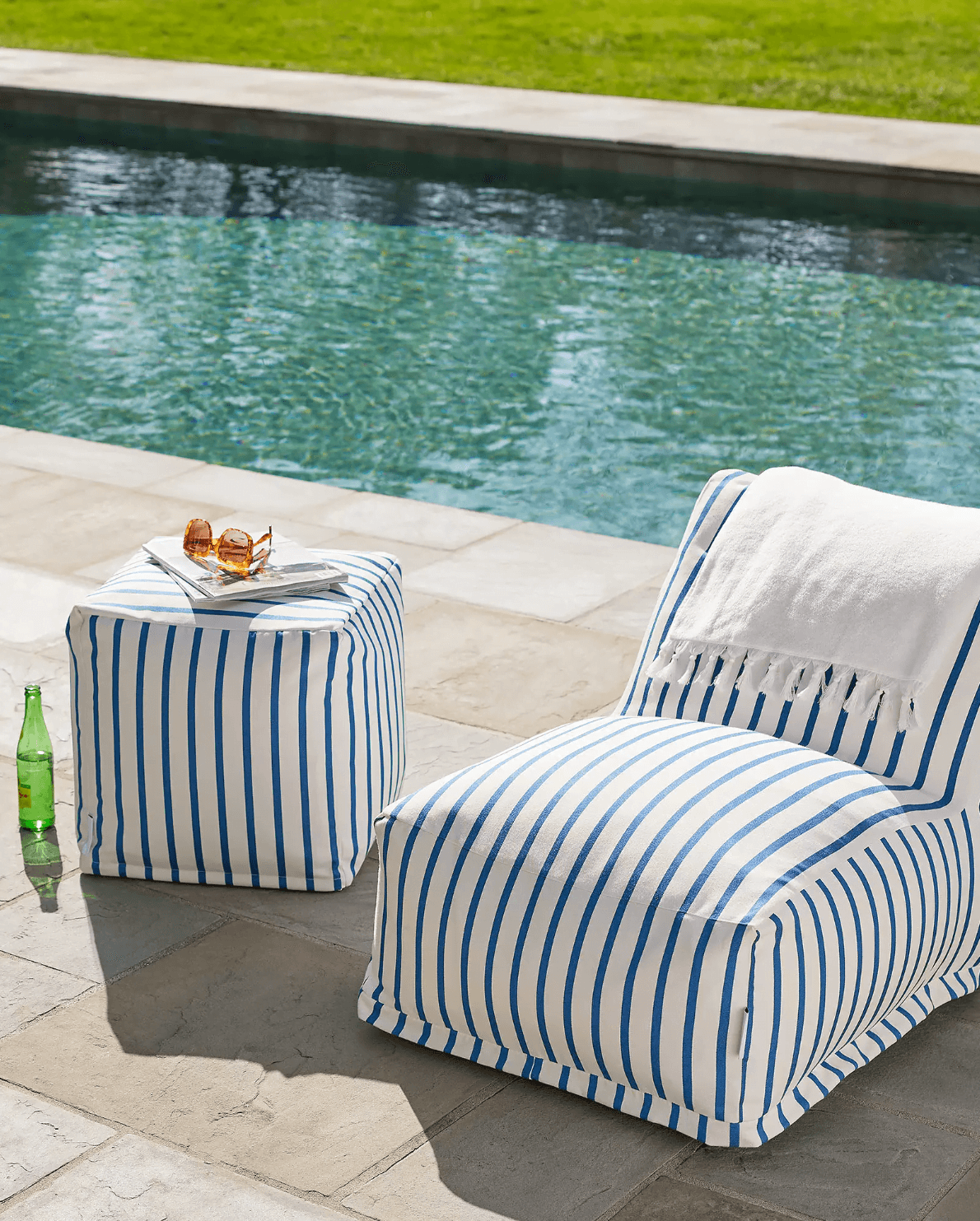 best OUTDOOR FURNITURE
#19: Let's Start Out HOT with This Outdoor Sofa!
Speaking of your main outdoor lounge space, let's get on to the largest piece of furniture you'll need: the outdoor sofa.
This is my current favorite outdoor sectional. GONE are the days of having metal or wood outdoor patio furniture. Why not make it just as comfortable as your indoor couch? (Plus no wood or metal to upkeep.)
similar outdoor couch (budget-friendly version)
In our next house, I'll probably do this myself. That's how much I love both the functionality + the look.
best OUTDOOR FURNITURE
#18: All-fabric + Traditional
Similar to the above but less "modern" looking if you're more on the traditional side, I'd go with THIS outdoor sofa!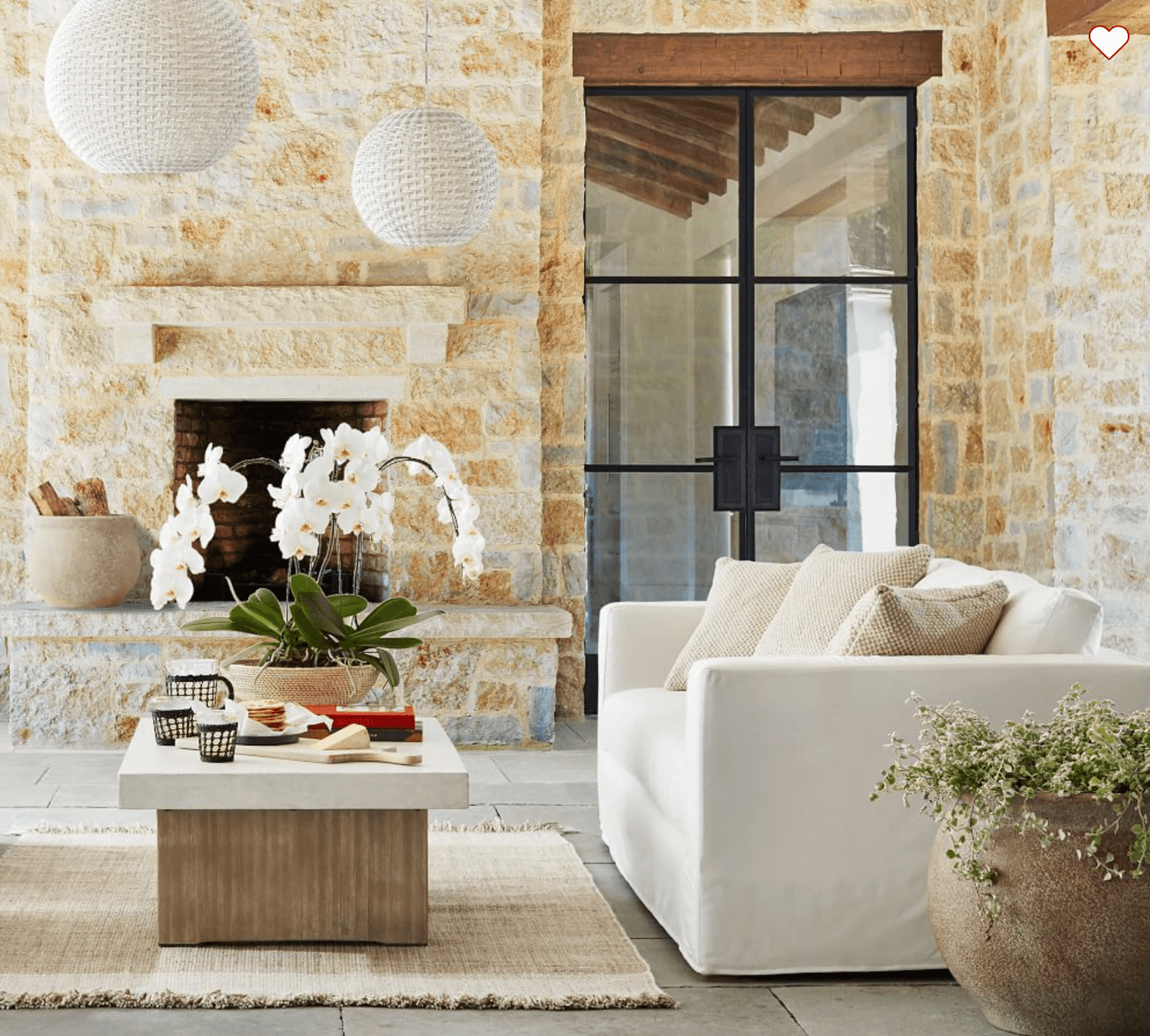 This brand always comes through on quality.
best OUTDOOR FURNITURE
#17: Curved + Warm
So much of homes are squared off that I welcome opportunities to bring in rounded elements–and you should too!
So if you're looking for that plus a warmed-up, woven element, I looooove the unique look of this rounded outdoor couch!
MODERN OUTDOOR FURNITURE
#16: Rounded Deliciousness!
I've loved and recommended this outdoor couch for a year or two.
It has a single cushion and
The wood edges are rounded and smooth! Unique (and not sharp!)
Also comes in different colors, although the natural texture and feel of this one is delicious!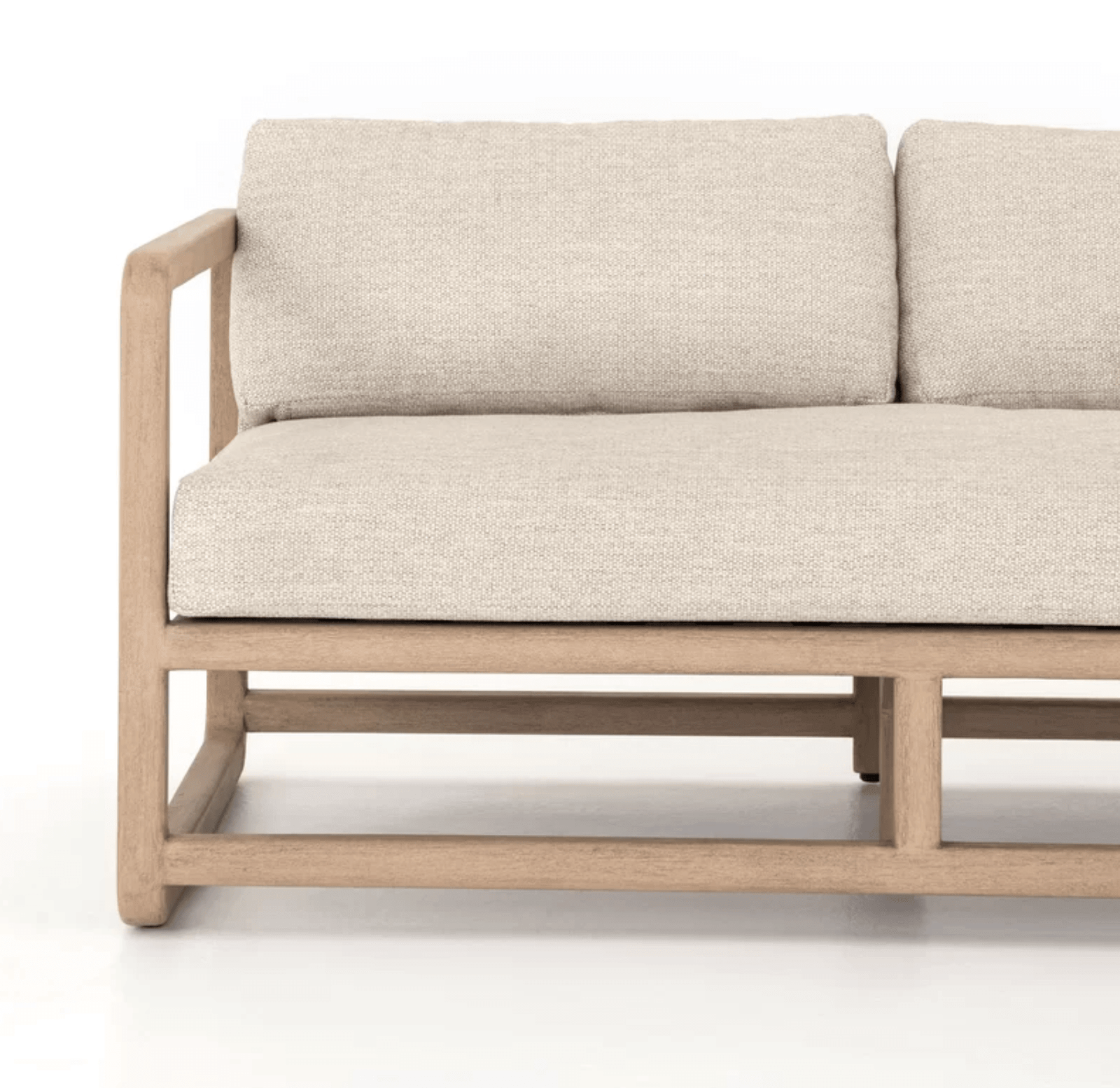 outdoor sofa with rounded wood
If you're looking for ways to save some serious money on your backyard, you'll want to utilize THIS!
OUTDOOR LOUNGE FURNITURE
#15: The Best, Most Efficient Outdoor Sofa Arms!
If you like a wood look over the earlier all-fabric options, this is a totally unique outdoor sofa. Plus, it's a great size! (Too many outdoor sofas are too small!)
I also love the arms on this because you can sit a drink there and avoid needing side tables. For flow, as little furniture as possible is preferable! (But yet, as much furniture as is needed…it's a fine balance! So I love that this serves double duty in one piece.)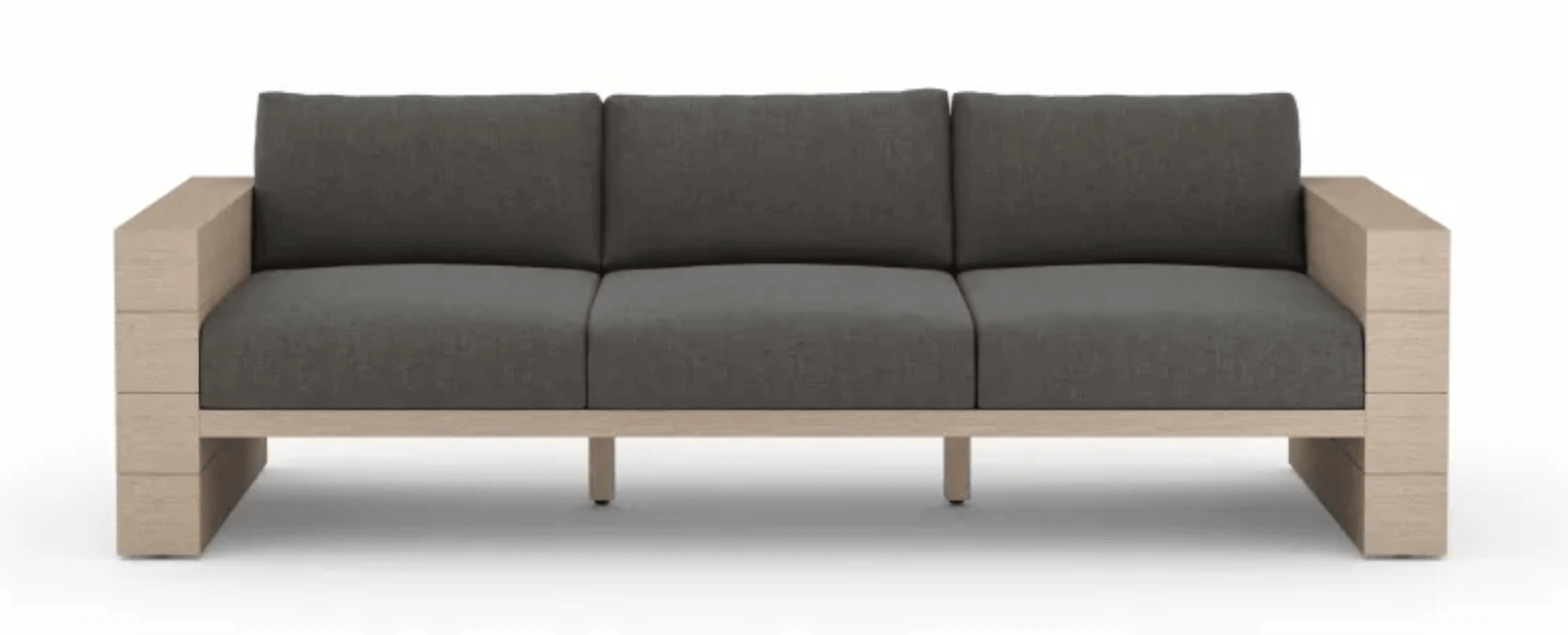 SMALL PATIO FURNITURE
#12-14: The 3 Best Built-in Side Table Options!
Speaking of efficient outdoor space, there's also this budget-friendly piece that has extra seating and/or side tables built in!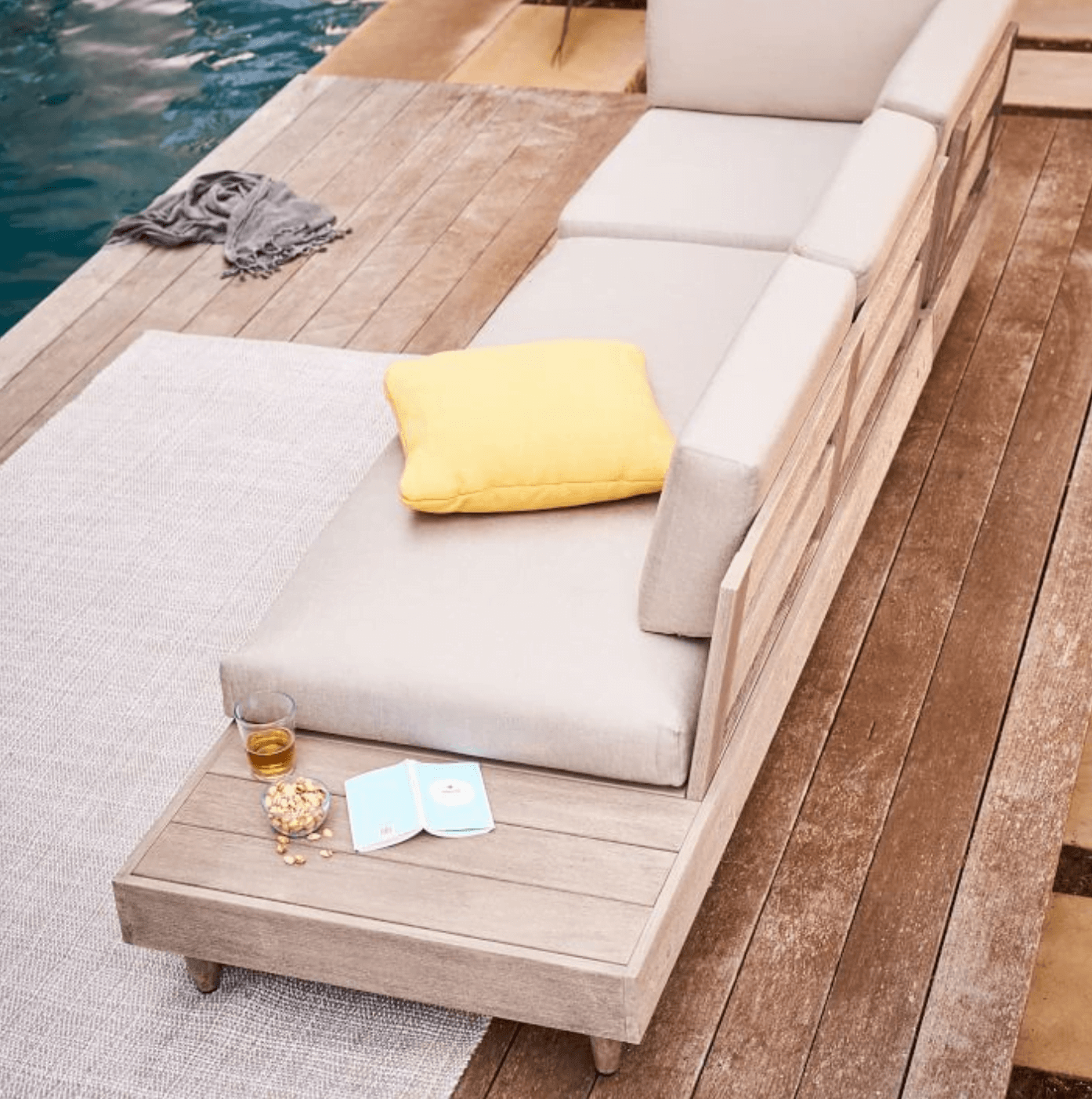 sofa + cushion covers / similar version / budget option
If the above is out of stock by the time you've read this, check out the other two links–I sourced a good similar version plus a super-budget option!
MODERN OUTDOOR FURNITURE
#11: Go with Armless Functionality!
If you'd still prefer side tables, but not attached to your sofa, I'd often recommend going with an armless couch or lounge furniture! Easier functionality and reach, plus no arms saves you space if you have a particularly tight space or walkway.
Black also can be a great choice for outdoor furniture as it won't show stains!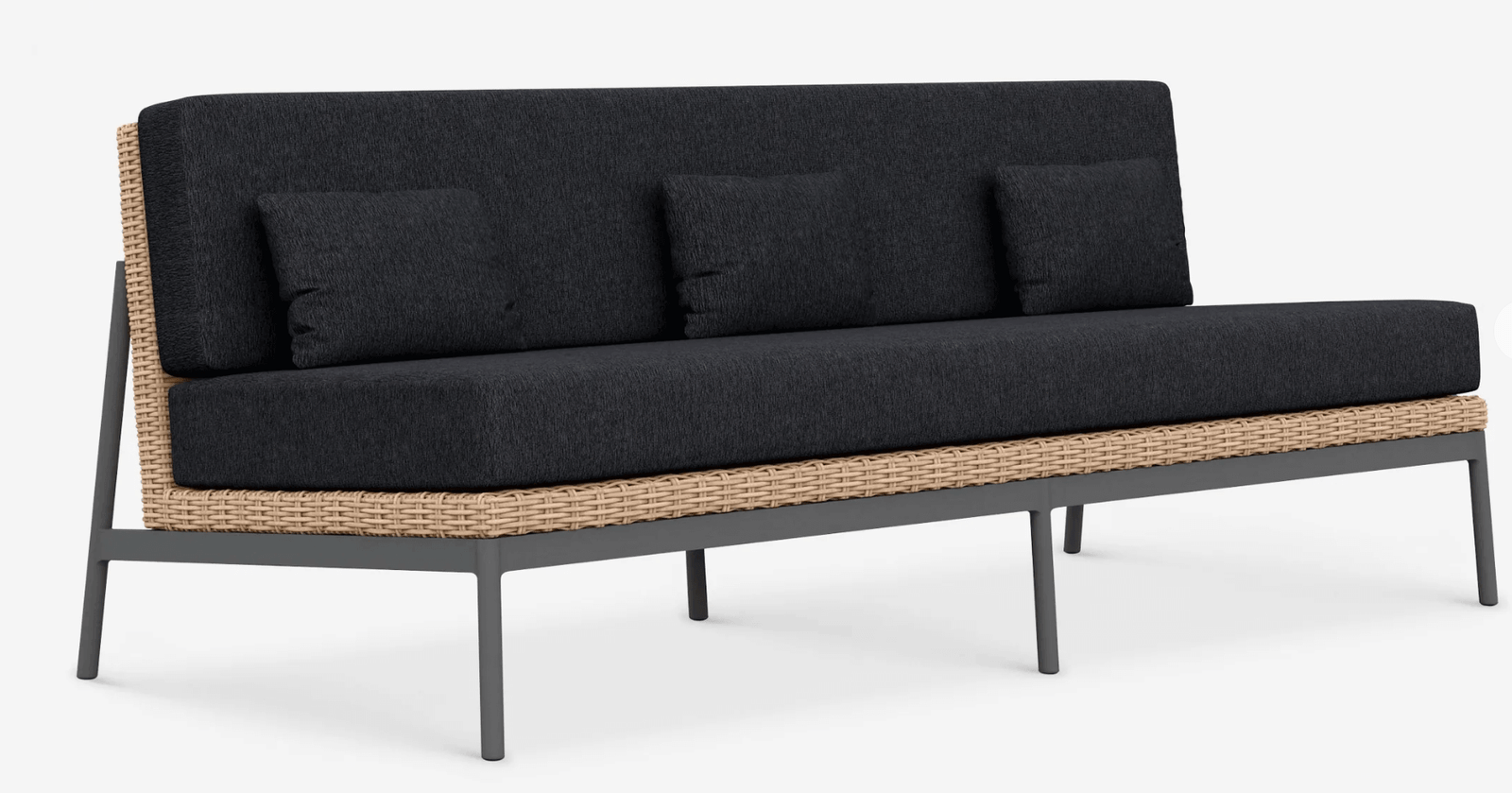 MODERN OUTDOOR FURNITURE
#10: Build-Your-Own (but Better Than IKEA!)
I've noticed more of these "build your own" popping up as well (although I'll talk about what to avoid in my next post). Like IKEA but better, this should help renters and homeowners on costs.
outdoor sectional lounge furniture
MODERN OUTDOOR FURNITURE
#9: Mid-range + Stylish
Another budget to mid-range outdoor sofa option that I love the simplicity and style of (reminds me a little of the couch I custom-designed for our fireplace room)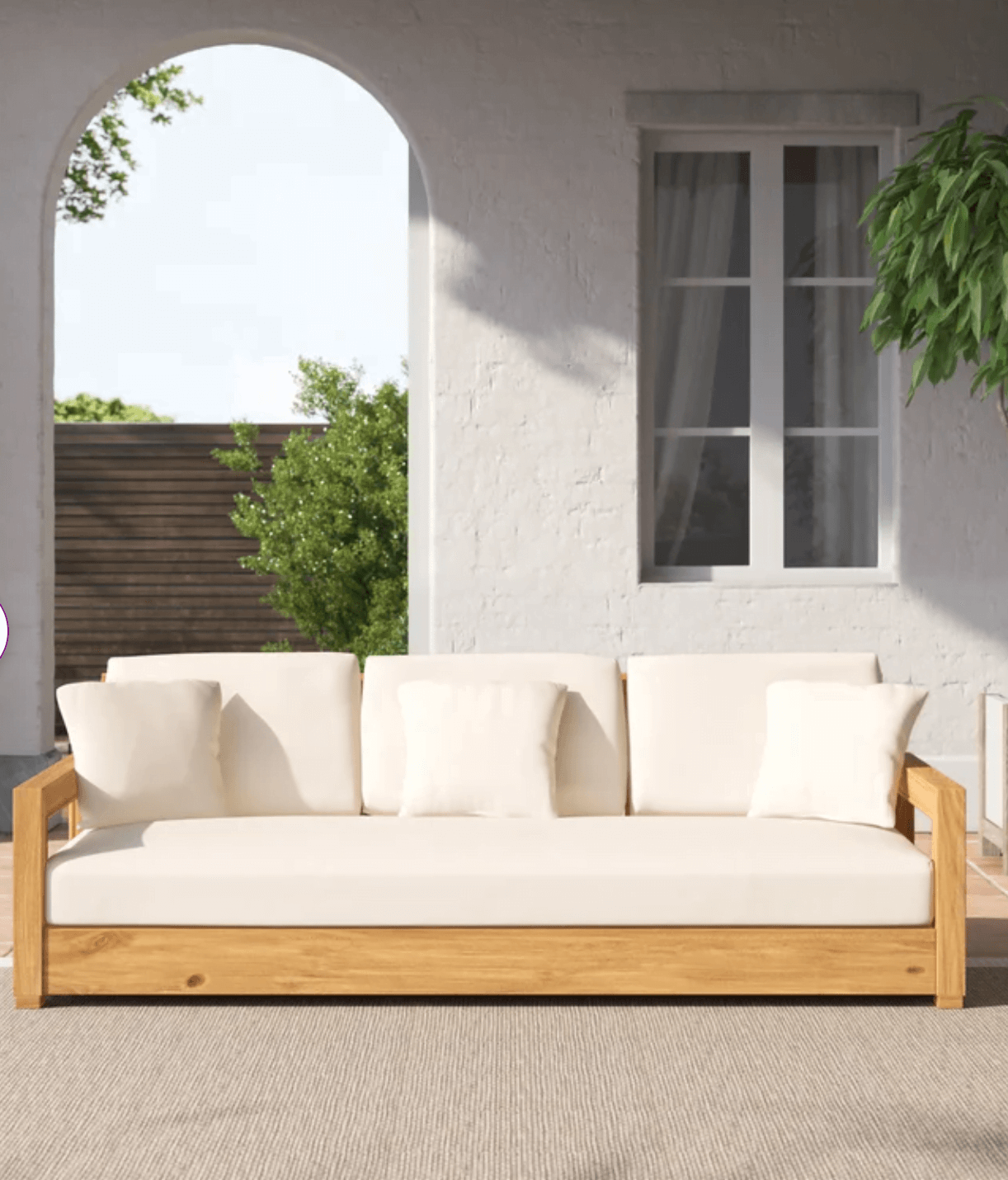 Don't be scared of white outdoor furniture. I'll share why below!
BUDGET OUTDOOR FURNITURE
#8: Budget Option on Sale (at time of writing)
For a budget option, this is on sale so would need to be purchased ASAP!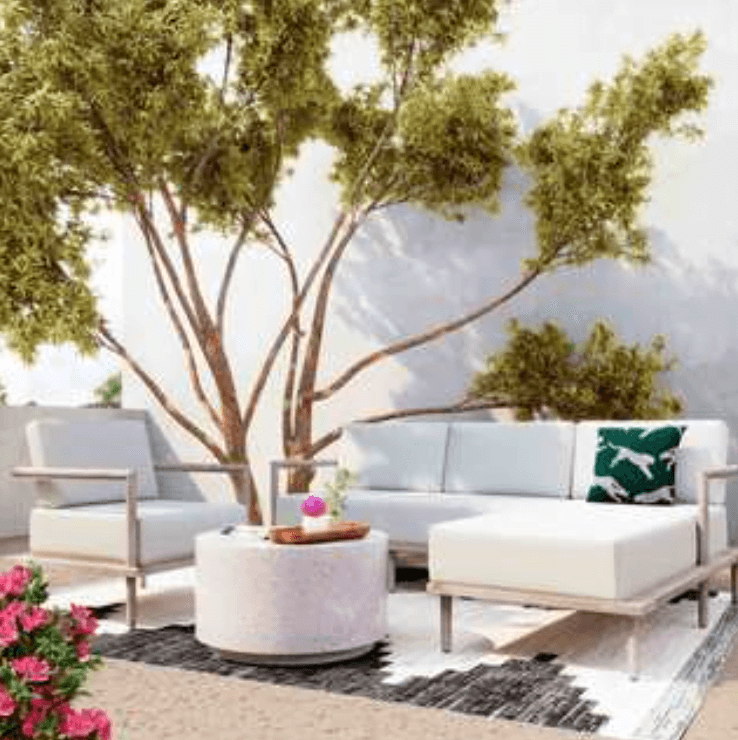 DON'T BE AFRAID OF WHITE OUTDOOR FURNITURE!
Why?
They're made with outdoor fabric which is water and stain-resistant.
They can usually be washed if anything gets through that tough outdoor fabric.
The only time I ever regretted doing outdoor white fabric was when we had it on some removable chairs under our ficus trees (which are part of the fig family, as you'll see). If you've ever had a fruiting ficus tree, you'll know about the mess it makes below. For those of you who don't know, imagine 80,000 small figs falling for 1-2 months and staining everything below it. (We had neighbors who had a gorgeous old ficus tree in their front yard, so they didn't want to remove it, but it was overhanging their driveway and would stain it every year…another story how they semi-solved that.)
Anyways, that was the only time I realized that ficus berries could in fact stain the white chairs (because if 3+ days passed without me clearing them off the chairs, any squished or opened ones would stain).
But I'm sure most of you lovely readers do not have massive fruiting ficus trees above where you're putting your patio furniture, so honestly…don't sweat the white, off-white, or cream-colored outdoor fabrics if you love them! DO IT!
OUTDOOR lounge FURNITURE
#1-7: BONUS Budget-Conscious Options!
If you're just looking for something short-term and/or budget-friendly, those are more difficult to find…
…but here are 7 I spotted!
FREE DESIGNER TIP: It is okay (even preferable!) not to match all your patio furniture! Check out my list of "15 Easy Outdoor Furniture Mistakes to AVOID!" with your backyard, porch or patio furniture!
Speaking of not needing matchy-match outdoor furniture…
OUTDOOR lounge FURNITURE
"What About the Rest of the Outdoor Furniture?"
Okay okay, so I bit off more than I could chew. I wanted to cover ALL outdoor furniture in just ONE post…and clearly that's impossible (without it being too long of a post for any normal person to want to go through, besides feeling extremely disorganized). So I'll need to create separate posts by each "outdoor furniture" category…
I wanted to include
my favorite outdoor "bonus" chairs (so many more unique ones to add for different functions!)
my favorite outdoor rugs
my favorite outdoor umbrellas and shade-creating devices 🙂
my favorite outdoor ottomans and coffee tables (and when to do one vs the other)
my favorite outdoor lounges, daybeds, and more!
So in the meantime, you'll want to check out my next post on WHAT TO AVOID!🤗
Next…
PS: A complete list of all our home projects, indoor and outdoor, is on this page.