After knocking our elbows into the walls of our too-small shower one too many times, we decided a change needed to be made. We came up with a plan to flip around our bathroom layout so that we could create a huge new double shower floor plan (including a seat and double shower heads)!
Once we figured out how that was possible (our available space to expand the bathroom was nil), we were able to put together the new layout. (One of the major changes of which was flipping the old W.C. space with the old shower space.) We then decided we wanted to go with massive slabs of marble for the shower walls so they'd be one solid surface. This would not only be beautiful but practical. Who wants to scrub a tiled shower wall full of grout lines? Not me!
After finalizing our solid surface walls, we then put together our own DIY non-slip shower floor tile. When that was done, we were finally able to install our hardware for the double shower, as well as our gorgeous glass shower doors.
Remember what we were showering in before?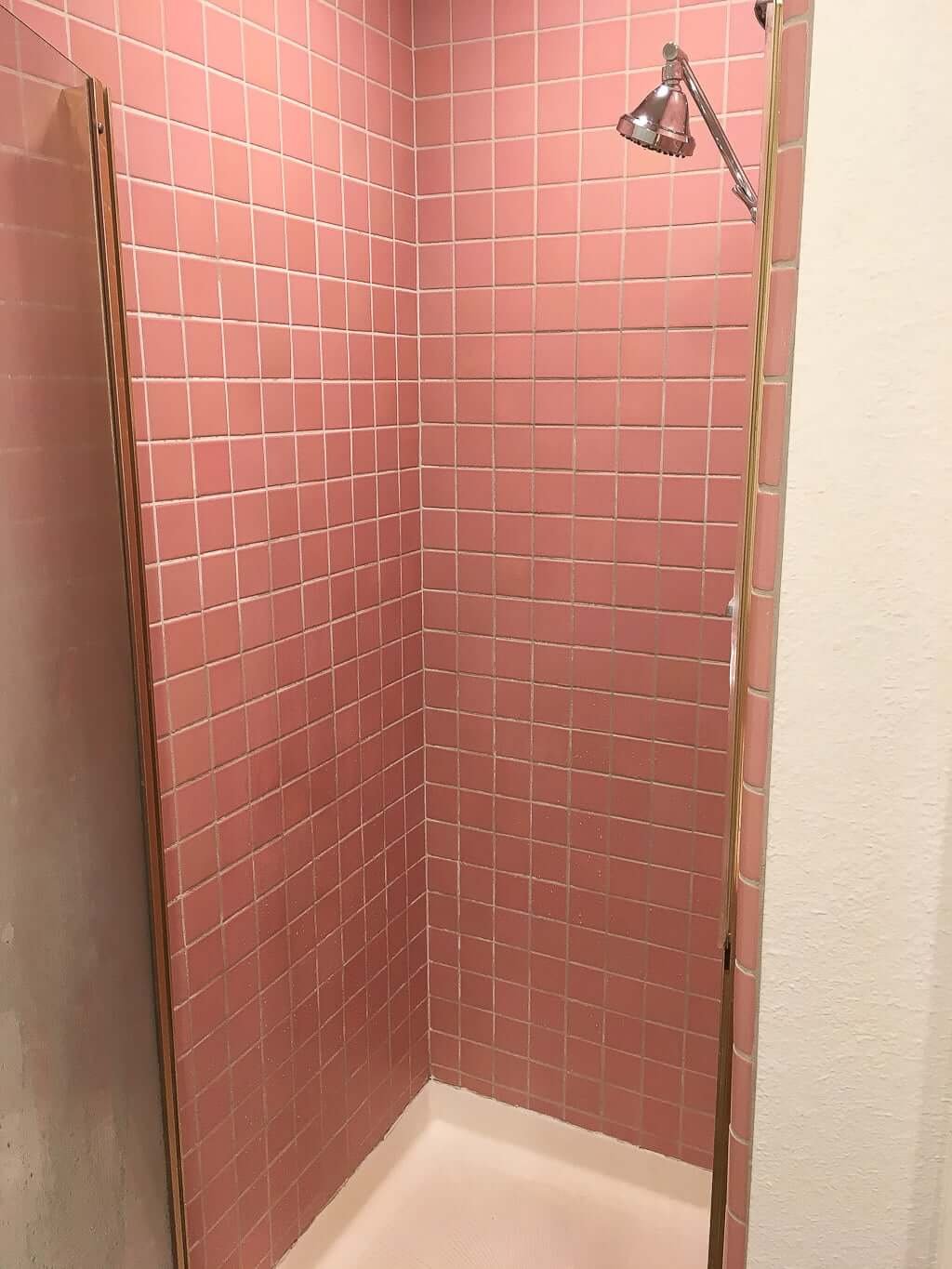 Yep. That was it. And this is where we wanted our new shower to move to:
DOUBLE SHOWER MUST-HAVES
#7: Glass Shower Doors
For our double shower floor plan, we went with full glass shower doors with (of course) polished nickel hardware. Does it look like our elbows'll be safe in there now or what?!😂
shower doors | hinges | rain shower head | shower head | thermostatic valve | diverter valve | drain | LED lights
You can also see we added these money-saving LED lights, which have been amazing. They have the perfect soft color of light, and best of all they've already saved us some moolah!
Let's move a little closer so you can see both sides of our new walk-in shower (with a bench seat! don't forget the bench seat!).
walk-in DOUBLE SHOWER MUST-HAVES
#6: Double Shower Heads
We hoped for double shower heads in the new space, and were totally able to fit them. (Unexpected bonus: this has come in handy with kids when necessary!)
shower doors | hinges | rain shower head | shower head | thermostatic valve | diverter valve | drain | LED lights
DOUBLE SHOWER MUST-HAVES
#5: Slab Shower Walls
Yes, those are grout-free shower walls, my friend! (You can read more about how we created those right here.)
Solid surfaces = no time spent scrubbing grout lines. (What's the thing called where you kiss your fingertips to express deliciousness? I'm doing that thing right now.)
Here's a quick video clip to show you in a few seconds what I mean: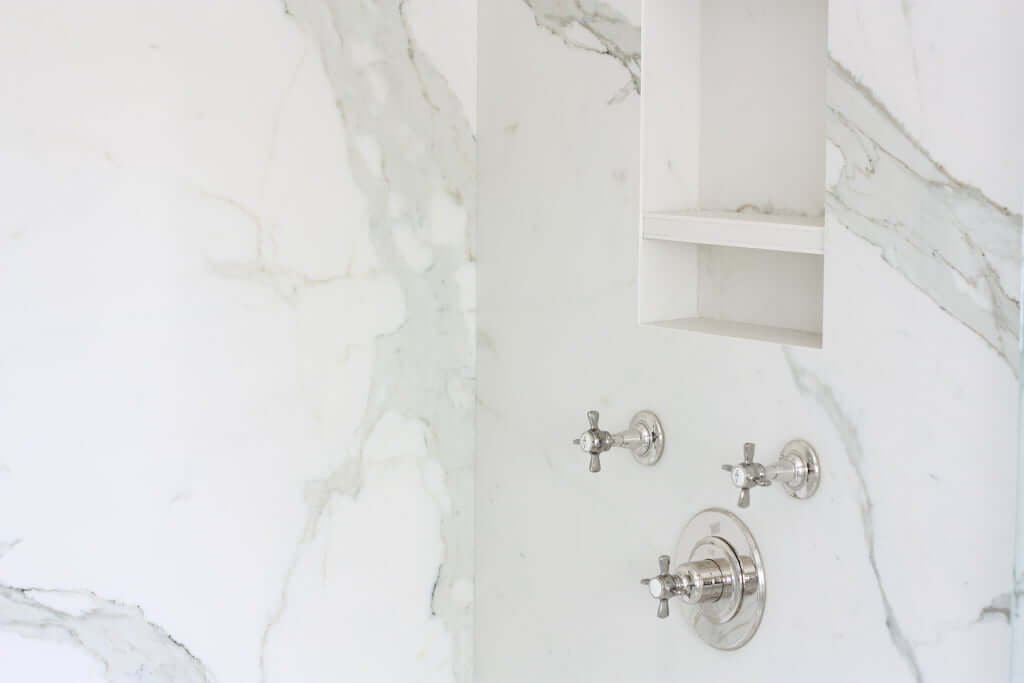 thermostatic valve | diverter valve
walk-in DOUBLE SHOWER MUST-HAVES
#4: Thermostatic Valve
This was a must-have for our double shower heads because we each have our own side. Jessica likes scalding hot showers. Matt likes what I call lukewarm showers. This way, we're not turning our shower head back and forth every time; we each can leave ours at our perfect temp and it stays that way.
Can a thermostatic shower valve help your marriage? It's possible!
Here's the one we used. And here's the diverter valve we used.
walk-in DOUBLE SHOWER MUST-HAVES
#3: Rain Shower Head
Not only did we fit in double shower heads, but we popped a rain shower head up there too! And there was a specific reason I had a rain shower head on my list.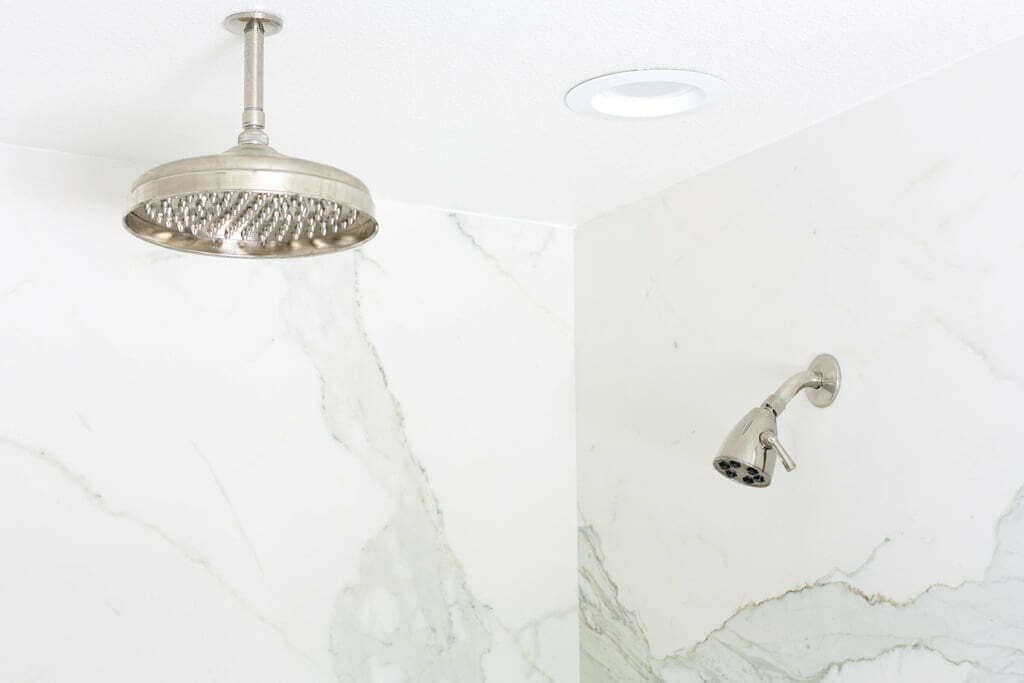 rain shower head | shower head | LED light
Years ago, before children, Matt and I went on a trip to Antarctica. On the way back, we arranged to do some more travel through South America and end in Rio de Janeiro. We're normally not big city people, but Rio was beautiful—we loved it! But we were there in summer and it was HOT.
One day, we had walked some ridiculously long distance through the city on a blazing hot day. We were so beyond overheated and sweaty, it's still mind-boggling to remember. Record-setting temps like nothing I'd ever experienced before nor experienced since. When we finally made it back to the hotel, we couldn't make it to the pool fast enough. This little hotel had a rooftop pool with a covered area to shower, and it had a rain shower head. I don't think I'd ever used one before, and I turned the knob to give me the most freezing water possible, but let me tell you—I HAVE NEVER HAD A FREEZING SHOWER FEEL SO GOOD! My body had been so overheated that I remember just standing in that ice-cold water raining completely over me for goodness knows how long. 20 minutes maybe? Just standing there, letting freezing cold water rain on my head and waiting for my noggin to get down to a safe temperature.
And right then and there, I swore my undying allegiance to rain shower heads. Before Rio, I would have thought they were a nonessential. After Rio, I had to have one as soon as we had the chance to build our own shower. (It was 7 years later that we were able to have it, but my commitment—and the memory—lasted that long.)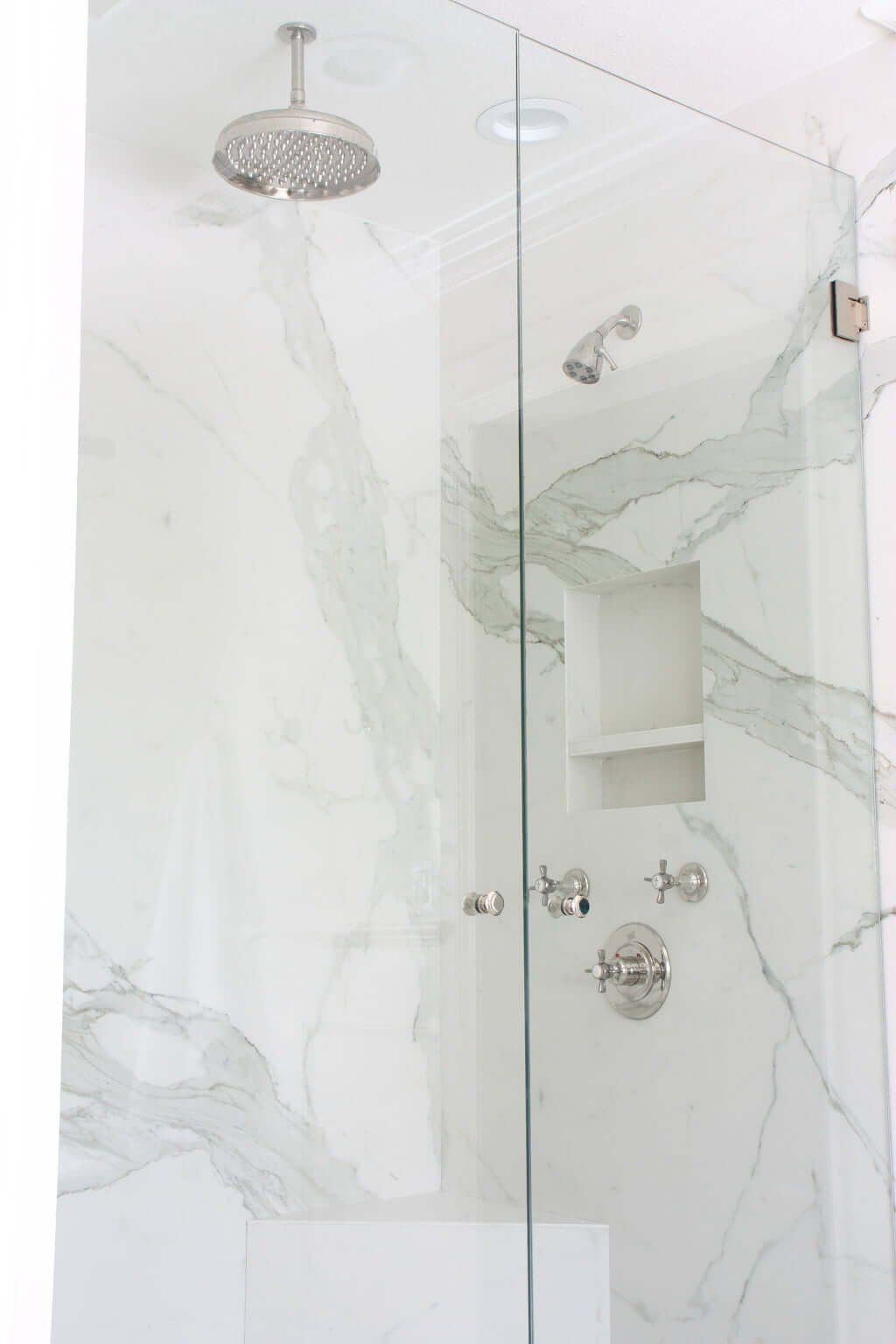 shower doors | hinges | rain shower head | shower head | thermostatic valve | diverter valve | LED light
Now, if I ever get caught in that situation again, I'll be ready!

walk-in DOUBLE SHOWER MUST-HAVES
#2: Double Shower with Bench
While our new double shower dimensions were much larger than our old shower's, it still wasn't big enough to have a massive bench seat. Matt didn't care if we had one or not, but I thought it would be nice to have the option since it was an easy add. So we were able to fit in a corner bench seat, and I (Jess) have loved having it!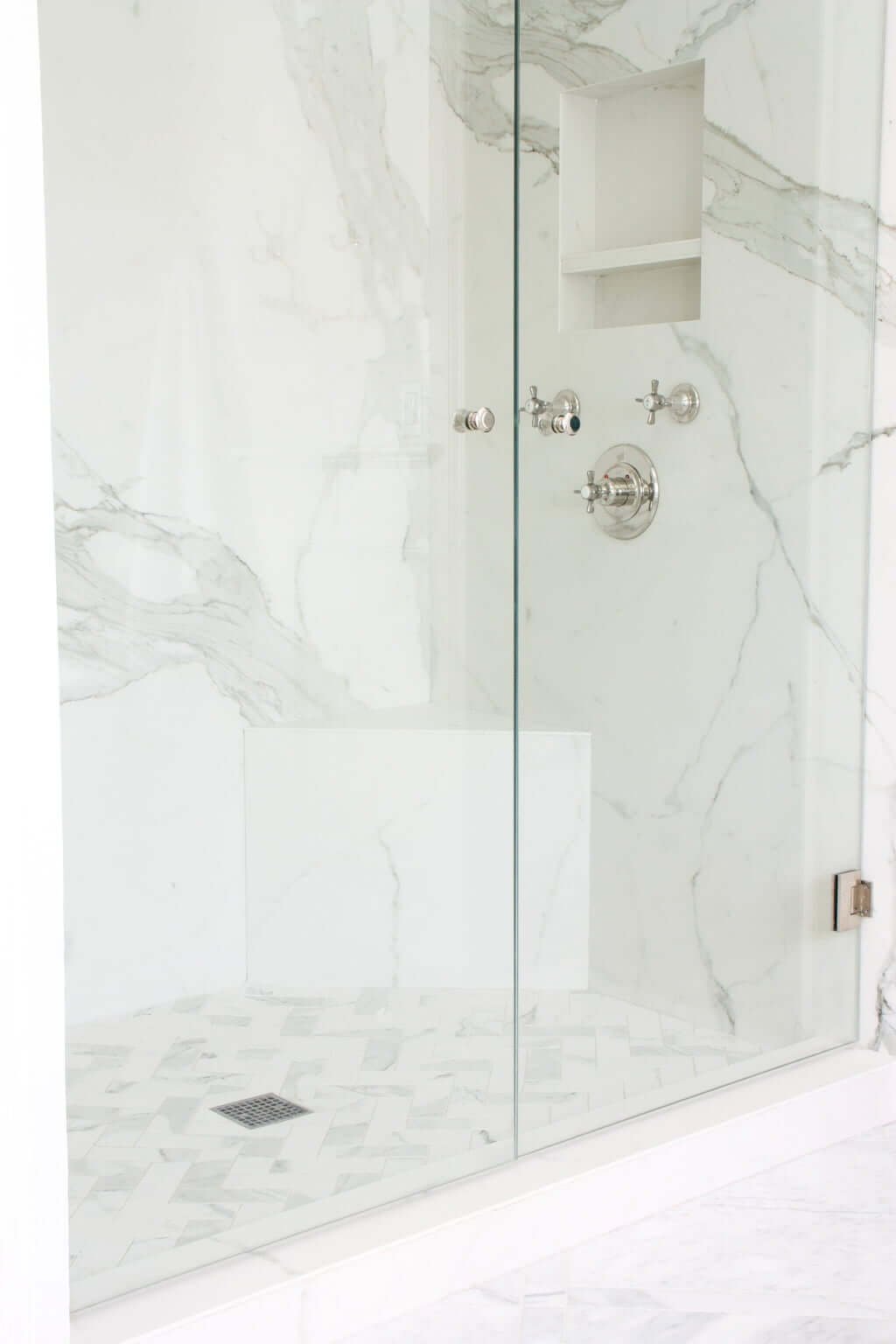 shower doors | hinges | thermostatic valve | diverter valve | drain
PS: Doesn't our DIY shower floor tile look incredible?!? Matches perfectly + no hydroplaning nightmares for Jess. Hooray!
walk-in DOUBLE SHOWER MUST-HAVES
#1: Double Shower Niches
You all know by now that I normally don't like shelves (we did 100% drawers in our kitchen, zero cabinets!), but unfortunately we didn't dream up a way to get shower drawers in here. (But I could probably figure out a way and build another side business, dontcha think?)
Therefore, we had to figure out a way to get shelves into our shower. I didn't want one huge shelf running the length of the back wall because
The beautiful veining on our slabs would get ruined as the focal point,
it would look too cluttered in this double shower design,
it would be more to clean.

(Our cleaning lady really hates coming to work when there's too much of it added needlessly. We try to accommodate for her when we can because, well, we're stuck with her. I know, more third person talk that just entertains me to no end!)
So we just did these simple small niches with shelves tucked into each side of the wall under the "His & Hers Double Shower Heads." We like having a section for tall things and a section for short things. It's been juuuuuuuuust right.
More detailed info about our porcelain shower niches (including dimensions and extra tips) can be seen right here!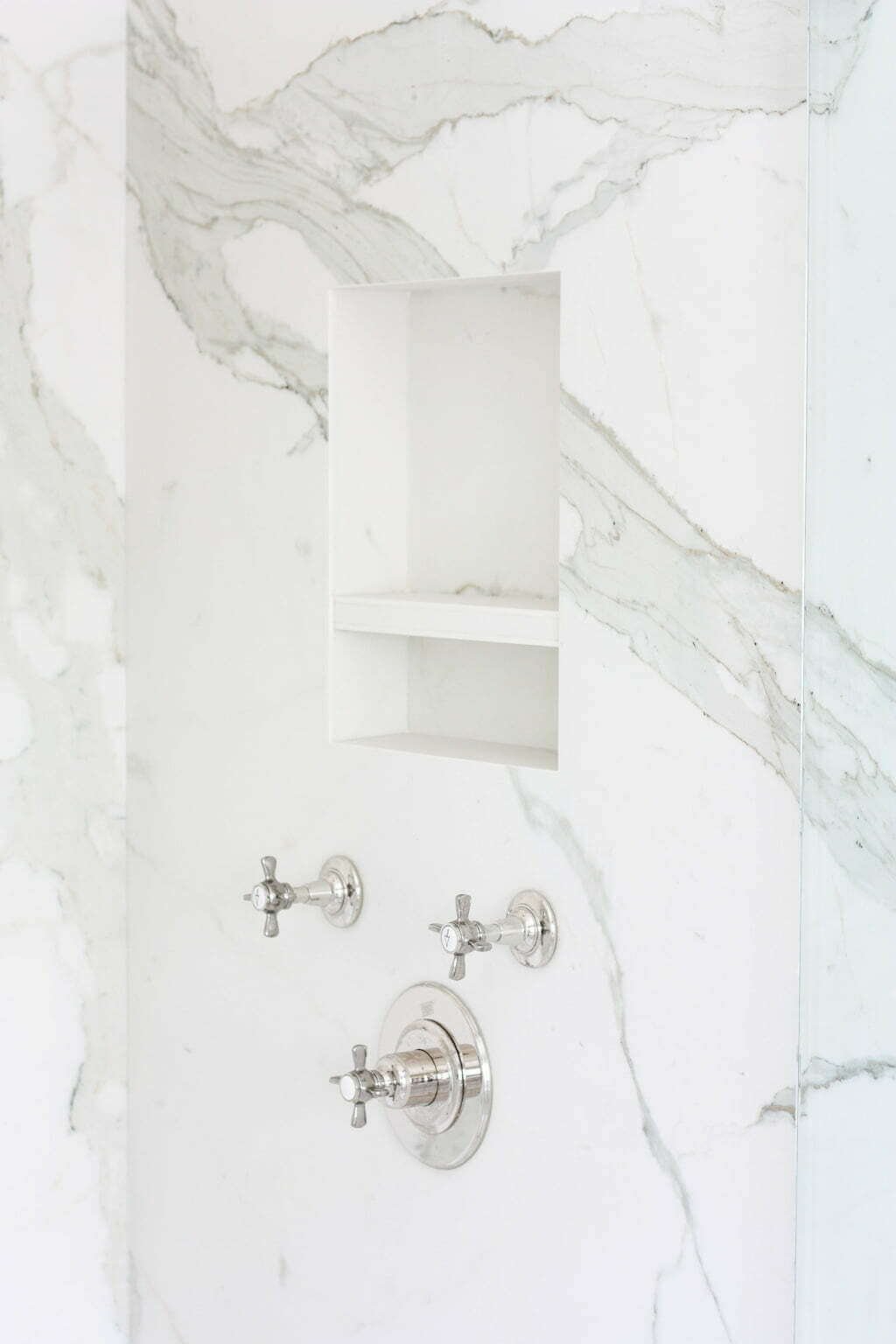 shower doors | hinges | thermostatic valve | diverter valve
DOUBLE SHOWER & TUB AREA
BEFORES & AFTERS
So, here's what this one view of the bathroom looked like before we
flipped the WC and shower,
created the new walk in double shower, and
added our gorgeous freestanding tub.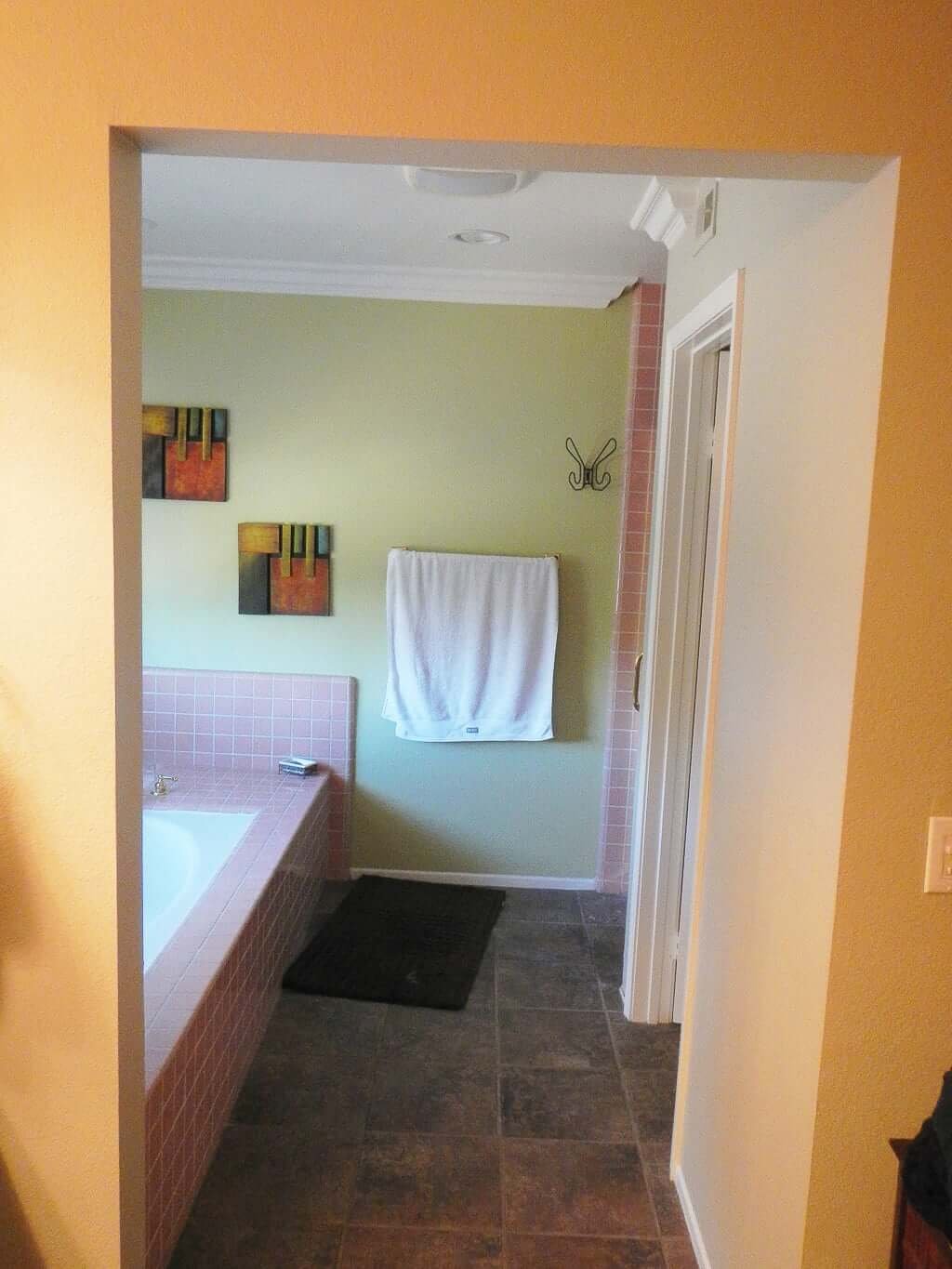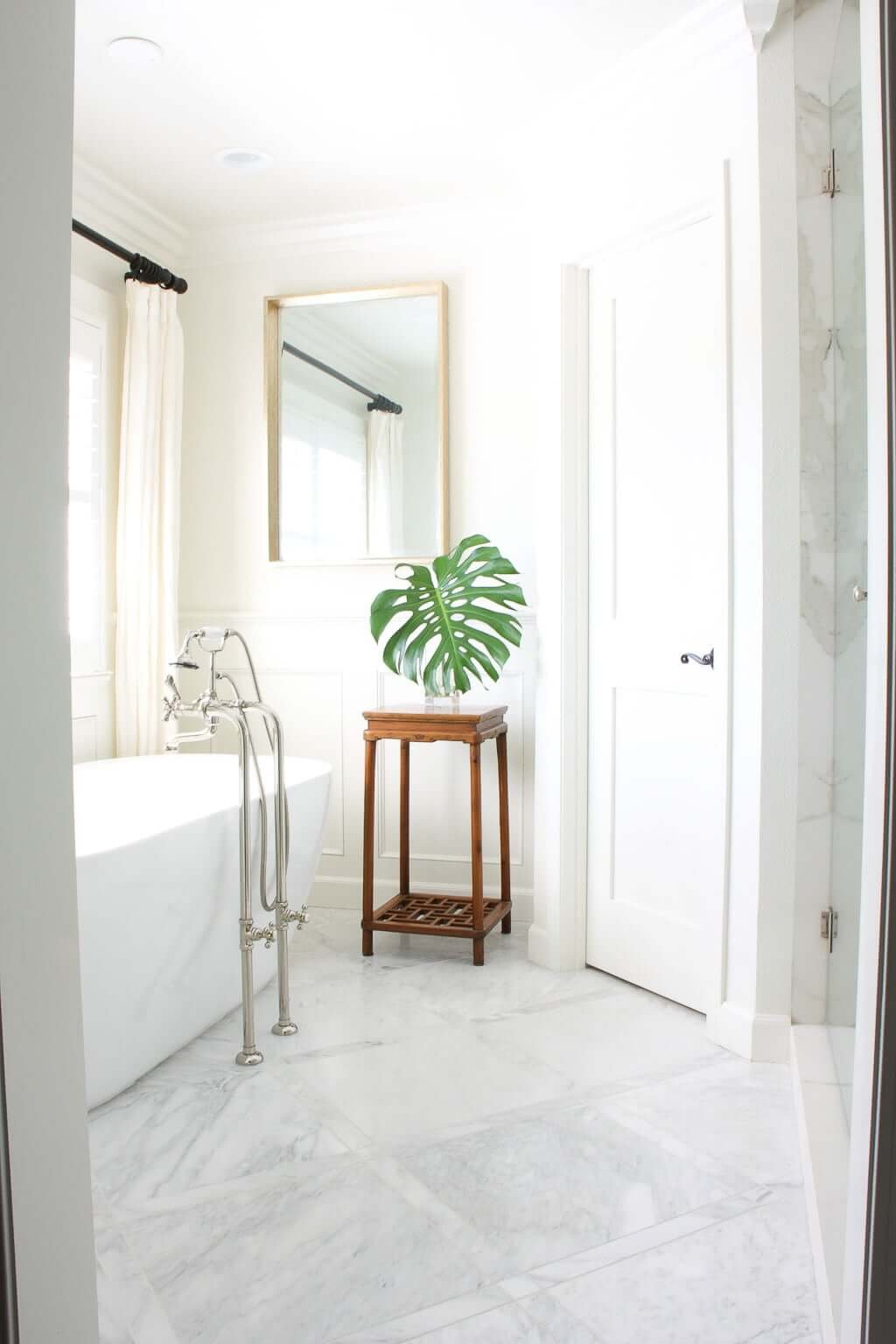 tub | tub faucet | door | door handle | LED light
(If you're wondering, "Why did you choose so much white for your bathroom?"…click here to see why!)
To see the new tub area, click here!
Here's the link to our money-saving LED lights we love and have started using all over our house.
Next up is our double vanity!
---
Missed seeing a step on our bathroom remodel?
Catch up here!

➜ Our complete list of every single home project is viewable HERE.
Shop the Post

*This post contains affiliate links, which are no extra cost to you but help us keep this site alive!