When I was a little girl, I never thought I'd grow up to be a woman with strong opinions about wainscoting in my bathroom.
However, here we are. And here I am WITH—as it turns out—strong opinions when it came to choosing a wainscoting style.
Who knew?
It really was kind of a last-minute idea, our adding wainscoting to this bathroom, but I'm glad we're doing it. The whole space is going to look cozier and more finished (especially as we're going to a freestanding tub!).
Once we demolished the tile, we realized that instead of just putting drywall back up, we could do a wall treatment where the tile used to be around the original built in tub. And wainscoting it is.
There are 18 trillion different wainscoting styles out there, and here were my newfound, surprisingly strong opinions on the subject:
I didn't like the easiest way, which is to stick some decorative molding up on the wall in squares and call it good. (We have orange peel textured walls, for one.)
I didn't like the next easiest way, which is to put some thin wood up to cover the walls, then stick some molding on it in squares and call it good.
What I did like was a more built-in, recessed panel style. I wanted the interior molding only "falling in" to the recessed panel.
These pics will explain it best.
WAINSCOTING STYLE I DIDN'T LIKE: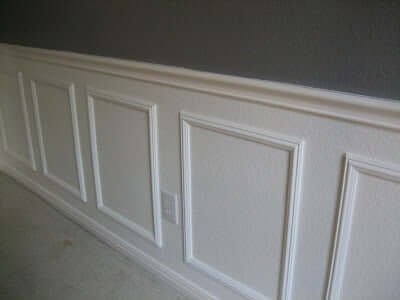 WAINSCOTING STYLE I DID LIKE: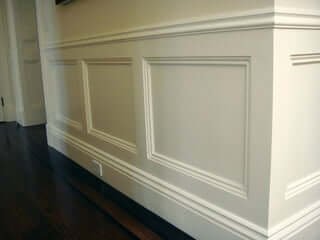 I know you can see the difference too, design buddy. One clearly looks more substantial and genuine, right? Like real, original wainscoting. And that's what I was going for here.
Oddly enough, I think my ideal wainscoting for general use would be simpler and without the detailed molding, but in this bathroom I had a specific vision for the style.
I can't explain this other than pointing back to my aforementioned hazy memory (in our tile post) of the incredible hotel suite bathroom that inspired our master bath design.
---
BATHROOM WAINSCOTING INSTALLATION:
Remember how this bathroom originally looked?
Below is Phase One of the wainscoting install (as well as a peek at the new wall created for the W.C.).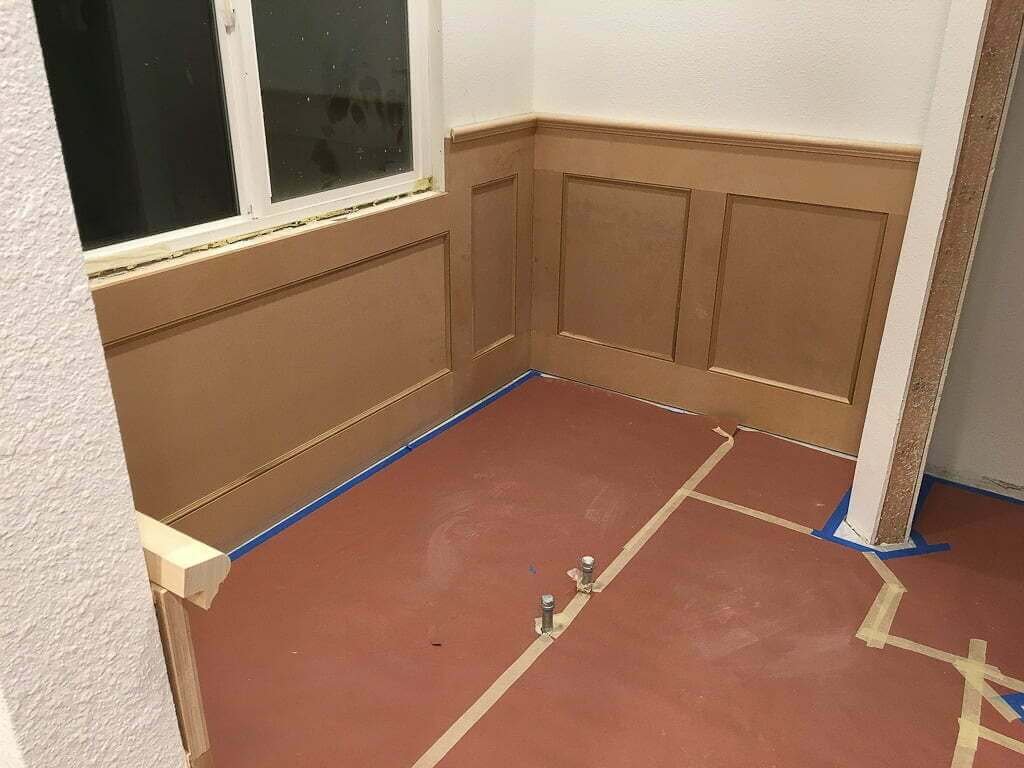 The floors are covered carefully because all our floor tile is installed at this point, and this paper is supposed to protect it. Somehow. Magically. (No one has yet explained to me how it will protect the tile if we accidentally drop the tub while moving it in, but I'll just hum loudly to myself and bury my head in the sand on that one.)
Here you can see 1) how the wainscoting looks before it's painted, as well as 2) a tall, dark, handsome man watching me from the doorway as I snap some awesome nighttime photography with my phone:
We also realized that having some of the same painted wood wrapping around the top of the window and door would better tie all these different elements together, so that's been added. (Those details make a difference! I'm excited!)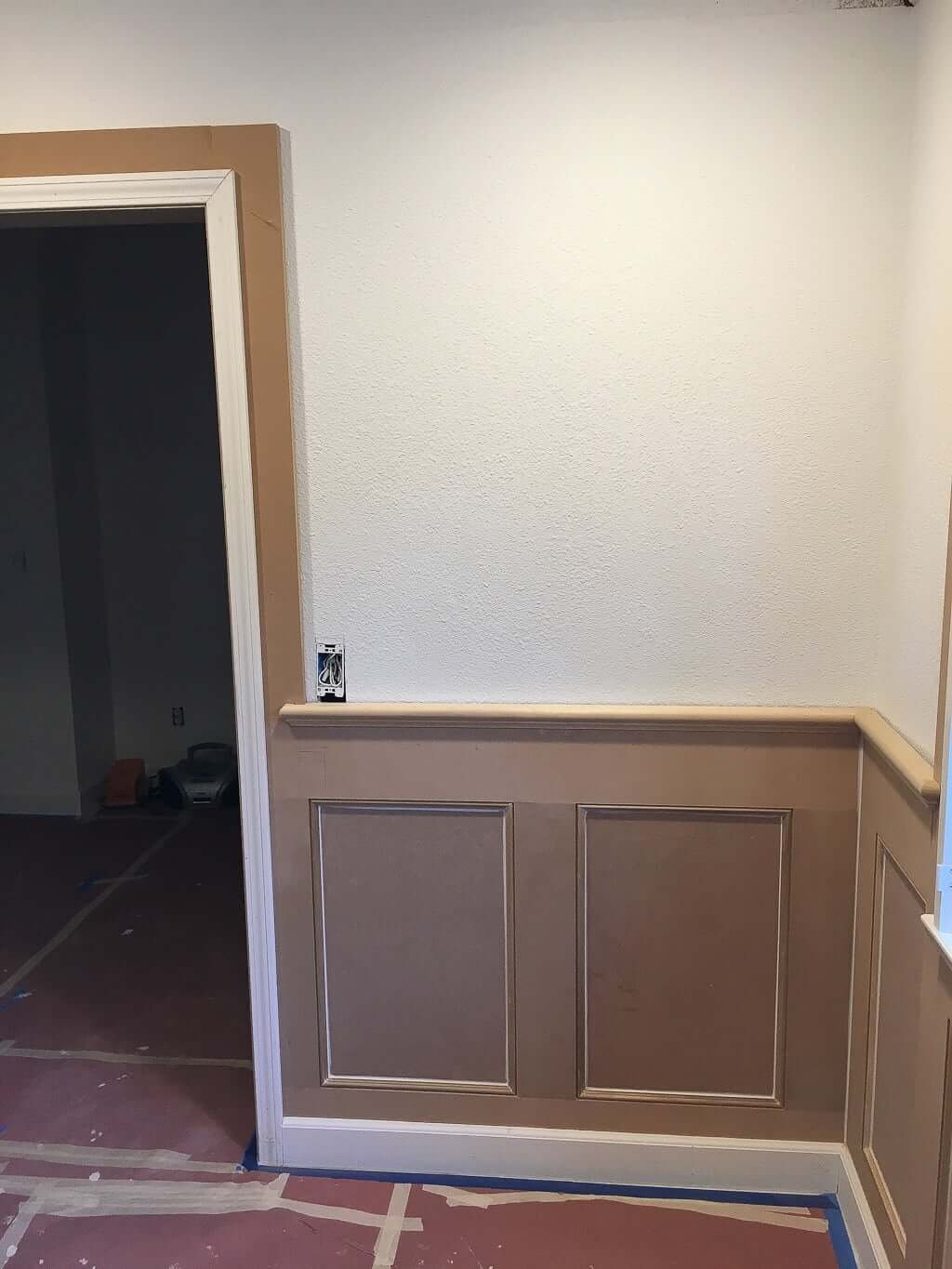 Here you can see the baseboards going in and the wrong W.C. door installed, while we're at it. (That'll get fixed.)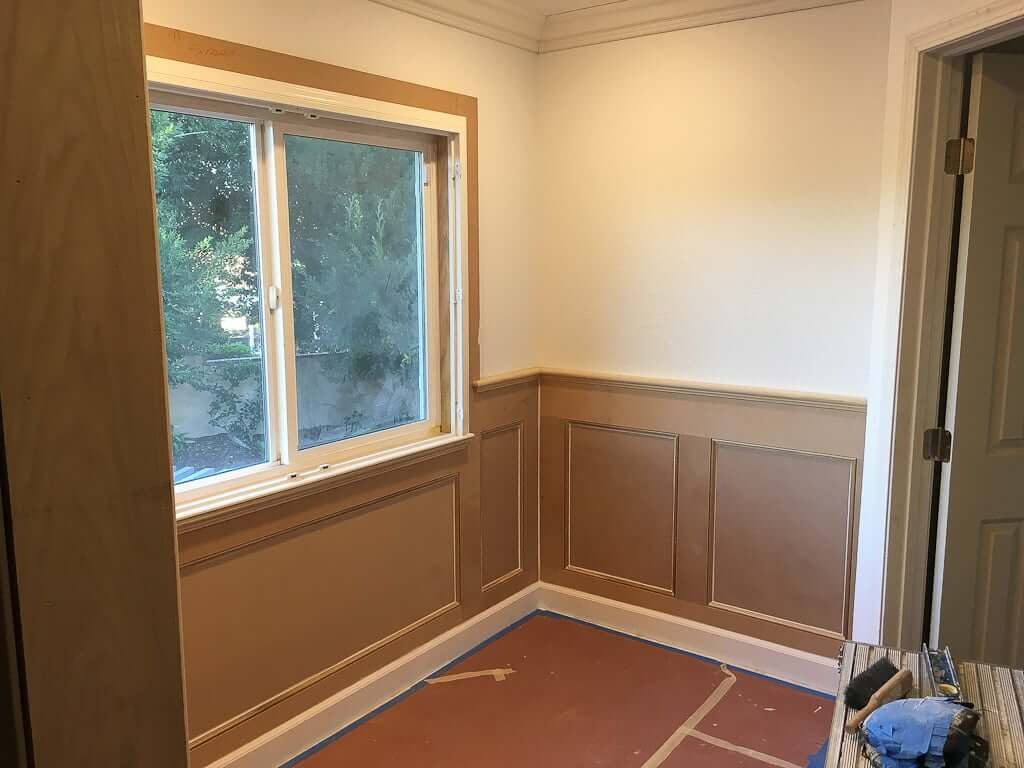 Now enough of this brown stuff, let's see what it looks like painted!
(Ignore the child's head at the bottom of the pic. They're always running in like they're going to photobomb. Aha! This time mama was too fast for you!)
It's getting there! Looking much better than it did before we moved in, aye?
Is it feeling classier to you? 'Cuz it's feeling classier to me! Cuh-lassy!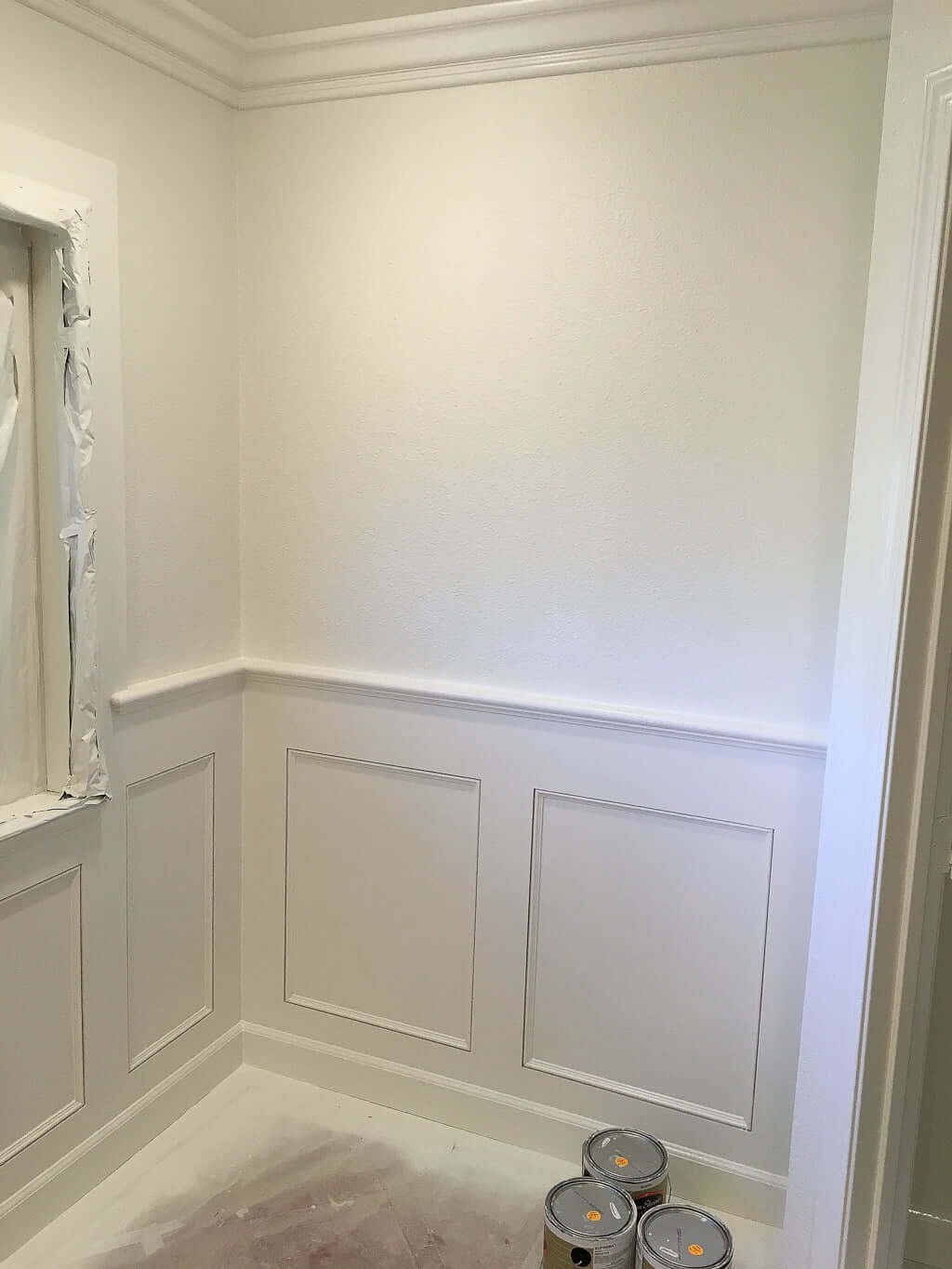 See the completed tub area here! (Or if you missed it, click to see our new bathroom floor plan. 'Cuz you know I'm a sucker for a good floor plan.)
---
Here are links to each step of our bathroom remodel:
Or, you can see every single one of our house renovation projects here!