Today I've scoured the internet for you while analyzing whether to do white wood paneling—from plank ceilings and wall planks!—for our beach house design! As always, I'm analyzing the smartest way to go about this! I've narrowed it down to 7 ceiling & wall examples to show you!
With all the client project work lately, it's a treat to work on my own personal design project. As much as I enjoy helping other people design their homes, I'm by far my easiest client.🤣 (I also make myself laugh, so that's a double bonus.)
Why? Because (besides chuckling at myself multiple times per hour), I "get" what's in my head already and don't have to spend time convincing myself that my vision is The One to trust! 😆
And saved time = gold!
Wood wall paneling painted white—do I want to add this?
Wood ceilings painted white—what do I think about this?
TBD, my friend. TBD. My mind is a whirlwind trying to come up with the best solution for the future beach house, so I'll walk you through where I'm at with this and see where the wisest conclusion leads us! 😉
WHITE WOOD wall PANELING
3 Reasons I'm Considering White Wood Wall Paneling.
First, here are the 3 reasons I'm considering white wood wall paneling:
The basic white wall textures that happen in standard homes are not my favorite. They're fine, they're fine…but if we could do something different (and better) on our walls, why not?
I don't want whatever we do to be "precious"; I want something that will hold up well with kids. (Therefore I don't want to pay for expensive plastering or other texturing you see out there. Beautiful, yes. Functional, not so much.)
I want low maintenance + classic. I don't want to pick some trendy new wall texture that immediately dates the house.
WHITE WOOD CEILING PLANKS
3 Reasons I'm Considering White Wood Ceilings.
And then here are the reasons I'm considering white wood ceiling planks or paneling:
They look lovely. Plain and simple. Especially on pitched ceilings. (Many older homes already have this, like the below photo, unpainted.)
They give the ceiling more interest and personality…
…especially when you need to draw the eye up, as many of these beach house ceilings are lower, or only slightly raised.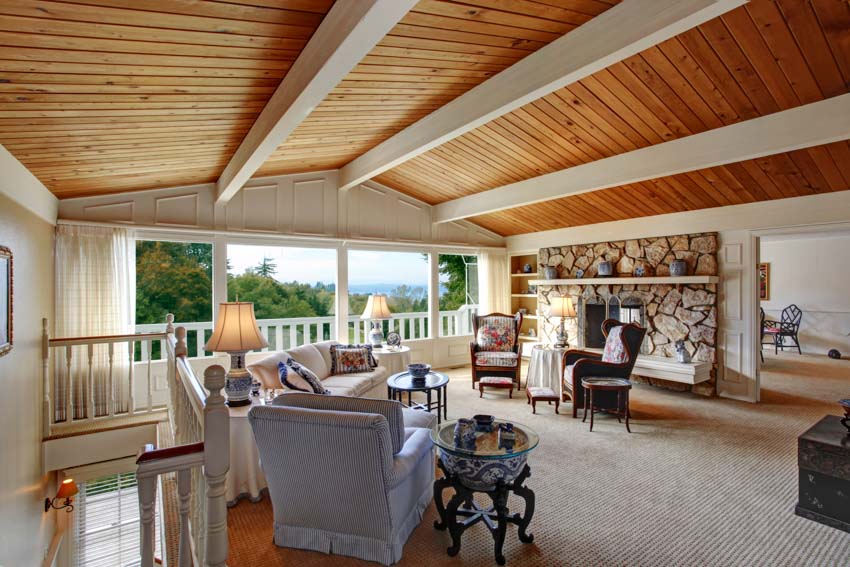 However, I don't think I want to do BOTH. So which will win? Or neither?!
Let's find out together today, shall we? Come along with me—we'll pretend you're sitting right next to me at my desk as we peruse El Interneto together in search of whether ANYONE on God's green earth has done these things in a way that is acceptable to Jess.
I am hopeful as always, but deep down I expect that in the end I will probably have to make something up myself. Which is where all good ideas are born from, right? No one else having done what you want, which is where I pretty much live and thrive! 😂🤣 bahahaha
WHITE WOOD CEILING IDEAS
Let's Start! The Best 7 Designs for Our Design Discussion!
Let's start out with looking at the best ceiling and wall designs I do like. These range from modern and clean to rustic, from low paneled ceilings to soaring vaulted wood ceilings!
WHITE WOOD CEILING
#1: White Wood Ceiling Planks.
I like that this is clearly an older home with real wood painted white. Low ceilings. Realistic. Still simple. Warmed up with the woods. Love it.
WHITE WOOD PLANK CEILING
#2: Vaulted White Plank Ceiling with Skylights!
I adore skylights, such as here, breaking up all the wood and providing extra light (provided they're facing in the right direction, that is!).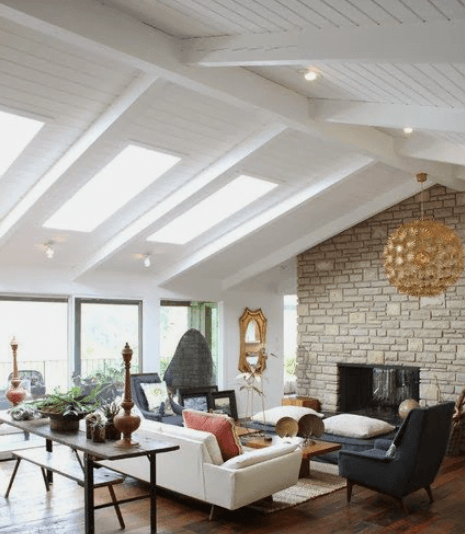 WOOD CEILING PLANKS
#3: Wood Ceiling Planks Left Natural?
Now, a beach house is definitely not a mountain house, but I did like how the warmth of the ceilings and the floors worked with white walls for a warm minimalist vibe here. I could Jess-i-fy a few elements and BAM! Beach house loveliness!
So, the wood planks on the ceiling wouldn't necessarily need to be painted…they could be left natural! Just something to keep in mind…
WHITE WOOD PANEL CEILING
#4: Remember, When Going White, Don't Leave Out the Warmth!
This photo example is okay…it's minimal and has black accents, both things I like, but it's missing warmth.
WHITE WOOD PANELING CEILING + PLANK WALLS
#5: Watch Out for Too Much White!
Here, having the white wood on BOTH the ceiling and the walls is just too much for me—but is that because they put white couches and an ottoman on top of light colored floors and a rug? Probably!
Imagine some darker furniture in here, and the look is completely changed!
So ask yourself before pulling the trigger on your white wood paneling on the ceiling (or walls): What color furniture do you have?
WHITE WOOD CEILING + white wood wall
#6: What to Avoid! (Look at What You DON'T Like!)
Honestly, sometimes the best way to figure out what you DO like and want is to nail down what you DON'T like!
This combination of white wood paneling on the ceiling and the walls, for example, is far too "farmhouse-y" for me and 100% what I have never, ever wanted.
Thus, I would not choose this combo if I had the choice.
However, if I bought a house that already had wood plank walls as well as the wood ceiling planks, I'd find a way to work with it! (The chances of this happening in this area of California are rare, however.)
WHITE WOOD CEILING + white wood wall
#7: Avoid White Wood Paneling Altogether?
Option #7 is NIX THEM ALL TOGETHER!🤗
Just to throw in a clean, simple option, I give you this one to end with for now.
I've loved this space ever since I saw it years ago, and it has simple white walls and ceilings, with only whitewashed beams. (Again, if you have pitched ceilings…)
WHITE WOOD PLANK WALL VS CEILING
White Wood Plank Wall vs Ceiling: Is One Better Than the Other?
If you want this white wood paneling look somewhere in your home, but you don't want to do both the walls and the ceilings, how do you choose?
Some things to keep in mind:
Do you want to draw attention to your ceilings? If so, white wood ceiling planks will achieve that! Then you'd keep your walls simple.
Do you like to hang a lot of photos & artwork on your walls? White wood plank walls definitely will draw your attention to them and can look too busy if you're hanging-happy. However…
…if you like a simpler look on your walls, yet want them not to be completely devoid of texture & a little interest, choosing white wood paneling for walls can be a super smart move!
Have super low ceilings? I cringe when I see people put in wood beams with their wood paneling on super low ceilings, because to me it feels both 1) cramped and 2) draws your attention to the fact that your ceilings are really low! (That's why I left our low ceilings in this house simple!)
WHITE WOOD PLANK WALL VS CEILING
"What Color Should I Paint My Wood Paneling?"
➜ Wondering if white is the right color for you, or which white? Or whether to leave your wood paneled ceilings or walls natural? You'll want to read my post about 7 Smart Strategies for Choosing Interior Paint Colors!
Time has flown by, so let's revisit this in future! YES, this is how Jessica starts processing her design decisions, for all of you who have been asking me to walk you through some of my processes.🤗
PS: If you're new here, we recently sold our big California "Dream House" to right-size our family to a small beach house steps away from the warm California sand! We're well-known now for many of the things we did on that house—you can still browse everything we did on that house HERE!
➜ See ALL our California beach house inspiration!