Looking for hidden TV ideas such as how to hide a TV in your living room, or how to hide a TV on the wall? Do you do a TV bookshelf wall unit or hide it another way? If you have a fireplace, should you do it above or to the side of that?
Today I'll help you figure out the direction that's best for you! 😊
I'll also answer popular questions such as
"How do I hide my TV in plain sight?"
"How do I hide my TV stylishly? Do I have to hide it behind a painting?"
"What do you think of a roll up tapestry or screen to hid TVs?"
"How to hide a TV over a fireplace?"
"Should I even hide my TV in my living room?"
"Can I put TV on bookshelf?"
"How can I hide my TV on the wall?"
I also have these two resources:
How we hid our TV in our hidden TV lift cabinet.
Whether to put your TV above your fireplace or not!
…and today I'm sharing the alternative I gave my client who wanted to put her TV above her fireplace!
First, I knew I could suggest some simple things like helping her TV to blend in, or even doing a frame TV. But I knew she'd only want to ask me, "What would you do if you were me?"
So here's what I'd do in her situation!
First, Take Your Unique Layout Into Consideration!
I had worked a lot on this client's family room layout since she had a long list of very particular requests. We went through a number of different configurations, also taking in consideration the triple sliding doors she wanted to the backyard. (Instead of the existing single door, or new French doors.)
PS: Don't analyze the rest of the rooms too much because I haven't explained the full story of why some particular things were intentionally done the way they were! 😉 In Jessica Brainland, everything has a reason! And when I'm working with clients, you have to factor in their particular requests, their unique lifestyle, and what they specifically ask for (and ask to not have!).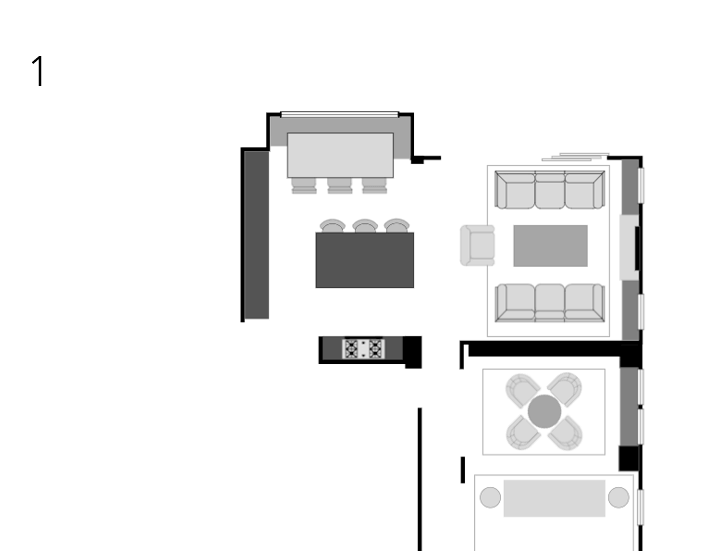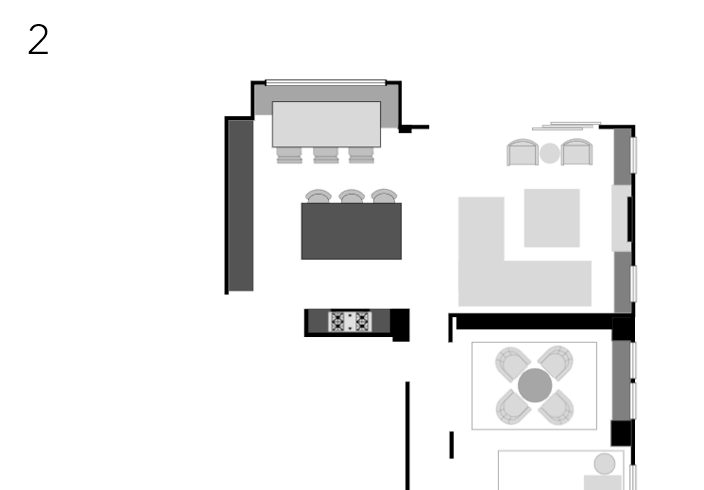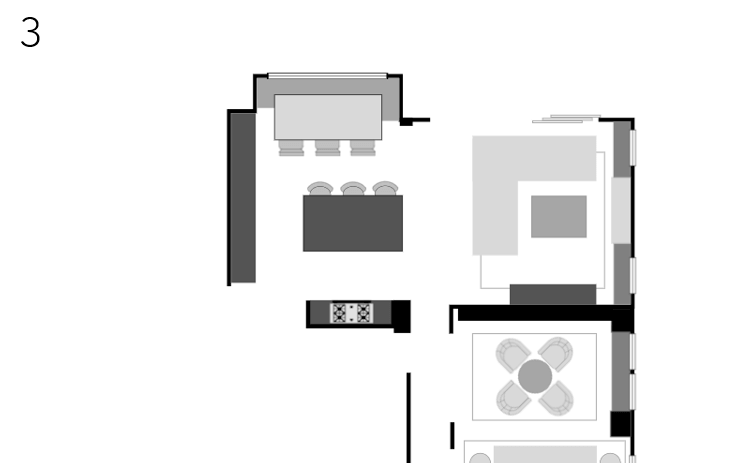 95% of the time, I'm all for as much light as you can get in a room and would have loved those triple sliding doors.
However, putting furniture in front of open walkways or big glass doors with views to the outside is something I endeavor to avoid.
WHY TO AVOID FURNITURE THERE:
For one, it blocks your view.
Two, when people are coming in and out of those doors to the outside and you have furniture there, it tends to get brushed up against a lot. (Or in the case of young children, dirty hands on the furniture.) If the furniture there is a material that's easy to wipe off, great—but if it's, say, a light-colored fabric, it's just going to start getting dingy over time. Even when you're careful. (I could write a huge post just about this!)
Surprisingly, I was against these doors opening into her family room because of the layout of the rest of the room and adjoining rooms. Functionally, it just didn't all fit together like a perfect puzzle.
(And goodness knows Jess loves the satisfaction of a space coming together like a perfect puzzle of function + beauty! 😂🤣)
But my client was so in love with the idea and refused to let it go 😆 (as I understand because I've done that myself), so that's fine—we worked with it! There's a long backstory here I'll save you from, but she also wanted a TV in this room…which brings us to today's topic…
How to Hide a TV in a Living Room…If At All?
One obvious option is to put the TV above the fireplace.
The other option was to put it on the only other blank wall in the room.
A third option would be putting the TV into a corner, which was inadvisable with this layout.
I've previously shared my recommendations about TVs above a fireplace. In this client's particular downstairs layout—if it were me—I'd want to keep my gorgeous white plaster fireplace free of any electronics.
For me, having a TV above the fireplace would ruin the feeling of calm and simplicity my eye could go to every time I'm in the kitchen looking over at the room (which as I know from our own kitchen plus fireplace room combo, is 187 times per day!).
So what would I do? I'd put my TV on that south wall, but I would avoid a media cabinet that left the TV "out." (I'll show an example of this further below.)
Why?
I believe that, no matter how you slice it, keeping your TV out is always a visual distraction. People try to come up with clever ideas to hide TVs while leaving them out, and that ain't foolin' nobody! Like I talked about in this post, seeing that TV grabs attention, even in a family like ours (or my client's) where TV-watching is not a priority but a "sometimes-nice-to-have."
So, if I were this client, what I'd do is design my own custom built-in or large wall cabinet to house my TV, with some kind of sleek sliding design to have it behind.
So many options and ideas flooding my mind for this!
Here are some inspiration pictures to give you just a hint at what I'm talking about…but nothing exists like what I'm envisioning, that I can find!
This hidden TV is to the side of a fireplace, and has bookshelf doors that slide back (very similar to our kitchen hidden appliance cabinet doors!).
tv bookshelf
#2: Folding Cabinet Doors to Hide TV Below Shelves
What I do like is how low this TV is (for ergonomic reasons while you're viewing from the couch).
However, I don't like how the folding doors would be in the way! Next!
#3: An Easy Rolling Screen to Hide Your TV Bookshelf
Something like this would be simple for anyone to add to an existing wall of built-ins. It's just a screen that rolls out! I've also seen this done with tapestries, and it can work as long as you have the sides solid. (So you can't see the TV when you move to the side of it!)
However, for my client, this application isn't solid or high-end enough.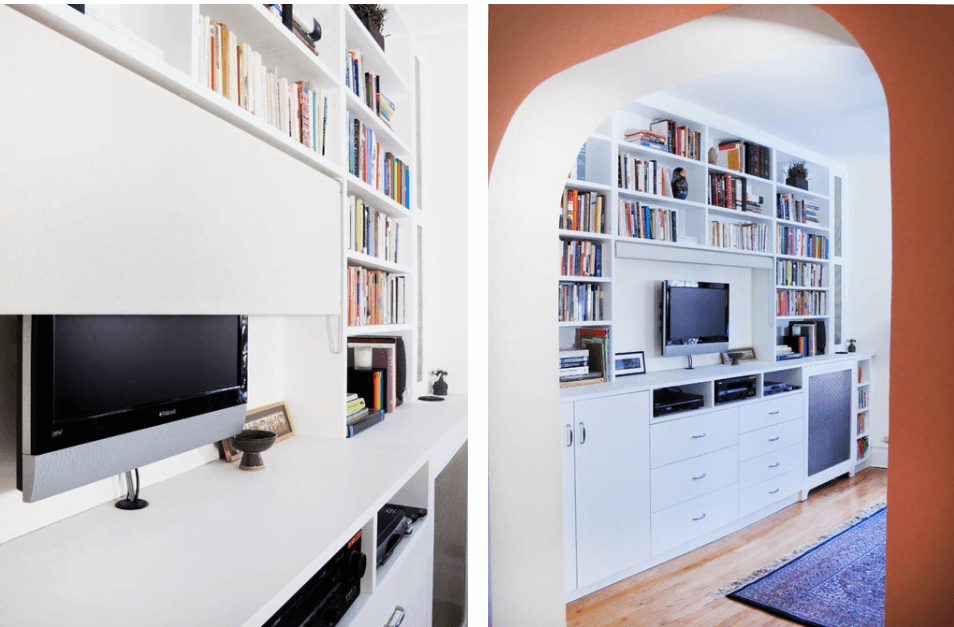 how to hide a tv
#4: Modern TV Bookshelf Wall Unit
Warmer! You're getting warmer! 🤗
These vertical sliding panels to hide a TV bookshelf wall unit gets much closer to what I'm thinking, although it's still not "built-in" enough. Keep going and I'll show you what I mean…
how to hide tv
Here's a built-in! These sliding TV bookshelf panels still have a clean, sleek look when closed, but could smoothly slide out to reveal the hidden television when the family wants it.
However, one issue I have with this is that it's unlikely the entire TV bookshelf will be at the same depth, and that would bother me. (The two sliding shelf panels are in front of the two behind.)
It's possible if you find a good carpenter who could perhaps source a way of pushing them back once closed, so the whole bookshelf is flush—but it will be more complicated (and when the mechanics are more complicated, I find that the process of pushing huge panels full of books like this wouldn't work as smoothly and easily as a petite woman like my client would want).
HOW TO HIDE A TV on the wall
The thin vertical wood design is trendy right now (so of course I want to nix it 😆), but we can't ignore that it's a look some people really love!
What I do like about this (or something like it) is that it's a way of artistically "shading" your TV bookshelf without pretending you don't have it.
TV BOOKSHELF UNIT
I promise you earlier that I'd show you an example of what wouldn't be my first choice for this client: a piece of large furniture taking up half the wall but not all of it.
However, it's worth mentioning because this is an option that
Anyone can have! (You can buy it premade and not fuss with having workmen in your house doing built-ins, which you had to pay a designer to design well for you.)
Flexible! (If you decide in future to remove the TV from that room, or shift it to another space, you can!)
You can take with you! (Moving? This hidden TV console can make it onto the moving truck, no problem!)
HOW TO HIDE A TV
Going with the 3 benefits of a smaller TV-hiding apparatus above, I can't not mention how Matt and I hid our TV in the big house!
Can you spot how we hid our TV in our living room?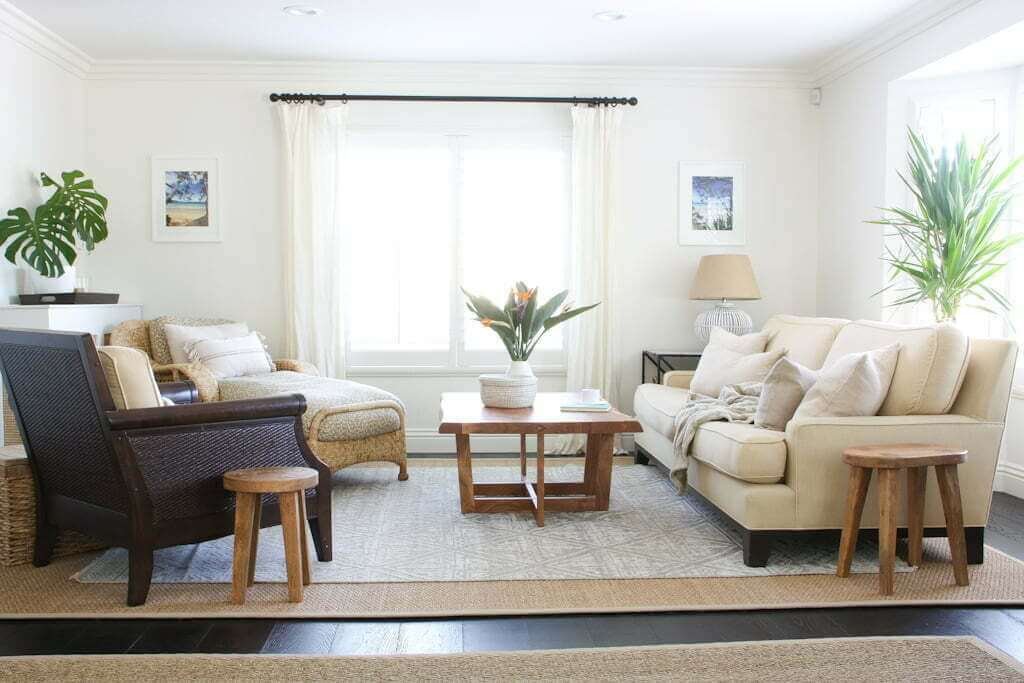 We built our own hidden TV lift cabinet (and you can too!).
You can even put furniture in front of it like we did, so the whole focal point of the room is not on the television! I love how good the room looks without the focus on "the big black rectangle"!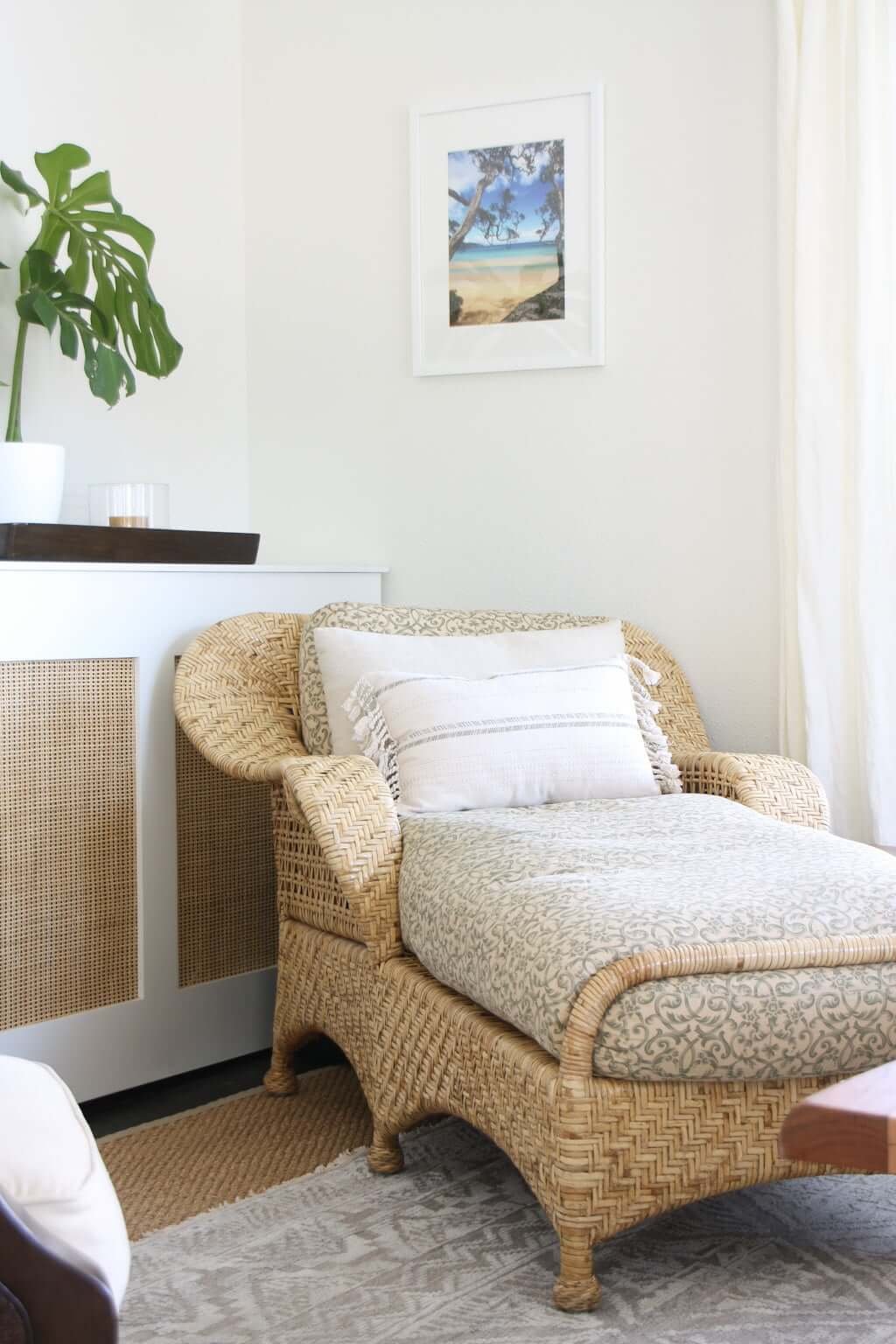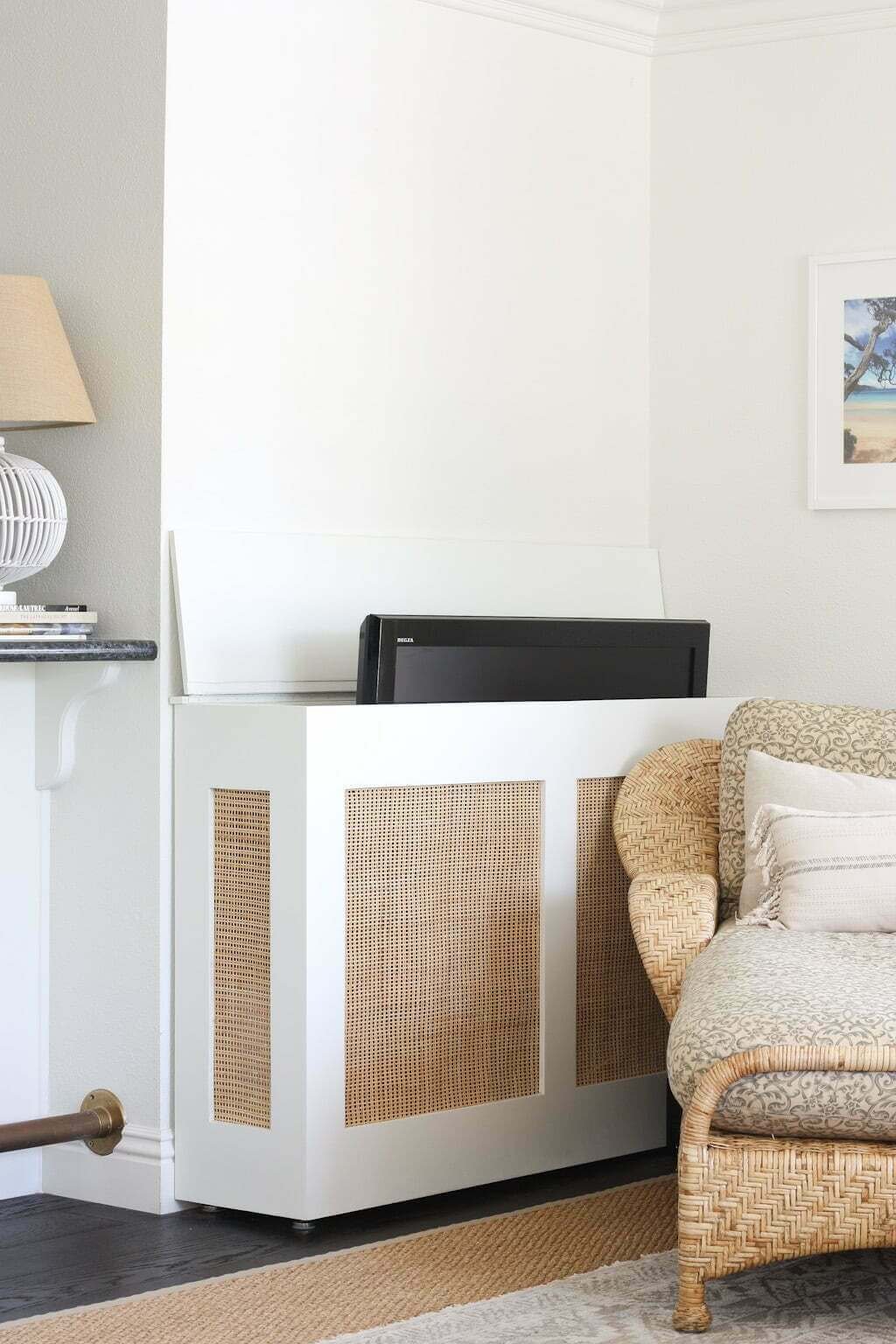 Now, while I wasn't a fan of the earlier large wall console to hide a TV, I do like this option for
Smaller walls
Large walls where you don't want to take up the whole thing or draw attention to the TV console
So for my client, I would suggest something like the hidden TV lift cabinet we have because
It wouldn't take up as much depth as a built in TV bookshelf.
You can still mount artwork or photos on the wall around the console so the console isn't the focal point of the huge wall. Like ours, you can place items on top of the hidden TV console and it literally just looks like a lovely console table! (I just made sure my items were all on one tray so we could lift them all off when we want to use the TV, which isn't super often.)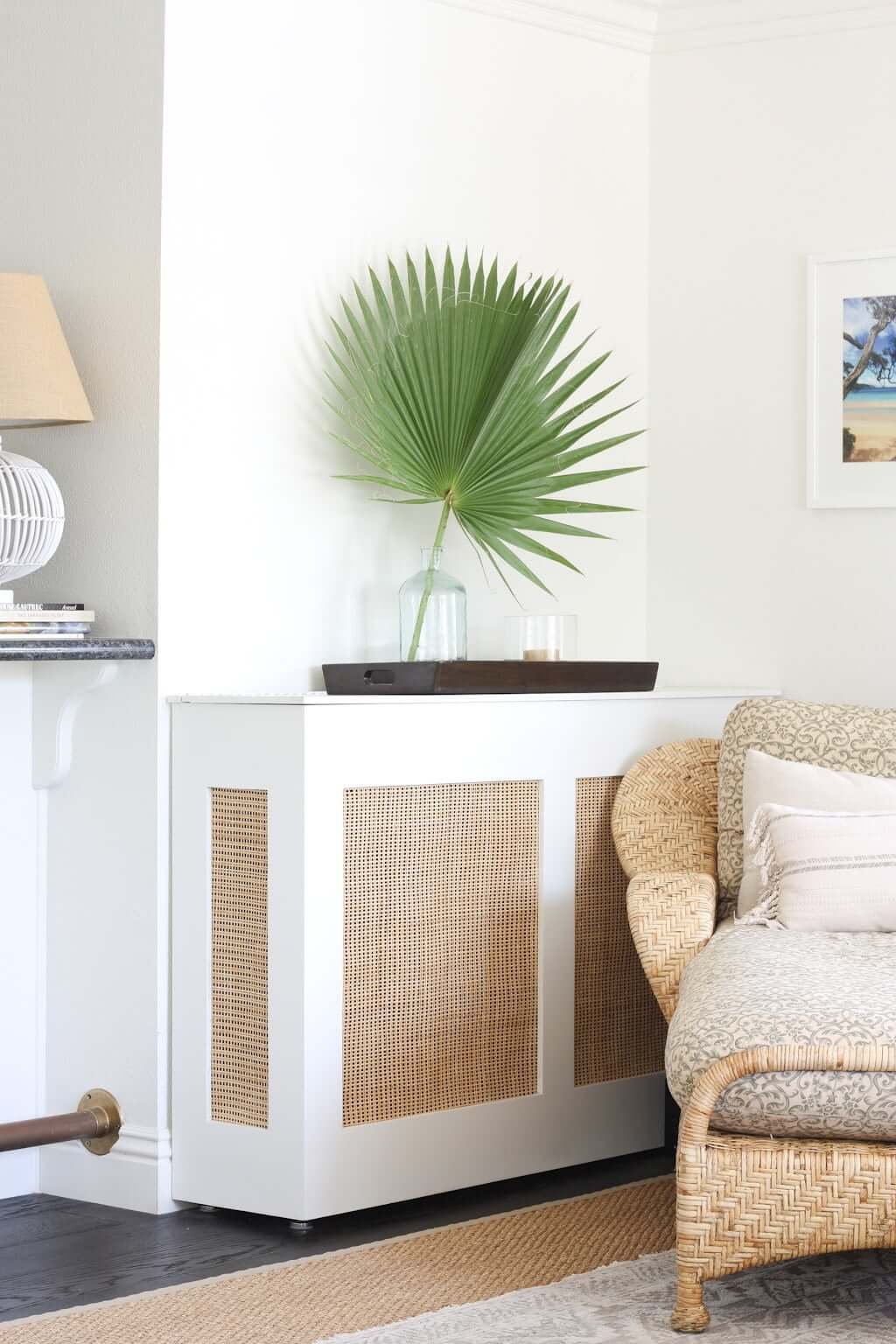 Here's how it looks with nothing on top: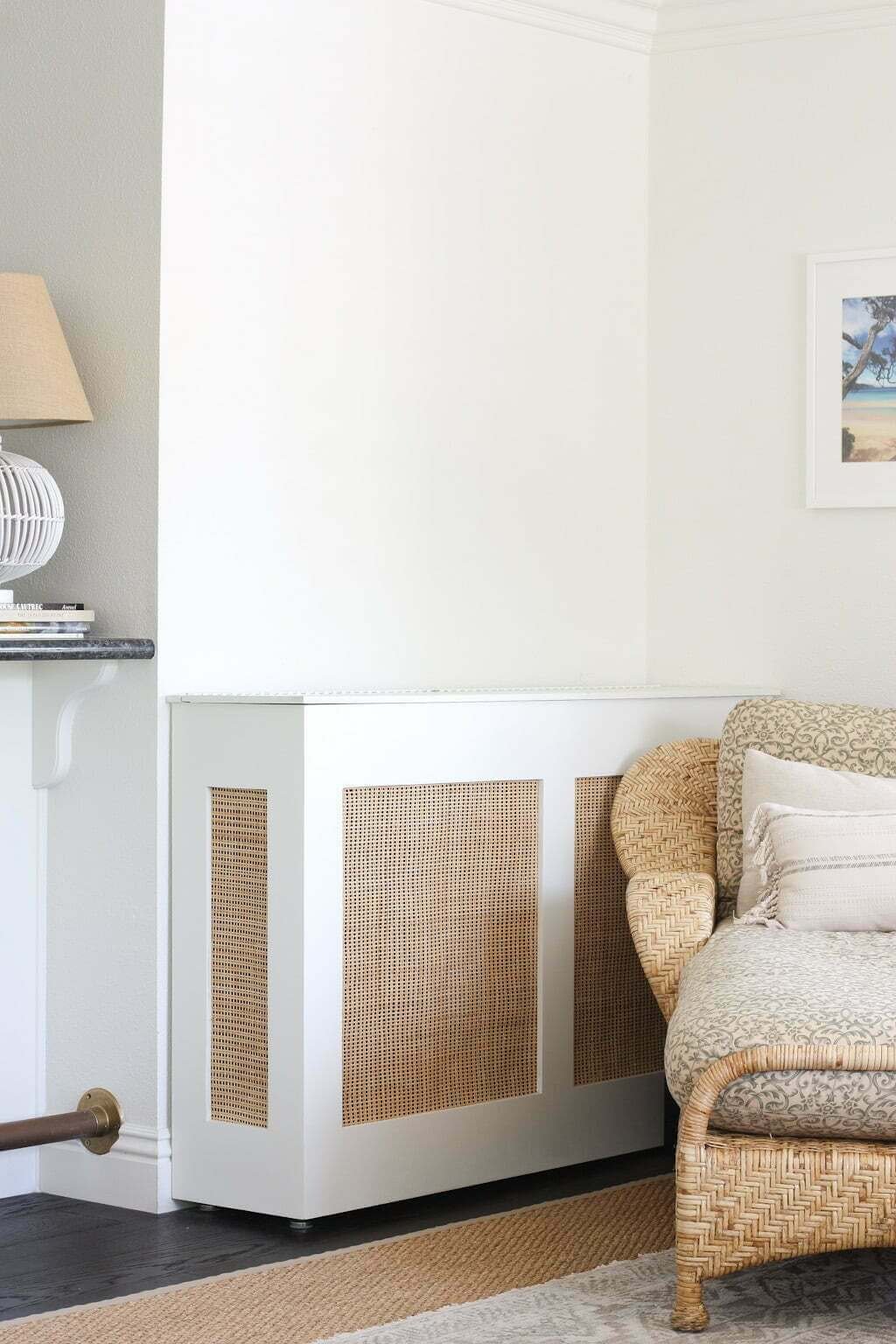 For more info, read our post "TV Lift Cabinet: The Hack for a Hidden Pop Up TV!"
PS: You can DIY this cabinet with our plans here!
#9: "Secret" Wall Panels to Hide Your TV!
I've suggested hidden wall panels like these for clients before, and you could certainly use a design similar to this for a hidden TV as well!
You'd need to modify the design from what's in the photo below, but I'd love to see my client do something like this. What a fun challenge it would be for me to design for her space (and in a less traditional style, since she wants something more modern)! The wall panels can be magnetized so you simply push on the panel and it pops out.
tv bookshelf
Similar to the above, this example shows how you could fit a larger television onto the wall and still hide it behind the panels or within a bookshelf.
I've seen too many ideas that involve hiding your TV on the wall behind artwork, but I don't care for 95% of them.
However, if my client doesn't want a TV bookshelf or other built-in on her wall, I do like this idea of doing sliding art in front of the "big black rectangle" (could be for both a TV above your fireplace or on a wall!).
This way, the TV could be recessed into the wall and eliminate the extra floor space taken up by a console or a TV bookshelf.
TV BOOKSHELF unit
This is a neat idea, but I can already tell you having that giant piece swinging out into my living room would be annoying. Plus, depending on what furniture would be behind you (in my client's case, her coffee table), I see some trippage potential.
(Is trippage a word? Totally should be…I love it now! Try saying it out loud. Use it a sentence today at least three times, and I dare you not to laugh. So fun!)
#13: Sliding Panel to Hide TV
As a backup, if my client ends up vehement that her family have their TV above her fireplace, I'd suggest something like this:
TV BOOKSHELF WALL UNIT
#14: TV Bookshelf with Smaller Sliding Panels
So let's narrow in on what I'd do if I were my client! We're getting closer with a custom media cabinet like this, but less "busy".
I'd do it more symmetrically and with not so many cubbies. Something clean and minimalist (as this client requested more warm, dark-toned minimalist designs).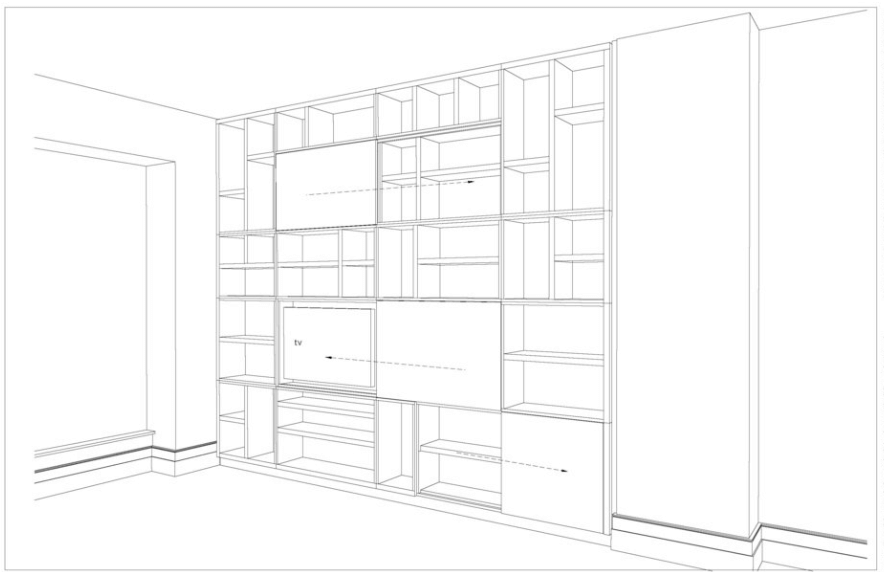 TV BOOKSHELF
#15: TV Bookshelf with Better Sliding Panel Design
In all the internet, there's only one pic that slightly shows in a real life photo the direction of what I have in mind of designing for her:
But as is usually my lot in life, NO ONE has designed yet what I'm picturing!
That's why I'm a designer.
Therefore, next steps…TBD!
Do you like having a TV above the fireplace or not? (You'll want to read that!)
➜ Here's what we did with our TV (and here's how you can do it yourself!)!
➜ Our complete list of every single home project is viewable HERE!