A.K.A. "The 'I Hate Coffee Tables' Client Project. 🙂
If you're looking for coffee table alternatives for small spaces or large, this post will get your brain firing! 🙂
---
I thought I'd heard it all, but a client recently admitted to me (as we worked on designing her entire downstairs look and feel),
"So…I hate coffee tables!"
When I asked what was (to me) the obvious next question
"How about ottomans?"
…she answered, "As long as they're not too couch-y."
My work was cut out for me! (And that's just with one table in one room, amidst an entire 1st floor redesign. 😅 )
COFFEE TABLE ALTERNATIVES
Option #10: Smaller Tables Combo!
One option I'm giving her is to avoid a coffee table all together and go for a combination of smaller tables in front of her seating area! We need more wood warmth & texture in this room, so I'm liking something like this. Look at those three shapes together! MWAH! (Chef's kiss!)
Creating something like this would work well!
COFFEE TABLE ALTERNATIVES FOR SMALL SPACES
Option #9: Smaller Tables + Colors Combo!
Another combination:
COFFEE TABLE ALTERNATIVES
Option #8: Go Sculptural!
As we talked more (I'm telling you, helping people design their homes is like being a therapist a lot of the time!), I started hearing that it wasn't so much coffee tables that she hated. It was the "standard" style coffee tables!
It turns out she was open to "more sculptural" tables in her living room.
While all I can picture is my kids using this as a slide, it was so beautiful I have to include it. This is artwork as your furniture.
COFFEE TABLE ALTERNATIVES
Options #7 & #6: Still More Sculptural Than "The Standard" Coffee Tables!
This first one is high-end and expensive; the second is a bit more palatable. This client said she wanted to see options all across the board, so she got them! 🙂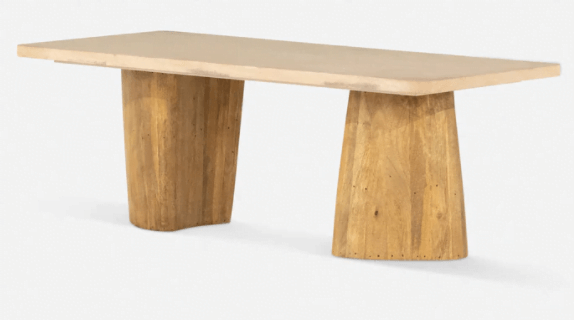 Sandstone + Mango Wood Coffee Table
COFFEE TABLE ALTERNATIVES
Option #5: Go Woven!
Love the texture and uniqueness to this one:
COFFEE TABLE ALTERNATIVES
Option #4: Work of Art!
How beautiful and unique is this?!? If you're yawning at "the usual coffee table" everyone has, this may be your winner! Looks like it belongs in an art museum…yet totally sturdy enough if you have a family!
COFFEE TABLE ALTERNATIVES FOR SMALL SPACES
Option #3: Pallet Coffee Table
OK, so I didn't actually pitch this to her because it's totally not her style :), but if you're looking for something inexpensive AND for coffee table alternatives for small spaces, this is a great one!
We made this while we lived in our tiny 2nd flat in New Zealand that literally had ZERO room for a dining room table, so we ate in here! 🙂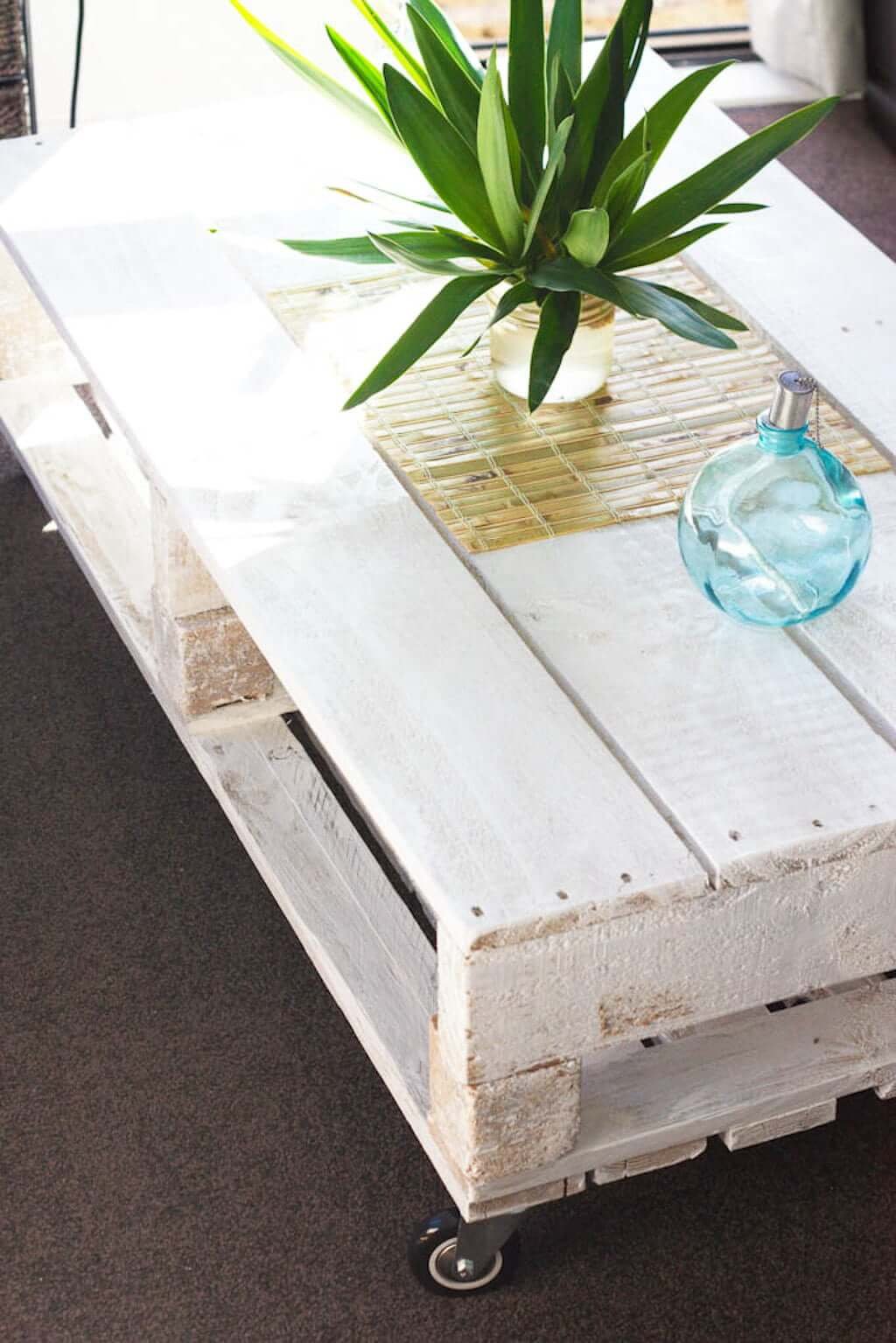 Read "Our Famous $20 Pallet Coffee Table with Wheels!"
And to make up for my slipping that one in 😉 , here's another one of the more "architectural" tables our client considered during the phase we were going black. 🙂
COFFEE TABLE ALTERNATIVES
Option #2: Go with Alternative, Sustainable Materials!
How much fun is this mid-century bamboo as a coffee table alternative? In the right space, it would be perfect!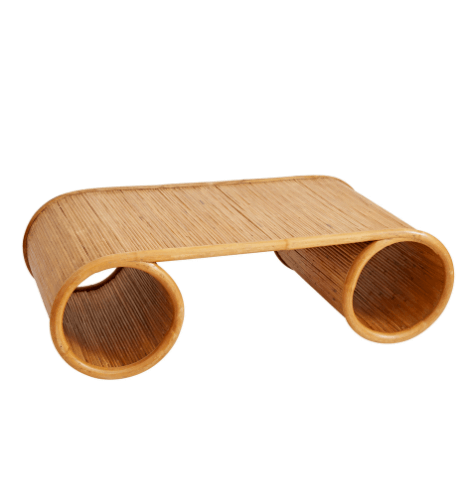 COFFEE TABLE ALTERNATIVES
Option #1: What the Client Chose!
The kicker of this story is that in the end, she chose what is a GORGEOUS coffee table–but it's still one of the closest to a "standard" coffee table of all of them! 🙂
It's rustic and if I hadn't made my own coffee table ottoman, I would seriously consider buying this baby myself!
I adore the look of this table and what I think sold her on it was my pointing out how low it was, so it could serve as a place to set your feet and as a table to set drinks on. (Two of her must-haves.)
COFFEE TABLE ALTERNATIVES
BONUS IDEA for YOU: My Personal Favorite! 😉
And actually, now that I've mentioned it above, I've gotta put our internet-famous coffee table ottoman here for those of you who are new to our site! (Welcome!) You'll never believe what we made it out of! 🙂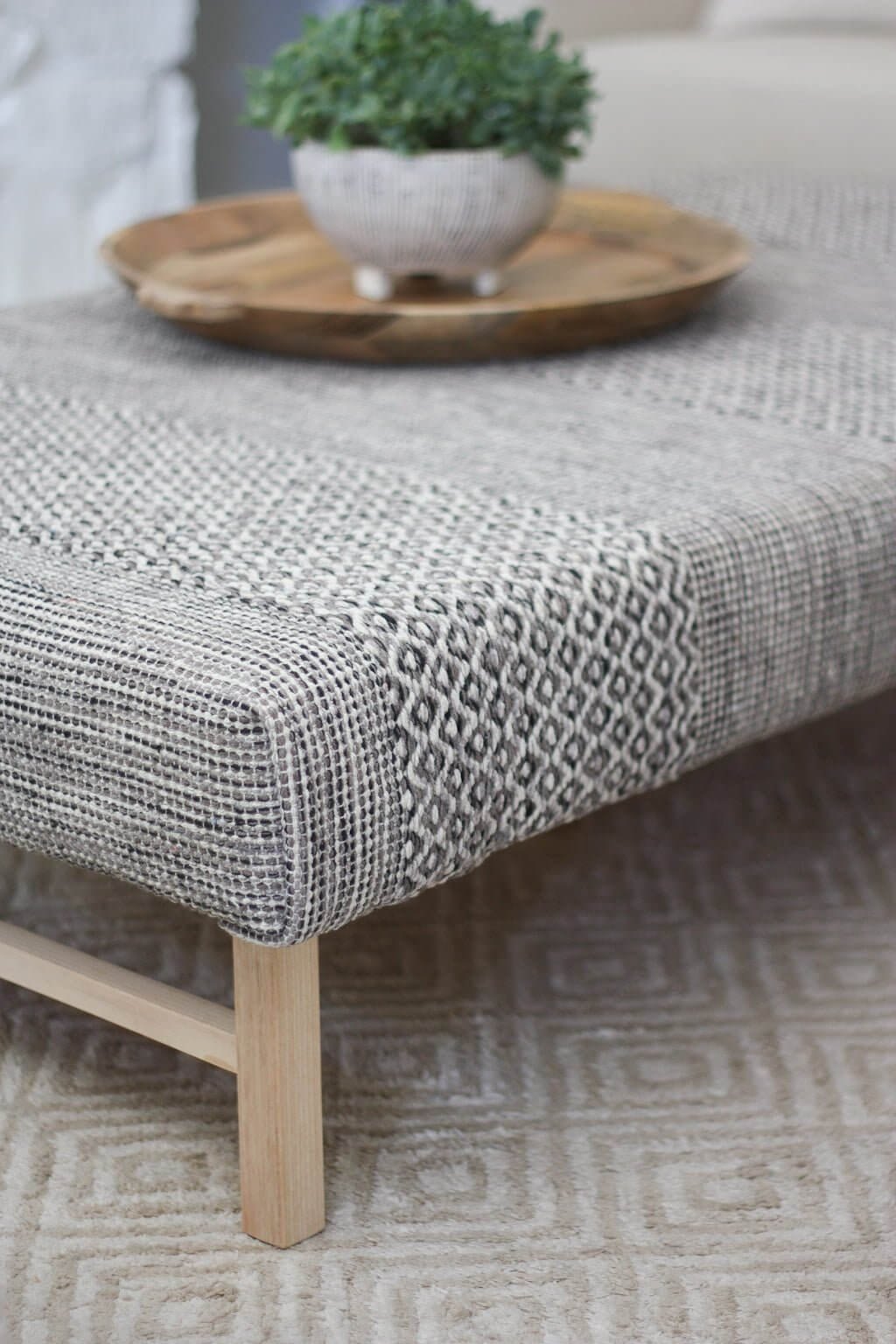 "You'll Be Surprised at What We Made Our Ottoman Coffee Table Out Of!"
➜ We're booked for large projects through 2023, but you can book a 1-hour consultation with us online here!
➜ Our complete list of every single home project is viewable HERE!