Looking for raised patio edging ideas? Well here's a high five for ya, because you're in the right place!🤗
We're not only sharing 10 tricks for edging a raised patio, but most of these 10 contain more than one option, so you're sure to find at least one (if not several!) options that work for you!
First, decide on the function of your edging. Is a railing needed? Are caps or edges needed on retaining walls? Maybe no patio edging is needed, but you need a patio surrounding or transition needed. These are all things to take into account as you decide on the best ideas for your space.
HOW TO EDGE A RAISED PATIO
Idea #1: Plants
There are several ways you can use plants to edge a raised patio. Our favorite three are
1. Plant shrubs or flowers directly into the ground along the edge
2. Build planter beds or boxes (be sure to account for this in your initial patio design planning)
3. Create your own garden along your patio space!
PS: Check out our 15 expert hacks for saving serious money on your backyard reno!
HOW TO EDGE A RAISED PATIO
Idea #2: Grass
One section of our raised patio surface borders our lawn, and it's a nice clean look to have the grass coming right up to the edge.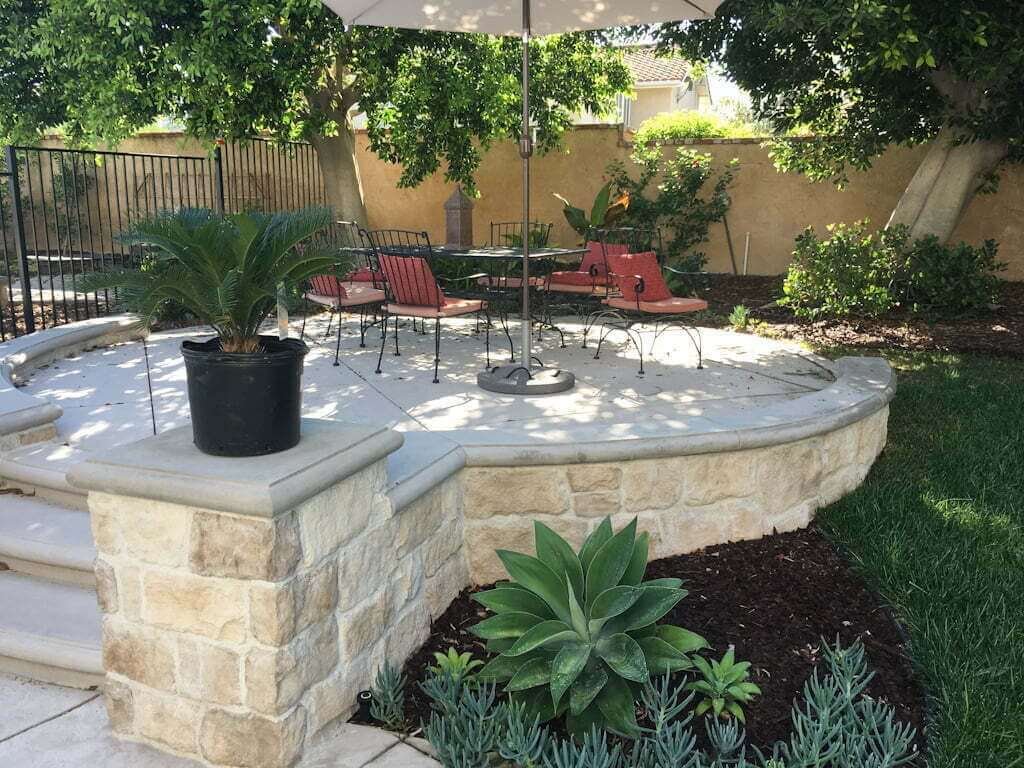 Take a full tour of our backyard HERE.
HOW TO EDGE A RAISED PATIO
Idea #3: Barkdust or Mulch
You can see an example of this way to edge a raised patio in these photos taken right after we completed the project! (And when I was still considering doing potted sego palms on top of our pillars.)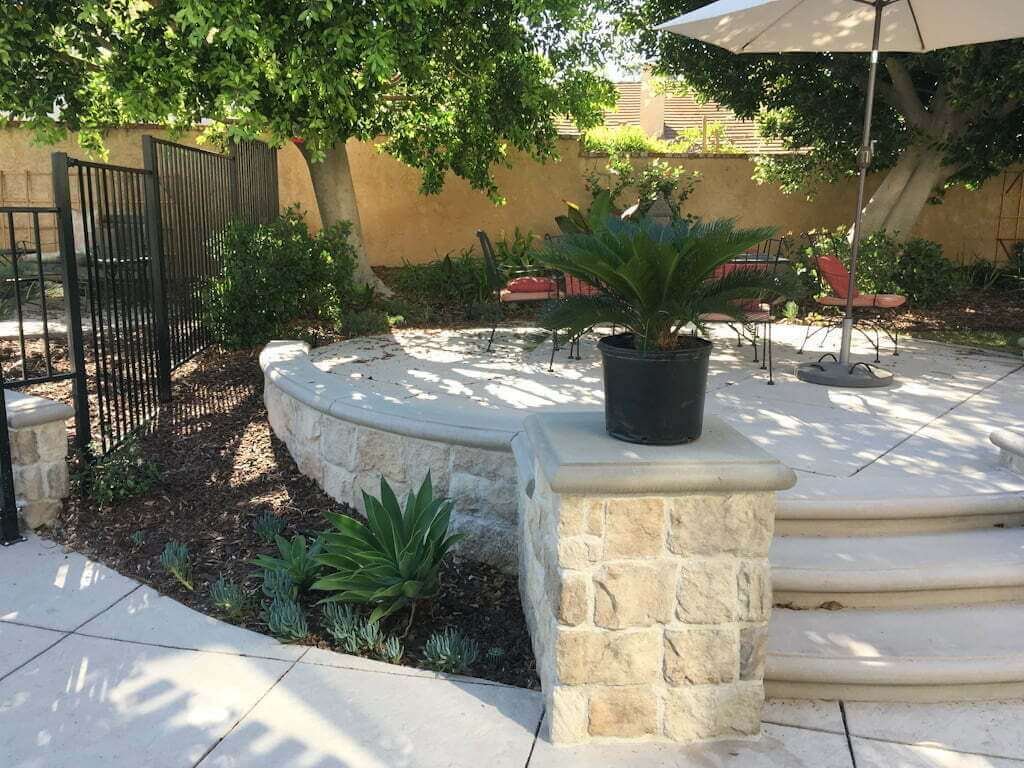 HOW TO EDGE A RAISED PATIO
Idea #4: Rocks
Rocks are another way to edge a raised patio. This could be anything from a large rock to a tiny pea gravel. It just depends on the look and feel you're going for!
You could also incorporate both rocks and plants into your patio border, with plantings surrounded by rocks.
HOW TO EDGE A RAISED PATIO
Idea #5: Wood
Some people chose to edge their raised patios with wood. This is certainly an easy way to do it! Whether your surface is made of brick, flagstone, or even pavers, wood can give a clean, crisp edge if it's the look you're going for. Wood also can be a great way to tie into or transition into a deck, if that's part of your landscape!
See full Before & Afters of our backyard remodel HERE!
HOW TO EDGE A RAISED PATIO
Idea #6: Wall or Facing
Another way to edge a raised patio is with a small wall or fence. You can see we kinda did a version of this on our raised patio by including a very short wall edging around much of the perimeter.
The reason I designed it this way is because while our raised patio wasn't tall enough to warrant a railing, I still wanted to clearly delineate where the edge was. We didn't want any guests or children falling off the edge accidentally, even though it's only a foot or two down!
EXTRA BONUS: This small wall also makes a fantastic balance beam, as evidenced by my children who like to walk along this edge ALLLLLLLL THE TIME!?
HOW TO EDGE A RAISED PATIO
Idea #7: Landscape Edging
While it's not exactly the most permanent-looking way to edge a raised patio, using landscape edging or garden edging is certainly DIY-friendly and still gets the job done! It's also a fast and economical way to edge a patio.
If you're looking to save money on your patio project, you need THIS!
HOW TO EDGE A RAISED PATIO
Idea #8: Groundcover
While this technically could fit under the category of plants, we feel like groundcover often deserves it's own spot. For this discussion, to me it's not in the same vein as doing larger plantings. Here, groundcover functions like barkdust or mulch, but it's alive and green! There's my best explanation in layman's terms for ya!?
But seriously, groundcover also comes in flowering options, so you could get some seasonal color there as well without having to have large plants along your raised patio edge.
HOW TO EDGE A RAISED PATIO
Idea #9: Special Feature
You can get creative and find a unique way to edge your raised patio! We've seen everything from water features to firepits built into the edge of raised patios for a one-of-a-kind look!
Take a full tour HERE!
HOW TO EDGE A RAISED PATIO
Idea #10: Use the same material as your raised patio surface!
If your raised patio is made out of a material like pavers or brick, you could use that same material to create a special edge design! The material can be stacked or stood up on end to create your own design.
Because our raised patio surface was a stamped concrete, we decided to incorporate the look of an edge into the pattern by accounting for that when running the lines. We simply chose to do a 4-inch "edge" and ran the lines along at that measurement, giving us a lovely finished look to our raised concrete patio edge!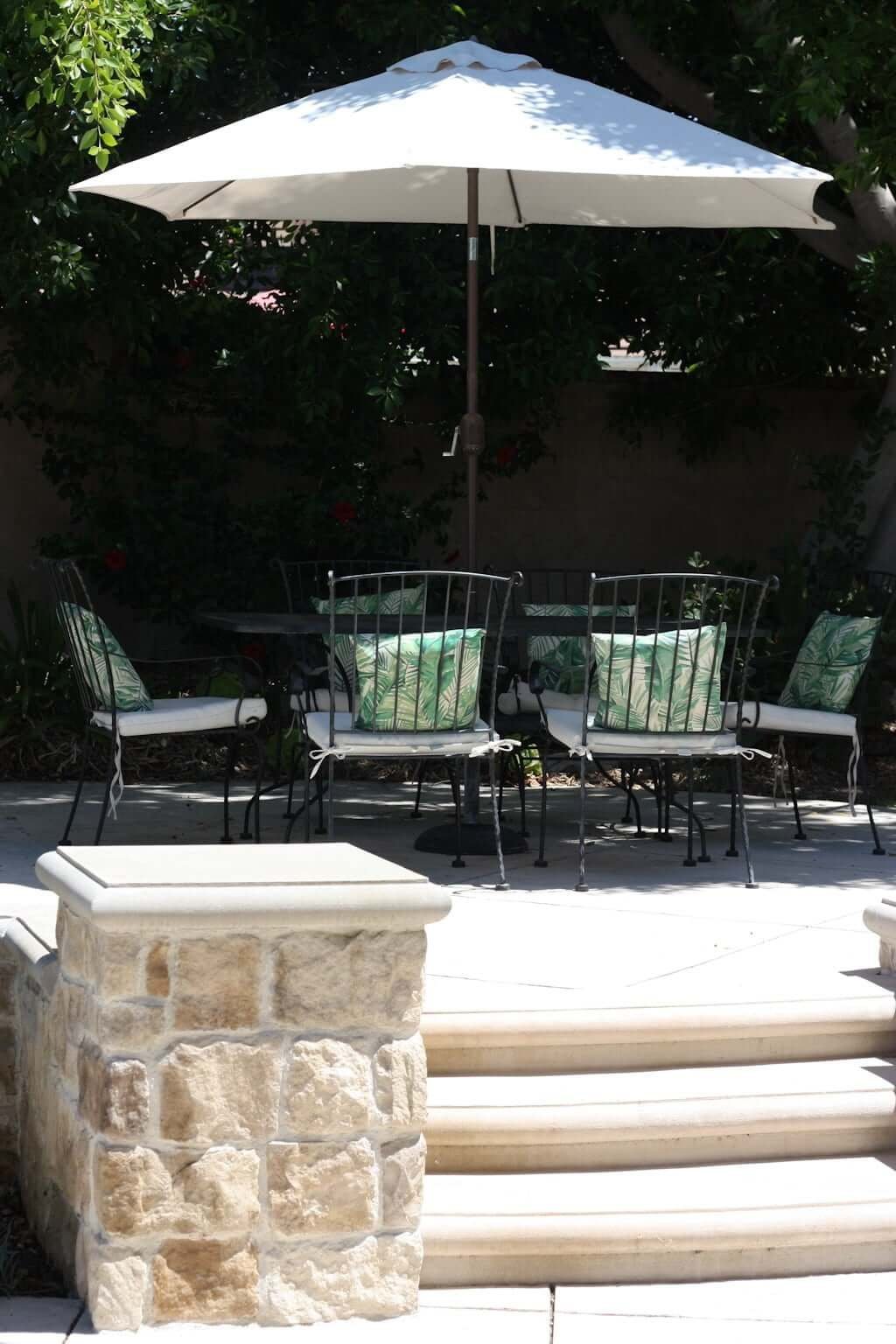 Next…
👉 Do you know the 15 Easy Mistakes to AVOID with your patio?
👉 As a designer, I'm sharing the smartest outdoor furniture with you, from budget-friendly and beyond!
👉 Speaking of budget smarts, we're sharing our expert ways to save tens of thousands of dollars on your backyard!
To see more how we built our raised patios (we have three!), check out this post! You can also take the full tour right here.
Or you can go to The Complete List of our backyard remodel!
➜ Our complete list of every single home project is viewable HERE.