Today we're sharing how we made our own DIY rug ottoman in 5 easy steps!
Wondering how to make a DIY rug ottoman? These usually range upwards of $2,500 when made out of vintage rugs (which have been growing in popularity—see our kilim rug covered ottoman inspiration photos here!).
We created a no-sew, super easy DIY rug covered ottoman "how to" here that anyone with basic tools can make in an afternoon!
(If you missed the story of how we got to this point and how we've already saved money on this project, you'll want to go back and read that first post!)
Once you've caught up on that and you're ready to see the 5 easy steps we took to make our DIY rug ottoman—plus how it turned out!—read on!
DIY OTTOMAN: HOW TO MAKE
Step #1: Build the support frame.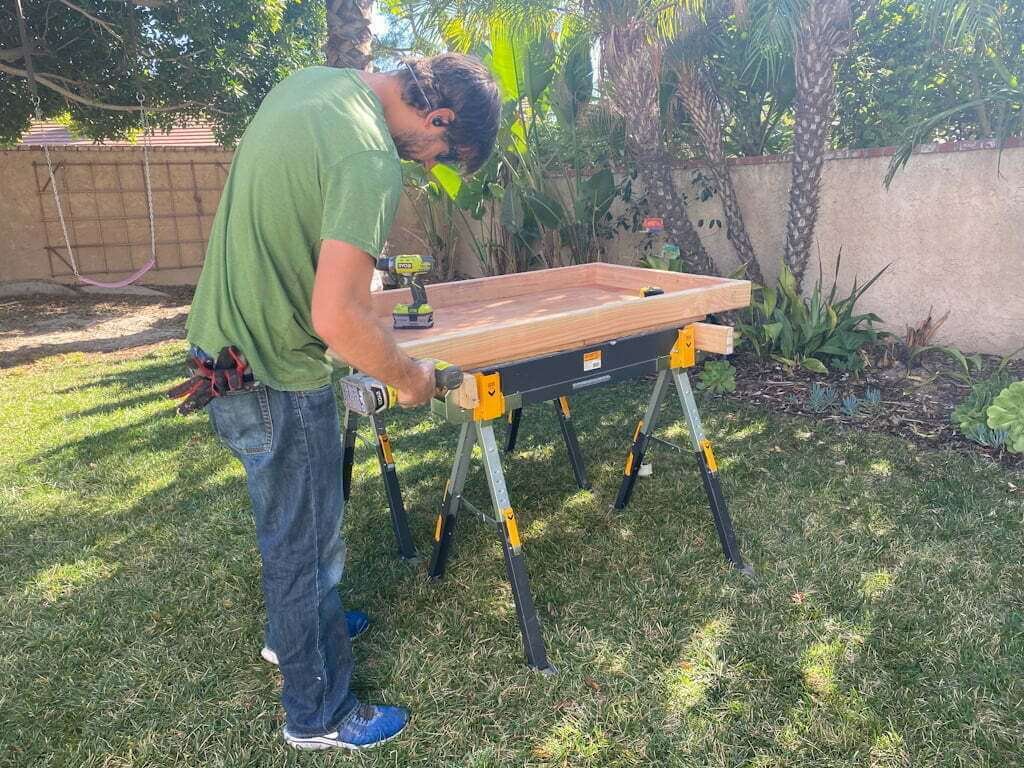 We first built our DIY ottoman frame out of 2x4s cut to our exact dimensions. For the top support, we used 1/8″ underlayment to help reduce weight. We also split some 2×4's in half for additional strength (without adding a lot of extra weight).
We wanted our rug ottoman to stand the test of kids, so made sure we added a center support juuuuuuuuuuust in case!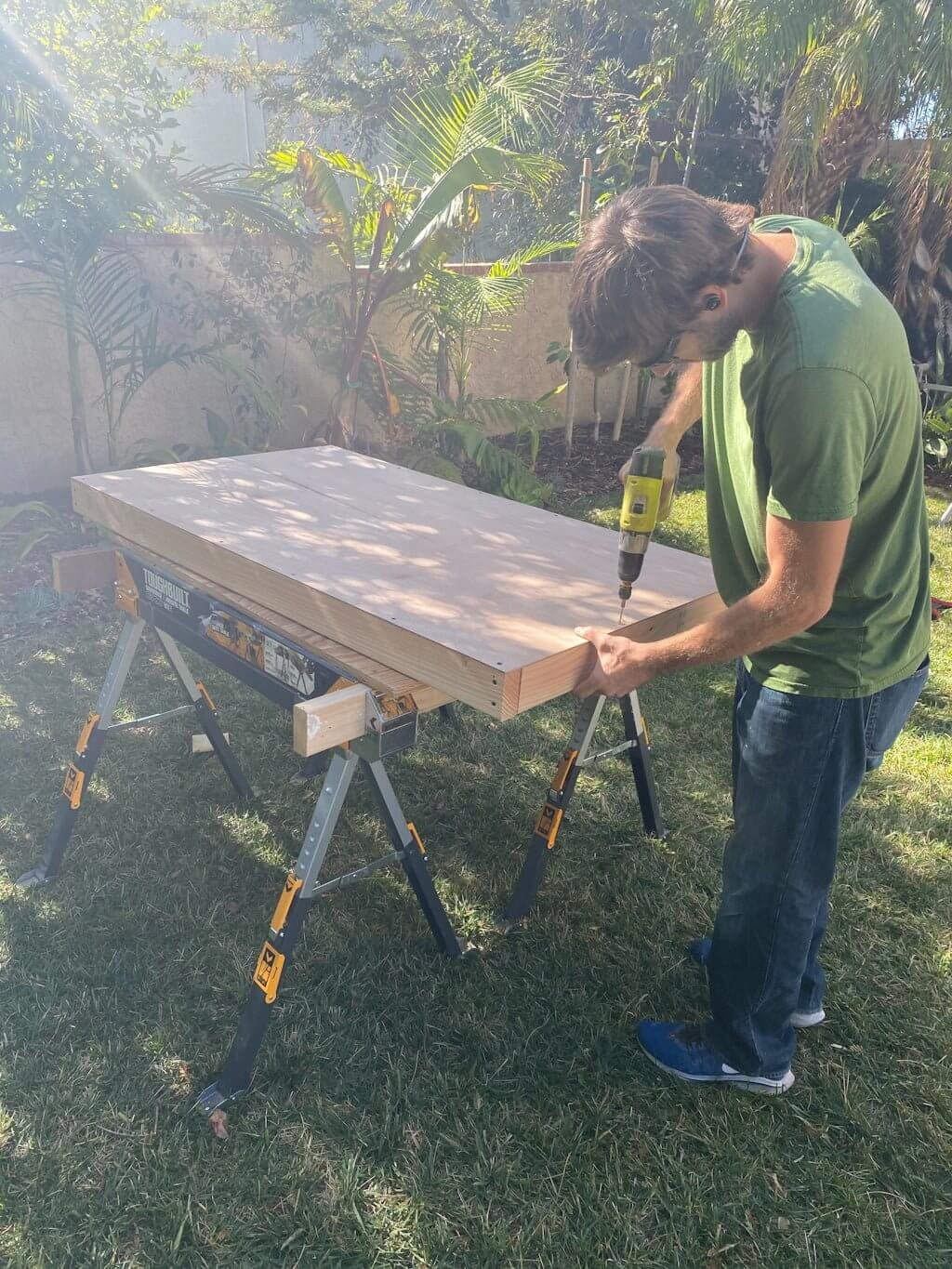 RUG COVERED OTTOMAN
Step #2: Attach foam on top.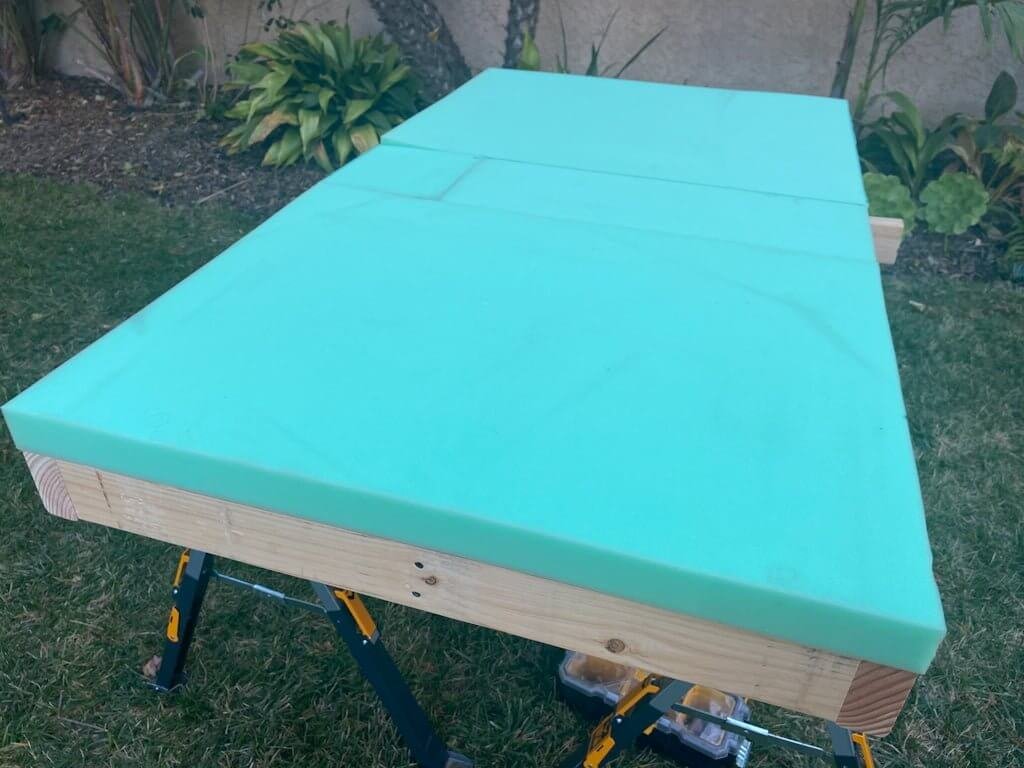 Because there was no piece of foam large enough to fit our custom size, we had to cut some extra pieces from what we had to fit. We attached them together using spray adhesive, then attached them to the top of the support frame.
DIY RUG OTTOMAN
Step #3: Wrap with batting and rug.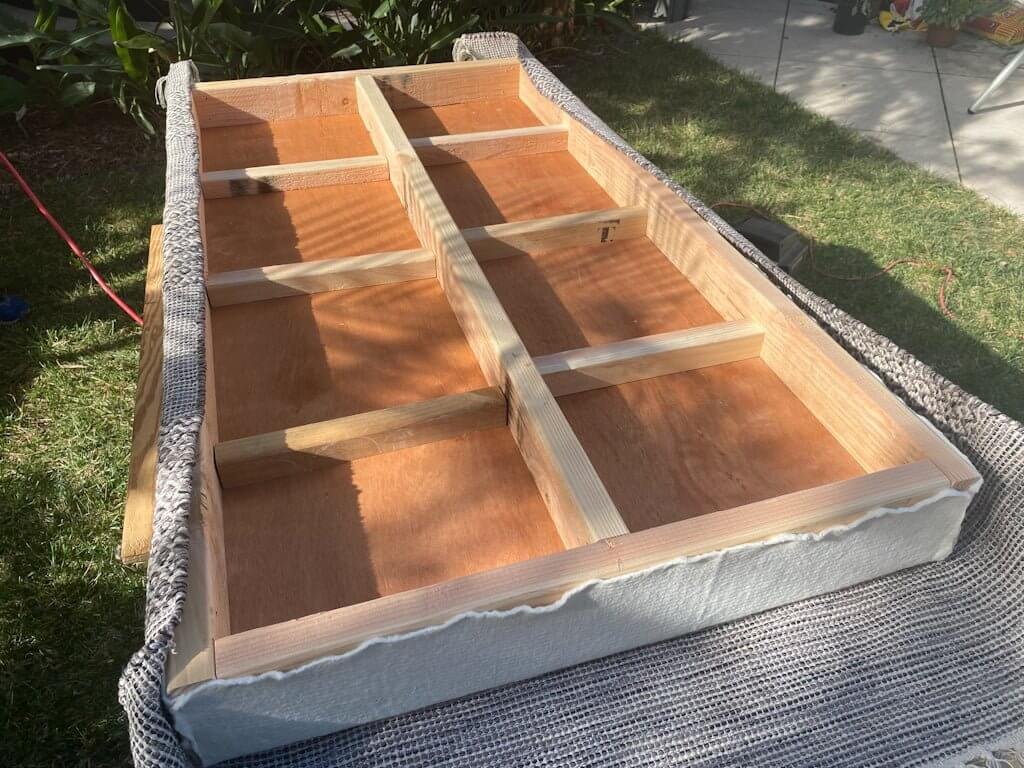 In the end, while our DIY rug ottoman will look like it's a 5″ piece of cushion when we're finished, the foam is really only 2″ tall. The rest is wood. It's a visual trick because to get a 5″x33″x57″ area covered with foam would be MUY EXPENSIVO! (One of my degrees is actually in Spanish, and yet I find infinite pleasure in joking around in Spanglish. It's just made SO much more fun knowing that I know all the correct words, and yet choosing to Spanglish it up. Neverending entertainment for myself!)
So, to make sure the wood frame isn't too hard beneath the rug material, we added batting. And then we added even more because what we were able to get from the store was just not thick enough.
Then we cut off the rug tassels before stapling on the final pieces to create our DIY rug covered ottoman!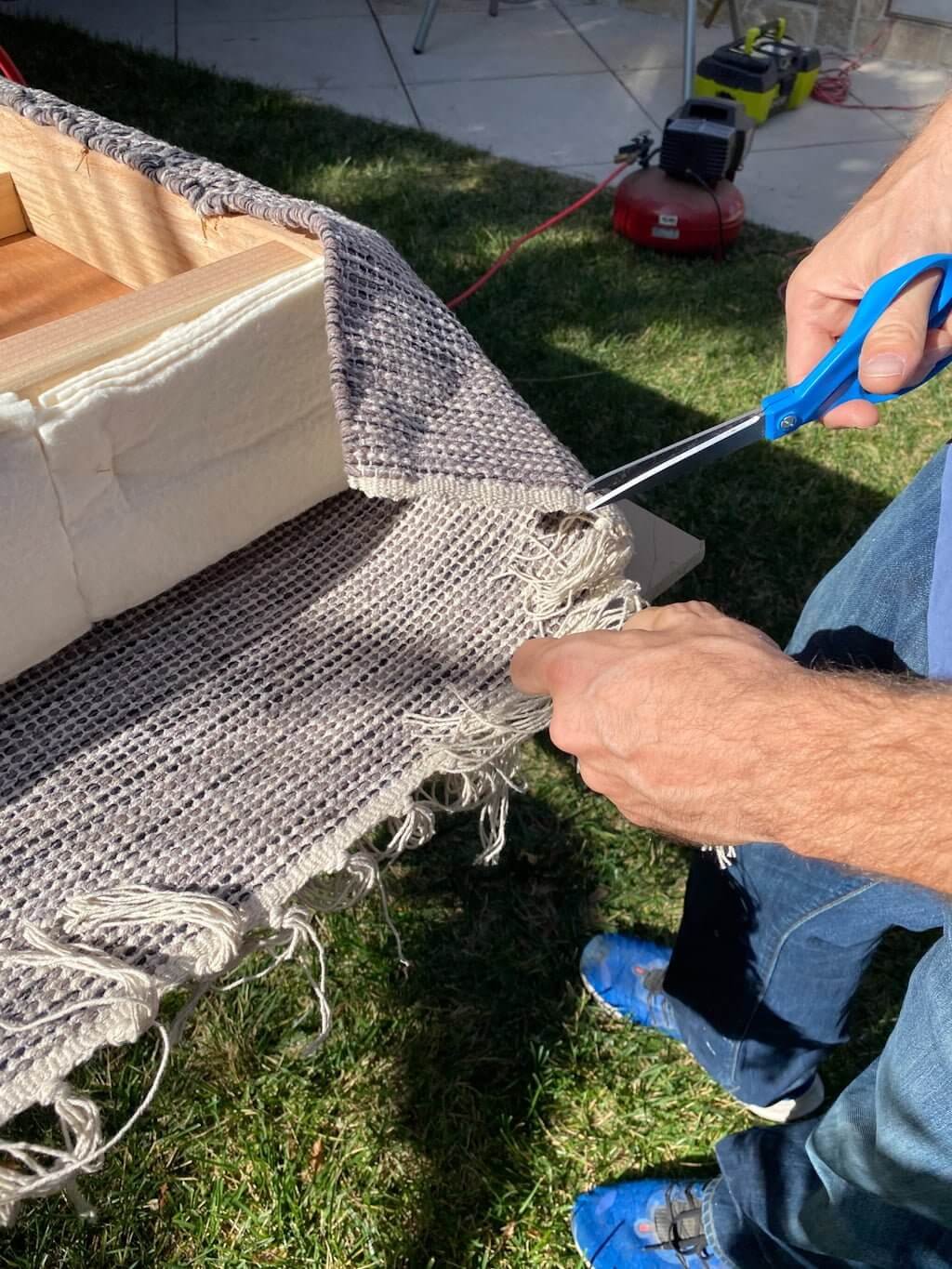 In keeping with the simple look I wanted for this ottoman, we chose to not sew the corners. While I didn't want our DIY rug ottoman to be totally rustic-looking, I liked the idea of leaving it less fussy-looking.
So we did a simple, neat fold and staple for the corners. It's exactly what we want!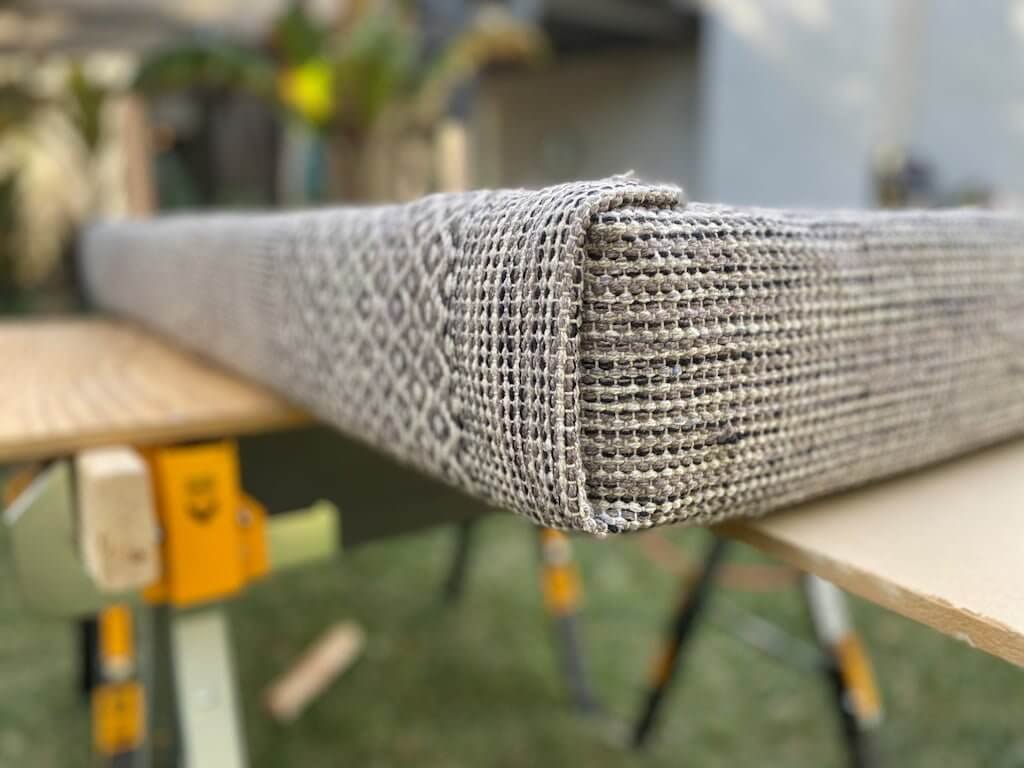 DIY OTTOMAN
Step #4: Attach legs & crossbar.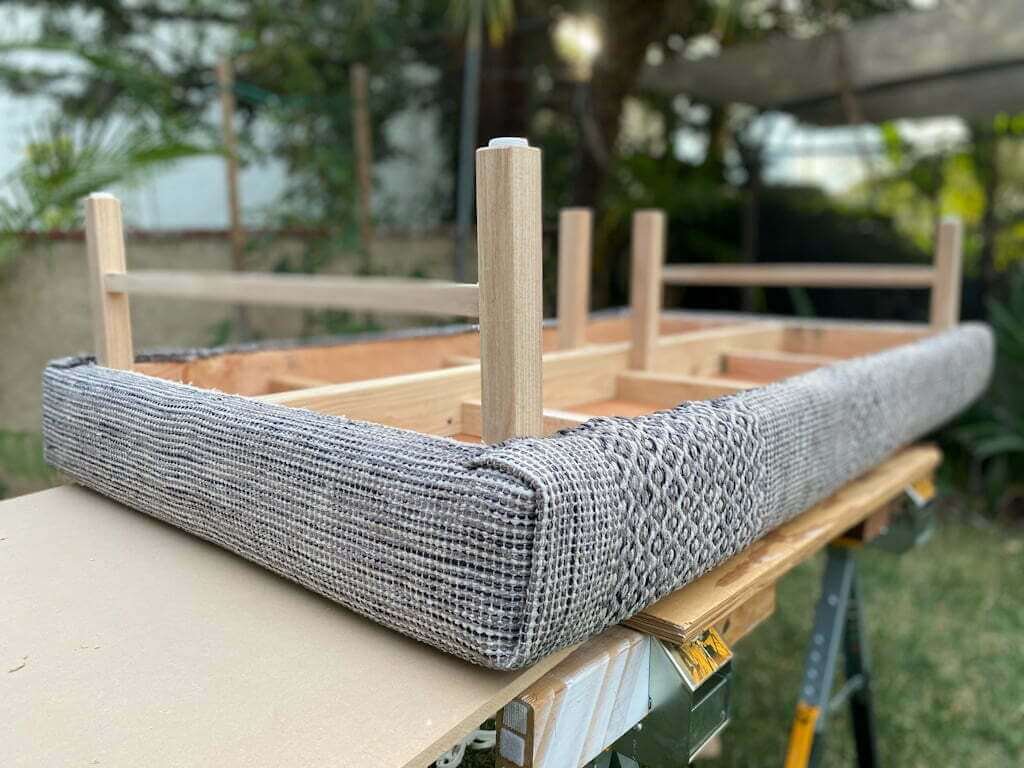 While the inspiration DIY kilim ottoman photos I showed you in this post had metal, U-shaped legs, I didn't want that. Instead, we did some simple redwood legs on our rug covered ottoman, with a crossbeam.
Matt also added two center legs for extra support, since this ottoman is extra large. We do have two children, and I am 97.3% sure that at some point in future they will be laying on it, jumping onto or off of it, etc.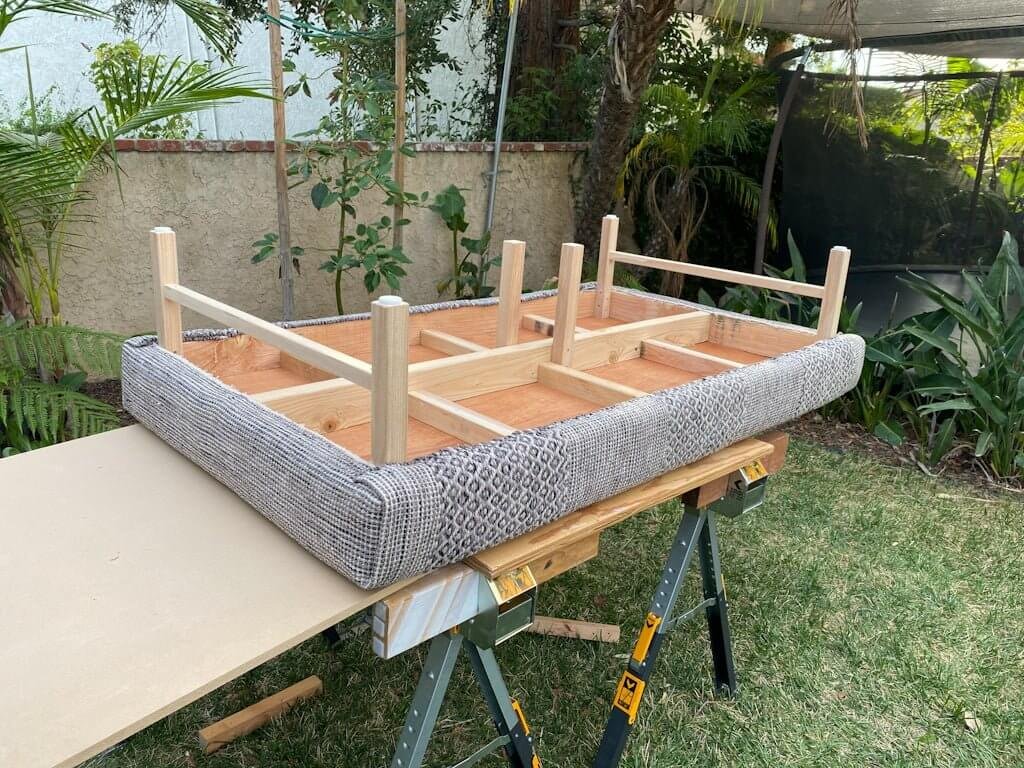 We may play with the legs more another time if we decide we want to change them (another beauty of a DIY rug ottoman! always easy to change whatever you want later!), but right now we're totally happy with them!
DIY RUG OTTOMAN
Step #5: Pour yourself a drink & bring your new ottoman inside to enjoy!
We brought our new DIY rug ottoman inside to the family room and boy oh boy, does it look gooooooooooooooooooood!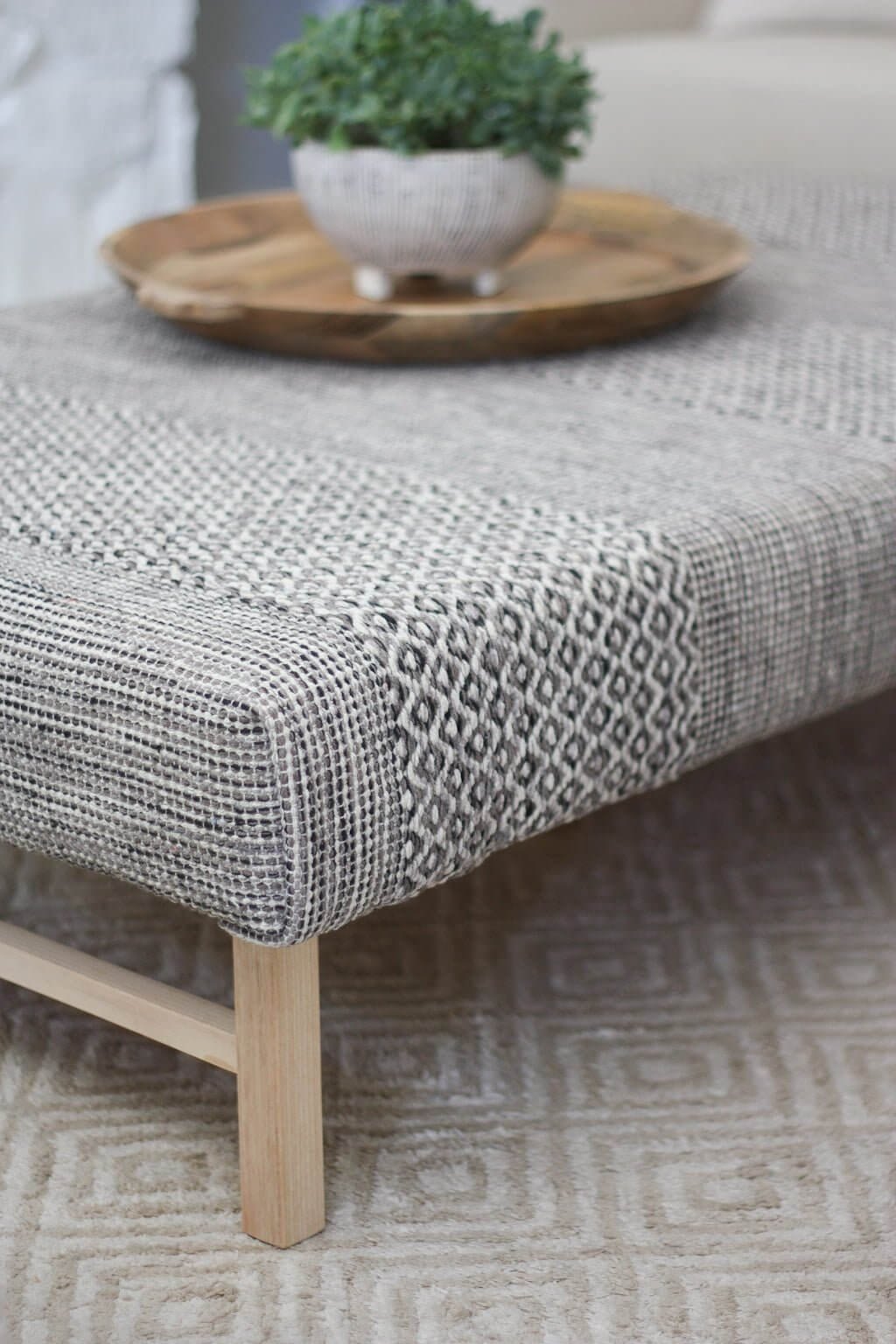 It looks so at home, doesn't it?!? We need to name him. Or her. Any suggestions?
It's still possible we'll do something more to the legs, but we also might just leave them. I haven't decided. We could stain them, whitewash them, paint them, rough 'em up to look even more weathered and rustic…so many options.
But right now, we're just enjoying our "kilim" rug ottoman the way it is!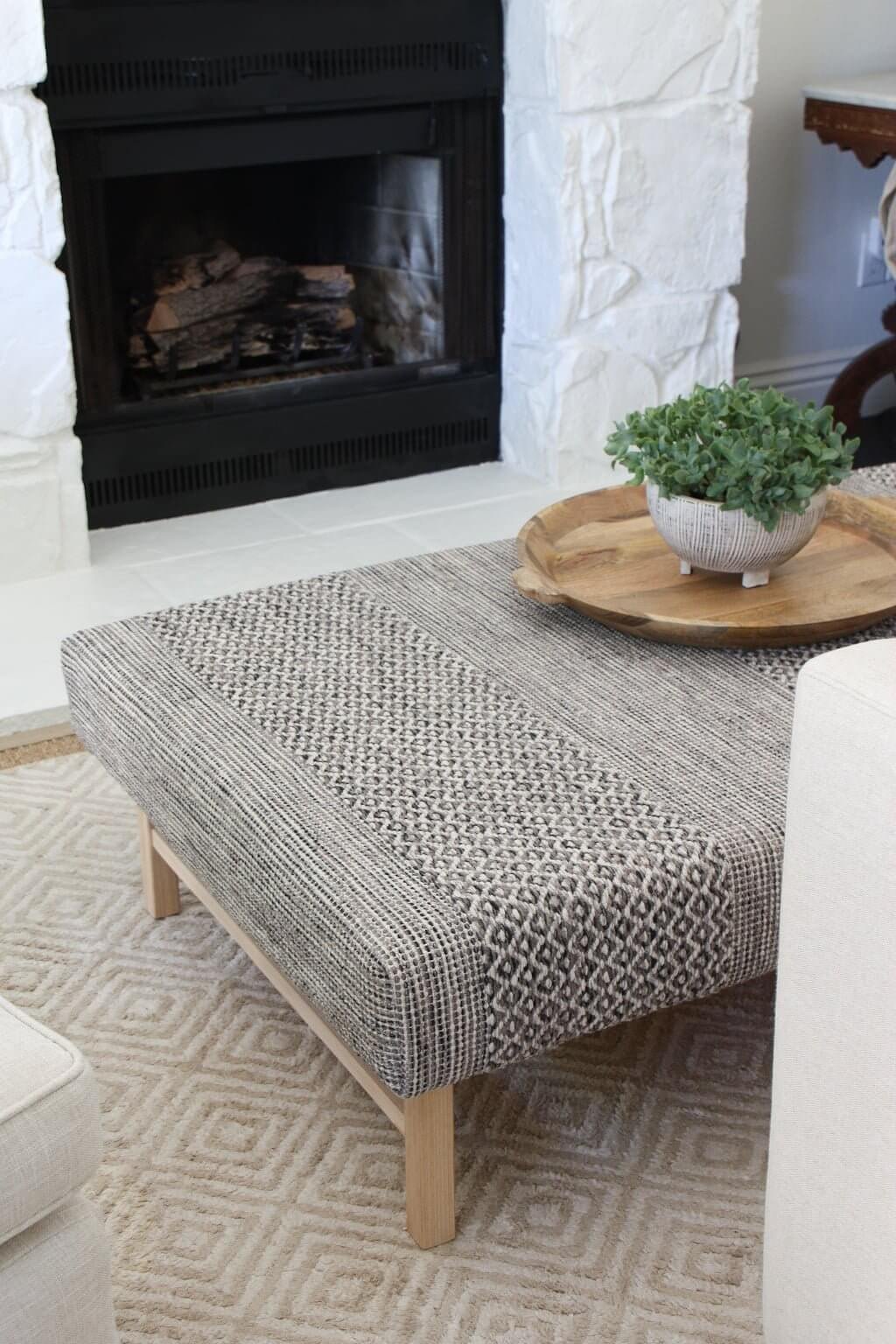 DIY KILIM RUG OTTOMAN
It fits perfectly in the space. No more awkward sizes from store-bought ottomans in here!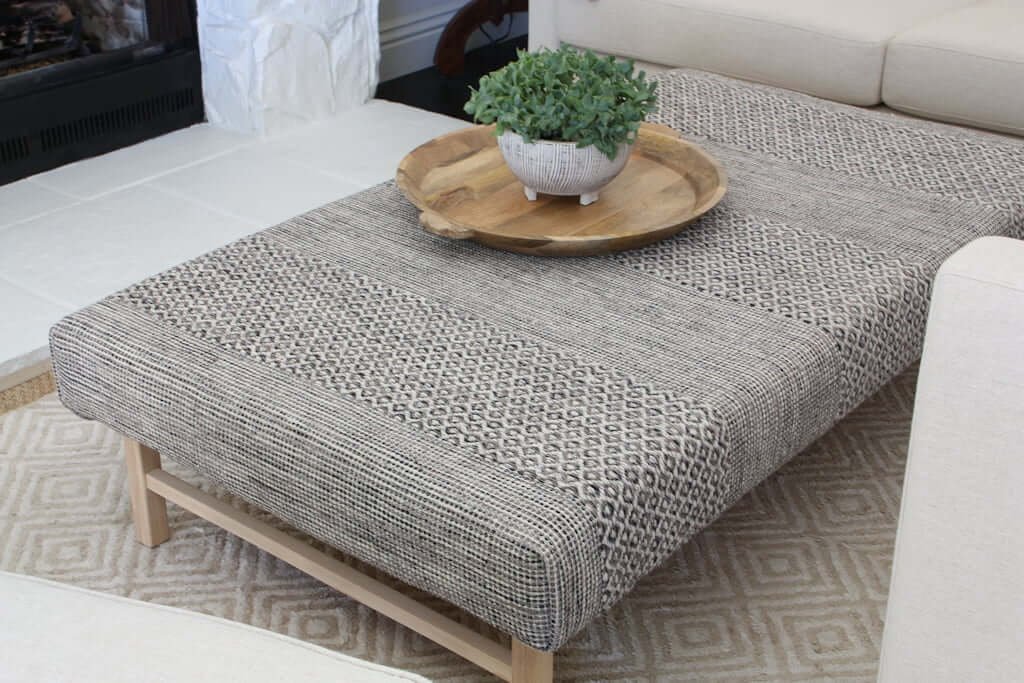 And when you look at our rug ottoman within the context of the entire room, you can see how well it works! It brings the warm, slightly rustic look we wanted. It has some pattern, but not attention-grabbing pattern. It's not too beige and getting lost amidst all the other elements.
It stands on its own, yet doesn't stand out in a "Look at me! Look at me!" way. It's perfect!
Within the context of the entire room, it may be a small change, but it's an important one!
Family room with old ottomans (before):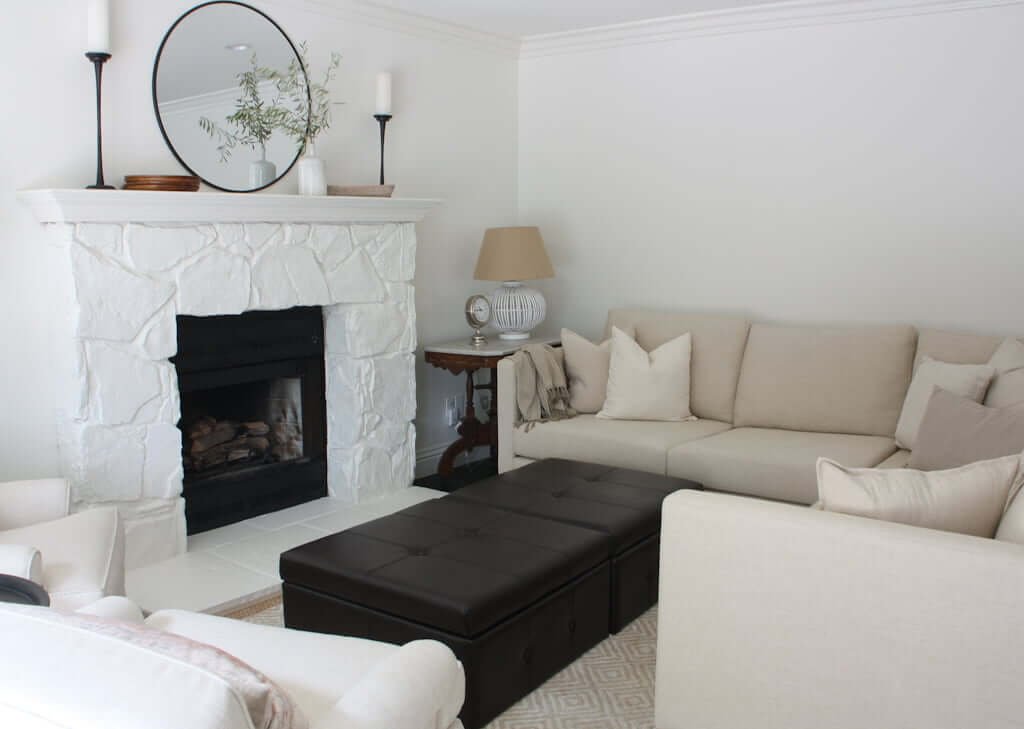 Family room with our DIY rug ottoman: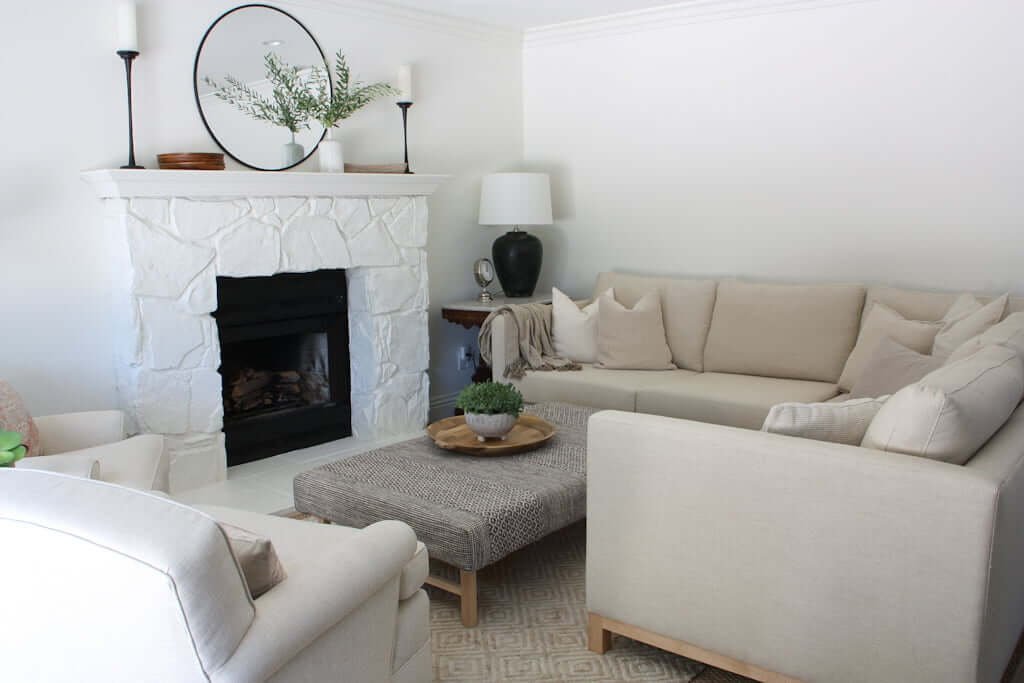 mirror | plates | vase | basket | rug | tray | planter
For now, we're trying it out with this tray.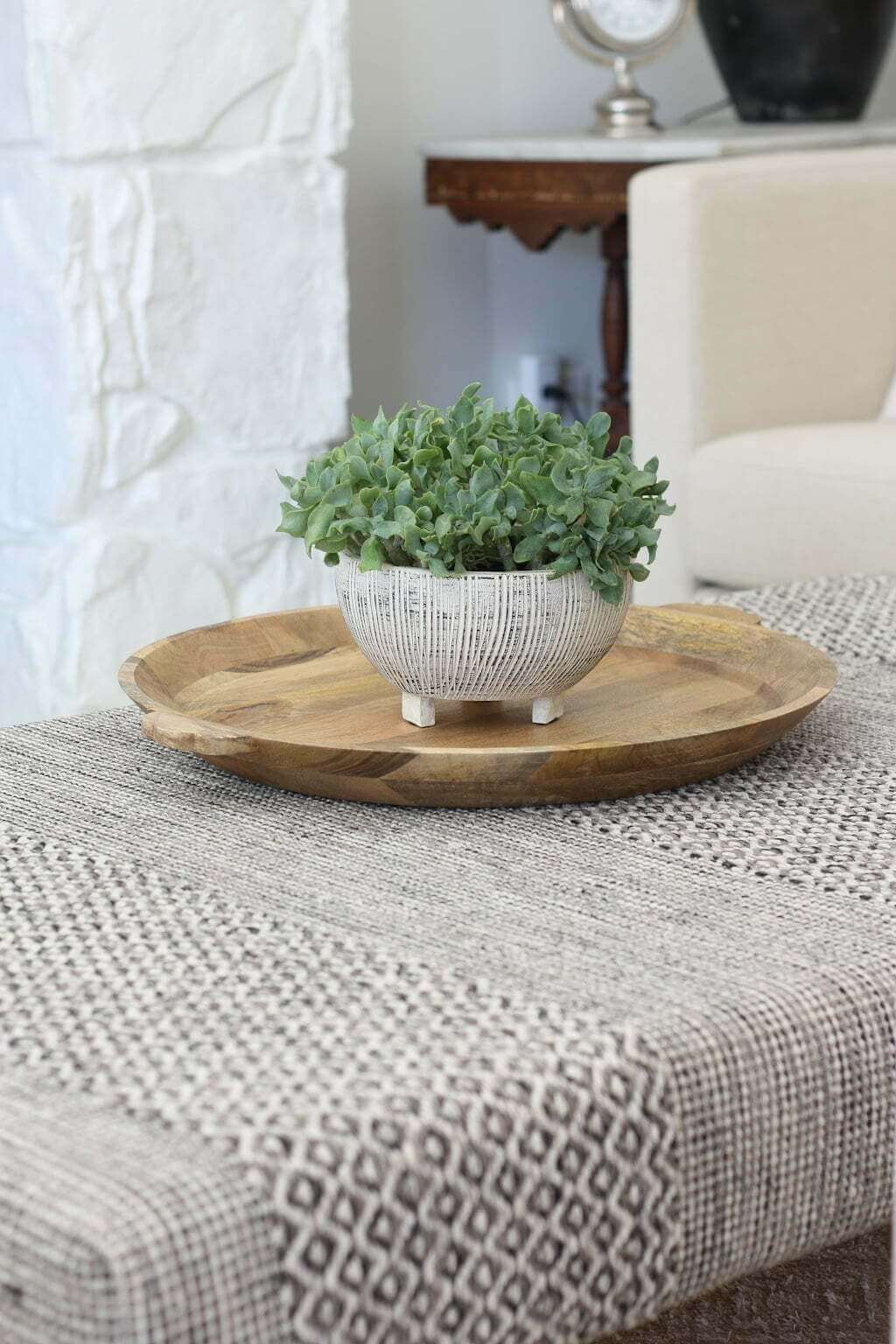 But since we primarily want our rug covered ottoman to be exactly what it is—an ottoman and not a coffee table—we'll kick it to the curb if it starts getting in the way of people putting their feet up. It's all about coziness, comfort, and connecting in this room!
(And if you're wondering how to update an ottoman that you already have or you've been searching for how to "cover ottoman with rug," this tutorial of ours would also work perfectly for that.)
If you missed our first post about this DIY rug ottoman, you'll want to check that out HERE. Or, to see how this living room has developed, take our downstairs tour!
Next,
➜ Our complete list of every single home project is viewable HERE!