Now, lest you think this article is going to give you painstakingly detailed step-by-step how to instructions on reupholstering chair cushions, or how to sew new cushion covers, let me be clear from the start:
I am not a seamstress.
Yes, I own a sewing machine.
Yes, I sew things.
But, as I often tell people when they sound impressed I sewed something myself:
"I ONLY SEW IN STRAIGHT LINES."
(I say that in the same tone Joey Tribiani says, "JOEY DOESN'T SHARE FOOD.")
Occasionally I might be pressed upon to have to curve my sewing on a corner, but that's about as wild as I get.
Example story: I recently had to patch a rip on my daughter's favorite dress, and she wanted it in the shape of a heart. OK, maybe I wanted it in the shape of a heart because I thought it'd be adorable, but my own idea made me sweat a little. Sewing something NOT in a straight line? Sewing around the shape of a heart? Sweaty thoughts. So I flew my world-famous seamstress friend in from New Zealand (alright, I didn't fly her in, she was here for a visit and I made her help me), and that's how the heart shape happened. And even then, SHE was the one on the machine and I was standing there saying encouraging things but all the time something in the back of my brain was shaking its head at me and saying, "You knooooooow you'll never do this on your ooooown…"
So, now you know my not-so-secret. I will say it again. I ONLY SEW IN STRAIGHT LINES, PEOPLE. So don't be impressed.
However, I WILL say that these couch and chair covers I redid turned out looking so good that I wanted to lick them.
That I will admit.
Just don't look at my sewing too closely. And don't turn the cushions around.
---
Sewing New Cushion Covers:
How it Started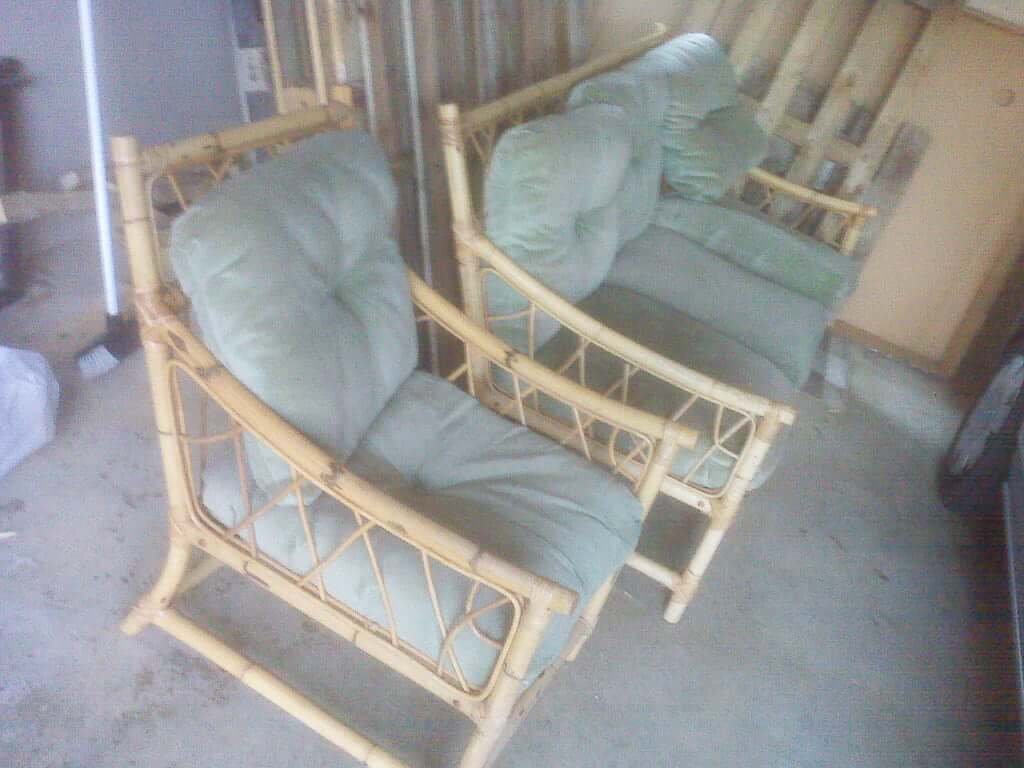 When I first spotted these being sold used, I might have grabbed Matt by the collar and said,
"YOU! TAKE ME TO THESE CHAIRS!"
A woman living out on a New Zealand farmhouse was selling a 3-seater couch and a single chair, all matching.
And I kid you not, she was selling them for $20. New Zealand Dollars.
That is $13 in American money.
$13. I'm typing it over and over again so you know it's not a mistake.
---
Sewing New Cushion Covers
STEP 1: Carting the loot home.
Bamboo furniture reminds me of Swiss Family Robinson, which reminds me of pirates, which makes me call it "loot."
OK, so back to when I was the owner of this couch and chair set. We perched the massive couch frame on the top of our trusty Wingroad, fit the chair into the back trunk, and drove home.
It was a smelly drive home. The woman had been keeping these in some kind of outbuilding on their property, and they smelled o-l-d.
We set them in our garage for awhile, hoping they would air out, but to no avail.
Oh, and by the way, WE DID NOT NEED A COUCH!
We already had one. It's kind of like plants. I don't often "need" them.
But "Define need," I say.
---
Sewing New Cushion Covers
STEP 2: Getting rid of the stink.
Because I hadn't planned on getting a new couch and chair set, I didn't really have a set plan.
But when you see awesomeness potential in something this massive for only $13, you don't plan anything other than how to make it yours. And then you figure out the details later. That is what smart people do. Smart.
First, I hoped that the smell was just from the old cushion covers and not the cushion inserts themselves. Because I had no idea how expensive it would be to buy all new couch cushions.
So I removed all the dirty, old, smelly cushion covers. And THEN I BURNED THEM. (No, I'm just being dramatic. I wanted to burn them, but I just put them in the rubbish bin. The outside one. They smelled so gross.)
The cushion inserts didn't seem to smell at all. Glory glory hallelujah! I put those out in the sun for a couple days just to be sure. (I REALLY like things to be clean and I REALLY have a sensitive nose, so I like to be doubly sure of these things.)
---
Sewing New Cushion Covers
STEP 3: Locate fabric for new covers.
Done. I went with white for the couch. White is so fresh and crisp. And fresh and crisp may be two of my favorite words.
I chose a fun white-and-blue print for the chair.
---
Sewing New Cushion Covers
STEP 4: Blast music while sewing new cushion covers.
Like I said earlier, don't be impressed. This is a very inexact science for me.
I measured the size of each cushion as I cut the fabric for it.
I repeat, I measured EACH cushion separately for each piece of fabric. I've learned not to trust that all cushions will be exactly the same size. It's possible you could gamble and save yourself some time and make them all the same, but measuring really doesn't take that much. And this is coming from a very LAZY sewer.
Hemming the edges is next. Easy.
I folded them over so that I could fit each cushion insert into the cover without having to add zippers or buttons or anything like that. (I told you, I'm a lazy sewer.) So the opening was about halfway down the back of each cushion and you couldn't really notice it from the front.
I had to blast some music while doing this because IT CAN GET REALLY BORING CUTTING AND SEWING EIGHT CUSHION COVERS IN A ROW.

(I particularly remember listening to Lupe Fiasco during this sewing session, and I have no idea why I remember that. Maybe because it was the last time I listened to Lupe Fiasco. But apparently that was some good pump-Jess-up-for-sewing music!)
Sewing New Cushion Covers
Final Thoughts
If you are a seamstress, I have the utmost respect for you.
This took me almost all day long and I was
DONE WITH SEWING FOR MONTHS.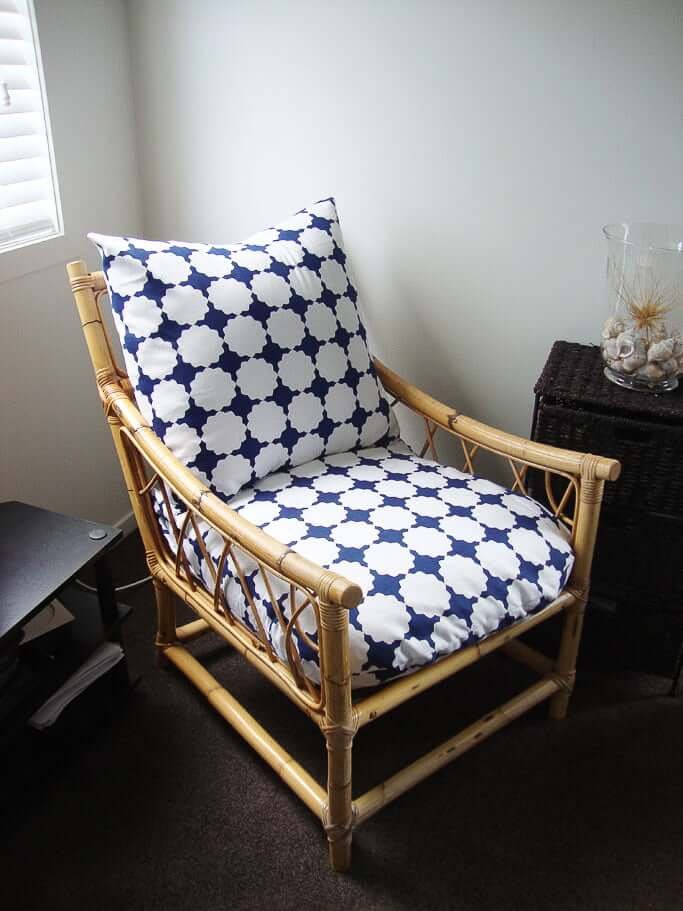 You see, I don't think I have the patience to be a better seamstress. And I definitely don't have the patience to reupholster furniture or chair cushions.
But you know how people are always telling you as a kid, "Do your best?"
Well, this is my best. Zipperless, button-less, folded-over-in-back chair cushion covers. (Because you still want to be able to wash them!)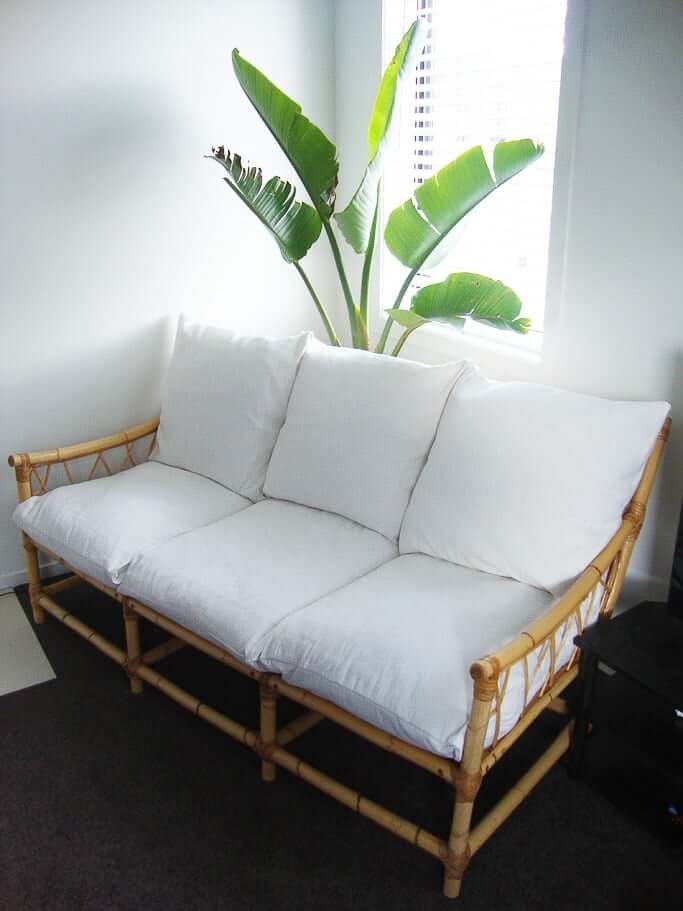 And it's totally good enough for me. Really. Just that fact that they weren't ugly and smelly anymore made me happy.
Sometimes, that is enough.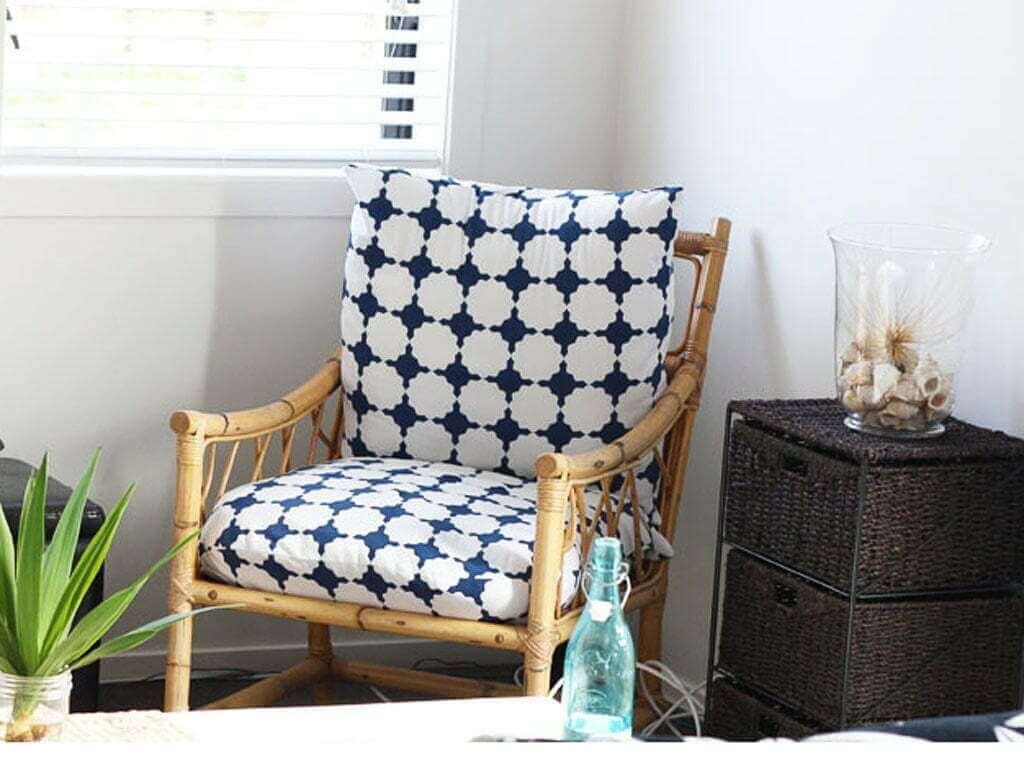 But they were more than that. They were clean and fresh and crisp. They made me feel like I was living on an island. (Forget that I already was.)
In the next flat we moved to, I made a new cover for the chair because I found a fabric I liked even better!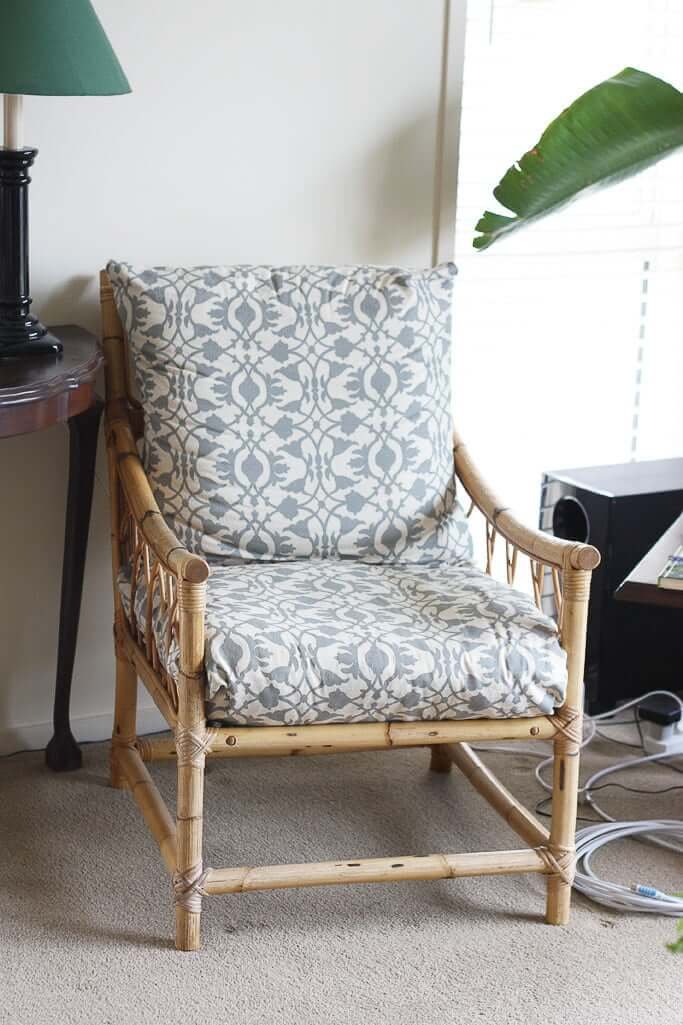 That was our favorite flat ever.
Lupe out.
---
If you'd like to see the other projects we worked on in this flat, here's how we solved 3 ridiculous small space problems!