Looking for the ultimate list of what to do (and what to avoid) in Glacier National Park with kids—or without? We're sharing the 20 best ideas with you here, along with lodging and airport tips!
---
Years ago, the owner of the company I worked for strolled into my office. He'd built a successful company and had "semi-retired"…which meant he still popped in every week.
Eventually the conversation turned to travel, and he talked about his cross-continental motorcycle trips. When I asked him the inevitable question about his favorite areas, he only mentioned one place:
"Glacier," he said. "Glacier was the most beautiful area, hands down."
He was the kind of well-traveled person you listened to, so I made a mental note that I needed to see this place. If you're picky like me about spending your free time in the best places you can, read on!
GLACIER NATIONAL PARK
Why Does It Take Some of Us So Long to Visit?
Having explored and lived outside of the United States for so long, traveling within my own country is something I kept putting off "until I had kids." The rationale was that I'd do all the crazy long-distance trips while I was single or before Matt and I had kids…
…and then, when bambinos were in tow, we'd stay a little closer to home. Makes good sense, right?
Well, this past September we finally got our chance! All the stars have to align if you want to make it to Glacier.
Why?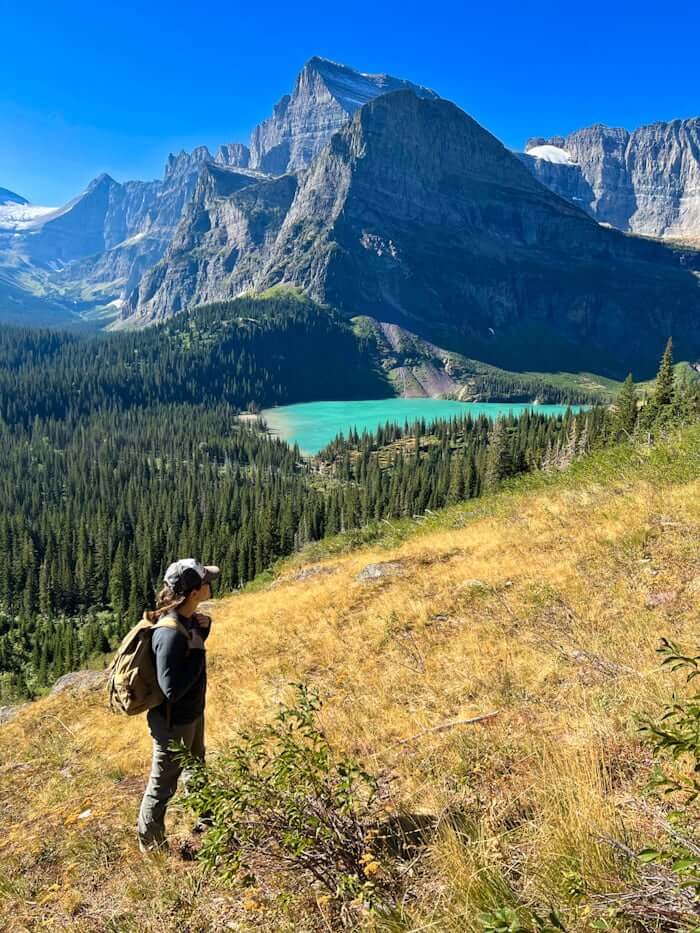 GLACIER NATIONAL PARK weather
Before You Go…
Before you pack your bags for Glacier, know this:
The window in which you can fully explore Glacier is a short window.
The Going-to-the-Sun Road opens and closes based on the Glacier National Park weather! And I don't think there's any point in visiting Glacier (at least your first time) without being able to access this road that goes right through the park!
You can also view the Glacier National Park webcams to see yourself how weather affects the different areas.
GLACIER NATIONAL PARK map
You Need to Understand the Lay of the Land!
Before we get into the list of the spots you don't want to miss while you're in Glacier, I think everyone needs to see a map and understand the lay of the land! 😊
You can check the official map of Glacier National Park, or you can look at this one I like a little better for an easy overview.
Here are the first 3 things you need to know:
The Going-to-the-Sun Road goes through the main areas of Glacier NP and will be where the majority of most well-known, easily accessible activities are.
There is a West Entrance and an East Entrance to the GTSR (Going-to-the-Sun-Road, which I can assure you is a pain even for fast typers like me to type out each time, so please memorize this acronym during this blog post because I'll use it again 😉).
There are several other areas outside the GTSR that are still part of Glacier National Park; they're just further from the main "hub."
(If you're familiar with Yosemite National Park, you'll understand #3. It's like Yosemite Valley vs. all the other areas of that "main hub," like Tuolomne Meadows or Hetch Hetchy.)
Alright, let's get into those 20 spots, tips & ideas you'll want to add to your "Glacier Bucket List!" 🤗
GLACIER NATIONAL PARK
#20: Hold Up Traffic on the Going-to-the-Sun Road!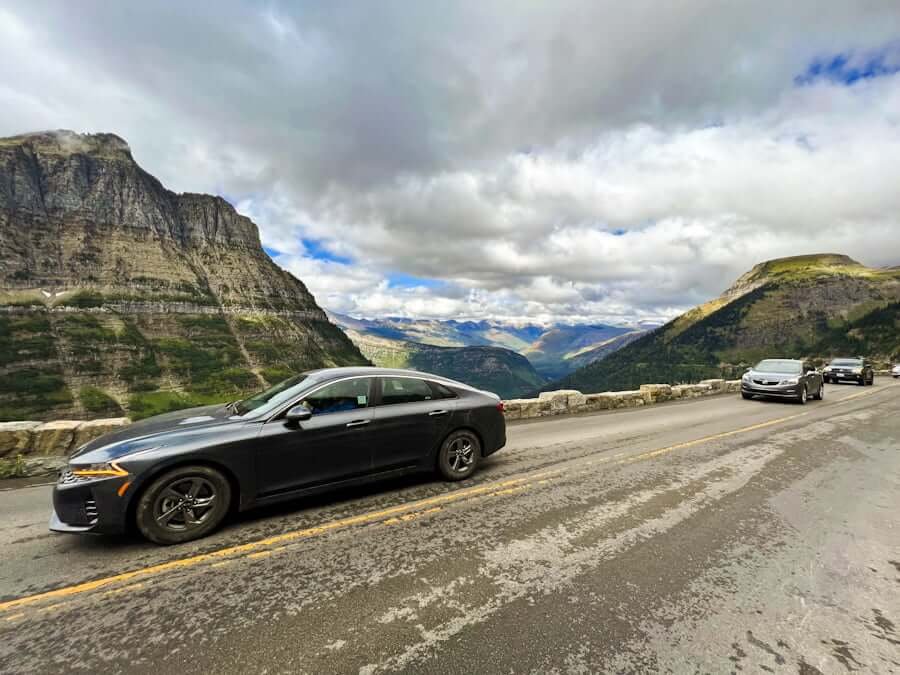 OK, so I don't really mean hold up traffic…😆
…but what I do mean is don't worry about people driving by!
Yes, there are "official" parking spots to pull off along the GTS Road, but some of the most stunning views are from some of the tiniest spots to pull over and enjoy the view.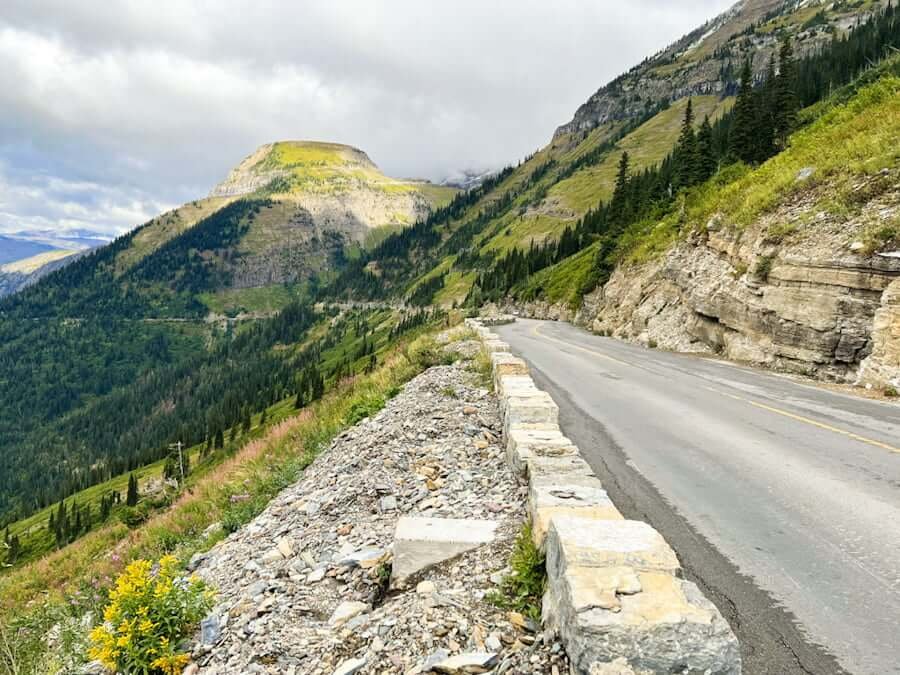 For example, to get the shots below, we were the only ones who could squeeze in here…and we enjoyed it for quite awhile! (The longer you can stay and drink in a view, the longer I think it stays in your permanent memory!)
Even when Matt and the girls went back into the car to eat their snacks, I sat quietly and just committed the view into my memory, to be easily accessed at any time in my future. 😊
This is another stunning spot we all stopped and enjoyed for awhile, with views of Bird Woman Falls.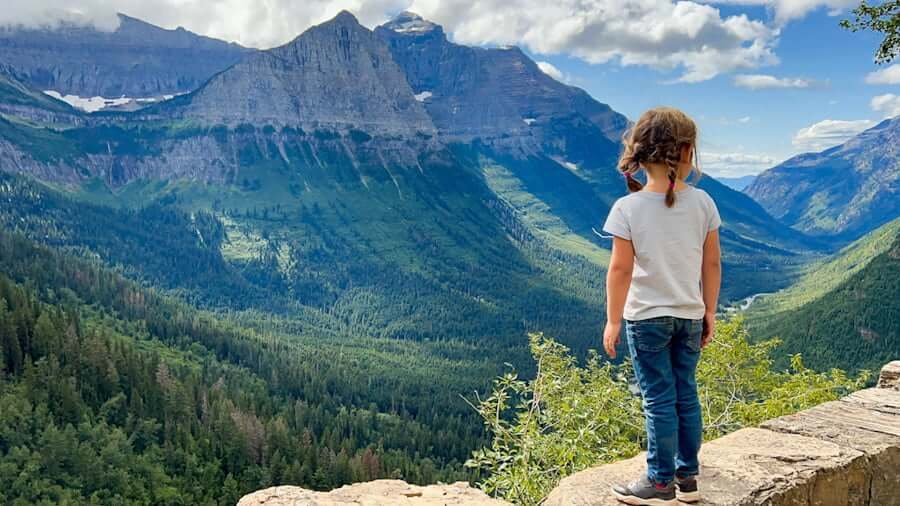 TIP: If you have a fearless child who wants to walk along the walls of a cliff, and you tell him/her they have to hold your hand while doing so, you may want to clutch their hand instead of holding it normally, like I did (and didn't realize I'd done that instinctively until I saw this photo 😂haha. Wrist grab!)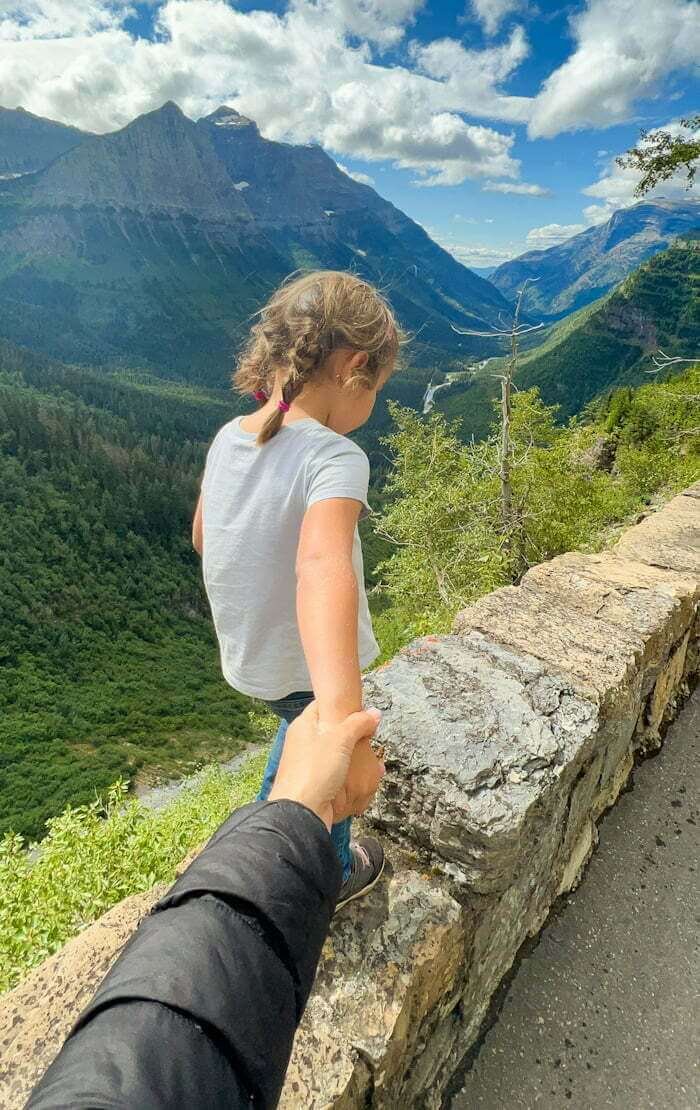 GLACIER NATIONAL PARK with kids
Epic Must-Do #19: Paradise Meadow!
You know, I NEVER saw this on anyone else's Glacier lists when I was doing my research before traveling, and it's a super easy spot to stop and explore. We just discovered it and stopped here on two different days, just to enjoy and soak up these views!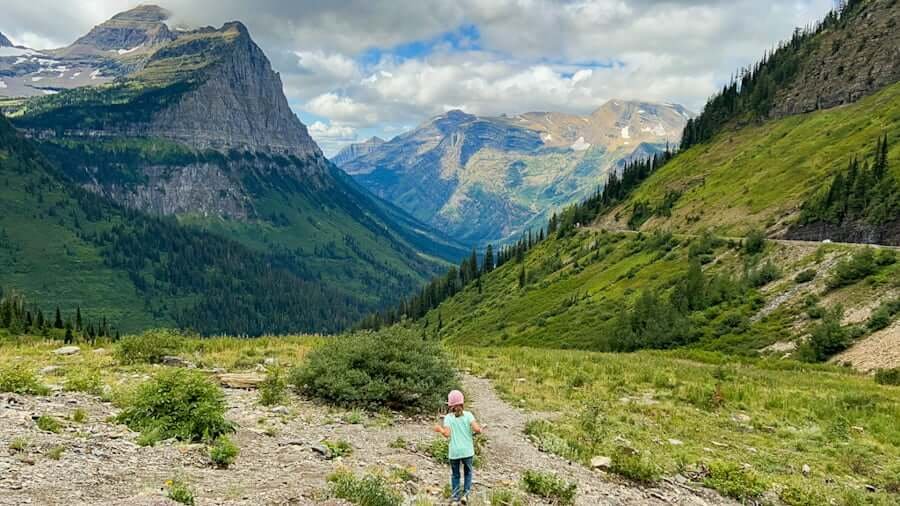 The girls also found their favorite hiking sticks here.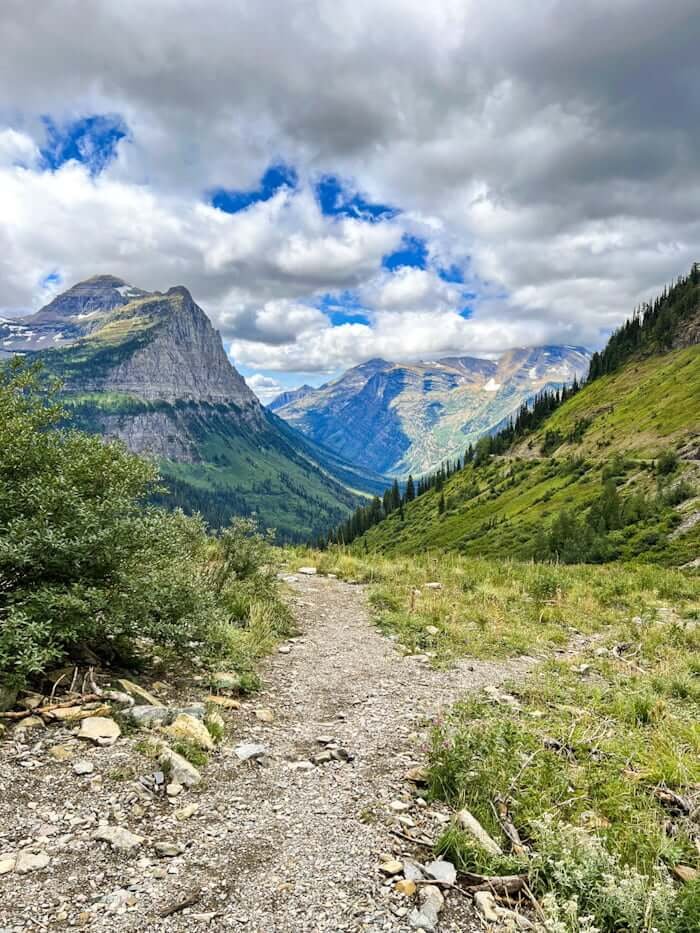 GLACIER NATIONAL PARK camping
Epic Must-Do #18: Rafting!
I'm always looking for places that let young children do the most difficult rapids possible! And I found it in Glacier!
They let our 5-year-old do the Class II and III rapids, which was fantastic.
We took a lot more videos than we did photos, of course, since you don't want to have your phone out during the real white water!
Even with the smoke blowing over from the fires in Washington and Oregon at that time, clouding up most of the skies, we still had a blast and would go again in a heartbeat.
GLACIER NATIONAL PARK lodging
#17: Make sure you find lodging with a view!
If I could pick the best Glacier National Park Lodging spot—hands down—it would be the Many Glacier Hotel.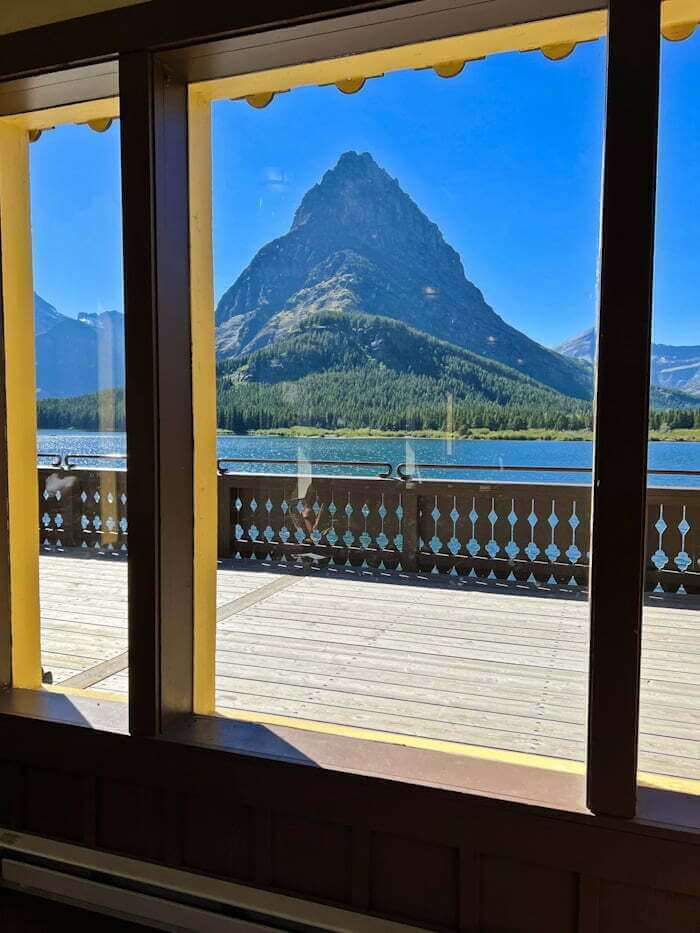 But here's the thing: you'd better be sitting, staring, & salivating at your computer 15 minutes before exactly 365 days of your arrival date, with your fingers primed to book, because
this hotel books out in a flash of lightning!
(I'll show more pictures and info about the Many Glacier Hotel and its area further down below.)
Sure, it's maaaybe possible you could get lucky with someone cancelling or get a random night opening, but we wanted several nights at a particular time and so next time, we'll have to make our plans that year in advance!
SO, because we couldn't finalize our plans until several months prior to September, we had to find alternative lodging…
…and lucked out with getting the very last cabin at this place! (We love getting places with kitchens so we have the option to make our own food…plus I love eating my first breakfast in my sweatpants and drinking a hot bevvy before having to go anywhere.😊)
We actually arrived to Glacier in the pitch black of night, so when we woke up in the morning, we woke up to views like this…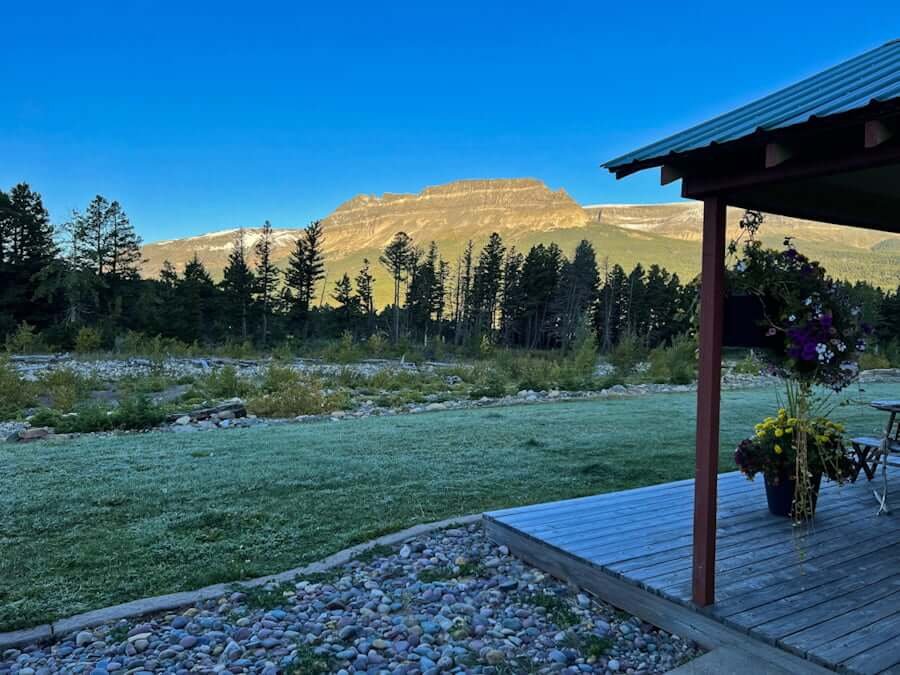 Not too bad for a "didn't plan 365 days in advance" lodging situation! 😄😄😄
Best of all, it had a creek in the back (where the girls could happily have spent three days without going anywhere).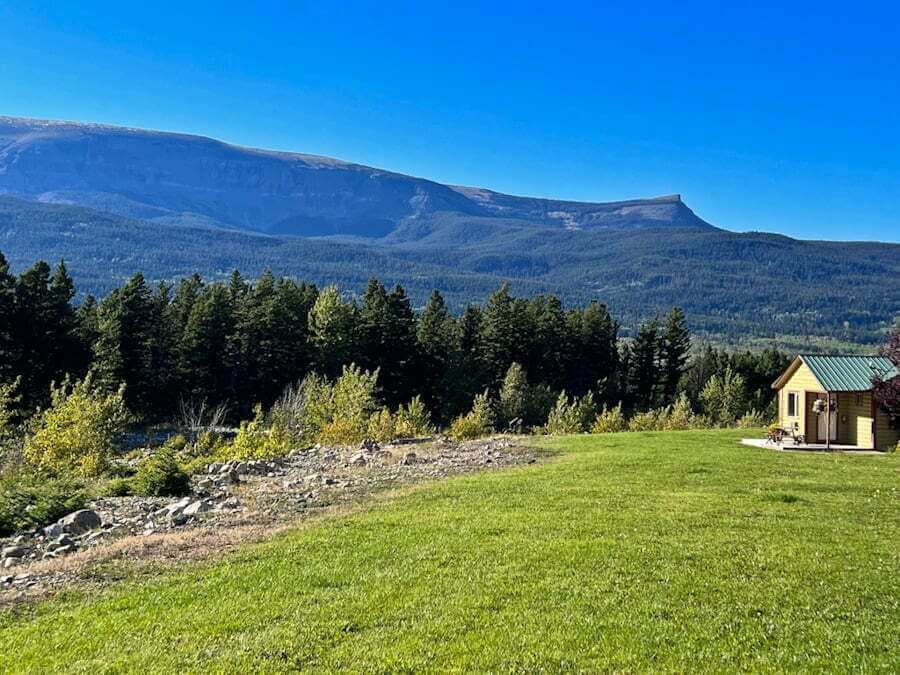 GLACIER NATIONAL PARK camping
#16: Camping vs Glamping?
Here's where we're going to be 100% honest with you with our Glacier insights. We don't accept free stays, we don't do partnerships with the national parks in exchange for positive advertising on our blog—we give you the REAL story here! 🤗
So here we go:
If you're wondering whether to go camping vs glamping in Glacier National Park, our family votes that you go for camping!
Why?
We love camping but decided to "splurge" and try glamping for our last night. (It worked out with our itinerary best because of the direction we were moving from our first and longest stay in Glacier.)
You'd think we'd be the perfect people for glamping because while we love roughing it and camping, glamping sounds like a posh, upscale version of that so it should be so much better, right?
Blech. At $500+ per night for a family of four, it was
so NOT worth it in Glacier!
In other places, I think glamping might be lovely but the glamping site in Glacier National Park is
Not remote enough. (Nothing like a highway of trucks honking all night long to make you feel like you're out in the woods, aye? Not to mention the train that blows it horn on all night, so you'll get woken by two areas…awesome!)
The sites aren't spread out enough. (Not only from each other but also their internal roads between glamping sites! The workers use golf carts to drive from site to site and one such road was about 6′ from my children's heads! THAT was fun cuddling them to get to sleep at night…"Truck horn? Check. Train horn. Check. Golf cart whizzing by our heads? CHECK!"
Overpriced. (I would have rather paid $500 for a quiet campsite and maybe $50 for this glamping site.)
So while we'll gush about everything else we did in Glacier, we're going to be 100% honest and tell you what to avoid!
We did enjoy the s'mores and conversations with other guests staying there!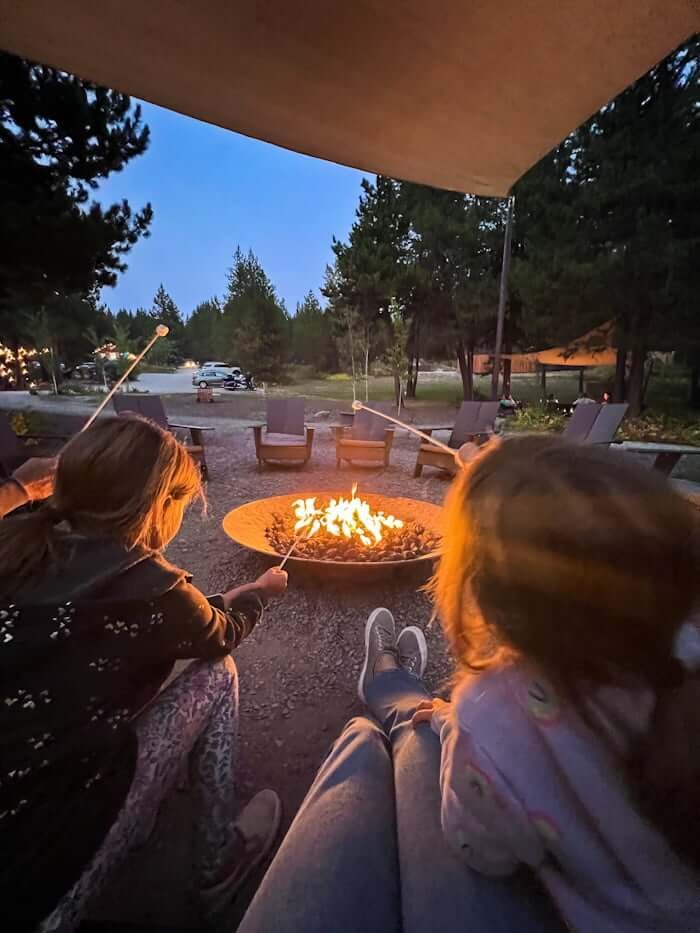 hikes in GLACIER NATIONAL PARK
Glacier Must-stop #15: Apgar Village
Apgar Village is a cute place to stop for a bit of shopping, a meal, or a huckleberry ice cream! (You'll see huckleberry everything as options in Glacier.)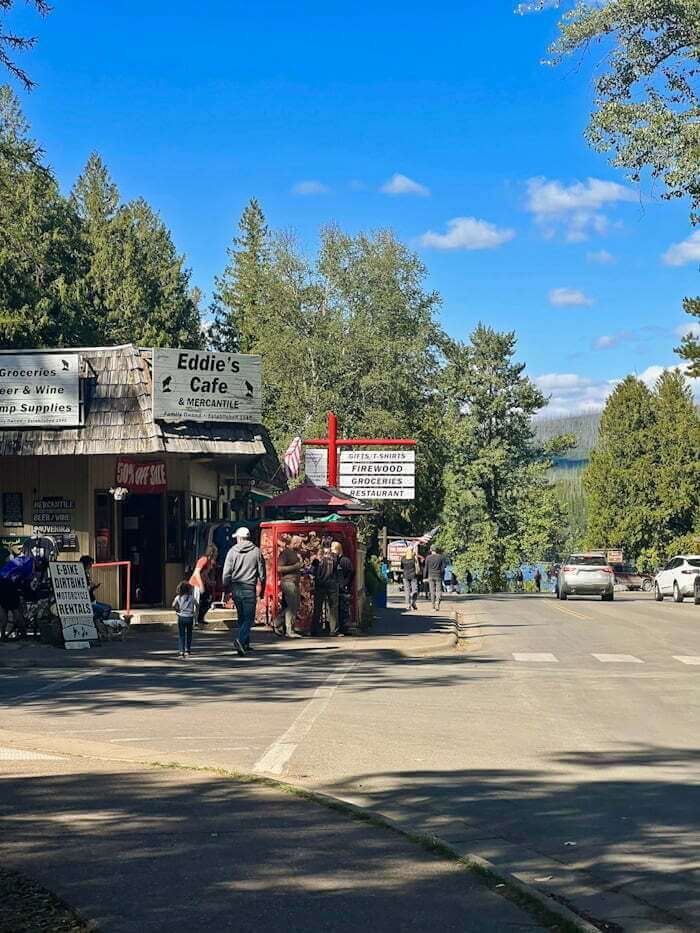 WHAT TO DO IN GLACIER
Epic Must-Do #14: While You're There, Rent Your Own Boat!
While you're in Apgar, one surprisingly affordable option is to rent a boat and cruise on Lake McDonald! Whether you're a couple, a family with kids or a large group, they have everything from motor boats to pontoons. (I think you might even be able to fish if that's your bent!)
GLACIER NATIONAL PARK HIKING trails
Epic Must-Do #13: Take a Hike!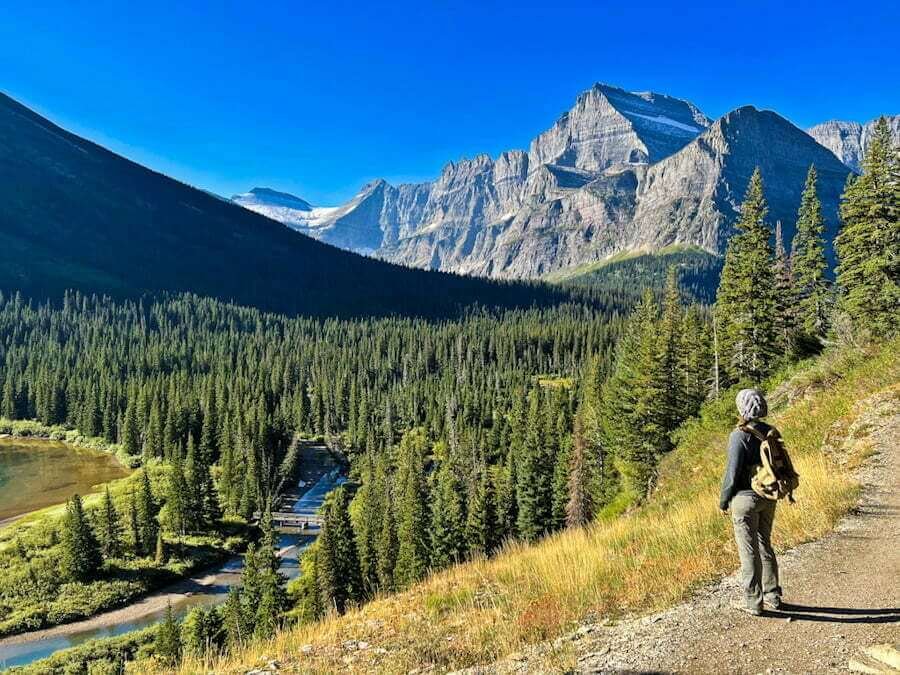 In this photo of us hiking above Lake Josephine, you can look down and see the boat departing the dock! (I'll talk about this further down, along with how you can best make sure not to miss the last boat of the day to get back to Many Glacier!)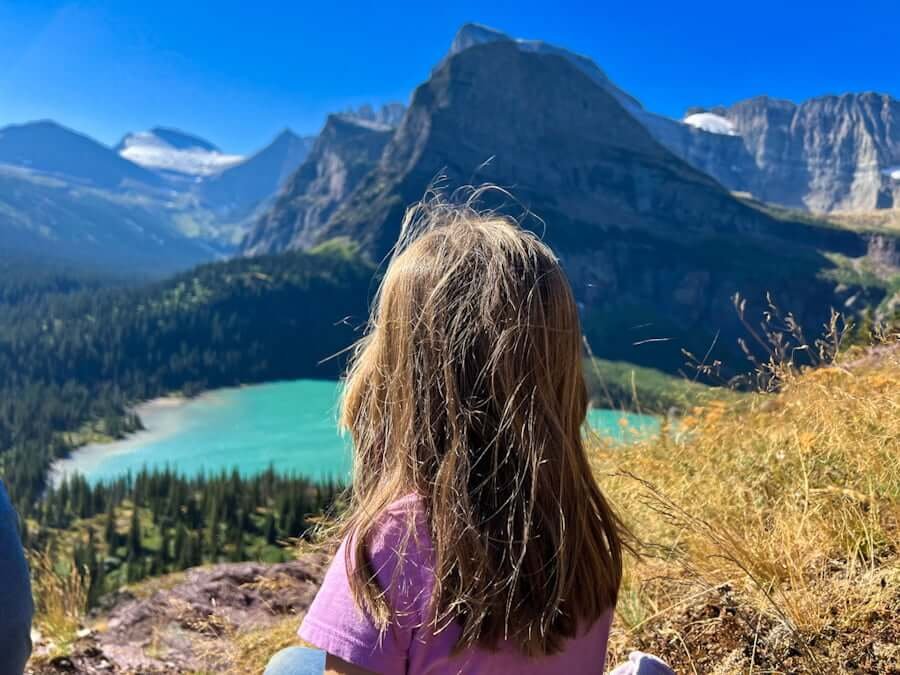 Some of the best hikes (and easy walks) you won't want to miss in Glacier National Park are
the walks along the lakes in Many Glacier
the Trail of the Cedars and Avalanche Lake
the Grinnell Glacier Hike
the Hidden Lake overlook
the Highline Trail
the McDonald Lake Trail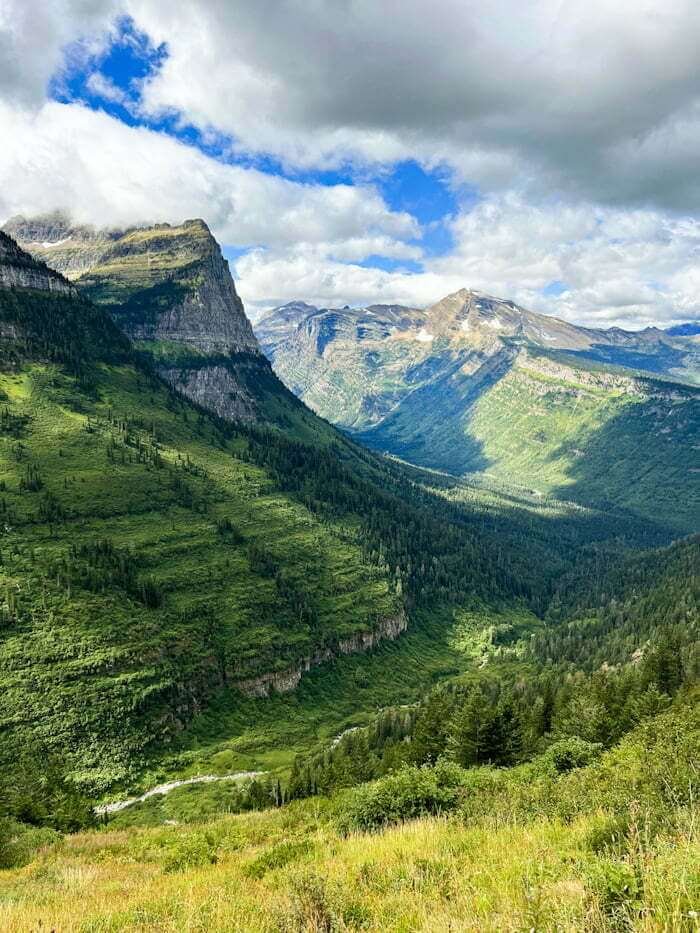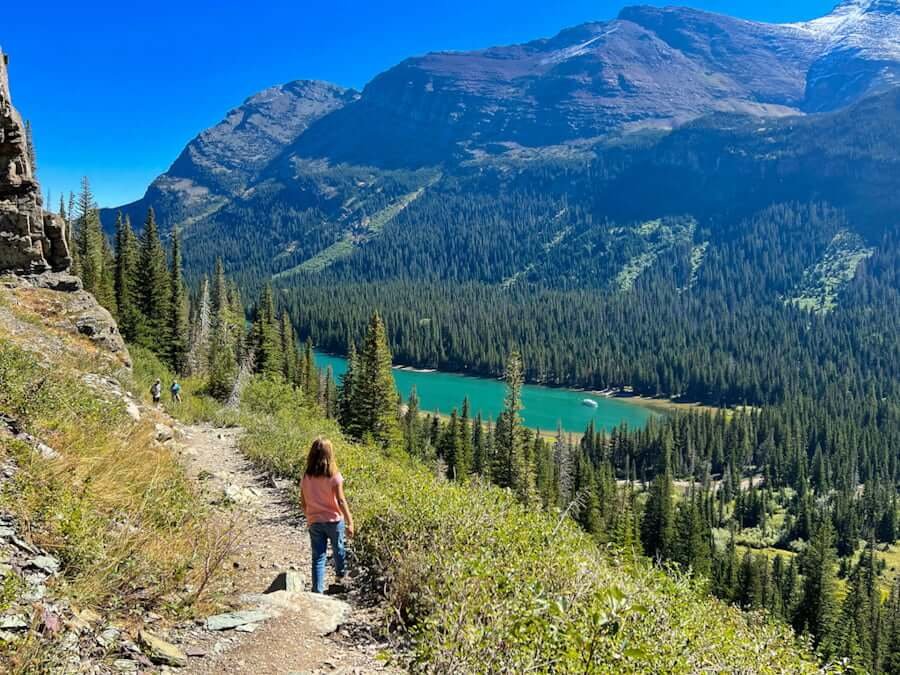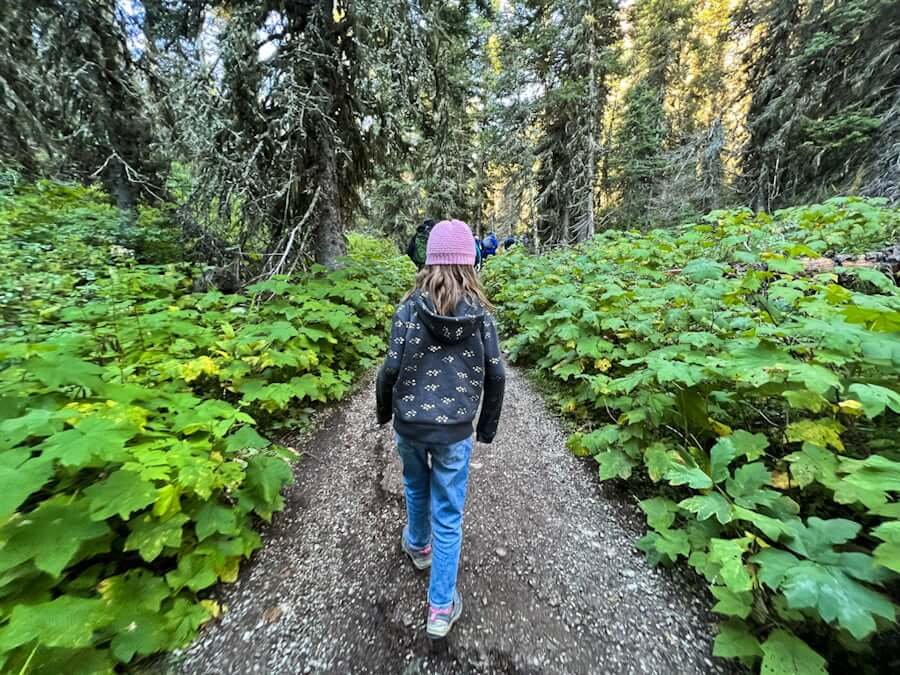 At the end of a long hike, our littlest one is thankful for the occasional shoulder ride from Daddy. (And Matt enjoys it because she sings to him when they do this.)
Guaranteed, you'll make memories in Glacier—whether you're hiking alone or with others!
GLACIER NATIONAL PARK HIKing
Don't Forget #12: Bring "Energy Pills" For All Hikers!
If you don't think you can get your young children to hike far, have you tried special snacks?
Yes, we are not above the occasional bribery!🤗
Here we have some dark chocolate covered raisins, which my kids had never had before. As attitudes shifted, we started calling them Energy Pills.
"Oh wow, that's an interesting sound you're making! It sounds like you need an Energy Pill!"
(And yes, I'll refer to whining as "an interesting sound," as if I've never heard it before.🤣)
The frown would turn into a grin, they'd open their hands (or sometimes their mouths, like a baby bird), and Mama & Daddy had successfully bought themselves another five minutes.
Many times, they forget about the snack and enjoyed the hike…but we're there with this if they start to struggle. 😉
(Mama and Daddy ate our fair share of energy pills too. We're only human.)
GLACIER NATIONAL PARK TRAVEL TIPS
#11: Have a summer snowball fight at Logan Pass Visitor Center
Logan Pass Visitor Center is on all the lists. I think it's because there's a popular hike here (Hidden Lake). It's on the Going-to-the-Sun Road. Makes sense, but you have to get there early for a parking spot.
However, we got there on a day it was snowing, which my California-born daughters thought was just the coolest thing ever!
So it was freezing, and we had a prolonged, giggle-filled snowball fight that took place on three levels at Logan's Pass…and they didn't stop talking about it for days.
GLACIER NATIONAL PARK HIKING
Epic Must-Do #10: Trail of the Cedars
By far the easiest Glacier National Park hike all around (in skill level required, accessibility, and amount of parking available!) was the Trail of the Cedars.
EVERYONE can do this hike, from young to old!
The trail is mostly flat (our photo below left shows you the start of it), has bathrooms both at the start and the midway point…plus benches along the trail to rest on, as well as a creek, small waterfalls, and natural playgrounds for kids (read: fallen logs and rocks)!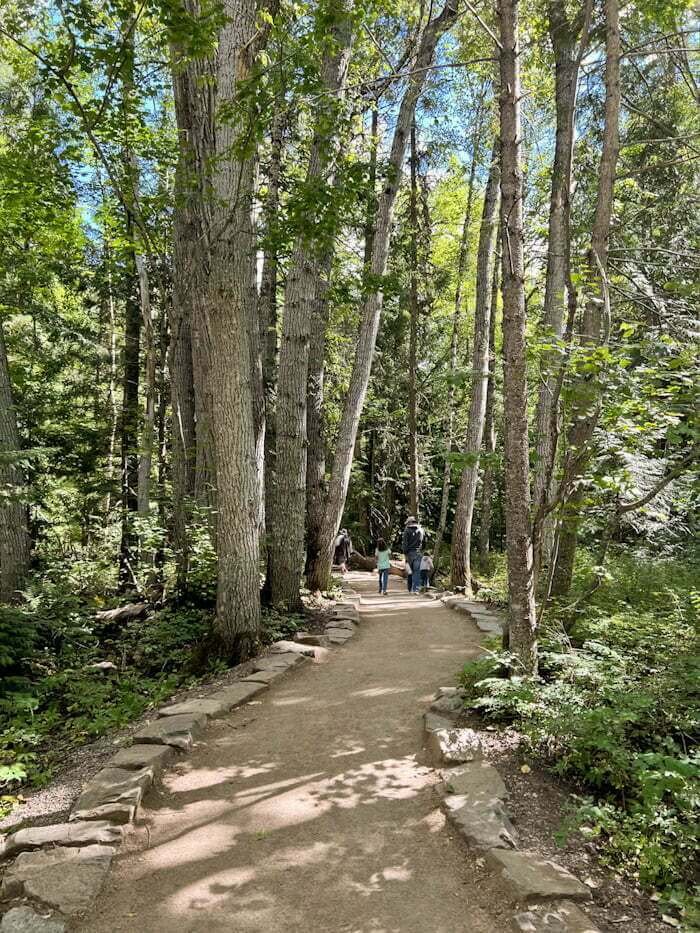 Because it's so easy for all ages, the Trail of the Cedars can get quite busy. There's a large parking lot on the main road, but if it's full when you get there, don't despair! There are roads leading back behind the trees to other parking areas where we were lucky enough to find a spot (because we didn't get here until later in the day, since we'd been enjoying some of the fun activities further down!).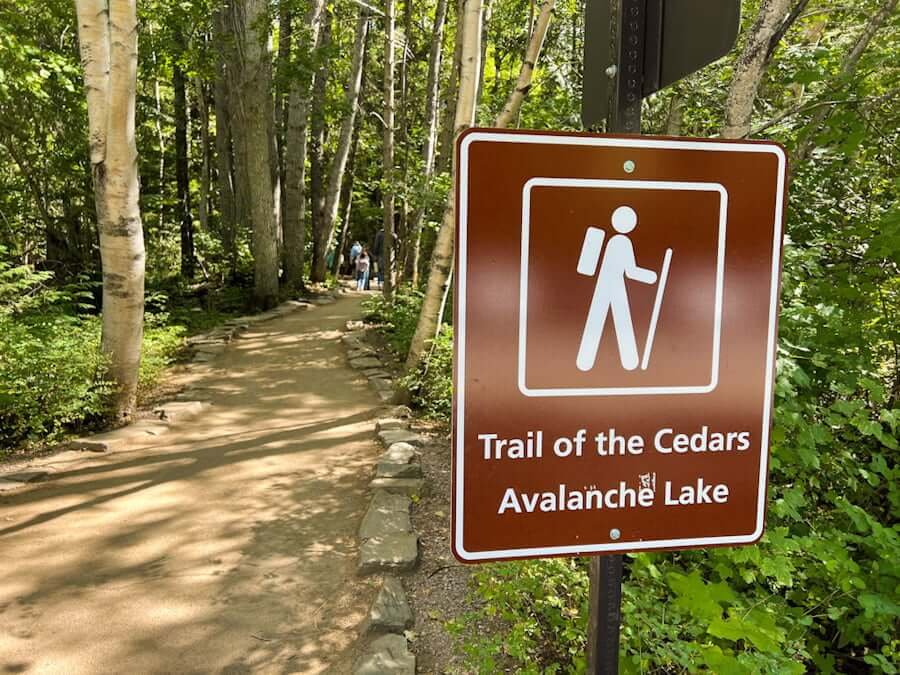 After the tougher hikes and excursions we'd made our kids do, this was a cake walk for them! They ran most of it, as you can see.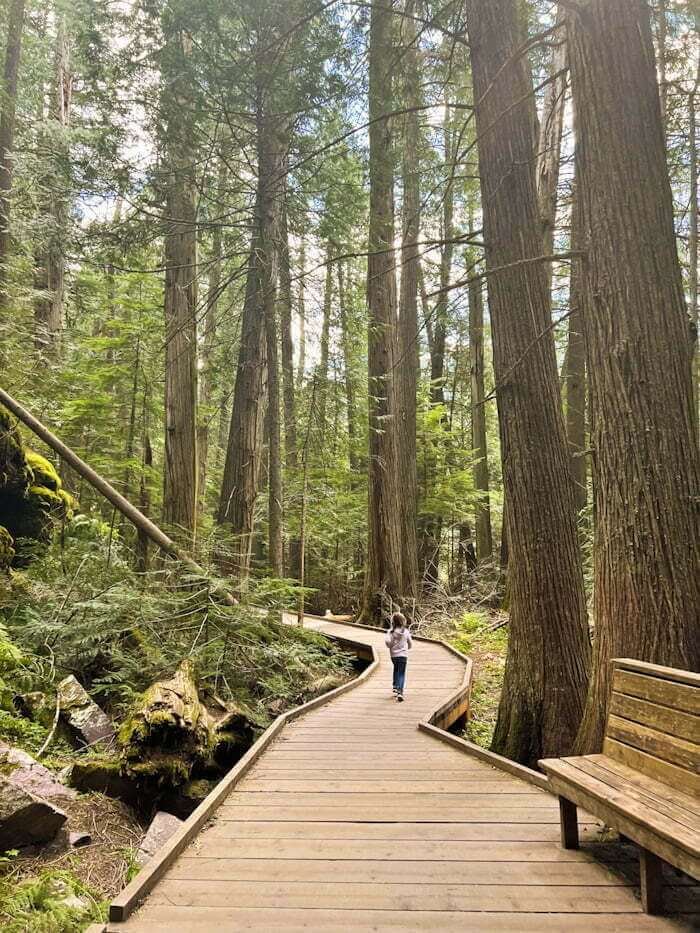 Epic Must-Do #9: Free Play!
Whether it's in the woods, in the river, in a creek…there are so many fun spots you can find and make "your own" in Glacier!
We ate picnics with views like this…
…explored "the great outdoors" and felt totally alone in Glacier National Park in this spot where we climbed over logs, found the best walking sticks, skipped rocks, and had snacks!
Our daughters caught frogs, built dams, skipped rocks, explored creeks and offshoots, took off their shoes almost everywhere we stopped…and we enjoyed experiencing it all with them!
Not traveling with kids? Who cares?!? Refresh yourself by getting in touch with your inner child! 😄💃
#8: Take a cafe break in West Glacier!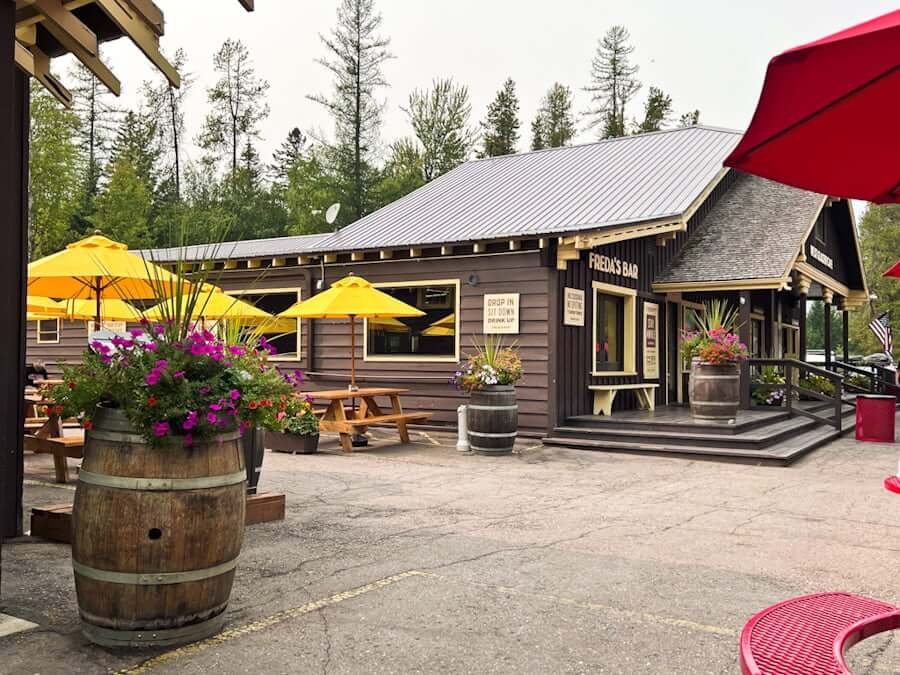 With all this time out in nature—often not seeing another soul for awhile—it's good to re-enter civilization every now and then. I find it helps us fully appreciate the remote!
They even had a mini golf course!
Note: When you see Matt and Jess getting chips + beer for a snack, you know they've hit a specific energy level. 🤣
#7: Complete the Jr Ranger Program!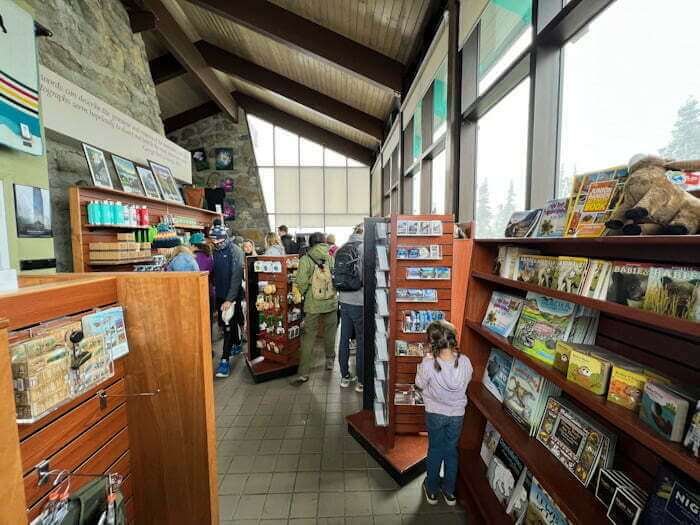 If you have kids, you must do this! Our girls have completed the Jr. Ranger Program at every single national park we've been to, and they love it!
The badges they earn in each location are legit! Carved wood and awarded only to them after an official Park Ranger going through their books and "swears them in!" (Just go to any visitor center in the national park.)
Even if your child can't read or write fully yet, there are fun things for them to do and hunt for. Our daughter completed several when she was only four years old, in places like Zion, Arches, Canyonlands, Joshua Tree, and the Channel Islands.
Honestly, I think all the rangers are looking for is that kids were genuinely engaged and learning! Just talking to a young child will tell them that within a minute (same for the older ones!).
Must-Do #6: Red Rock Creek!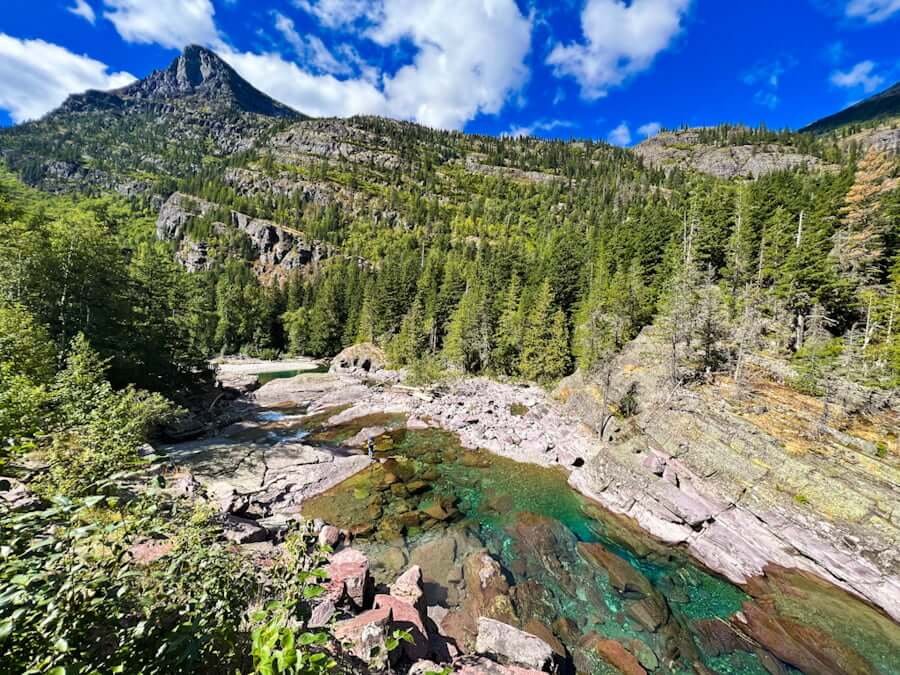 We just discovered this spot while we were in Glacier, and we went back twice because it was so lovely! (And easy to get to!)
The rocks are red, sure…but it was the surprisingly clear blue water against those red rocks that made it stand out!
Plus, if you get quite close to the edge of some of the pools, you'll be shocked at how deep they are! And I mean suddenly deep! This would be a great swimming spot on an unusually hot day in Glacier. (While we were there the second time, one kid tried jumping in but soon clambered out, freezing.😆 It is, after all, glacial water!)
Along the Going-to-the-Sun Road, the pulloff for Red Rock Creek looks like just a simple, unexciting spot but you just gotta park, then go explore! Don't stay up on the observation stand—climb down the rocks like the adventurer you are and have a blast!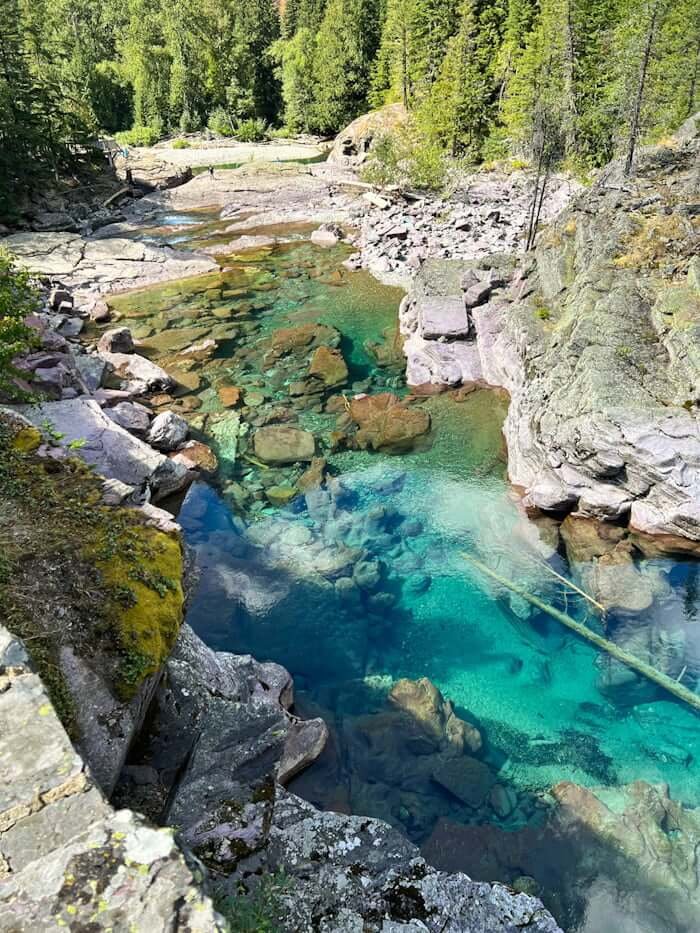 MANY GLACIER
Epic Must-Do #5: Get Your Buns to Many Glacier!
Why are some people tempted to skip Many Glacier? Are they lazy, time-constricted, or just hate beautiful places? 🤣 Who knows?!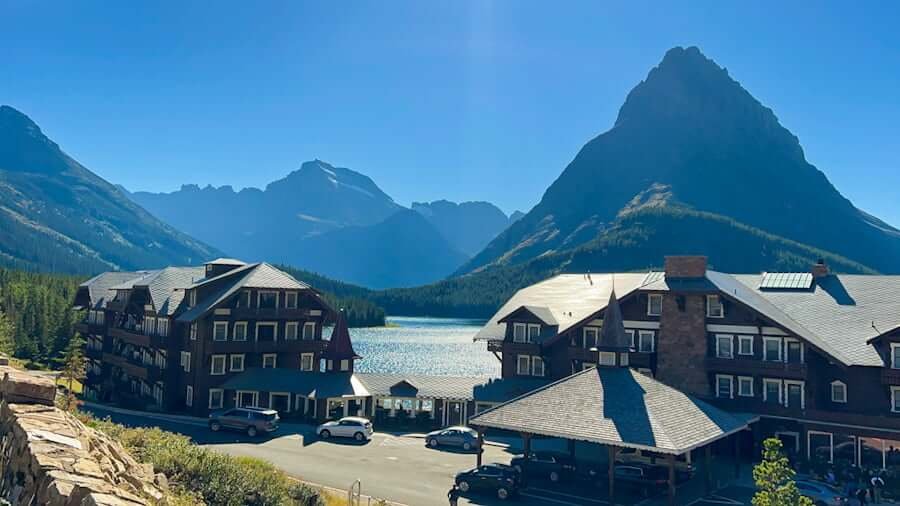 "Is Many Glacier worth visiting?"
If you stay outside of Many Glacier (or the entire east side of Glacier National Park), and your time is limited, you may be tempted to skip Many Glacier because it takes extra time to get there.
Don't! It's worth the extra drive!
Not only is the famous Many Glacier Hotel (which I mentioned in #17 earlier) located here, but there are so many unique activities to do here that were so much more unique and memorable than any others in Glacier National Park.
"Is Many Glacier INSIDE GLACIER NATIONAL PARK?"
Yes! If you consult the map we shared earlier, you can see that Many Glacier is still inside Glacier National Park (and one of its most beautiful areas, we think!).
"How do you access Many Glacier?"
Although some maps make it look deceptively complicated, it's actually quite simple on the roads if you know what you're doing.
It only takes an extra 29 minutes to get to Many Glacier from the east end of the Going-to-the-Sun Road! (Plus, you get the scenic drive along Lower St Mary Lake and Lake Sherburne until you arrive at Many Glacier.)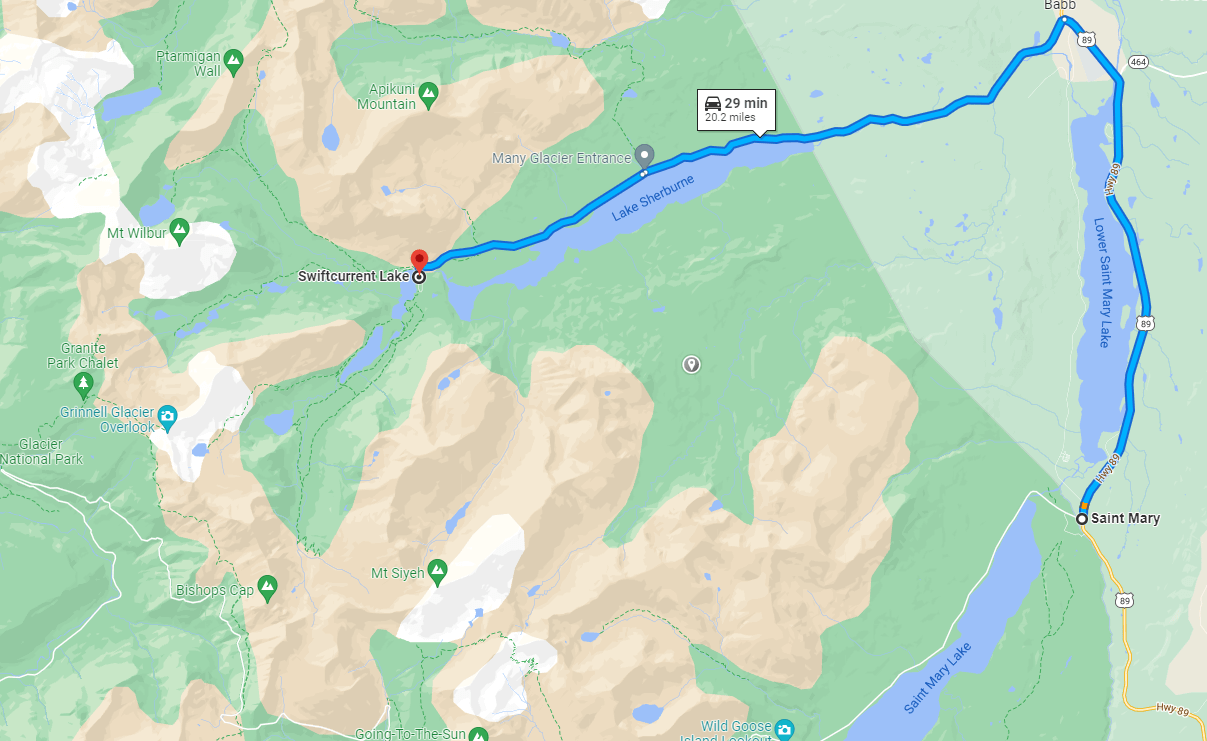 "What is the Many Glacier Hotel?"
The famous Many Glacier Hotel is located on the edge of Swiftcurrent Lake, surrounded by stunning mountains. (It may not be New Zealand, but it sure looks like parts of it…plus a little dash of Switzerland!)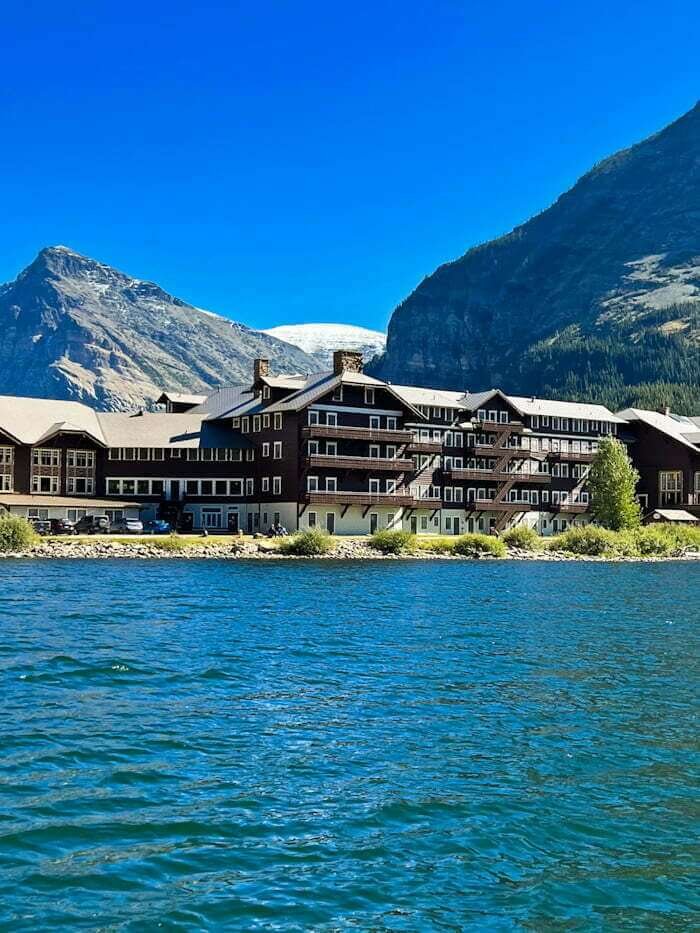 MANY GLACIER HOTEL
Here are two views to give you an idea of the Many Glacier Hotel layout: 1 view from the water…
…and the view from land, looking towards the hotel and past it to the almost-surreal lake and mountains of Many Glacier!
I took these photos at the high point of the day, which is the worst time for photography, and it STILL looks incredible. (Just imagine being here early morning or at sunset…when of course I didn't take any "professional" style photos because, well, I can only do so much, honestly! Leaving my fancypants camera at home was one of my luxuries on this trip!😂)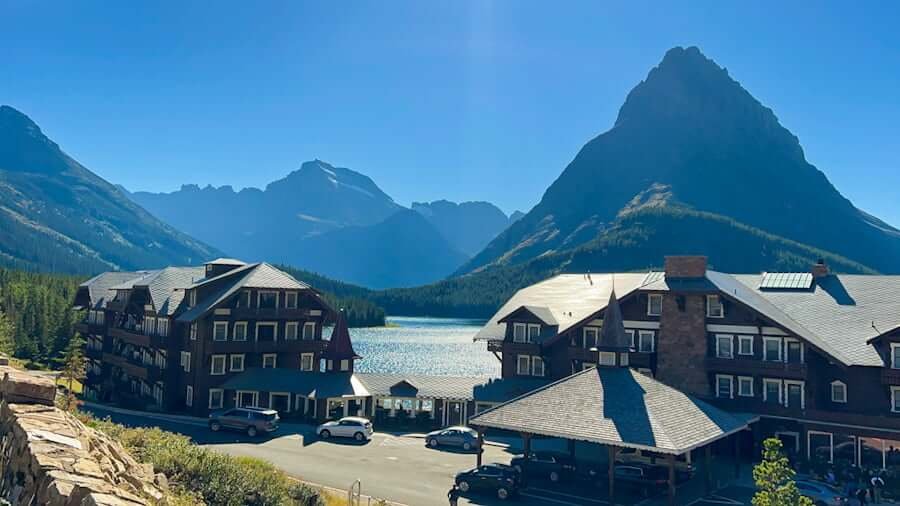 Is there a Many Glacier Boat Tour from the lodge, you ask…and is it worth it?
MANY GLACIER BOAT TOUR
Epic Must-Do #4: Many Glacier Boat Tour!
I'm typically not a big "I need to cruise this lake on a boat" kinda gal, because you generally get better views from other spots.
However, this isn't your ordinary boat tour…
This Many Glacier boat actually takes you somewhere you're going to want to go!
Here's the deal: you can hike around the lake to get to some of the most popular Glacier hiking trails (such as Grinnell Glacier, which I'll talk about further below!)…
…or you can take a historic, short boat ride instead! And even though I love to walk (especially around lakes!), we all highly recommend paying for the boat ride!
---
➥ BIG TIP: Book your boat ticket in advance because the departure times you'll want sell out weeks beforehand, if not months!
---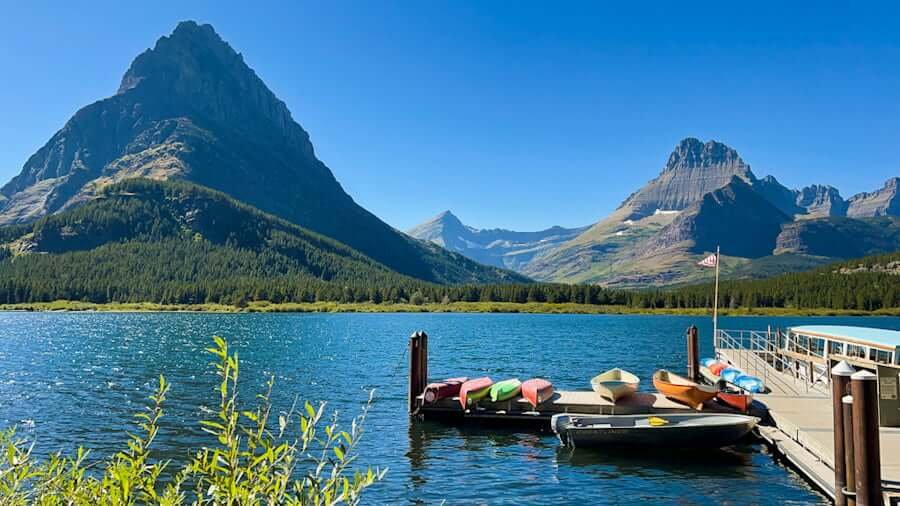 The absolute best time of day to cross this Many Glacier lake was early morning (especially for photos, as you can see below compared to the mid-day photos earlier where the mountains aren't quite as "lit up" as they are in the wee hours)!
Plus, if you want to continue to Grinnell Glacier, like we did, you'll want to maximize every moment of your day (and without getting left behind by the evening boat!).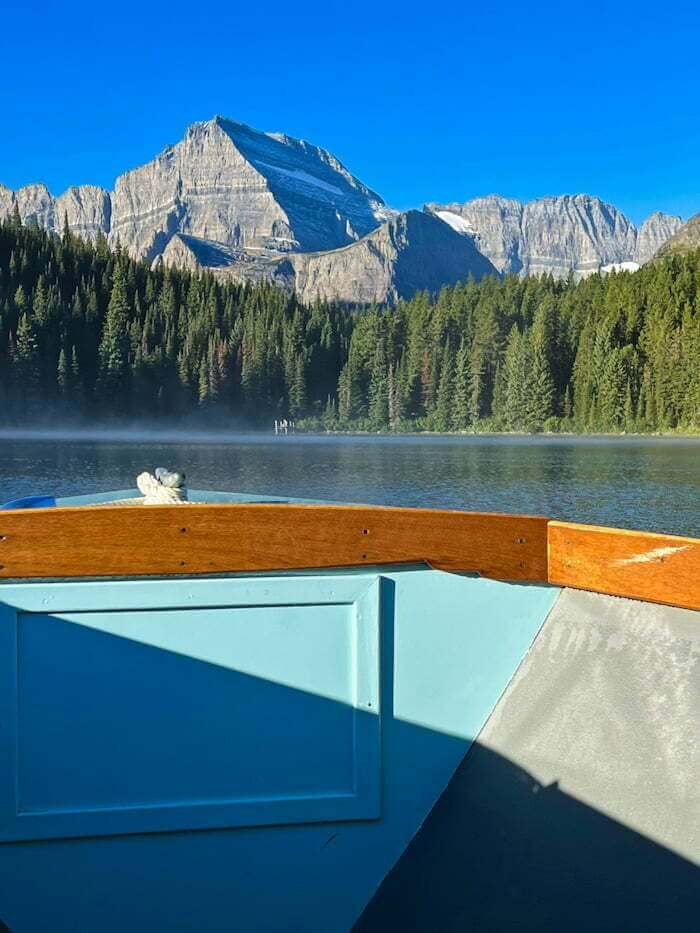 Many Glacier Boat Tour
Epic Must-Do #3: Go Even Further via Lake Josephine!
If you've made it across Swiftcurrent Lake, why not go even deeper into the backcountry with a ride across Lake Josephine? Here's the boat preparing to leave the shore and take us across our second lake of the morning…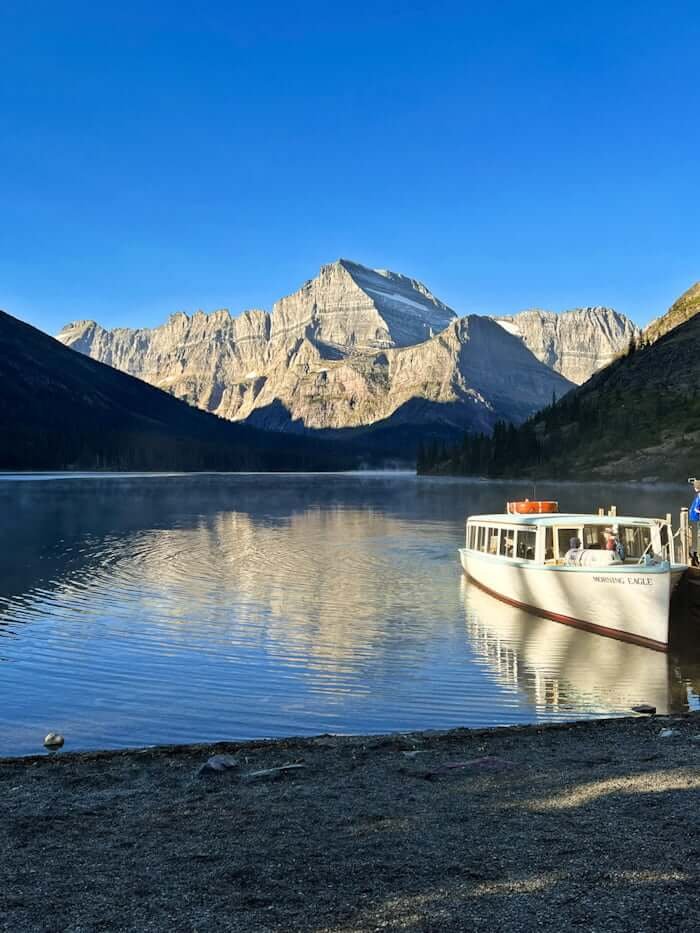 Will you believe when I say that my only sharing this many photos of our boat adventure with you is massive proof of my expending four tons of self-control?
I'm chuckling at myself because I am so "meh" about boats usually…BUT THESE WERE SO COOL! They're historic and quaint and my daughter and I got terrific early morning laughs reading some of the postings behind the captain's seat.
(Also awesome: both our boat captains heading out were young women. Did I suggest to my daughter that someday she could have this job? It's possible…although in 40-degree temps she may have just given me A Look that only 8-year-old girls can give.)
Here's a view of the boat cruising back along Lake Josephine after dropping off its passengers.
I took the below picture on our 4th Many Glacier boat ride of the day, and you can see for yourself that our 5-year-old is all but glued to the window. Every view was different, depending on the time of day and side of the boat we rode.
(Speaking of choosing sides, just pick left or right and stick with that on both the way out and the way back, and you'll see it all!)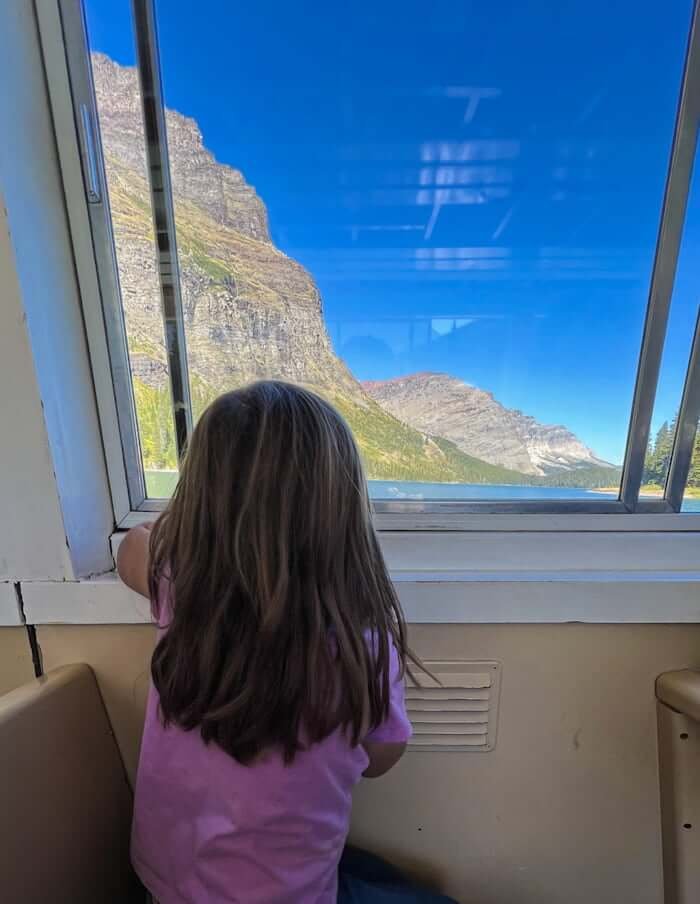 GRINNEL GLACIER BOAT TOUR
Epic Must-Do #2: Grinnell Glacier Hike!
I wanted to make the Grinnell Glacier hike #1, but you'll see that (in the end) it was ever-so-slightly edged out (but only slightly).
PEOPLE. (Note the all caps, which equals "Jessica is very, very serious + passionate about this one.")
This was my #1 thing I reeeeeeeally wanted to do in Glacier (even if I had to do it alone!), and it surpassed even my difficult-to-please hiking expectations!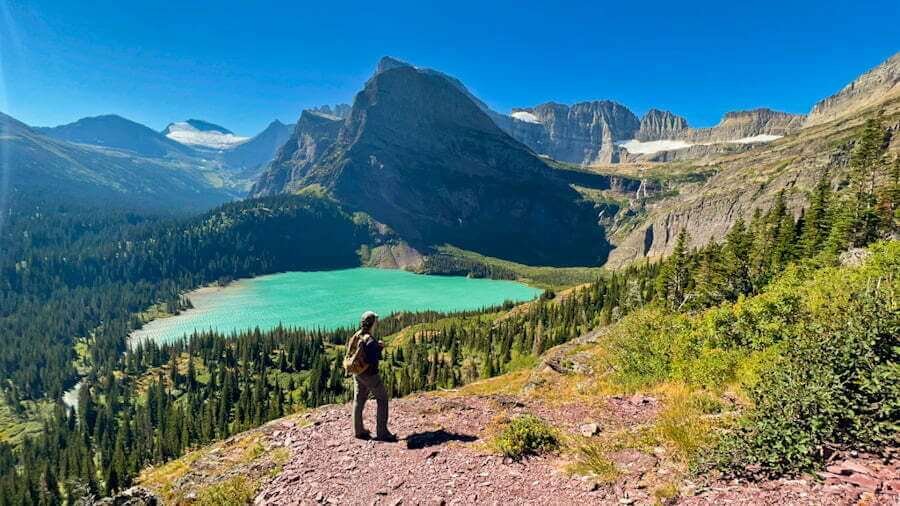 You know that annoying thing people say, "Pictures don't do it justice!" EYE ROLL.
And yet, I feel like saying that annoying thing right now! 😂🤣
Honestly, I can't tell you all about the Grinnell Glacier hike in this post. I'll have to write another story just about our experience on this Many Glacier trail. But it's hard enough to narrow it down to just three photos to insert here!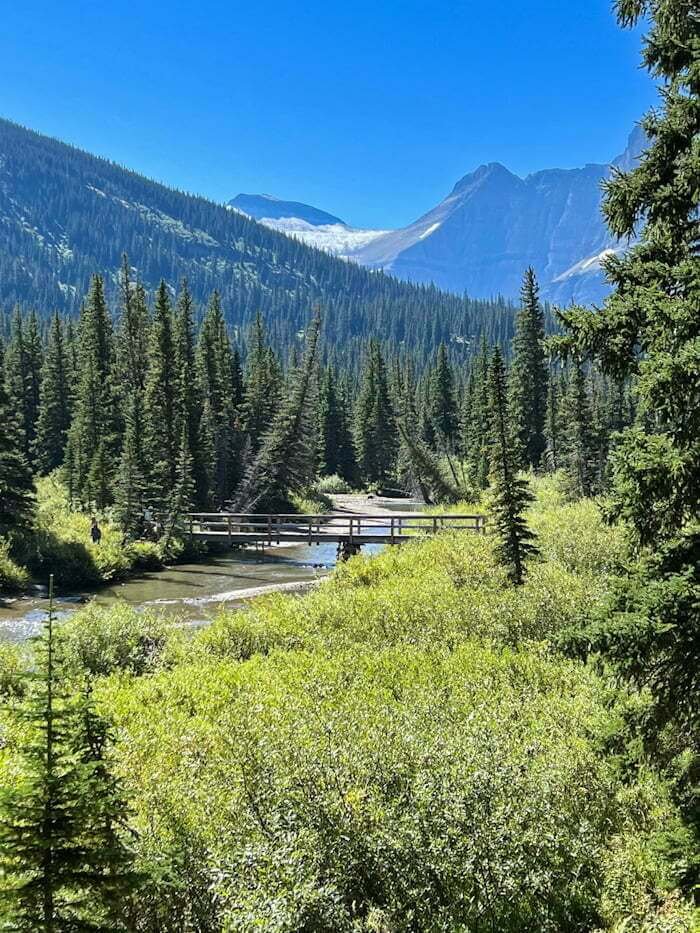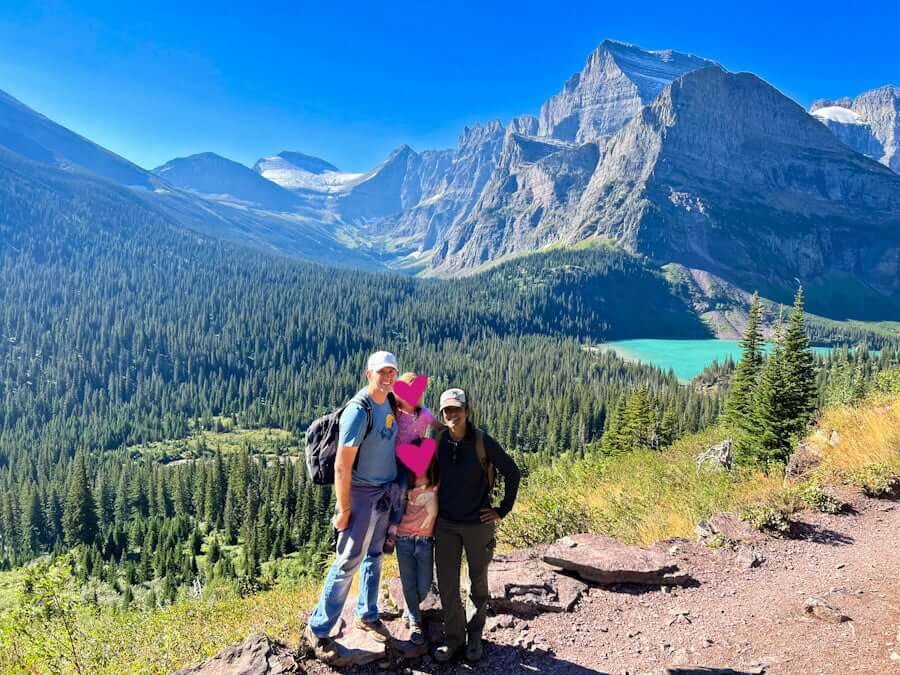 MANY GLACIER HOTEL
Epic Must-Do #1: Have a glass of something at the Many Glacier Hotel!
Oh man, I had to do it.
I had to make "relaxing at the Many Glacier Hotel with an adult beverage" #1 on this list. (Because if you're a parent, you deserve it!)
After our day crossing lakes and scaling mountains, we made it back to the Many Glacier Hotel and were ready to sit.
Only their small cafe was open, but they sold snacks, drinks for the kids, and—most importantly for the adults—el vino. We grabbed the best red they had for sale and made our way up to the sitting areas upstairs.
Luckily for us, someone had just vacated the huge, plush corner view area with two couches. Our family of four sat down—girls on one couch with their snacks, parents on the other with their bottle and paper cups—and enjoyed the post-hike lull with some of the greatest views we've been able to enjoy back in civilization after such a backcountry adventure.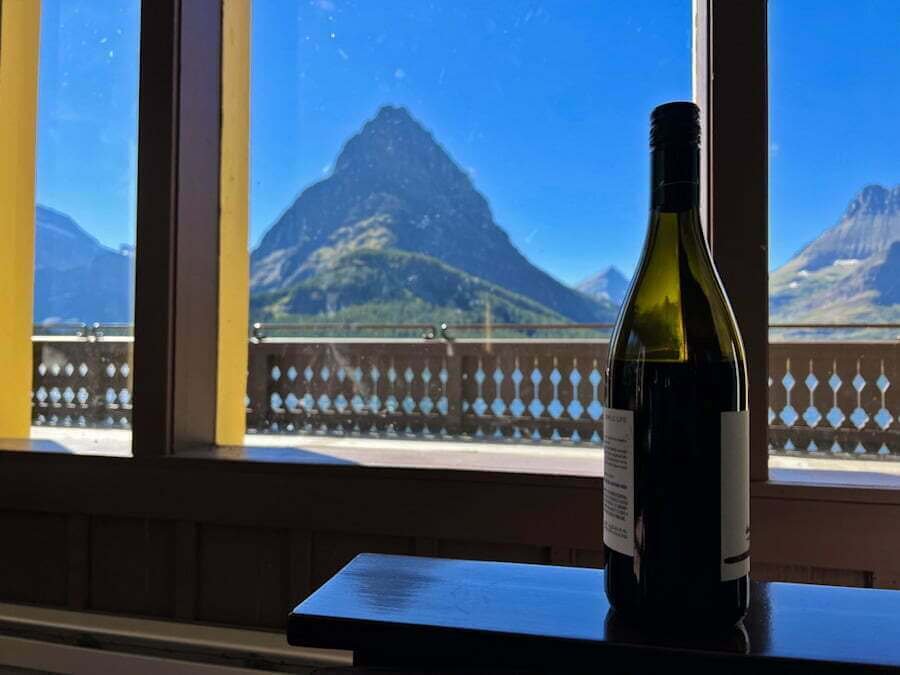 GLACIER NATIONAL PARK airport
BONUS TIP #21: Airports Near Glacier National Park
Airports near Glacier National Park is a hot topic, so I wanted to mention it.
Because we were staying in St. Mary, we didn't fly directly into the Glacier airport. We flew into the quiet, unassuming airport in Great Falls, Montana, got our car rental, and drove several hours to our cabin shown earlier.
However, the most-used airport is the Glacier Park International Airport (FCA). It's the closest to where most people stay on the west side of the park and makes total sense.
I'd fly into FCA next time.
But this time, our situation was unique in that
We were staying in St. Mary.
We weren't starting and ending our trip in Glacier National Park, so we needed a car rental that we could not only pick up at the right airport but deliver to our end destination without it being exorbitantly expensive. (Sometimes this is more difficult than you could even imagine to be possible, because it depends on so many different factors.)
This resulted in our flying from LAX to Great Falls, and while I wouldn't want to do that again (because of the extra hours of driving), it was exactly what we needed to do on this trip.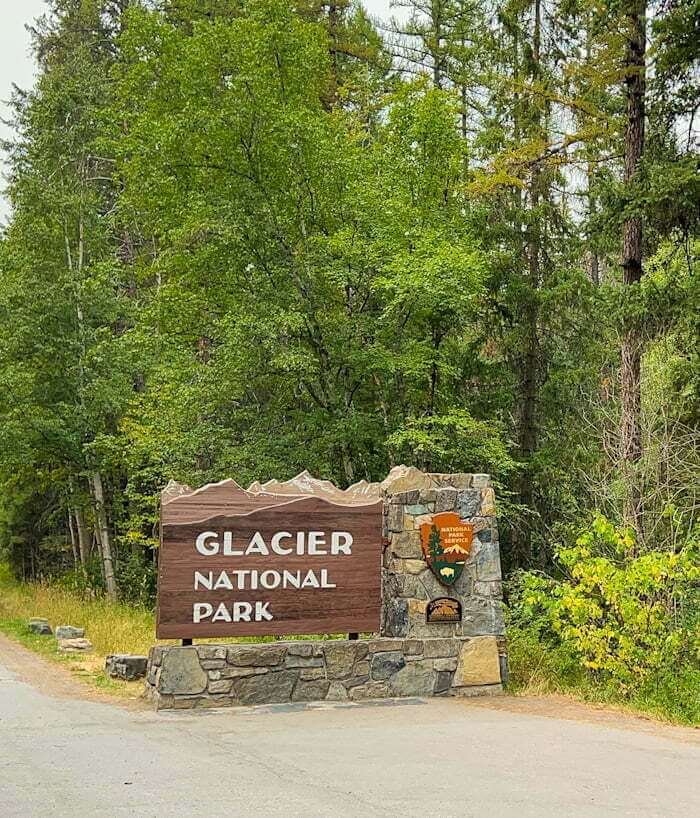 Next, I'd love to take you on the Grinnell Glacier hike with us in photos, but for now, check out our Adventure page, currently updated with one of our favorite (and least-known) spots in California!
PS: You can also view our genius home hacks and join our "Insiders" list for freebies!