Here I'm sharing our itinerary (plus Montana de Oro beach recommendations!) from our first trip to this state park, which was on the clearest, perfect, most gorgeous day ever—thus we fell in love FAST! 🥰
Thus, we've returned to Montaña de Oro almost too many times to count for a good dose of rejuvenation or when we've just needed an eyeful of stunning natural ocean beauty after living in California suburbs. 😊
(We share more full info on Montaña de Oro State Park is in this post!)
There are a number of beautiful beach areas, so we'll share those along the way and end with our recommendation for you on the EASIEST beach to get to in Montaña de Oro. (And what to explore there!)
MONTANA DE ORO BEACH trip
8:32am: Stopping to Take Pics Back Towards Morro Bay!
As you're heading south towards the main Montaña de Oro parking lots, there's an area full of dunes and trails, and a viewpoint from the road looking back towards Morro Bay! (The closest town to Montaña de Oro and where most people stay.)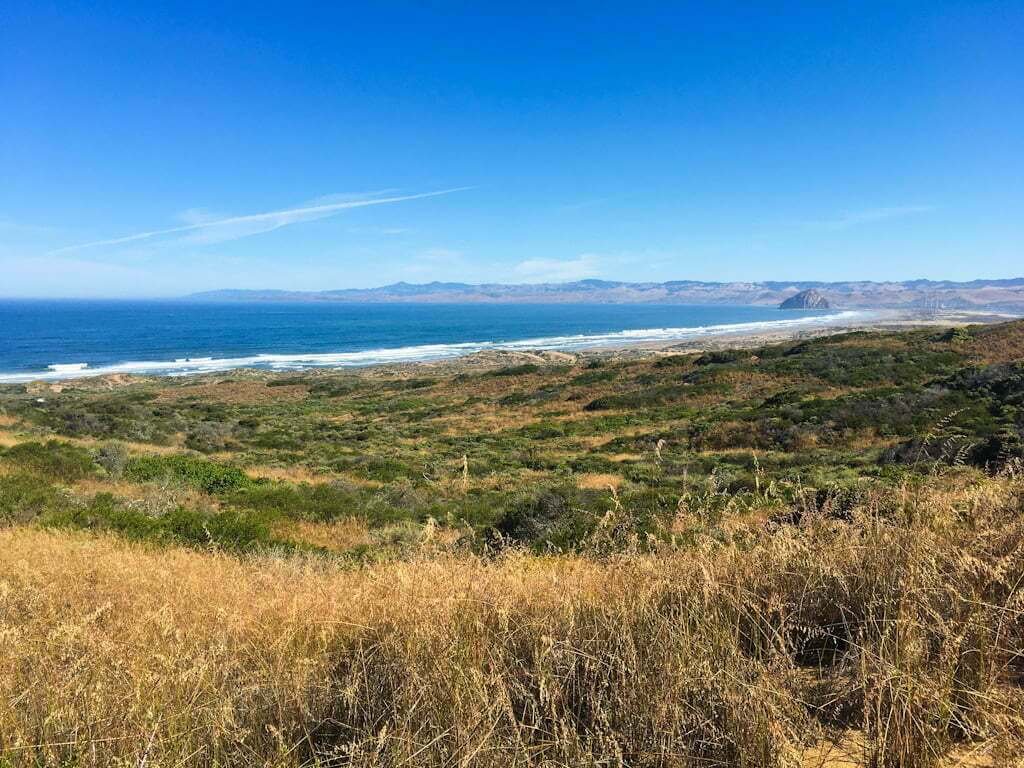 On a clear day, you can even get a shot of the famous Morro Rock in the distance!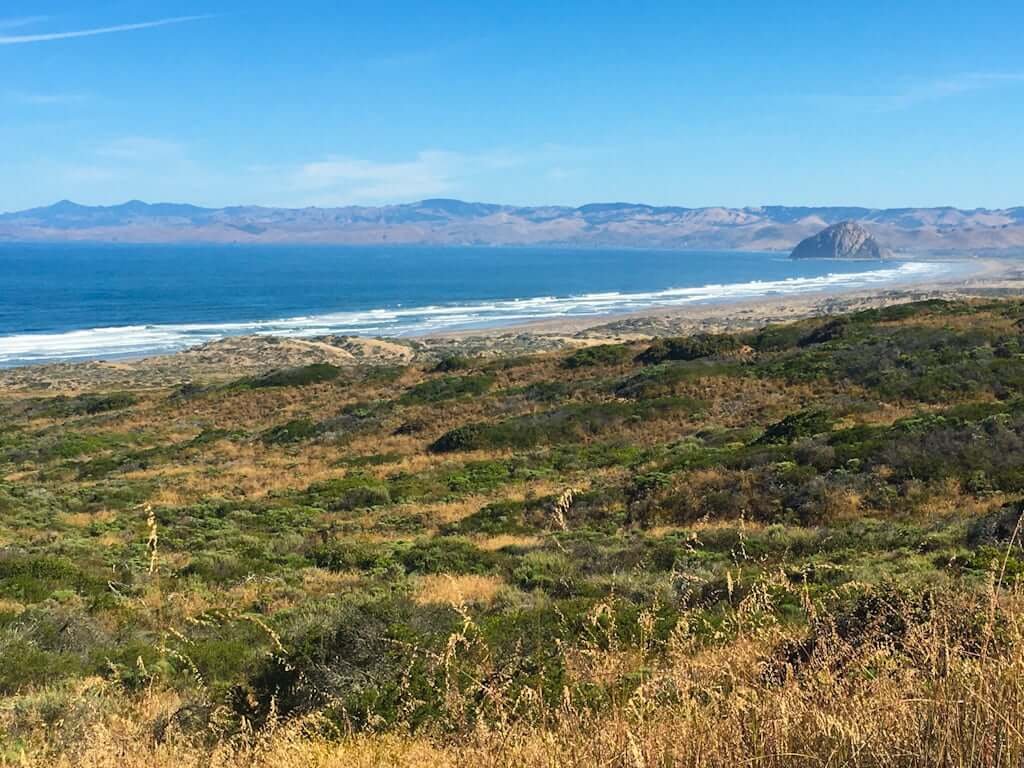 When the girls are older and can handle longer hikes like this, we want to come back to these trails!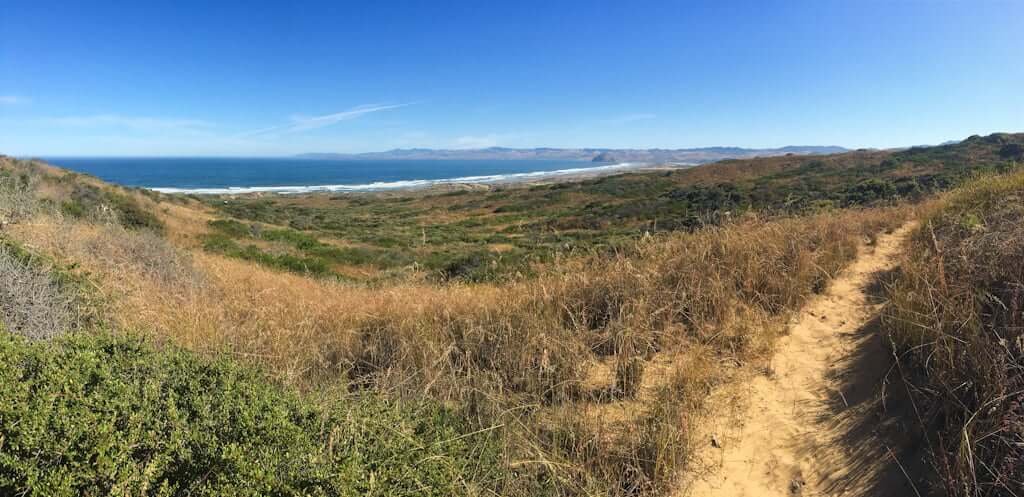 MONTANA DE ORO BEACH trip
8:37am: First Views of a Montaña de Oro Beach!
We got to the upper parking lot early (map of that here and further below), because we were expecting it would fill up fast. (It does—we share our parking tips in this post!)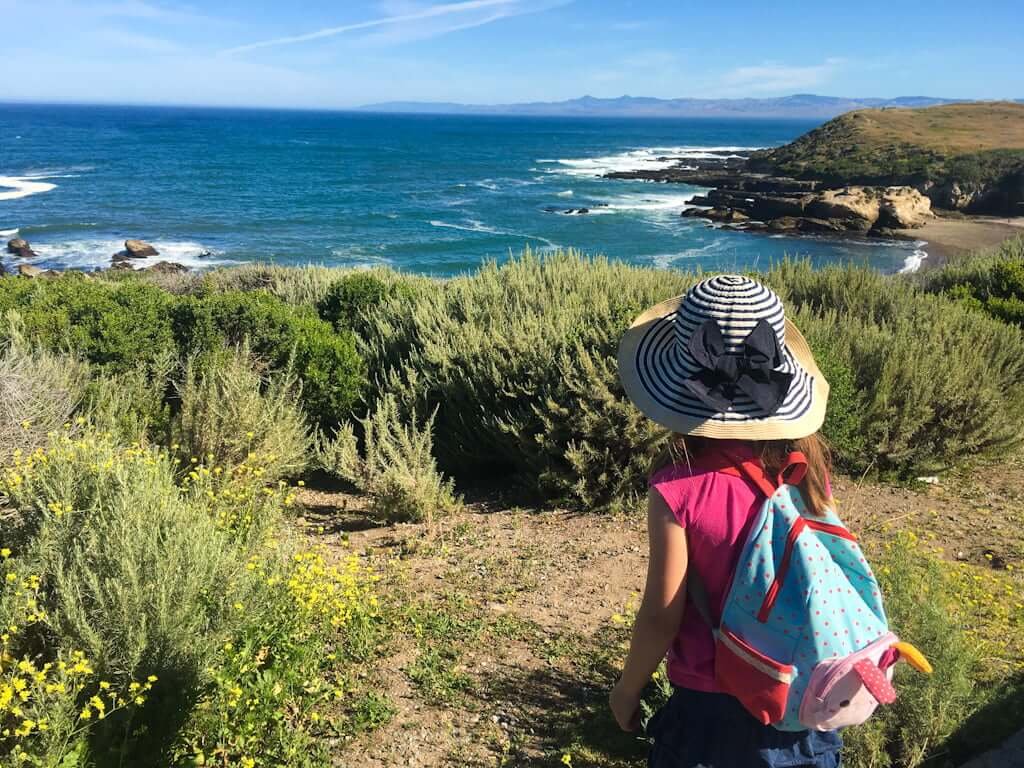 After we parked, I got this shot I love of my daughter looking out over where we were headed. (To the right is Spooner's Cove, but I'll share more on that further below!)
MONTANA DE ORO BEACH trip
8:48am: Scouting Beaches!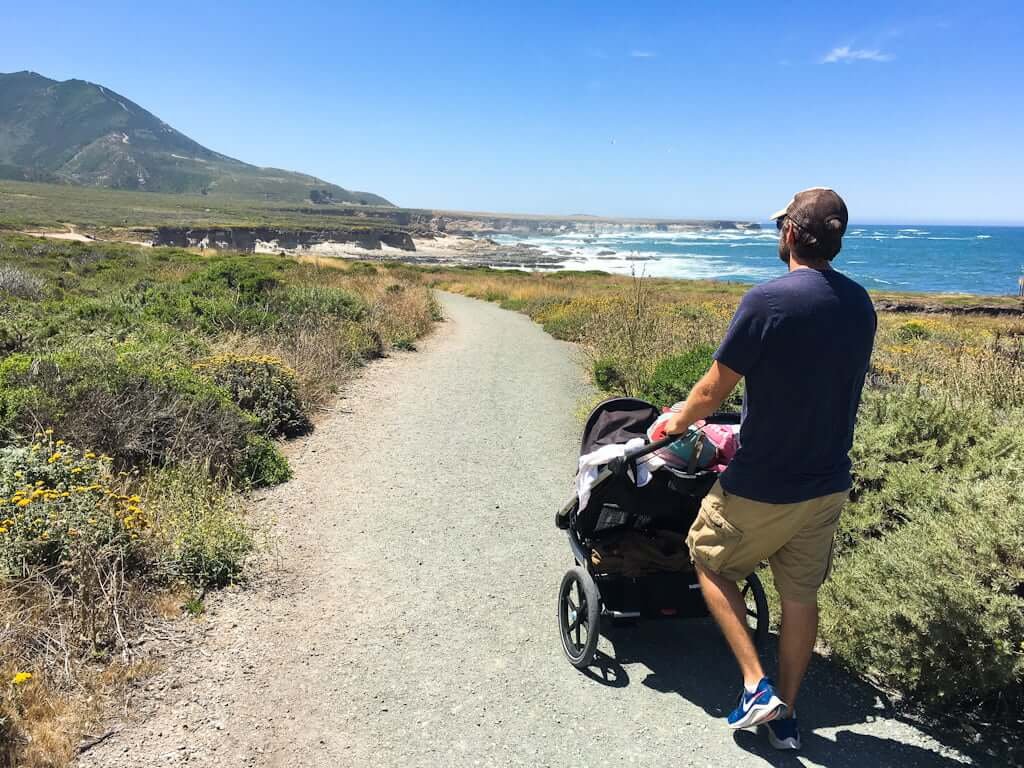 Thankfully, the Bluff Trail can handle strollers, so that was a lifesaver for us! No way could our then-3-year-old and 5-year-old walk miles to any beaches or tidepools. And I really wanted to check out this coastal trail that sounded amazing to me (I'm a BIG-TIME sucker for views and yes, the Bluff Trail was even more than I expected—see my full post on the Bluff Trail here!).
MONTANA DE ORO BEACH
9:04am: Getting to Our First Montaña de Oro Beach!
The first Montaña de Oro beach we stopped at was the same beach with the main tidepool areas. Here's a map I created to show you exactly where it is, because this entry point is NOT well-marked from the Bluff Trail:
You can see the full beach and tidepool areas in this extra-wide shot:
To access this beach, you'll head on a little trail to the left of the bench seat area, cross a little bridge, and go down a little hill.
Here's the view down to this beach from the bridge!
MONTANA DE ORO BEACH
9:11am: Tidepooling!
If you're here within an hour or so of low tide, this is the largest tidepooling spot in Montaña de Oro! (I share more in my tidepools post.)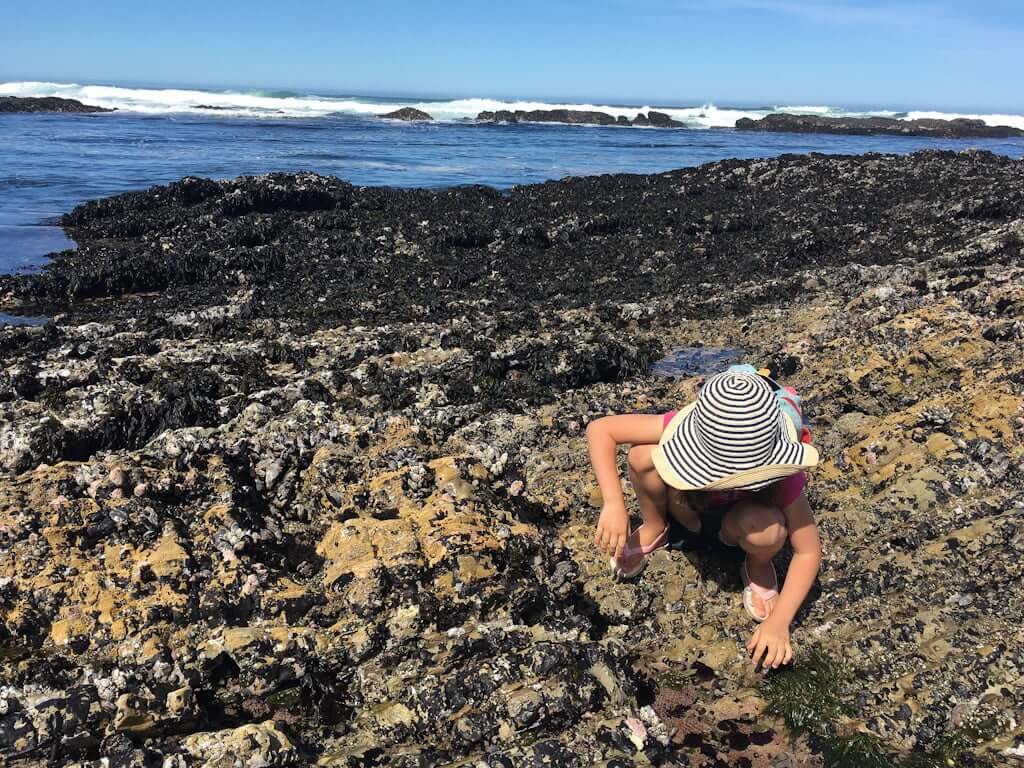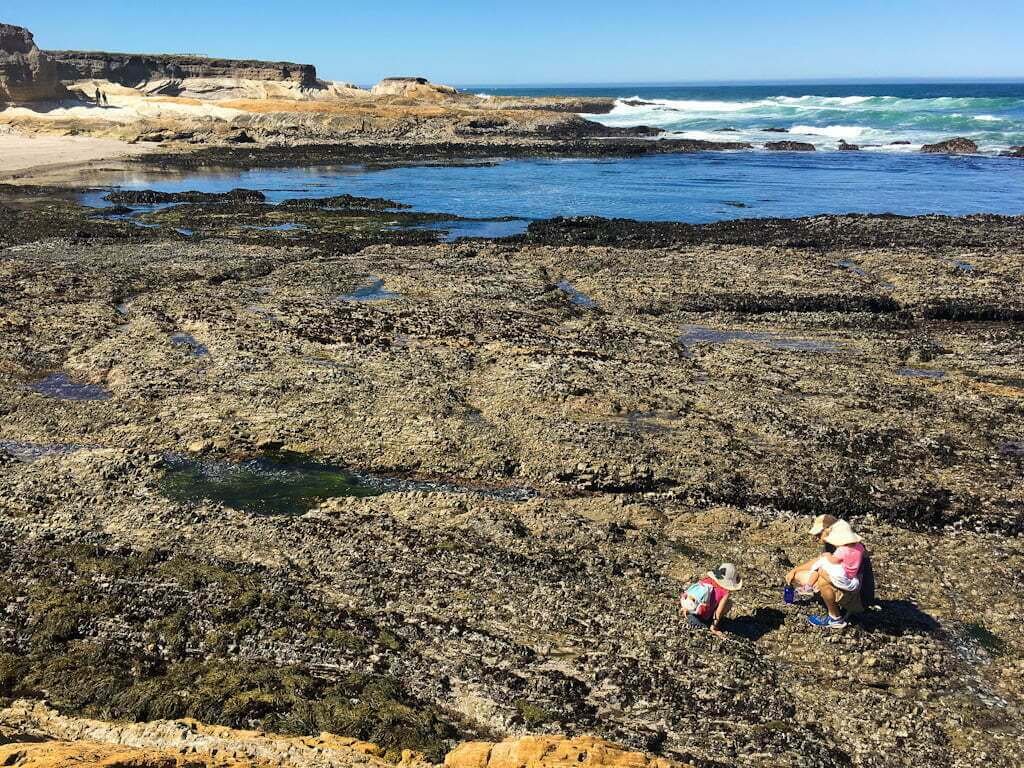 And yes, Matt carried a towel around his neck in preparation for a child falling in at some point, or a sneaker wave, or who knows. He wasn't even in the Boy Scouts, and yet the man is always prepared! 😉
My daughter found starfish, crabs, and too many sea anemones and urchins to count. We've been back here to explore the tidepools so many times since.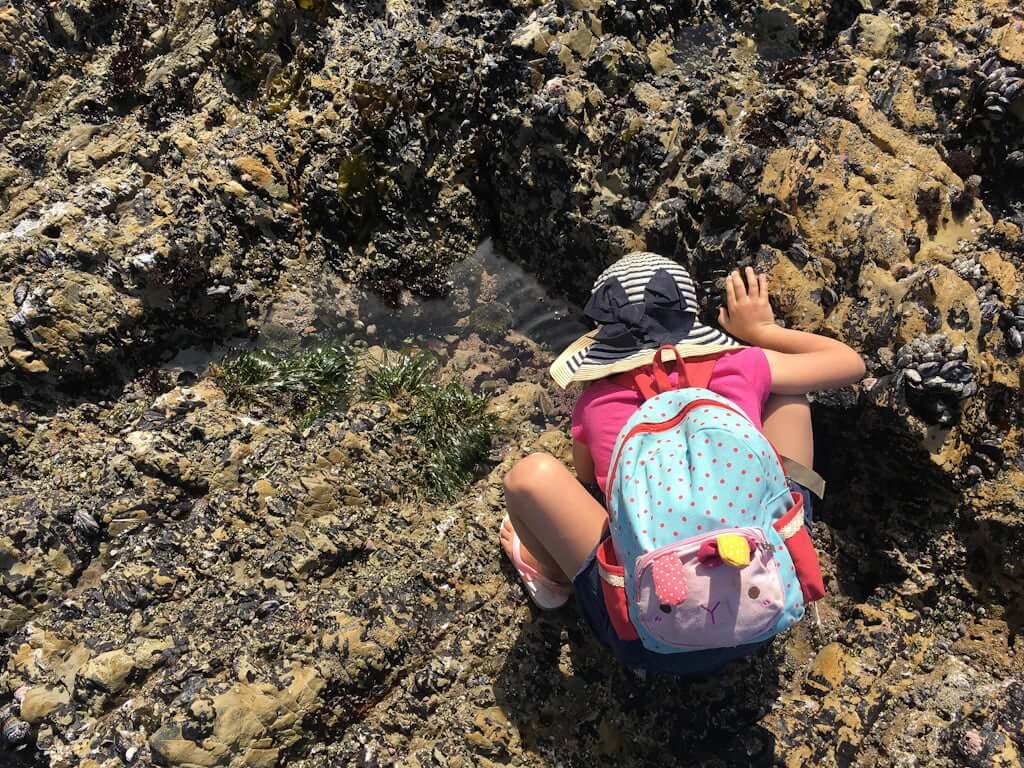 If you go straight ahead from this spot in the photo, into the north section, there are more tidepools and fewer to no people. More on our tidepool tips is in our tidepool post HERE!
We get asked ALL THE TIME where the girls got these darling sunhats, so I'll share the link here.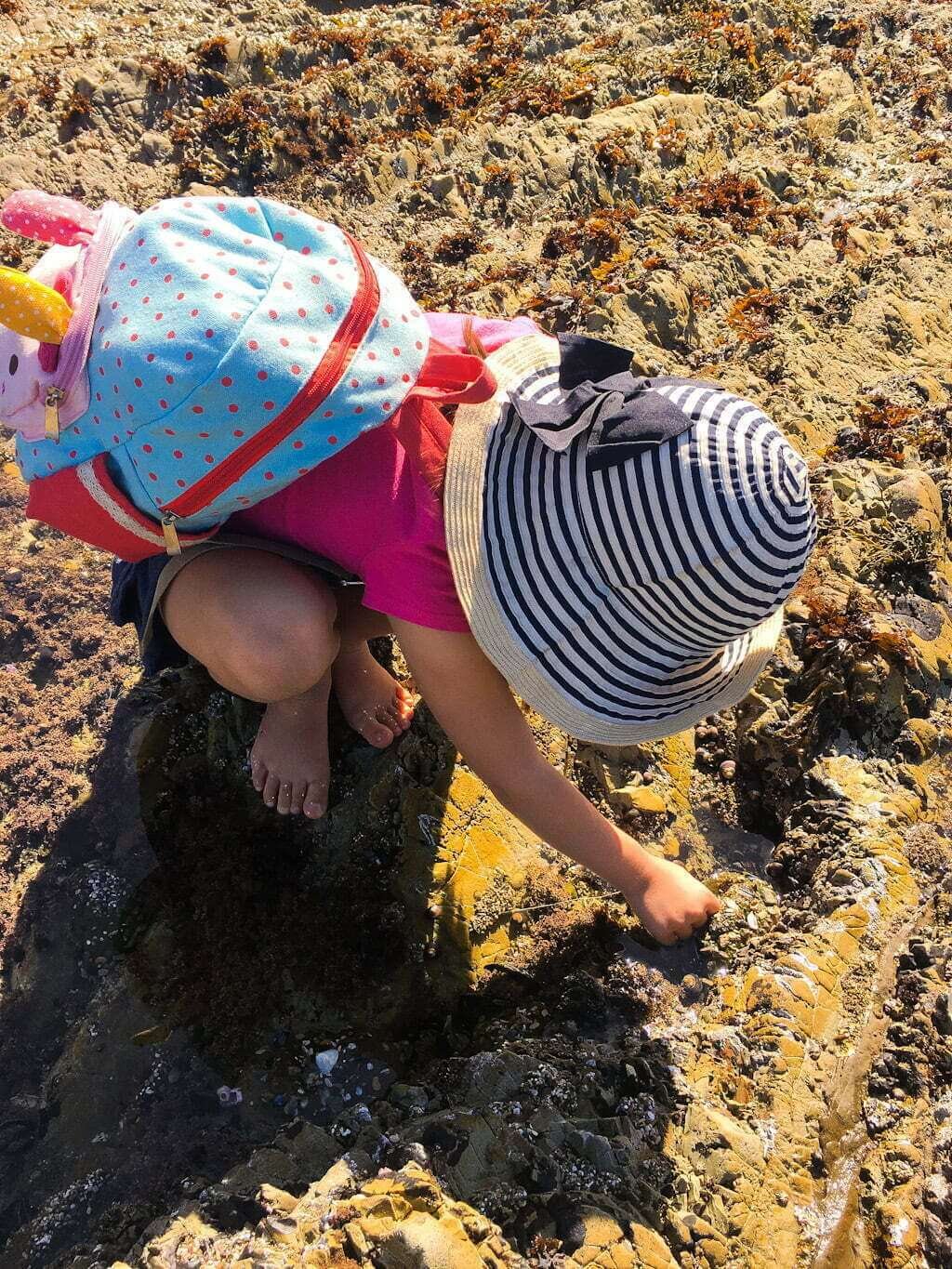 sunhats (our oldest daughter has the blue, our youngest has the Champagne color)
MONTANA DE ORO BEACH
10:25am: Snack Time + Exploring the Beach!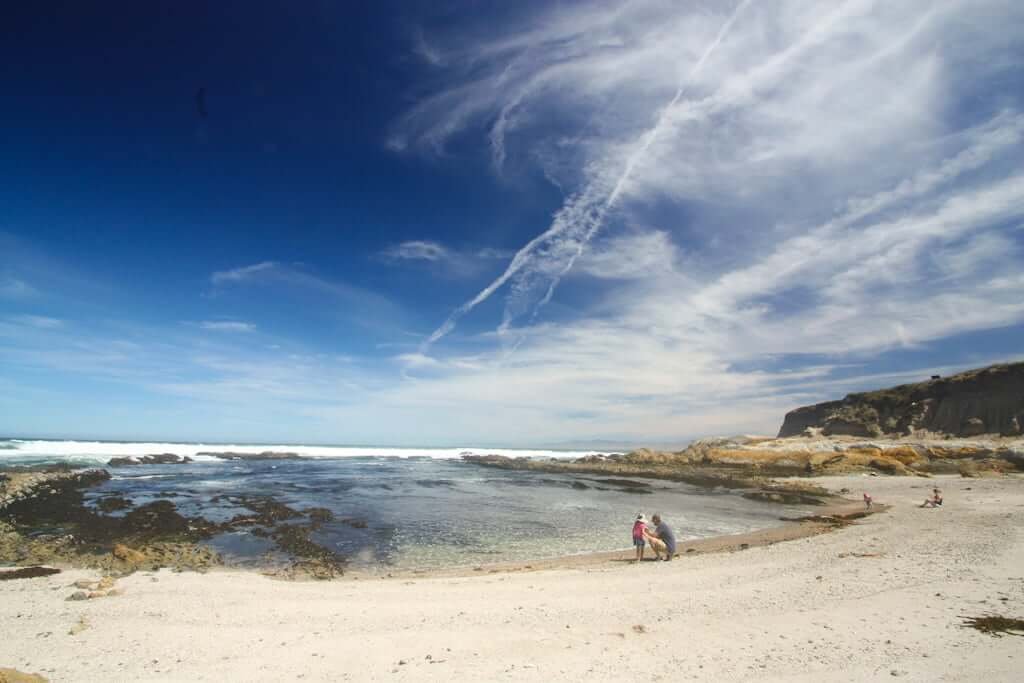 This beach next to the tidepools is a decent size…but to be honest it's not really a good "lounging" beach because of all the shells and rocks that wash up in this spot. It's fun to explore, but better for going out to the water and finding cool shells and rocks!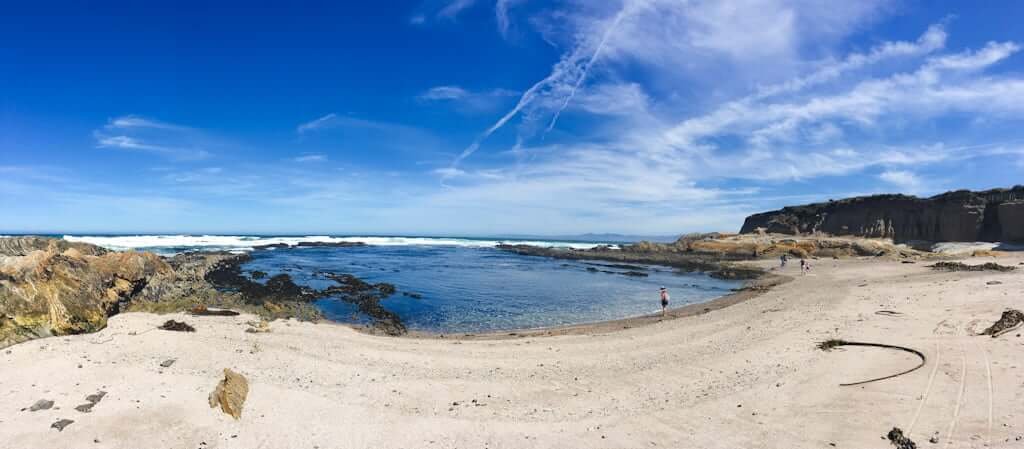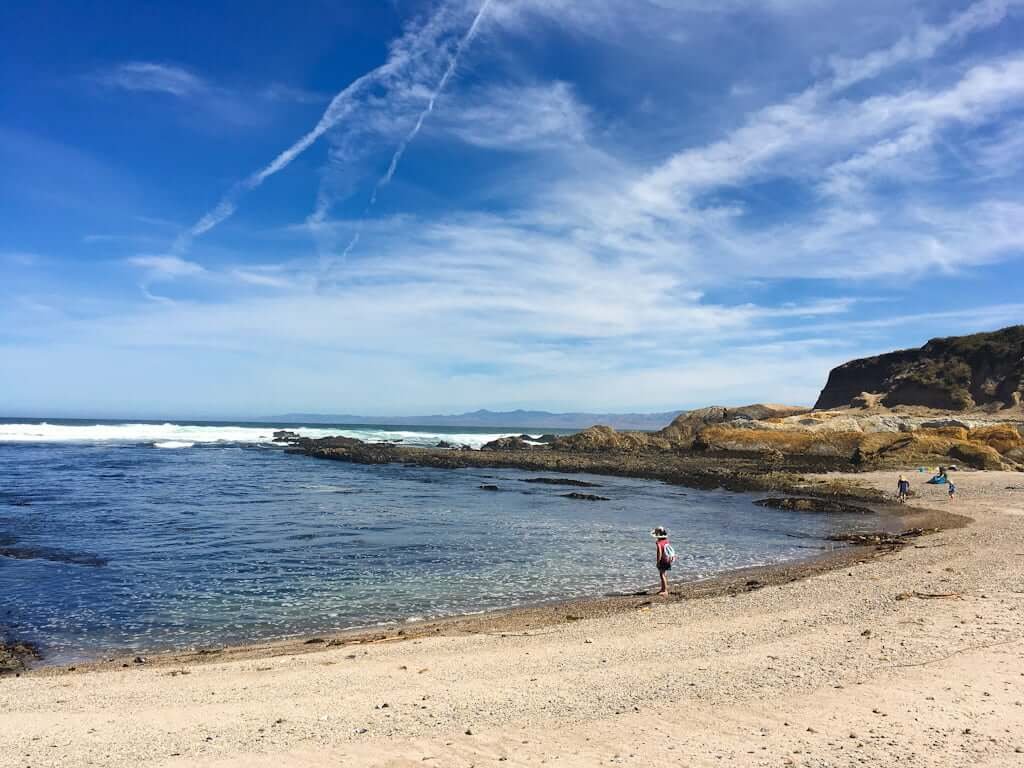 Also, I've mentioned in our tidepool post about how our oldest is always finding giant, long pieces of seaweed or kelp to play with. 😆 Then, she was using it for rock climbing…here she was trying to work out using it as the world's largest natural skip rope.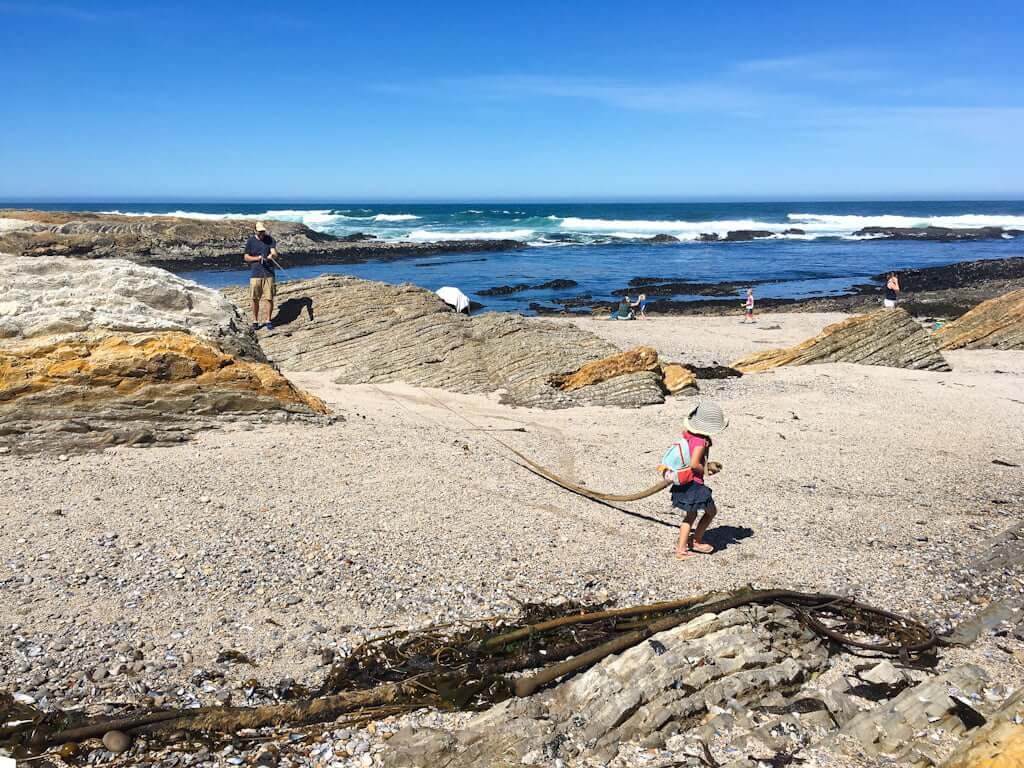 As you mosey yourselves a little further south of this Montaña de Oro beach, you'll see these cool rocks you can climb over and explore some more small beaches!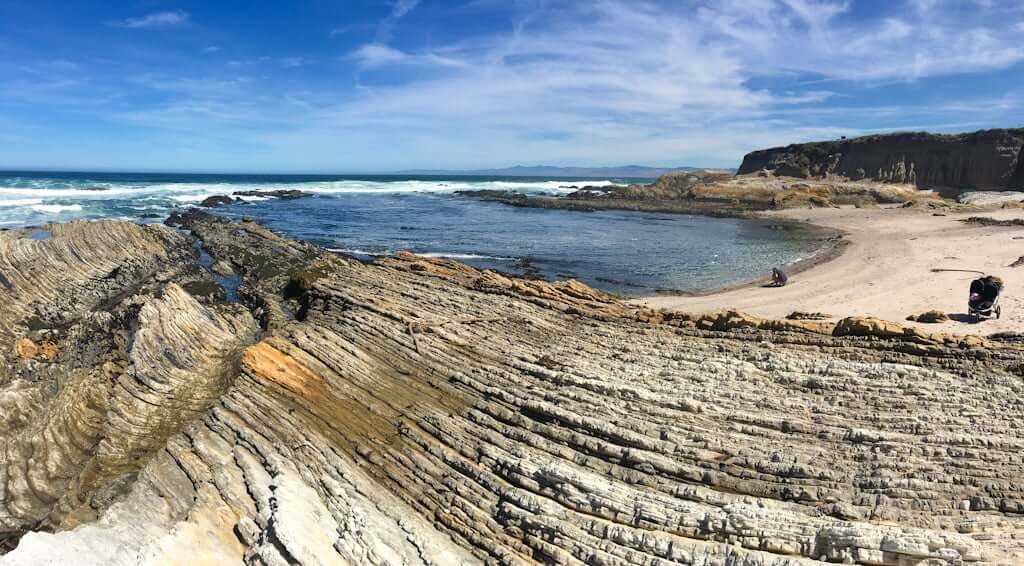 MONTANA DE ORO BEACH
10:57am: More Beaches & Rock Exploring!
This whole southern section is SO fun to go explore, and even on busy days we've found it to be pleasantly deserted! So we feel like we have these Montaña de Oro beaches alllllllllllllllllllll to ourselves! 😊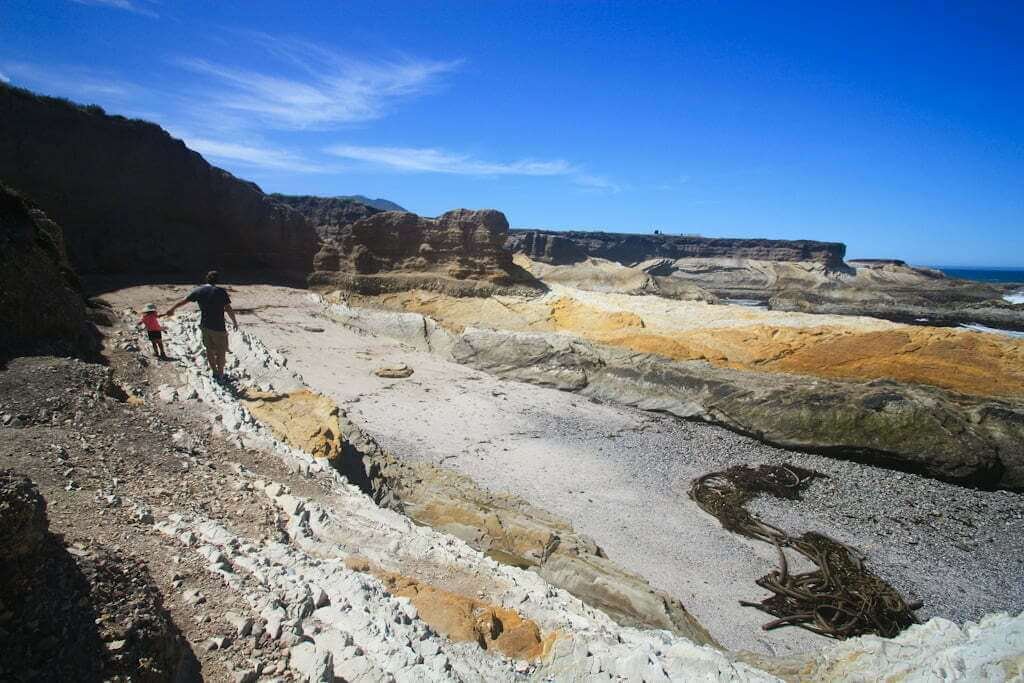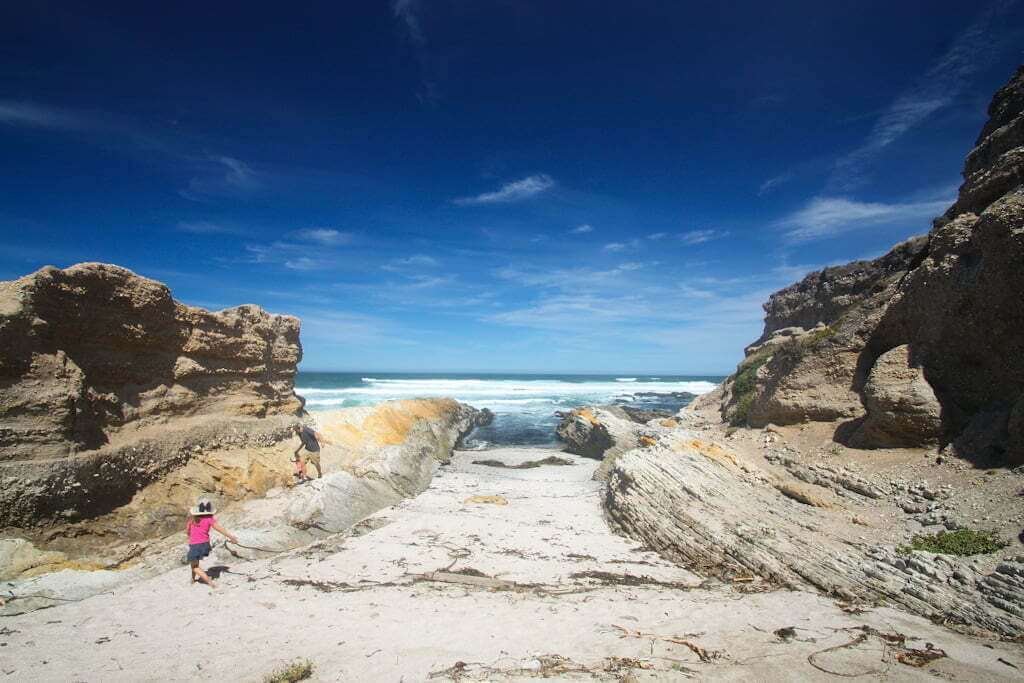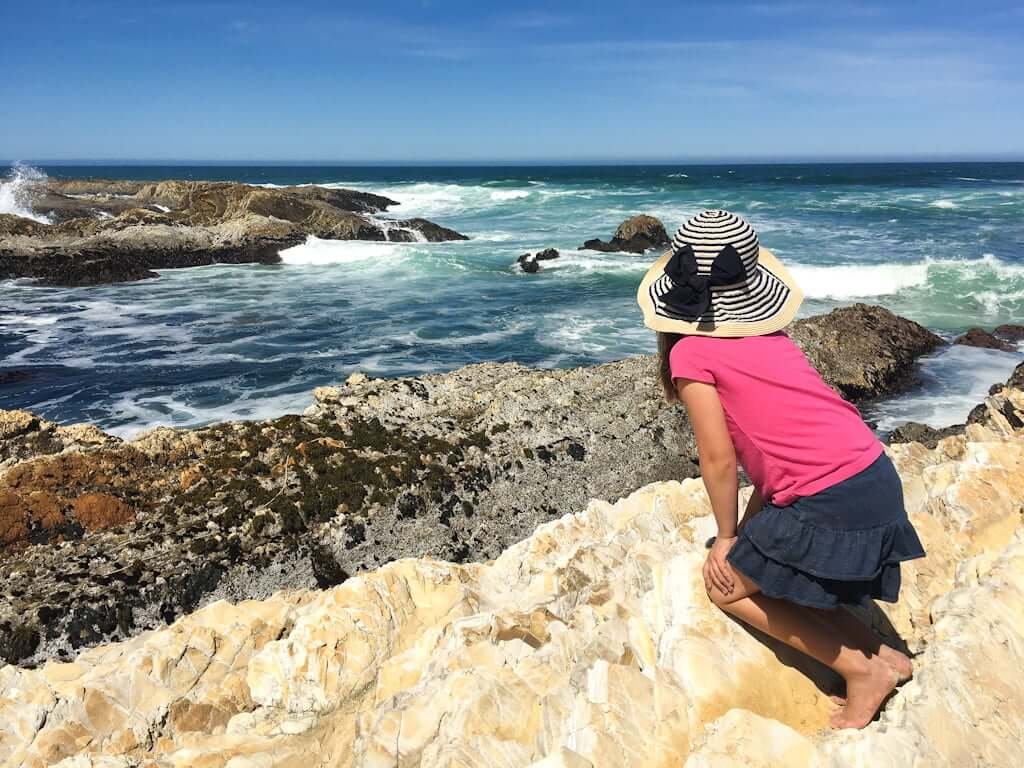 It's a good place to sit and just take in the beauty of the ocean, the waves, the rocks, the coves…everything!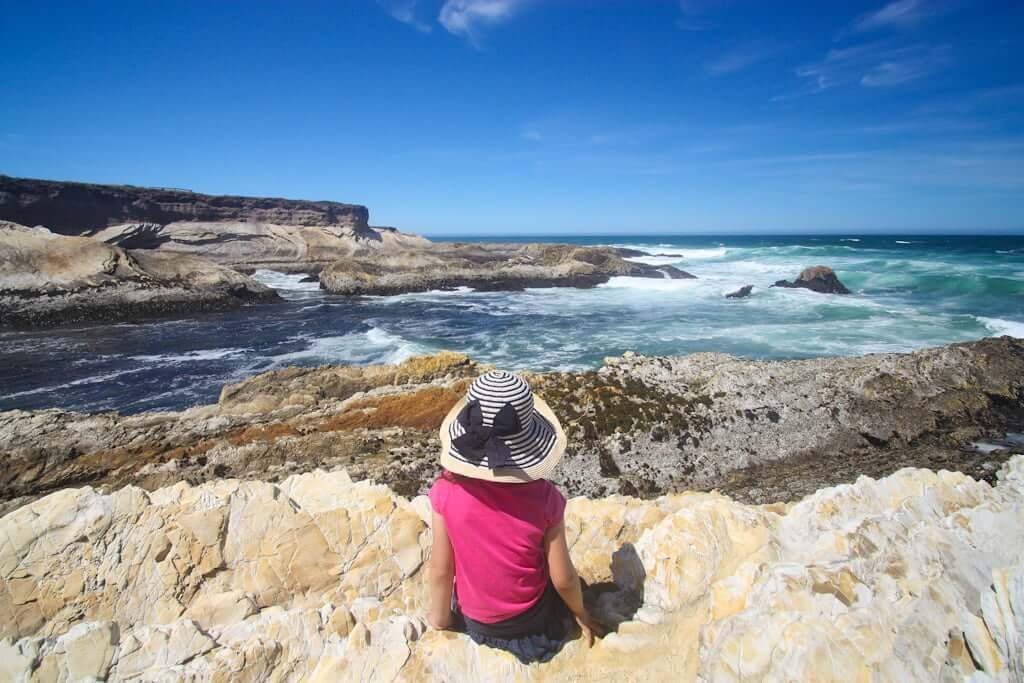 If you're doing this with especially young kids (or even just a friend with balance issues 🤣), be sure to hang onto their hands! These rocks are sharpy sharp!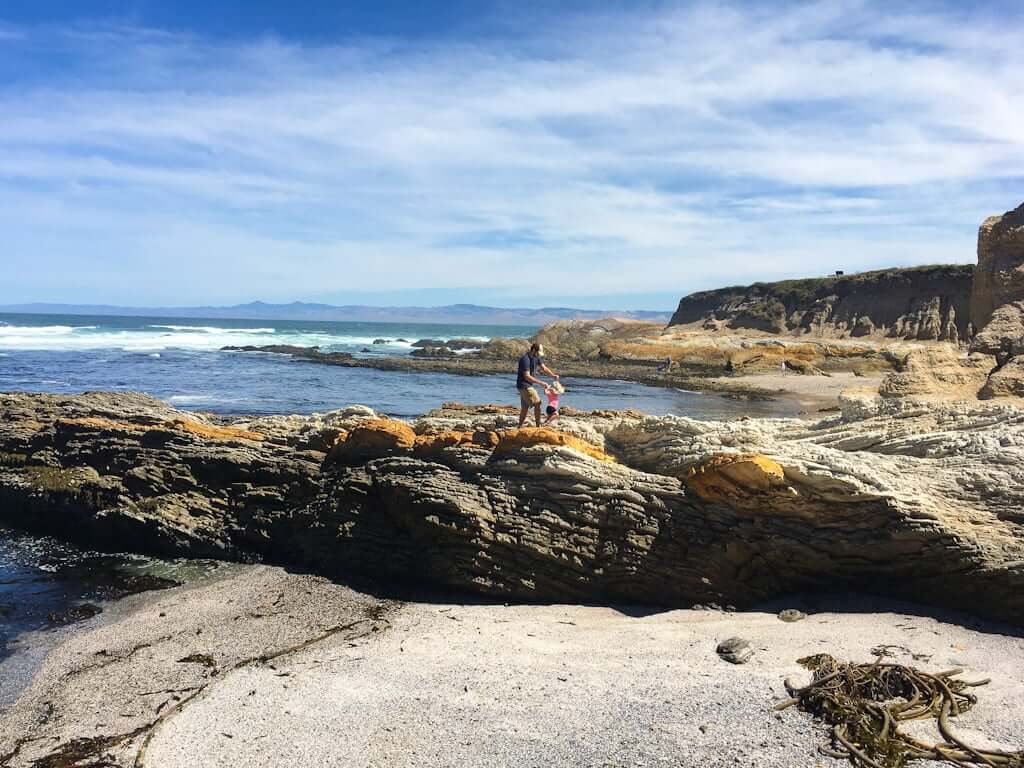 MONTANA DE ORO BEACH
11:45am: Make Your Way Back Up From the Beach & Back to the Trail!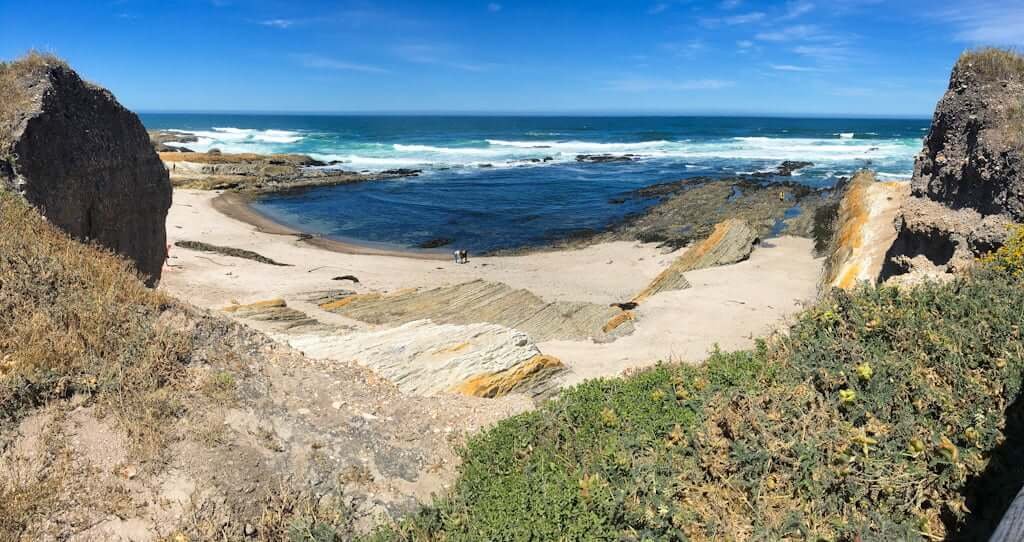 I've mentioned this in our other Montaña de Oro posts in more detail, but SPRING is my favorite time to come here because of the vibrant wildflowers!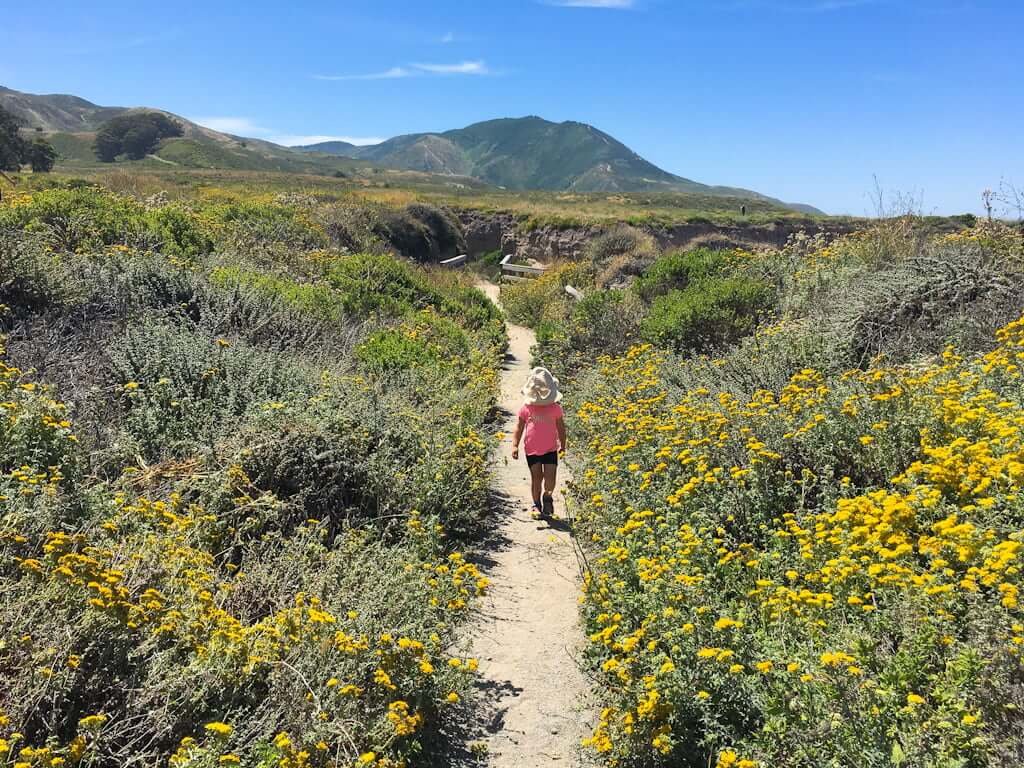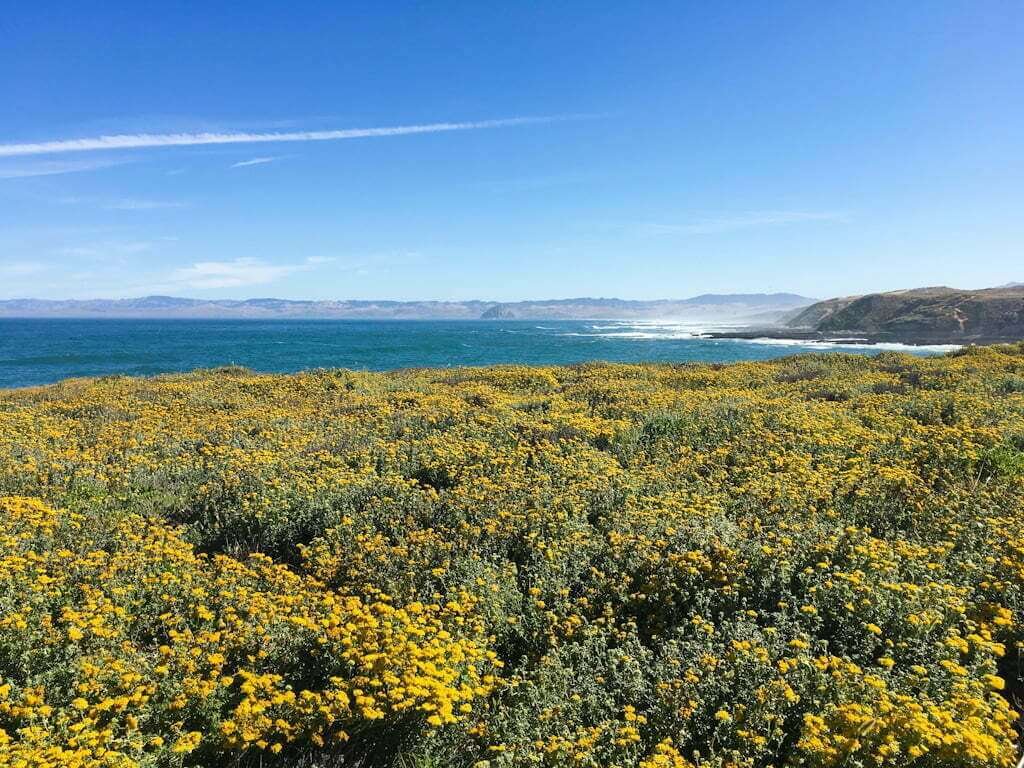 As we made our way back north along the Bluff Trail, I took over pushing the stroller and was rewarded by getting this shot of my girls with their daddy. 😍
MONTANA DE ORO BEACH
12:10pm: Head Over to Spooner's Cove!
If you parked up at the Bluff Trail parking lot, you can walk down to Spooner's Cove from here, but you'll have an uphill climb back. I'd only do that if you're there on a crazy busy day and are concerned you won't get a parking spot at Spooner's Cove.
But if you're doing this early enough, driving down to Spooner's Cove is preferable.
MONTANA DE ORO BEACH
Easiest Beach at Montaña de Oro: Spooner's Cove
OK, so as I mention earlier, there are a number of beaches off the Bluff Trail but require some hiking or clambering down rocks and dirt hills to get to them.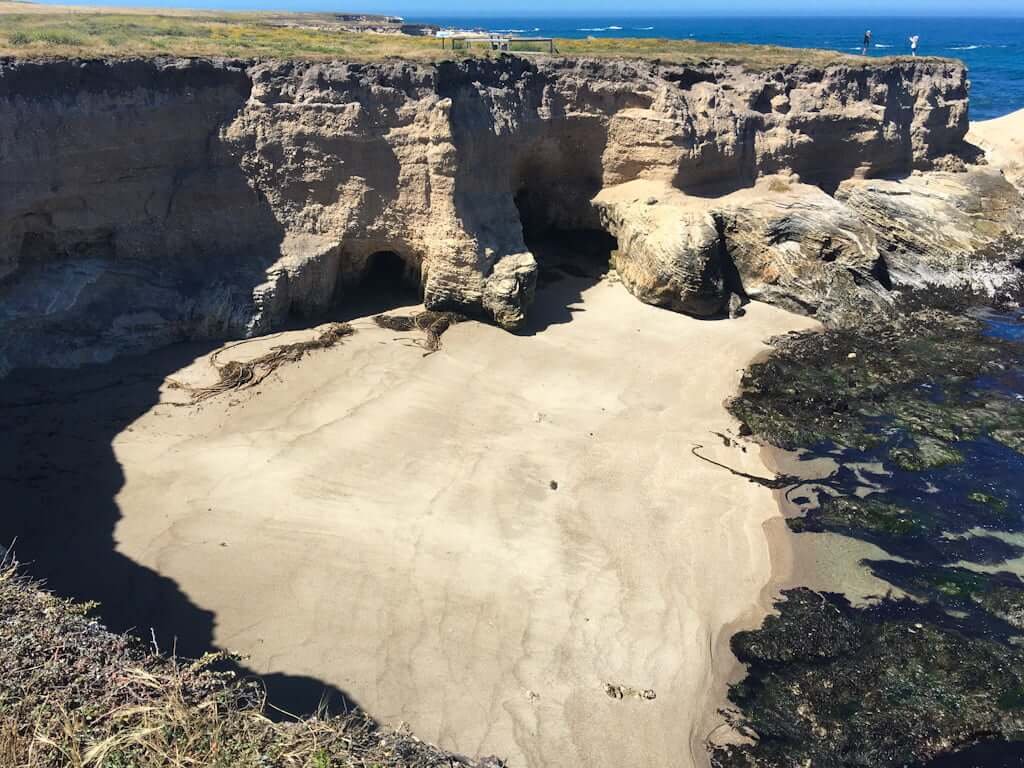 You can find a map of some of them here, but we say use your own eyes and judgment on the whether a beach is actually accessible on the particular day you're there!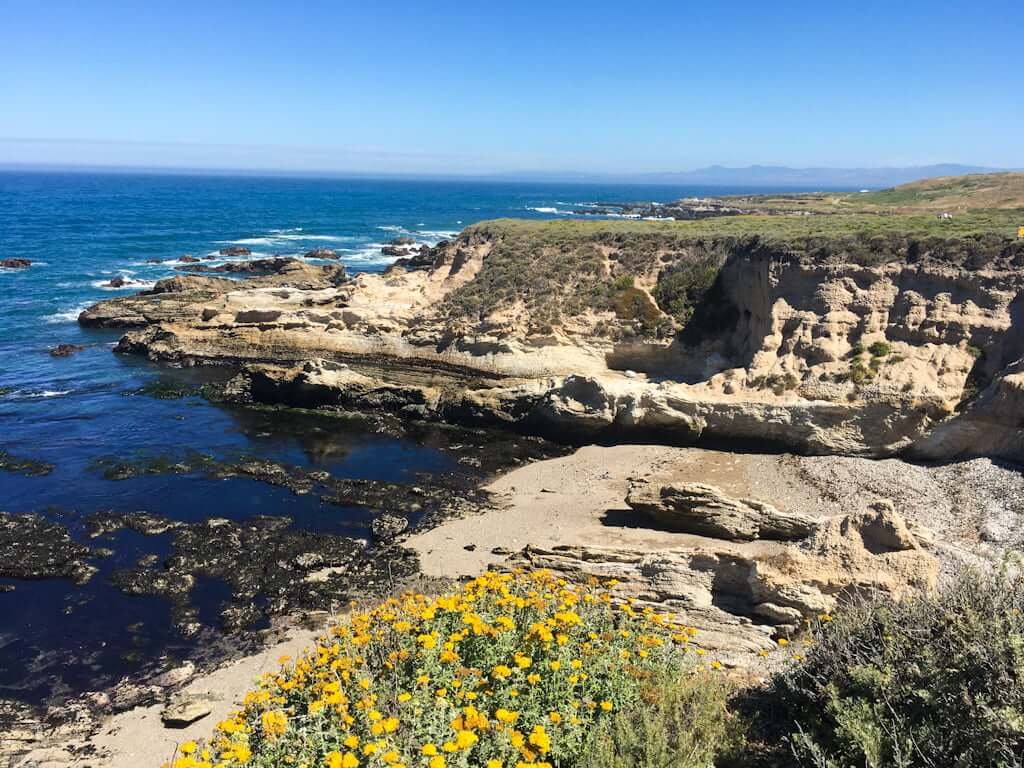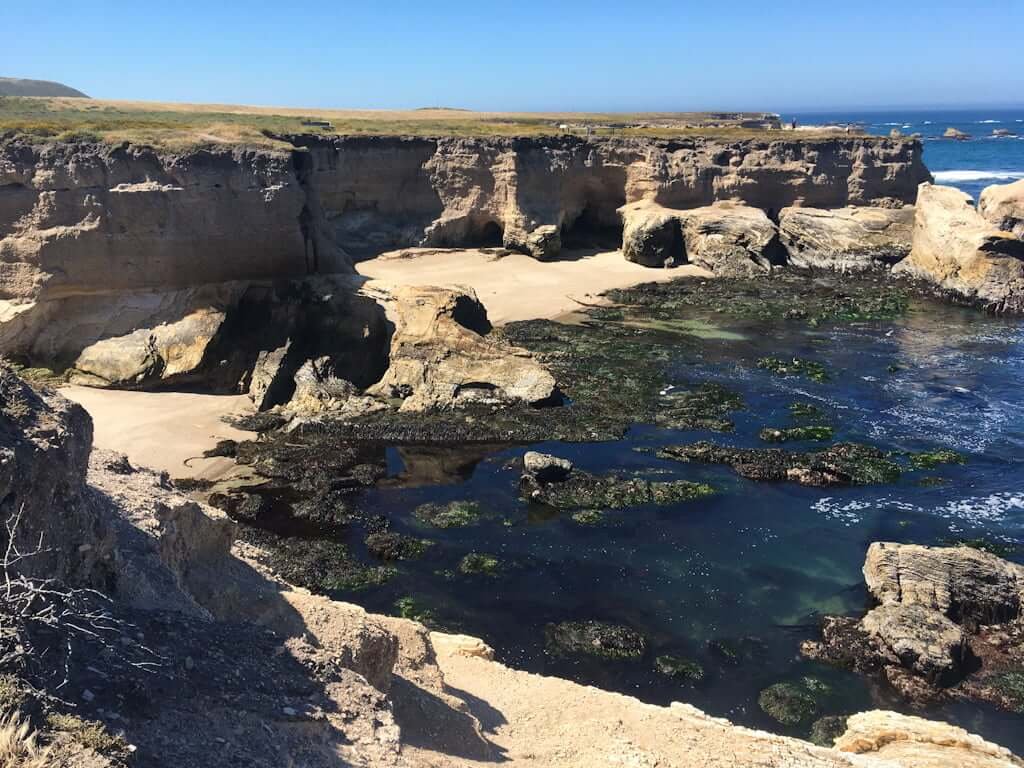 Thus, the easiest beach to get to is Spooner's Cove! (You can see it on our map below, top right.)
There's a parking lot close to the beach which doesn't get as crowded as the upper parking lots for the Bluff Trail.
There's no hiking or hill climbing involved to get to it. Just a good, old-fashioned, level entry.😄
Spooner's Cove even has its own (small) tidepools!
From the parking lot I point to in the map, here's the view down to Spooner's Cove!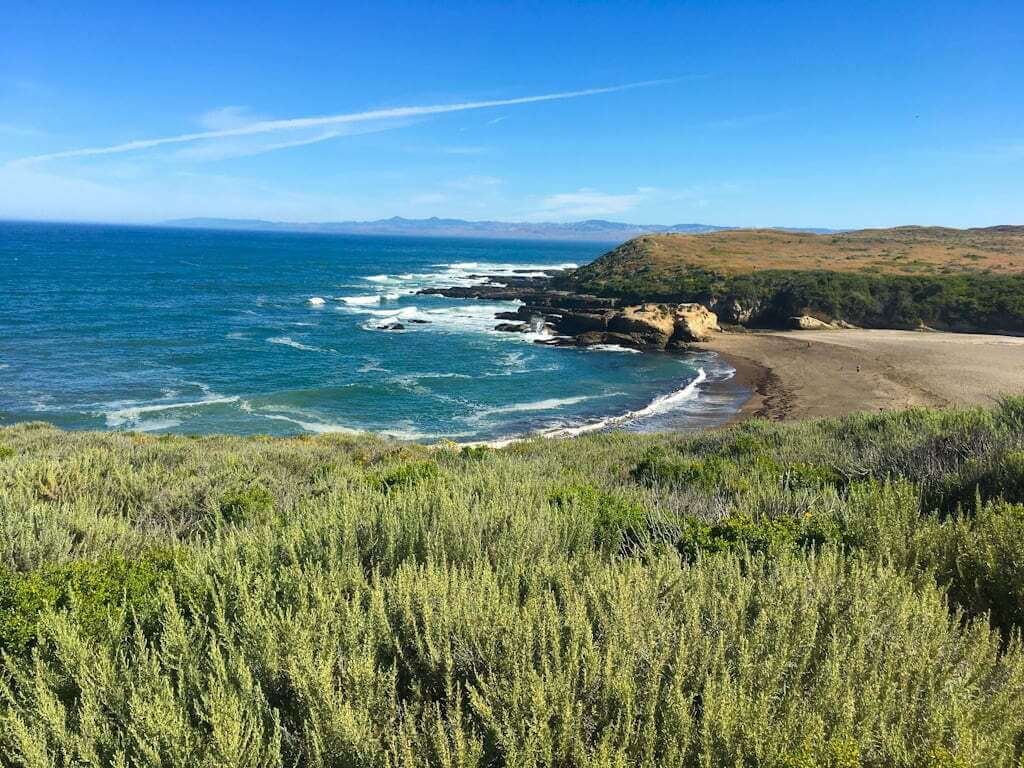 PS: On a hot day, we once took a break by eating our lunch in the car with the girls with the AC on full blast—with this view! It was one of the loveliest (and literally coolest) lunches of our trip!
MONTANA DE ORO BEACH
12:15pm: Playing at Spooner's Cove!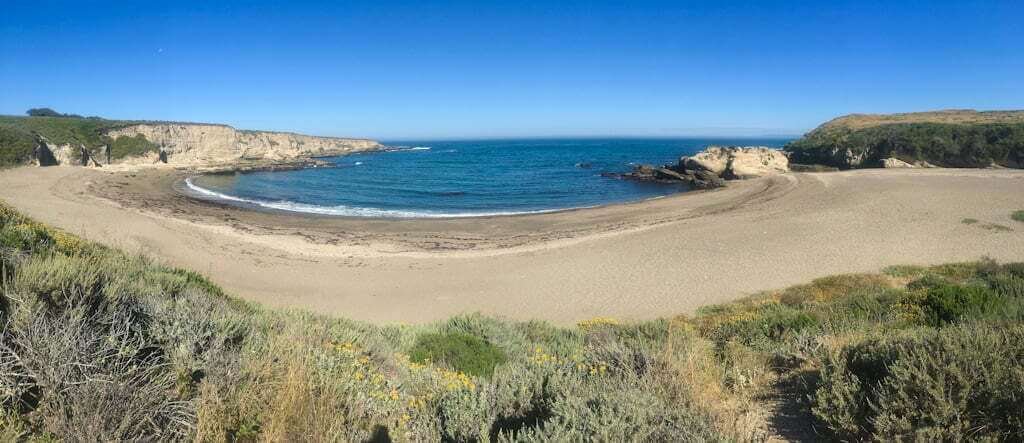 This day, we headed to the far right section of Spooner's Cove. One reason this is a fun spot is because there's a small river that empties into the ocean here, and it's a great place for kids to play! (Especially if you have super-little ones, the river further up is wave-free and perfect for infants and toddlers to play in the water there! Local moms come here for that reason.)
On the left is a view of the river from the ocean, and to the right is a view of the ocean from the little river!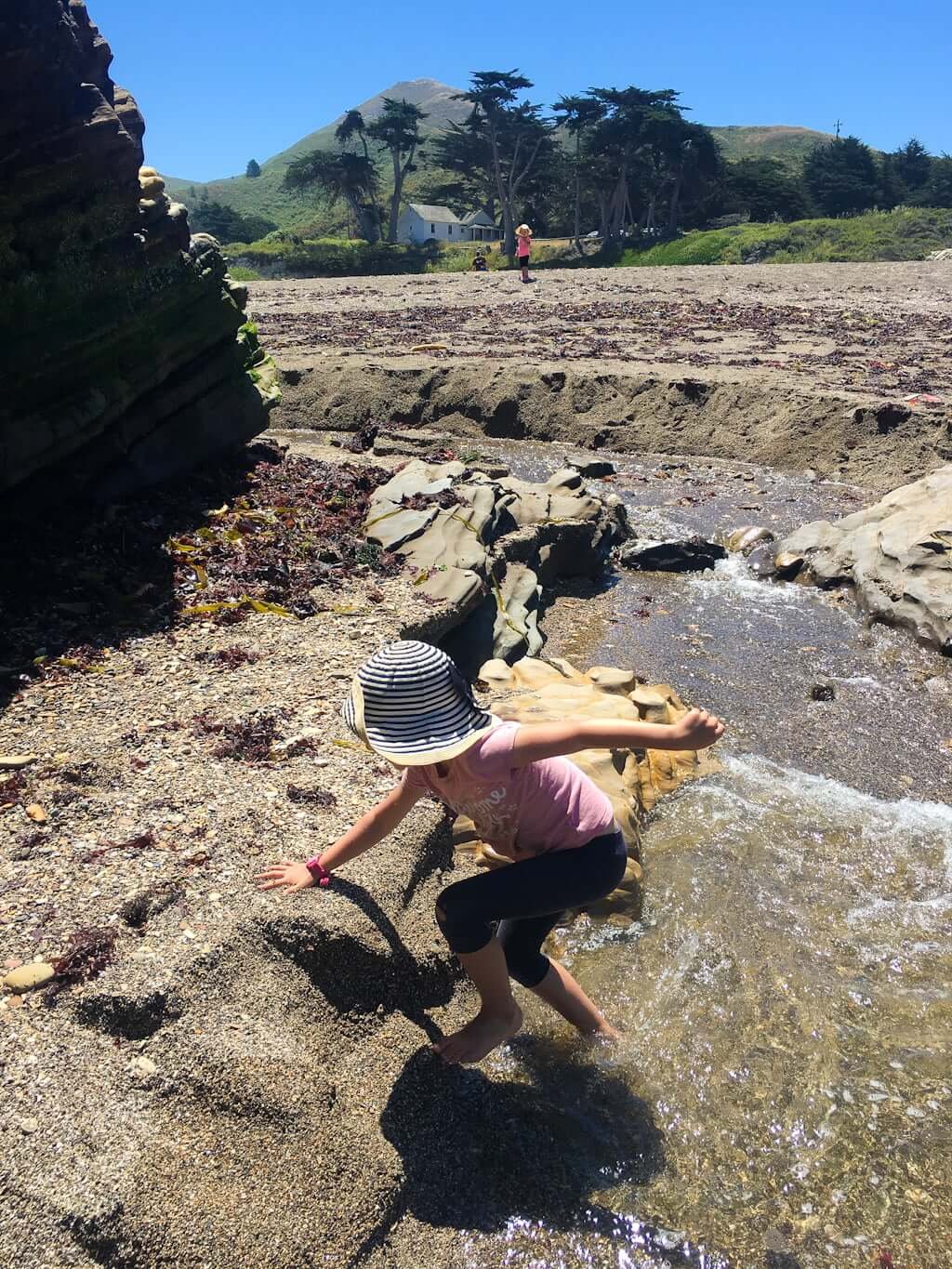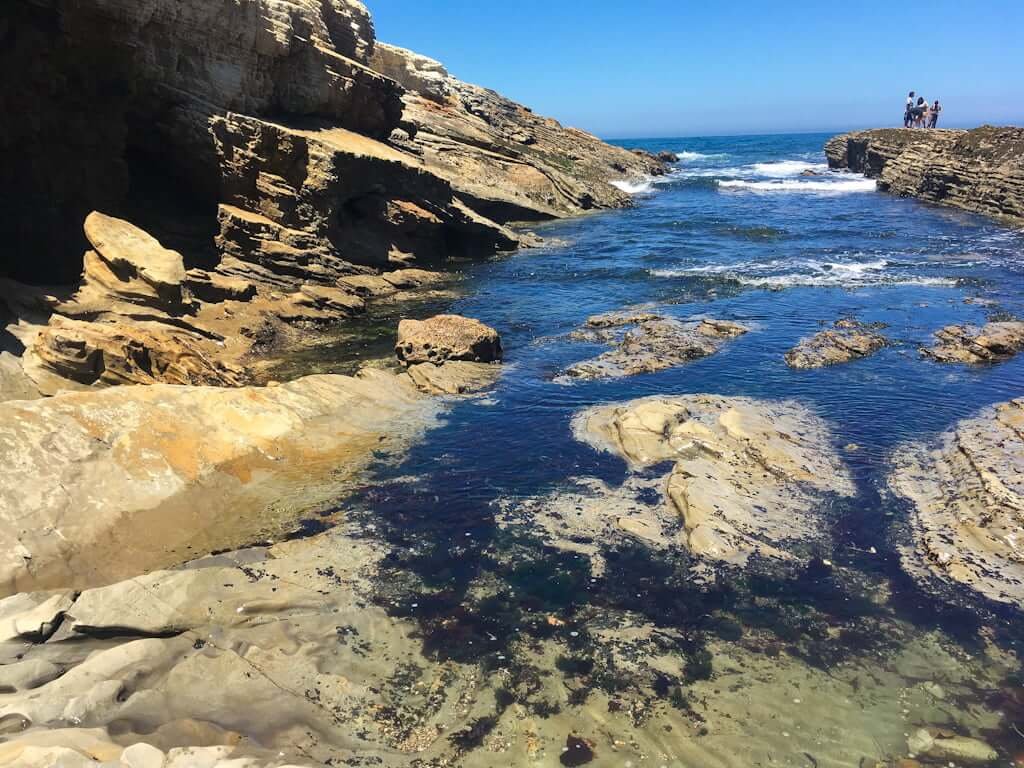 The other thing we discovered about this spot was it had some small tidepool areas! And the rocks, instead of being as sharp as the earlier spot I showed you, are much smoother, as you can see where my daughter is stepping. (Isn't she a great model for me? 😊)
And clearly her mother needs to buy her some new shorts,🤣 but they're great for outdoor play in the meantime!
The third thing we loved about this spot was discovering the sea cave!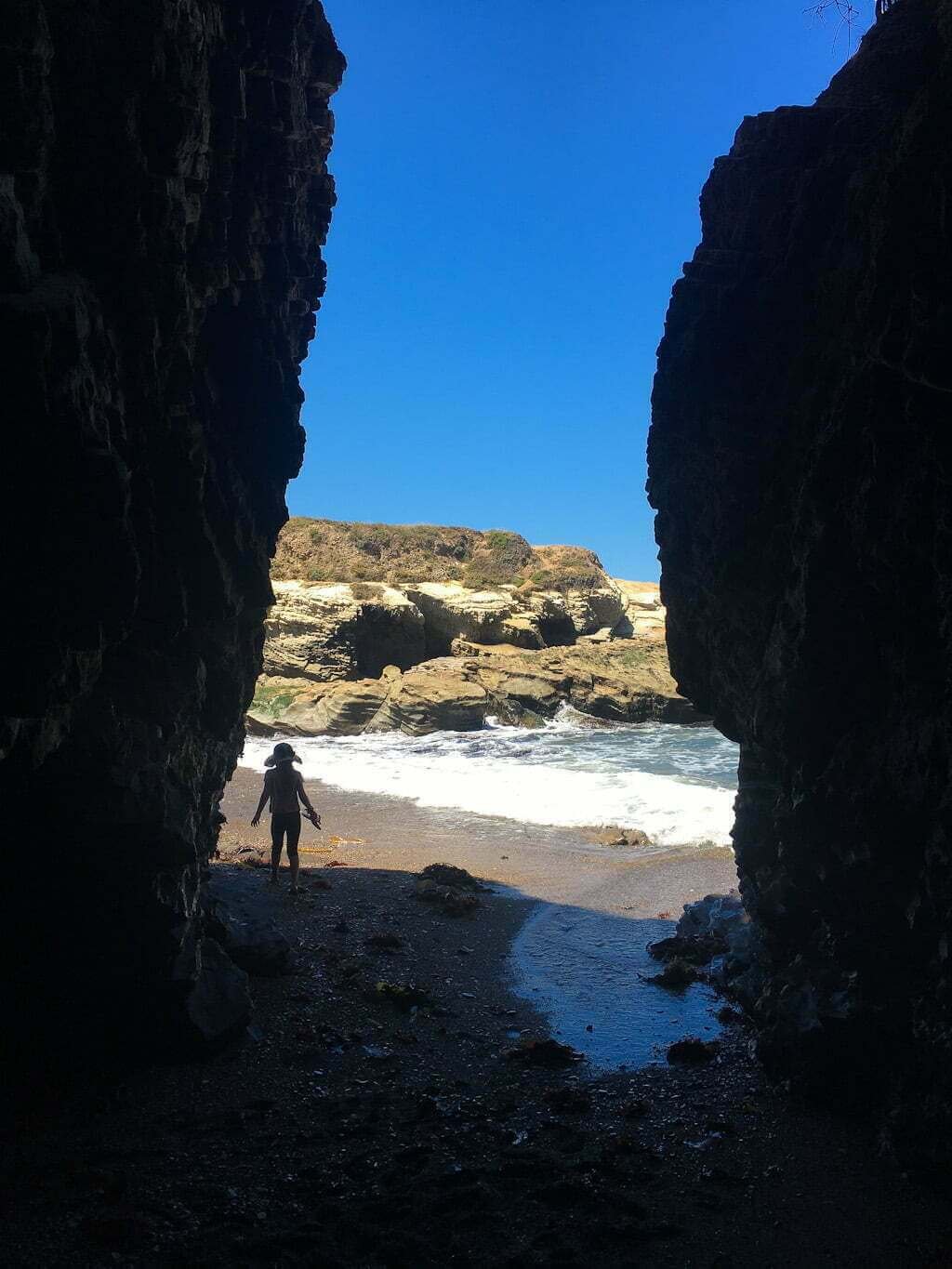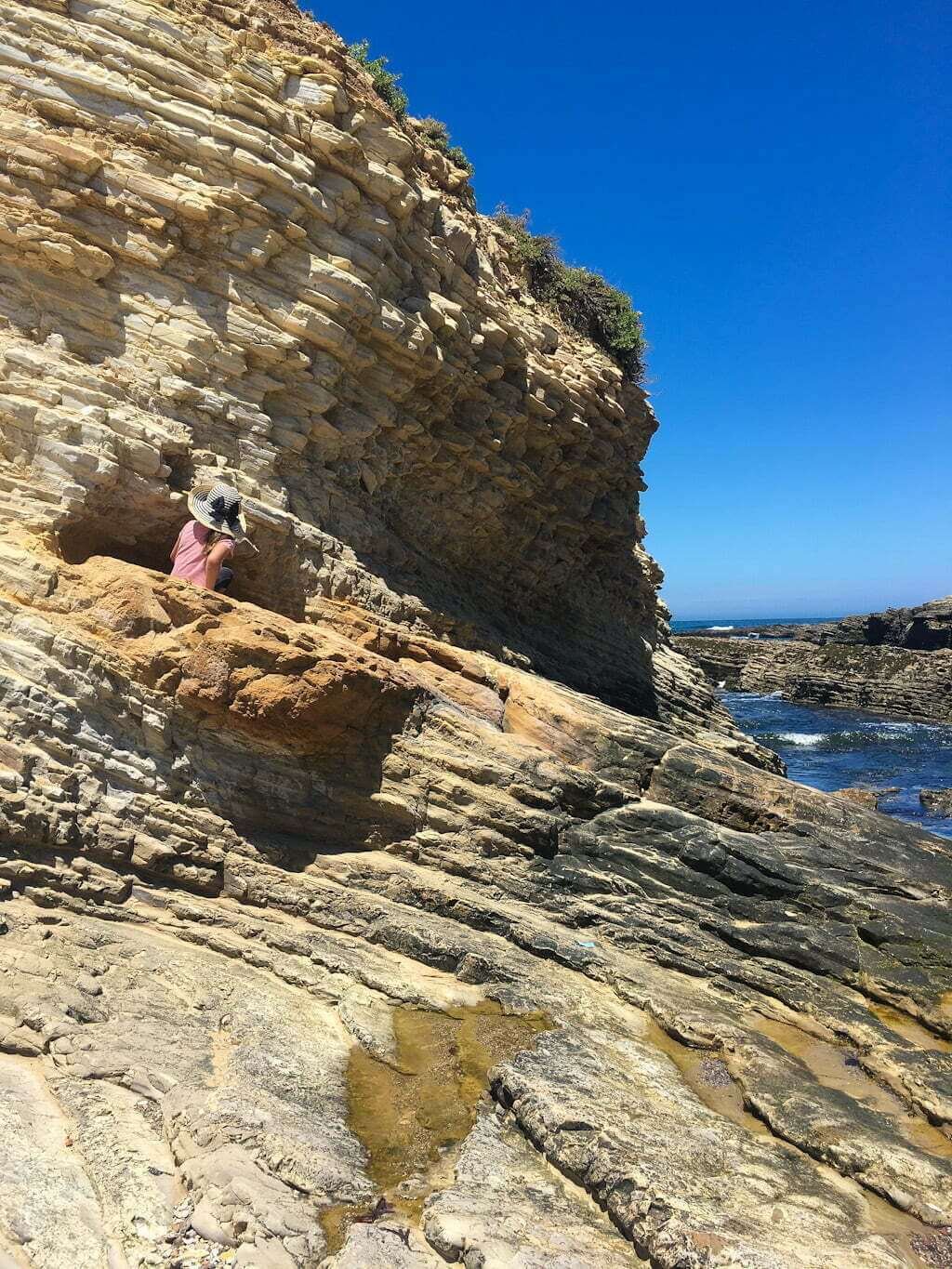 This Montaña de Oro beach is perfect for a lunch stop, to spend the entire day, or you can go explore another area of the park! Or if you're in a hurry, grab lunch in Morro Bay! (And check out our post with a short itinerary in Montaña de Oro State Park!)
Next, check out our other tips for Montaña de Oro!
Visiting Montaña de Oro State Park: Our Overall Best Tips!
My #1 Favorite Thing to Do in MDO: The Bluff Trail!
All about the incredible main Montana de Oro tidepools!
➜ Or, you can see the house we live in in California HERE!