Montaña de Oro State Park is one of—if not our #1!—favorite spots on the California Central Coast!
This is our main Montana de Oro page full of info, insider tips, and 3 incredible itineraries you can do with or without kids!
We'll be sharing
All about the Montaña de Oro Bluff Trail!
Where to find the tide pools (which aren't well-marked)!
Our parking tips (this is a big one)!
An example of our typical day at Montaña with a family.
Montaña de Oro hikes
Trails & maps
Montaña de Oro beach options
Important tips all-around (where to stay, what to keep in mind, how to pronounce it like you know what you're talking about, and more 😊)
MONTANA DE ORO STATE PARK
3 Different Itineraries!
Itinerary #1: BEACHES & WALKING!
Montana de Oro Beach Itinerary (With or Without Kids!)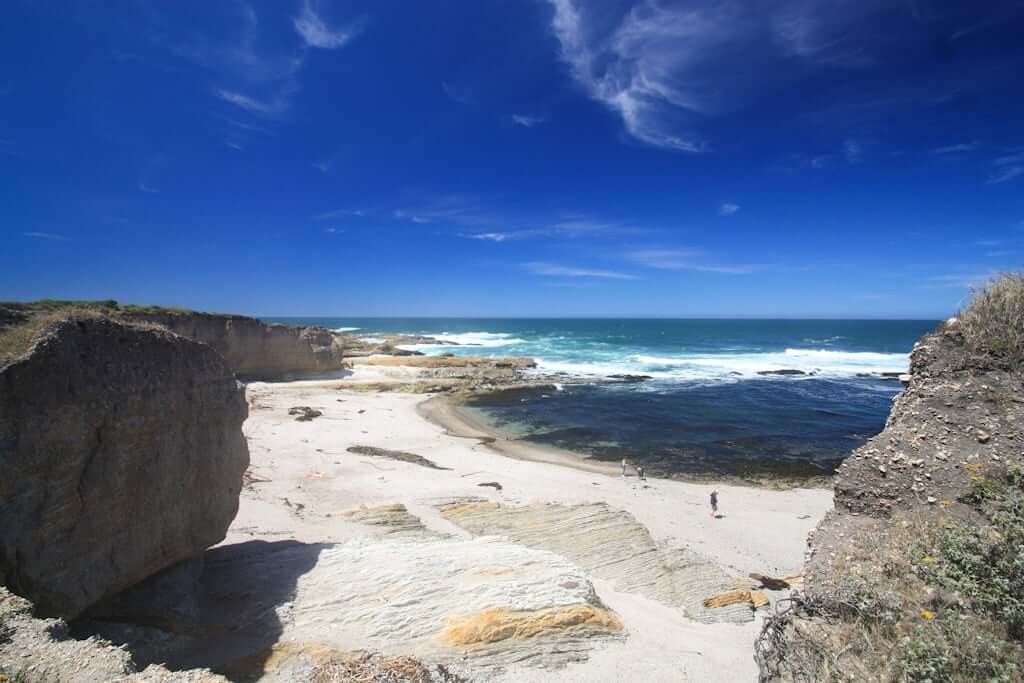 Itinerary #2: HIKING & BIKING!
Montana de Oro Bluff Trail: The Best 2-Hour Itinerary (If You Gotta Make It Quick)!
Itinerary #3: TIDE POOLS & SCENERY!
Montana de Oro Tide Pools: Lively + Relaxing 1-Day Itinerary!

MONTAñA DE ORO STATE PARK
First Things First!
Before we continue any further, let's make sure you've got the pronunciation of this gorgeous place correct!
If you're not from California and/or not familiar with the Spanish language, please remember that Montaña isn't spelled with a second "n"—it's spelled with an "EN-YAY" (ñ), so it's pronounced like "Mohn-TAHN-ya." It is not pronounced like the state of Montana.
Now we can continue.😊
MONTAñA DE ORO WEATHER
"When's the Best Time to Visit Montana de Oro State Park?"
Spring! Spring! Beautiful spring!
Why? Say two words with me: "California wildflowers!"
I mention this in other posts, along with more photos, but spring is 100% our favorite time to be at Montana de Oro State Park, when everything is green and blooming!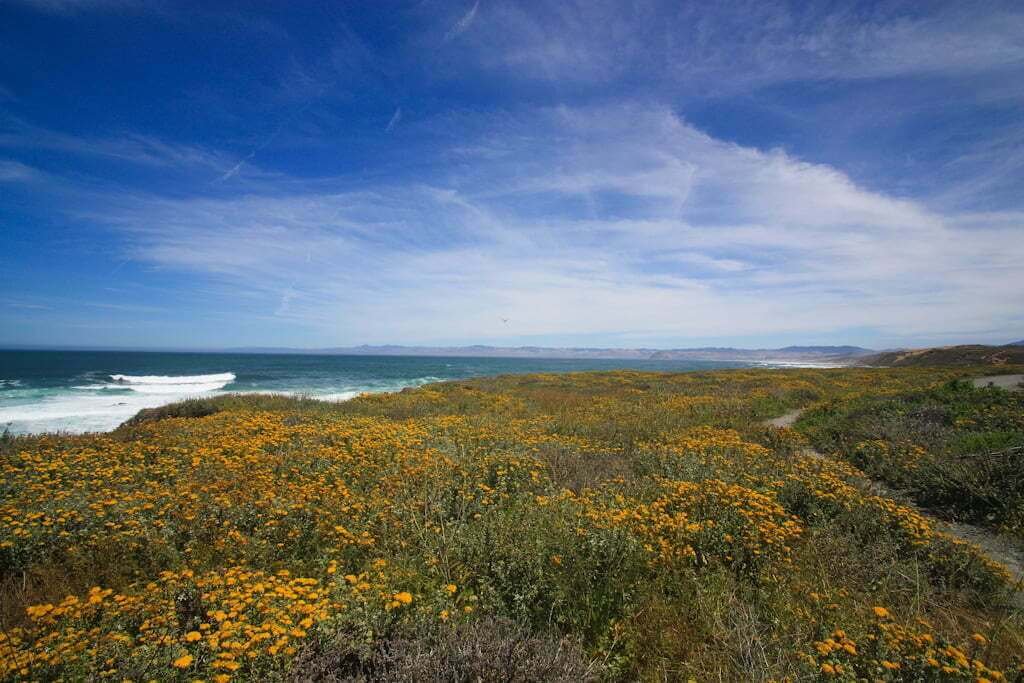 Another tip for Montana de Oro weather (and California weather in general):
Bring layers!
I show pictures of different types of skies here, so don't expect California to always have blue skies. We also traditionally have a "June Gloom" period around the start of summer, and that can shift into July some years!
MONTANA DE ORO BLUFF TRAIL
Our #1 Must-do: The Montaña de Oro Bluff Trail!
If you only have time for one thing in Montaña de Oro, you've gotta do the Bluff Trail.
We always start our time at Montaña de Oro with this trail. Since pictures are worth thousands of words, I'll save you some reading time and show you why you can't miss the Bluff Trail.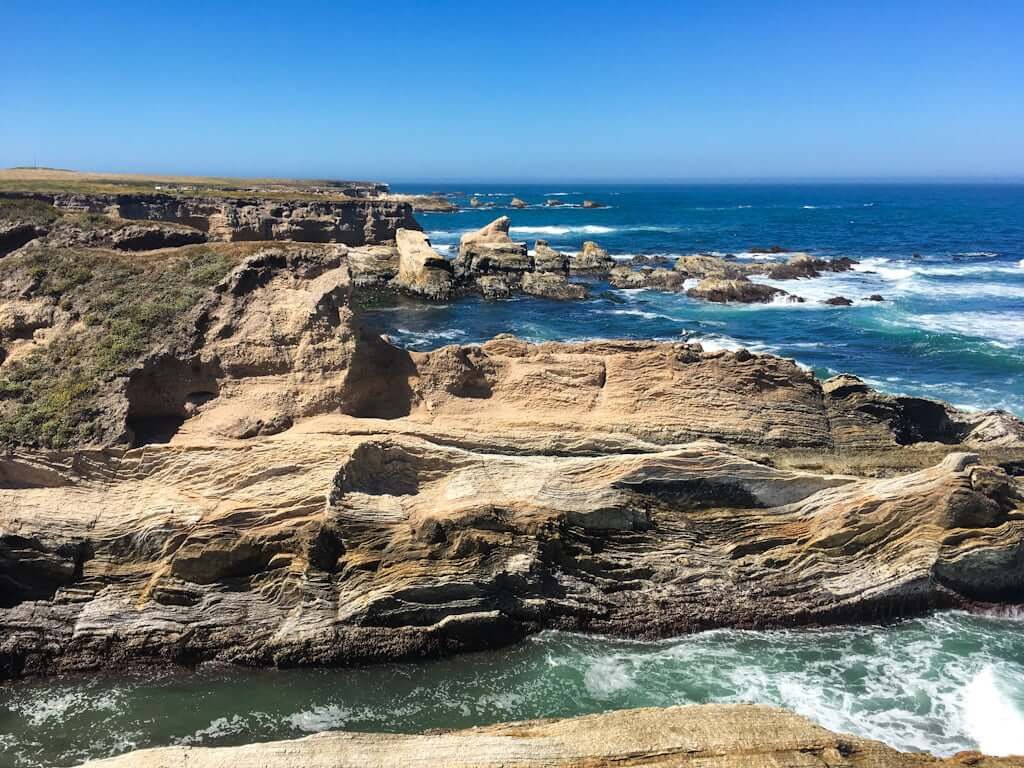 You can walk it, run it, or bike it!
When our daughters were just wee things, we'd put them in the double stroller and walk the Bluff Trail. It was slower and took more time to cover, but it gave us time to stop and look at all the various viewpoints (of which there are many, and some with cute benches where you can sit and enjoy the view for longer.
(That is, if you don't have small children, because you know you won't be able to sit there quietly for long🤣).
MONTANA DE ORO STATE PARK
The Bluff Trail: Hike It or Bike It?
Now that the girls are older, we all enjoy biking the Bluff Trail!
It's faster.
It's easier.
We can go back and forth (north and south) along the trail and enjoy the views while having fun…and saving ourselves a lot of time.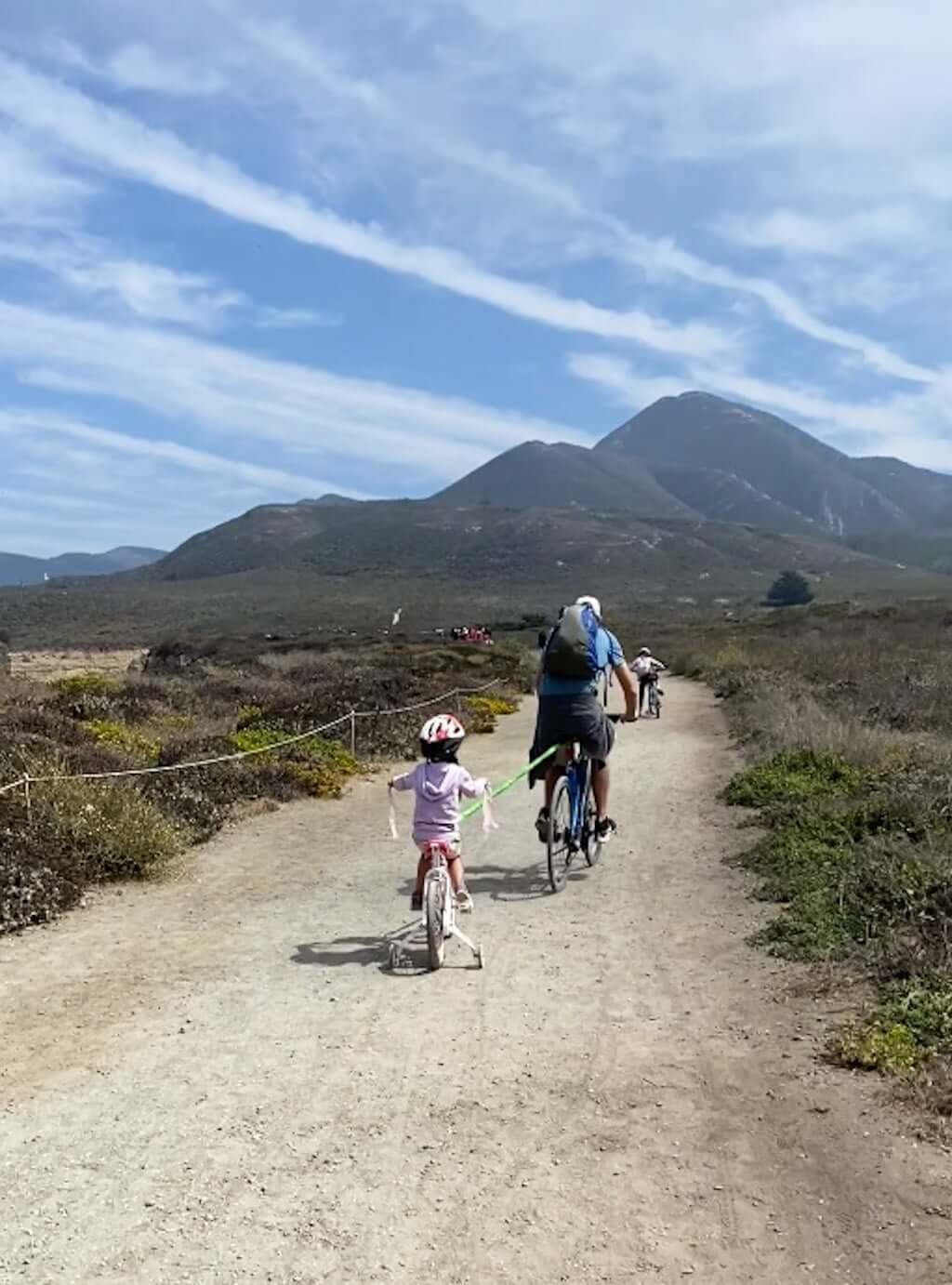 Which means more time at the tidepools, which may be our Thing #2 to do!
After riding bikes all the way to the southern point of the Bluff Trail, we turn around and come back up until we hit the Montaña de Oro tide pools. We park our bikes at the top of the trail that descends down to the beach.
MONTANA DE ORO STATE PARK
"How do I get to tide pools at Montana de Oro?"
We have all our Montaña de Oro tide pool tips and a map HERE!
As you can see in the photo below, it's a random stop off the main trail and is not well marked off the Bluff Trail!

But once you know where to find the main tidepool area, it feels easy!
TIDEPOOL TIP:
MAKE SURE YOU CHECK WHEN LOW TIDE IS before you come! That way you'll be aware what time you need to be at the tidepools. Best is 1 hour before low tide. So if low tide is at 10:47, I'd try to get there around 9:30 or even a bit earlier to give yourself time to get down there and explore.
Also keep in mind that tides are at different levels on different days. Not all low tides are the same!
MONTANA DE ORO HIKES
"What do I need to know about parking?"
Alright. Parking. I hate fighting people for parking spots, so if you do too, get there early—ESPECIALLY ON A WEEKEND. Montana de Oro gets biiiiiiiii-zzzzzzzzzzzzzzzy on weekends, so I'd say at least by 8am! Especially during holiday weekends or summer.
During the week days in the spring or fall, you can get away with a little later, but honestly, this place is so beautiful that I say get there early and ENJOY YOUR TIME THERE! If you're not a morning person, BECOME ONE on your Montana de Oro day.

MONTANA DE ORO HIKE
Do You Want an Easy or a Difficult Hike?
If you want an easy, absolutely stunning hike (that's really more like a walk), stick to the Bluff Trail! I have everything you need to know written out, with a map, HERE!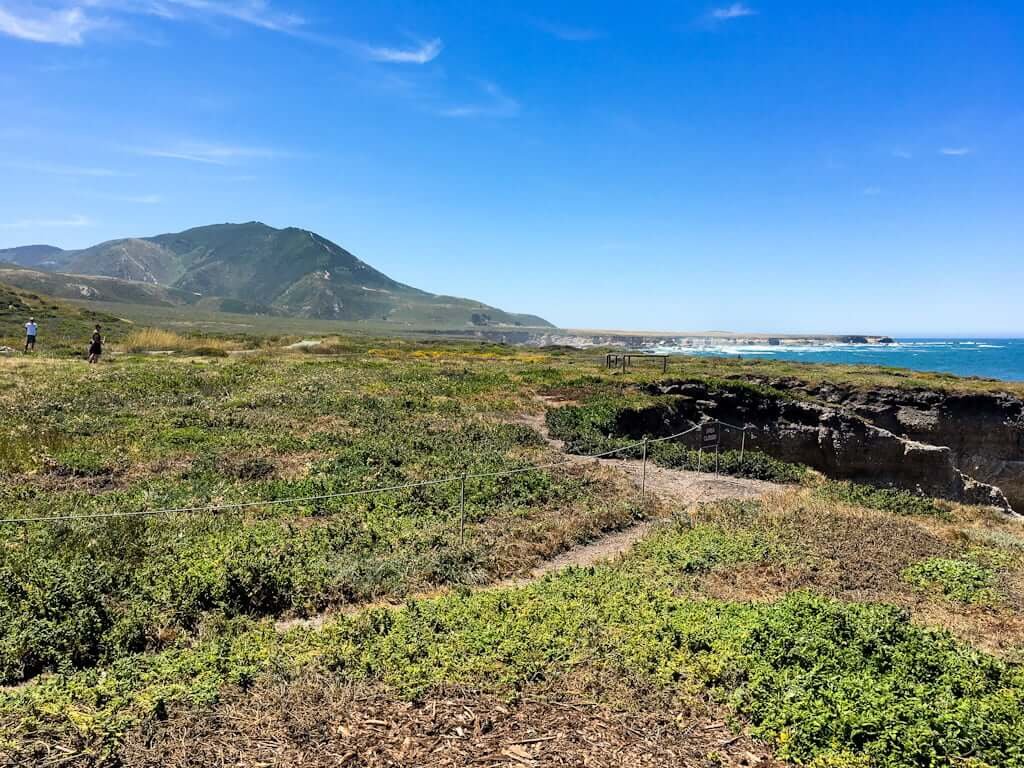 We've stuck to the Bluff Trail the past several years because of the young ages of our children. As they get older, we may expand to some of the more difficult hikes, info on which you can find here.
MONTANA DE ORO BEACH
Montana de Oro State Park Beaches
If you're looking for info on beaches in Montaña de Oro State Park, you can get full details, maps, photos, and a free itinerary from us in this post!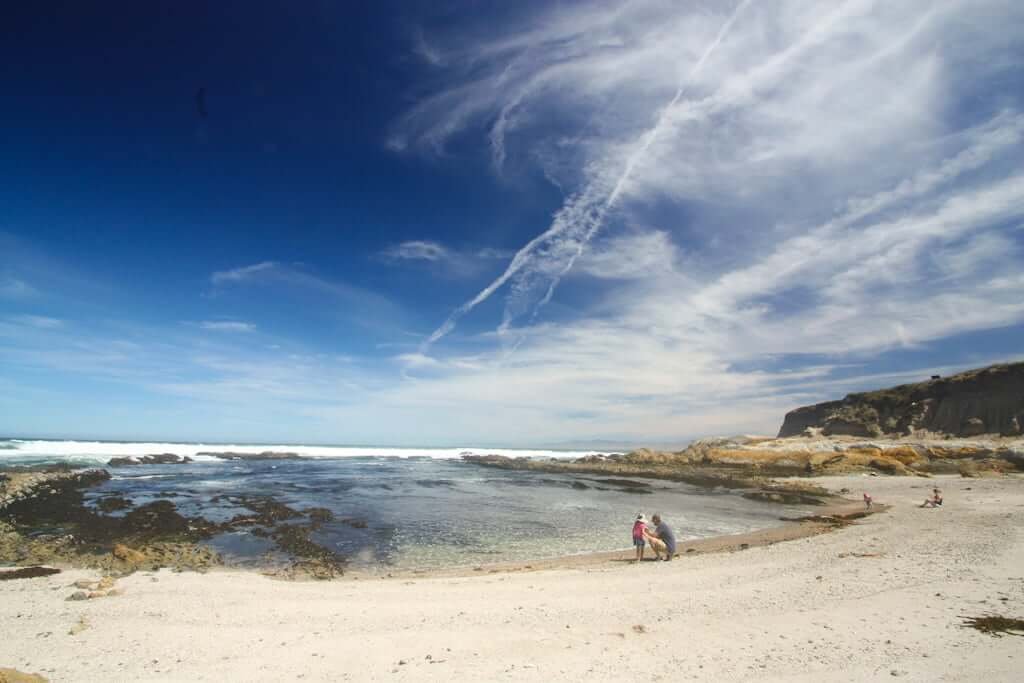 MONTANA DE ORO state park MAP
You can download an official map here, or check out the rest of our posts for more specific, simplified maps and arrows pointing to where you'll want to go! 😊
#1: Our post on Montana de Oro Beaches!
#2: Our post w/tips on the Montana de Oro Bluff Trail!
#3: Our post with tips + showing you where to find the Montana de Oro Tide Pools!
➜ Or, if you're new here, you can read about who we are & what we do HERE!😊