The Bob Jones Trail (a.k.a. "The City to the Sea Trail") is one of the most gorgeous bike trails on the California coast—therefore, I'd be sad if you had to miss it!
So today we're sharing an itinerary that perfectly blends this delightful activity + relaxation!
It's ridiculously easy when you're already driving up or down the 101 to add this to your stops, especially if you need to stretch your legs. As a self-diagnosed semi-claustrophobe🤣, I love breaks from long car rides!
The Bob Jones Trail runs between Avila Beach and just off the 101 freeway, south of San Luis Obispo. If you have a bike (as we recommend for our #1 stop in this area, the Montaña de Oro State Park near Morro Bay), you've gotta stop and ride at least part of this trail!
People, the Bob Jones Trail is easy breezy. It's mostly flat. And there are plenty of places to stop—from benches to cute little restaurants—if you want to make a longer day of it. 😊
In this post:
First we'll show you our photos from a recent stop on this trail (plus our recommendation on where to go next to reward yourself for all that biking, especially if you're here between Sept-Nov!)…
…then we'll get to the nitty-gritty questions like
"Where does the Bob Jones Trail start & end?"
"How long is the Bob Jones Trail in Avila Beach?"
"What other tips do you have around this trail experience?"
BONUS: We'll even throw in a video for you toward the end so you can see it for yourself!
BOB JONES TRAIL
2:15pm: Park & Unload the Bikes!
Since we had spent the first part of our day at the stunning Montana de Oro, we arrived at the parking lot outside of Avila around 2:15pm and unloaded the bikes.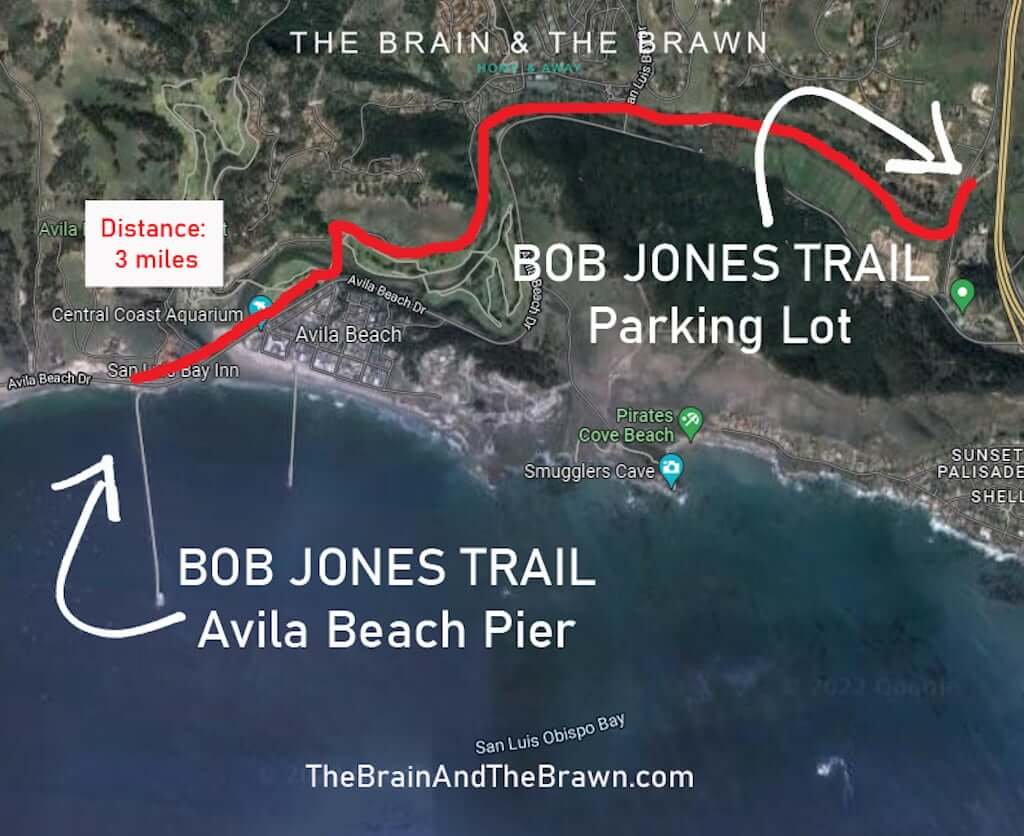 BOB JONES TRAIL AVILA BEACH
2:20pm: Start Biking the Trail!
The route on the Bob Jones Trail that we planned was 6 miles long, so we let our 7-year-old be "the leader" to start out. She was thrilled to be on a paved path after miles of dirt paths in Montana de Oro.
We don't get a lot of autumn leaves in southern California, but in some places you can still see them starting to turn! 🍂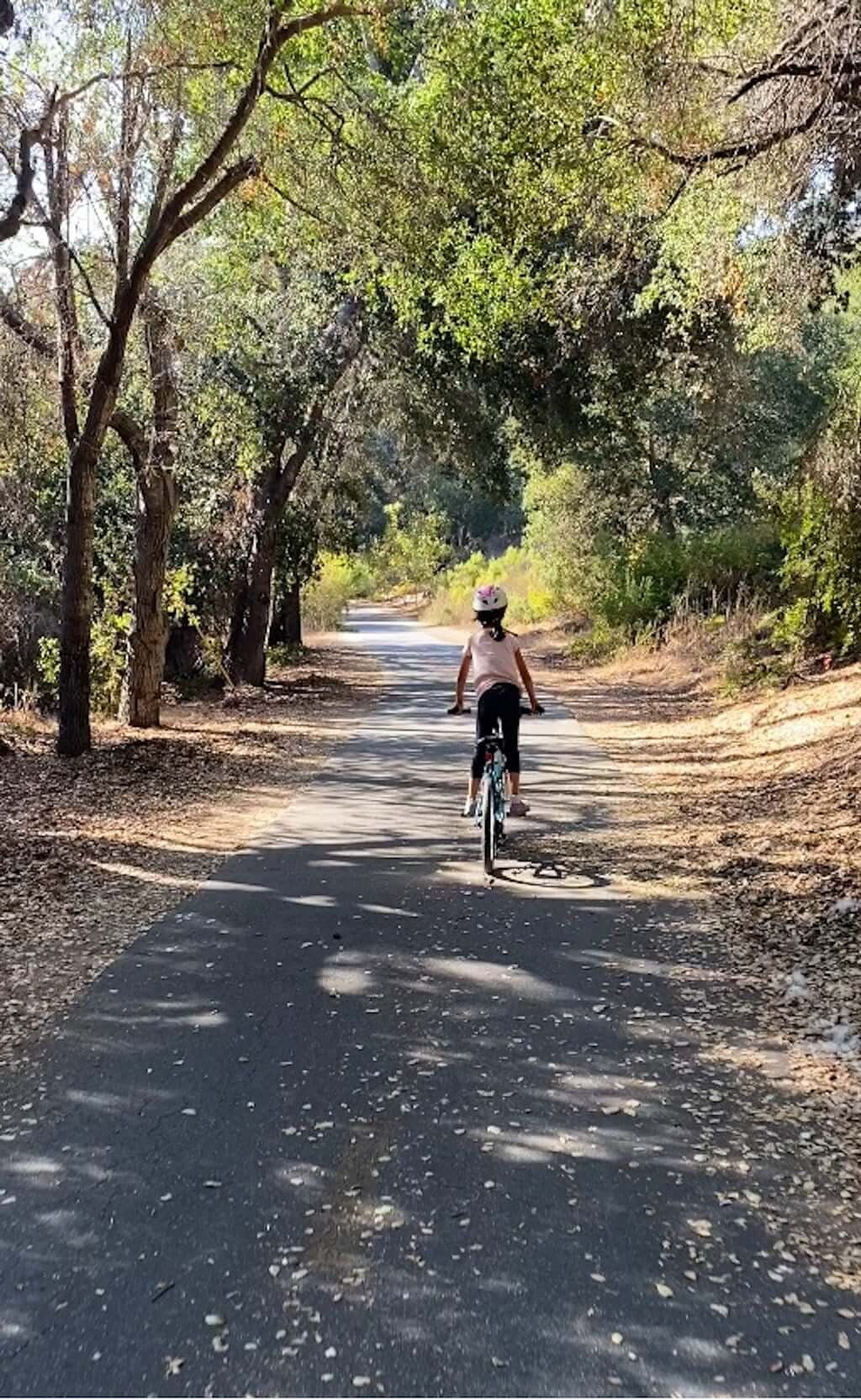 AVILA BEACH BOB JONES TRAIL
"The Secret Garden"
We didn't stop for drinks at The Secret Garden (not yet, anyway…we stop somewhere else we'll show you), but on a couples trip we definitely would have!
There's a gate right off the Bob Jones Trail that opens to this little hangout spot that's part of the Mineral Springs Resort called "The Secret Garden." You can get drinks, snacks, or fresh produce at times.
We'll have to stop next time but today, we're on a tighter schedule!😄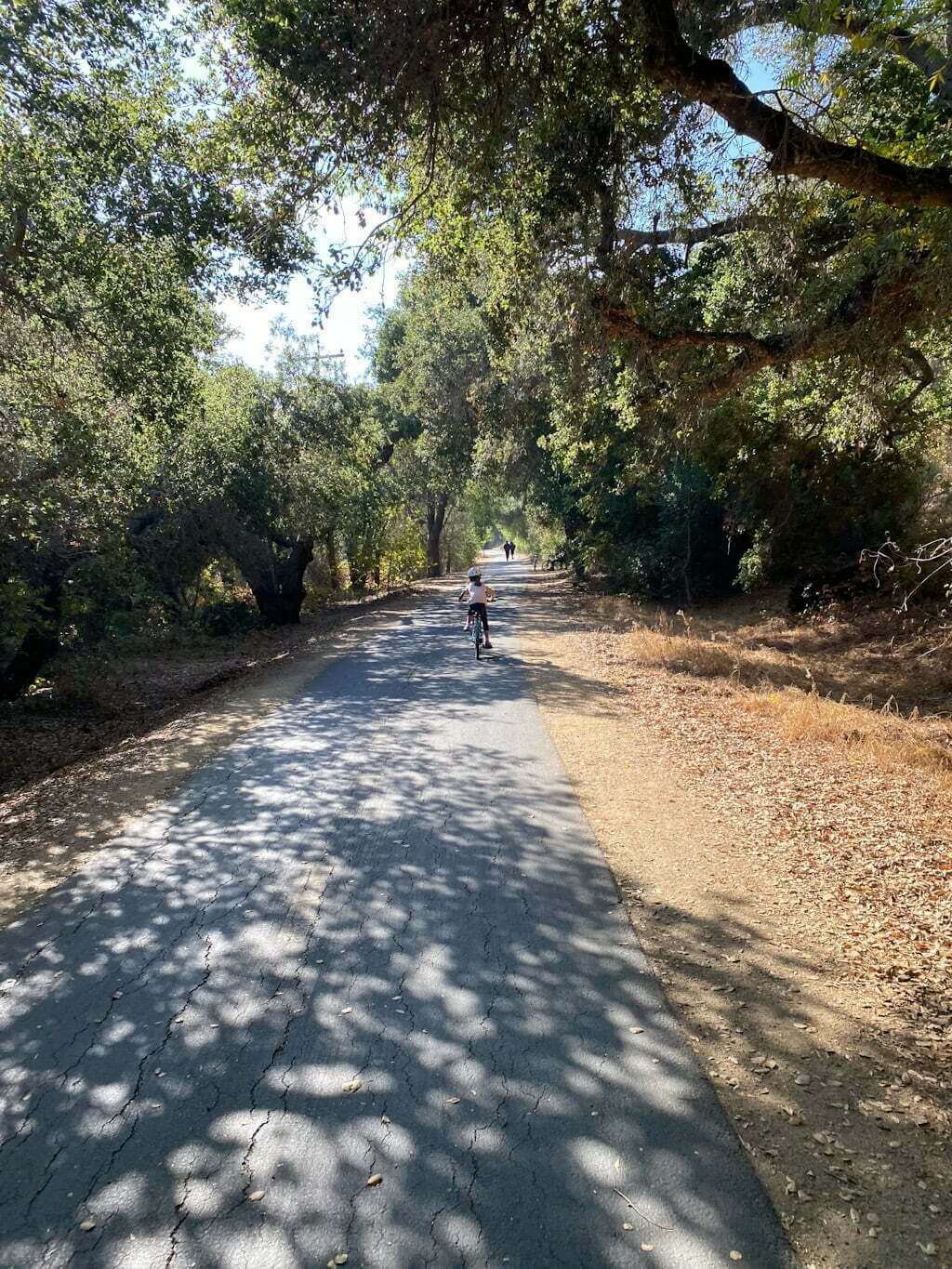 Have you spotted our famous green bike bungee again? Yep, there it is. It's hard to keep up with the big folks when you're a 4-year-old girl with training wheels.😆
SLO CREEK FARMS
3:50pm: Organic Apple Time!
We're getting SO close to the perfect time for happy hour. 😉
Now, just up the road from the Bob Jones Trail parking lot is SLO Creek Farms, the place where we've picked organic apples twice now. (And my favorite variety!)
Be prepared to have to watch out for bugs and apples the birds got to before you did. They're organic, remember? And honestly, delicious…although I wish we would have waited a little longer as we were a bit early in the season and it was slim pickins. (Although I did surprise my family with how many baskets of apples I managed to fill. Womanly determination will win every time.)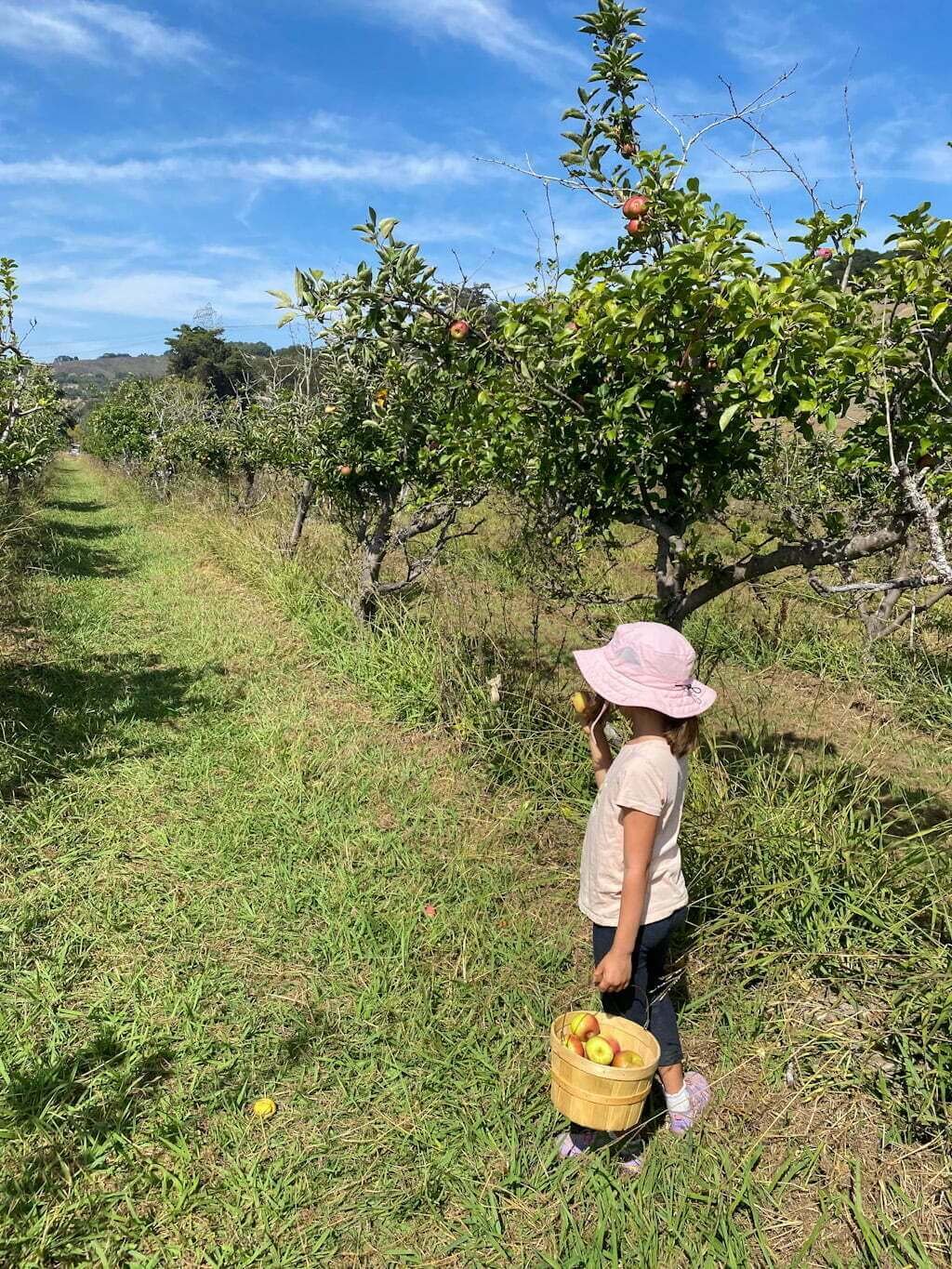 SLO CREEK FARMS
4:21pm: Lawn Games + Hard Apple Cider Time!
One of the most charming things about SLO Creek Farms is the grassy area they have in front of their little stand area. (That's it on the right in the distance.)
They have all kinds of different tables and lawn games to play. There's a swing. And hula hoops. Plenty to keep your children entertained as you congratulate yourself on the apple picking (and successfully biking both Montaña de Oro and the Bob Jones Trail in one day as a family!).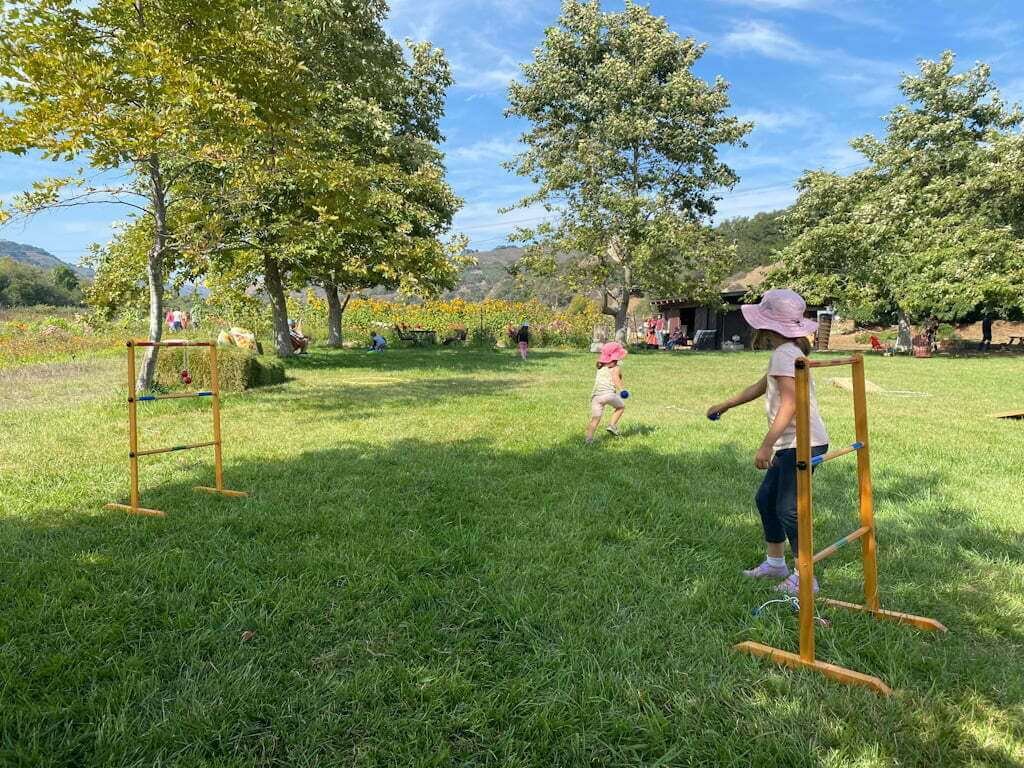 Especially on a warm day, all these beautiful trees provide lovely shade, and you can bask in the glow of Liquid Gold.😊
At least, that's what Matt and I did this time.
I took this photo of their flower area (where you can pick and cut your own fresh flowers) for my friend in New Zealand who was starting her own similar business. I was like, "And you can have a big grassy area with games and chairs and cider!" 🤗
Clearly all the endorphins from the bike riding PLUS my organic apple haul were kicking my entrepreneurial side into full swing.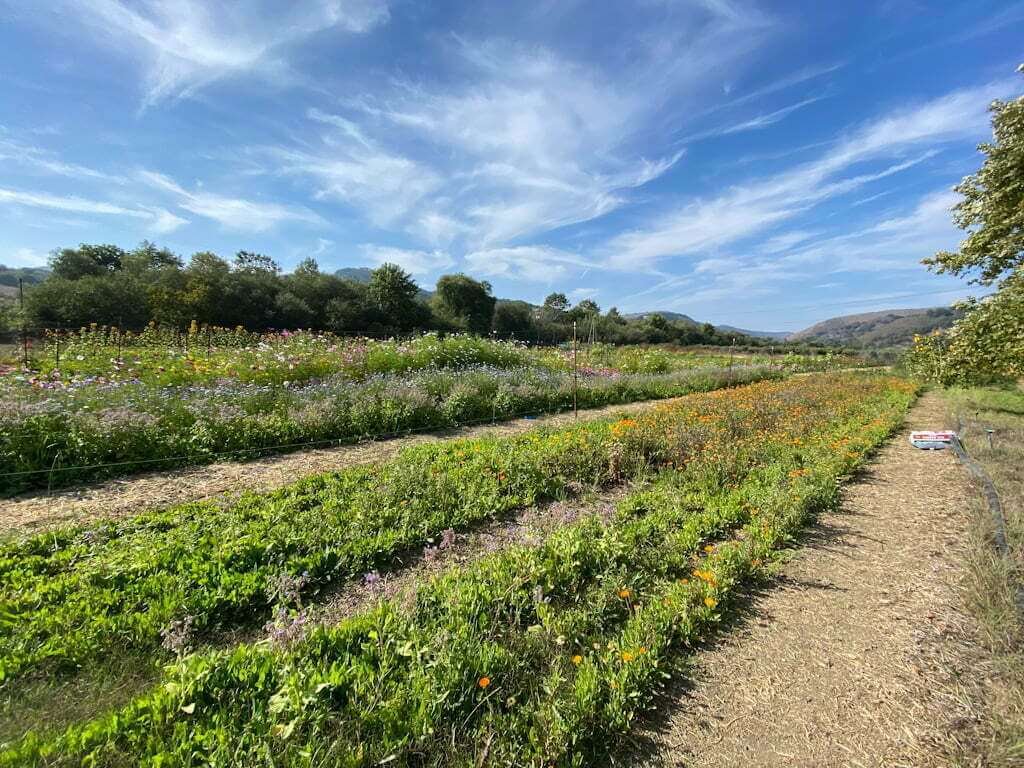 Now back to the nitty gritty Bob Jones Trail info I promised you, plus that video down below!
BOB JONES TRAIL MAP
"Where does the Bob Jones Trail start & end?"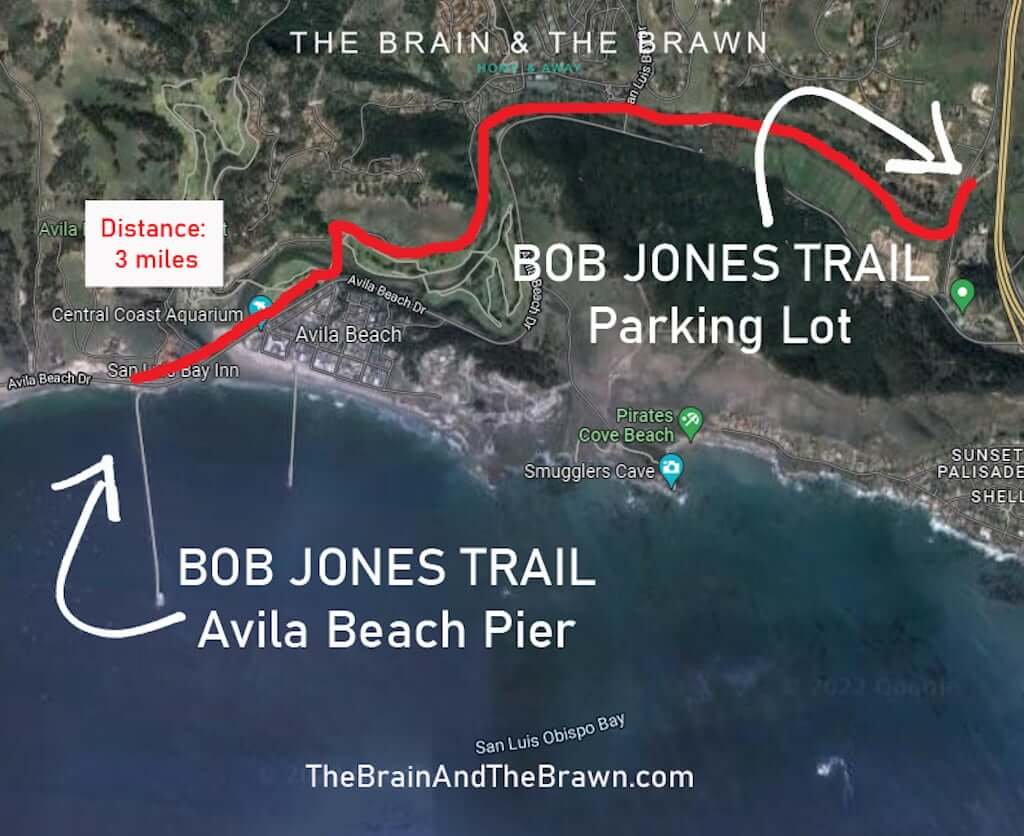 The trail starts at a parking lot off the 101 and ends in downtown Avila Beach. If you're just passing through, we recommend starting at the parking lot end for efficiency's sake!
If you're looking for those Bob Jones Trail directions:
You can either find "Bob Jones Trail Head" on your Google maps, or…
Use this address to map out the parking lot: 7009 Ontario Rd, San Luis Obispo, CA 93405
Below is how Google will show it to you, which isn't the greatest map ever, so feel free to use the one I made for you guys above!
There are decent bathrooms at this parking lot, so use them before you start just to be safe!
(Can you hear the mother in me talking?🤣 "I know you don't feel like you have to go, but we're not leaving until you try!" No emergency stops if we can help it, girl!)
BOB JONES TRAIL LENGTH
"How long is the Bob Jones Trail?"
It's 3 miles from the parking lot to the end of the Avila Pier.
BOB JONES BIKE TRAIL
"Do I have to have a bike to do the Bob Jones Trail?"
I've seen people walk this trail, so it's very doable at 6 miles round trip!
But of course, if you're on a tight schedule, have kids, or just enjoy bike riding, utilizing bikes is a lot of fun too!
Because our kids are young, the first time we did the Bob Jones Trail, we knew there was no way they could walk this. If it was just Matt and I on a couples trip to Avila, maybe we'd walk it (I love walking!)…but if it was a hot day, I'd still opt for a bike again! 🥰
To see all our favorite spots on the California coast, check out our Adventure page!
➜ How do we free up time to do all these trips? You can browse our genius home solutions HERE!