If you only have a couple hours to spend here, we recommend you stick to the Montana de Oro Bluff Trail to maximize your time and get the best experience with each moment you have!
In the autumn, we decided to do something a little crazy and drive 2.5 hours FOR THE DAY so this Crispy Apple-lovin Mama could pick at her favorite organic apple farm!😋
I'd done this myself the autumn previously with the girls as we were staying in Santa Barbara while Matt worked, and it was only an hour north from there. The girls and I had such a fun time that we wanted to do it again this year. (I talk more about our full day trip itinerary here!)
Before I get into the specifics of the itinerary, here's my Jessica Summary of the Bluff Trail for ya!💃
MONTANA DE ORO bluff trail
The Bluff Trail: First Things First…
Regardless of what other sites might tell you, the Montaña de Oro Bluff Trail isn't actually a loop trail! Not if you want to do it right.
Think of it more like a "there and back again" trail that walks along the ocean. It's flat and easy.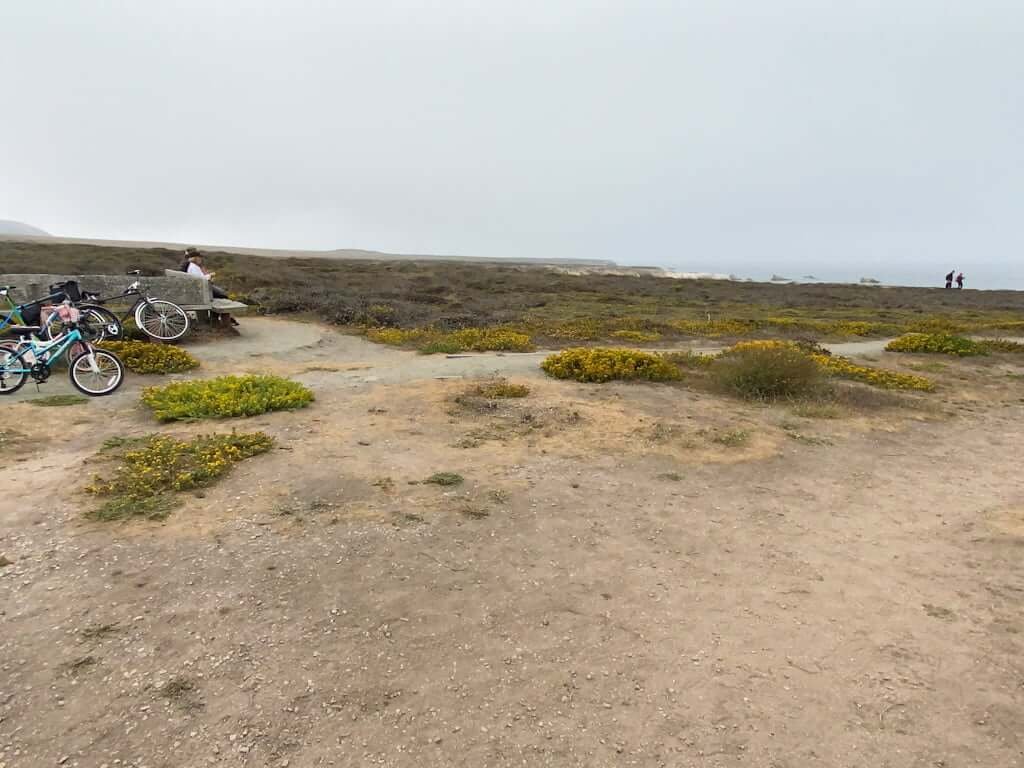 If you want to hike the Bluff Trail and you have a stroller, you can take it along the main trail for sure! Here's us on our first trip to Montaña de Oro with our girls in the double stroller: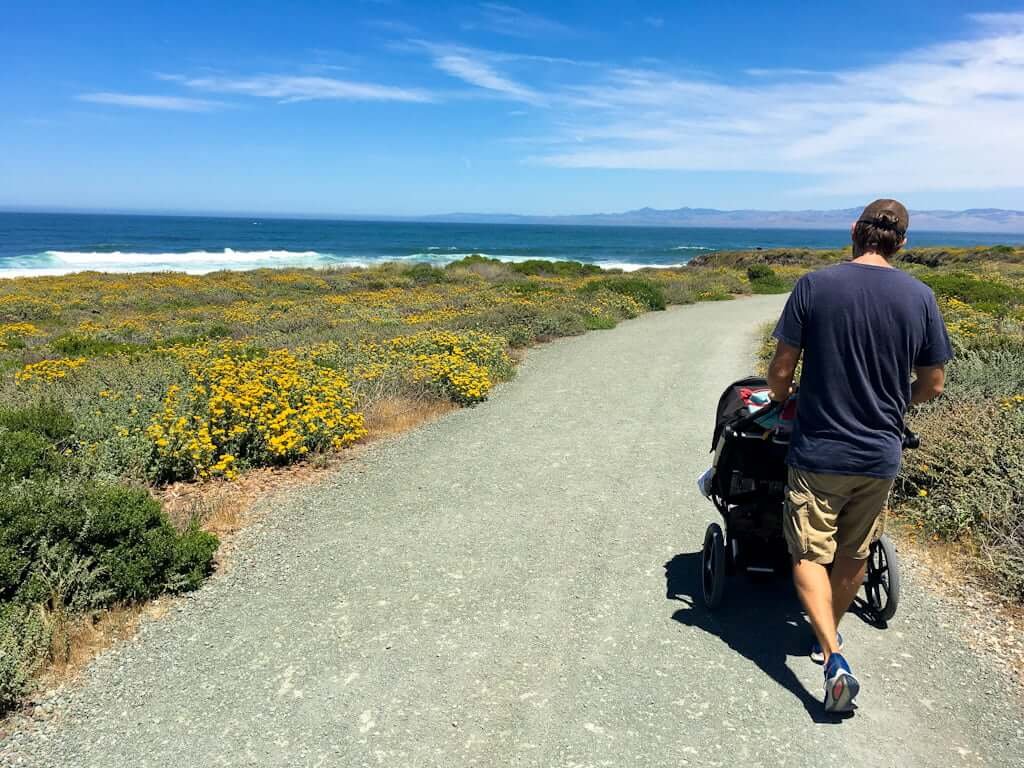 You can park at the north parking lot (the first one you'll come to as you drive in, so to save yourself time, park there!), then you'll walk just over 2 miles south along the Bluff Trail along the ocean. (Or bike ride!)
The views are INCREDIBLE on a clear day, and there are countless little "offshoot" paths you can take if you want to really experience the Bluff Trail ocean, sea caves, beach and inlet views more thoroughly!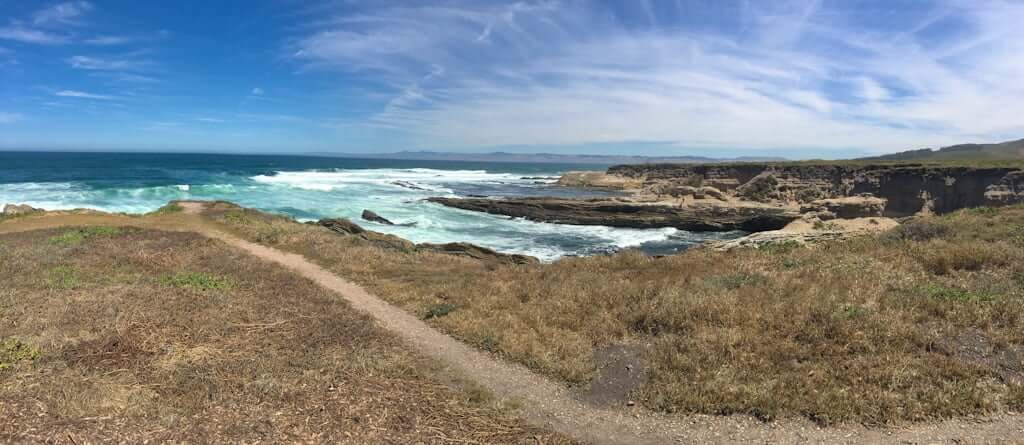 Once you get to the southernmost point of the trail, you can walk slightly uphill away from the ocean but it's just going to take you back to the road. You'll then have to walk over a mile along that road to get back to your car.
PS: See my post on Montaña de Oro State Park for full info!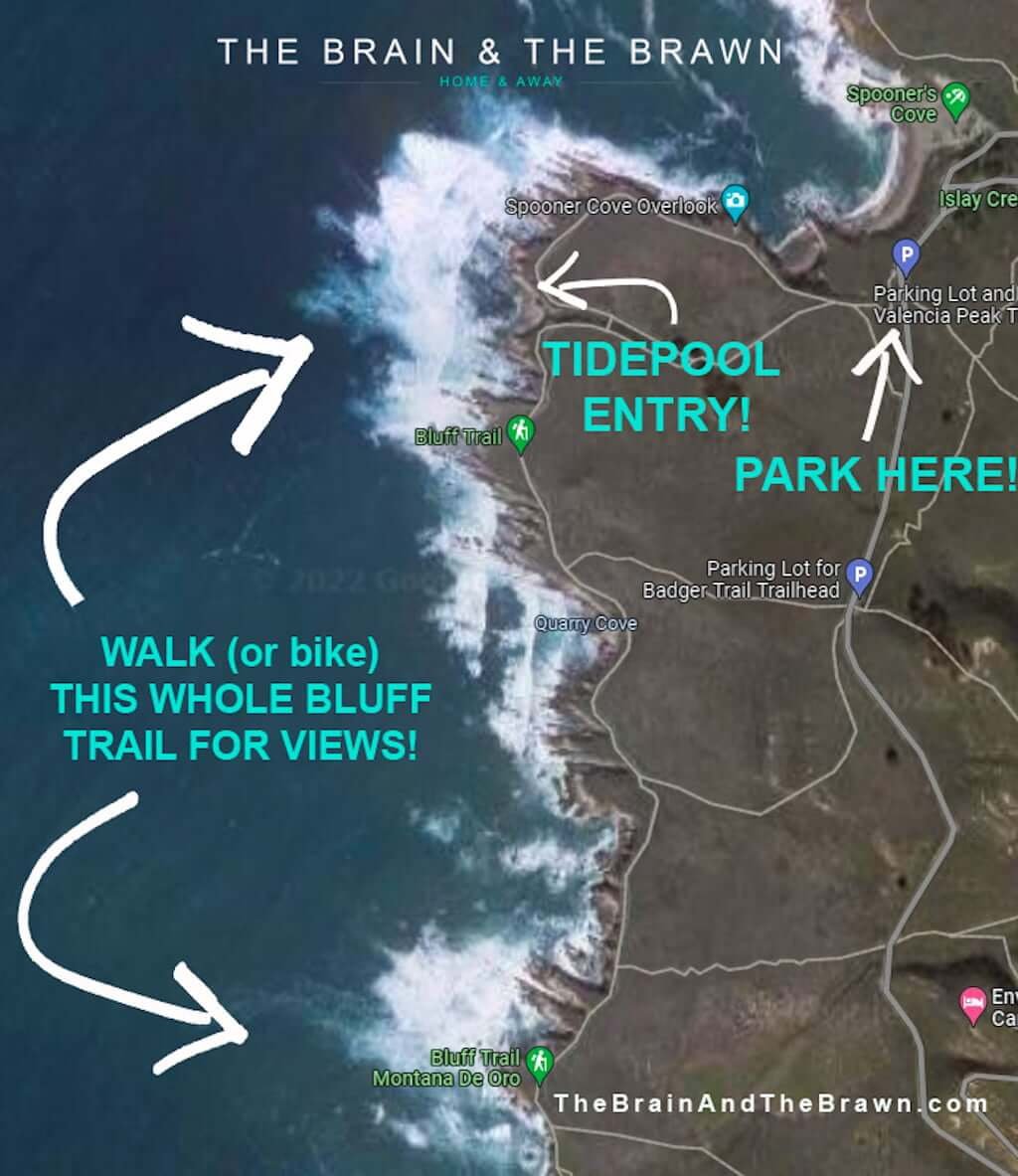 We would highly recommend sticking to the Bluff Trail both ways! The views going north and south are different and unique and you'll want to soak them up!
Alternatively, if the first parking lot is full, your next best bet is to drive all the way down to the southern parking lot and walk down to the Bluff Trail from there.
We've always parked at the north parking lot and like it. If you get one of the spots facing down into Spooner's Cove, you'll have a stunning view from there!
BLUFF TRAIL MONTANA DE ORO
Note about the Weather.
If you're not familiar with the California coast, you'll want to remember that there's often a marine layer here in the mornings. Sometimes it burns off by the afternoon, sometimes it doesn't. Sometimes it's not there at all and the mornings are perfectly clear and gorgeous!
I say this because the Montaña de Oro Bluff Trail is especially spectacular on a clear day! The color of the water and the mountains nearby is so gorgeous, I never want to leave. Spring–for me–is the best time of year to visit because of the wildflowers on the hillsides.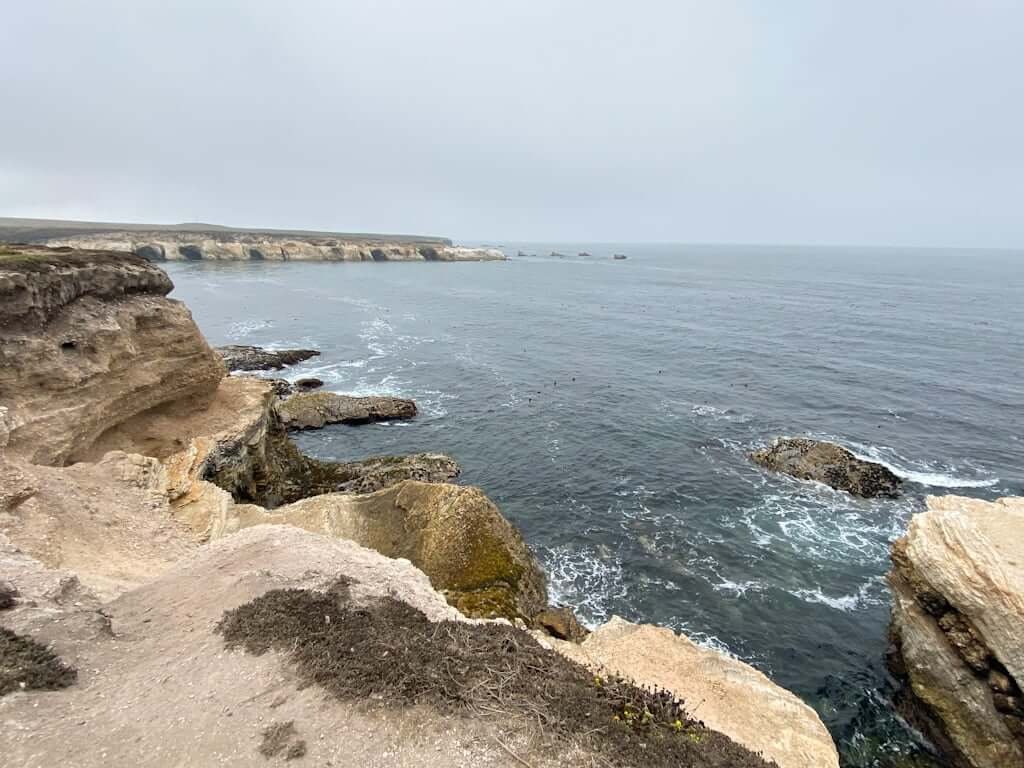 These photos were taken on a typical late summer/early autumn day! So you're going to see exactly what you could run into on your trip to Montaña de Oro and how it looks when everything is cloudy…
…versus towards the end when the sun breaks through and the view is spectacular again!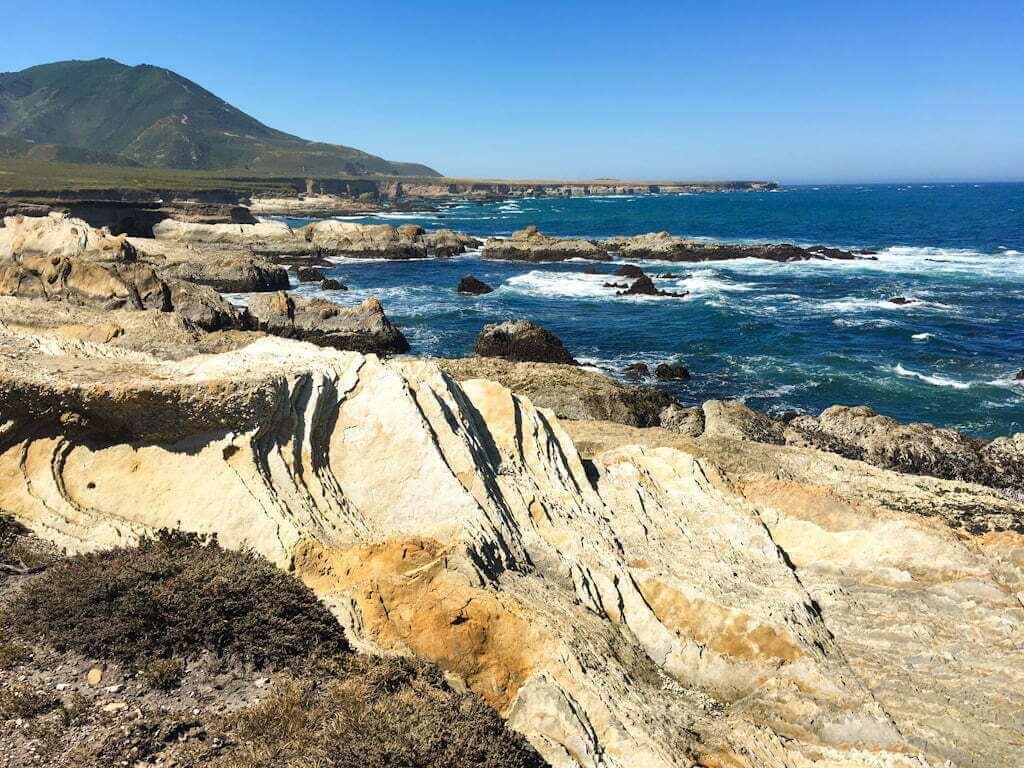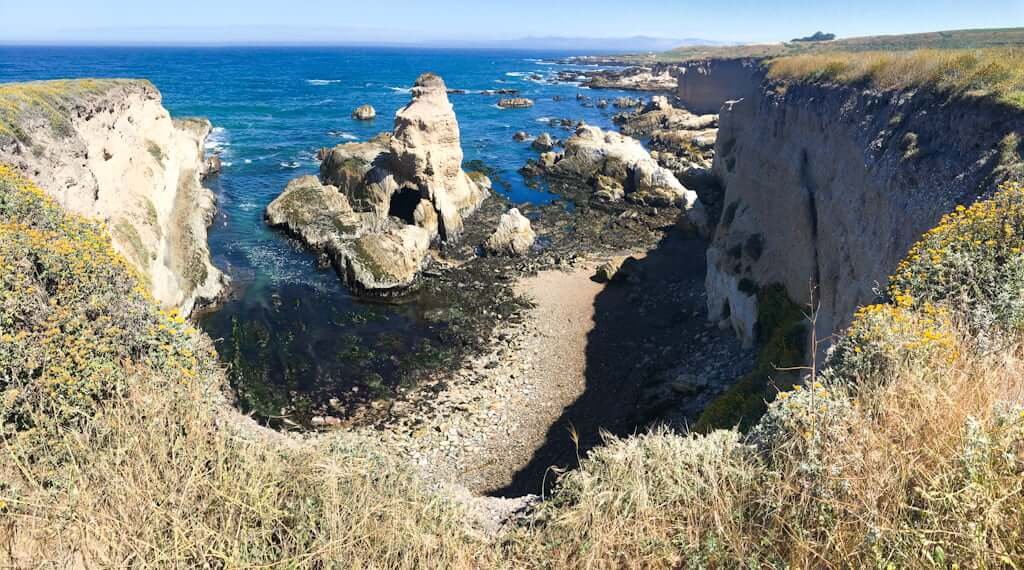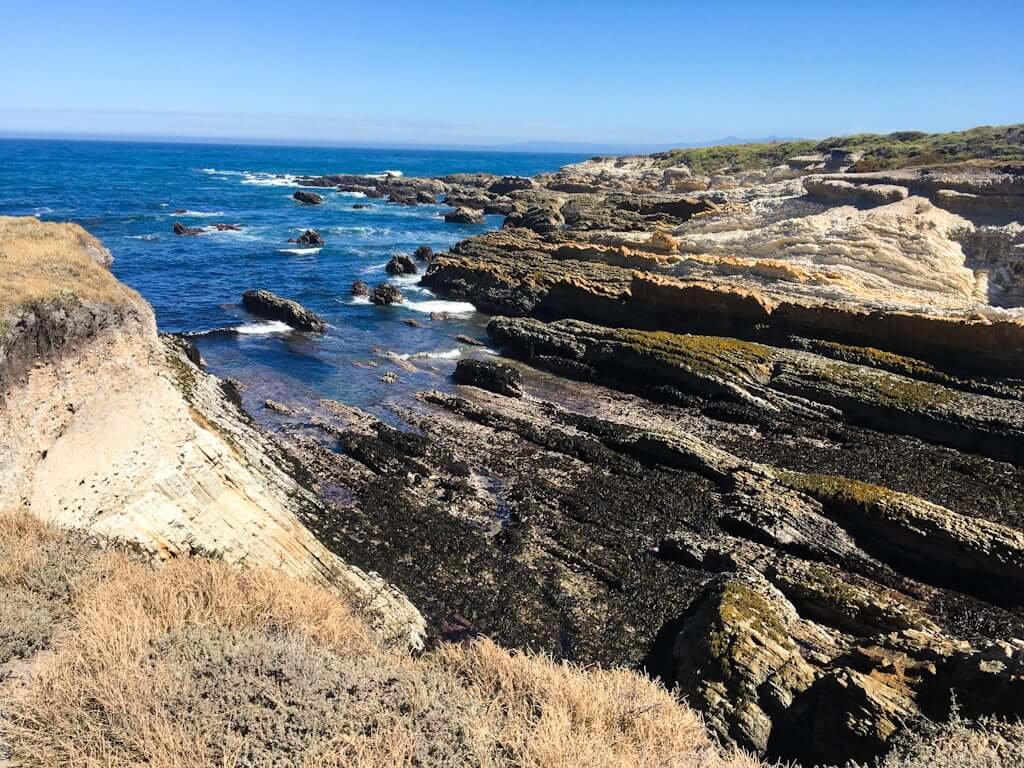 You can see more stunning photos of Montaña de Oro in spring and summer in our other posts
BLUFF TRAIL MONTANA DE ORO
11:45am: Bike the Bluff Trail!
As mentioned, this was a day in September so we arrived from our sunny Conejo Valley home to the marine layer covering Morro Bay and the Montaña de Oro.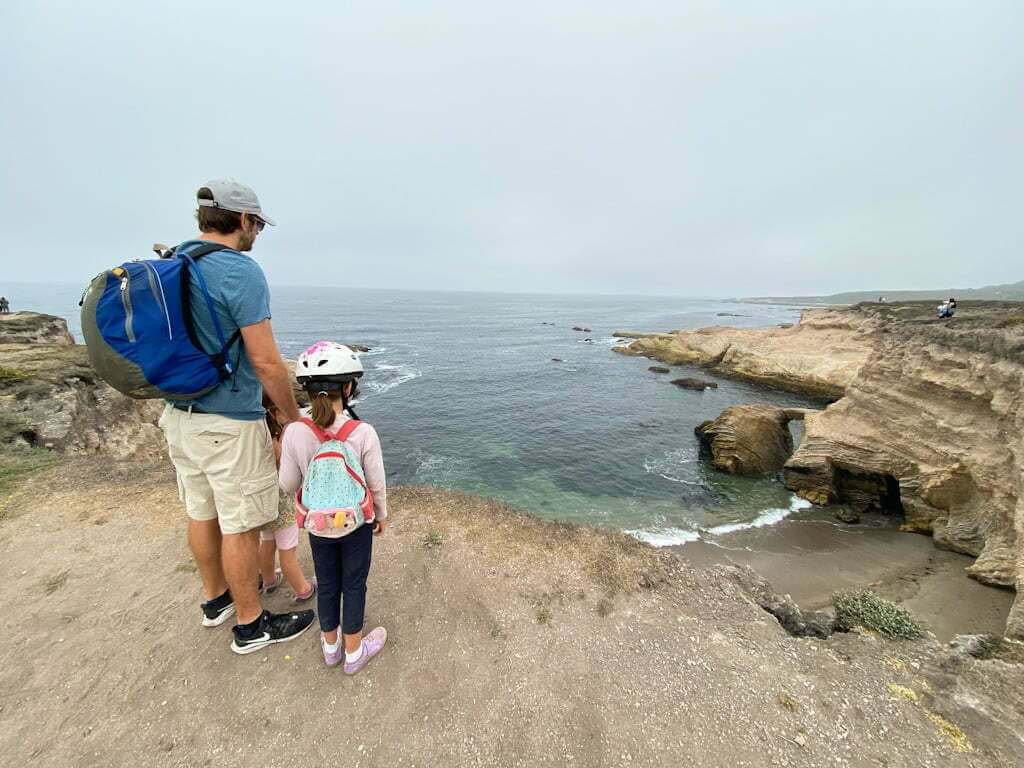 No worries, because we know it will clear up at some point!
We're on a tight schedule on this spontaneous day trip, so we brought the bikes to ride the Montaña de Oro trails instead of walking it. This day was the first we tried biking it, and I think we always will from now on!🚴‍♂️🚴‍♀️🚴‍♀️🚴‍♀️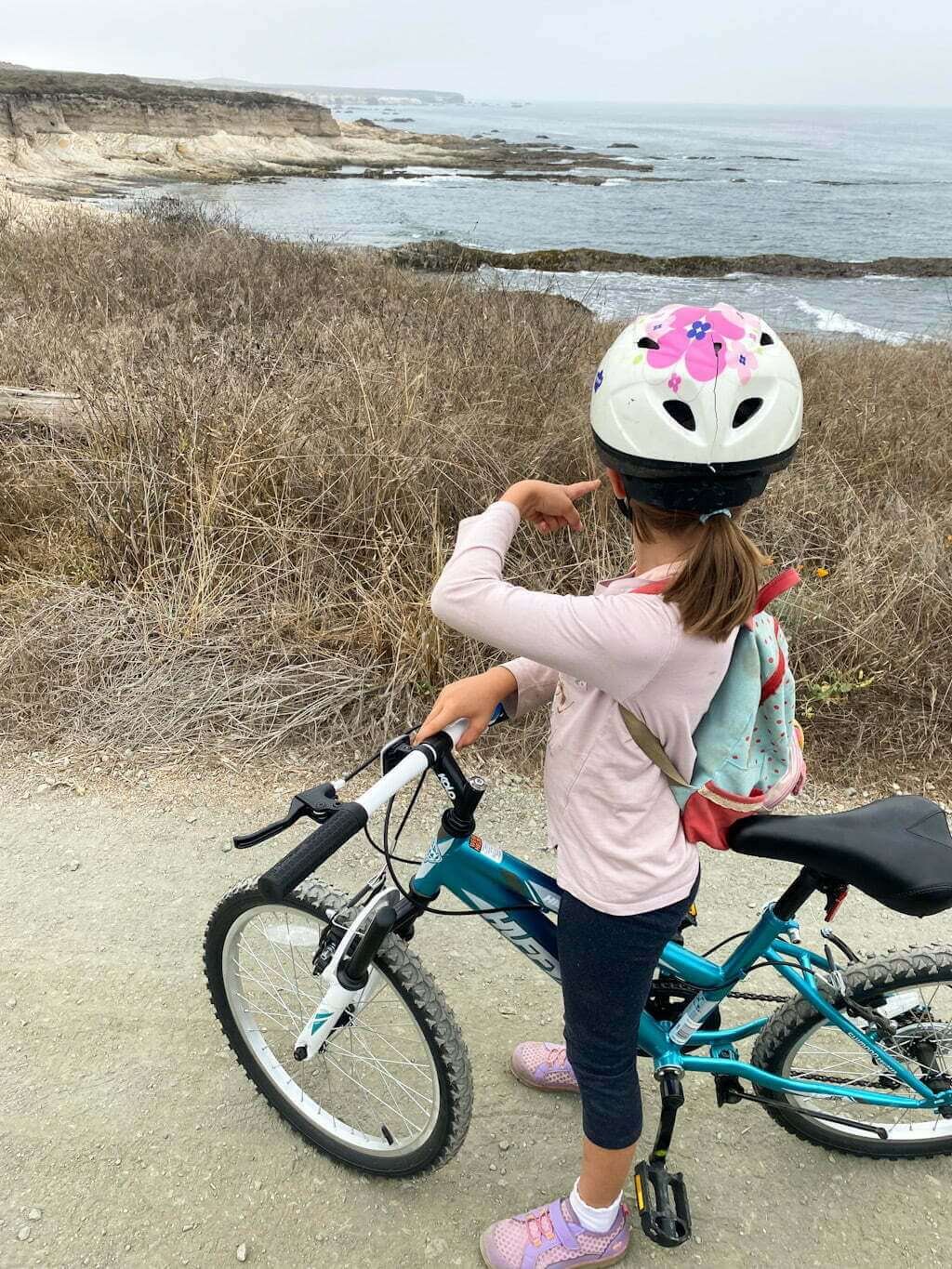 MONTANA DE ORO bluff trail
11:55am: Stop To Take Photos Along the Viewpoints!
As mentioned earlier, there are too many gorgeous viewpoints to count along the Bluff Trail. You'll see.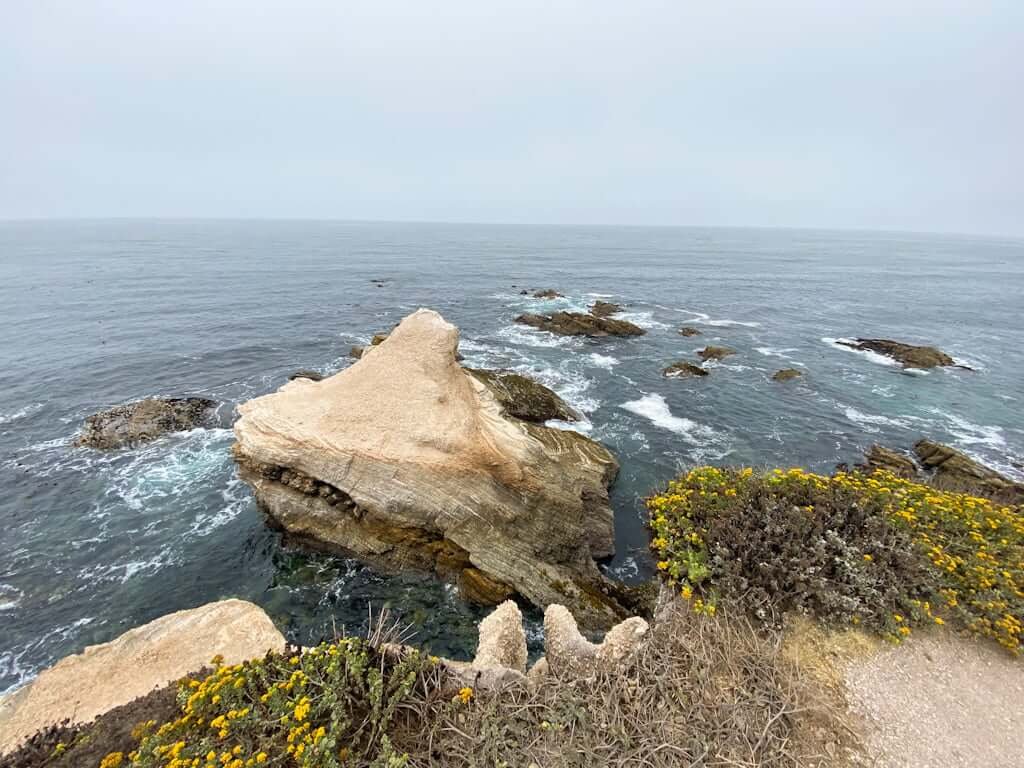 But if it's a cloudy day like this, and the weather is supposed to clear up, skip stopping at every one and just focus on your walk or bike ride.
Then, when the sun comes out later, that water and those rocks are going to magically all change color and you'll want to spend hours taking photos! Just wait for it…
MONTANA DE ORO TRAIL
12:10pm: Stop at the Tidepools.
If you're able to time your stop at Montaña de Oro the hour before or after low tide that day, do it! Whether you have kids or not, these tidepools are a delight to traipse around and explore! Get in touch with your inner child, man!🤗 It's so fun!
See all those adults down there having a blast in the tidepools! YES! Enjoy, grown-ups! 🌊🐚✨
PS: For maps and graphics of the best spots to explore in the tidepools, see my full post on the Montaña de Oro Tide Pools!
Why pay for the big aquariums with tiny touch tanks when you can touch and see hundreds of real live sea anemones in their natural habitat for free? Our kids love this, and the other wildlife mentioned next…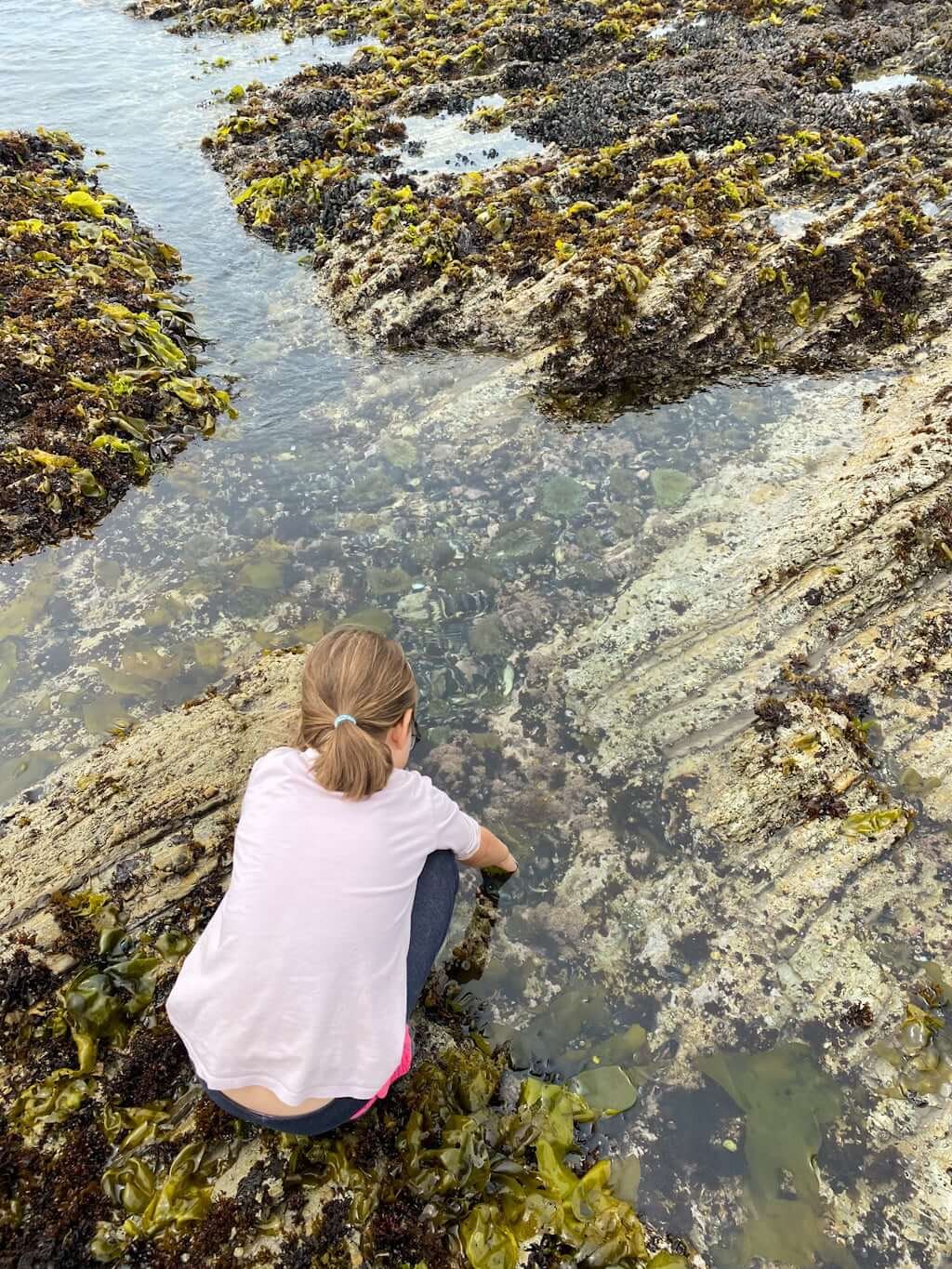 MONTANA DE ORO TRAIL
12:45pm: Get Away from the Crowds!
Leave the main tidepool area after a bit and go to the north portion to explore both the tidepools and the cool rock formations–with fewer people!
(When you see my map graphic of the tidepools, you'll see what I mean.)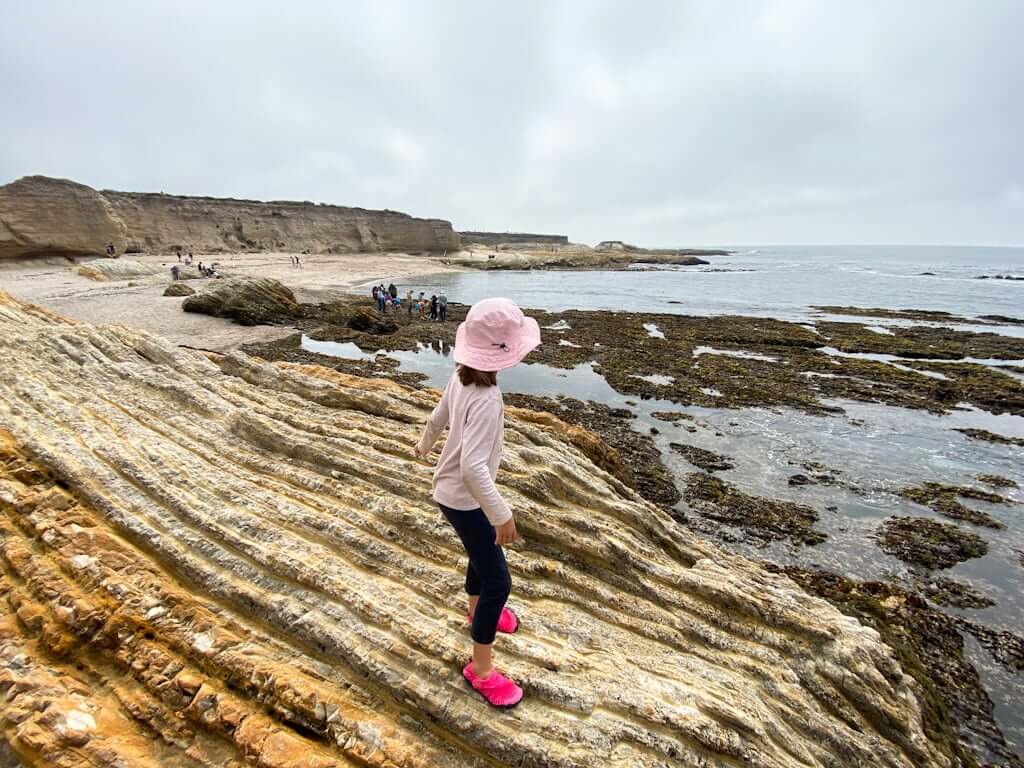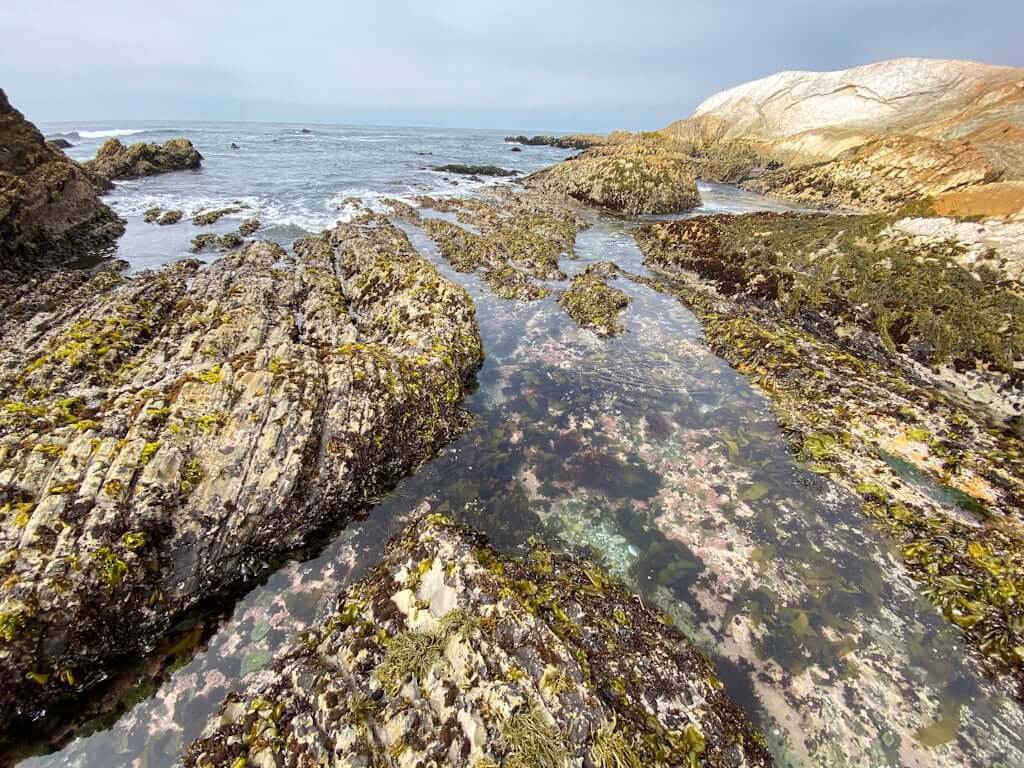 You should see a lot of
Sea anemones
Hermit crabs
Starfish
Sea urchins
Other wildlife if you're a good spotter and can move stealthily!😉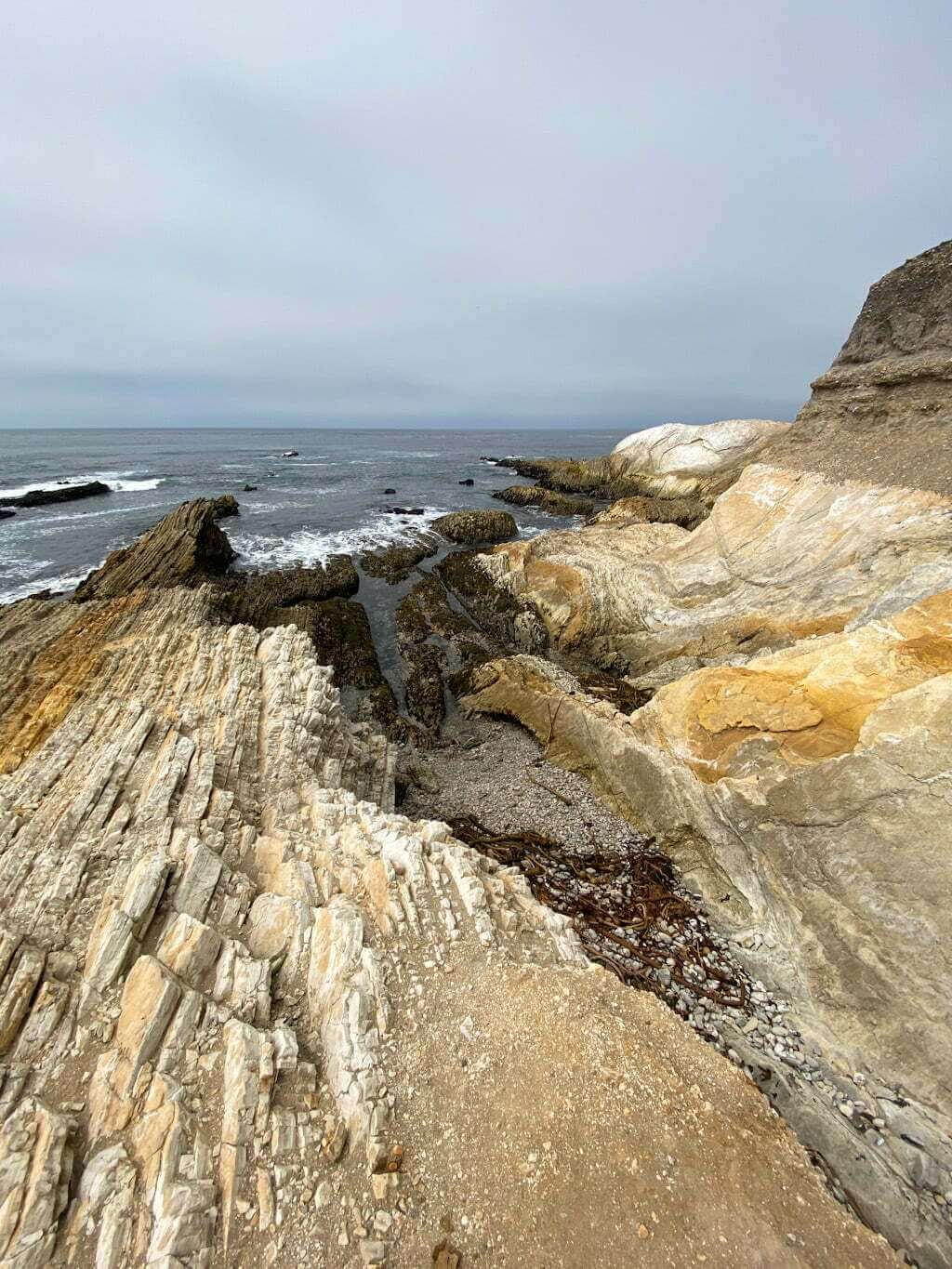 You can see our full post on the Montaña de Oro tidepools HERE!
MONTANA DE ORO TRAILS
1:10pm: Have Lunch or a Snack on the Beach.
With so many places to sit, both on the beach or on the viewpoint above it, you'll have time for a quick lunch or snack break even if you're only here for a couple hours.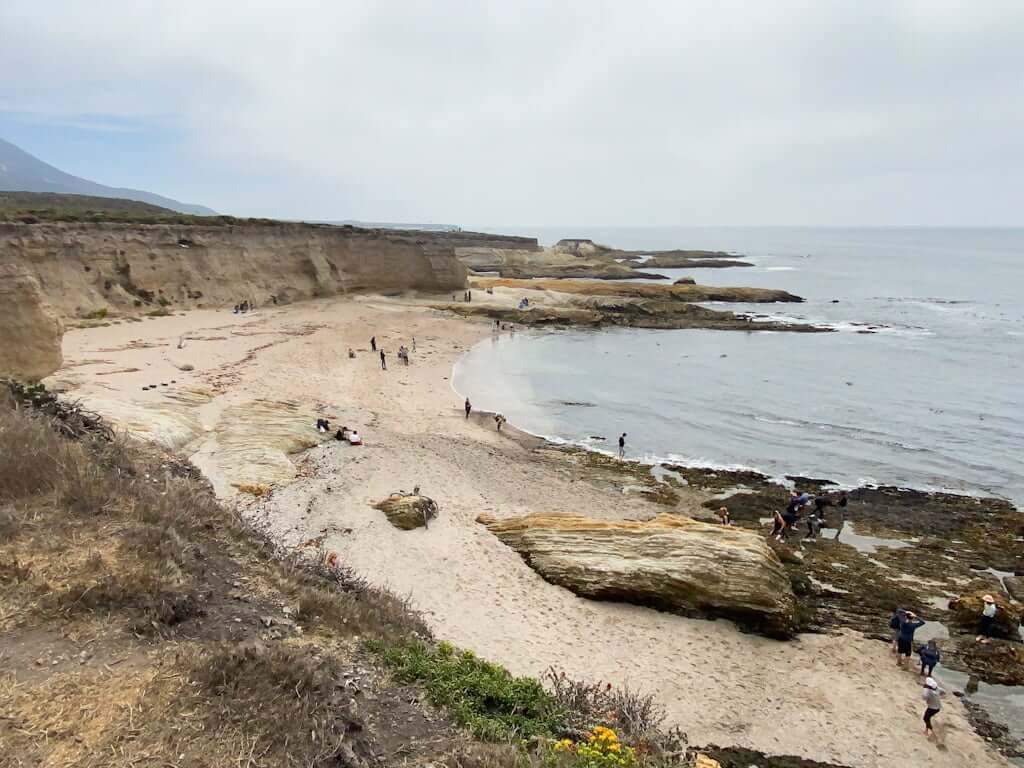 PS: Below is what that exact same spot looks like on a clear day!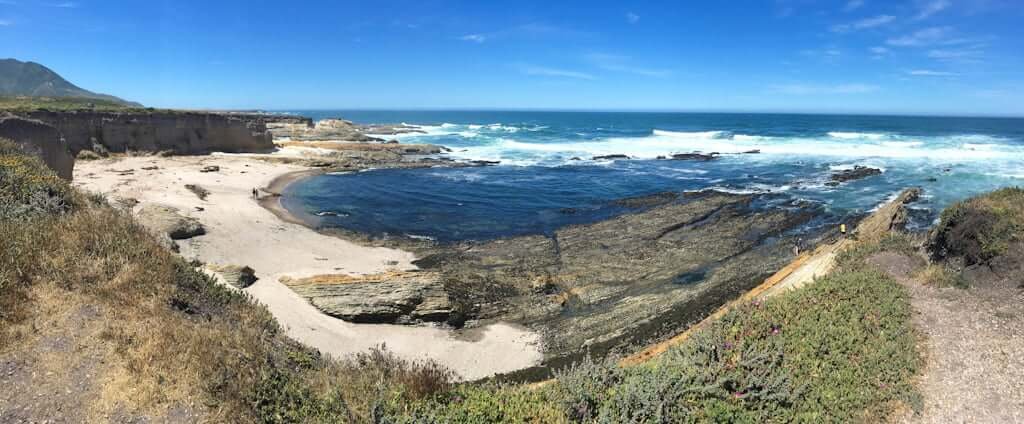 MONTANA DE ORO TRAILS
1:20pm: Explore the South Side Rocks & Beaches!
Surprisingly, I don't know which one my kids enjoy more: the tidepools or this.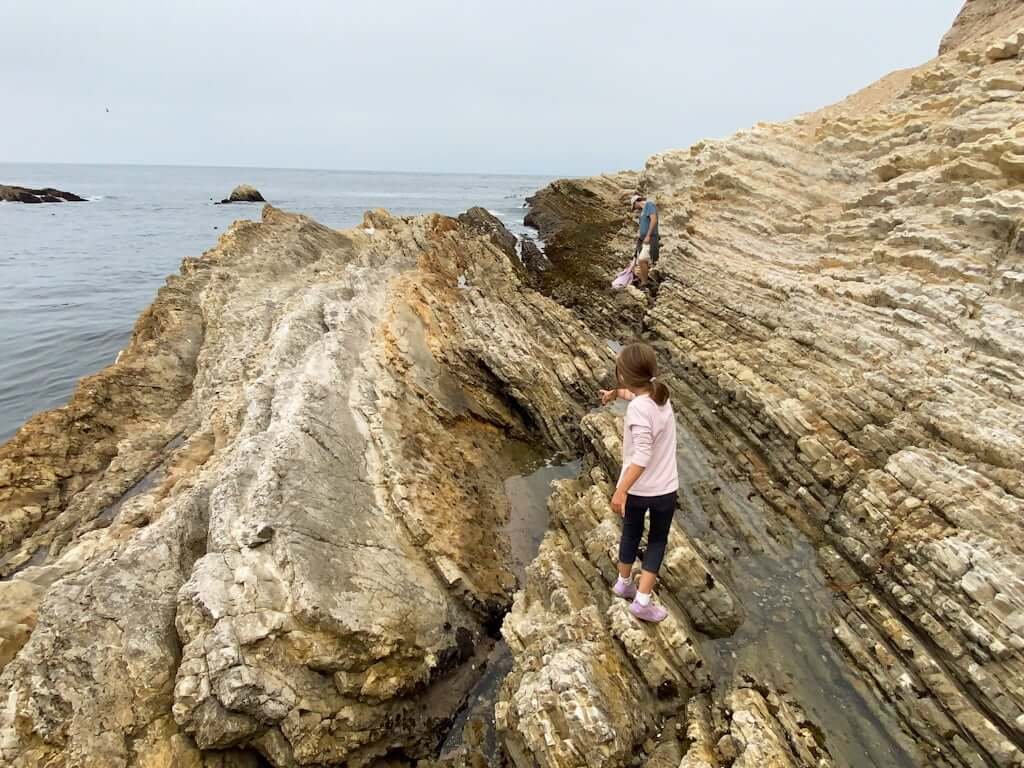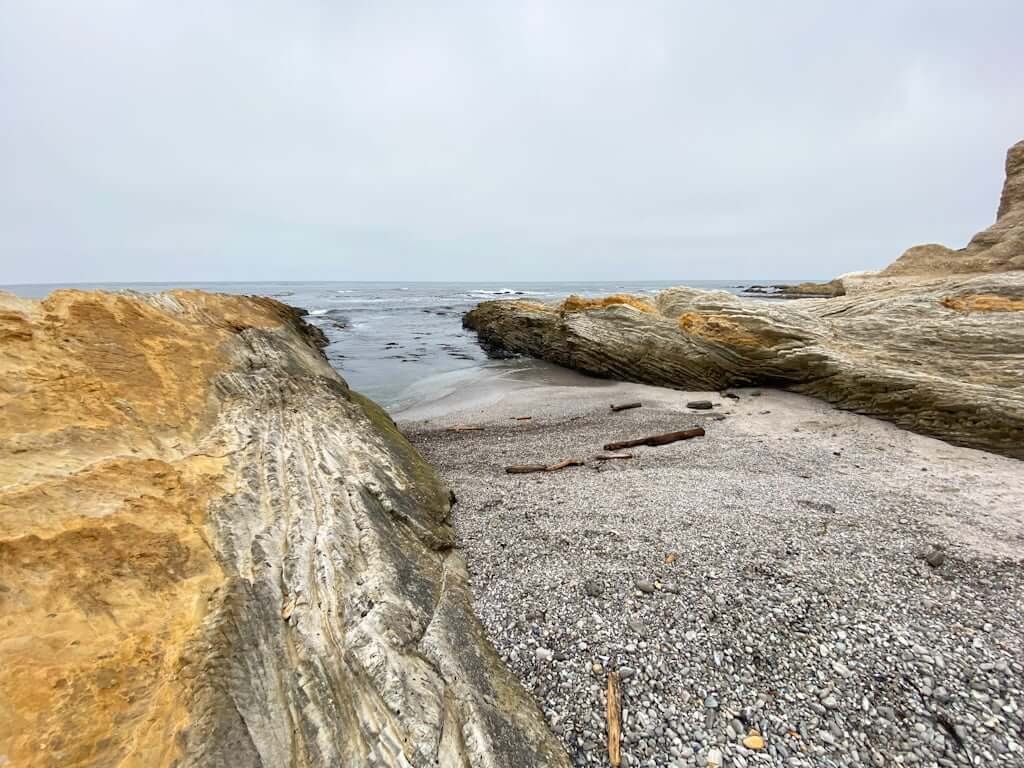 The south area also is usually devoid of people and has some fun rock areas to climb around, as well as private beaches and inlets to check out. I have more photos of these on a clear day (and tons of views of what there is to see in this area!) in this post!
MONTANA DE ORO TRAILS
1:45pm: Head Back to the Bikes!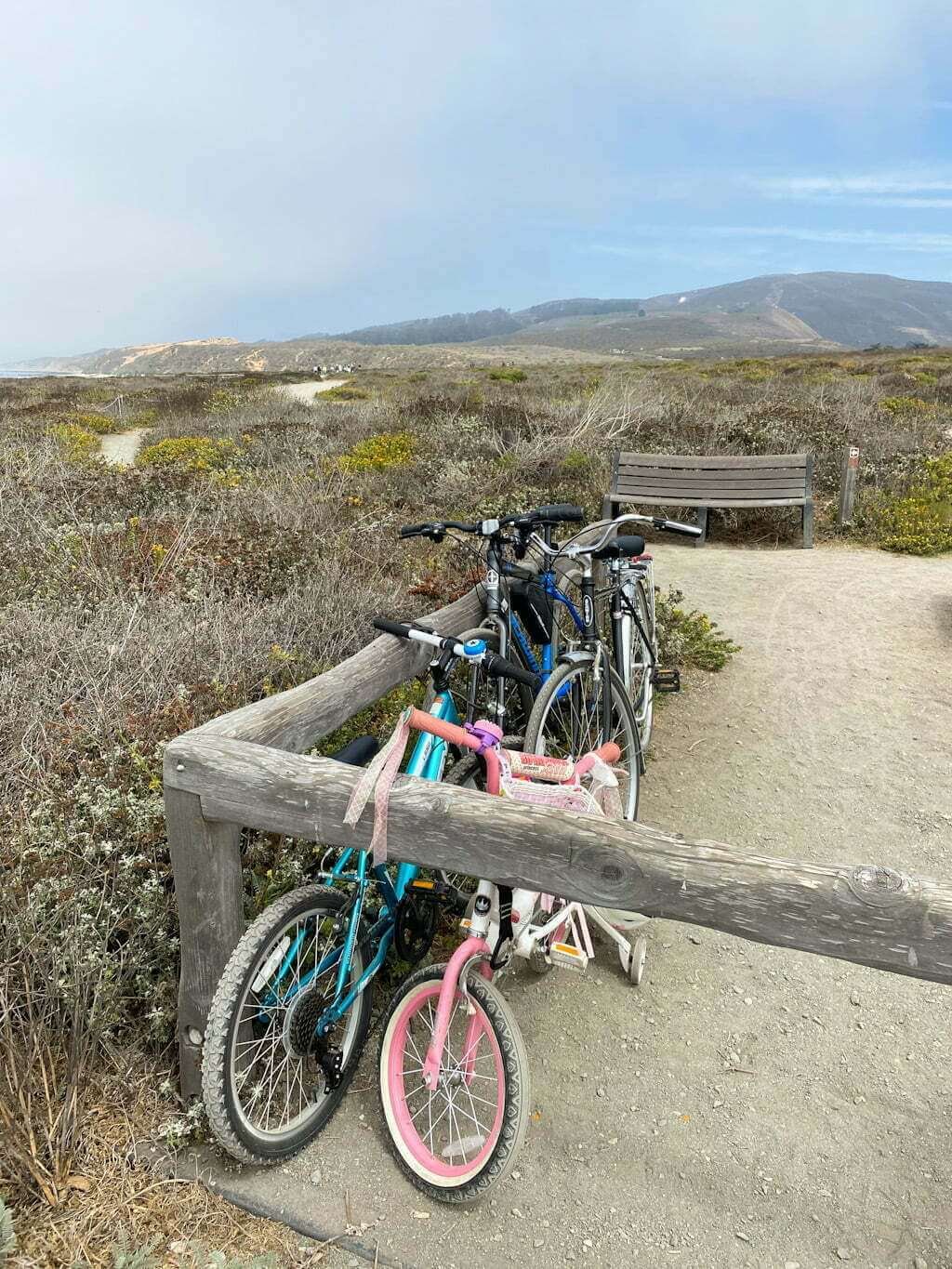 If you've ridden bikes, you can lock them up near the top entrance to the tidepools.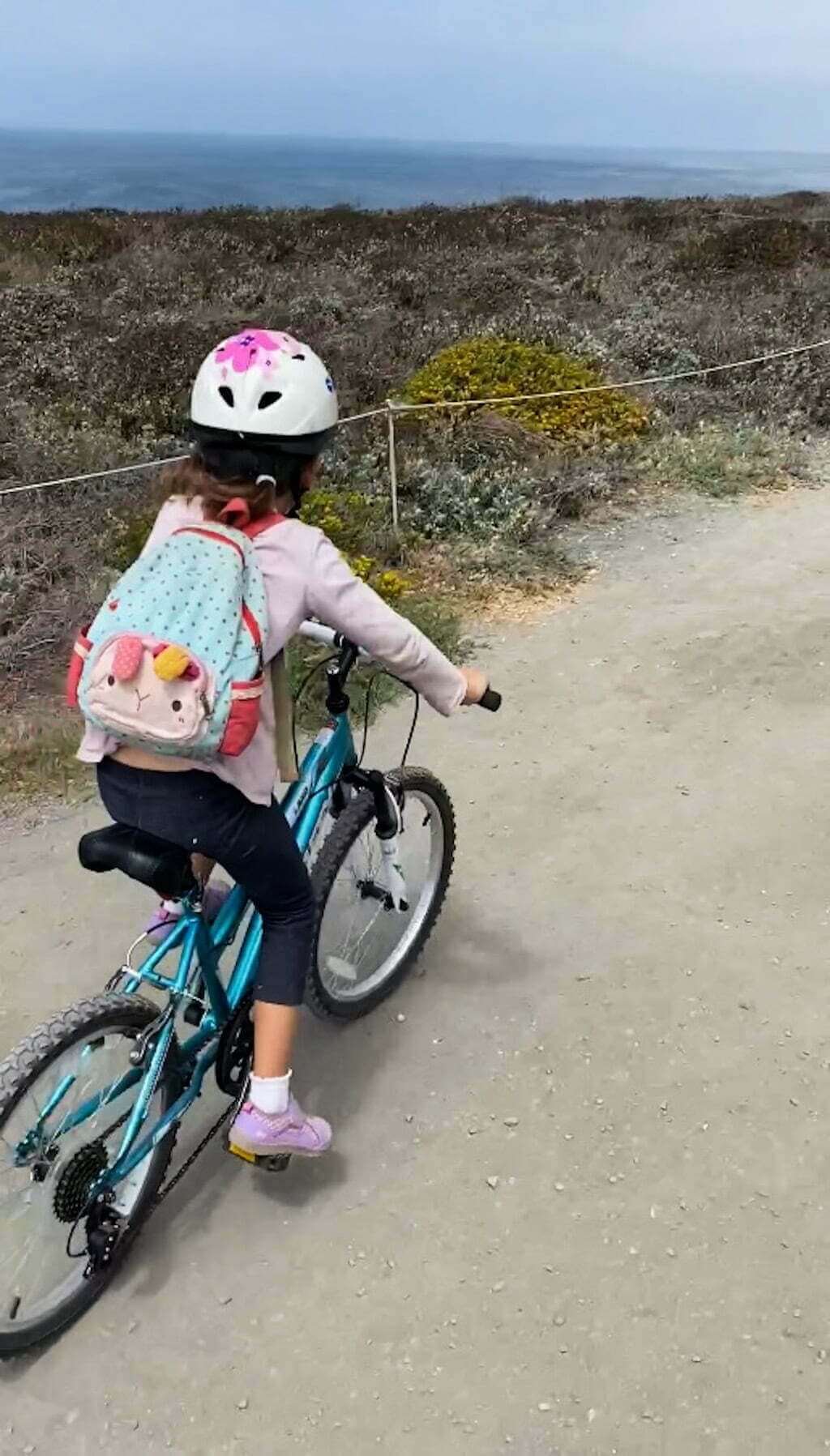 If you walked there, start walking back and hope the sun has cleared enough to get those beauty shots like these! 😍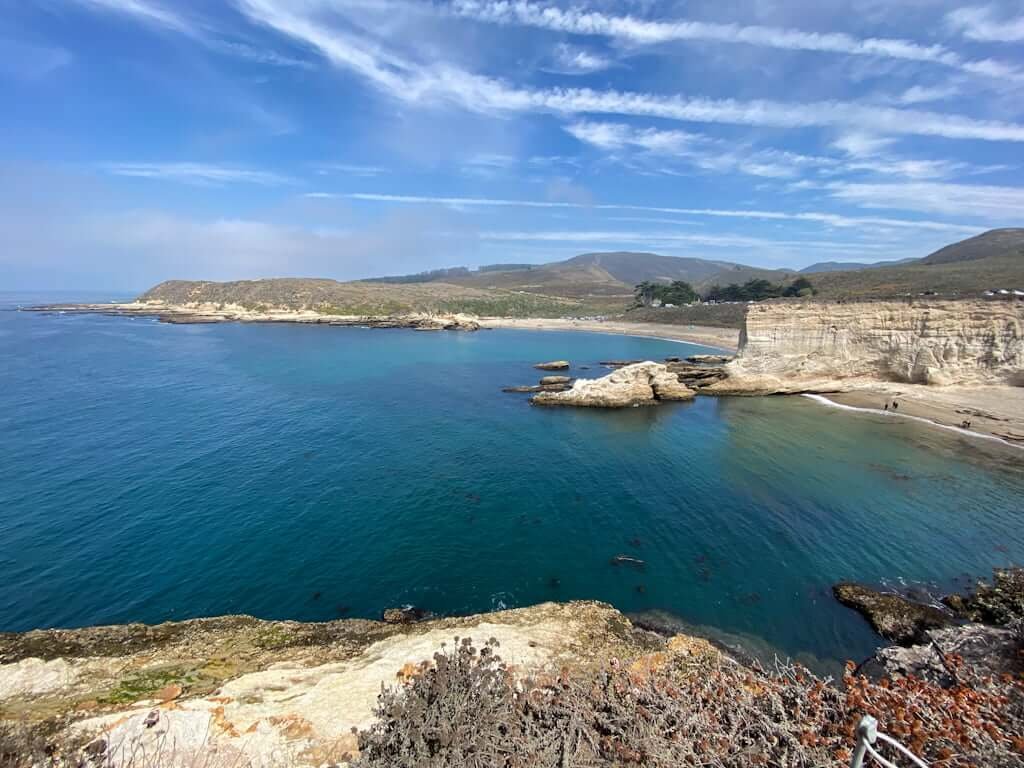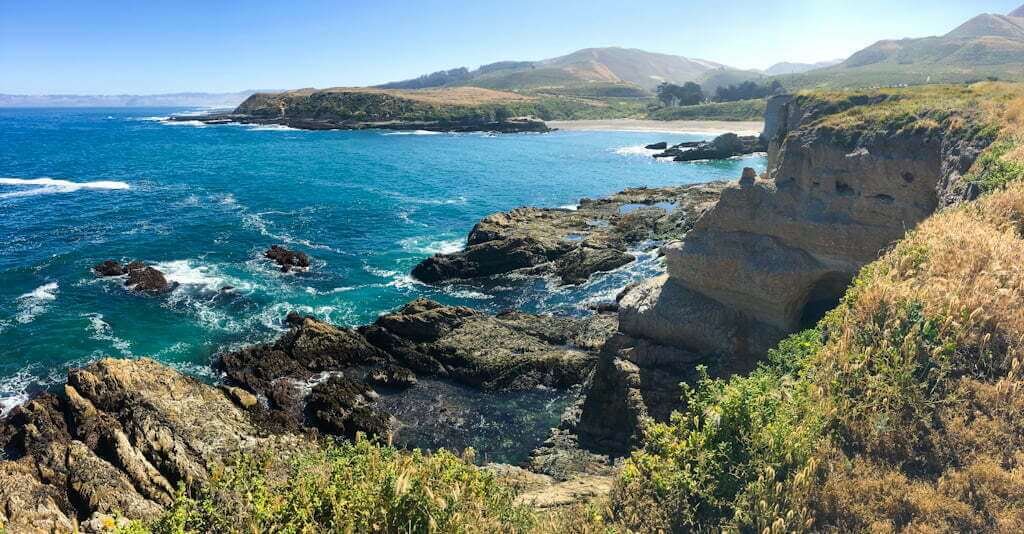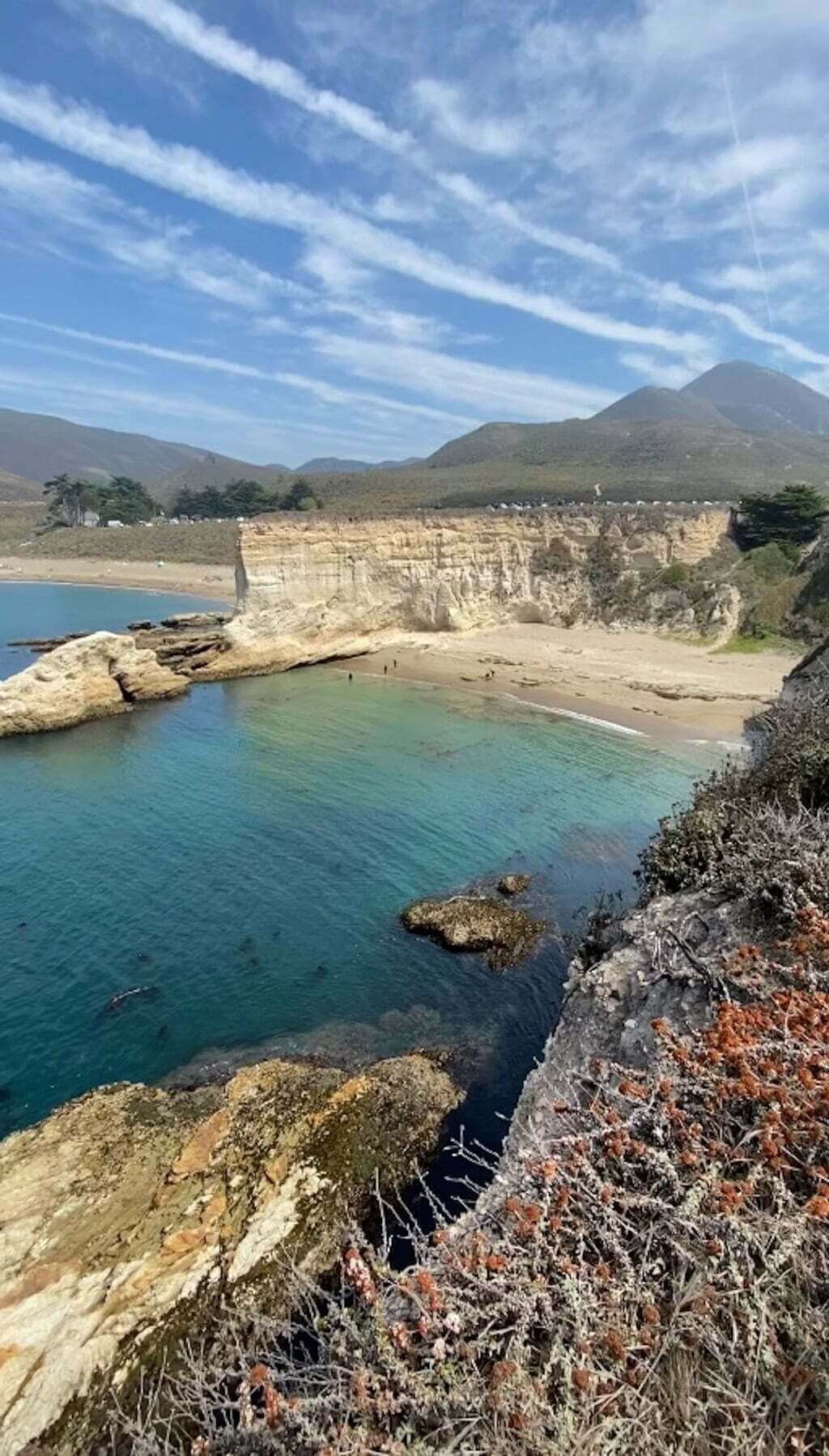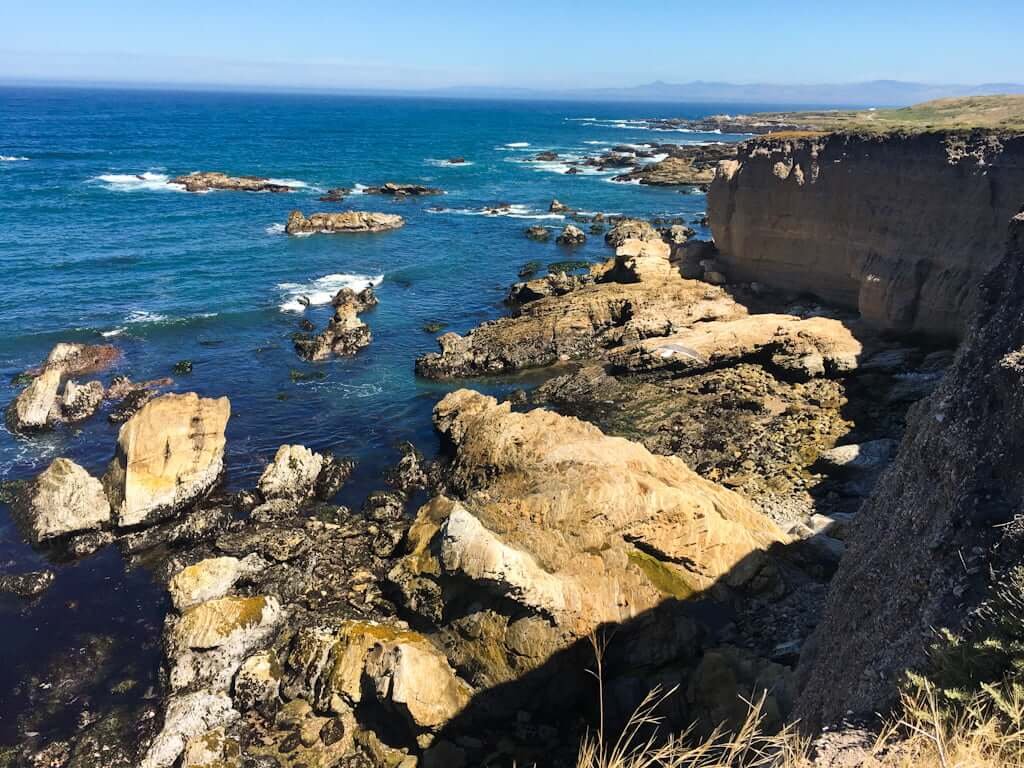 Two final tips on experience the Bluff Trail if you have kids with you or your group:
TIP #1:
If you're riding your bikes, like we recommend, get a bike bungee! We love ours so much I wrote another blog post about it! 😊 (You can see it in the left photo below.)
TIP #2:
Watch them on the edges of the viewpoints! The Montaña de Oro Bluff Trail itself is super safe, but if you go off that main trail to the offshoots, be careful!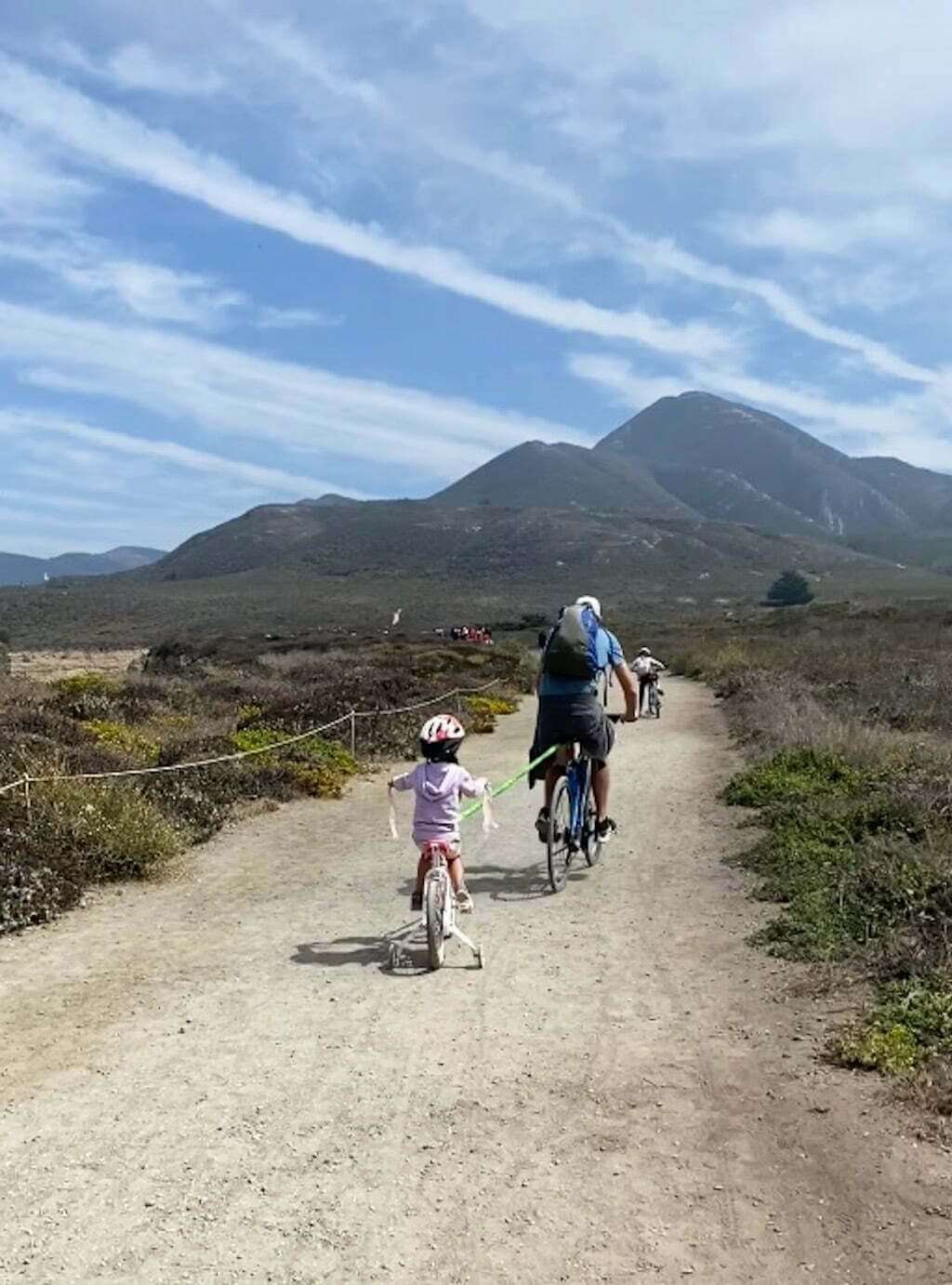 We're sharing the Bluff Trail in action in this video! (Come Subscribe to us there on YouTube, and join our Insiders e-mail list to get freebies!)
To see what we did next this same day…
…see our next post! We're sharing our full day itinerary, which includes a famous bike trail to the ocean and some well-earned local hard cider for the adults! (Kids or not, you'll want to stop at this place, even just to chillax for 20 minutes!)
➜ Or, check out our other posts with tips for visiting Montaña de Oro!
Visiting Montaña de Oro State Park: Our Overall Best Tips!
Everything you need to know about the Montaña de Oro tidepools!
A stunning beach itinerary for Montaña de Oro!
➜ You can browse our home by room HERE!