"The smaller the table, the simpler the centerpiece."
– Jess
---
It's no secret that I'm a fan of simple. And this goes for centerpieces as much as anything else.
carved wood bowl | similar bowl | similar bowl | chairs | pendant | frame | rug
You can definitely get away with going bigger and busier on large dining tables, but even then…a massive table with an elegant, restrained centerpiece goes SUCH a long way!
Some of my favorite simple centerpiece ideas:
A bowl filled with fresh in-season fruit.
A simple candle or candle arrangement (not so tall that people can't see each other over them).
A simple flower arrangement (nothing too busy and—again—keep it low).
My favorite 11 simple centerpieces ideas in more detail are at the end of this post.
FUNCTIONAL CENTERPIECES
I also prefer to keep the centerpieces connected to the dining experience.
What I mean by that is that I like centerpieces that can actually be left on the table for meals. (I also refer to this as a "functional centerpiece.") We've probably all witnessed people have elaborate centerpieces on their dining table only to have to remove them prior to a meal actually being eaten at that table. Try to avoid this if you can!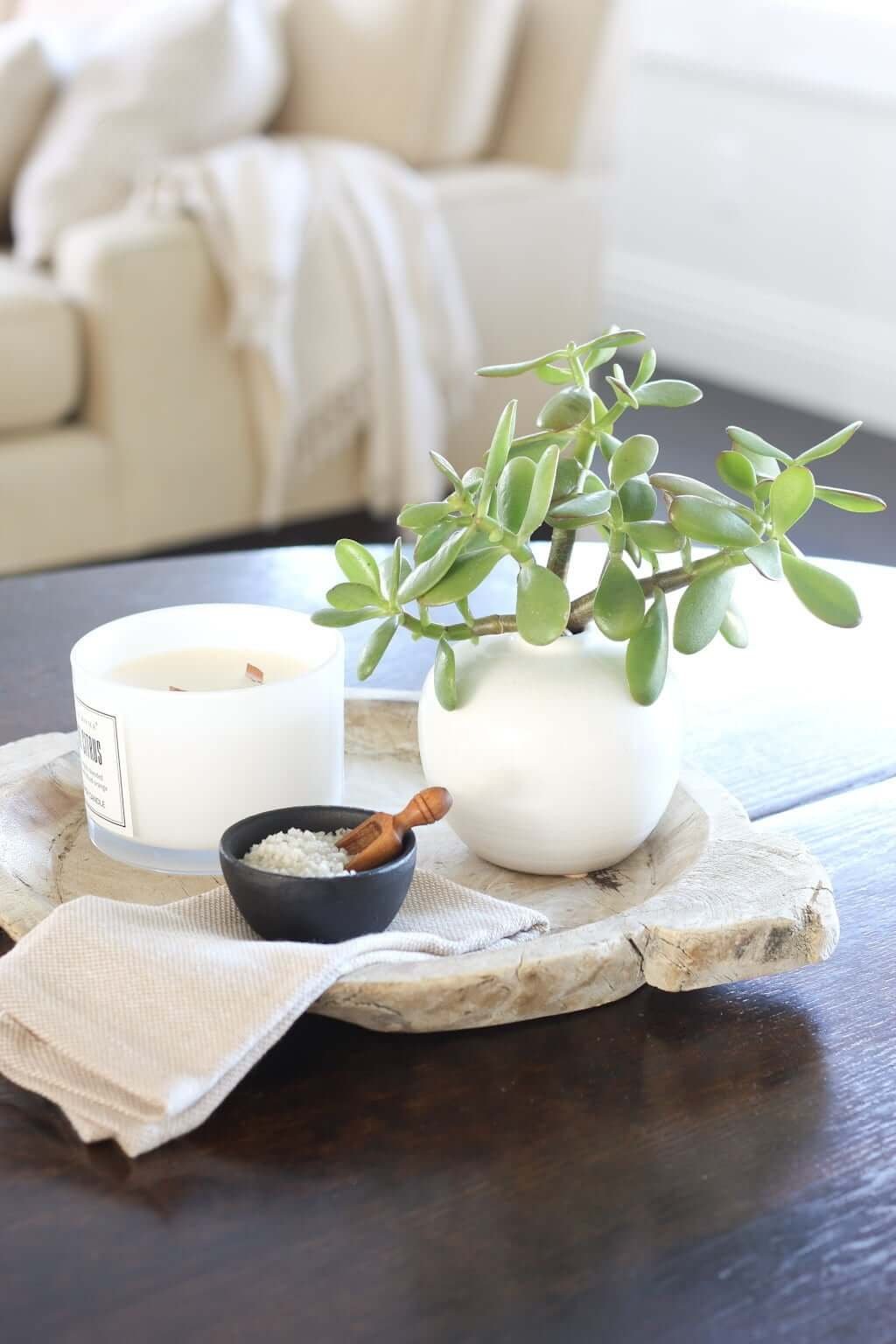 wood tray | salt bowl | wood salt scoop | vase | similar tray | candle
It's a wonderful aim to make your centerpiece functional at all times. This doesn't exclude having items simply for beauty, because beauty does serve a function for us as well!
Examples:
If you usually light candles during meals, have a candle or candles as the focal point or part of your all-day centerpiece.
If you typically have fruit after dinner, use that fruit in your centerpiece.
If someone brings you flowers and you want to enjoy them while you eat, leave them there. (Of course, if it's a tall bouquet, you may want to reconsider having it as a meal centerpiece because it makes it hard to see others and connect well with them, which is one of the best parts of eating together!)
And if you just want the salt + pepper to use during dinner, don't be afraid to use that as part of your "centerpiece" too!
I've had a round tray filled with a small candle, a simple flower in a vase, and a little salt & pepper in bowls that can stay on our table and be used from breakfast through dinner. Centerpieces don't have to be ornate!
My Favorite 11 Simple Centerpiece Ideas
#1: One simple candle in a glass hurricane.
Try to keep the hurricane height low, even though it's glass, so it doesn't feel like it's dividing people.
#2: A simple, low flower arrangement.
Nothing too busy and—again—keep it low.
#3: A wooden dough bowl filled with fresh in-season fruit.
Bonus points if the fruit is actually part of the meal—such as for dessert!
carved wood bowl | similar bowl | similar bowl | chairs | pendant | frame | rug
#4. A simple candle or candle arrangement.
Preferably kept not so tall that people can't see each other over the flowers.
#5. A white stoneware vase with multi-sections.
This is one of my favorite vases that we own. I receive countless fresh-picked bouquets from my children every week, and they fit perfectly into this piece.
It also sits low so we can all see each other at the dinner table, and the girls are so proud of themselves having picked those flowers we're all enjoying. (My grandmother had a similar vase that she used to fill with flowers I'd pick for her on my way to and from the beach, so I know exactly how this feels as a little girl!)
#6: A grouping of candlesticks with beeswax tapers in varying heights.
Keep it to a simple assortment of 3, 5, 7 or more (just keep it in odd numbers, as those are more pleasing to the eye!).
#7: A fresh sprig of an in-season plant in a simple glass vase.
Below is an example of a mix between #7 and #8. I cut a few simple, fresh sprigs of rosemary from our garden…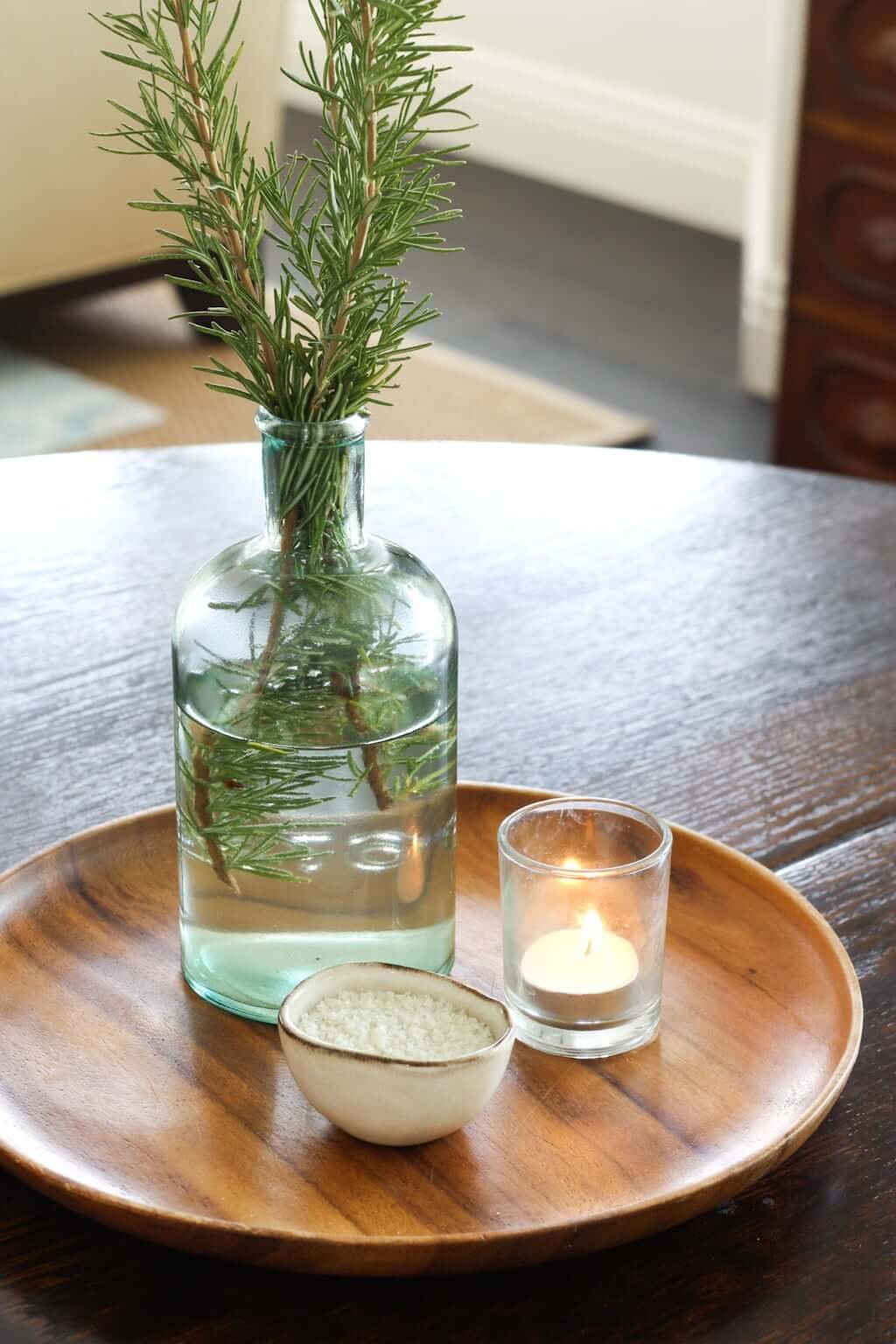 #8: A wood or metal tray holding multiple items.
…and if you must have multiple items in your centerpiece—as I did in the above photo—use a tray or large plate or help group the items together visually. Believe me, this versus having the items loose makes a world of difference!
Another fun idea is to use this stunning seagrass placement from Alfie & Gem as the base for your centerpiece! (Of course, they're be amazing as placemats too!)
#9: Potted herb(s) in a terra cotta planter.
This is a fun one! Try a centerpiece with a real live potted herb like mint, rosemary, or basil in a terra cotta pot or planter. (Bonus points if that herb is being used in that meal and can be picked right off!)
#10: Brass salt & pepper mill grinders.
If beauty-in-function is your style, these brass mills can stand alone as a simple centerpiece.
When they're in stock, you can buy these brass hand grinders here.
#11: Functional-but-beautiful pieces grouped together on a tray.
If you love unique pieces, such as salt & pepper containers, don't shy away from being different! Below, I found a cast-iron bowl I loved, a wooden mini scooper, and combined them to make our family's favorite salt holder to date!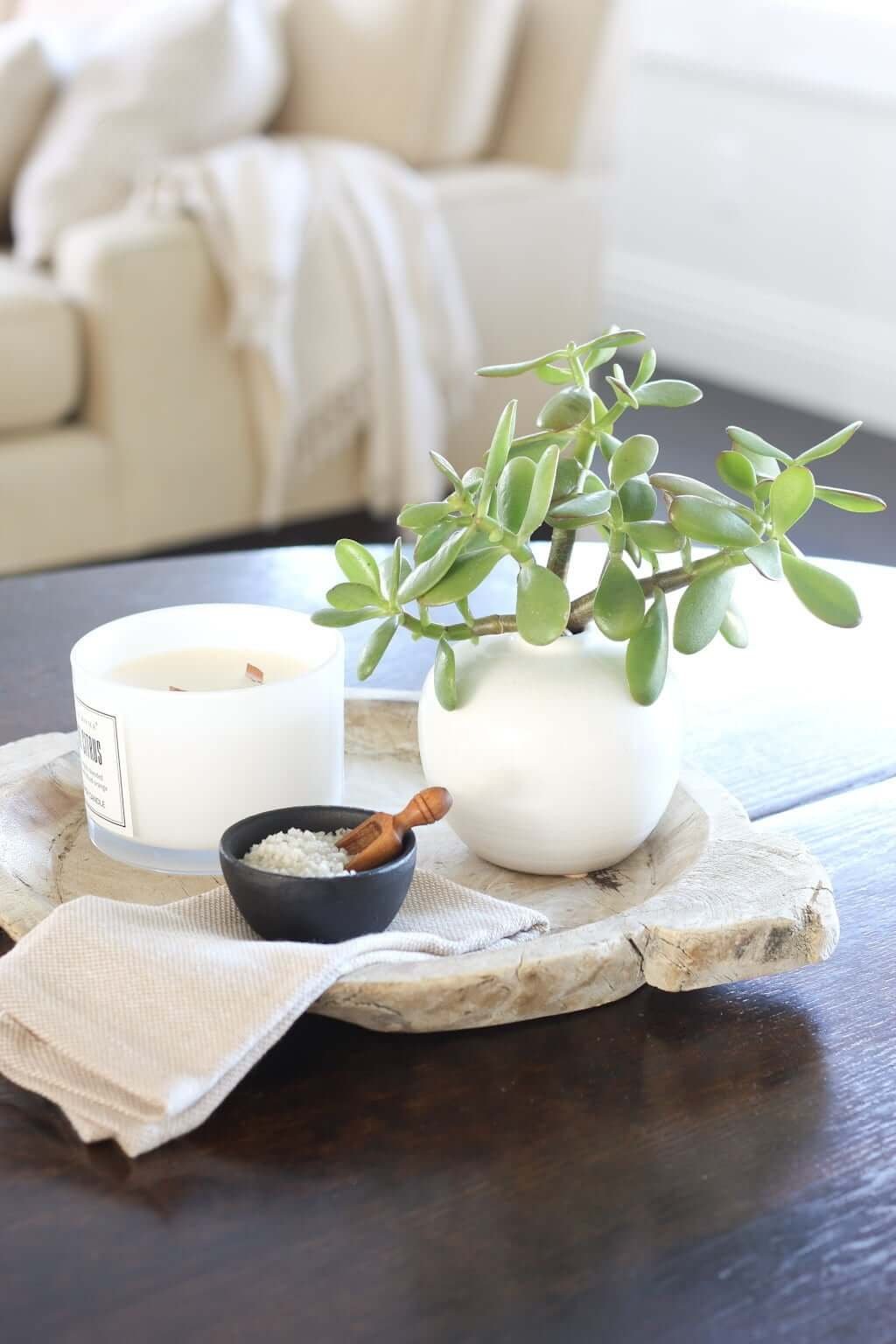 wood tray | salt bowl | wood salt scoop | vase | similar tray | candle
For more ideas, tips, & design help, check out our posts here!
*This post contains affiliate links, which are no extra cost to you but help us keep this site alive!