Our first major stopover on Day 1 of our Central Coast Trip was our beloved Montaña de Oro, and today we're sharing our latest travel story + itinerary, with a focus on the Montana de Oro tide pools!
MONTANA DE ORO ITINERARY
9am: Leaving for Montaña de Oro!
Since this was Day 1 of our trip up to Cambria for a long weekend, we didn't leave until about 9am. Which was fine because low tide for the Montaña de Oro tide pools wasn't until later morning. (See my main post full of tips for Montaña de Oro to see why this is important.)
As usual, after we passed through Santa Barbara, a child had to pee. And the only rest stop along this stretch was closed (there are no towns here).
Never fear, we knew where to stop! (This was not the first time we used this 101 exit for a bladder emergency while the official rest stop was closed.)
As we slowed to our destination, I thought it would be nice to have my daily chocolate shake then if we were going to stop (if you know me, you know how important my daily chocolate intake is for my survival🤣)…and since we had everything in the back of the truck, we had power to make that happen, right?
Yes, my Brawn said. We literally have the power to make that happen.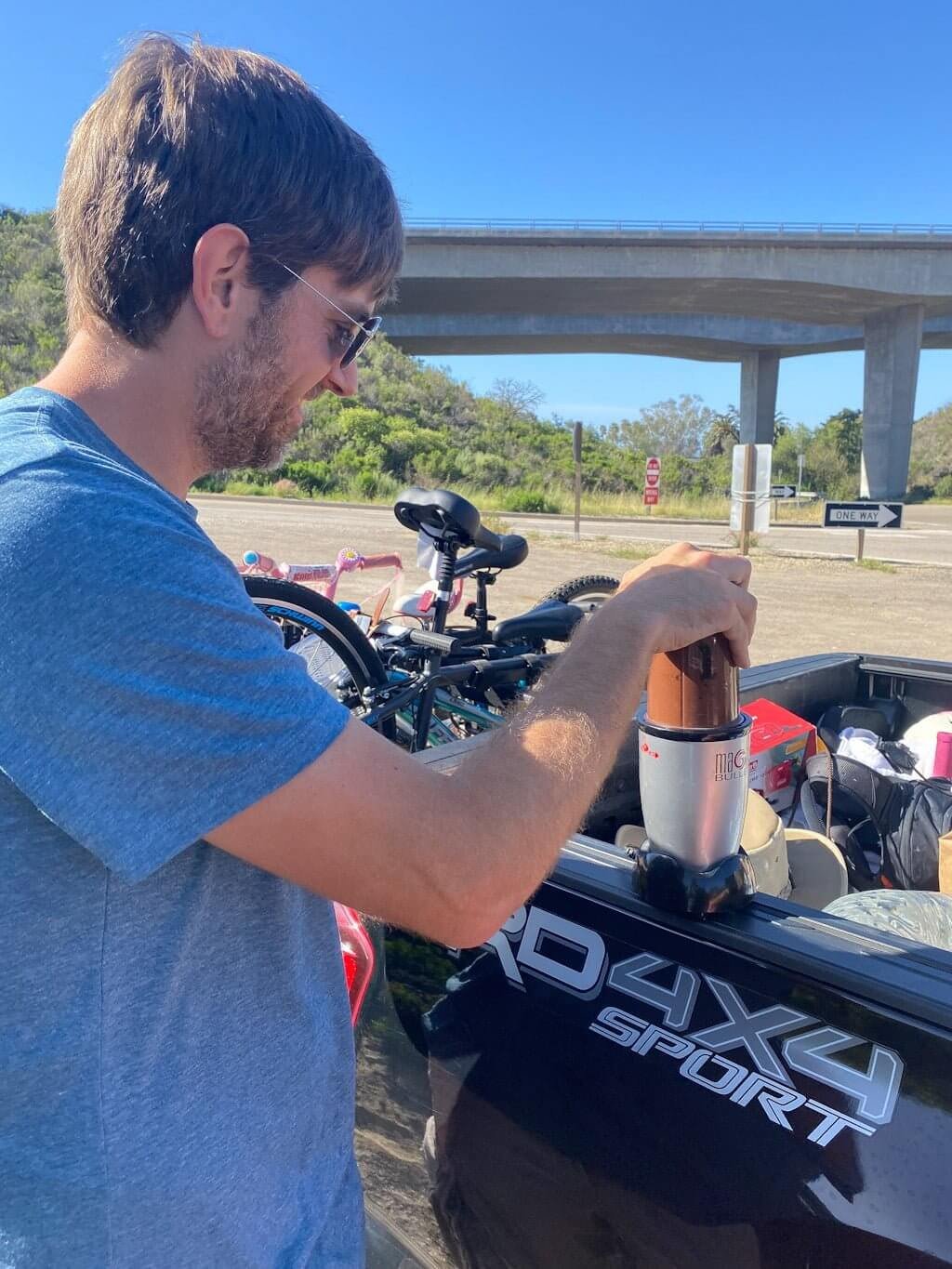 17 years of marriage and the man will still make me my chocolate shake on the side of the road while I take our daughters to find the best behind-the-bushes spots to relieve their tiny bladders.
If that isn't love + good teamwork, you tell me what is. 💪😄
This is real life, ma' people!
MONTANA DE ORO trail TO TIDEPOOLS
11:45am: Bike Riding!
Because we were getting to Montaña later than we usually like to, parking was dicey. It was busy, even though it was a weekday, because it was a beautiful day! (See my tips for parking at Montaña de Oro State Park, plus a map I made with arrows showing you exactly where to go!)
We had to park the furthest up we ever have, but it was no problem because we brought bikes! (Another one of our recommendations for visiting Montaña de Oro.)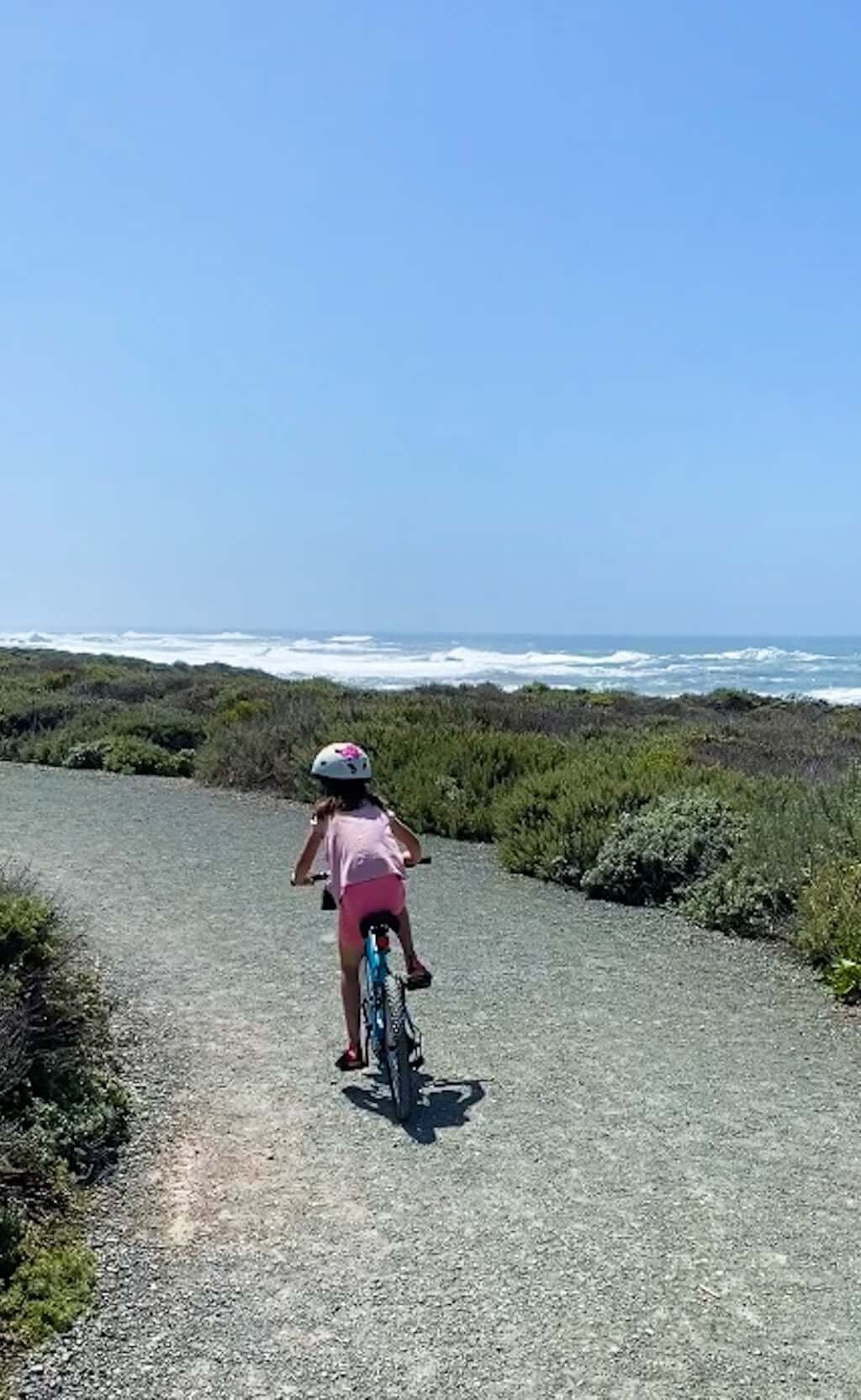 One of my favorite things about the Bluff Trail here is how you get views of the ocean on one side…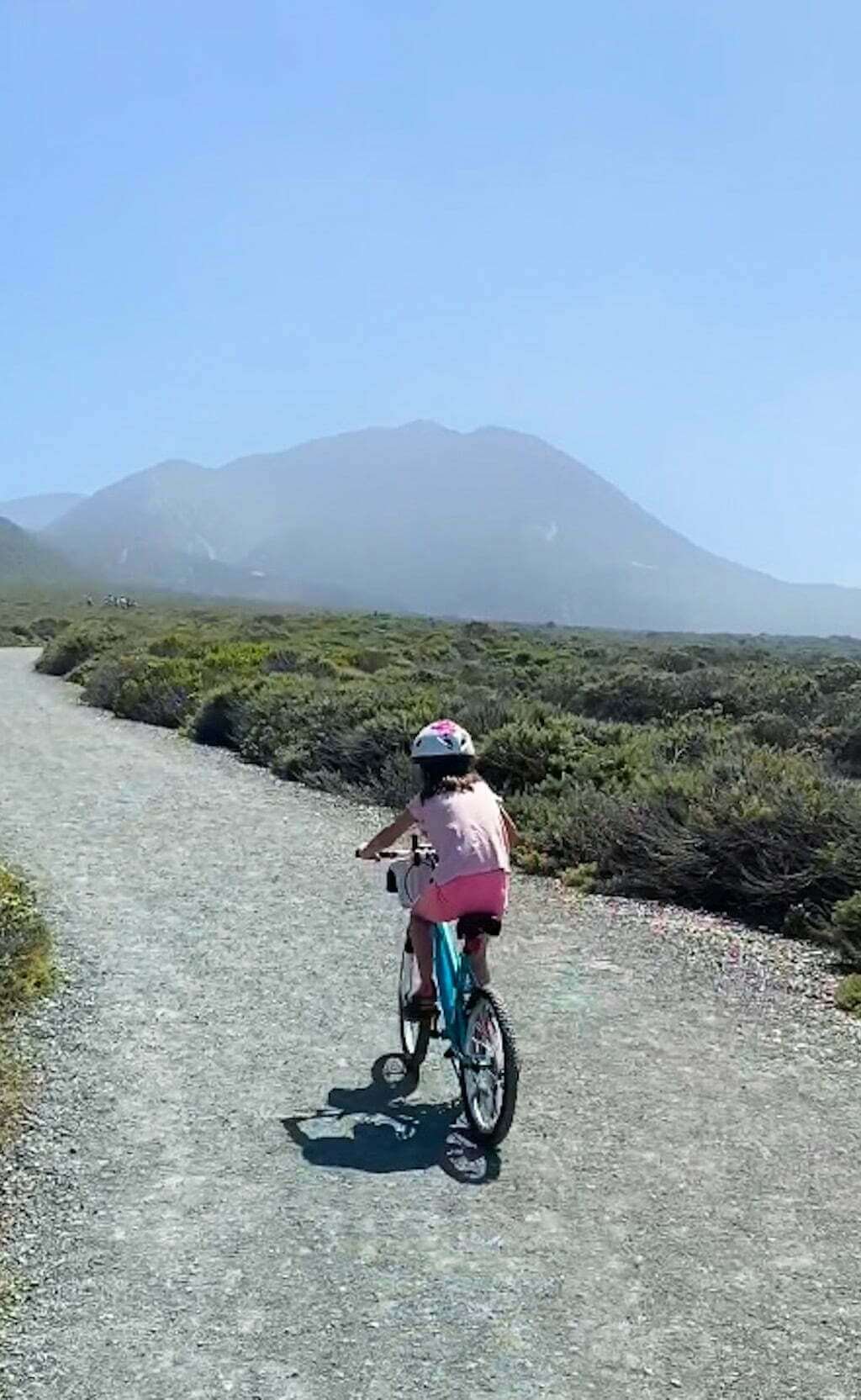 …and mountain views on the other side! (You can hike up those mountains, but we don't with our kids at this age.)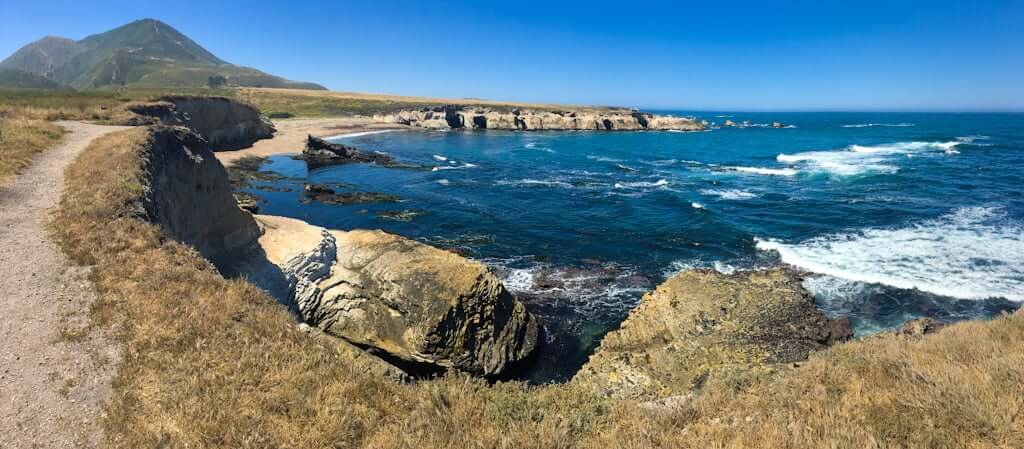 If you want to see more jaw-dropping photos from the Bluff Trail, see this post I wrote about it! It's hands-down, positively, absolutely my #1 Must-See if you're going to Montaña de Oro!
MONTANA DE ORO TIDE POOLS
12:05 pm: Stopping to Go Down to the Beach & Tidepools!
Before we make our way down the path to the Montaña de Oro tide pools, we always tend to stop at this lookout point and enjoy the view. (And mama takes pictures of it, because mama likes to take pictures and everyone knows it.🤣)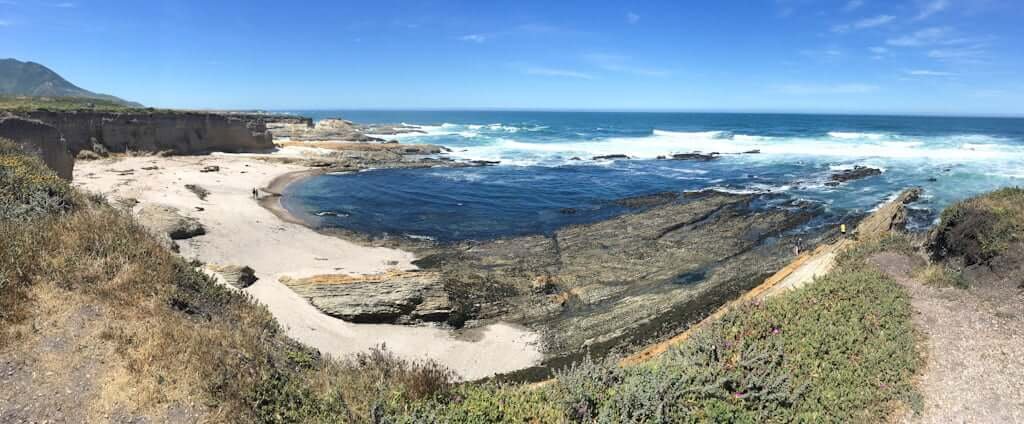 Today was gorgeous with the mountains clear (some mornings, they're shrouded in mist) and the sky blue!
You can see someone walking down the path on the left. That's where we're going.
I love the little path down to the beach and tidepools! It has a cute bridge where you can get another view of where you'll be exploring!
MONTANA DE ORO Tide Pools
Our Montaña de Oro Tide Pool Tips!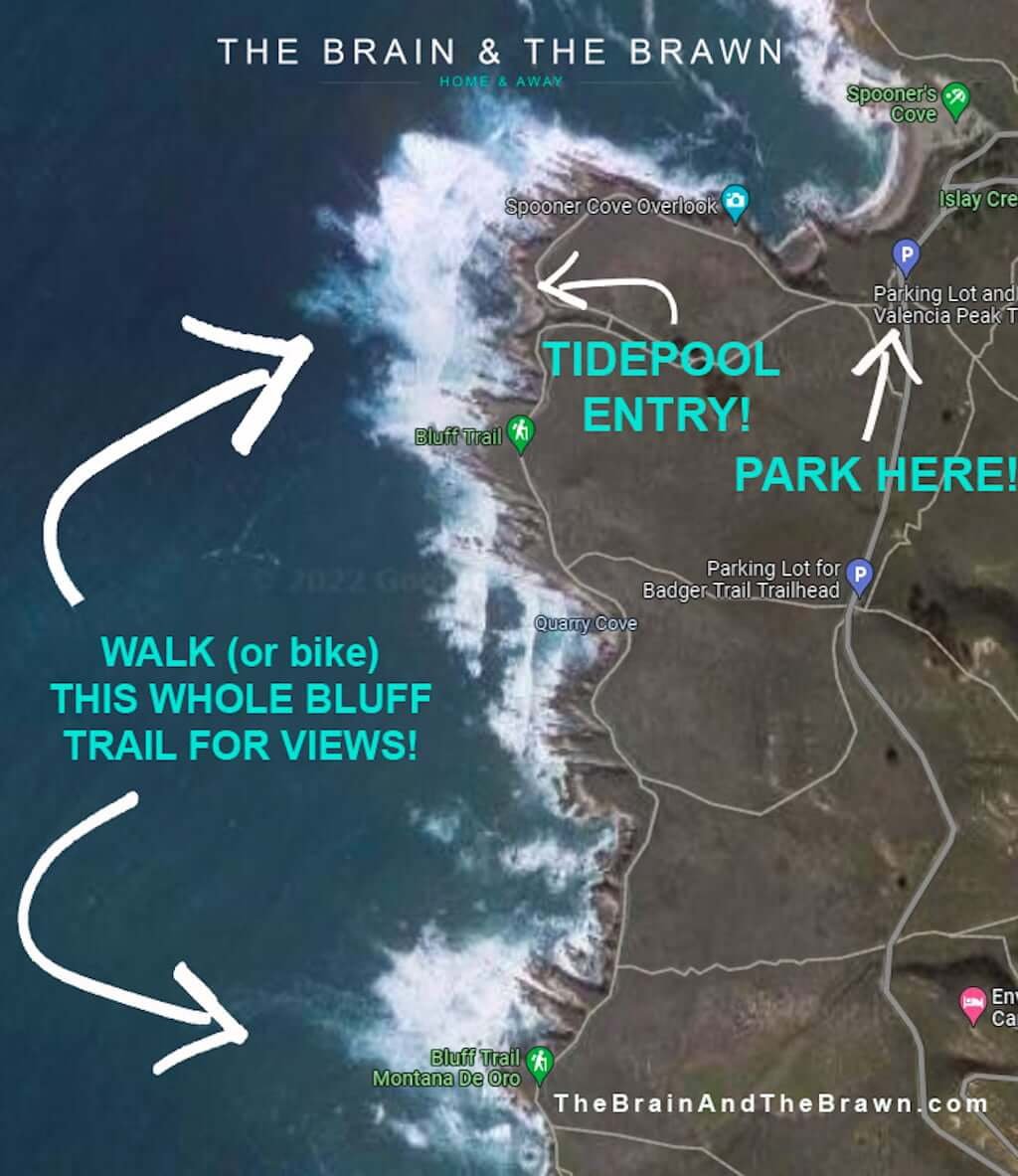 TIP #1: the right time.
MAKE SURE YOU CHECK WHEN LOW TIDE IS before you come! This shows you the times. That way you'll be aware what time you need to be at the tidepools.
Best is 1 hour before low tide. So if low tide is at 10:47, I'd try to get there around 9:30 or so to give yourself time to get down there and explore.
TIP #2: the different areas
These tide pools are SO much fun to explore! And there's not just one area.
MONTANA DE ORO TIDE POOL AREAS
The main tide pool is right off the beach. You'll see it easily since it's where most people go.
There's a secondary area to the north part of it. You'll have to pick your way over the rocks and through a narrow passageway (or climb over the rocks! we do both!) to get there, but people are rarely there and it's a fun place to climb around.
There are more rocks and beaches to explore around the southern area of the Montaña de Oro tide pools area, so have fun with it!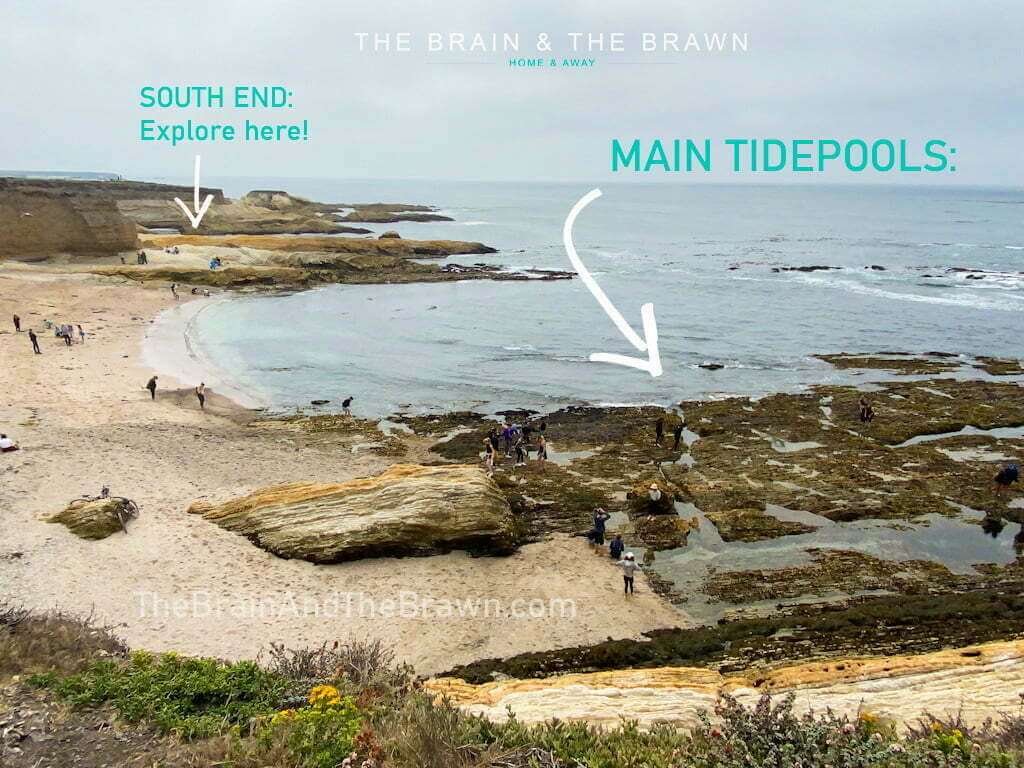 We bring snacks or a lunch and take breaks and soak it all in. Even though we've been to these tide pools so many times, we could spend hours here exploring.
Because it's not "just" the tide pools–there are fun rocks to climb over, other beaches and inlets to find and explore on that south side…it's just good clean outdoor fun full of the ocean air and you!
MONTANA DE ORO Tide Pools
12:07pm: Exploring the Tide Pools!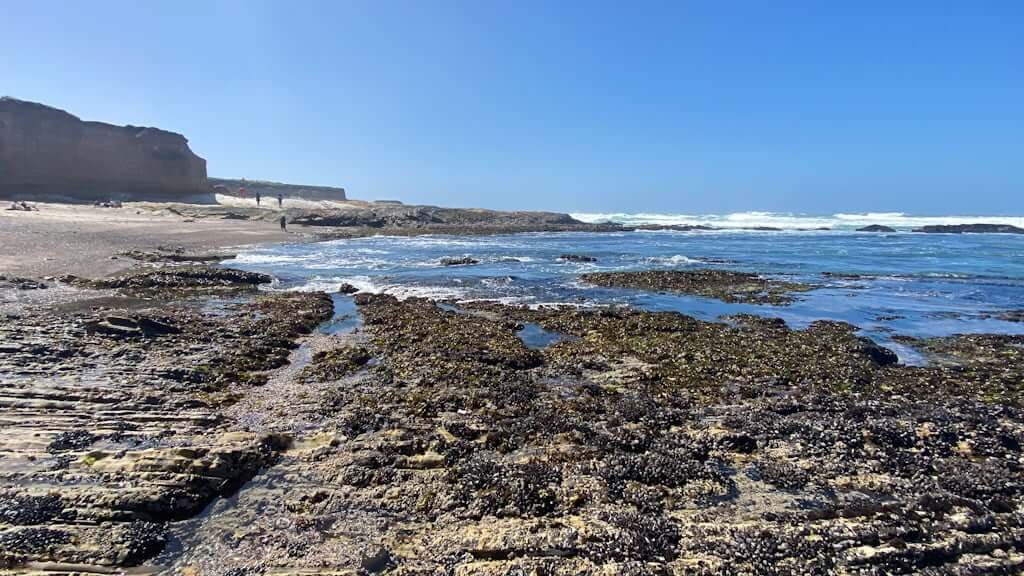 Our girls enjoy tidepooling so much! They're careful about where they walk, and they've become skilled at identifying many different creatures along the California coast!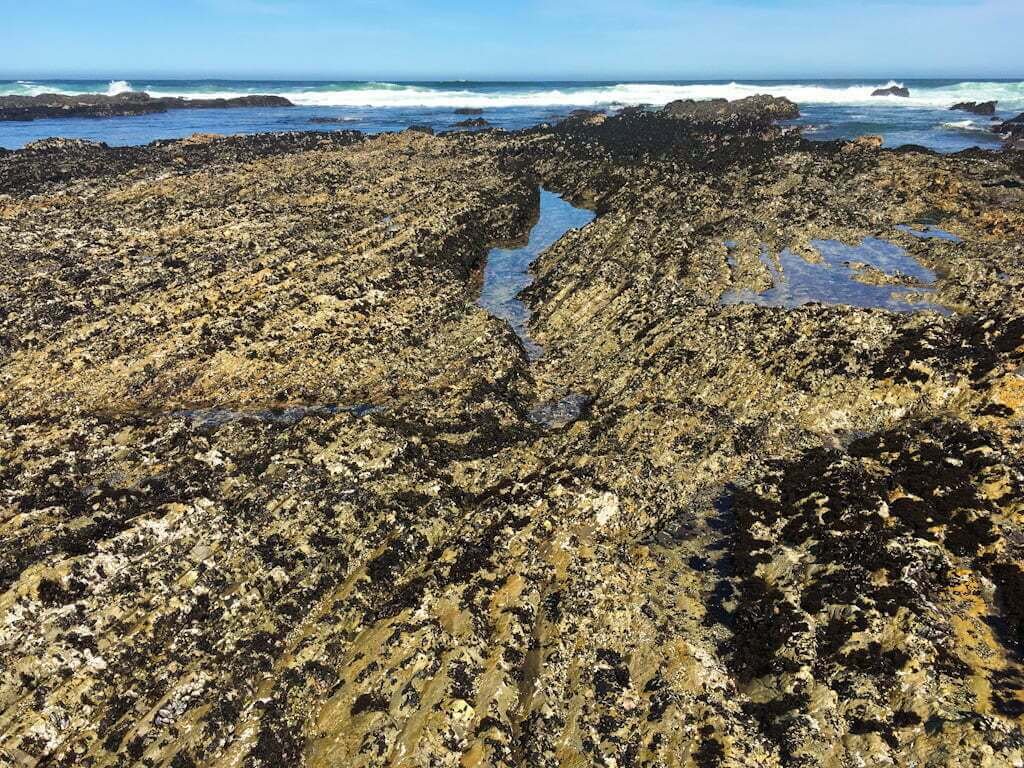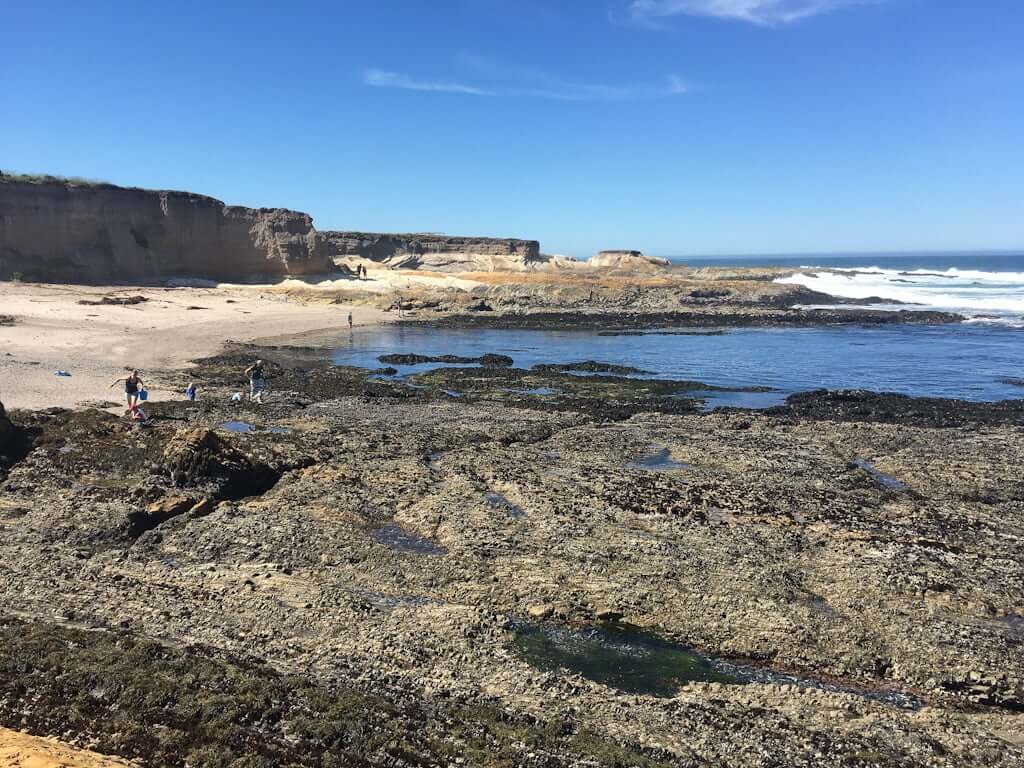 Montaña DE ORO TIDE POOLS
12:47pm: Snack Time!
Our kids like to stop for snacks often. And I won't lie—Matt and I like snacks too! 😋 You gotta keep the parents fed, kids!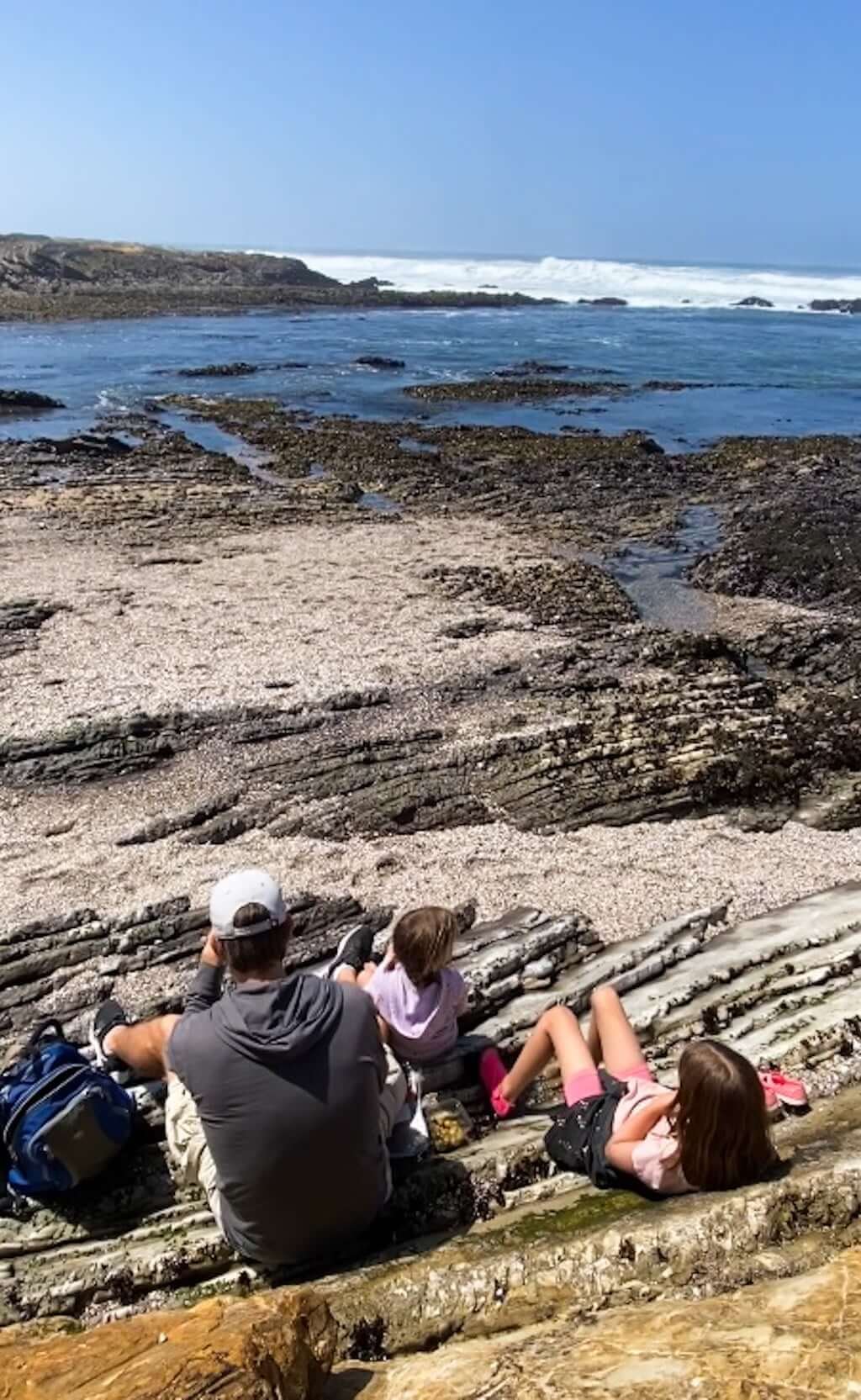 NOTE: There are also tidepools at Spooner's Cove nearby, and I've written this post about it, including photos. However, these tidepools I'm showing you in this current post are larger. If you only have time for one, theez eez thee one you want!😄
morro bay tide pools
1:02pm: Tidepool Area #2
On the north side of the Montaña de Oro tide pools, with the bluffs above, there's a "wall" area that you can still climb on. You can see the cool shapes of these walls from another angle: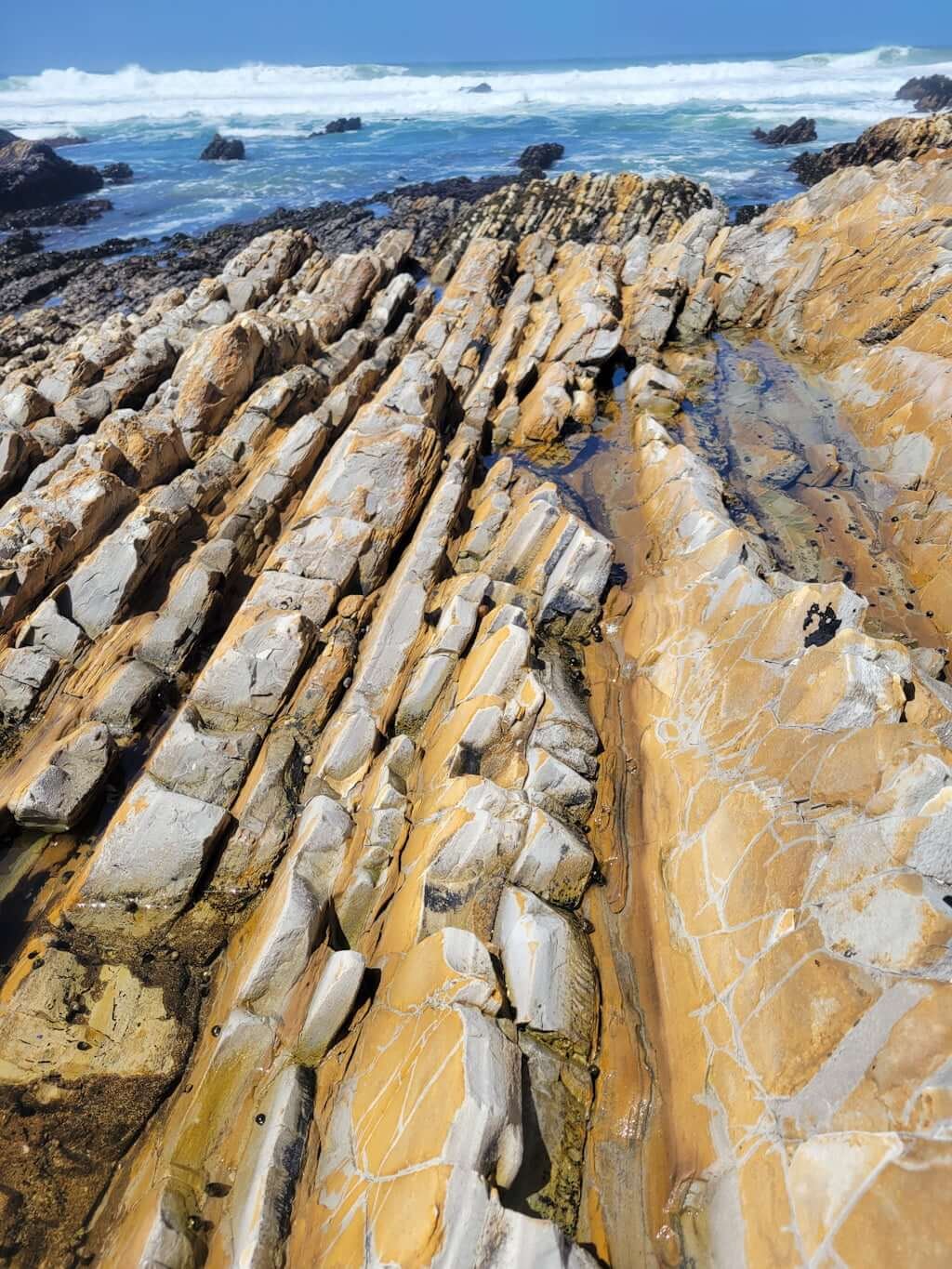 We let our girls climb up these walls like little rock climbers (which they think is the best ever), then watch them proudly marching down to get back to the tidepools.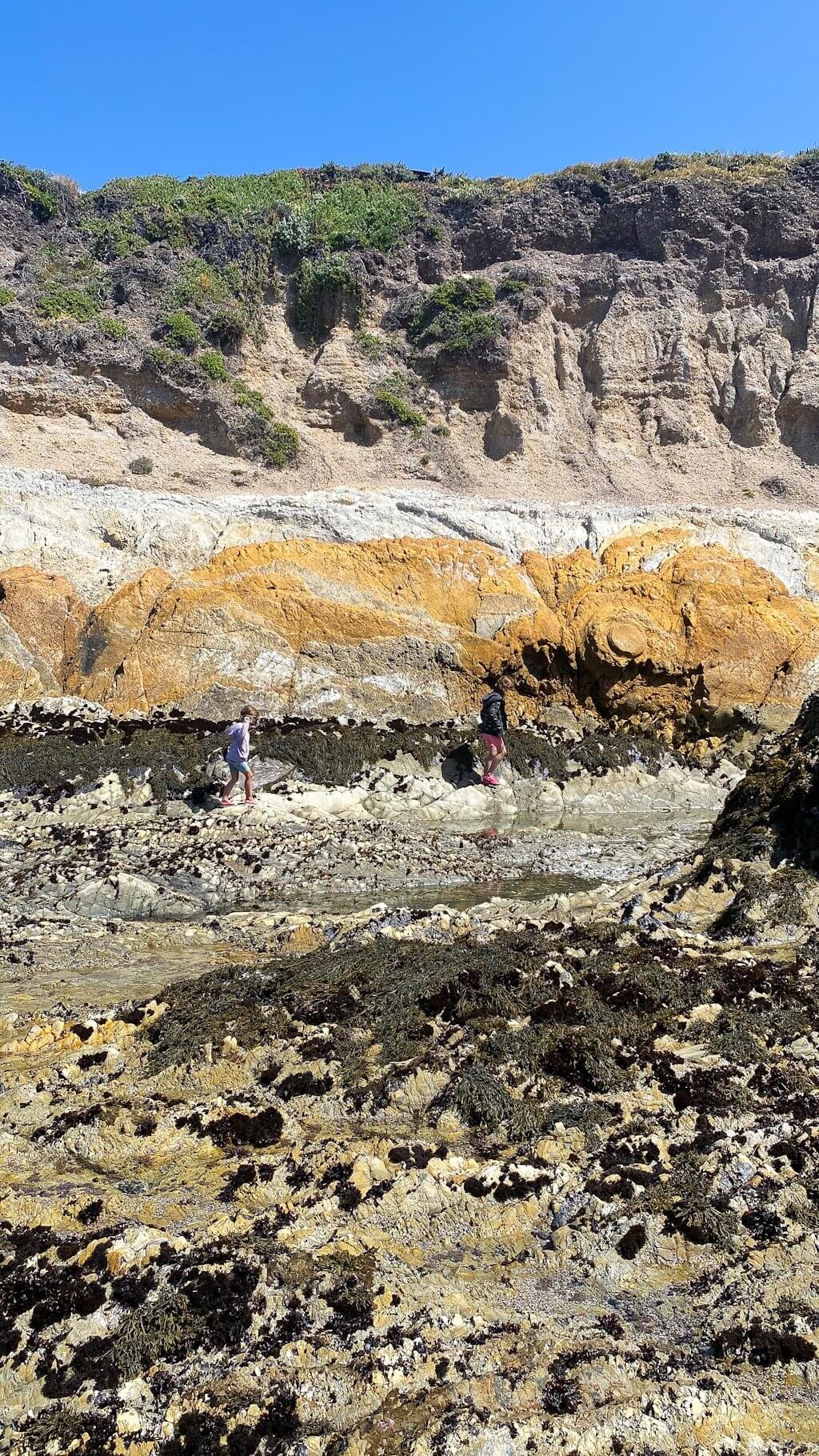 We enjoy exploring this northern part of the tidepools because usually there aren't any other people there! And the rocks are a bit more dramatic and climb-y, which my kids love…and the kid in me loves.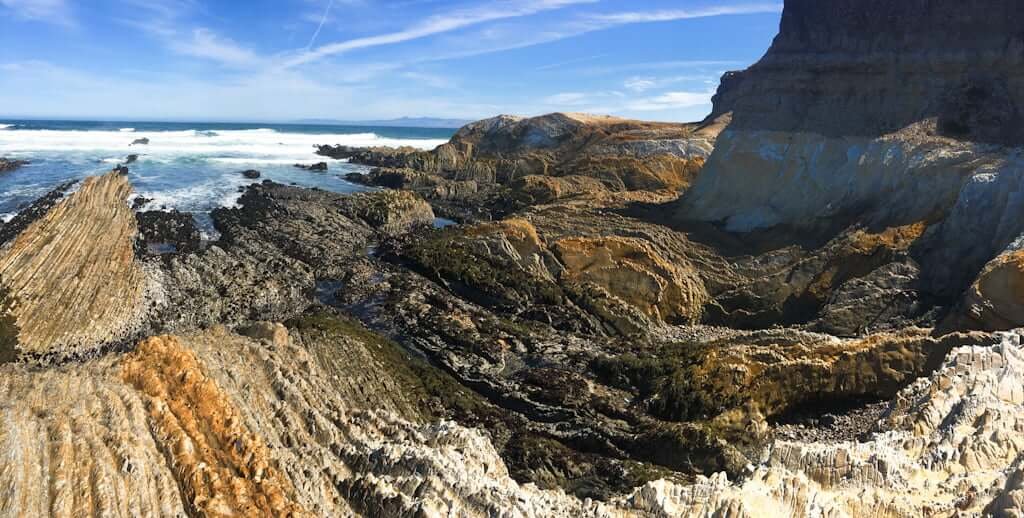 I mean, LOOK HOW PRETTY! 😍😍😍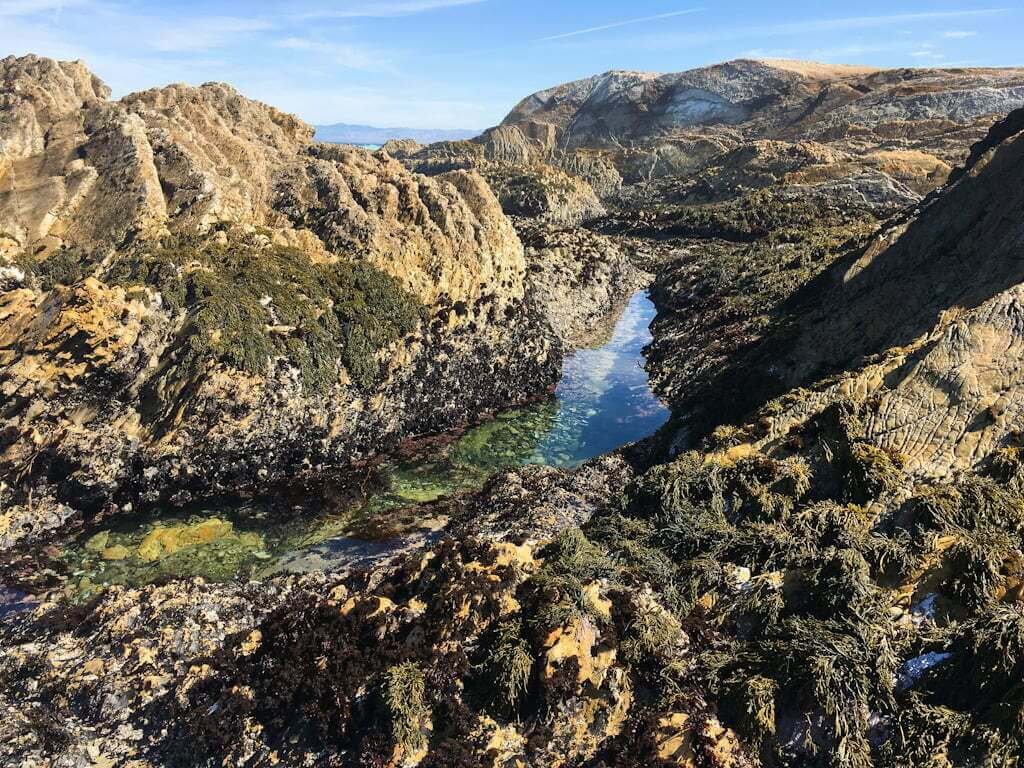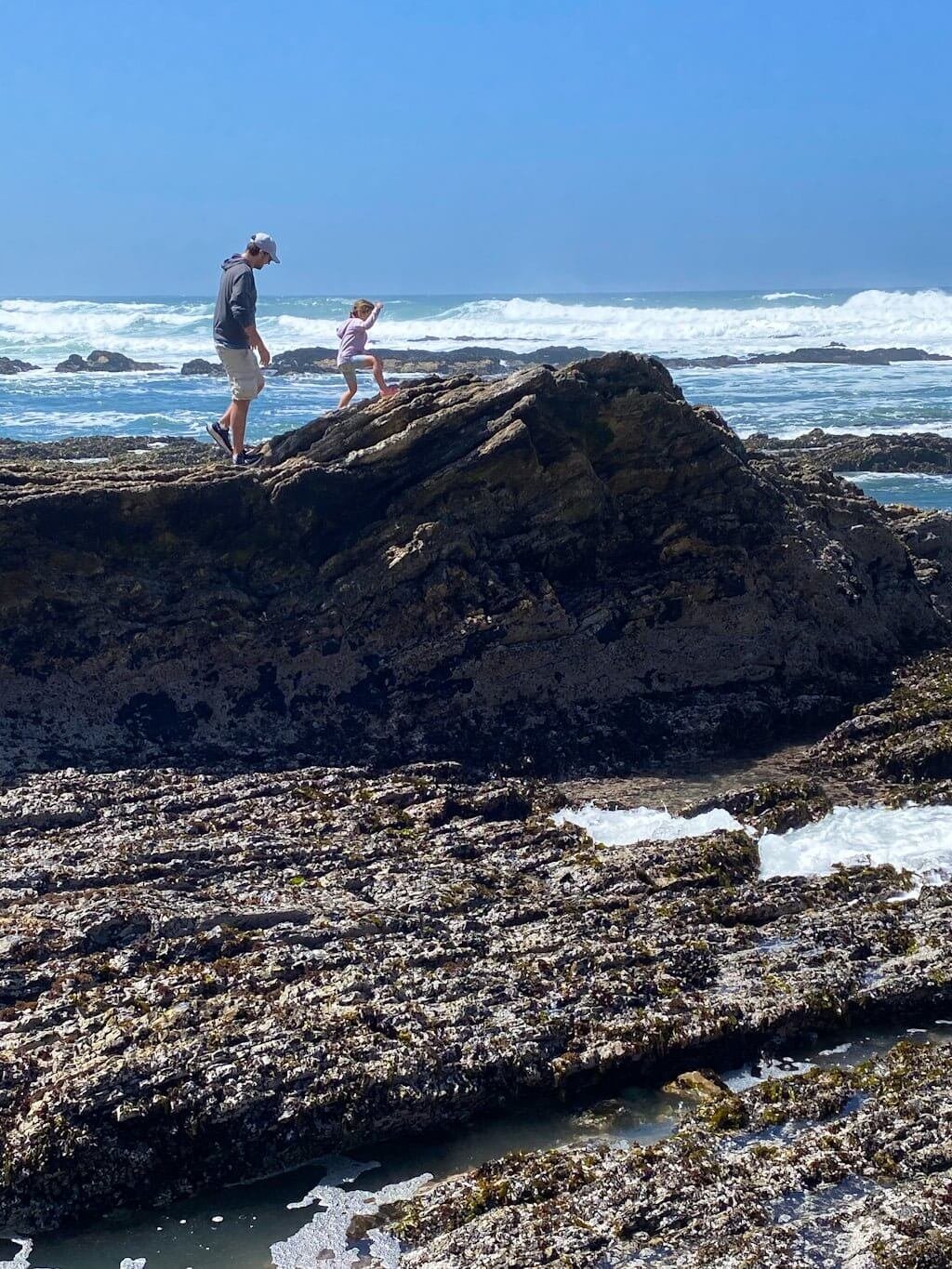 Because of all the sharp, slippery rocks, Matt and I usually play a 1-on-1 game here and split off with one kid per parent. This time, he took the youngest (Eva), and my oldest (Maëlle) and I went to explore the northern part with no one else around.
Matt and Eva came over to where we were later, and he took that photo of the two of us. Maëlle and I had been standing there and discussing tides, the moon, water levels, and all kinds of related subjects she brought up. (While holding hands.)
Science for the day? Check! 1:1 connecting time with my daughter? Checkity check!
MONTANA DE ORO ITINERARY
1:43pm: Rock Climbing!
Exhibit A: proof of my statement above. Maëlle found a looooooooooong piece of seaweed, climbed up to the top of a rock wall with it, and proceeded to encourage her little sister to use the seaweed like a piece of rope and climb up.
Since this one is a natural climber, we let it happen and stayed close. I took videos because I thought it was funny and creative and that's pretty much what makes my day! 😄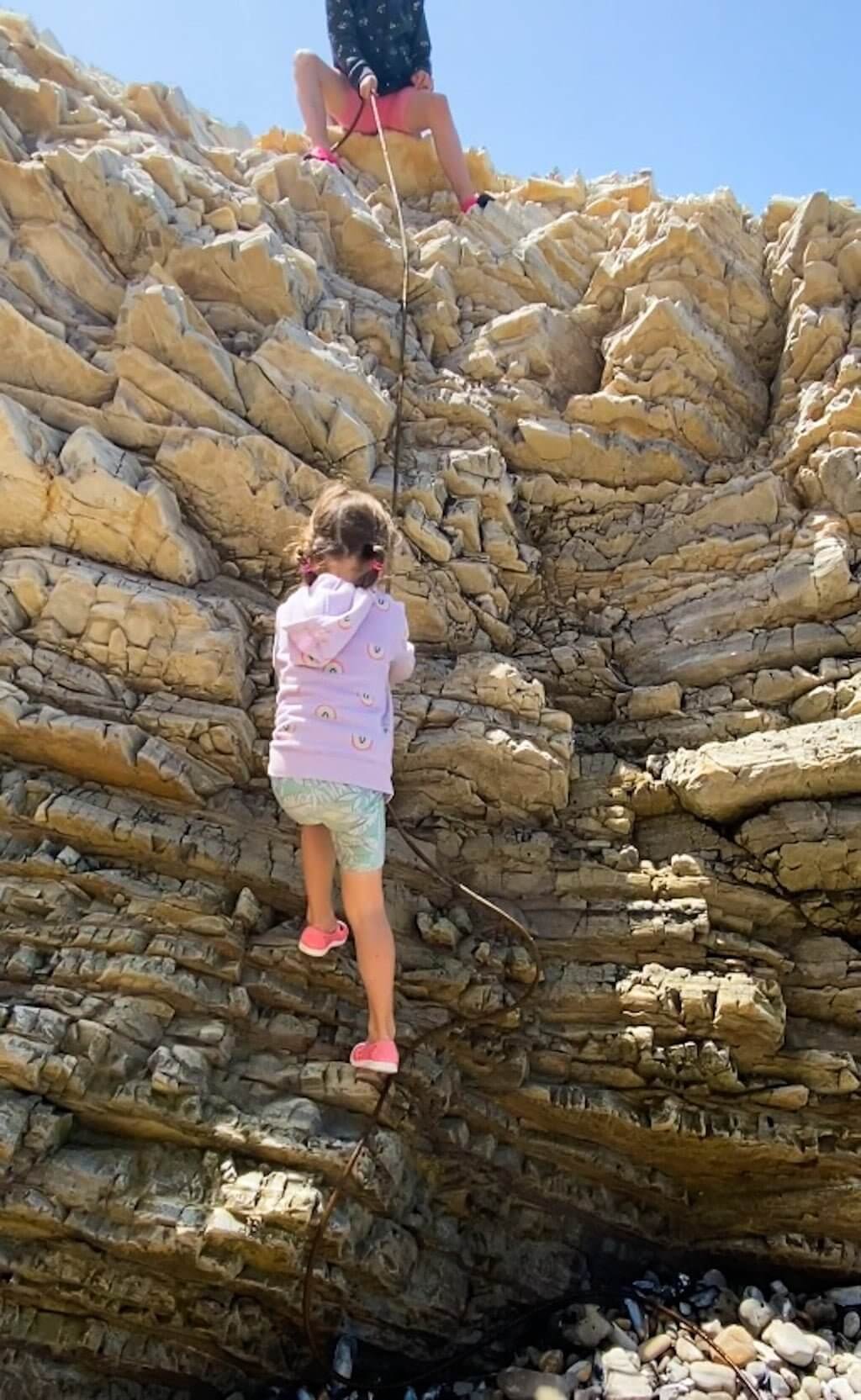 Funnily enough, this is not the first time this same child has found a ginormous piece of seaweed "rope" at the Montaña de Oro tide pools, so… if one of your kids enjoys playing with and being creative with "natural toys" such as this, be on the lookout! 🤣
You can see this area of the tidepools in our video here!
MONTANA DE ORO ITINERARY
2:15pm: More Biking!
After enjoying some time at the tidepools and rock climbing, the girls opted not to explore the areas south of the tidepools like we usually do. They wanted to climb up an unofficial dirt trail to the bluffs (which we've done before so they know about it), which is slippery and a little dangerous so of course that equals FUN! 😆
Plus it comes out right near the entryway where we parked our bikes…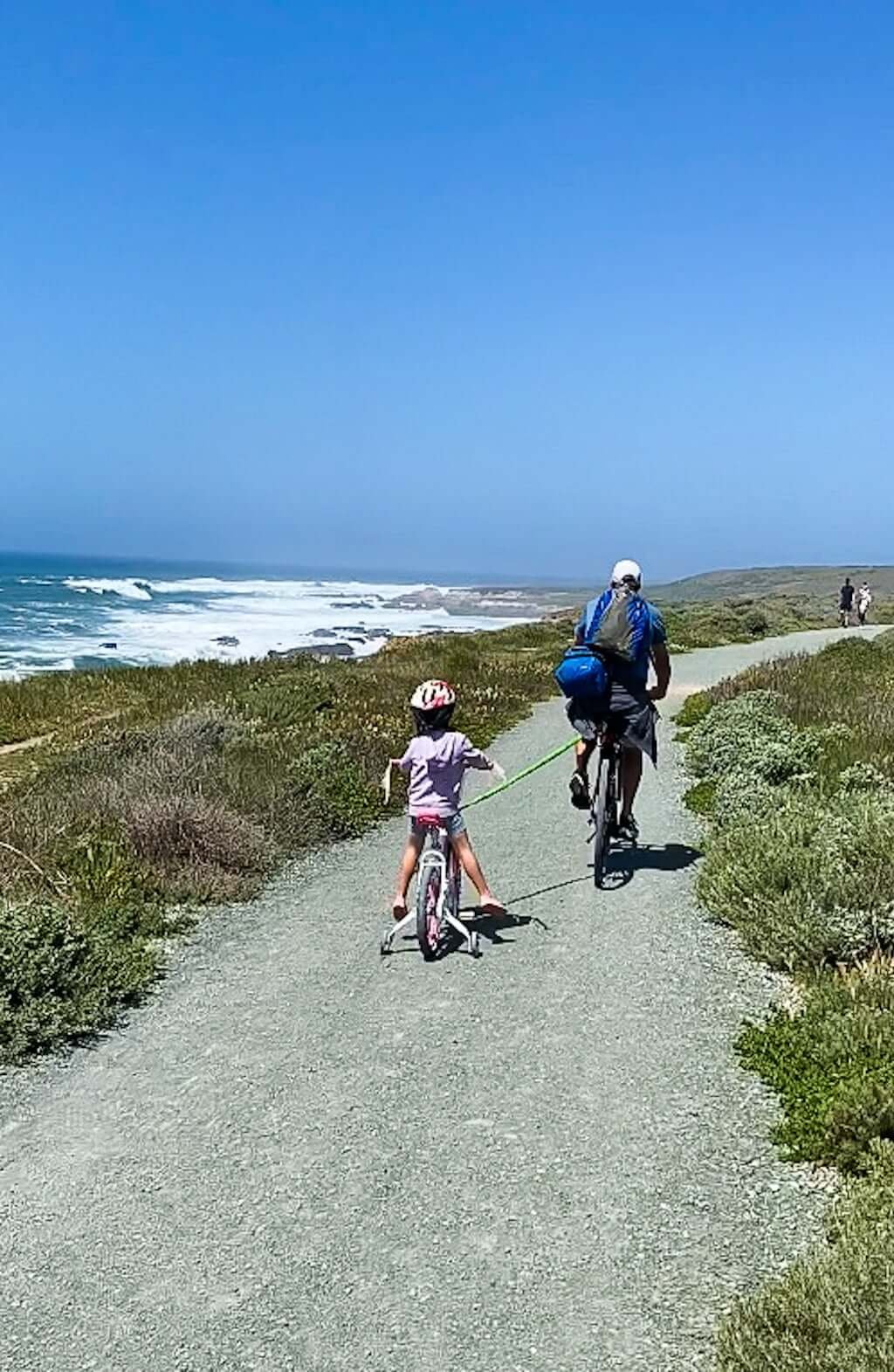 You may have noticed the bright green line between the bikes in the upper left photo. Eva is still happy with her training wheels, but that means she moves a lot slower than the rest of us. So, we got this amazing bike bungee, which has opened up a whole new world of being able to go on longer bike rides (or ones that involve hills) with our kids!
We hopped back on the bikes and kept riding to explore the rest of the Bluff Trail, which is my favorite thing to do on such a gorgeous day! I can't even tell you how many stunning views there are here…I'll have to refer you to this post to see more of them.
MONTANA DE ORO HIKES
2:30pm: Exploring Off the Beaten Path!
So, one of my favorite things to do in Montaña is to explore all the "off-trails."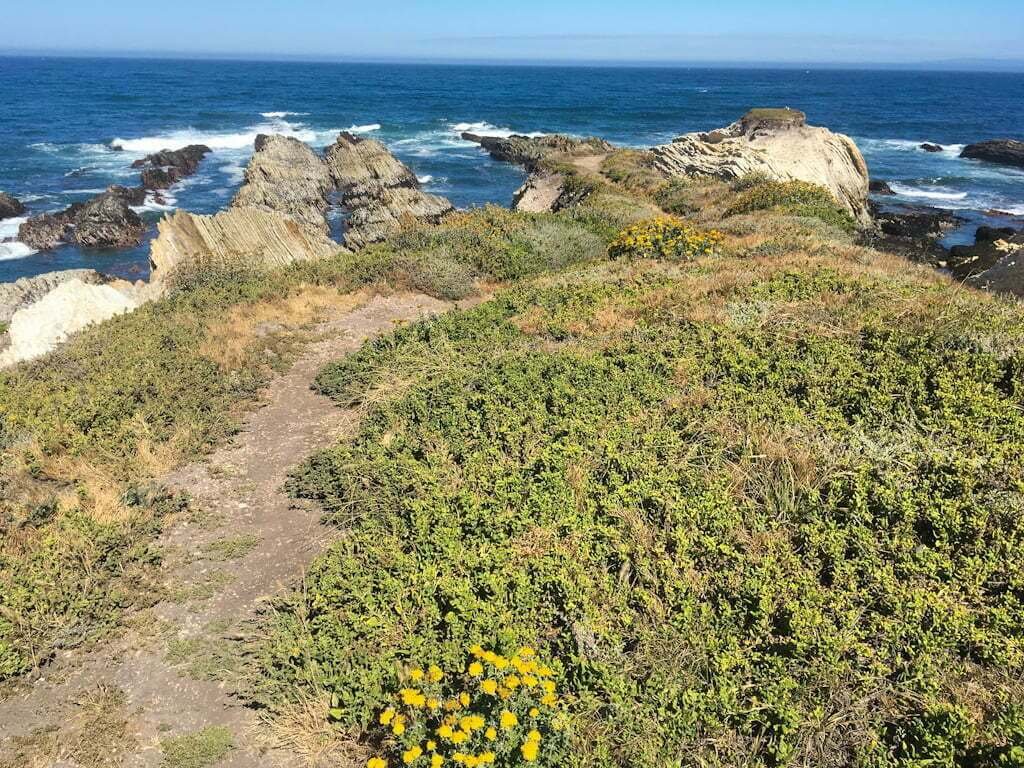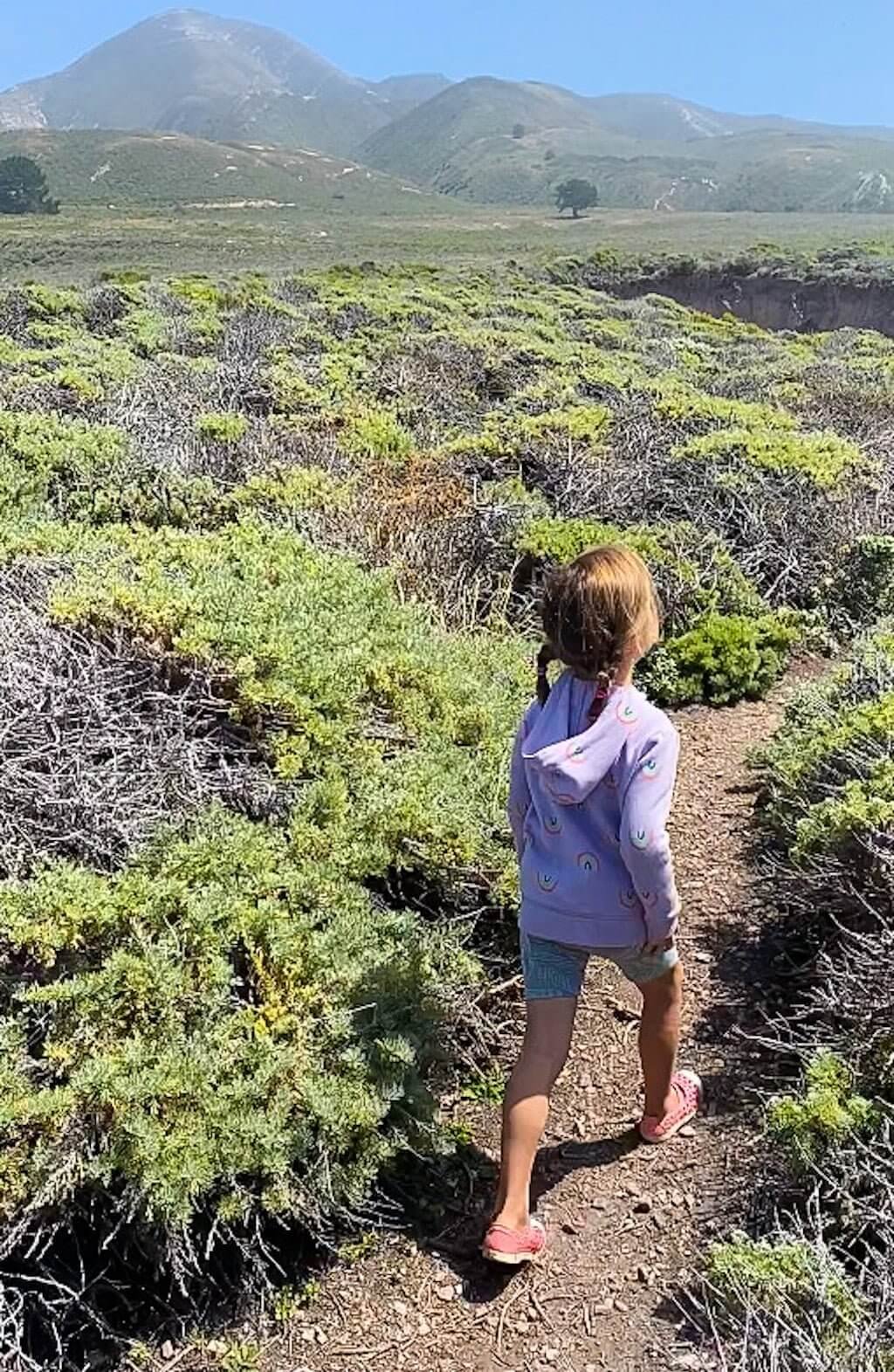 These are smaller, almost hidden little trails off the main Bluff Trail that go more into the vegetation. Some get cordoned off at times, but they've always been mostly open.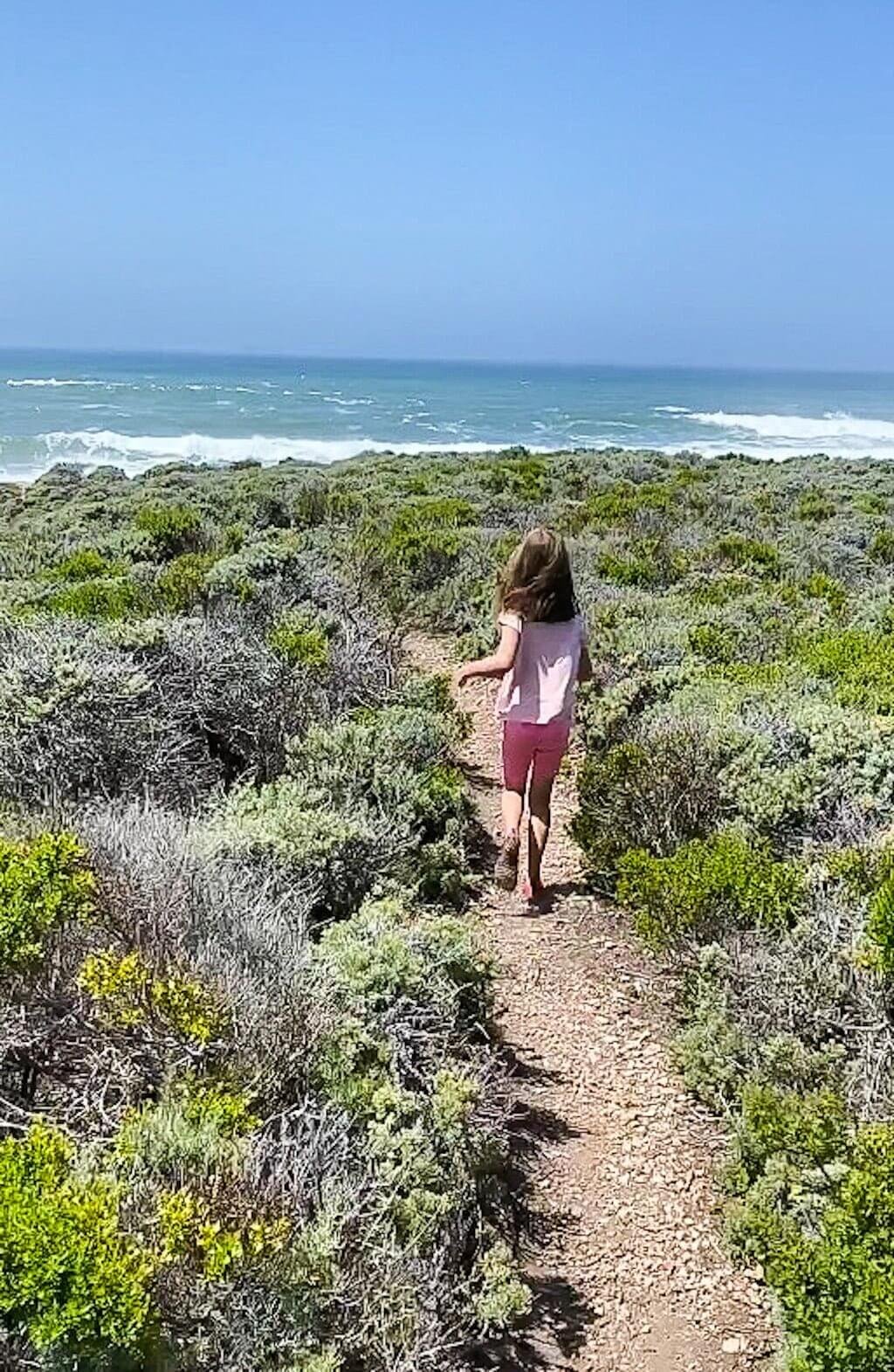 I love this because it feels like you're exploring more off the beaten track, no one else is usually on them, and your ocean, rock & inlet views are even better than from the Bluff Trail!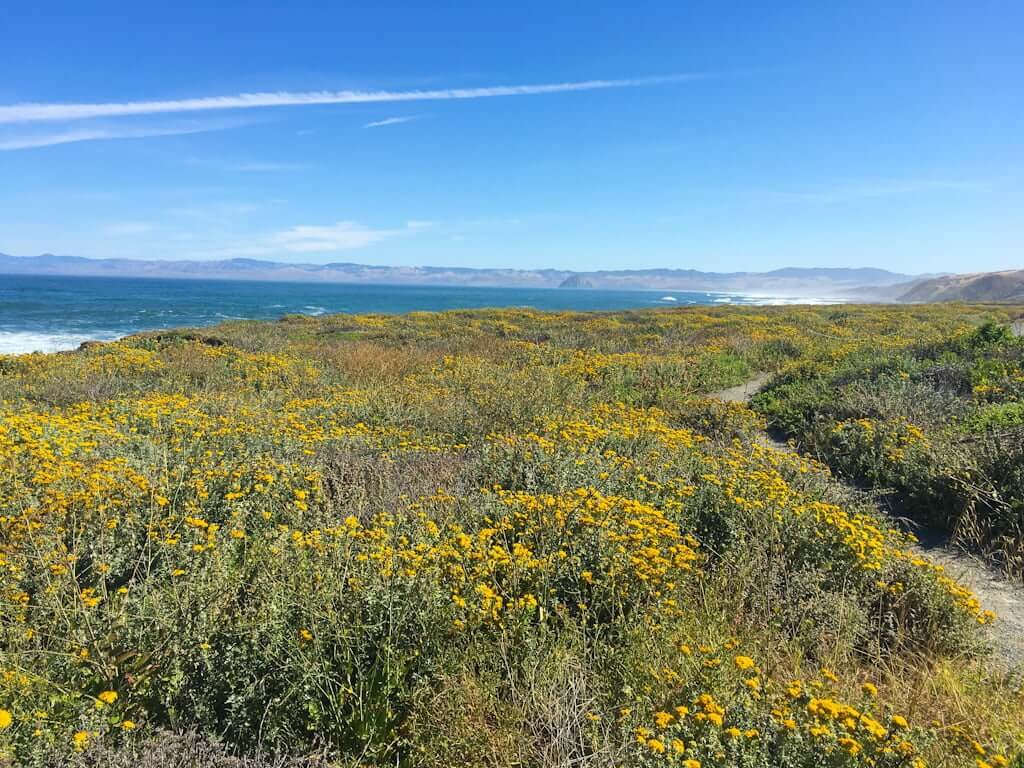 Honestly, I've talked before about how the Bluff Trail is my favorite…and I'd be happy just walking around these trails all day long. I actually have quite simple desires.🤣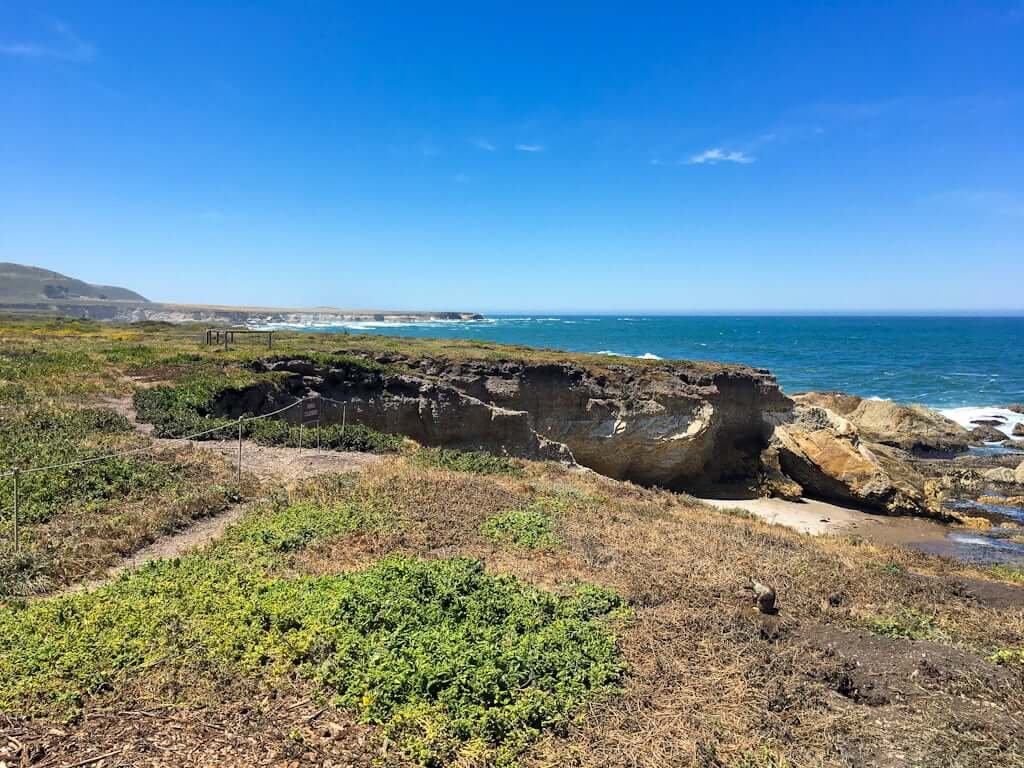 MONTANA DE ORO HIKES
2:40pm: Discover an Archway!
This time, we were rewarded by spotting a little archway. We had to climb down the bluffs into the inlet, then cross it, then climb up the rocks to the arch.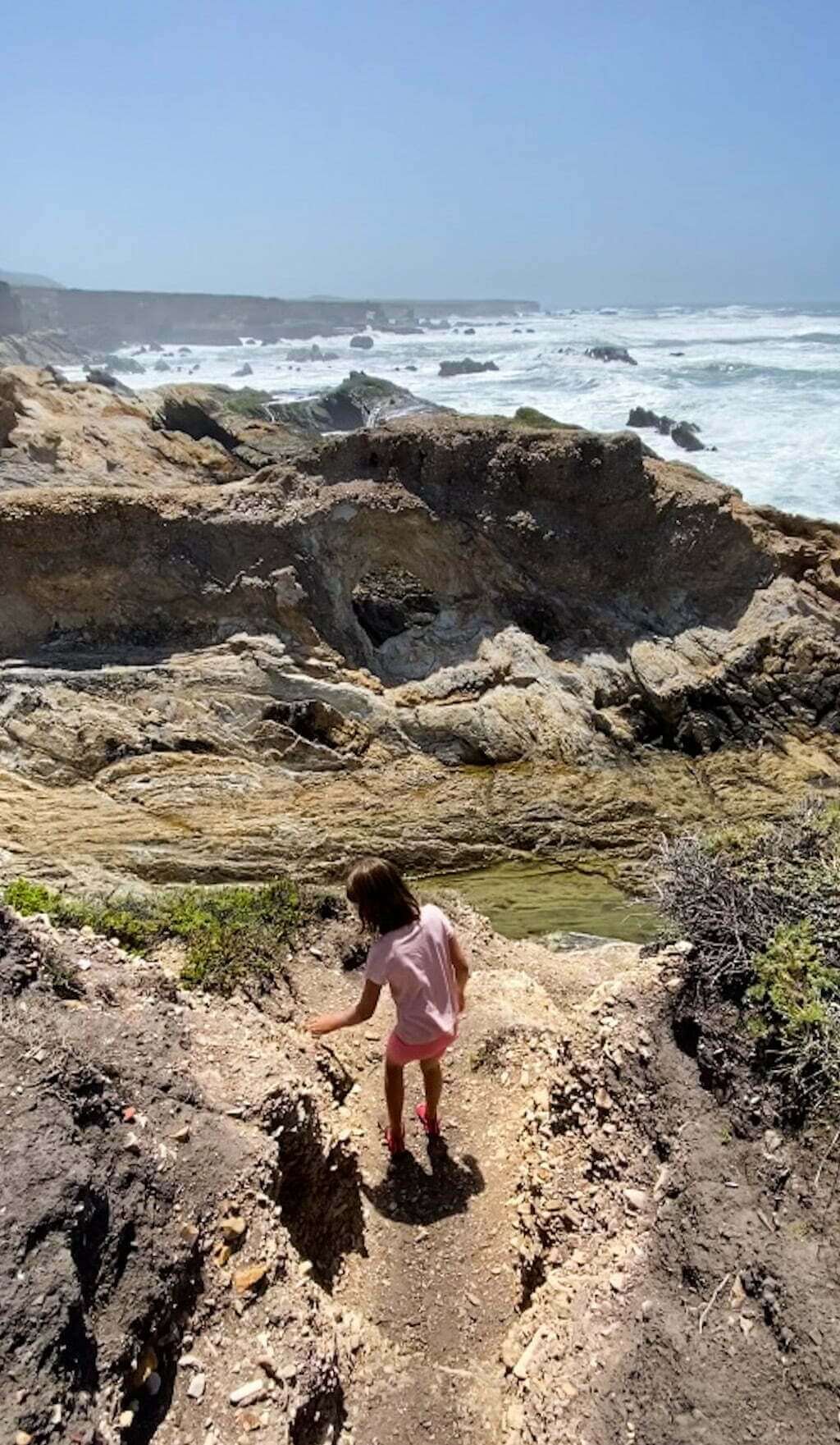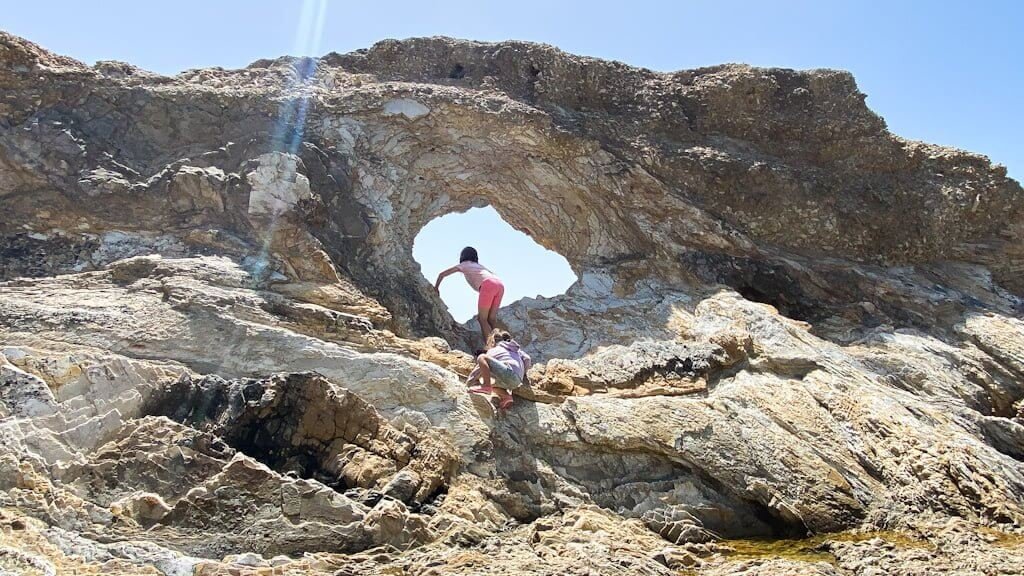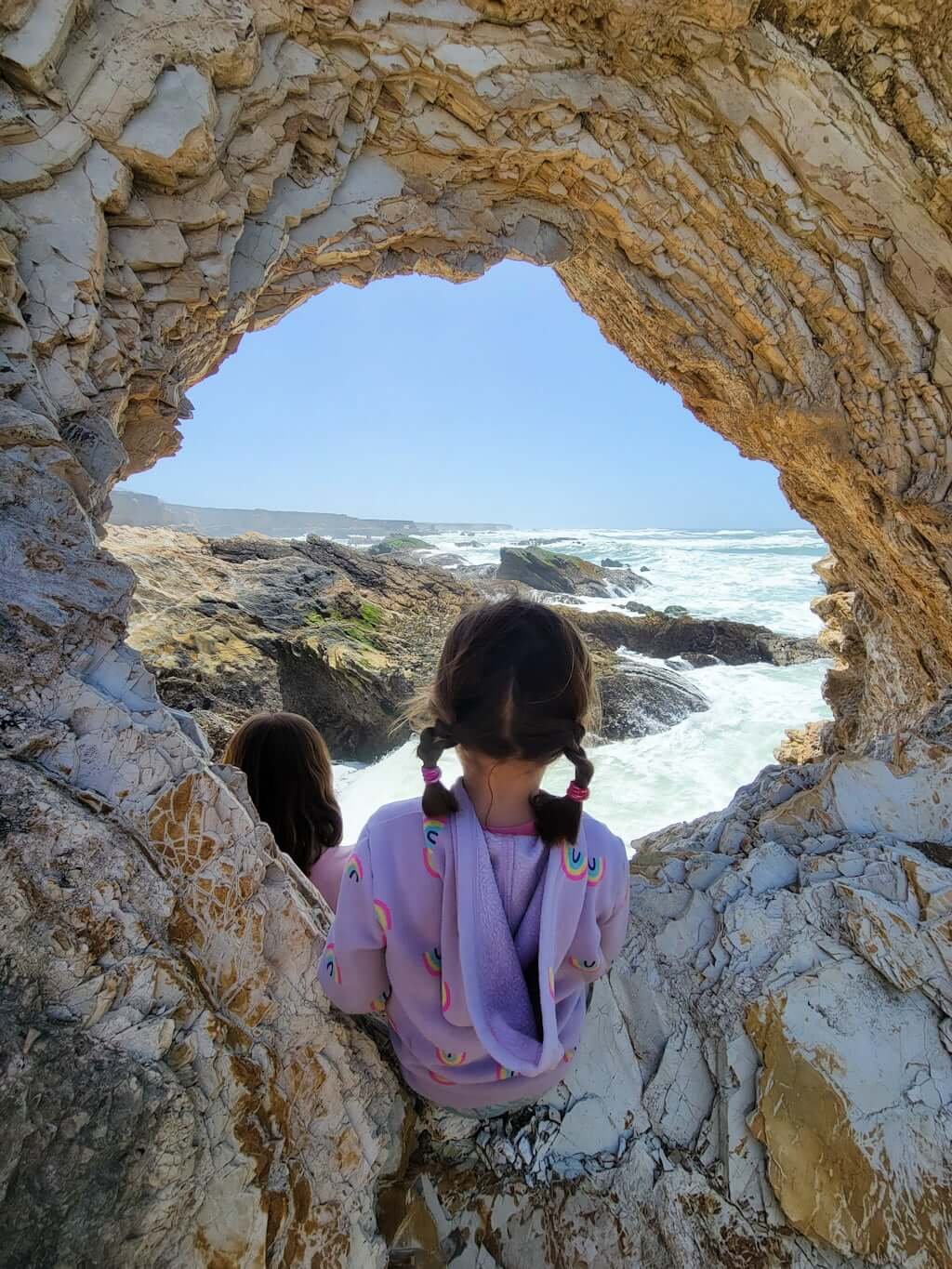 Look what a beautiful view we found through the arch! The girls actually sat contemplatively for about 30 seconds and stared at it! If you have young children, you'll appreciate the magnificence of that happening without instruction. 🤣
MONTANA DE ORO with kids
3:10pm: The First Time This Has Ever Happened…
Now, here's the reality: traveling with energetic, vibrant, talkative children can get wearing. After we finished biking the rest of the Bluff Trail, we were passing the entrance to the tidepools again and I asked Matt if we could stop.
"I don't feel like we've stopped yet and had quiet time to soak up the scenery, and I'd like to do it for at least 10 minutes," I explained. "Can we do that?"
Yes, he said. We found a grassy little spot overlooking the tidepools, pulled out some snacks, and started to sit quietly.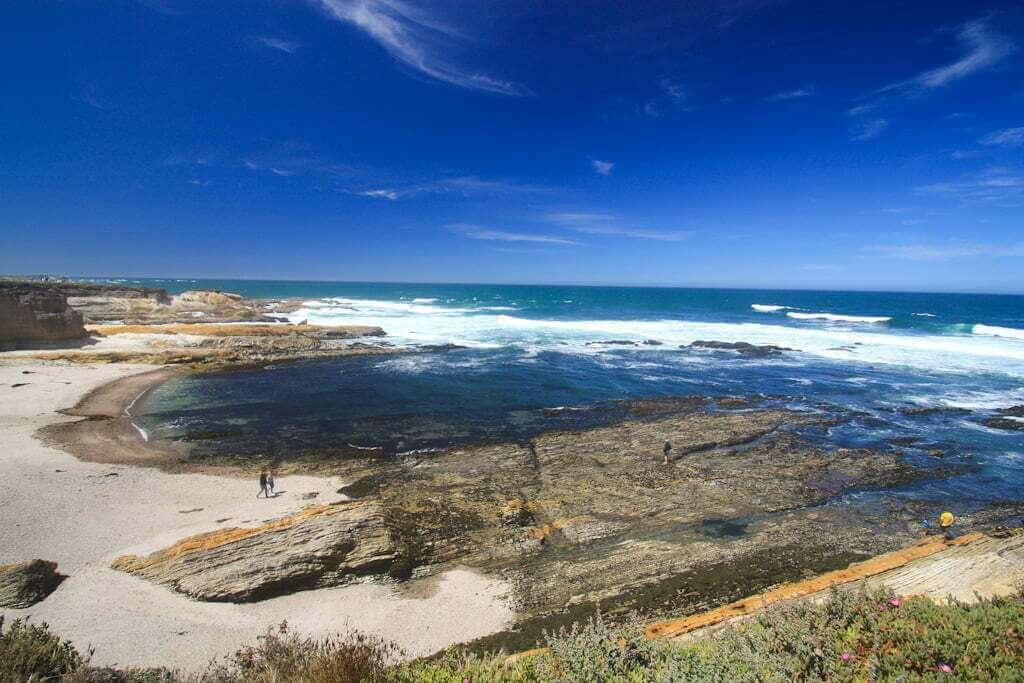 I remembered what I call my "gong" sound from my meditation app. (It plays a lovely gong sound every 1 minute, which I find helpful to remind me when I'm trying to stay in the present silence and not let my mind wander like an energetic puppy.)
I'd never told my girls about this gong sound, but as I pulled it out, I decided to explain to them about it and asked if they'd like to try something new! (Thinking they wouldn't be interested and I'd hear protestations which included the word "boring.")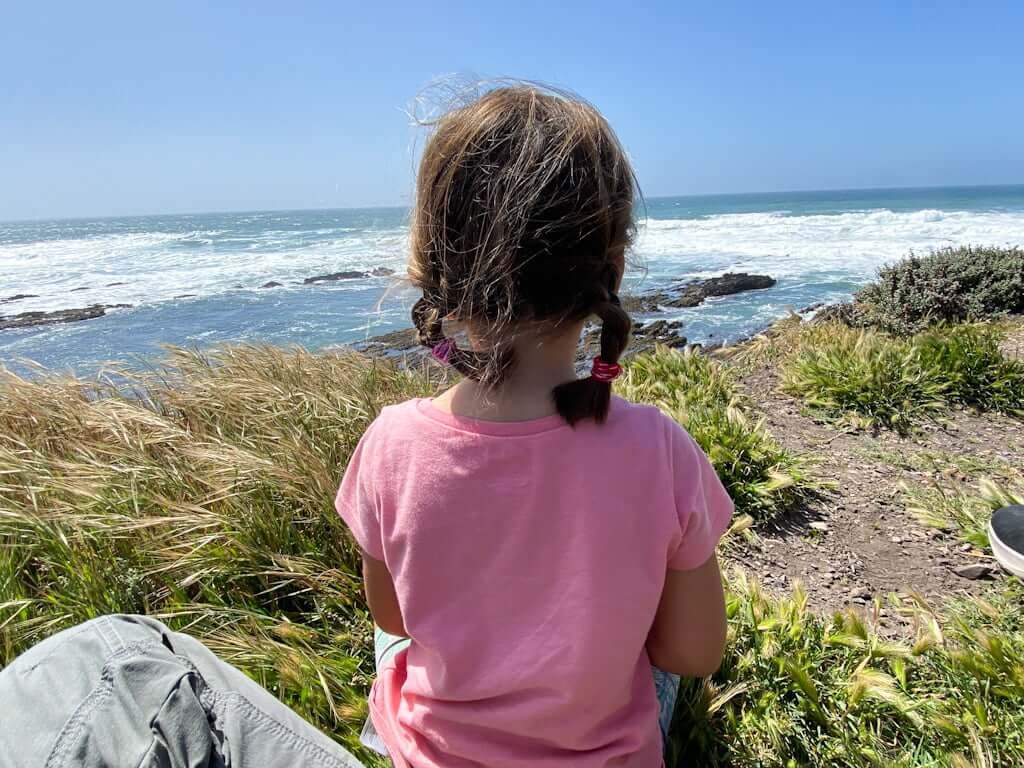 However, my sweet babies pleasantly surprised me beyond expectations. These girls sat quietly, minute after minute, looking out at the view silently.
Slowly, after several minutes, one of them made her way over to cuddle into me.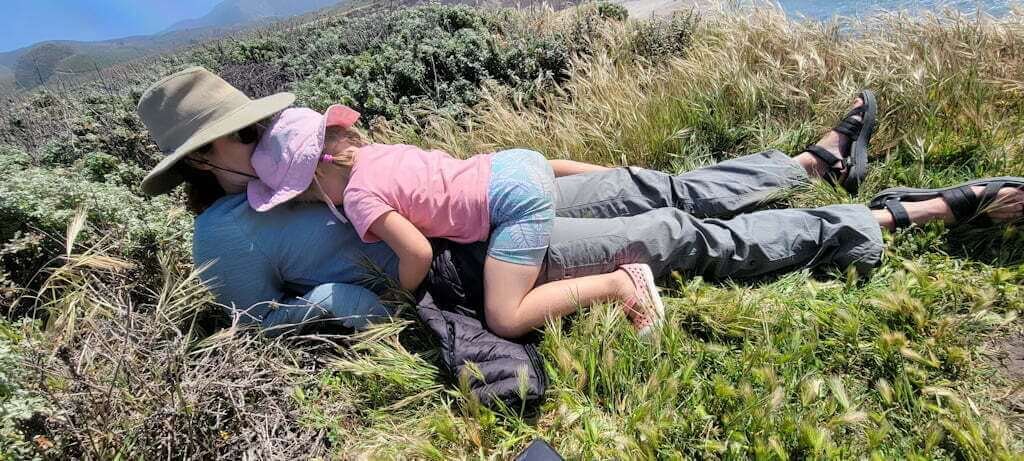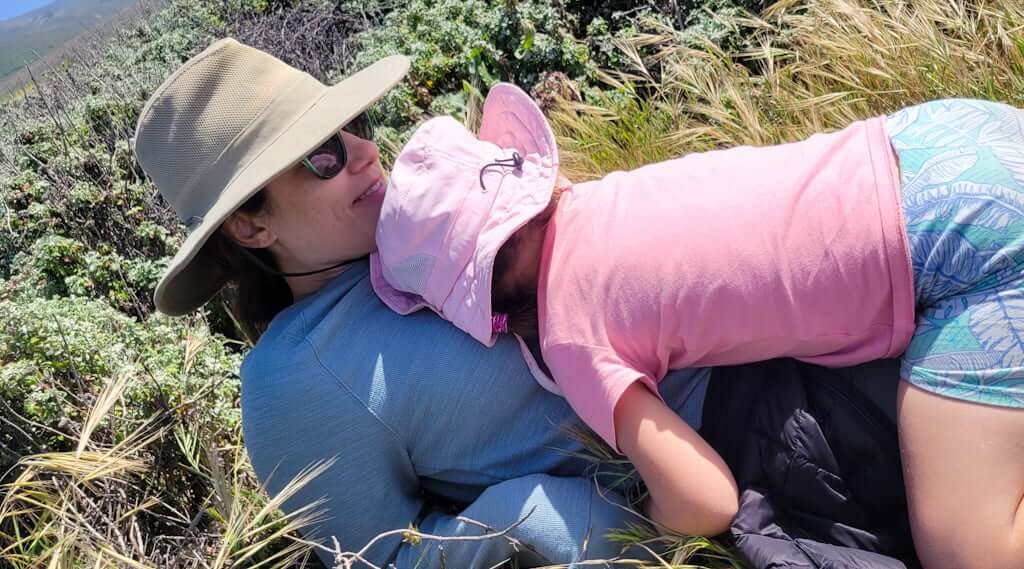 (I mean, I'm not gonna kick these cuddles away, not by a long shot. I'm a cuddler. One of my main concerns when I was pregnant with my first daughter was, "But what if she's not cuddly?!" I knew those kids existed. But both my girls came out extremely cuddly, so crisis averted.)
Later, my older daughter did the same. Crawled on over without a word and curled in. My view was this for awhile: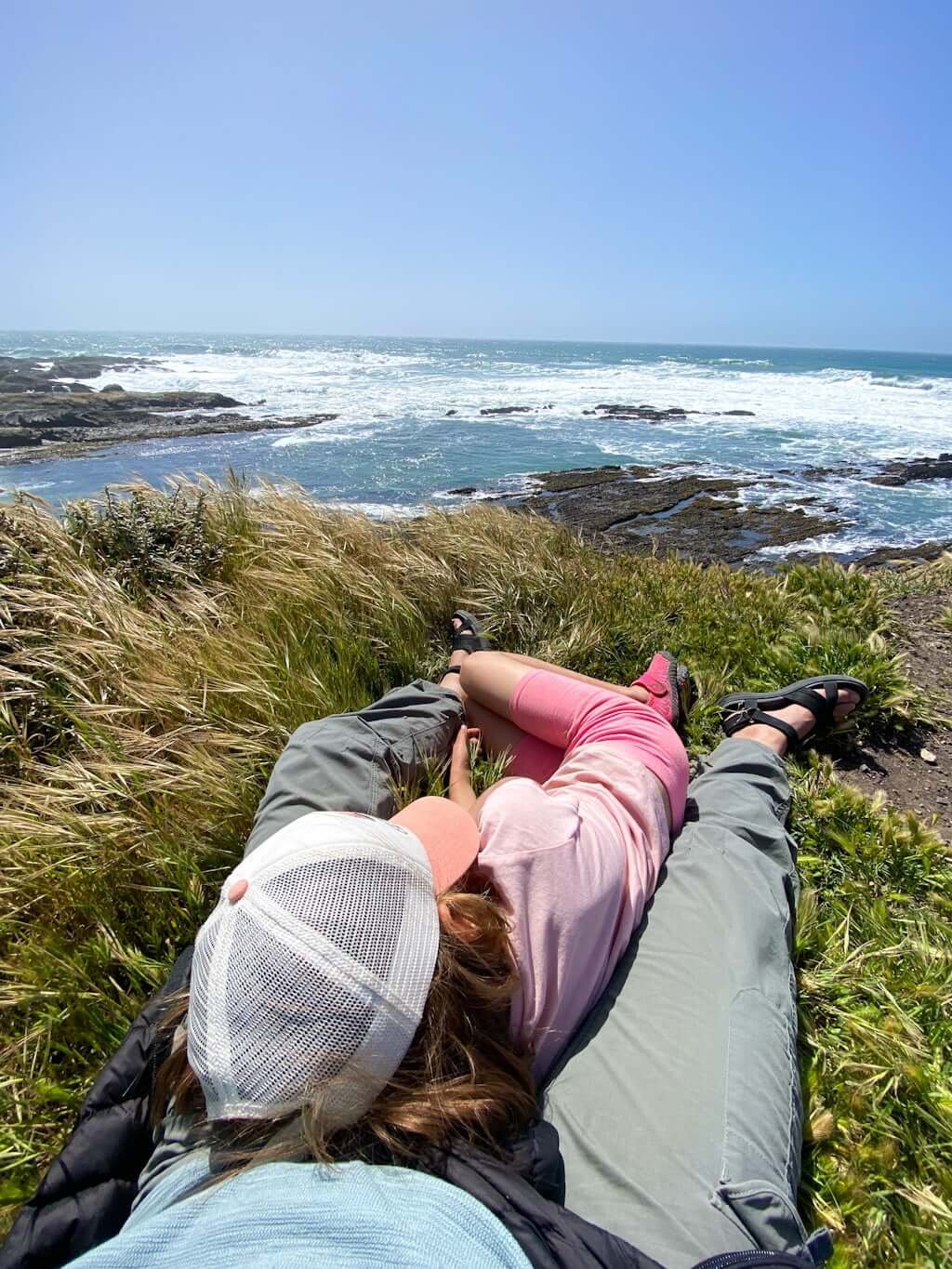 Our whole family enjoyed the most pleasant, quiet 50 minutes there on that grassy spot above the tidepools! I'm still a little in shock that these very lively girls were so into it, and that they enjoyed it so much!
That evening, one of them named it as her favorite part of the day! (Above tidepooling! 😲 That was a shocker for mama!)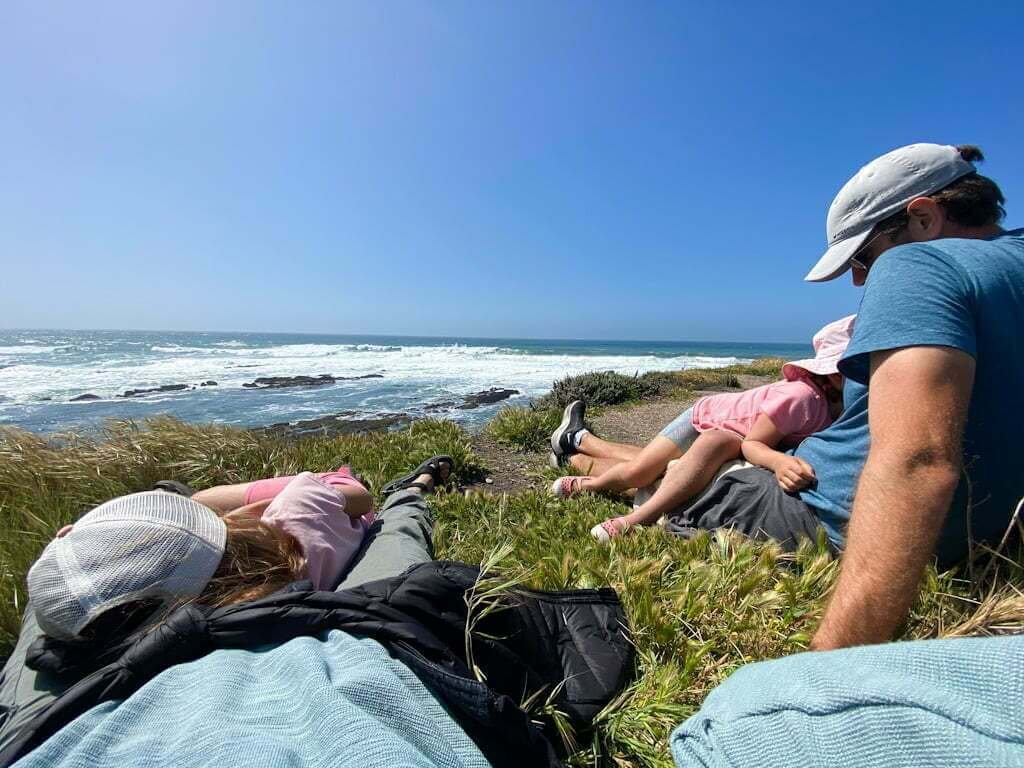 Sometimes the most unplanned things in travel can be the nicest surprises! 😊
All good things must come to an end, and 50 minutes was more than I expected. So we had another snack, got back on our bikes, and biked back to the entrance…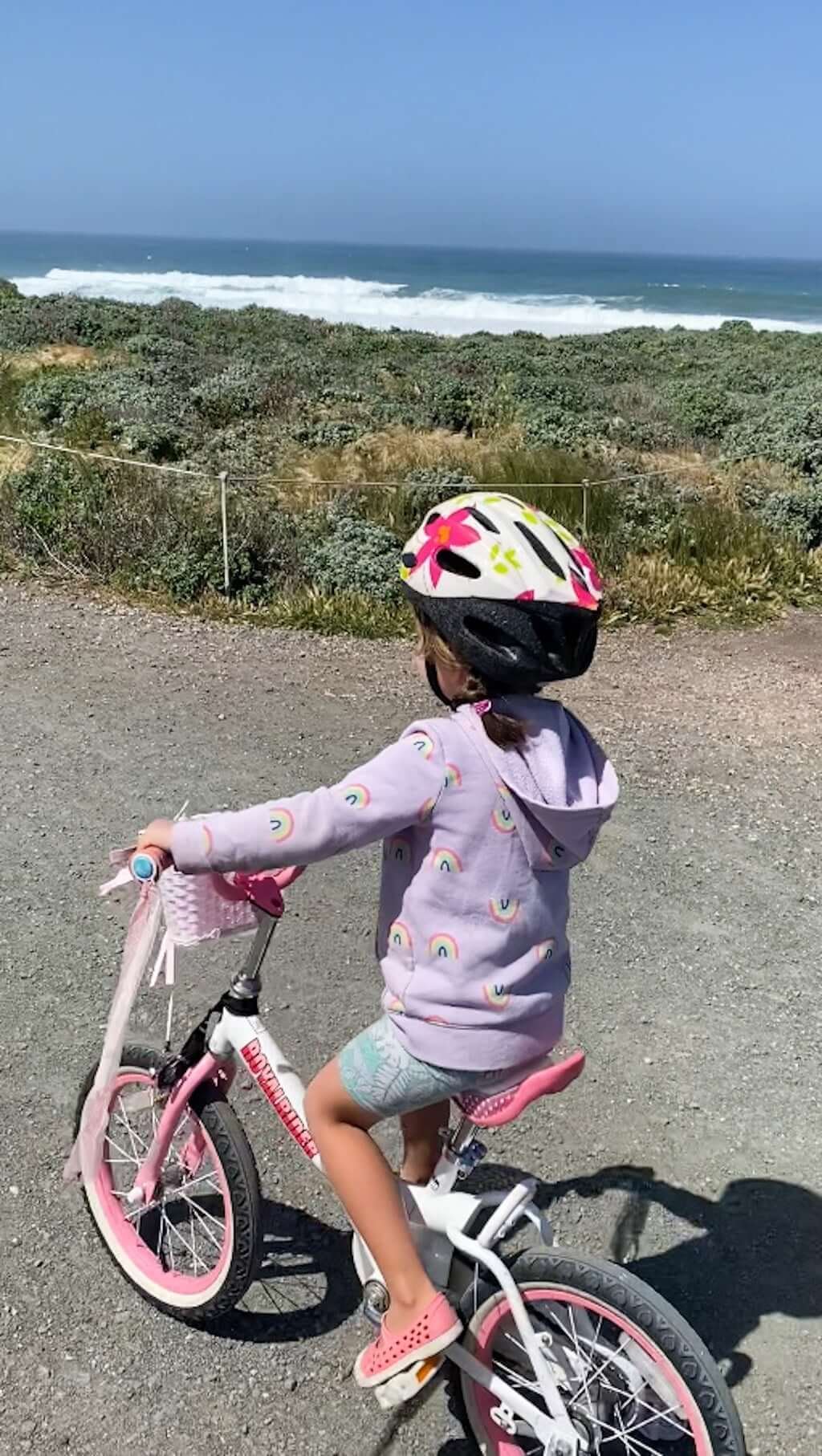 …and continued the rest of our drive up to Cambria!
cenral california coast ITINERARY
7pm: First Night in Cambria!
While this isn't in Montaña de Oro, I'll share it because it was the end of that same day. After going out to dinner at an (excellent) Mexican restaurant, we were driving back to our rental house and the sun was setting. There was a little hill with a pathway that looked interesting, so we stopped and popped out to explore it.
IT WAS SO WINDY, but it was so beautiful! According to my phone photos, we lasted 5 minutes out there before we headed back to our rental house.
Next…Day 2 of our Cambria & Central Coast Trip!
Next, check out our other posts with tips for visiting Montaña de Oro!
Visiting Montana de Oro State Park: Our Overall Best Tips!
Our Montana de Oro "Beach Itinerary!"
My #1 Favorite Thing to Do in MDO: The Bluff Trail!
➜ Or, you can browse our California home by room HERE!